Top 10 Road Trips in Poland
100 Bends Road
Hel Peninsula Panoramic Road
Oswald Balzer Road
Jura Castles Panoramic Road
The Great Bieszczady Loop
Holy Cross Mountains Panoramic Road
Eagles Nests Route
Leba Coast Panoramic Road
Moszna Dolna ‐ Gorlice Route
Upper Silesia Panoramic Road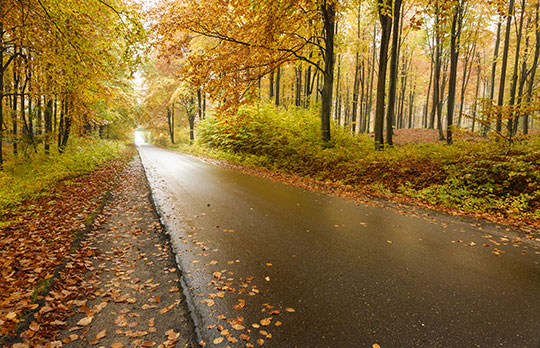 10 best scenic road trips in Poland
Poland might not top everyone's list of European destinations, but there are many reasons that your trip here will be one to cherish. Firstly, the people. Although economic development has brought some elements of westernisation, they still dispense traditional Eastern community values and earthy hospitality at will. And Poland is a photographer's dream too. From its iconic capital Warsaw to attractive cities like Krakow and Gdansk, and scenery that spans rolling hills, lush forests, serene lakes, rushing rivers and sweeping beaches, there are urban and natural delights that catch the eye and warm the heart. Hire a car in Poland with Enjoy Travel and you're in for some decidedly pleasant surprises.
Warsaw's concrete jungle reflects its Communist past, but it's worth a visit nonetheless for its pristine parks and buzzing night-time economy. Meanwhile, former royal capital Krakow is the nation's most picturesque city, with elegant buildings and boulevards, while Gdansk and Sopot bring Baltic seaside delights. When you want pulsating Polish culture, head to Poznan, while the great outdoors doesn't get much greater than the Tatra Mountains and Mazury lakelands. And don't forget the cuisine ‐ Polish food mixes European and Eastern influences in a hearty, nutritious mix. Sour Zurek soup is popular, as are local staples pierogi dumplings and zapiekanka (Poland's no.1 snack ‐ a cheese, tomato and mushroom baguette). Last but not least, hiking, water sports and skiing are popular pastimes, but football is the main spectator sport. Catch a live Lech Poznan or Legia Warsaw game and you'll feel the passion of the crowd.
As you can see, whether you're there for business or pleasure, there's plenty to see and do in Poland and hiring a car unlocks independent, convenient travel.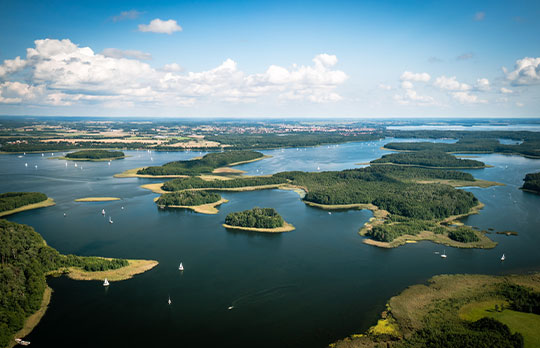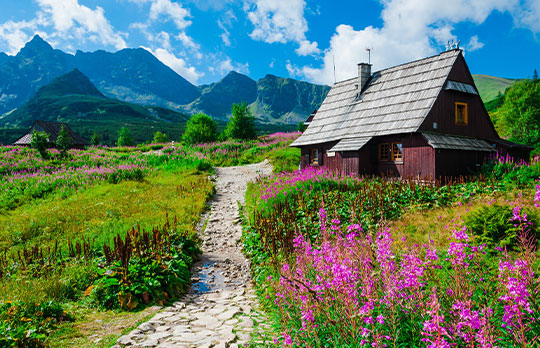 Top tips on driving in Poland
Top 10 Polish road trips are up next but stick around for some quick but essential Polish driving tips.
Always drive on the right in Poland, ensure that everyone is wearing their seatbelt and don't drink and drive ‐ the blood alcohol limit is 0.02%, so best not to touch a drop if you plan to drive anytime soon.
Roads nationwide have improved in the past few years, but a few remain in poor condition, so please adjust your driving accordingly. Avoid driving after dark if possible because roads can be poorly lit, and bear in mind that summer is usually the season for major roadworks ‐ if available, use a Satnav to plan ahead.
The speed limit is 130km/h on motorways, 100km/h on A-class roads, 90km/h outside built-up areas and 50km/h in them. You might encounter pedestrians and cyclists on the road, as well as large numbers of HGVs on main roads and tractors in country areas ‐ be patient, give fellow road users the requisite room and only overtake when it's safe.
Now let's get on the starting grid for your scenic road trips.
100 Bends Road
Can you guess how this road trip got its moniker? Yup ‐ this 22km Kudowa-Zdroj to Radkow section of road 387 has more twists than Pulp Fiction. There's also amazing scenery to match the hairpin bends – you'll pass iconic Klodzka Valley sites like Gory Stolowe (Table Mountains) and Bledne Skaly, hugging rock walls as dramatic mountains and gorges appear above and below at every turn. This rollercoaster road trip is definitely one for more experienced drivers but if you take your time, you can enjoy it to the fullest safely.
Hel Peninsula Panoramic Road
This 46km road trip around the Hel Peninsula on the Gulf of Gdansk takes in beautiful beaches and rugged headlands ‐ it's lovely any time of year but best tackled in the summer. Starting at Puck's lush green coastline, you'll head on to Wladyslawowo's silver sand beach before rolling on to windswept Jastarnia and Jurata's soft, powdery sands. Your last stop is Hel's brilliant beach ‐ bring your bathing suit and suntan cream for a day splashing around at this popular spot. A coastal ride which soothes the senses, Hel Peninsula is pretty much perfect.
Oswald Balzer Road
Named after the eponymous Polish historian, the Oswald Balzer route is a terrific scenic Tatra route from Zakopane to Morskie Oro. As you roll beyond Bukowina Tatrzanska, the scenery gets more spectacular by the minute, with the sky-scraping Tatra mountains taking centre stage, ably assisted by equally beautiful slopes of the Gorce peaks of the Western Beskids range. When it comes to inspirational scenery, the Oswald Balzer Road ticks all the right boxes.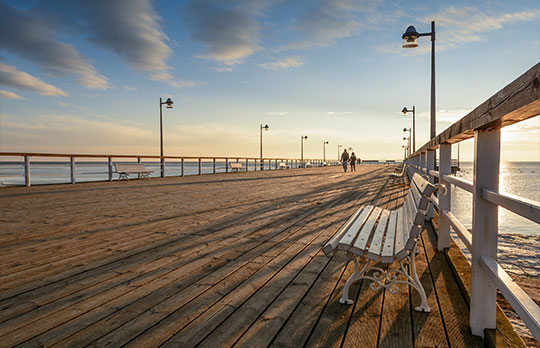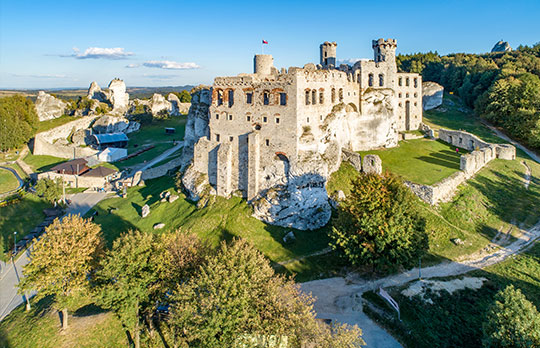 Jura Castles Panoramic Road
If you're a bit of a history buff, this 81km road trip is packed with more castles than you can shake a jousting lance at. Starting at Ogrodzieniec, you'll see the haunting castle featured in TV series The Witcher, before moving on to Bobolice with its 14th century castle built by Casimir III, then the castle ruins at Mirow, and Czestochowa's elegant cathedral spire and stunning, ornate interior. In between you'll experience the undulating prehistoric landscape and limestone rocks of Jura (also known as the Polish Jurassic Highlands). Charismatic castles and rich history make this a spellbinding trip.
The Great Bieszczady Loop
Built in the 1960s to open up the wild Bieszczady mountain region up to visitors, the Great Bieszczady Loop starts and ends in Lesko and runs for 147 stunning kilometres. You'll pass through Ustrzyki Dolne, Czarna, Lutowiska and Cisna and no less than four panoramic landscape parks in between. Polish traditions here also mix with Jewish and Ukrainian influences to create a fascinating cultural blend – build in an overnight stay to really absorb the unique energy.
Holy Cross Mountains Panoramic Road
How does a short but stunning 34km road trip that takes in some of Poland's best scenery sound? The Holy Cross Mountains Panoramic road starts in the southeastern city of Ostrowiec Swietokrzyski on the Kamienna River, then rolls on to the famous flint mines of Krzemionki and ends at Baltow where kids of all ages live the JuraPark and its larger than life dinosaur exhibits. The Holy Cross Mountains are some of Europe's oldest and their lofty views and rugged terrain make them popular with hikers, campers and geologists alike.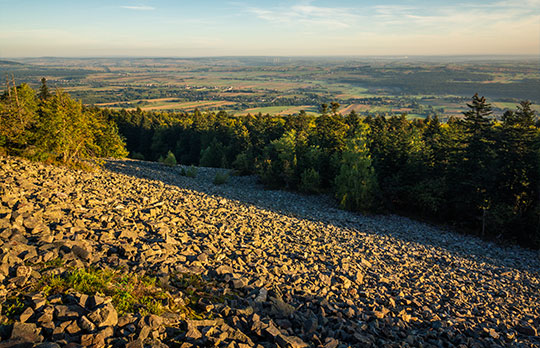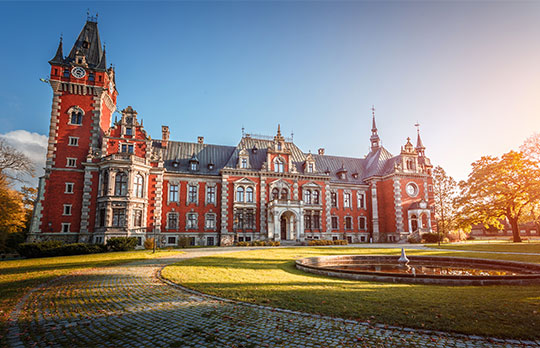 Eagles Nests Route
Running for 215km between Czestochowa and Krakow, the Eagles Nests Route takes you through the magical Malpolska region and it's peppered with several impressive castles along the way. Highlights include the iconic 14th century brick Gothic castle at Olsztyn near Czestochowa, the dramatic 15th century Tenczyn castle ruins at Rudno and the magnificent 18th century Episcopal castle at Wygielzow.
Leba Coast Panoramic Road
This action-packed 39km route takes you from the sand dunes of Leba to the verdant wetlands of Kurowo, via Teutonic Knights stronghold Chelmno Slowienskie, Sasino's elegant palace and park complex, and Ostenik's vast sandy seaside. You couldn't pack more history, scenery and culture into such a compact route if you tried ‐ there really is something to suit all tastes.
Moszna Dolna ‐ Gorlice Route
Poland's national road no.28 is definitely one of its most scenic, but the 97km stretch between Moszna Dolna and Gorlice is particularly easy on the eye. The road carves its way through the impressive Beskid Wyspowy mountain range at areas like the famous Gruszow Pass, and the views around Limanowa, at the ridge of Wysoki and Litacz, are simply divine ‐ you can see across the whole Beskid range, as well as the Carpathian foothills and Tatra mountains.
Upper Silesia Panoramic Road
Covering 227km between Pyrzowice and Tarnowskie Gory, the Upper Silesia Panoramic road is a substantive trip that you'll want to extend over a couple of days to make the most of. Highlights along the way include the squat, well‐preserved 14th century Bedzin Castle, gorgeous pastel-coloured gables of Gliwice, and the major industrial and cultural centre of Zabrze ‐ stay at Park Hotel Diamant if you want to soak up the atmosphere overnight. At Tarnowskie Gory, your final stop, you can explore the historic silver mine and Tarniwice Stare castle complex.
These top 10 road trips showcase Poland in all its historic and natural glory. Hire a car from Enjoy Travel and hit the road ‐ you won't regret it!