10 Epic Road Trips From Leeds
Leeds is the largest city in Yorkshire, Northern England, located on the eastern foothills of the Pennines. It's a buzzing metropolis with a diverse population and a lively cultural scene.
There's plenty to do in the city itself, but it's also the perfect launchpad for some legendary road trips that allow you to unlock the magic of the rest of Yorkshire, one of Britain's most beautiful counties.
From rolling hills and dales to bustling market towns and picture-postcard villages, this county captivates visitors and locals alike. Hire a car in Leeds and you can set off on one of the 10 terrific road trips we've collated below:
Holmfirth
Ilkley
Harrogate
High Force
Dalby the Great Yorkshire Forest
Richmond
Hawes
Skipton, Bolton Abbey
Rievaulx Abbey
Malham Cove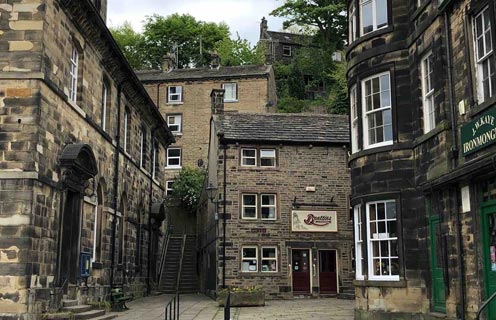 But first, here's the lowdown on Leeds history and a few savvy driving tips to help you on your way.
Leeds History
Leeds is the financial, cultural and commercial hub of the West Yorkshire Urban Area (a conurbation of Leeds, Bradford and Wakefield). With a metropoliatan area population of over 2.6 million, it has five universities, and lies some 170 miles (270 km) north of London and 45 miles (70 km) northeast of Manchester.
Notable Leeds firsts include the oldest film in existence (Roundhay Garden Scene, 1888) and the invention of soda water in 1767. Leeds has the third busiest railway station and tenth busiest airport outside London and is just 20 miles from the spectacular Yorkshire Dales National Park.
Driving in Leeds
Transport in Leeds is dominated by cars: Leeds is the origin of the A62, A63, A64, A65 and A660 roads, and is also on the A58 and A61. The M1 and M62 intersect to its south and the A1(M) passes to the east. There's also an urban motorway network – the radial M621 brings traffic into central Leeds from the M62 and M1. There is an Inner Ring Road which is partly motorway, and an Outer Ring Road. Part of the city centre is pedestrianized and is surrounded by the clockwise-only Loop Road.
Although it's very much a drivers' city, in 2020 there are plans to introduce a Clean Air Zone in a bid to reduce city centre pollution which is the 2nd-worst in the UK. Therefore, charges to enter the city with a vehicle (similar to schemes in London and other cities) will probably be introduced in 2020.
Start your engines for our 10 epic road trips from Leeds – let's roll!
1. Holmfirth
Holmfirth tops our list: the setting of classic British TV comedy Last of the Summer Wine is situated within dramatic Pennine moorland. There's an exhibition dedicated to the show with original props and photos, outtakes, and a complete timeline of all 295 episodes of this much loved programme which finished in 2005. Also popular is the Holmfirth Food Festival, featuring over 70 food stalls, kids' activities like circus skills and face painting, competitions and more.
Folk Festival, Food Festival, Tour de Yorkshire
The Holmfirth Festival of Folk features traditional arts such as Morris Dancing and Maypole, children's activities, ukulele workshops, and a street parade with dancers' procession. Meanwhile, for cyclists and hard core joggers: test your stamina against the iconic Holme Moss, part of the Yorkshire Grand Depart, Tour de France route 2014, lovingly dubbed the 'Tour De Yorkshire'. It's steep, exposed and brilliant! The Holmfirth Food & Drink Festival takes place every year in September, with more than 75 stalls selling local delicacies, street foods stalls, locally brewed gins, beers, pale ales and cheeses and with live entertainment, this is a fantastic day or weekend out to experience real Yorkshire.
Holmfirth Vineyard is also unique, serving its own wine and home cooked quatlity food, and serving afternoon tea, this is just 5 minutes drive out of Holmfirth. You can take a guided tour of the vineyard and wine tasting sessions. Luxury accomodation available belonging to the vineyard.
Getting there: The journey from Leeds to Homfirth takes less than an hour by car (28 miles) and therefore the perfect length for a daytrip. Head south down the M1 and take the exit at junction 39 (sign-posted Denby Dale), follow the A636 through Denby Dale and cross over the A629 to pick up the A635 into the heart of Holmfirth.
2. Ilkley
Seventeen miles (27 km) to the northwest of Leeds is the spa town of Ilkley. Take the plunge into the lido and pool, or enjoy the town's waters from the riverbank as you amble along the Dales Way or through the Riverside Gardens. Ilkley is famous for its Toy Museum and for popular heritage and arts centre, Ilkley Manor House.
Getting there: Ilkley is only 17 miles away from Leeds and the journey should take about 40 minutes along the edge of the Yorkshire Dales. From the city, take the A660 (Otley Road) north through Headingley, Bramhope and Otley then just after Otley pick up the A65 into Ilkley.
3. Harrogate
The rural district of Victorian spa town Harrogate includes the medieval city of Ripon (a designated Area of Outstanding Natural Beauty) and four market towns: Boroughbridge, Masham, Knaresborough, and Pateley Bridge. Harrogate is adjacent to the aforementioned Yorkshire Dales, a national park that also boasts mountain biking, kayaking and many other adventure sports (without forgetting the hiking!) For the more urban visitor there is high-end shopping, exquisite Yorkshire food and local gin, and – of course – spa treatments. The A61 north from Leeds takes you there in under 1 hour and don't leave without sampling the tea and scones at Bettys – divine!
Getting there: Harrogate is about 15 miles directly north of Leeds. it's an easy 35 mins drive along the A61.
4. High Force
Situated in Forest-in-Teesdale is High Force, one of the most spectacular waterfalls in England. Originating high in the Pennines, the Tees River thunders to the famous Whin Sill rock, where it plunges 21 metres into a pool you can reach via a gentle woodland walk to the base of the falls. School groups are welcome, and activities range from organised tours to fishing.
Getting there:Access is via the northbound A1(M) – journey time is approximately one hour and 40 minutes. On the drive home you might want to stop at one of the small towns or villages minuted from the A1 for tea in a traditional pub or fish & chips. A trip into Thirsk will break up the journey and is just 10 minutes from the A1, one junction before Dishforth. Alternatively why not call into Richmond (see below number 6).
5. Dalby the Great Yorkshire Forest
On the south slopes of the North York Moors lies Dalby Forest, 8,000 pristine acres of managed woodland.
Walking, cycling, beautiful woodland and scenary
There are waymarked walking and cycling routes for all levels of ability, barbecue areas and children's' play areas, as well as various car parks, an activity centre, tree-top adventures, a café and shop, and a Forest Segway. All areas are wheelchair-accessible and electric buggies are available to hire.
Getting there: Access to Dalby Forest via Pickering is on the A169 Pickering to Whitby road, following the brown (tourist information) signs. The car journey should take just under an hour and a half.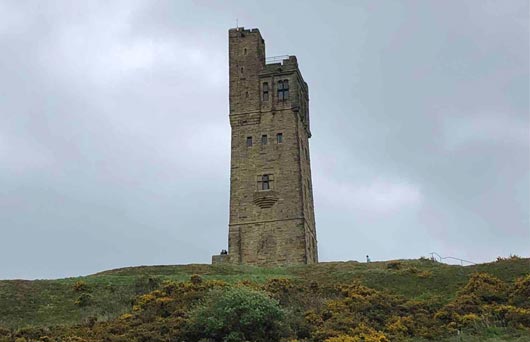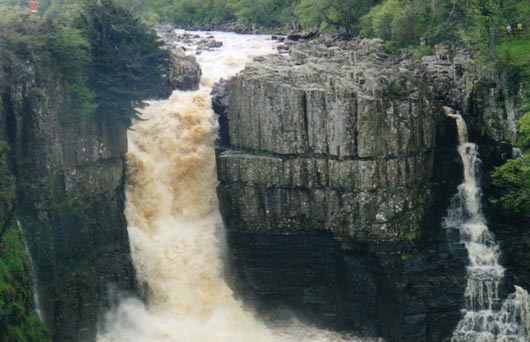 6. Richmond
The original Richmond (globally there are many) – from the French riche-mont, meaning 'strong hill' – was founded by the Normans (invaders from France) in 1071. It gained importance in the medieval period when royal charters allowing the holding of markets and fairs were granted, resulting in the Georgian-era construction of the magnificent, cobbled central market place (said to be the largest in England) with the Church of the Holy Trinity and Obelisk. For history lovers, try Culloden Tower, Easby Abbey or Richmond Castle, while the Richmond Museum and the Georgian Theatre and Museum are also fascinating. Consider the Richmond Town Ticket for the ultimate freedom to roam and do.
Getting there:Access to Richmond is simple: just four miles away at Scotch Corner, the North-South A1 (M) intersects with the main East-West road, the A66.
7. Hawes
This tiny village in North Yorkshire is the home of Wensleydale Cheese, which was granted Protected Food Name Status, so that only cheese produced here can claim to be authentic Yorkshire Wensleydale. Cheese has been made here since around 1150 AD, and Wensleydale Creamery has won several awards. Tourism is an important contributor to this market town which has lots to do despite its size, including the Dales Countryside Museum, Wensleydale Railway and Hardraw Force, England's largest single-drop waterfall. There's a regular market on Tuesdays, a number of pubs, shops and tearooms, accommodation for visitors and even a Youth Hostel.
Directions from Leeds: Get to Hawes via the A1(M) north out of Leeds, come off at Leeming Bar and take the A864 (west) through the Dales and into Hawes. Total journey time is about 90-100 minutes.
8. Skipton & Bolton Abbey
The Yorkshire Dales National Park comprises thousands of square miles of hills, valleys, moors and villages. Natural views complement ancient buildings and cobbled streets in historic towns like Skipton and Bolton Abbey. Skipton has much to recommend it, including well-preserved Skipton Castle, the tranquil Kilnsey Park and Parcevall Hall Gardens – a lovely manor house with well-groomed lawns and a tea room serving tasty light snacks and local fare. Bolton Abbey is next on your list – it's actually the name of the town housing the 12th-Century monastery ruins and Priory Church known as Bolton Priory. Also popular are the stepping stones, Simon's Seat, the Valley of Desolation and simply relaxing on a bench in the grounds and absorbing the amazing ambience. Before you leave Bolton Abbey, grab a gourmet burger from lip-smacking American-style diner, Billy Bob's Parlour.
Directions From Leeds (and depending on which part of the Dales you want to reach), the A660 northwest from Leeds gets you to the edge of the National Park in less than 20 minutes. You then take the A65 all the way into Skipton and its another 10 minutes from Skipton to the Abbey.
9. Rievaulx Abbey
Rievaulx Abbey was one of the first Cistercian abbeys to be founded in England in 1132. At its peak it housed some 650 Cistercian monks and lay brothers, and even boasted its own iron ore furnace and forge for ironworks, as it gradually became a commercial hub (until the Dissolution of the monasteries by Henry VIII).
Hidden deep in the River Rye valley, the stunning and peaceful abbey ruins impart a thousand years of spiritual, commercial and Romantic history. After its suppression and eventual destruction after 1538, the abbey then entered its Romantic period when its picturesque ruins became an inspiration for painters, poets, and writers. It was one of the first ruins to be conserved by the Office of Works (the precursor to English Heritage) in 1917.Other nearby attractions are Helmsley Castle (2.5 miles, 3.5 km), Byland Abbey (4.1 miles, 7 km), and Mount Grace Priory, House and Gardens (11 miles, 17 km).
Getting there: Rievaulx Abbey lies on the south western edge of the North York Moors and is about one hour and a quarter away from Leeds. From Leeds, head north along the A1 (M) and take the A168 exit from the A1 and continue along it until your reach your destination.
10. Malham Cove
After enjoying some of the attractions above and before you rest at your hotel, take some final nourishment by nature at Malham Cove – an awesome limestone curved cliff formation which was carved out into a natural amphitheatre by glaciers and water after the last Ice Age 12,000 years ago. A rare waterfall was recorded at 80 meters high in 2015 and there's a network of largely unexplored cave systems within the limestone believed to be 50,000 years old.
Getting there: Malham Cove is just an hour and 15 minutes from Leeds via the A65.
So there you have it – a driving decathlon that unlocks the eclectic magic of Yorkshire from an elegant base in Leeds. Rent a reliable vehicle from Enjoy Car Hire and set off on an adventure to remember!
Yearning for your own Yorkshire adventure? Hire a car in Leeds Today!
Getting to and from Leeds