Top 10 Manchester road trips:
Buxton
Lake District and Kendal
Morecambe
Snowdonia
Shrewsbury
Blackpool
Chester
Hebden Bridge
Jodrell Bank and Tatton Park
Lancaster
Today Manchester is a UNESCO City of Literature and a multi-ethnic, thriving northern powerhouse whose inhabitants come from as far flung as Somalia and Jamaica. It's ideally located for exploring the North of England, and is surrounded by historic sights and amazing outings.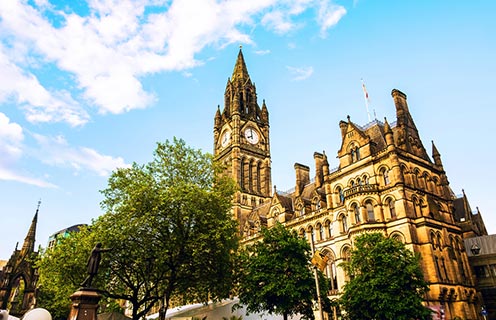 Manchester is a city of over 500,000 in Lancashire, Northwest England. The greater Manchester area is much larger though, at 2.5 million inhabitants. The 3rd-most-visited UK city (after London and Edinburgh), it was the world's first industrial city, transformed by booming textile manufacturing during the Industrial Revolution. Ernest Rutherford first split the atom at The University of Manchester in 1917, the world's newest wonder material, graphene, was developed here in 2004, and locals are called 'Mancunians'.
Manchester may be more famous (at least to music fans) for the enormous cultural influence it gave the UK and wider West in the 80s and 90s in the form of 'Madchester', a rave scene and cultural phenomenon which began in the city's most famous club, The Hacienda. That same context brought indie music into the mainstream via bands such as The Smiths, Joy Division, The Fall, Oasis, 10cc, The Verve, The Happy Mondays, The Charlatans, The Inspiral Carpets, and of course The Stone Roses, but equally influential at this time were the Manchester-based DJs who would go on to spread House music across the globe - an impact that lasts to this day.
Manchester History
Manchester was initially thought to have been a specially constructed Roman fort to protect York and Chester from The Brigantes, the local tribe of the time. Around the 14th Century an influx of Flemish weavers introduced what was to become the city's major industry – textiles. Manchester rapidly expanded to become a major trading centre in wools and linen, and after 1600, cotton. The Bridgewater Canal is Britain's oldest artificial waterway, which opened in 1761 to bring coal from the surrounding towns into Manchester. It then became the world's largest marketplace for cotton goods ̶ even today in Australia, New Zealand and South Africa, 'manchester' is the collective noun for sheets, bed linen, and other cotton items!
During WWII the city was heavily bombed due to its strategic industrial importance in building war machinery such as fighter planes. By the 1980s the city's glorious industrial past was behind it and it was suffering economically due to the exit of heavy industry and shipping. However, renovation began at the same time, and the city became what is now a major financial and cultural centre in the Northwest, known globally for its world-famous football teams Manchester United and Manchester City and so much more.
Driving in Manchester
Transport in Manchester is varied, extensive, and convenient. Rail lines enter the city from all directions, with Manchester Piccadilly and Manchester Victoria being the two main stations. However, the rail networks are almost at full capacity, making delays and cancellations frequent. Manchester was the first UK city to have a modern tram system (the Metrolink), and its bus network is one of the largest in the UK.
Driving in Manchester can be as slow and frustrating as driving in any global city (there's a congestion charge to enter the city centre by car), and the compact nature of central Manchester makes walking a real option. However, to really explore the wider area it's undoubtedly best to hire a car, such as a Vauxhall Corsa, VW Golf, or for a large family or small group a 7-seater vehicle or mini-bus. Liverpool is just 55 minutes away and Leeds and Sheffield are just over an hour away ̶ it's also useful to remember that the M60 (motorway) is the Ring Road which surrounds the city, while the M62 takes motorists south towards Liverpool.
If you're ready to Enjoy new driving experiences, let's warm up our engines for 10 epic road trips from Manchester.
1. Buxton
Buxton is a spa town in Derbyshire in the East Midlands, regarded as the gateway to the Peak District National Park and renowned for its natural spring waters for drinking and bathing.
Getting there: To get there take the A34 south from Manchester until you reach the A555 at Handforth, then turn south at the A523 following signs for Adlington, Prestbury and Macclesfield. At Adlington, turn west onto Brookledge Lane, which will take you to Pott Shrigley and the edge of the Peak District ̶ from there you can plan a number of stunning scenic walks.
2. Lake District and Kendal
The Lake District makes for scenic drives and some of the steepest, most dramatic driving in England. For the best drives, try going over a pass – Honister, Kirkstone or Wrynot for example – to really experience undulating terrain that feels like a road-borne rollercoaster ride. Windermere (on Lake Windermere) is a pretty town that's a super starting point for even more ravishing local routes – you can't go wrong in the Lakes if you just drive around and stop off wherever you experience eye-opening scenery!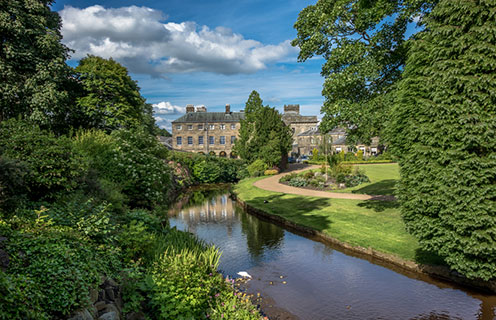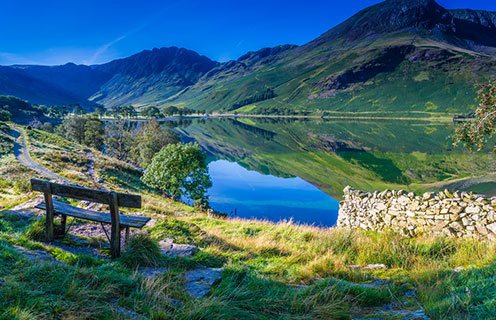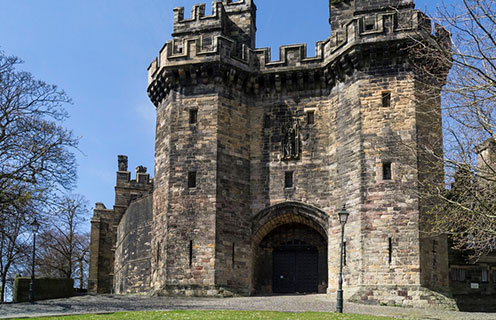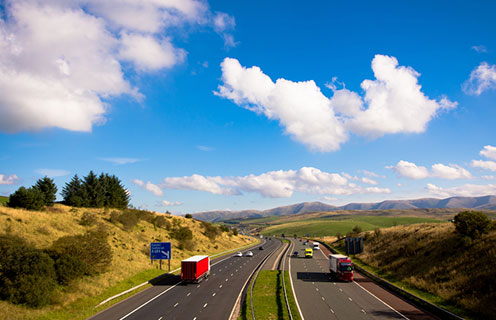 On the south-east boundary of The Lake District sits Kendal, a historic market town. Known as 'the gateway to the lakes' it's also famous for Kendal Mint Cake, which has sustained mountaineers and ramblers for decades. The ruins of Kendal Castle lie on Castle Hill, which commands great views all round. There is also a museum and a Brewery Arts Centre, among other attractions. A popular circular driving route is Kendal to Grange-over-Sands to Windermere, which explores the south-east corner of the Lakes, including Lake Windermere.
Getting there: You can hire a car in Manchester and reach the Lake District in as little as 90 minutes. The M6 motorway runs to the east of the Lake District National Park ̶ take Junction 36 and then the A590 for the south Lake District or take Junction 40 and the A66 or A592 for the north Lake District.
3. Morecambe
Morecambe in Lancashire is a coastal seaside town on the Irish Sea. A traditional British resort town (like Blackpool, Skegness, Clacton-on-Sea) it has a lovely 5-mile promenade which was recently extensively refurbished, and there are four fantastic beaches in the area ̶ Morecambe North, Morecambe South, Heysham (the Half-Moon Bay), and Hest Bank. There are loads of activities for all the family too, from historical sites such as the Christian stone-cut graves at Heysham to Happy Mount Park ̶ originally built in the 1920s it's still thriving, and it has mini-golf, a miniature railway, Japanese gardens, children's splash n' play areas and lots more.
Getting there: The drive from Manchester to Morecambe is about one hour and a quarter along the M1 and M6.
4. Snowdonia
Snowdonia is a national park in north Wales. Snowdonia is the largest national park in Wales and Mount Snowdon is the highest mountain in England and Wales. Unless you feel like a climb take the historic Snowdon Mountain Railway to the summit to enjoy views all the way to Ireland, or explore one of the 100 lakes and trails in the area.
Getting there:Less than two hours from Manchester down the M56 it's worth getting off the motorway for a rural drive: as an alternative, go via historic Chester on the A55 and then the A483 into Wales.
5. Shrewsbury
Shrewsbury is a large market town in Shropshire, England. It sits inside a loop of the River Severn (the longest river in England) and the town centre is full of half-timbered Tudor houses and mediaeval history like Shrewsbury Castle, dating from 1070. Be sure to visit Wroxeter Roman City, once the fourth-largest Roman town in Britain, and the Shropshire Hills which dominate the landscape surrounding Shrewsbury. Some of the closest include Caer Caradoc, which can be seen towering over Church Stretton just off the A49; Caradoc is also home to an impressive Iron Age hillfort, but it's worth the trip for the Shropshire hills alone, an Area of Outstanding Natural Beauty.
Getting there: Shrewsbury lies slightly further away from Manchester and the journey takes just under 2 hours. There are two ways to get there which take about the same amount of time: either down the M6 towards Stoke-on-Trent or via the M56 around Chester and then through Wrexham.
6. Blackpool
Blackpool is a seaside town and Victorian-era pleasure beach with attractions such as rickety old rollercoasters (if you're feeling brave) alongside brand new ones such as ICON. There's also a Madame Tussauds Waxworks Museum, Blackpool Tower, waterfront piers, and as many pubs, bars, and hotels that you'd expect from a famously hedonistic holiday resort.
Getting there: At just over an hour's drive from Manchester along the M61 and M5, it's perfect for a day trip.
7. Chester
Famed for its half-timber Tudor houses, Zoo and quality shopping, Chester is a compact, lovely little town surrounded by ancient city walls. Here you can explore the Roman Coliseum, wander along the River Dee or visit the race track if you fancy a flutter.
Getting there: Chester is actually closer to Liverpool than Manchester, but it's still less than an hour to drive ̶ take the M56 and M53 and follow the straightforward signs.
8. Hebden Bridge
This beautiful bijou South Yorkshire town is famous for its cultural life, welcoming atmosphere and creativity. The high street is filled with local, independent shops; there's a beautiful Art Deco cinema, the Rochdale Canal (which connects Leeds and Manchester) and one of the UK's most famous live music venues, the tiny Trades Club.
Getting there: Again, it's less than an hour from Manchester along the M62.
9. Jodrell Bank and Tatton Park
Close enough to fit both into a single day out from Manchester are Jodrell Bank Discovery Centre, site of the world's first radio telescope, and Tatton Park. The former still hosts the imposing, 90-metre Lovell telescope, and there's a café serving freshly made, sustainable food and drink. Tatton Park is not only a huge park, but also features a deer farm, a working traditional farm, and a massive Neo-Classical stately home with award-winning gardens.
Getting there: Take the M6 to Junction 18, then follow the A535 to just between Chelford and Holmes Chapel and follow the signs.
10. Lancaster
If you're heading to Morecambe be sure to check out Lancaster on the way. It's an ancient settlement with a distinguished maritime and military history. For history buffs there's the 12th-Century Lancaster Castle, ruins of Roman Baths, and Lancaster Priory Church among others. Lancaster also has a historic canal and even an aqueduct, and if the kids are getting bored with all the history be sure to take them to Salt Ayre Leisure Centre for climbing and a host of other sports.
Getting there: If you want to avoid the M61/M62, leave Manchester heading to Skipton, then Kirkby Lonsdale, and then on to Grasmere via the A591. It's well worth stopping in Skipton or Kirkby Lonsdale for a wander around and a refreshing cuppa.
These 10 Epic Road Trips from Manchester will expand all your horizons ̶ get behind the wheel with Enjoy and hit the road!
Motoring In Manchester? Trust Enjoy For Terrific Car Hire Deals!
Getting to and from Manchester