Top 10 Malta Road Trips:
Valletta to Mdina
Valletta to Wied Iz-Zurrieq
Zurrieq to Mellieha
Valletta to Marsaxlokk
Gozo Island
Rabat to St Paul's Bay
Sliema to Ghajn Tuffieha
Valletta to Vittorioso
Paola to Dingli Cliffs
Zurrieq to The Inland Sea
A small archipelago packed with more history and sublime scenery per square inch than many larger territories, Malta has much to offer anyone exploring by car. Here you'll find romantic hidden coves, dramatic cliffs, prehistoric temples, sheltered bays and burnished sand beaches lapped by crystal-clear waters.
10 of the best scenic drives from Malta
Locals are friendly here and there's a fascinating melting pot of cultures which includes Middle Eastern and Sicilian influences, and intriguing history is writ large in the capital Valletta, built by the Knights of St John, and castellated hilltop towns like Victoria and Mdina. You'll find swish contemporary hotels and chic cafes in larger towns and cities, as well as cutting-edge design and architecture, contrasted with areas where time seems to have stood still for centuries like the smaller island of Gozo, where sedate villages are dominated by impressive ancient churches.
Malta is only around 27km long by 14km wide, which means that it's perfect for exploring by car and although its diminutive size means that road trips here aren't marathons, there's plenty of variety and stunning scenery on offer when you hop in your vehicle for a route that only lasts for half an hour or less.
Hire a car in Malta with Enjoy Travel and you can make the most of this magical, mystical island – with cheap early bird deals available from the best local and international car hire partners and hassle-free online booking, arranging your transport for a Malta staycation or vacation has never been easier!
Tips on driving in Malta
We're almost ready for your Malta road trips, but let's pause briefly for a few useful tips on driving in this dream location.
Always drive on the left side of the road in Malta and be aware that there are no motorways as such – main roads are usually dual carriageways. The national speed limit outwith urban areas is 80km/h, it's 50km/h in built-up areas and 35 km/h in some villages, but you'll also see signage indicating 60km/h and 70 km/h limits on some roads.
Road surfaces on main roads are generally in a decent state of repair but this isn't always the case on B roads or those through small villages – rough road surfaces and potholes are common so please proceed with caution.
Now that you're in pole position with your Maltese driving rules, let's get stuck into those scenic road trips!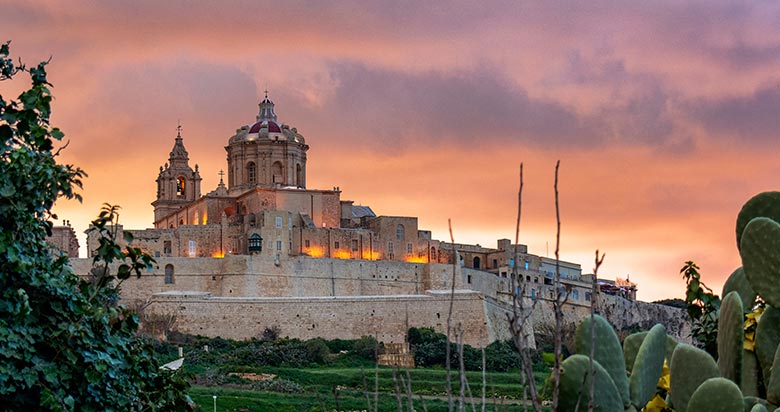 1. Valletta to Mdina
Fancy converting your car into a time machine during a short but superb drive? Then head from Valletta to Mdina, also known as Malta's 'Silent City'. This small, fortified city has a magical mix of Baroque and Medieval architecture criss-crossed by charming narrow streets and there's lots to see and do. The ornate Vilhena Gate is the main entrance to town and dates from 1724, St Paul's Cathedral has an inspirational interior with amazing arched ceiling and the Fontella Tearooms affords beautiful bucolic views to accompany its famous homemade cakes.
Getting there: drive east from Valletta via Triq-L-Imdina to reach Mdina in around 20 minutes.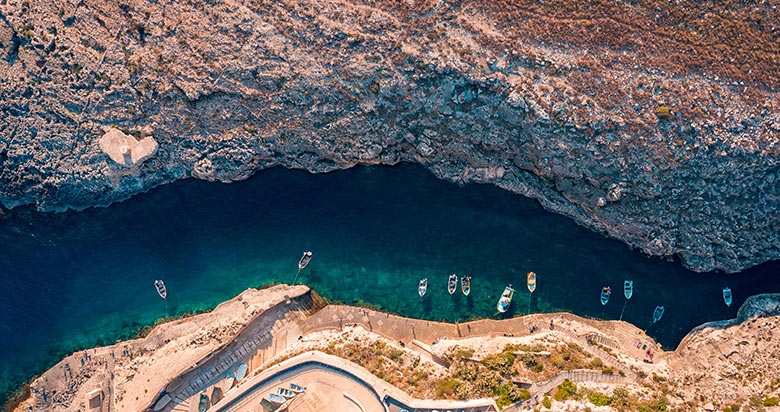 2. Valletta to Wied Iz-Zurrieq
For another delightful day trip from a Valletta base, try the wonderful Wied Iz-Zurrieq on the south west coast. Attractions here include a historic watchtower with eye-popping views of Filfla islet, a clutch of sumptuous restaurants and the Hagar Qim and Mnajdra temples, which date back as far as 3600BC. You can also take a boat trip to the beautiful Blue Grotto and marvel at an outstanding optical illusion which colours your hands blue in the water.
Getting there: Zurrieq is 25 minutes from Valletta via Triq Wied Iz-Zurrieq.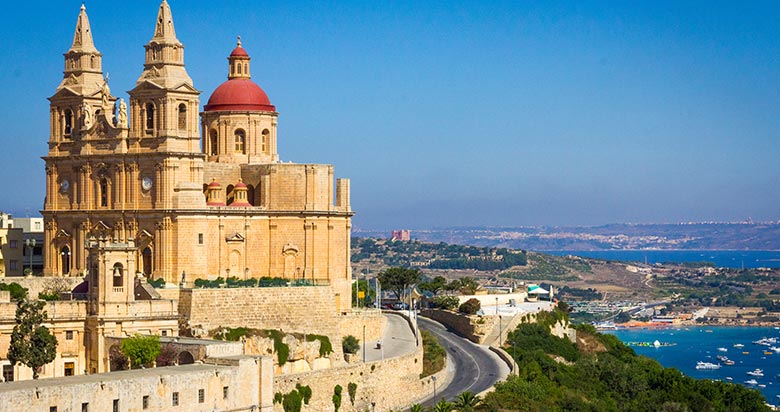 3. Zurrieq to Mellieha
Regarded by some motorists as one of the most serene and scenic drives in Malta, this west coast route takes you through some of the islands most isolated and idyllic scenery. You'll wind past rough rubble walls, with awe-inspiring sea views once the road curves leftwards towards Siggiewi and historic sites like Providenza Chapel popping up. At Mellieha, there's a brilliant beach, the film set of Popeye, and the Sanctuary of Our Lady of Mellieha, which is the oldest shrine to the Virgin Mary on the island.
Getting there: take the Triq L-Imdina north from Zurrieq to reach Mellieha in 40 minutes.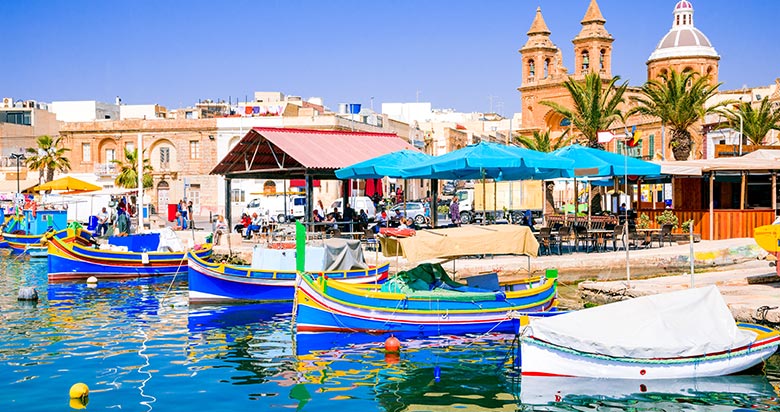 4. Valletta to Marsaxlokk
Located just 10km from Valletta, Marsaxlokk is a bijou fishing village that's an absolute joy. The harbour here is Malta's largest and you'll see hundreds of brightly decorated fishing boats here adorned with the traditional 'eyes of Osiris' decorations, which have been used since the Phoenician era to ward off evil spirits in a custom that originated in north Africa. The same influence can be felt in the town's palm-lined port and bright stucco houses painted in red and yellow.
Getting there: Marsaxlokk is just 20 minutes from Valletta via Tal-Barrani.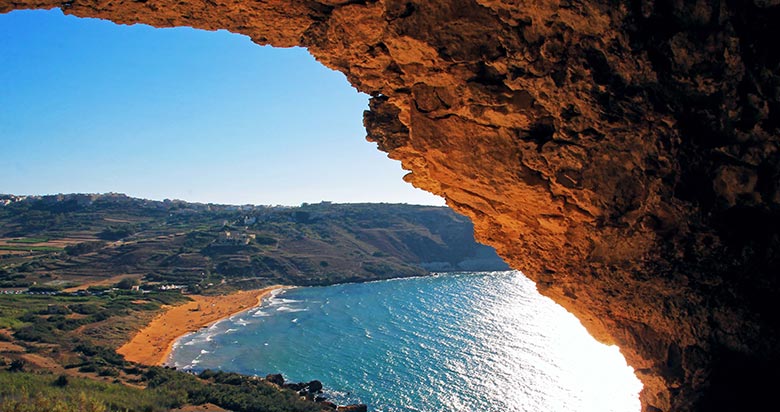 5. Gozo Island
Roll onto the ferry at Cirkewwa in the north of Malta and in 25 minutes you'll cross to Mgarr in Malta's second island Gozo. There's a wealth of attractions as you cruise around here in your car, including the picturesque Ramla Bay beach, Our Lady of Ta' Pinu Basilica, Bronze Age ancient citadel and 17th century Dwerja Tower. For a change of scenery and a different vibe, a drive around gorgeous Gozo is a must.
Getting there: from Valletta, the Cirkewwa ferry terminal is 45 minutes away via Route 1.
6. Rabat to St Paul's Bay
St Paul's Bay is the largest town in northern Malta and it's a beautiful area that makes for a brilliant day trip if you're based in Rabat. The name stems from the Biblical legend that St Paul was shipwrecked here en route from Caeserea to Rome and there are plenty of distractions here including fab Italian and seafood restaurants, lively bar scene and sumptuous manmade beaches. Treat yourself to an overnight stay and soak up the ambience.
Getting there: St Paul's Bay is a mere 20 minutes from Rabat via Route 16.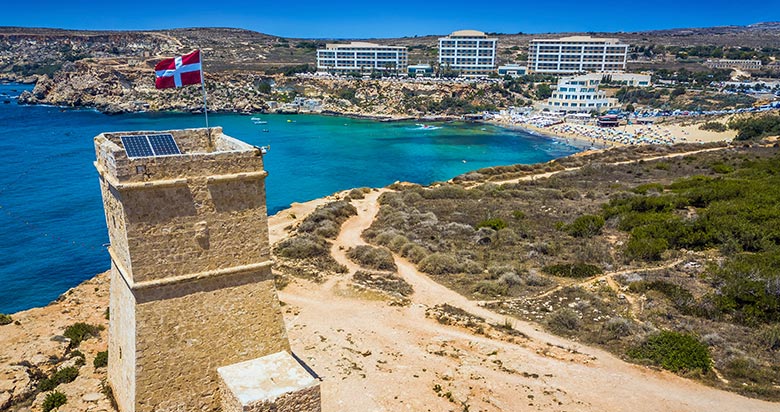 7. Sliema to Ghajn Tuffieha
With its architectural attractions like Stella Maris church and lovely views from Tigne Point, Sliema is one of the best places to stay in Malta. But if you want a change of scenery, Gajn Tuffieha (Apple's Eye) makes for a classic road trip. Located near Manikata in the north west, this is known as the island's most beautiful beach, and it's characterised by ravishing red sands, clear waters and high cliffs on each side. It offers great summer swimming but beware of strong currents off-season.
Getting there: Ghajn Tuffieha is 25 minutes from Sliema via Route 118.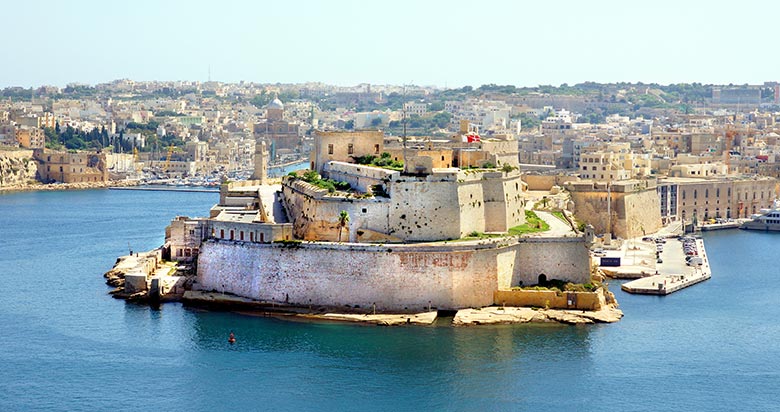 8. Valletta to Vittorioso
A road trip to Vittorioso is a must if you're interested in Malta's unique history. Fort St Angelo is the former residence of the Grand Master of the influential Knights of St John, the Inquisitor's Palace was notorious as the 16th century tribunal and prison of the Inquisition, and the Malta at War Museum is based in a former police station and brings Malta's role in WWII alive with dynamic exhibits.
Getting there: Vittorioso is just 18 minutes away via Route 6.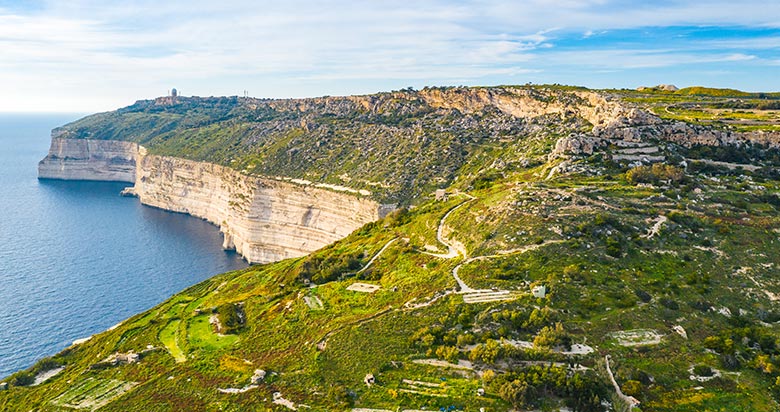 9. Paola to Dingli Cliffs
A day trip to Dingli Cliffs from Paola is fin for all the family. Located on the west coast, some 253m above sea level, they're the island's most vertiginous area – the views are immense and there's a chapel to St Mary Magdalene nestled precariously on the edge. Walking is popular here, but you can also take a Segway tour if this floats your boat more.
Getting there: Dingli Cliffs are 25 minutes from Paola via Limiti tal-Ghajn il Kbira.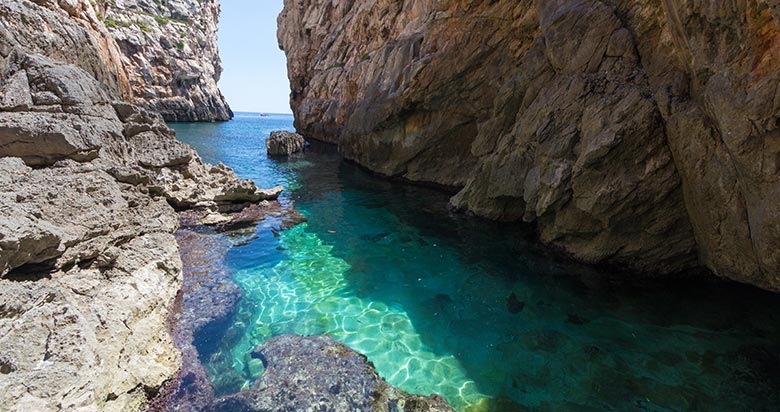 10. Zurrieq to The Inland Sea
Situated near Dwerja Point and Dwerja Bay on Gozo, The Inland Sea is one of the most spectacular natural features in Malta. This unique sea lake connects to the Mediterranean sea through a small tunnel in the cliff which is barely large enough to squeeze a boat through. As you drive down towards the coast, your amazing vista includes the Fungus Rock, Inland Sea and what remains of the legendary Azure Window – an impressive 92ft natural rock arch.
Getting there: It takes 1 hour and 45 minutes to reach The Inland Sea from Zurrieq via the crossing at Cirkewwa.
So there you have them – 10 terrific Maltese road trips that showcase what's so special about this ancient island. Hire a car from Enjoy and discover the magic for yourself!