Top 10 Leicester Road Trips:
Cheltenham & The Cotswolds
Hunstanton
Matlock Bath & High Peak Trail
Lincolnshire Wolds
Mablethorpe
Pilsley & Chatsworth Estate
Kenilworth
Ironbridge Gorge
Cannock Chase
Malvern Hills
Leicester is probably most famous these days due to its fantastic football team (FA Cup winners and Premiership champions in recent seasons).
But there's much more to see and do in this magnificent multicultural city than silky soccer. Leicester was badly damaged by WWII bombing but rose like a phoenix from the flames, thanks in no small part to the many workers from India and Pakistan who emigrated here in the post-war years and made the metropolis far less bland and much more flavoursome.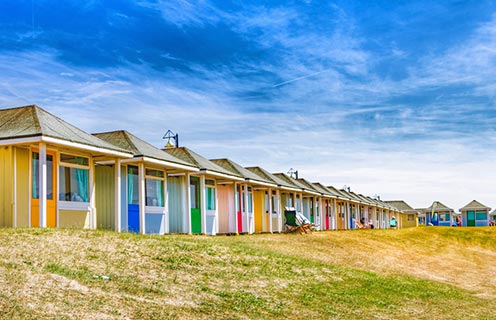 10 of the best scenic drives from Leicester
It's also an awesome place for history buffs thanks to the 2012 discovery of the body of King Richard III under a city carpark, which spurred international interest, led to the construction of an excellent visitor centre and catalysed the restoration of the city's cathedral, which was the impressive venue for the king's 2015 reburial.
If you're a foodie, you're in for a real treat in Leicester, because as well as all the usual favourite UK high street eateries, this is Britain's former Curry Capital and also boasts some brilliant Caribbean cuisine.
But it's also a brilliant home base for feelgood road trips throughout the East Midlands and beyond, so you can hire anything from a compact car to a minibus from Enjoy Travel, hop in, strap on your seatbelt and take off for some of Britain's most scenic and interesting spots ̶ from areas of natural beauty to charming villages and stunning seaside towns, you're spoiled for choice!
Tips on driving in Leicester
Your 10 epic road trips from Leicester are right around the corner, but it pays to take a quick pitstop for a few driving tips that will make everything more manageable when you're behind the wheel in and around the city.
The same speed limits apply in Leicester that you're used to elsewhere in the UK, but please be aware that there are several 20mph areas, so look out for the signage.
Apart from the usual morning and evening rush hours, Friday through Sunday is a busy time for driving in the city and the areas around the train station, Granby Street and Charles Street are particularly hectic in the mornings, while Jubilee Square and Market place pick up as the day proceeds.
You'll find parking at the Rutland Centre on Halford St, as well as at Lee St, St Nicholas Circle, Welford Rd and Phoenix Square (Burton St).
Now it's time to take off on your legendary Leicester road trips ̶ let's roll!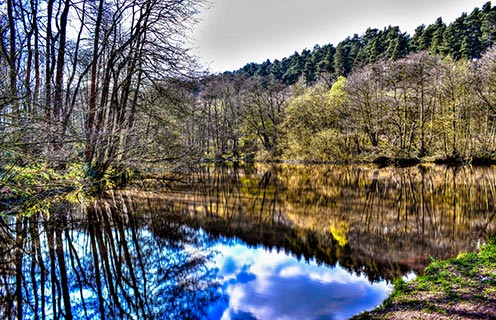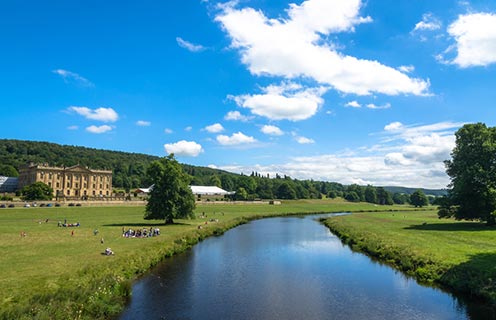 1. Cheltenham & The Cotswolds
A gorgeous Regency spa town on the edge of the Cotswolds, Cheltenham is a classic Leicester road trip destination. If you're feeling active, this awesome area of outstanding natural beauty has hiking and trails available at the Devil's Chimney and panoramic Cleve Hill, while pretty spots like Winchcombe and Bibury are as hypnotic as they sound.
Getting there: drive south-west from Leicester along the M5 to reach Cheltenham in around one hour and 45 minutes.
2. Hunstanton
A super seaside spot in West Norfolk, 'Sunny Hunny' is famous for its pristine, shallow waters, vivid, variegated cliffs and swathes of welcoming sands. There are plenty of traditional British beach resort attractions to keep you entertained, including amusements, funfairs and bandstands, as well as gorgeous gardens and parks in the town proper.
Getting there: take the A47 east out of Leicester and you'll be in Hunstanton in just over two hours.
3. Matlock & Matlock Bath
These neighbouring Peak District towns are a stone's throw apart but offer quite different day trip experiences. Matlock is a former spa town with chic cafes and a more urban vibe, whilst Matlock Bath's promenade, boating river and cable car make it more of a holiday hotspot. If you want to blend breath-taking natural attractions like the Heights of Abraham with kids attractions like Gulliver's Kingdom, this is the perfect day trip.
Getting there: Matlock is one hour and 25 minutes from Leicester via the M1 and A38.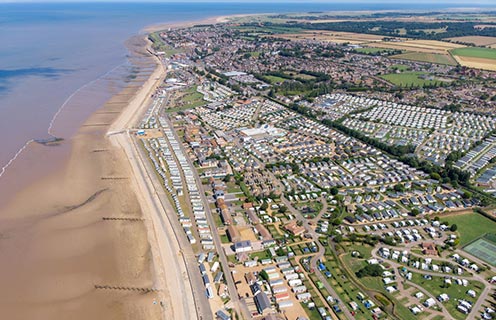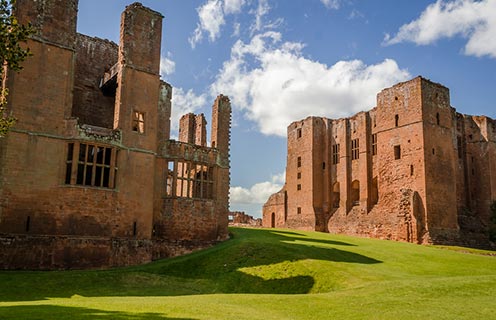 4. Lincolnshire Wolds
You can't visit Leicester without driving through the beautiful Lincolnshire Wolds area of outstanding natural beauty! Its picture-postcard villages, undulating hills, burbling brooks and secret valleys are a joy to roll through and activities include horse riding, hiking and cycling ̶ but chances are you might prefer to simply cruise through and enjoy the blissful views.
Getting there: take the A46 north east from Leicester and reach the Lincolnshire Wolds in just under two hours.
5. Mablethorpe
A beautiful beach town on the Lincolnshire coast, Mablethorpe is a fab family road trip from Leicester, and you'll never be bored here. The golden beaches are outstanding and there's even a sand train that takes you from one end to the other (including a dip in the water at one point!) and you can treat yourself to seaside favourites like fish and chips and crazy golf while you're here.
Getting there: Mablethorpe is two hours and 30 minutes from Leicester via the A52.
6. Pilsley & Chatsworth Estate
Another Peak District must-see, Chatsworth is arguably the most famous stately home in the Midlands and has graced the silver screen several times. The neighbouring village is Pilsley also oozes charm and its burnished stone cottages, and verdant gardens are a joy to behold. If you fancy a relaxing road trip with lots of lovely scenery, this is it!
Getting there: Pilsley is one hour and 25 minutes north of Leicester via the M1.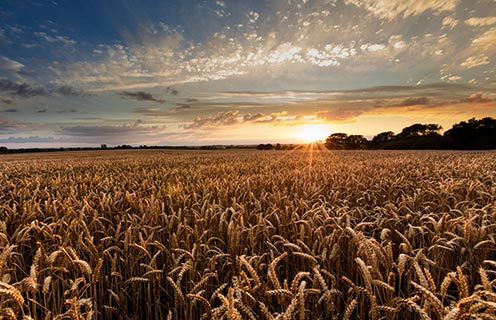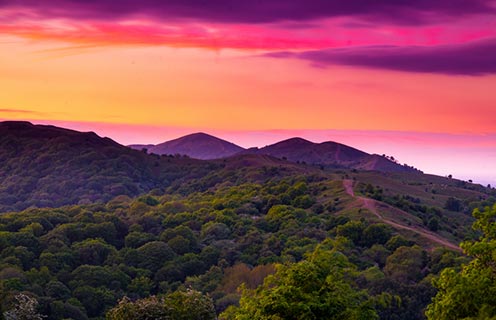 7. Kenilworth
Located in Warwickshire, Kenilworth is a must for history fans. There's record of a settlement here since the Domesday Book and its castle reputedly dates from the time of King Arthur. Treat yourself to refreshments at one of the excellent local eateries and then explore superb surrounding areas like Kenilworth Chesford Grange.
Getting there: Kenilworth is located south west of Leicester, and you'll reach there in under one hour via the M69.
8. Ironbridge Gorge
A unique Shropshire attraction (and World Heritage Site), Ironbridge Gorge is a real-life time machine which brings the Industrial Revolution to life like nowhere else. Set in lush, leafy surroundings, there are multiple museums and attractions including Blists Hill Victorian Town, Coalport China Museum, and the iconic Iron Bridge & Tollhouse. Immerse yourself in inspirational history and take some one of a kind selfies while you're at it!
Getting there: drive along the A5 to reach Ironbridge Gorge in one and a half hours.
9. Cannock Chase
There's plenty to distract you in Staffordshire's Cannock Chase, but for outdoorsy types, the well-appointed forest is perhaps the main attraction. From treetop obstacle courses to camping and dog sledding to Segway trails, boredom simply isn't part of the vocabulary here and alternative activities include horse riding, mountain biking and orienteering. Camp overnight to make the most of it and take a leisurely drive home after breakfast.
Getting there: take the M69 and M6 to reach Cannock Chase in around an hour and 20 minutes.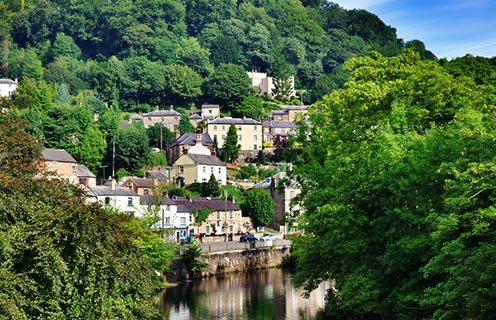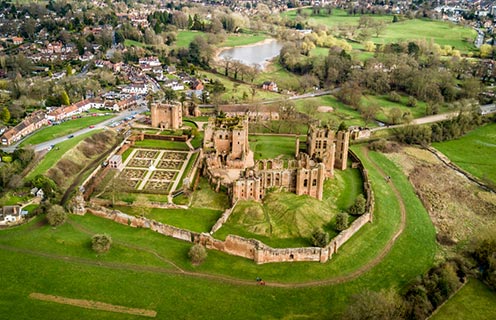 10. Malvern Hills
The Malvern Hills span Herefordshire and Worcestershire and they might be the Midlands' most underrated areas of outstanding natural beauty. The views from the hilltops across patchwork fields peppered with forests and farmhouses are simply spectacular, but there are also settlements to explore such as Malvern itself with its therapeutic waters, Tenbury Wells in the wonderful Teme Valley, and the riverside delights of Upton upon Severn. There's no shortage of rustic countryside inns where you can enjoy a bite to eat, as well as various venues, museums and public parks and gardens.
Getting there: Malvern is one and a half hours from Leicester via the M42
As you can see, Leicester is a legendary launchpad for several epic road trips where you'll enjoy mind-blowing scenery, fascinating historical attractions and as many cultural highlights as you can handle.
Depending on how long you're staying, you can pick your favourite road trips to tick off your list or, if you've got a little longer, why not go for the decathlon and take on them all?
Hire a car in Leicester with Enjoy Travel and experience the best of what's on offer in the East and West Midlands ̶ whether you're in the market for a compact car or a seven-seater, your chariot awaits!