Top 10 Road Trips from Malaga
Gibraltar
Mijas
Ronda
Nerja
Frigiliana
Torre del Mar
Cordoba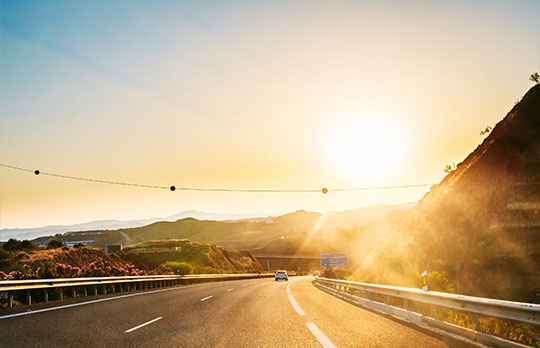 Top 10 scenic drives from Malaga
A Costa del Sol city with a difference, Malaga is unique, historic and sophisticated. Picasso's home town has lots to recommend it, including the up and coming Soho art district, a revitalised port area, a food scene that spans everything from tapas to haute cuisine, and authentic Spanish nightlife that pulses all night long. With a Moorish, Roman, and lots of cool, contemporary architecture, this vibrant, forward-facing city has a rich multicultural history.
There are lots of legendary attractions in Malaga. The most iconic tourist site is the Alcazaba, a Moorish 11th-century fortress and palace built to defend the city against attacks from Catholic forces. It's remarkably well-preserved and a tour is a must. The 1st-century AD Roman amphitheatre is the oldest archaeological site here and at the other end of the spectrum, there's a cutting edge Spanish franchise of the Pompidou Centre. If you're more of a beach bum, there are several sublime stretches of sand to choose from, including the famed Malagueta, La Caleta and El Campo de Golf beaches. And La Concepcion Botanical Gardens is a lush, chilled-out place to unwind when things get a little too hot to handle.
Hiring a car in Malaga is also a great idea because it's a great base for exploring the wider Andalusia and Costa Del Sol areas. It's easy to find a great deal on the perfect car for your needs. Just enter your dates and details to compare offers from the world's best car rental partners ‐ on everything from compact cars to 7-seaters and luxury vehicles.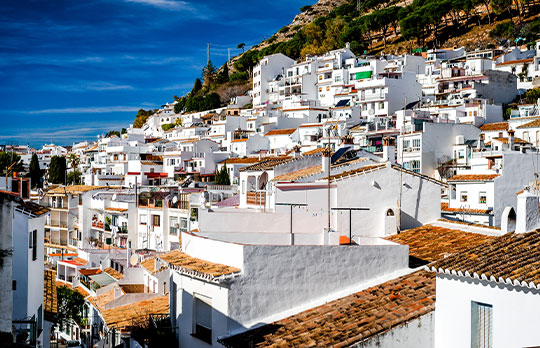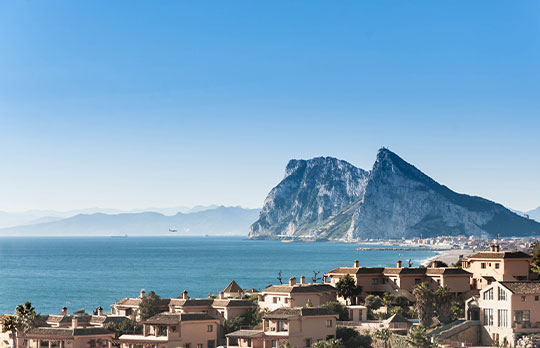 Top tips on driving in Malaga
Revved up for your Malaga road trips? Let's take a quick pitstop for some driving tips.
Always drive on the right side of the road and overtake on the right. Wear your seatbelt, don't drink and drive, don't use your mobile phone and don't park where the kerb is painted red or yellow, and don't use your horn between 11pm and 6am.
Speed limits are 50km/h on urban roads, 100km/h on freeways and 120km/h on motorways.
Ready for your road trips? Let's roll out!
Gibraltar
How does a trip down the coast to a little corner of Blighty at the tip of Spain sound? Gibraltar is just one hour 40 minutes away via AP-7 and it's always a great road trip. There's loads to do on The Rock – like visiting Europe Point and the Trinity Lighthouse at the most southerly part of the peninsula, for starters. The 'apes of Gibraltar' (Barbary macaques) are always entertaining too ‐ you'll see these cheeky chaps all over, but especially at Upper Rock Nature Reserve. When you're at Upper Rock, be sure to take a ride on the panoramic cable car too ‐ it's truly spectacular. If you want to know what Britain might be like if it had better weather, this is your chance!
Mijas
Just 35 minutes away via AP-7, Mijas is a magical spot for a day trip. Once a Moorish town, modern Mijas is divided into a whitewashed old town (Mijas Pueblo) spilling down the hillside, and Mijas Costa ‐ a coastal area a little further south, between Marbella and Fuengirola. Mijas Pueblo affords outstanding views of the Sierra de Mijas, and the Blue Flag beach at La Cala is beautiful. The fairy tale Castillo de Colomares is also breath-taking, and there's an aqua park to keep the kids busy ‐ this is a destination with something for everyone.
Marbella
Fancy a glam night out? Marbella is only 50 minutes from Malaga via that good old AP-7 and never disappoints. 'Marbs' has a whitewashed old town with labyrinthine red-tiled streets, the elegant Alameda Park filled with tropical flora and marble walkways, and no less than 20 beaches to choose from. And (crucially) it also has banging bars and clubs like Lemmon, Big Boss, Claddagh Irish Bar, Lineker's Lounge and Nikki Beach ‐ park up your car for the evening and party!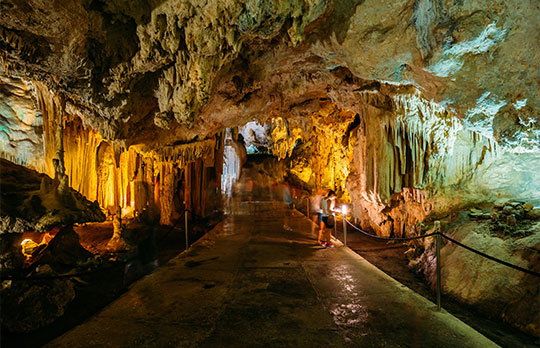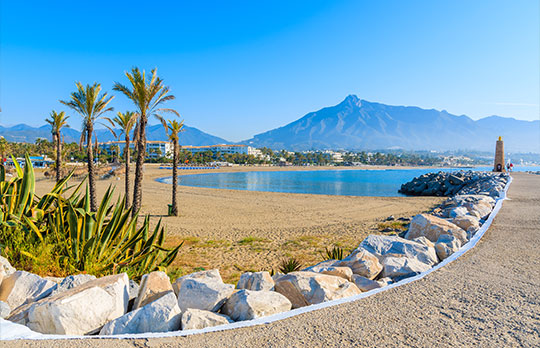 Ronda
Yearning for a mountaintop city set spectacularly above a vast gorge? Ronda is one hour and 20 minutes from Malaga via A-357 and A-367 and it's like nowhere else on earth. Split in half by the Guadalevin River, the Puente Nuevo bridge links the two sides dramatically 100m above the El Tajo Canyon floor, and you can see all the main attractions during an action-packed day trip. Other attractions include Mondragon Palace with its blend of Renaissance and Moorish architecture, and the noble Duchess of Parcent Square.
Nerja
50 minutes east of Malaga via the A-7, Nerja is another easy (and excellent) day trip destination. One fascinating attraction here is the Nerja Caves complex. These vast underground caverns first used by Neanderthals that feature otherworldly rock formations ‐ one column is 32 metres high and the largest on Earth. Meanwhile, Playa de Burriana is the biggest beach in the area and the paella served by beachside café Ayos has been blowing minds (and satisfying stomachs) for generations. For something a bit more active, take a river walk up the Rio Chillar and enjoy the terrific scenery of Sierras de Tejeda and the Alhama Natural Park. For an all-action road trip with some beach R&R on the side, Nerja is ideal.
Cadiz
At 2 hours 35 minutes away via AP-7 and A-381, Cadiz is a slightly longer road trip from Malaga, but it's worth the effort to experience and entirely different vibe. Plaza de San Juan de Dias is the heart of the action in this fine Andalusian city ‐ this 16th century square is the traditional heart of the metropolis and hosts the town hall and main church. With its elaborate Golden Dome, Cadiz Cathedral is the most famous landmark here, and you can climb up Poniente Tower for a bird's eye view across the whole city. La Caleta beach is a super place to splash around and cool off, while Santa Catalina Castle and Genoves Park are great for rest and relaxation. All in all, Cadiz is an inspirational place to spend a weekend.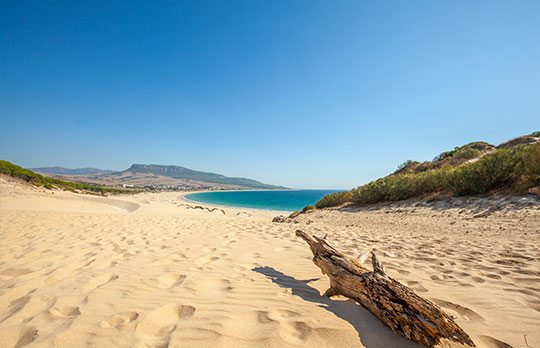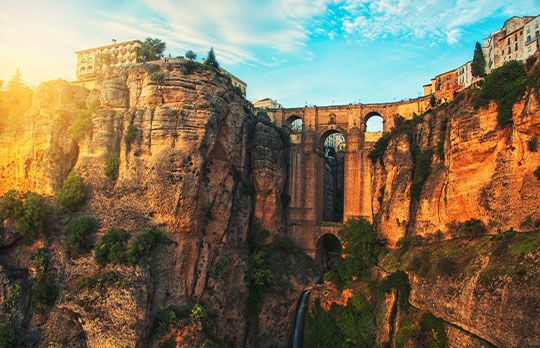 Frigiliana
A 50-minute ride along the coast from Malaga on the A-7, Frigiliana is known for its Moorish old quarter, narrow winding streets and bright whitewashed buildings. There are lots of arts and craft shops here where you can grab some gifts for family at very reasonable prices, and several traditional Spanish restaurants. There's an archaeological museum where you can learn all about history of the area, and if you're reasonably fit, a trek up to Castle of Lizar is really rewarding ‐ remember to wear a sensible pair of boots though!
Torre del Mar
30 minutes away via the A-7, Torre del Mar and there's plenty to keep you entertained in this popular resort. There are three lovely beaches here, one of which (Naturista Almanat) is designated nudist (fair warning), and the Aqua Velis Water Park is a little more family-friendly (no naked people here) as well as being the largest in the Axarquia region. There's a picturesque promenade and you can purchase fresh local fare at the market held every Thursday. Also, if you happen to visit during Semana Santa, the festival ambience is amazing.
Seville
Two hours 16 minutes inland via A-92, elegant Seville is the capital of Andalusia and always an amazing place to visit. There are oranges growing on trees in the streets here (so you'll never go hungry!) and the dazzling architecture blends Renaissance, Gothic and Moorish influences. Great things to do include gazing at the gorgeous Real Alcazir (Royal Palace) and the 16th-century Arab baths are the perfect place to unwind. However, Catedral de Santa Maria de la Sede is the world's largest cathedral and developed for 400 years from the 12th century. If you're missing your football fix, take in a Sevilla FC match ‐ they currently play in La Liga, so giants like Barca and Real Madrid are no strangers to their sunny stadium.
Cordoba
Just under two hours north of Malaga via the A-45, Cordoba is our last, but by no means least, road trip. An important Roman city and Islamic powerhouse in the middle ages, its most famous attraction is the Mezquita Mosque, but that's just for starters. The Historic old town is UNESCO-listed and full of winding alleyways designed to keep citizens cool. Cordoba has plenty of first-class places to eat too ‐ like Bodegas Mezquita, Amaltea Restaurant (great for veggies) and El Churrasco (for fans of grilled meat). Foodies take note!