Top 10 Road Trips from Toulouse
Carcassonne
Albi
Castres
Cordes sur Ceil
Lourdes
Andorra la Vella
Najac
Rocamadour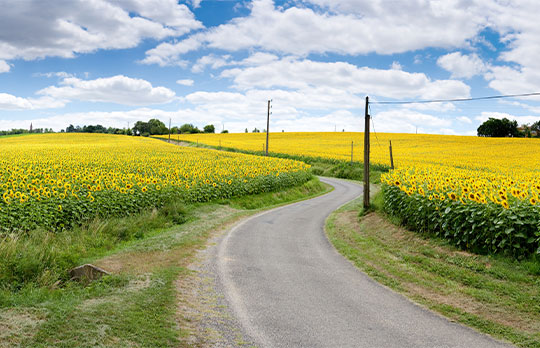 Top 10 scenic trips from Toulouse
Spending some time in Toulouse? Magnifique!
France's fourth-largest city by metropolitan area combines a rich ancient heritage with cutting edge technology and it's always a privilege to hang out here. Capital of the Occitania cultural region and the Visigoths, it's the beating heart of south-west France and showcases 2000 years of history – from Roman Times right through to its contemporary space and air industry.
Nicknamed 'La Ville Rose' (The Pink City) because of its rouge rooftops and coral brick churches, its old town looks like something straight from the pages of a medieval fairy tale. Toulouse is home to one of the largest (and oldest) universities in Europe and as it's set on a bend between the Canal du Midi and Garonne River, waterways are its lifeblood. Highlights here include the beautiful (and UNESCO-listed) 12th century Basilique Saint-Sernin, people-watching in the elegant Place du Capitol, the Cite de l'Espace theme park, and the gorgeous Japanese Gardens. Rugby is the main sport and Stade Toulousain have a good claim to being France's greatest rugby union team – they've won the Heineken Cup more times than any other outfit and had more players picked for France too. If you're up for a night out, the live music scene in Toulouse covers everything from jazz and punk to EDM – there's something for everyone.
And with its prime location, hiring a car in Toulouse helps you explore the whole of the south west – let the adventures begin!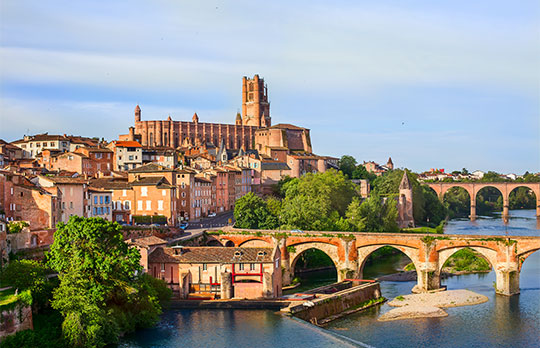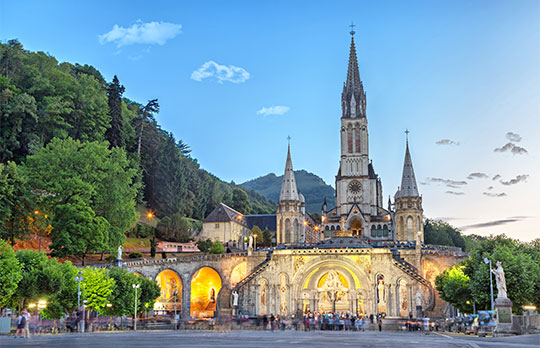 Top tips on driving in Toulouse
Top 10 road trips from Toulouse coming right up, but let's take a brief pause for some driving tips.
First off, there's a low emission zone in Toulouse which you can't enter in certain vehicles without Crit'Air stickers (air quality certificates). You can buy these from official sources online and the zone is marked by signs with a red circle on a white background.
Speed limits in France are 80mph for motorways, 70mph on dual carriageways, 50mph on main roads outside built-up areas and 30mph on main roads in built-up areas.
Now let's crack on with those road trips!
Carcassonne
Just over one hour's drive from Toulouse along the A61, Carcassonne is a top road trip destination you shouldn't miss. Walk around the inner wall of this castellated town and you'll see stunning views of the surrounding countryside, but the highlight is probably the Romanesque Basilica of St Nazaire – it contains the oldest church organ in the whole of France. The old town is interspersed with labyrinthine cobbled alleyways and charming stone-built medieval buildings, while the lower city (built outside the walls in the 13th century), has cafes, shops and everything else you expect in a regular French town.
Albi
Fancy a quick road trip to an art and architecture hotspot? Albi is 55 minutes' drive from Toulouse via the A68 and it's well worth a visit. Located in the Tarn department, it's famous for its red brick architecture, with the centrepiece being the fortified cathedral complex, Episcopal City. There's also a museum dedicated to the life and work of Henri de Toulouse-Lautrec, the iconic 19th century artist famous for his racy pictures of Belle Epoque Paris. Meanwhile, Jardins de la Berbie is a gorgeous green space between the left bank of the Tarn River and the Palace de la Berbie, and the central old quarter is split into six distinctive neighbourhoods.
Castres
One hour and 15 minutes from Toulouse via N126, Castres is a top spot for a day trip. A centre of industry for 2000 years, you can still see medieval tanners houses on the banks of the River Agout, there are renaissance mansions built for 17
th
century magistrates and Musee Goya features masterpieces from Francisco himself as well as major works by Zurbaran and Murillo. Other hotspots here include Place Jean Jaures (shopping, eating and socialising) and, just outside the city, Sidobre – a granite plateau of the southern Massif Central which has otherworldly rock formations.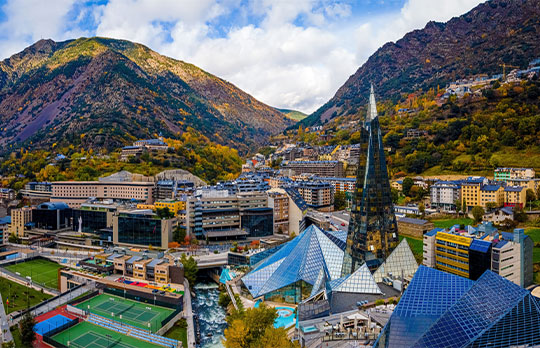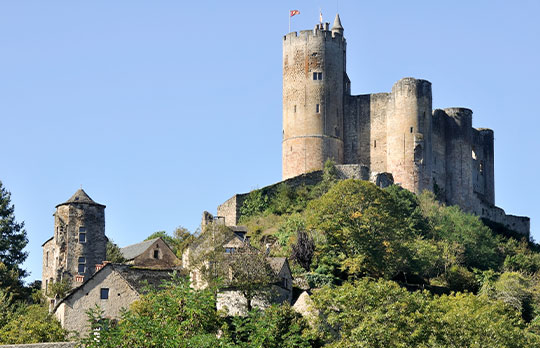 Cordes sur Ceil
With a name that translates roughly as 'Rocky Heights in the Clouds', Cordes sur Ciel is one hour and 15 minutes north east of Toulouse via A68. One of the oldest fortified towns in Occitania, this impressive Albigensian bastide was founded in 1222 by Raymond VII, Count of Toulouse. A haven for Gothic architecture, prominent buildings in its upper town include the Grand Squire's House, Grand Huntsman's House and Grand Falconer's House. Try the croquants de Cordes – these treats made from sugar, egg whites and almonds are simply delicious.
Lourdes
Two hours from Toulouse via A64, Lourdes is a famous location that's always a lovely spot for a weekend getaway. Famous as a centre for spiritual healing since the Virgin Mary appeared to peasant girl Bernadette Soubirous in the mid-19th century, it now attracts around 6 million tourists a year. The main draw is the Sanctuary of Our Lady of Lourdes (AKA the grotto), where Bernadette had the first of several visions of the Virgin Mary, but the Chateau Fort de Lourdes is also worth exploring – an imposing fortress perched on a rocky outcrop, it was never conquered and the views it affords across the Pyrenees are spectacular.
Andorra la Vella
How does a manageable road trip to another nation sound? Andorra la Vella is the capital of Andorra in the Pyrenees, and it's two hours and 40 minutes south of Toulouse via the N20. As you'd expect, the mountain scenery is magnificent and if you're arriving in winter, top-class skiing and snowboarding are on your doorstep. There are lots of great cafes, bars and restaurants, as well as tax-free shopping – for everything from local crafts to luxury goods. You can also enjoy panoramic views of the surroundings as you stroll around Placa del Poble, and the ornate interior of Sant Esteve Church is always worth checking out.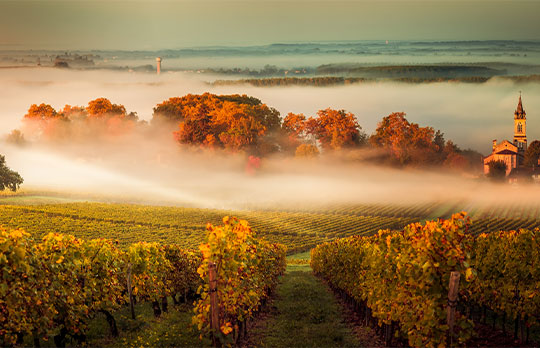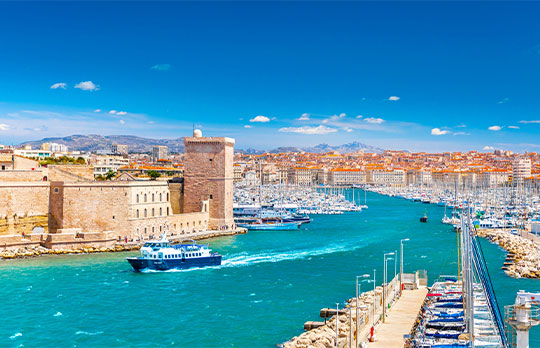 Najac
One hour and 42 minutes from Toulouse via A68 and D922, Najac is another outstanding Occitania location which is ripe for exploration. With its sole main street nestled along the top of a ridge and the town fortress at the highest point, Najac offers amazing views over the Aveyron countryside. There are lots of cute medieval houses and Place du Faubourg is a great place to grab a drink and soak up the serene atmosphere. But the Royal Fortress of Najac is definitely the most impressive building – built in 1253 AD for Alphonse de Poitiers, it has the highest archer's apertures in the world – at 22.3ft high, they were designed to allow three bowmen to operate at the same time.
Bordeaux
How about a weekend trip to a terrific city? Bordeaux is 2 hours and 40 minutes from Toulouse via A62 and it's an absolute treat. Synonymous with wine production, if you're parking your car up for a while, you can visit any number of excellent wineries and sample their fare. The refined 18th century Place de la Bourse was designed by Jacques Gabriel, a favourite of the royal court and still looks magnificent today. Meanwhile, Quais de Bordeaux is a majestic waterfront promenade lined with lovely buildings and manicured lawns, and Bordeaux Cathedral has an exquisite Gothic exterior.
Marseille
The famous port city of Marseille is 4 hours east of Toulouse via A61 and A9 – it's another superb weekend road trip destination. Top sights here include the hilltop church Notre Dame de la Garde, which offers amazing cityscape views, the Vieux Port with its ocean-fresh fish and fun Ferris wheel, and MuCEM, an interactive museum that provides rich insights to the development of Mediterranean culture. You can also take a boat ride out to Chateau d'If – this 16th century castle set on an island and became a prison for enemies of the state and is said to be the inspiration fo Alexandre Dumas' Count of Monte Cristo.
Rocamadour
Let's finish strong with a road trip to one of France's top tourist destinations. Rocamadour is two hours and 10 minutes north of Toulouse via A20 and it's a real eye-opener. Located in Parc Naturel Regional des Causses du Quercy, over a million visitors each year visit each year, attracted by its status as a religious site (home to a shrine for the Madonna), and its eye-popping cliffside scenery. Rocamadour is also near the Gouffre de Padirac – a famous cave complex with 20,000 year old paintings.