Top 10 Bournemouth Road Trips:
Badbury Rings
Corfe Castle
Oysters Coppice Nature Reserve
Shaftesbury
Cerne Giant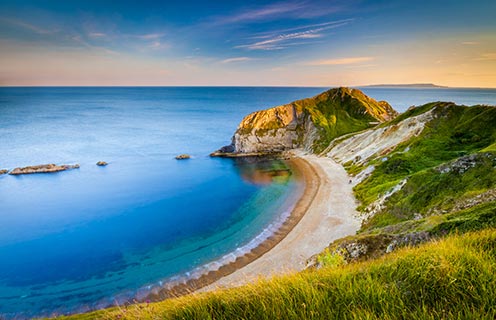 10 of the best scenic drives from Bournemouth
Britain has a host of seaside resorts, but Bournemouth has long been a favourite – its perpetually popular 7 mile strip of silk-soft sand has attracted generations of British holidaymakers, so if you've chosen it as a staycation destination, you'll be in good company. As well as wonderful water sports complemented by fish and chips, ice cream and beachside amusements, this town is also home to chic cafes, bars and pubs, cool hotels, top-notch restaurants. Whether you want a no-holds barred night on the town or a laid-back evening in swish surroundings, the choice is yours.
This is Dorset's largest town and effortlessly mixes traditional and contemporary attractions. Its famous Victorian Pier is always worth a look and features unexpected entertainment experiences like the RockReef climbing centre. Meanwhile, if you want to see how the other half live, you should definitely take time to explore the Sandbanks peninsula which strikes out into the sea across the entrance to Poole Harbour. Known as the 'world's most expensive seaside' because of the jaw-droppingly expensive mansions, you'll also see plush marinas, yacht clubs and sumptuous seafood restaurants.
If you live wandering in gorgeous green spaces, the Upper, Central and Lower Gardens are found in the town centre and feature opulent flowerbeds, manicured lawns, mature trees of all stripes and a calming river. Alternatively, culture vultures in your travel party will appreciate the Russell-Cotes Museum, a unique global collection of furniture, art and exhibits housed in an impressive villa. If you're an outdoorsy type, take a hike along Hengistbury Head and soak up the panoramic coastal views, while there are bird's eye vistas aplenty if you take a spin on the Big Wheel, and the Bournemouth Colosseum is Britain's smallest cinema – cosy up here for a date night that feels like a big screen experience in someone's living room.
ith the Jurassic Coast and terrific inland attractions within easy reach, this is a wonderful area for traversing on four wheels and hiring a car in Bournemouth is child's play with Enjoy Travel. Pre-book for an early-bird bargain and discover this delightful part of England independently.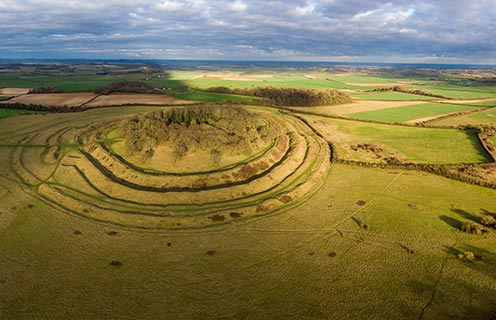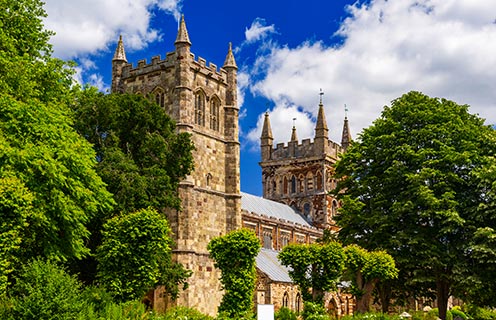 Top tips on driving in Bournemouth
We're almost ready to take off on your top 10 road trips from Bournemouth, but let's draw into the layby for a minute for some tips on driving in and around the town.
Tips from Dorset Police is to try to observe the 'two-second rule' – always allow a two second time gap between you and the vehicle in front, being alert to emergency vehicles and allowing them to pass safely, never driving when you're tired and your judgement and performance is impaired by drugs or alcohol, wearing seatbelts and and ensuring that passengers aged 12 years and under are sitting in the back. The speed limits are 30mph in areas with street lights, 60mph on single carriageways and 70mph on dual carriageways and motorways. It's not uncommon to encounter cyclists and horse riders on Dorset roads – please share the road respectfully and be cautious at junctions and when overtaking.
Now we're done with your driving refresher tips, let's get moving with those 10 scenic road trips.
Badbury Rings
A short but simply stunning drive from Bournemouth, Badbury Rings is one of Dorset's distinctive Iron Age Forts and sits 100m above sea level. You pass a gorgeous grand avenue of beech trees to get there, and the innermost of the hill fort's three rings dates from 600 BC. High Wood is nearby, and a flint tool was discovered here which was estimated to be as much as 40,000 years old! As well as ancient history, this sublime area is teeming with flora and fauna.
Getting there: Badbury Rings is 30 minutes from Bournemouth via the B3082.
Corfe Castle
If you're a history fan, you'll be in your element exploring this thousand year old royal castle which has also been a Norman Fortress and Saxon headquarters. One of the most famous surviving buildings from the English Civil War, it was badly damaged by the Parliamentarians in 1646. While her Royalist spouse was away fighting, Lady Mary Bankes defended the castle bravely from the battlements. As you wander around these ruins, you can easily feel transported back to those swashbuckling days of yore.
Getting there: Corfe Castle is 40 minutes away via the A351.
Wimborne Minster
If relaxing in a serene riverside market town sounds terrific, you'll adore Wimborne Minster. Set around the banks of the rivers Allen and Stour, the history of this beautiful settlement stretches back to the pre-Roman era and it's famous for its warm hospitality and streets lined with lush flowers. Minster Church is a highlight and contains the Chained Library, with books dating back to the 13th century. You can also pick up artisan bargains in local boutiques and find unique items in the bustling weekend markets.
Getting there: Wimborne Minster is 25 minutes from Bournemouth via the B341.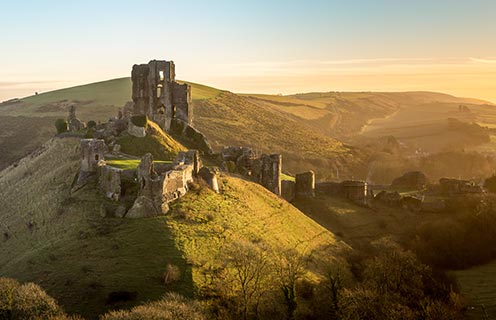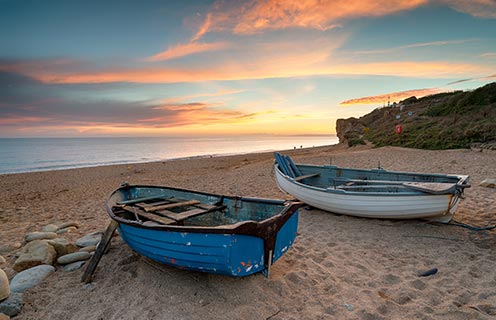 Oysters Coppice Nature Reserve
Spread over a slope with panoramic views across the Vale of Wardour, Oysters Coppice Nature Reserve is an oasis of beauty which is a joy to visit. In late February and March you'll see the eye-popping display of wild daffodils which has thrilled visitors since the 19th century, complemented by wildflowers like moschatel and bluebells. Wander through the woodlands and amidst the oaks you might also encounter tawny owls, bullfinches, badgers and woodcocks.
Getting there: Oysters Coppice is one hour from Bournemouth via the A338.
Bridport
A funky market town close to the Jurassic Coast, Bridport was once famous for ropemaking and is internationally renowned as a centre for arts and culture. There are lots of interesting independent shops to explore, as well as cool cafes and restaurants. West Bay is just a mile south of Bridport and this fabulous fishing village is always worth a visit – it was the filming location of ITV's Broadchurch and boasts brilliant beaches and eateries.
Getting there: Bridport is one hour and 10 minutes from Bournemouth via the A35.
Poole
Another delightful Dorset coastal town, Poole has an expansive natural harbour and superb sandy beaches and much more besides. Lighthouse is the town's iconic arts centre and home to the Bournemouth Symphony Orchestra, while Compton Acres is one of the most beautiful private gardens in England and features a series of themed gardens based on Italian, Japanese, Rock and Water and Heather themes – all laid out like a lovely string of pearls.
Getting there: Poole is only 20 minutes from Bournemouth via the A3049.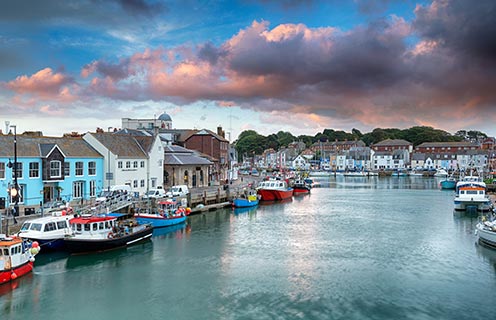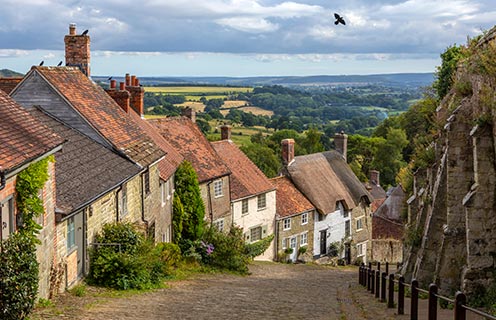 Christchurch
With several award-winning beaches, lots of historical attractions, a clutch of coastal nature reserves, two rivers, two quays and two castles, Christchurch really has something for everyone. The Priory Church and castle ruins are highlights here, while retail therapy is in easy reach with the high street and independent streets in the town centre. The New Forest National Park is nearby, as are the scenic villages of Mudeford and Highcliffe.
Getting there: Christchurch is 30 minutes away via Wessex Way/A338.
Shaftesbury
A small but perfectly formed market town, Shaftesbury's history stretches back to Saxon times and it's home of the vertiginous Gold Hill that featured in the classic Hovis bread TV ad. The sweeping views over Blackmore Vale inspired Thomas Hardy and it's a stepping stone to attractions in the south west like Stonehenge, Bath and Bristol. With quaint bookshops, pubs and restaurants, this romantic hilltop town is a must-visit.
Getting there: Shaftesbury is an hour and ten minutes away via the A350.
Weymouth
Characterised by colourful cottages, a picture postcard harbour and popular Blue Flag beaches, Weymouth has been rated as one of Europe's top 10 beach resorts several times. The town's elegant Georgian buildings lend it a regal air and the Victorian Nothe Fort is a tourist hotspot – constructed by the Victorians to protect the harbour, it affords amazing views over to Portland and also features labyrinthine underground passages.
Getting there: Weymouth is one hour from Bournemouth via the A35.
Cerne Giant
Arguably Britain's best-known chalk figure, the Cerne Giant is a massive ancient naked figure carved into a chalk hillside above Cerne Abbas. Experts believe that this male fertility symbol was most probably created in the late Saxon period (circa 700-1100AD) and was forgotten for many generations before being rediscovered, cleaned and re-chalked. Cerne Abbey sits close by and was established in 987AD to convert locals who worshipped the Anglo Saxon god Helith – sparking an alternative theory that the giant depicts that deity. Either way, this one of a kind attraction makes for fantastic selfies.
Getting there: Cerne Giant is 55 minutes form Bournemouth via the A35.
Tackle these top ten road trips from Bournemouth and you'll discover something new about Dorset every day!