The 10 Best Road Trips in the Netherlands
Zeeland Delta Route
Den Helder to The Hague
Amsterdam to Lage Vuursche
Veluwe National Park Route
Groningen to Zwolle
Friesland six castles route
Amsterdam to Bloemendaal aan Zee
Utrecht to Maastricht
Sagenland Route, Twente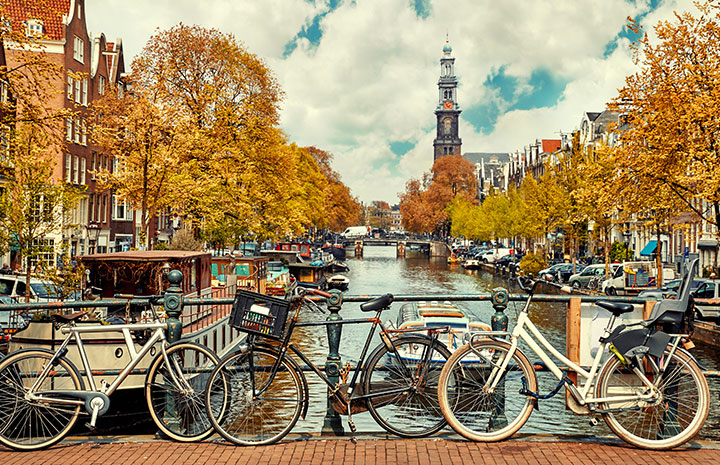 10 of the best scenic drives in the Netherlands
So you're off to the Netherlands for a break? Congrats on your impeccable taste – this is one of the world's most interesting, liberal and forward-thinking nations. Synonymous with tulip wheels, clogs, cheese, windmills and total football (courtesy of Johann Cruyff) the main cities here are Amsterdam, Rotterdam, The Hague and Utrecht. But as well as its main European territories, it also has three special municipalities in the Caribbean – Sint Eustatius, Bonaire and Saba. Whether you want sublime rural scenery or cosmopolitan cities, the Netherlands has it all.
If you're a fan of art, you'll be in seventh heaven here – the Netherlands spawned world-beating artists like Van Gogh, Vermeer, Mondrian, and Rembrandt, with famous museums in Leiden, Haarlem, Rotterdam, Den Haag and Amsterdam showcasing their work in spectacular fashion. The buildings are brilliant here too – you'll see everything from experimental modern architecture to gorgeous gabled houses from days of yore, as well as splendorous Renaissance palaces and Gothic cathedrals.
When you fancy chilling out, the Dutch have made relaxation into an art form and the social scene in most towns and cities gravitates around cafés – where the focus is more on laid-back beers than freshly-brewed beans (although these beverages and many more are available). You'll find cafes to suit patrons of all stripes in the Netherlands and you're always welcomed with open arms – locals and visitors alike embrace the chance to meet and converse with people from all over the world in the spirit of cultural cross-pollination.
This is one of the world's flattest landscapes and almost one-fifth of the territories has been reclaimed from the sea. So it's ideal for exploration by car – road trips under big blue skies alongside multicoloured flower fields are an absolute joy and you'll witness the flora in full bloom if you visit between March and May. Hiring a car in the Netherlands is easy with Enjoy Travel and there's so much to see and do.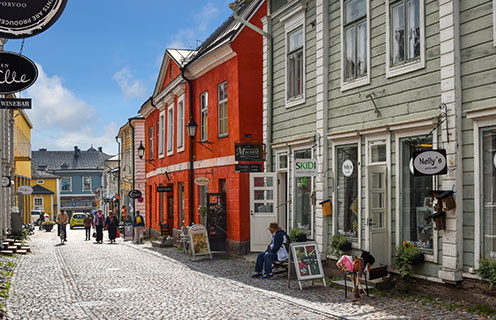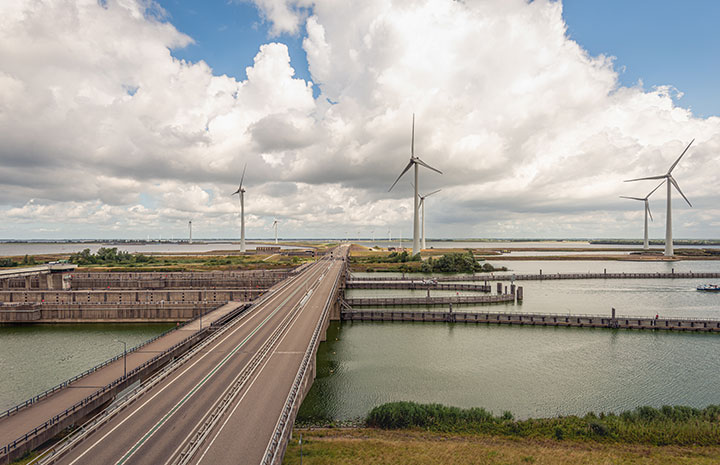 Top tips on driving in the Netherlands
Raring to go with your 10 Netherlands road trips? Let's take a super-quick pitstop for some driving tips in this country.
You drive on the right in the Netherlands and the speed limits are 50 km/h in residential areas, 80-100 km/h outside built-up areas, and 130 km/h on motorways. Seatbelts are mandatory in the front and back of vehicles and if you park somewhere you're not permitted to, police may impose an on the spot fine. UK licenses are still accepted in the Netherlands, and you must use a warning triangle or hazard warning lights if you break down or there's an accident – please dial 112 for assistance if you need emergency services.
If you're driving in a built-up area, please only use your horn as a warning in a genuinely dangerous situation and you should flash your lights at night instead. The minimum age to hire a car in the Netherlands is 21 but this can vary depending on your car hire provider.
Now we've covered some useful Netherlands driving tips, let's get cracking with your scenic road trips!
Amsterdam to Rotterdam
If you're based in cultural hotspot Amsterdam, a road trip to Rotterdam will broaden your horizons even further. You can stop at university town Utrecht on the way and soak up its awesome architecture including the iconic Protestant and Catholic churches, before heading on to the Netherlands' second-biggest city, Rotterdam. At your dynamic destination you can enjoy masterpieces from Bacon, Cranach and Bosch at Museum Boijmans van Beuningen, experience the city's hardcore techno music scene and much more!
Zeeland Delta Route
Located along the south coast of the Netherlands, the Delta Works flood defences were built after that infamous North Sea Flood of 1953 and they're testament to the nation's engineering ingenuity. This one day trip takes you past all 13 of these iconic structures and their stunning surrounding scenery. Give yourself around 3 days to complete this 380km route in comfort – from Rotterdam you'll travel in a clockwise route that takes in locations like Volkerakdam, Oesterdam, Neeltje Jans and Hartelbrug.
Den Helder to The Hague
Den Helder is located in the north of the Netherlands and hosts the nation's main naval base. This scenic road trip takes you through the authentic old-style Dutch houses and classic landscape of Julianadorp and the old capital Haarlem with its museums and breweries, then on to the Hague. Your final destination is awash with elegant architecture and hosts the Dutch parliament as well as the International Court of Justice.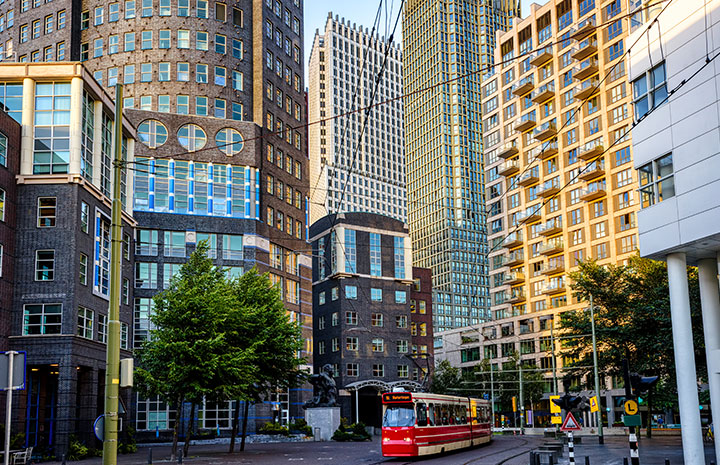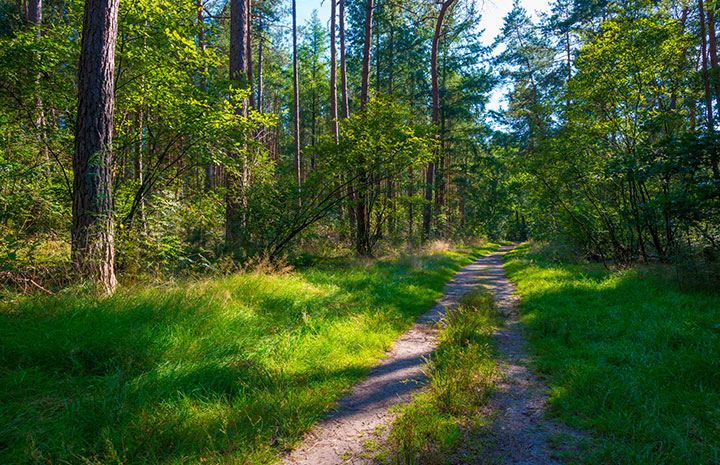 Amsterdam to Lage Vuursche
Lage Vuursche is only 50km from Amsterdam via S112, so you can drive there in an hour, traffic permitting. Characterised by beautiful woodlands and wetlands teeming with wildlife, this area also boasts homely restaurants serving fresh local fare and the Dropsstraat area has lots of lovely 18th century houses. If you want a road trip that showcases the great outdoors Netherlands style, this is it.
Veluwe National Park Route
The most famous national park in the Netherlands, Veluwe covers a vast area that includes towns and cities as well as forests and fields. You can tour around its attractions like Rosendael castle, the Pomphulweg and Hetloo Palace in a round trip from Arnhem to Apeldoorn that takes at least a day but can easily be extended overnight if you want to take your time and really unwind.
Groningen to Zwolle
The largest city in the north of the Netherlands, Groningen is full of narrow winding streets and old buildings overhanging canals. On this road trip, you can stop off at 18th century Fort Bourtagne, a unique village arranged in a stellate design, before passing through Drenthe and Assen prior to reaching Zwolle. Here you'll enjoy panoramic views of surrounding rivers and canals, an excellent cathedral bookstore and an interesting computers and gaming museum.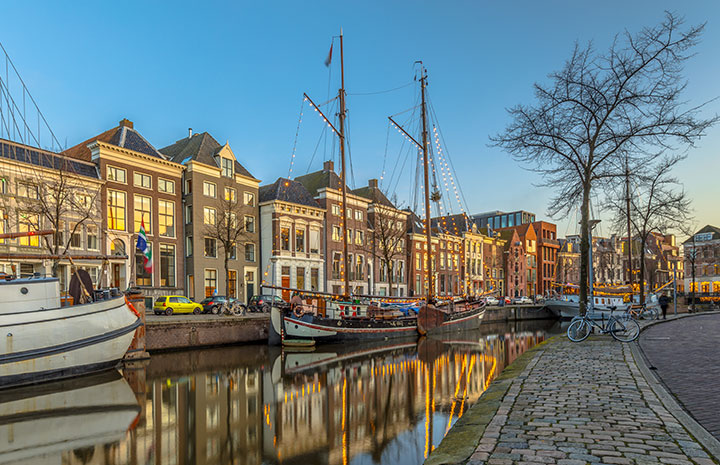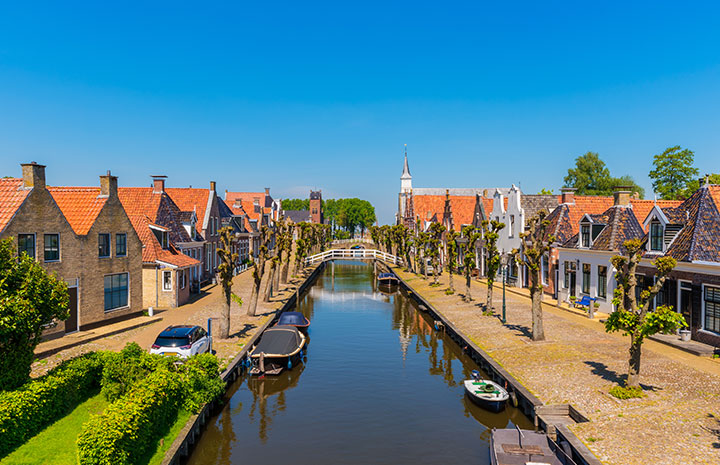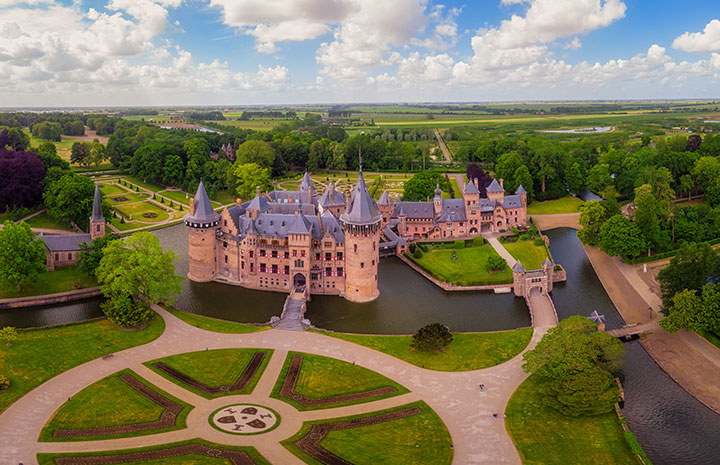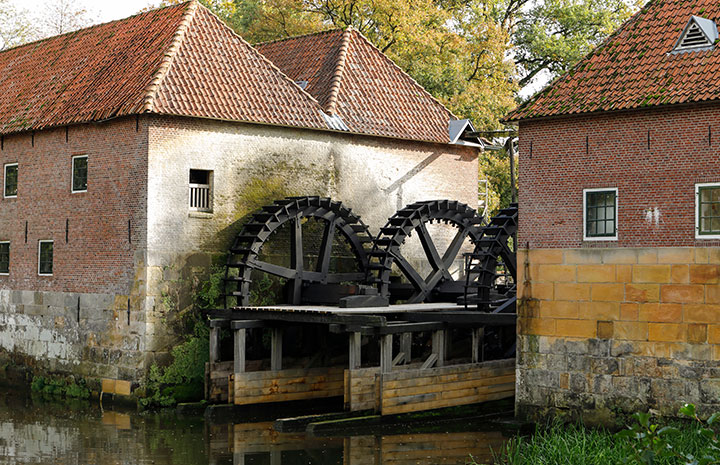 Friesland six castles route
If you don't like castles, skip to the next entry on your list. If you're still reading, you're in for a corker of a historical road trip on the Friesland six castles route. Castles are called 'staten' in this part of the Netherlands and this 89km circuit starts at the wonderfully named Poptaslot in Marsuum (with its lovely gardens), before moving to Jelsum's Dekemastate and Fogelstanghstate in Veenklooster. From there, you'll take in Veenwouden's Schierstins, the Uniastate in Bears and Leeuwarden's Princessehof.
Amsterdam to Bloumendaal aan Zee
A short skip west of Amsterdam, Bloumendaal aan Zee is just 35 minutes away via the A9. A hip seaside resort which is popular with locals and visitors alike, this town is known as the Dutch Ibiza because of its boho beach parties where you can really let your hair down. At the nearby Zuid-Kennemerland National Park, you'll find wild Konik horses, fallow deer and Scottish Highland cows! The iconic sand dune landscape of Bloumendaal and its unique ambience make it a must-visit location.
Utrecht to Maastricht
Starting at Utrecht, this scenic road trip takes you first to Nijmegen near the German border, which is one of the Netherlands' oldest settlements and is surrounded by undulating hills and valleys. Eindhoven is your next stop, where you can take in the cathedral and PSV Eindhoven football stadium, then at Maastricht you'll enjoy wandering the cobbled streets and the beautiful Romanesque Basilica of St Servatius, with its wonderful religious art collection.
Sagenland Route, Twente
This 120km route in the Twente region of the east of the Netherlands takes you through some sublime Dutch scenery. A clearly signposted route endorsed by the ANWB (a bit like the Dutch AA), it takes you past pretty villages, old churches and watermills, Singraven country house and Springendal nature reserve. You can complete this road trip in a day but why not book an overnight stay to make it a little more leisurely?
These top 10 road trips in the Netherlands let you explore the culture, history and scenery of this eclectic European nation from the comfort of your car. From museums packed with world-class art to fields blazing with beautiful flowers and windmills tilting in the breeze, there's always something to catch your eye and capture your heart.