Top 10 Road Trips From Vienna
Wachau Valley & Melk Abbey
The Wienerwald
Hallstatt
Seegrotte
Klosterneuburg Abbey
Carnuntum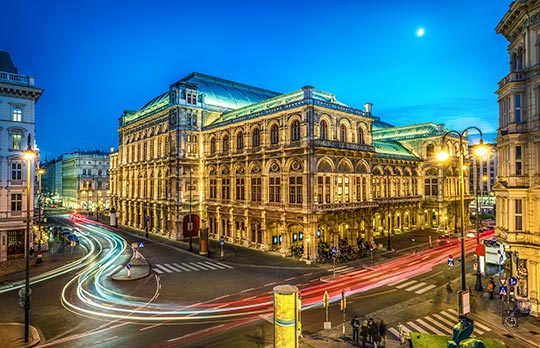 10 scenic road trips from Vienna
Oh Vienna – it's not only 80s synth-pop pioneers Ultravox who fell in love with the Austrian capital. One of the most romantic cities in the world and a cultural behemoth and magnet for artists, musicians and intellectuals, Vienna was the largest German-speaking city on Earth until the start of the 20th century. Its stunning city centre is a designated UNESCO World Heritage site, and its dreamy Danube setting is complemented by amazing architecture in diverse styles from Baroque to Art Nouveau. However long you're staying here and whatever the reason for your visit, Vienna is sure to make a lasting impression.
An important hub since the 10th century AD, Vienna became an imperial residence for the Hapsburg dynasty in 1683, after which a palatial building spree engendered the grand buildings which now characterize the city. But this is also the centre of empires of the mind – the home of Sigmund Freud and his psychoanalytical school of psychology, the shimmering, golden visions of artist Gustav Klimt and the spellbinding music of Wolfgang Amadeus Mozart, Ludwig Van Beethoven and Franz Schubert.
Despite the drama of its architecture, Vienna's Innere Stadt (historical centre) is very manageable, at just 1km wide. The Ringstrasse is the heart of the action – it's a busy network of boulevards that surround the centre and the perfect place to treat yourself to some delicious coffee and cake while you chill out watching passers-by. The Belvedere is located just to the south of Ringstrasse, and this sprawling palace complex comprised of two eye-popping Baroque mansions facing each other across a formal garden is seriously impressive. If you fancy some refreshments, the hip bars in the railway arches at U Thaliastr are worth checking out, while the wonderful white horses of the Spanish Riding School are another unique attraction, and the Kunsthistorisches Museum is packed with masterpieces by Caravaggio, Vermeer and Peter Paul Rubens.
Close to some superb surrounding countryside and cross border attractions in neighbouring countries, this city is also an excellent base for road trips – hire a car in Vienna from Enjoy Travel and there are adventures aplenty on your doorstep.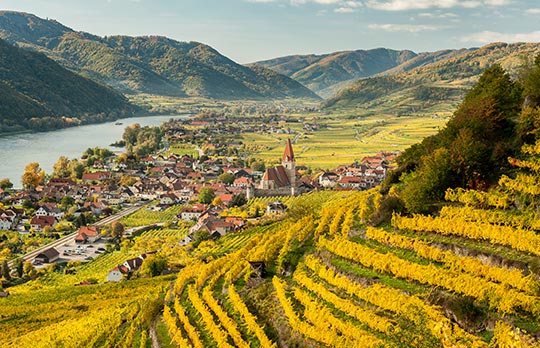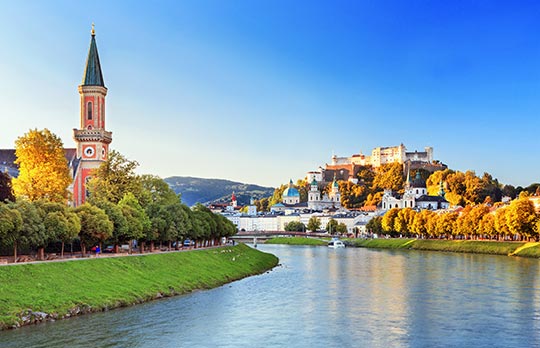 Top tips on driving in Vienna
We're almost ready to waltz into your top 10 road trips from Vienna. But first, let's take a brief look at a few tips on driving in the Austrian capital.
Firstly, beware of the trams operating in the city and always assume that they have priority. You always drive on the right here and vehicles coming from the right have priority. There are roundabouts in Vienna and further afield, but many local drivers don't use indicators, so drive defensively.
Watch out for bicycles too – particularly on one-way streets, where they sometimes use a lane which flows in the opposite direction. Last but not least, bus lanes are in operation at certain times of day, so pay attention to the signage and respect the rules.
Now let's get started with those scenic road trips!
Wachau Valley & Melk Abbey
One of the most rewarding road trips near Vienna, the Wachau Valley is set further along the Danube and it's replete with lush, wooded mountains offering outstanding views of the iconic river, romantic castles perched precariously on cliff edges and charming villages packed with medieval history. At Durnstein you can see the rambling castle ruins where Richard the Lionheart was held prisoner, Aggstein Castle offers panoramic views and Melk Abbey boasts a beautifully ornate interior.
Getting there: Wachau is one hour away via A22 and S5.
Salzburg
One of Austria's most elegant cities, Salzburg was the setting for The Sound of Music and (as you'd expect) there are plenty of jaw-dropping photo opportunities. At the Mozart house in Neustadt you'll find an amazing museum in the composer's former family home, Mirabell Palace features fab formal gardens and Hohensalzburg Castle has a commanding position overlooking the city. For a fairy tale road trip you won't forget, this takes some beating.
Getting there: Salzburg is two hours 45 minutes from Vienna via A1.
The Wienerwald
A short skip from the city proper, the Wienerwald (Vienna Woods) were immortalised in a Johann Strauss Jnr waltz and have long been a favourite getaway spot for Viennese pleasure-seekers. This 45km of verdant hills borders the city from northwest to southeast and its 11 hiking trails are very popular. Don't miss the Kahlenberg 'mini mountain' which boasts a Cistercian abbey dating from 1183AD.
Getting there: Wienerwald is 35 minutes from Vienna via the A21.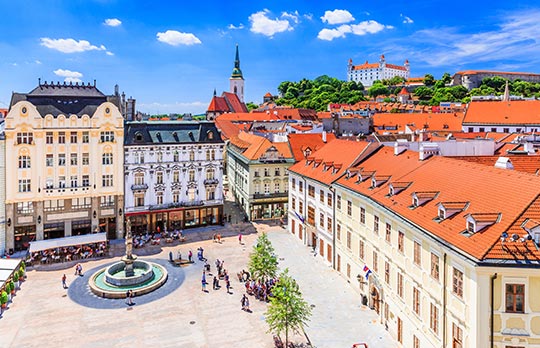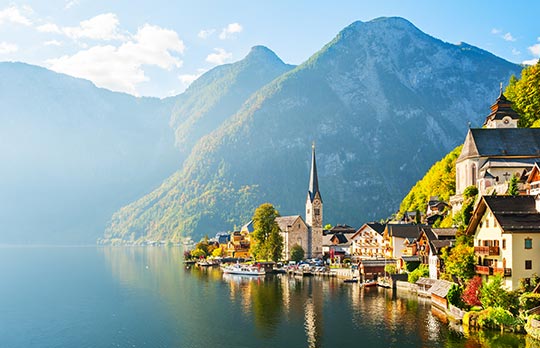 Bratislava
Fancy a doable day trip to another nation's capital city? Bratislava sits just over the border in Slovakia and is no slouch when it comes to jaw-dropping architecture. The Primatial Palace has a grand courtyard and fountain, Michael's Gate is an Old Town highlight, and the hilltop Bratislava Castle affords impressive views across the entire city and the Danube. This is an excellent road trip when you want to experience an alternative culture that's conveniently close by.
Getting there: Bratislava is one hour from Vienna via the A4 and A6.
Hallstatt
A dreamlike lakeside location that's one of the most popular day trips from Vienna, Hallstatt is full of charming chalet-style Alpine houses, a chic waterfront and salubrious villas complete with private boatsheds. St Michael's Chapel is decorated with skulls (great for fans of all things Gothic) and the Markplatz is another highlight. Don't leave town without taking in the wonderful view over the entire vista from the top of Mount Krippenstein.
Getting there: Hallstatt is 3 hours from Vienna via the A1.
Prague
Your next transnational trip is Prague in the Czech Republic. This is manageable in a day trip if you leave early, but to make the most of it you're probably better staying the night. With architectural styles that span millenia and one of the world's largest castle complexes, for some visitors, Prague rivals Paris in terms of aesthetic attractiveness. Its liberal culture is legendary and if you've got a designated driver, do sample the beer – this is the home of pilsner and brands like Staropramen are legendary.
Getting there: Prague is three hours 30 minutes from Vienna via D1/E65.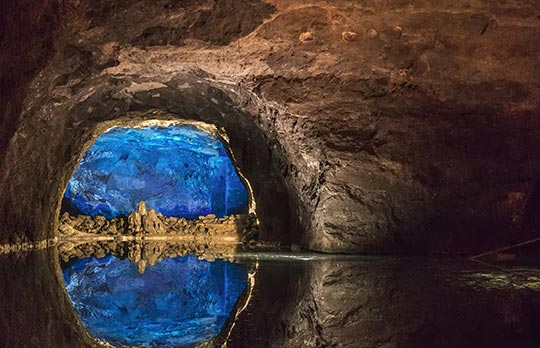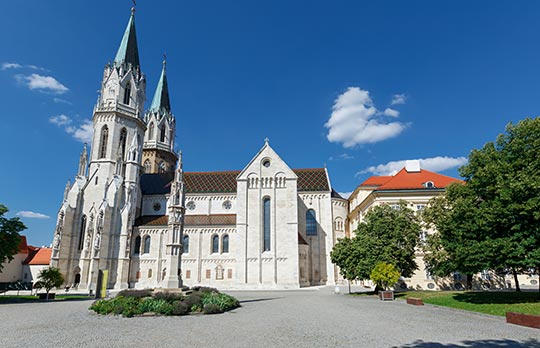 Seegrotte
How does a road trip to the largest subterranean lake in Europe sound? Seegrotte was created in 1912 when a gypsum and limestone mine flooded with 20 million litres of water and now you can walk through its labyrinthine caverns and even take a boat trip across its gentle aquamarine waters. Seegrotte also boasts several military exhibits – the Germans used some of its chambers as a secret aircraft factory in WWII.
Getting there: Seegrotte is just 30 minutes from Vienna via the A23.
Klosterneuburg Abbey
If you like noble religious buildings, don't miss Klosterneuburg Abbey in Vienna's northern reaches. With an elevated setting above the Danube, this Augustinian abbey was originally founded in the 12th century and refurbished in the 19th. The Leopold Courtyard and Romanesque church are lovely, but the ornate Verduner Altar and its 45 intricately enamelled panels is the jewel in the crown. Literature fans will also want to pop into nearby Kierling, where there's a Kafka memorial in the sanitorium where the renowned writer once resided.
Getting there: Klosterneuburg Abbey is 25 minutes from Vienna via B227 and B14.
Carnuntum
History buffs shouldn't miss the chance of a road trip to the ruins of the ancient Roman city of Carnuntum. In its glory days, this settlement made Vienna look like a backwater and hotspots include the Military City's Amphitheatre, where gladiators used to train for mortal combat. Various archaeological sites are dotted around the countryside and there's a central museum which puts everything into fascinating context.
Getting there: Carnuntum is 35 miles from Vienna via the A4 and B9.
Graz
Nestled on the Mur River, Graz is Austria's second-biggest city, and its Old Town has UNESCO World Heritage status for its sublime renaissance architecture. The lush Schlossberg hill features rolling parkland, rambling fortified ruins and offers outstanding views of the city. Meanwhile, if alternative art is your thing, the Kunsthaus Graz museum is a must-see – it looks like an alien object descended from outer space!
Getting there: Graz is two hours from Vienna via S Autobahn/E59.
Take these ten road trips from Vienna and unlock the awe-inspiring beauty of Austria – you're welcome!