Top 10 Prague Road Trips:
Cesky Krumlov
Kutna Hora
Karlstejn
Bohemian Switzerland National Park
Karlovy Vary
Vienna
Ceske Budejovice
Dresden
Pilsen
Olomouc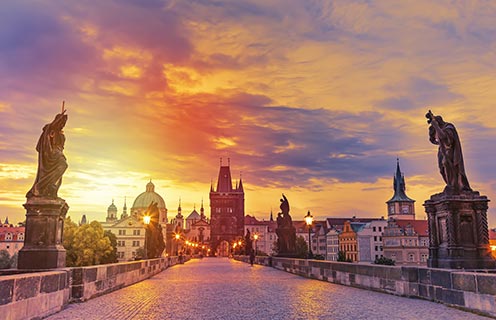 10 of the best scenic drives from Prague
Visit Prague once and you'll understand why for many travellers it's Europe's most beautiful city – outstripping perennial favourites like Paris and Rome in terms of its boundless bouquet of awesome aesthetic charms. A Bohemian rhapsody of ravishing palaces, medieval mansions, sublime squares and bustling boulevards, architectural styles here span millennia and the air is infused with an eternally elegant energy.
This is the world capital of beer – so if you're fond of a pilsener or three, be sure to park your car up for a few days in order to indulge yourself safely. Wandering across the romantic 14th century Charles Bridge when it's packed with pleasure-seekers is definitely one of life's special moments and crossing into the old town, you can trek up to the gargantuan castle complex which perches imperiously above the entire city. It's breathtakingly beautiful and looks like a fairy-tale scene come to life whether it's cloaked in snow or gleaming in the summer sun. This is a metropolis that's a delight for anyone with an eye for art and design, with venues like the Veletrzni Palac packed with cubist and surrealist masterpieces, and architectural styles spanning Baroque, Gothic and even Communist-era Brutalist.
It's an absolute dream to stroll around this superb city which is bisected by the Vlatava River and there are all manners of attractions. For instance, cool off in a kerbside café in the Old Town Square, which is preserved almost exactly as it was 1000 years ago, marvel at the 15th century astronomical clock and see the treasures of St Vitus Cathedral. For something a little different, indulge your inner hippie and take a walk to the Lennon Wall, a kaleidoscopic tribute to the legendary Beatle, where friends, family and lovers have met and made music since the 1980s.
As if all the aforementioned attractions weren't enough, Prague is the perfect base for several brilliant road trips that cement the Czech Republic soaring reputation as a dream destination.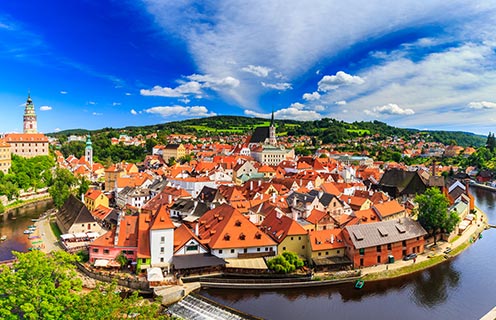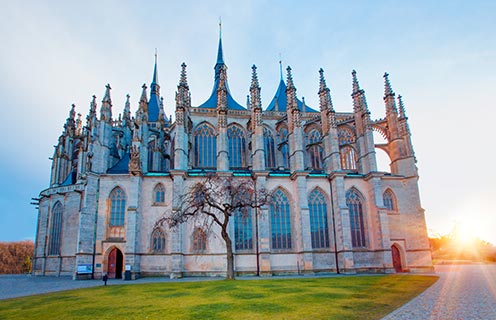 Top tips on driving in Prague
We'll get started on your top 10 Prague road trips shortly, but first let's take a brief pause for some Prague driving tips.
You always drive on the right hand side of the road and overtake on the left. You'll need a full, valid driver's license and photo ID such as your passport. The Czech Republic has a zero tolerance policy towards alcohol, and you can face three years imprisonment if you don't comply.
Seatbelts must be worn at all times, mobile phone use isn't permitted and kids under 12 can't sit in the front seat. The speed limit in urban areas is 50km/h, it's 90km/h outside town, 110km/h on expressways and 130km/h on highways.
Now that you've got the basic road rules down, let's get rolling with those scenic road trips!
Cesky Krumlov
The second-most popular tourist destination in Czech Republic after Prague, Cesky Krumlov is one of the finest examples of a castellated town in Europe and has consequently been awarded UNESCO World Heritage Site status. Most of the magnificently-preserved buildings date from the 14th century but the jewel in the crown is Cesky Krumlov Castle complex, which includes 40 palaces and sits perched on a promontory overlooking the River Vltava.
Getting there: Cesky Krumlov is two hours from Prague via the D3 and Route 3.
Kutna Hora
Do you love the darker side of history? If you're nodding your head, you'll absolutely adore Kutna Hora. There's a host of historic buildings here but the main draw is the Chapel of Bones, which is decorated by the skeletal remnants of 70,000 people. If you aren't frozen stiff after your visit to this macabre church, pop into Sankturin House and Hradek Castle while you're in town. A weird but wonderful road trip destination, you'll never forget Kutna Hora.
Getting there: Kutna Hora is one hour from Prague via the D11.
Karlstejn
If you want to visit a romantic castle while you're in the Czech Republic, Karlstejn is pretty much perfect. A scenic and manageable drive from the city, this 14th century Gothic pile is in excellent shape despite its advanced age. Shell out on a paid ticket to access all the rooms in this gorgeous building and don't forget to stop at the antique and craft shops outside the walls to pick up some unique gifts.
Getting there: Karlstejn is 45 minutes from Prague via the D5/E50.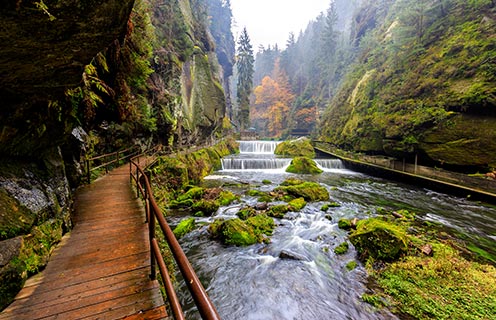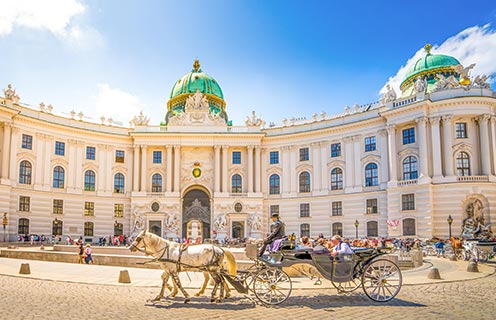 Bohemian Switzerland National Park
The Czech Republic has a plethora of national parks, but the Bohemian Switzerland National Park might be the pick of the bunch. Located on the country's northern border, this park is home to some otherworldly rock formations (the most famous of which is the Pravcicka Gate) and plenty of panoramic views. Healthy activities here include high-altitude hiking and Kamenice river cruises through iconic spots like Edmund's Gorge and Wild Gorge. If you love nature, the great outdoors doesn't get any greater than this!
Getting there: Bohemian Switzerland National Park is 2 hours from Prague, via the D8 to Usti and Labem, then first-class road no.62 through Decin and Hrensko.
Karlovy Vary
This beautiful Bohemian spa resort was one of the places to be seen in 19th century Europe – frequented by the most prominent high society figures as well as artists, philosophers and various other luminaries. The Old Town's Baroque architecture and elegant promenades are testament to its lasting aesthetic appeal and it's still the foremost spa town in the country, set on the sylvan edge of the verdant Slavosky Les highlands.
Getting there: Karlovy Vary is 2 hours from Prague via the D6 and Route 6.
Vienna
It's possible to travel from Prague to Vienna and back in a day but realistically you'll want to stay at least one night to make a road trip to the awesome Austrian capital worthwhile. There's jaw-dropping architecture in the Innere Stadt (First District), a trendy café culture, the huge Hofburg Palace complex, State Opera House and so much more. For music, food and romantic ambience, Vienna is hard to top.
Getting there: It takes 3 hours 30 minutes to drive from Prague to Vienna, via the D1/E65.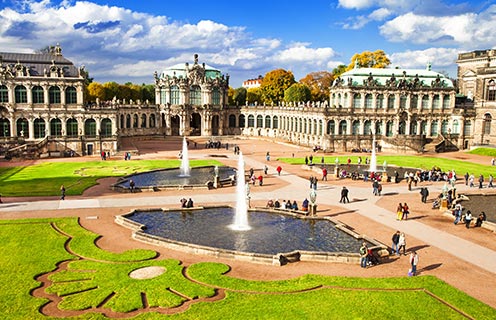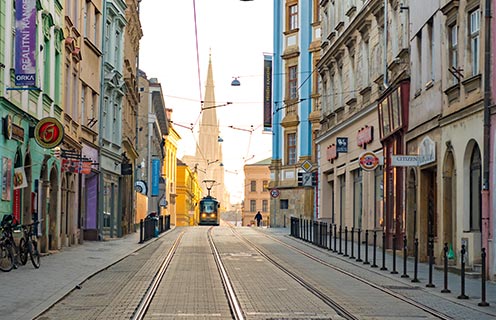 Ceske Budejovice
The provincial capital of South Bohemia, Ceske Budejovice is perhaps best known these days as the home of the original (and many aficionados say best) Budweiser Budvar beer. If you're a beer fan (and have a designated driver) then don't miss out on a Budvar Brewery tour, but there's much more to see, including the vast Premysl Otakar II Square, iconic Samson Fountain and 72.3m high Black Tower, which offers panoramic views across the entire city and beyond.
Getting there: Ceske Budejovice is 1 hour 45 minutes from Prague via the D3 and Route 3.
Dresden
This brilliant Baroque German city sits on the Elbe in Saxony and it's a terrific road trip if you like history, culture and superb scenery. Architectural highlights here include the Frauenkirche, which boasts one of the biggest domes in Europe, the impressive Zwinger Palace (which hosts several state museums), and the Semperoper opera house. Don't miss the Kunsthofpassage in the Neustadt – this trendy boho district is packed with unique art and craft shops, as well as cool cafes.
Getting there: Dresden is one hour and 50 minutes from Prague via the E55.
Pilsen
The fourth-largest city in the Czech Republic, Pilsen is another metropolis whose (modern) reputation is built on beer – this is the home of the famous Pilsner Urquell brewery. It's not all about refreshing fizzy alcohol though – the 2015 European Capital of Culture also has an excellent zoo and botanical gardens, the stunning Saint Bartholomew Cathedral, and the Techmania Science Centre.
Getting there: Pilsen is one hour and 25 minutes from Prague via the D5/E50.
Olomouc
Moravia's main tourist hotspot, Olomouc traces its history back to the Roman era and the range of outstanding architecture and historical attractions here are second only to Prague. Things to see and do include visiting St Wenceslas Cathedral, gazing in wonder at the town's ornate 15th century astronomical clock, dipping your feet in the fantastic Baroque fountains and taking in a show at the Moravian Theatre. There's also a famous ice hockey team based here, so take in a thrilling match at the stadium in Hynaisova if you can. This is another longer road trip, so an overnight stay is recommended.
Getting there: Olomouc is 3 hours from Prague via the D1.
As you can see, Prague is the perfect launchpad for classic Czech Republic road trips – hire a car from Enjoy Travel and head off for adventure in central Europe.