7 Treehouses On Airbnb For The Ultimate Georgia Staycation
With so much stunning scenery and slick cities like Atlanta, it's never a bad time for a Georgia staycation. The state has lots to do and see, as well as some world-class restaurants. If you want somewhere really unique to stay, these treehouses in Georgia are perfect.
These locations are all romantic, rustic Airbnbs which are ideal for or a couple's getaway. Staying high up in a canopy of trees with birdsong around you is a beautiful alternative to hotels and resorts.
All you have to do now is round up some friends and get ready to enjoy the ultimate Georgia staycation in one of these beautiful Airbnbs…
Treehouses On Airbnb For The Ultimate Georgia Staycation, How do these rankings work?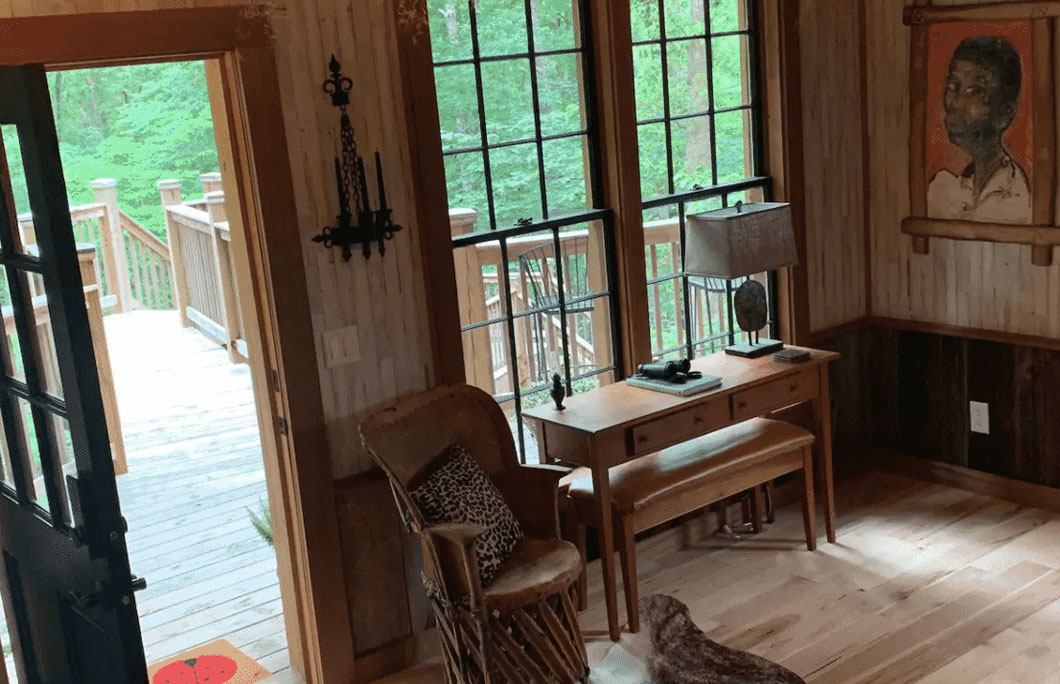 1. Trinity Treehouse- Stonecrest
Trinity Treehouse was built for nature lovers, from hiking the nearby 2,500-acre nature preserve, biking its paved trails, to just escaping the city, this exclusive hideaway is the perfect, cozy nest that sleeps up to 4 guests.
This treehouse offers the perfect mix of nature and comfort with three beds, a full bath with shower and compost toilet, a fully equipped kitchen, and heating and AC. The Six-foot windows provide lovely views of the nature preserve, while the interior celebrates the beauty of the wood.
The nightly cost for this rental is $235.
---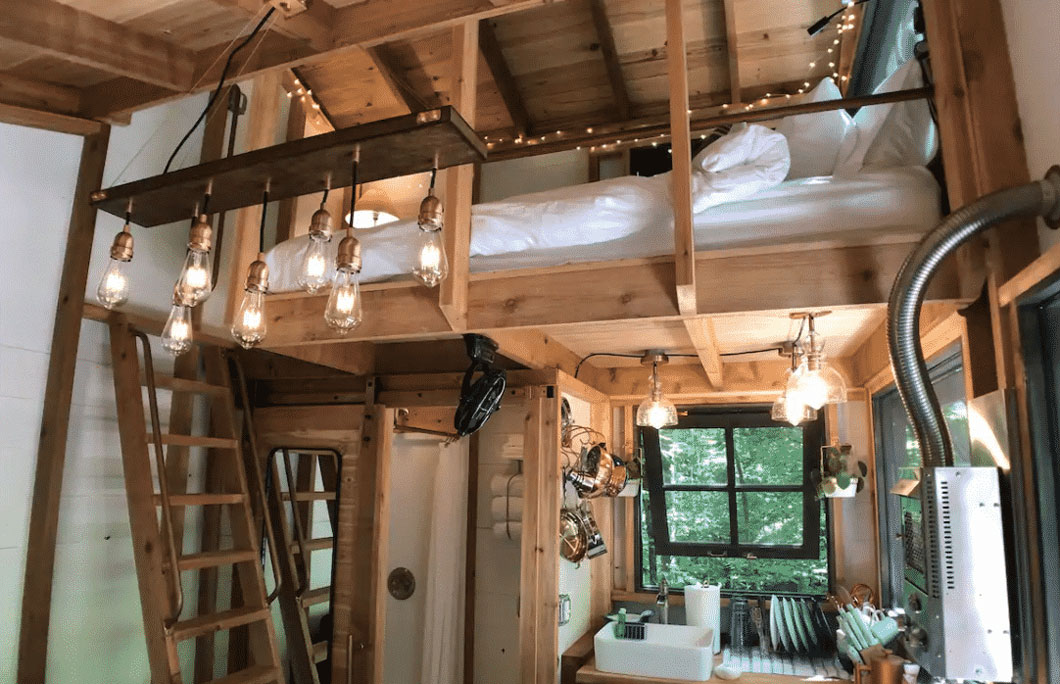 2. Owl in the Oak Treehouse- Duluth
Nestled among the oaks in a dense neighbourhood forest, this secluded treehouse is ideal for a romantic couples getaway! Enjoy your morning coffee or tea on the wraparound deck overlooking a small stream 30 feet below.
FYI children under the age of 10 are not allowed to access the sleeping loft for safety reasons.
The small bathroom has a composting toilet and a shower fed with hot water from a propane water heater, which is rare for a treehouse.
This treehouse sleeps up to 3 guests and costs $182 per night.
---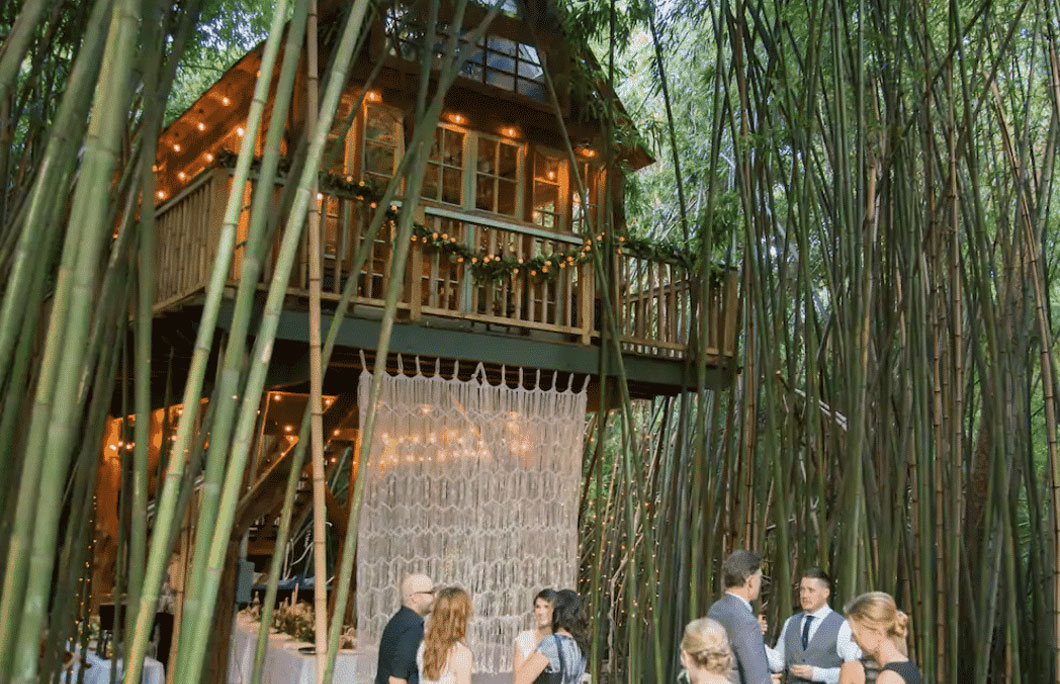 3. Alpaca Treehouse- Atlanta
Just minutes from downtown, this romantic treehouse is an urban retreat like no other. It is Airbnb's No. 1 most wish-listed property in the world, and we can see why! The treehouse consists of 3 separate areas – Mind (living room), Body (bedroom) and Spirit (a deck with hammock) – each connected by rope-bridges.
The bed even has wheels, so it can either be inside the room or rolled out onto a platform that overlooks the stream below.
It sleeps 2 guests and will cost from $387 per night. A super special stay.
---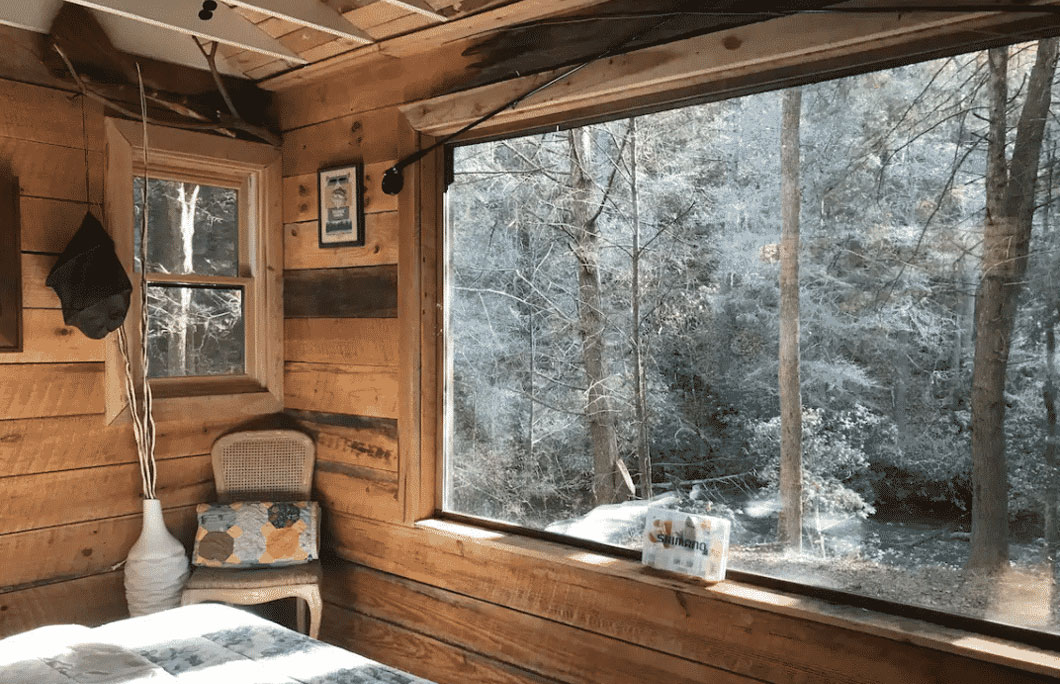 4. Riverbright Treehouse- Suches
This treehouse is a true mountain getaway, with private access to the river and the National Forest on the other side of the bank.
The hosts provide extras upon request such as fishing guides, for special occasions they can arrange; flowers, fruit/cheese baskets, balloons, and chocolate. And also a grocery pick up – send them a list and they will fill the cupboards!
Guests have a private bathroom with a jetted tub; located a very short and grassy walk away at the main house.
This treehouse sleeps 2 guests featuring a queen-sized bed, a coffee pot in your room, and an induction stove to make breakfast. There is also fire pit to cook the evening smores on or even your dinner for a truly rustic feel. The nightly rate for this treehouse is $77.
---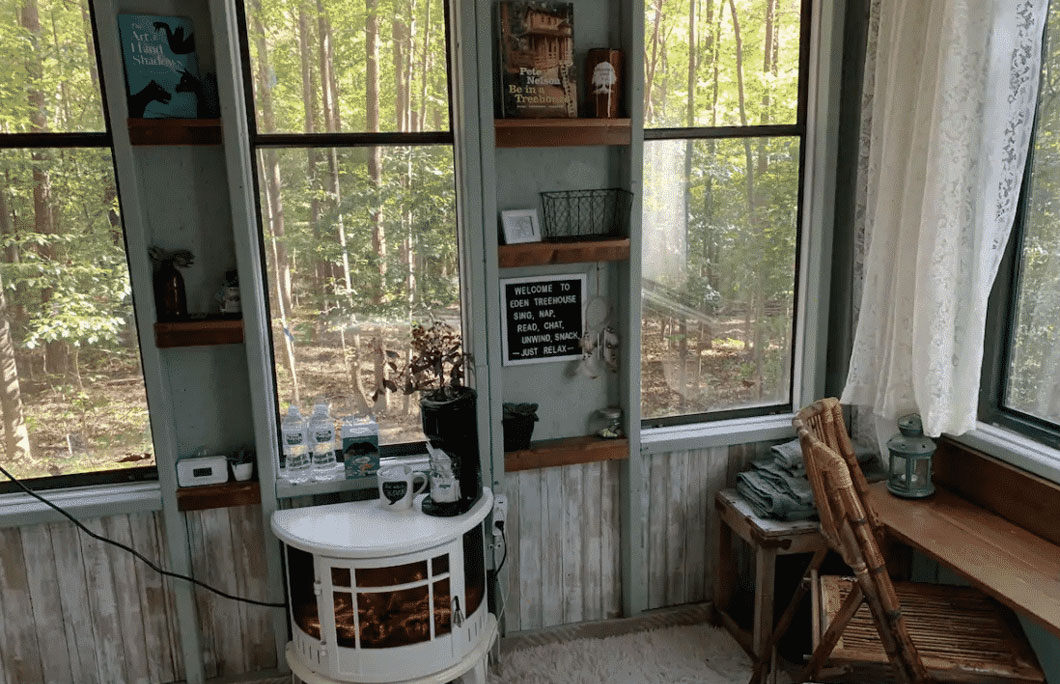 5. Eden Treehouse- Canton
This 90 square-foot treehouse is nestled between the trees, a perfect this retreat for two. An excellent glamping environment for rest, reconnection, and romance! There is a two-person bistro, to sip your morning coffee and listen to the sound of songbirds.
The designer space is outfitted with games, coloring books, sudoku, quick reads, and magazines. This is a year-round destination as it has both heating and air-conditioning.
This treehouse will set you back on average $145 per night (discounts for week-long stays available)
---
6. Treehouses at Candlelight Forest- Chickamauga
Perched in a beautiful tree canopy, built upon a sloping ridge which provides for very safe and easy access, as the entrance is at ground level. Upon arrival, a short stroll through the woods brings you to the front door of your home away from home.
The Candlelight Forest Resort is comprised of 200 acres of preserve that includes two small mountain lakes for catch and release fishing, hiking trails, and a park with badminton, corn hole, and a fire pit.
This beautifully furnished treehouse sleeps up to 6 guests and the nightly rate is $182.
---
7. Secluded Treehouse- Helen
The eco-friendly treehouse is made from all recycled materials, located in a secluded area it's the perfect place to relax and be completely surrounded by nature. This treehouse is super cozy with one bedroom, two beds, and a deck for relaxing.
On the main level is one king-size mattress, and in the loft is a full-size mattress. FYI there is no water or electricity so make sure you prepare in advance!
This treehouse sleeps 4 guests and the average nightly rate is $64.
Easily plan transport to Georgia here, with the best car rental deals.
---