Top 10 Lake District Road Trips:
Coniston Loop
Keswick Loop
Ravenglass to Eskdale
Ulverston to Furness Peninsula
Penrith to Middle Eden Valley
Newlands Pass
Hardknot Pass
Grange-over-Sands to Cartmel
Wasdale to St Bees
Windermere to Grasmere
For many locals and visitors alike, The Lake District is England's most beautiful area, so if you're swithering over whether it's a good staycation destination, we can thoroughly recommend it!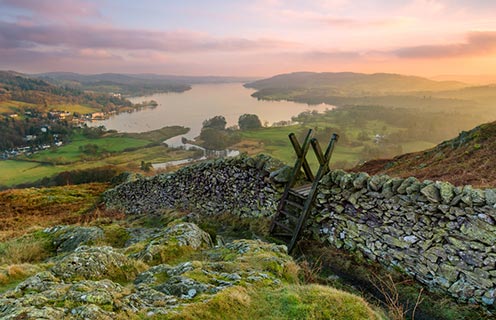 10 Legendary Lake District Road Trips
This stunning 2362 square kilometres of lakes, forests and fells is spread over the historic counties of Lancashire, Westmorland and Cumberland (although it's now within modern Cumbria), and England's deepest and largest lakes sit within its boundaries (Wast Water and Windermere), as well as its highest mountain (Scafell Pike).
If you love getting up into the rarefied mountain air, all of England's loftiest terrain (at altitudes of over 3000m) lies within the confines of the Lake District, and it was declared a UNESCO World Heritage Site in 2017 by dint of its authentic hill farming heritage.
Other popular attractions here include Lake Windermere, Derwentwater, Ullswater, Catbells peak, Coniston Water and Castlerigg Stone Circle, complemented by spellbinding towns and villages like Bowness-on-Windermere, Ambleside, Keswick, Grasmere and Hawkshead.
If you want to roll around the countryside which inspired all-time great poets and writers like Samuel Taylor Coleridge, William Wordsworth and Beatrix Potter, hiring a car in the Lake District from Enjoy Travel is easy. Whether you want a 9-seater, compact car or SUV, you can find the perfect car for you and your family in the time it takes for a tea break, then look forward to reliable motoring during your well-deserved break.
Top Tips on Driving in the Lake District
Your 10 most scenic Lake District drives are just a few lines down ̶ if you're raring to go, skip ahead, but if you can wait one minute, we've gathered together a handful of Lakeside driving tips that you might appreciate checking out.
If you're driving on rural Lake District roads in winter (or in unseasonable weather at other times), please be careful as ice can form on roads when the temperature drops below around 3 degrees Celsius. If local authorities have prior warning of bad weather, main roads are usually gritted but local and country roads aren't. Flooding can also be problematic in some Lakeside areas, so listen carefully to alerts on your Satnav or failing that, on Smooth Radio Lake District (100-102 FM).
You should also drive slowly and carefully here because of hazards like sheep, horses and hikers on the road, as well as large campervans and cars towing caravans. The area's distinctive dry stone walls are also often found right alongside roads and they're easy to hit if you lose focus for a second, so don't let the stunning scenery distract you until you've safely stopped, parked and started to stroll around.
Now that the safety tips are complete, let's roll with your 10 terrific Lake District drives!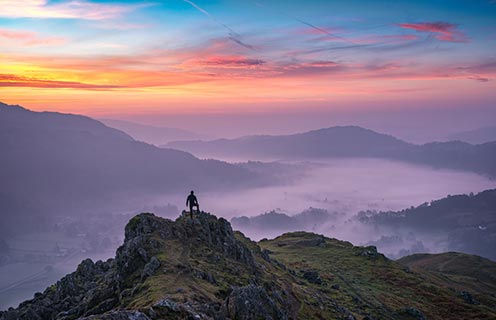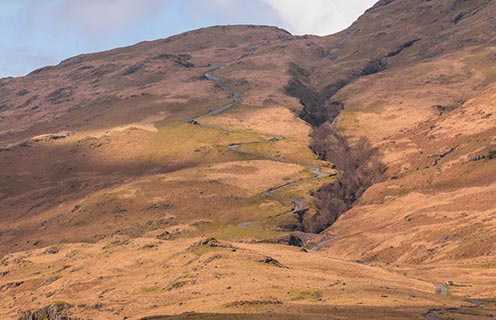 1. Coniston Loop
This 42-mile circuit is a rural rollercoaster through mountains, valleys and villages and it's manageable in an afternoon. Starting at Coniston in the South Lakes, you'll first roll through the Langdale Valley, before ascending through the Wrynose Pass and dropping back down through the isolated but inspirational Eskdale. From there, you'll pass through pretty Duddon Valley, with fabulous views of Coniston water providing a final flourish as you reach the finish line.
2. Keswick Loop
The Keswick Loop is another classy Lake District circuit and at just shy of 18 miles, it's much shorter than our first entry, but just as sweet. Starting at Keswick, you'll skirt beautiful Bassenthwaite Lake on the A591, before taking the exit at the Castle Inn, traversing a country track and then emerging on the other side of the lake via the A66. From here, your home run to Keswick includes eye-popping views of Latrigg and Skiddaw. A manageable route that's still magnificent, the Keswick Loop has a little something for everyone.
3. Ravenglass to Eskdale
This ravishing 46-mile route takes in the wonders of the remote western Lake District and the road less travelled includes brilliant beaches as well as serene lakes. Ravenglass is your departure point, and you'll travel on the A595, B5344 and various local roads, taking in highlights like Drigg beach, Seascale village, Overbeck Bridge, Wasdale Head, Eskdale Green and Muncaster Castle during your circuit. When you want to sample sun and sand as well as inland wonders, this is the route for you.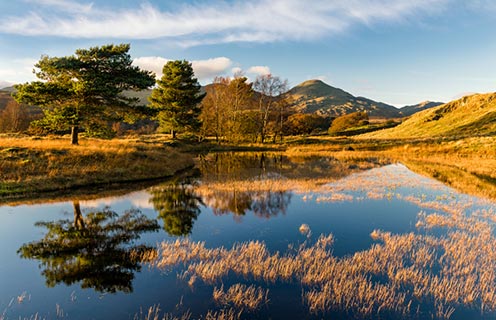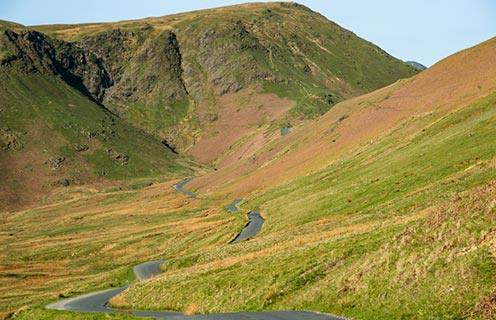 4. Ulverston to Furness Peninsula
This 41-mile route takes in some of the area's best coastlines and allows you to immerse yourself in the Furness Peninsula's spiritual roots. Leaving Ulverston's charismatic cobbled streets and chic cafes, you'll travel on the A5087 coast road, using signposted local roads to ping-pong between the coast and interior as you take in attractions like Conishead Priory, Druid's Stone Circle, Gleaston Water Mill, Furness Abbey, and Swarthmoor Hall.
5. Penrith to Middle Eden Valley
This 45-mile route is just as paradisiacal as it sounds and includes superb sandstone villages, historical monuments and prehistoric sites. Your circuit will take you on the A592, A66, B5288, B5305, B6413, A686, B412, B262 and B5320, via scenic hotspots like Rheged Visitor Centre, Greystoke Village, Eden Bridge Picnic Site, Little Meg Stone Circle, King Arthur's Round Table and Mayburgh Henge (4000 years old and built with a mind-blowing 5 million river cobbles!). When you want to drive back in time, this road trip turns any car into a DeLorean fitted with flux capacitor!
6. Newlands Pass
Newlands Pass links Braithwaite to Buttermere and it's one of the best driving roads in the lakes. A humble country lane at the start, it evolves into a three mile route chiselled into the mountainside which passes the dramatic Moss Force waterfall before cascading down into Buttermere and the famous Honister Pass. Enjoy it to the full but proceed with caution and keep your eyes firmly on the road when you're behind the wheel.
7. Hardknott Pass
This hill pass between Eskdale and the Duddon Valley is England's joint-steepest road (along with Yorkshire's Rosedale Chimney Bank). It's one of Britain's most testing roads, so please only attempt it if you're an experienced, careful and confident driver. Full of hairpin bends that wind between dense brush and rugged mountains, it's a ride to remember!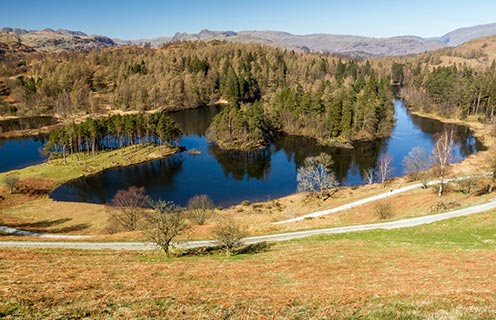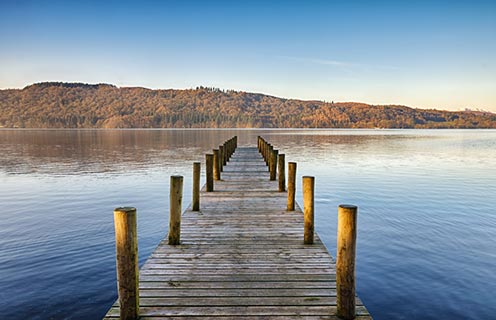 8. Grange-over-Sands to Cartmel
This 2.5 mile drive via Grange Fell Road takes you from gorgeous Grange-over-Sands to captivating Cartmel, which is apparently the homeland of the iconic sticky toffee pudding dessert as well as historical attractions like the 12th Century Cartmel Priory. You'll cruise around bends which closely hug cliffsides and offer lush valley views ̶ lovely.
9. Wasdale to St Bees
Wonderful Wasdale offers activities like fell walking, kayaking and swimming at Wastwater, and natural wonders like Ritson's Force waterfall. Take the scenic route to St Bees via the A595 and B5345 and at Cumbria's most westerly point you'll be buzzing because of the fabulous views of the Lakeland Fells, stunning sandy beach and birdlife like kittiwakes and fulmars. This road is only 16.1 miles, but it packs a powerfully disproportionate punch that will remain with you long after you've rolled along it.
10. Windermere to Grasmere
Last but by no means least, this superb 9 mile stretch of the A591 connects two of the Lake District's most popular and distinctive spots. Windermere has plenty of enjoyable activities and attractions to suit all tastes, from the Beatrix Potter museum and Stagshaw Gardens to the Armitt Museum and Library and lake cruises on Windermere's magical mirrored surface. At Grasmere, you can look forward to hiking at Helm Crag and Loughrigg Fell, William Wordsworth's former home Dove Cottage and legendary Daffodil Garden, and The Swan at Grasmere, an atmospheric coaching inn that dates back to 1650.
These 10 scenic drives exemplify exactly why the Lake District attracts millions of visitors from all over Britain and beyond each year.
Even in a country renowned for its natural scenery, such an all-killer, no-filler area is rare ̶ every town, village and natural attraction is awesome and the roads between the beauty spots are fantastic in their own right.
Rent a 7-seater, saloon or 4WD from Enjoy Travel, throw your gear in the back, strap on your seatbelts and head off for adventure ̶ the magic of the Lakes awaits!