10 Best Weekend Breaks from Dublin
Ballyfin
Baltinglass
Dunlavin
Ennis
Kerry
Drogheda
Kilgraney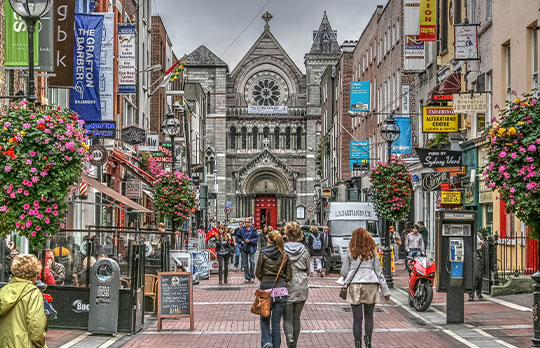 Top 10 weekend getaways from Dublin
Based in Dublin and want to get away for a weekend? We've got you covered.
Mind you, there's so much to do in the Irish capital that it's sometimes tough picking a place to escape that really floats your boat.
With drinkers' havens at Temple Bar, The Church, the Guinness Storehouse and the Jameson Distillery, and eye-popping sights like the 120m Spire (AKA 'The Eyeful Tower') and St Patrick's Cathedral, Dublin's attractions thrill locals and tourists alike.
The craic in cafes, bars and restaurants is legendary – no doubt you enjoy Dubliners' wicked sense of humour. And it's one of the world's great literary cities, inspiring luminaries like James Joyce, Oscar Wilde, Jonathan Swift, and Samuel Beckett.
However, getting away for a weekend is always refreshing and when you get back to Dublin you'll feel like you're discovering its delights for the first time.
To help out, we've searched high and low to collate a legendary list of the best weekend getaways from Dublin – hopefully they hit the spot like a perfectly poured pint of the black stuff.
Top tips on getting ready for your weekend break
Before you head off on your weekend break, make sure you're prepped properly – things will go much more smoothly.
None of our destinations is too far away but it's always wise to pack drinking water and some snacks in case you get stuck between pitstops.
But most importantly, remember your vehicle checks. Take a gander at your fuel level, tyre pressure, windscreen wipers and screen wash, oil level, lights, engine coolant (if your car's of a certain vintage) and tyre tread depth.
Oh – and don't drink and drive, always wear your seatbelt and don't chat on your mobile while you're moving.
Now let's let rip with your wonderful weekend getaways!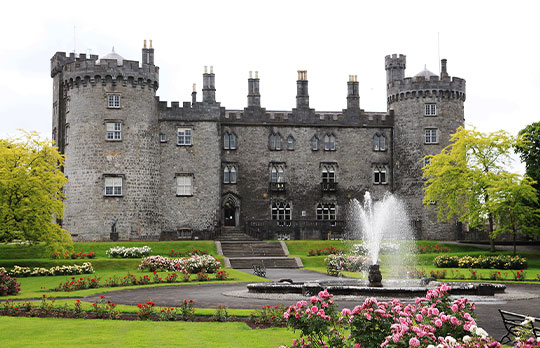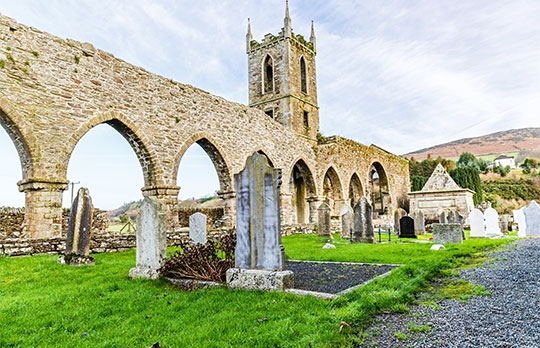 1. Ballyfin
One hour and 20 minutes from Dublin via the N7 and M7, Ballyfin in Co. Laois is a scenic spot where you can really get away from it all. The verdant, undulating countryside of the surrounding Slieve Bloom Mountains is stunning and since it's slightly off the tourist track, you'll get it mostly to yourself. One of the best places to stay is Ballyfin Demesne, an opulent Regency mansion which has been sensitively converted to a five star hotel. It's romantic, luxuriant and discreet – ideal when you want to switch off from the world.
2. Kilkenny
Fancy a heady mix of stunning history and sublime scenery? Kilkenny is around one hour and 45 minutes from Dublin via the M9 and it's always a cracking place to spend a weekend. The most popular attraction is Kilkenny Castle and you'll realise why when you see it – this impressive 12th century edifice was built by the Normans and you can still see the remains of the huge ditch which attackers (probably) met a watery fate in. Other attractions include the swanky Mount Juliet Estate, the ancient Hole in the Wall pub and the breath taking views from Brandon Hill.
3. Limerick
Two hours and 40 minutes from Dublin via the M7, Limerick is a legendary city that it's easy to fall in love with. A port city that boomed thanks to its strategic position on the Shannon Estuary, it still boasts a strong economy – ranking only after Dublin and Cork in the whole nation. Attractions include St John's Castle (one of Europe's most intact Norman castles), the Hunt Museum (packed with art and historical artefacts) and the Frank McCourt Museum, dedicated to the life and work of the remarkable Pulitzer Prize-winning author. If you're a rugby fan, try to get tickets to watch Munster at Thomond Park – the atmosphere is red hot.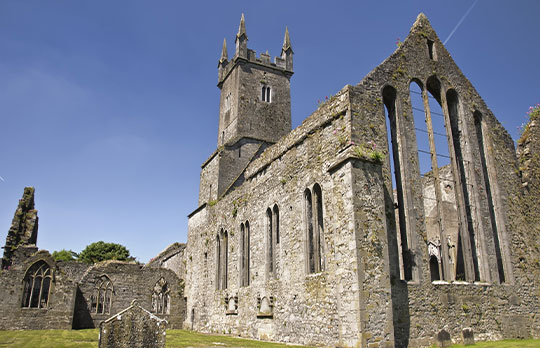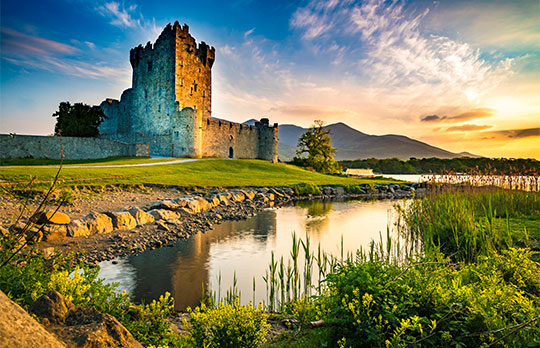 4. Baltinglass
Located in Co. Wicklow, Baltinglass is a bit of a hidden gem, just one hour and 25 minutes' drive from Dublin via N7 and M9. There are lots of fascinating historical and archaeological sites here, including a Stone Age passage tomb on a hill northeast of the village featuring mysterious outer walls decorated in non-native chalk. There's also a tumbledown Monastery dating from 700 AD and the scenic River Slaney conservation area, while Horans Bar and Restaurant is a popular central place to stay, and you don't need to wander far for a refreshment – just skip (carefully) down the stairs.
5. Dunlavin
Just one hour and 15 minutes from Dublin via the N7, Dunlavin is a real treat for a weekend getaway. It's fair to say that you wouldn't visit for the lively nightlife, but a weekend sojourn at Rathsallagh House will leave you feeling totally recharged. A classic country house complete with roaring log fires and wood-lined libraries, the well-appointed rooms and comfy and stylish, while golfers will be glad to know that there's an 18-hole course on site. When you want delicious cuisine and relaxing scenery, make a beeline for Rathsallagh House – it really is lovely.
6. Ennis
How does a weekend trip packed with culture, character and scenery sound? Ennis in Co. Clare is two hours and 40 minutes from Dublin via the M6 and it always sparks the imagination. Peppered with ruined medieval castles and abbeys, Ennis has a lively nightlife with colourful town centre pubs packed with revellers enjoying live traditional Irish music, while there are lots of exciting archaeological sites to explore in the outskirts – like the otherworldly limestone formations of The Burren. The Old Ground Hotel and Newpark House are popular places to stay – once you're unpacked, get ready for a weekend that's lively and relaxing in turns.
7. Kerry
It takes a bit longer to get to Co. Kerry (around 3 hours and 30 minutes from Dublin via the M7) but it's such a special place that it's worth the extra effort. Intrepid adventurers love walking amongst the puffins on rugged Skellig Michael island off the Kerry shore, while Dingle offers dolphin tours and interesting pubs that double as things like general stores. The Ring of Kerry is also iconic – this scenic circuit takes you round the Iveragh Peninsula, past isolated Atlantic beaches and through several charming towns. If you're looking for an accommodation recommendation, Castlewood House in Dingle Bay has sea views and delish breakfasts – nom nom.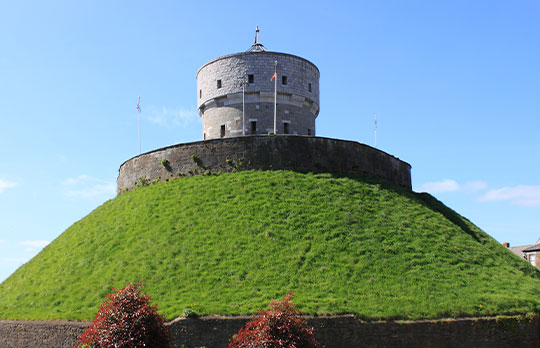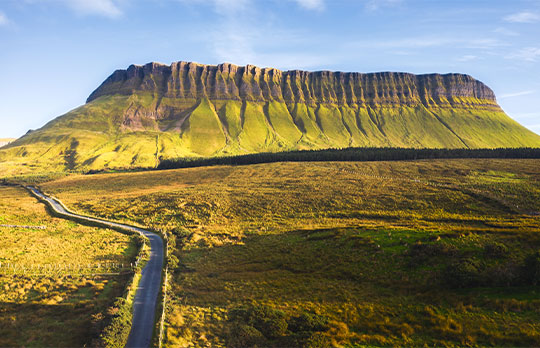 8. Drogheda
Just 45 minutes north of Dublin via the M1, Drogheda is another hotspot for a weekend break. You can get your Indiana Jones on with a visit to the Bru na Boinne World Heritage Site – a labyrinthine complex comprising three large passage tombs that are 5200 years old and feature mysterious carvings. The main draw is Newgrange – a remarkable well-preserved circular mount which dates from 3200BC. When you're not busy delving into the past, the Scholar's Townhouse Hotel is an excellent place to stay – right in the middle of Drogheda's town centre, the rooms are lush, and the food is sumptuous.
9. Sligo
Two hours and 45 minutes northwest of Dublin via M4 and N4, Sligo is next on your list of top-notch weekend break destinations. An inspirational seaport town closely associated with W.B. Yeats, its easy to see the lyrical quality of its dramatic mountains and serene lakes. Exciting things to do include visiting the Carrowmore Megalithic Cemetery (which has 30 cairns that date from 3700BC) and hiking up the south slope of Benbulben – Sligo's 526m high answer to Table Mountain. The nearby village of Rosses Point is also worth driving out to, with its verdant clifftop trails and windswept beaches. And don't forget to visit The Model to soak up some Sligo culture – this 18th century former Model School has been repurposed as a bustling creative centre, complete with a gallery, performing arts space and coffee shop. With (really) ancient attractions and contemporary culture, Sligo is a real double-whammy.
10. Kilgraney
The drive from Dublin to Kilgraney in Co. Carlow takes around one hour and 30 minutes via the M9 and your reward is another wonderful spot for a weekend getaway. Disconnect from modern life for a few nights' luxury at Lorum Old Rectory, a Victorian-era hotel that oozes old world luxury and specialises in authentic cuisine cooked with farm-fresh local ingredients. If walks in the country followed by drinks by the fireside sounds appealing, Kilgraney has your name on it. And if you're feeling a little more energetic, that's no problem – outdoor pursuits like golf, fishing, horse riding and canoeing are also on offer nearby.