Top 10 Road Trips in Northern Ireland
Strangford Lough
Mussenden Temple & Dunluce Castle
Fermanagh Lakelands
Binevenagh Scenic Route
Game of Thrones Road Trip
Central Sperrins Route
St Patrick's Trail
Lough Neagh
High Mournes Scenic Loop
Seamus Heaney Country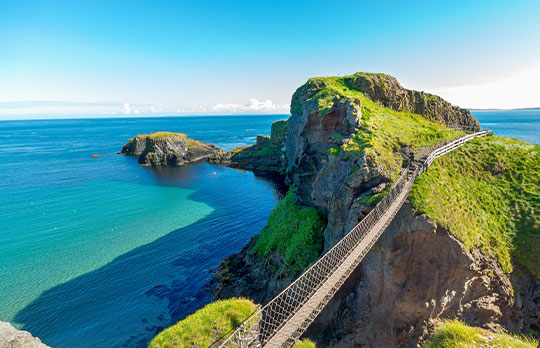 10 best scenic road trips in Northern Ireland
Off to Northern Ireland for a holiday or business trip? There are lots of reasons why this fascinating part of the UK is one of Europe's most exciting places to visit. The thrilling terrain here includes everything from mountains to loughs (lakes) and a curvaceous coastline carved in prehistoric times. Capital Belfast has emerged from its unbelievably difficult 20th century to become a beacon of hope for divided communities now striving to unite under a common civic banner and it's an exciting, cosmopolitan place to visit, with fine architecture, a deep literary heritage and a lively night-time economy. Meanwhile, Royal County Down is rated as one of the world's best golf courses and Derry is one of the most flamboyant spots on Earth to celebrate Halloween. And with so much scenery packed into a reasonably small area, it's one of the easiest places in the world to discover the scenery, history and culture by car.
History here spans everything from the site where the ill-fated Titanic was launched to legendary landscapes Vikings, Celts and early Christians once called home and spectacular scenery most recently immortalised by global TV hit Game of Thrones. Other popular attractions in Northern Ireland include Belfast's St George's Market, where you can pick up fresh local foodstuffs, craftwork and curios from over 300 traders, the outstanding views from the top of Slieve Binnion in the Mountains of Morne, Derry's famous city walls and the beautiful Carrickfergus Castle in Co. Antrim.
There's so much to do here that you'll need to come back again and again to explore fully but hiring a car in Northern Ireland from Enjoy Travel is a brilliant way to pack as much as possible into a trip of any duration.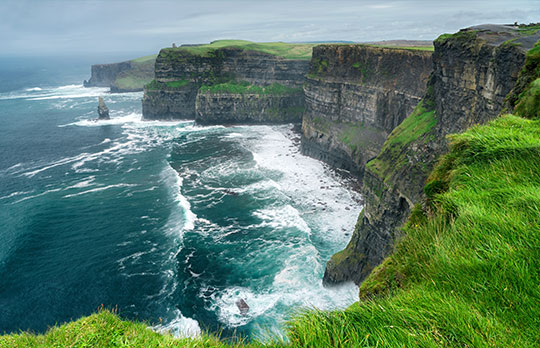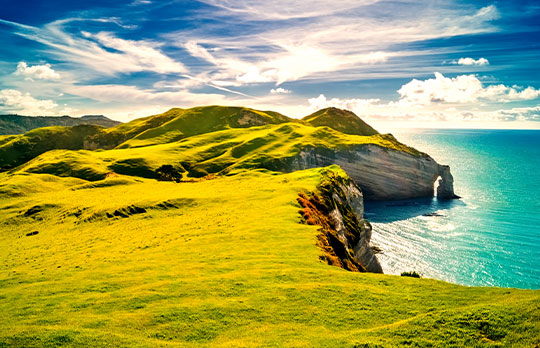 Top tips on driving in Northern Ireland
We'll rev up for your top 10 Northern Ireland road trips shortly ‐ let's check out some quick driving tips first.
You drive on the left in Northern Ireland (same as elsewhere in the UK), you should switch on your sidelights between sunset and sunrise, headlights all through the night and fog lights when your visibility is seriously reduced.
Lots of roads in Northern Ireland have single lanes each way, some have passing lanes, and others have no central line markings as guidance, so drive carefully.
Speed limits in Northern Ireland are 30mph in built-up areas (unless signage indicates otherwise), 60mph outwith built-up areas, and 70mph on dual carriageways and motorways. Please note that there are an increasing number of 20mph areas here ‐ again, road signs clearly indicate where this lower limit applies, so be vigilant.
Now let's get cracking with those road trips!
Strangford Lough
The Ards Peninsula is a particularly picturesque part of Northern Ireland, but this remix of the traditional route brings out even more of its natural beauty. Starting at Newtonards, you'll drive down the western side of Stangford Lough and pass through Comber (birthplace of Titanic chief engineer Thomas Andrews). You'll see the tidal island of Islandhill a little further south, followed by Castle Espie, Mahee Island (with its 5th century monastery ruins), and Downpatrick attractions like Quoile Countryside Park, Down Cathedral and the Downpatrick & Co. Down Railway heritage trains.
Mussenden Temple
Located just one hour and 20 minutes from Belfast via the M2, Mussenden Temple is a delightful day trip destination for anyone interested in unusual history. Clinging on to a clifftop overlooking the Atlantic Ocean in Downhill Demesne near County Londonderry's Castle Rock, it looks like nothing you've seen before. Built in 1785 as a summer library for the Bishop of Derry, its classic domed design is based on Tivoli's Temple of Vesta. This is one of the most photographed sites in the whole of Ireland ‐ snap some shots for the 'gram but take time to catch the moment camera-free too.
Fermanagh Lakelands
County Fermanagh sits next to the border with the Republic of Ireland and winding around its Upper and Lower Erne waterways by car is a captivating experience. Starting in Enniskillen, drive anticlockwise round Lower Lough Erne's shoreline to pass ancient monastic site Devenish Island, Castle Archdale Forest and historic Belleek. Then take time to explore the Marble Arch Caves UNESCO Global Geopark and Florence Court stately home, before heading to Upper Lough Erne for boat trips or canoeing (if you're feeling energetic).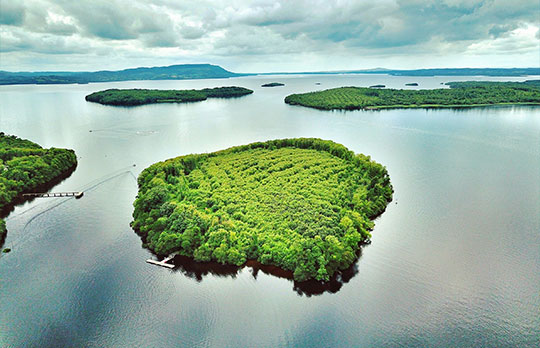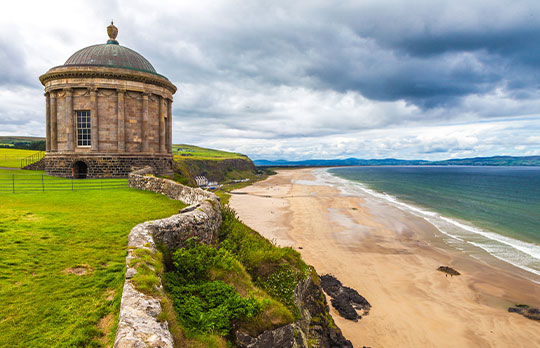 Binevenagh Scenic Route
This panoramic road route detours from the classic Causeway Coastal Route to offer outstanding views of Northern Ireland's north coast from Binevenagh Mountain. Driving in a westerly direction towards Derry, you'll take a left turn at beautiful Downhill Beach and then tackle the steep Bishops Road. You're rewarded with amazing views when you pull up at the top of Binevenagh ‐ the stunning vista includes Donegal, Magilligan and the endless expanse of the Atlantic Ocean.
Game of Thrones Road Trip
If you're a GoT fan, you'll be in your element during this 220-mile fantast drive through filming locations in Counties Fermanagh, Londonderry, Antrim and Down. Highlights include Castle Ward and Tollymore Forest Park (AKA Winterfell Castle and surrounds), Galboly village and Glenarriff Forest Park (Runestone in the Vale of Arryn), the Antrim coast's Cushendun Caves (Stormlands) and The Dark Hedges in Ballymoney (King's Road).
Central Sperrins Route
The Sperrins Mountains Area of Outstanding Natural Beauty cloaks an awesome area of Londonderry and Tyrone in scenic peaks and heathered slopes ‐ the 90-mile Central Sperrins Route takes you through the heart of it. You'll cruise through verdant Gortin Glen Forest Park, wind your way past ancient villages and pass the 4,000 year old Loughmacrory Wedge Tomb. Make a stop at the Ulster American Folk Park outside Omagh to learn about the swathes of Irish people who emigrated to the US in the 18th and 19th century and influenced the development of that nation.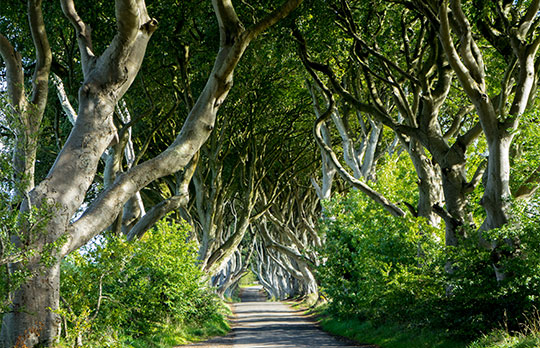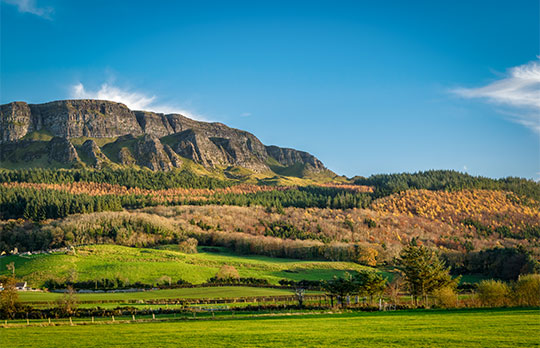 St Patrick's Trail
Fans of historical legends ahoy ‐ how does a 92km road trip connecting 15 key sites connected to Irland's patron saint St Patrick sound? Starting at Armagh City's Navan Centre and ending at Down Cathedral in Downpatrick where the great man is buried, you'll pass beautiful Murlough beach, enjoy eye-popping views over the Mourne Mountains and Carlingford Lough, and marvel at St Patrick's Cathedral in Armagh.
Lough Neagh
Located around 20 miles west of Belfast, Lough Neagh is the British Isles' largest freshwater lake and is said to be the handiwork of the giant Finn McCool. An easy but rewarding day trip if you're based in the capital, attractions at Oxford Island's Lough Neagh Discovery Centre include wildflower meadows, kids play areas, ponds, woodlands and birdwatching hides ‐ great news for all you twitchers!
High Mournes Scenic Loop
This heady 32km scenic route from Newcastle in Co. Down to Annalong showcases the best parts of the Mourne Mountains accessible by road. Don't miss the views over Spelga Dam to the highest peaks in the range, but there's something stunning around every corner ‐ so keep your eyes on the road if you're driving and pull over for pictures only where it's safe to do so. If you're based in the capital, Newcastle is around one hour to the south.
Seamus Heaney Country
Located around 45 minutes equidistant of Belfast and Derry City, Seamus Heaney HomePlace in Bellaghy is a lovely road trip destination for fans of the literary giant. In a beautiful complex dedicated to the life and work of the Nobel Prize-winning poet, you'll find out all about the people, places and ideas that inspired him to write poems like Blackberry Picking, Digging, The Tollund Man, Sloe Gin and Two Lorries. His legacy is celebrated through personal artefacts, recollections from friends and family, as well as recordings of the man himself reading classic poems.
And there you have it ‐ a decathlon of delightful road trips that displays just how dynamic Northern Ireland really is.
There's more history and culture packed into its 14,130 square kilometres than many countries ten times its size ‐ which makes it perfect for exploring by car. Hire a car in Northern Ireland from Enjoy Travel and get ready for a real eye-opening trip!