7 of the Best Beach Clubs in Santorini
Santorini is known for its stunning whitewashed buildings, iconic caldera, and jagged cliffs. But it's not really known for having beautiful beaches. That being said, there are some idyllic and remote beaches on the island of Santorini that are home to even more beautiful beach clubs. It's not considered a party island, but when there's a will, there's a way! Whether it is a party you seek or a chilled-out evening of cocktails and reggae music, Santorini has something for you. Here are the best beach clubs in Santorini.
Best Beach Clubs in Santorini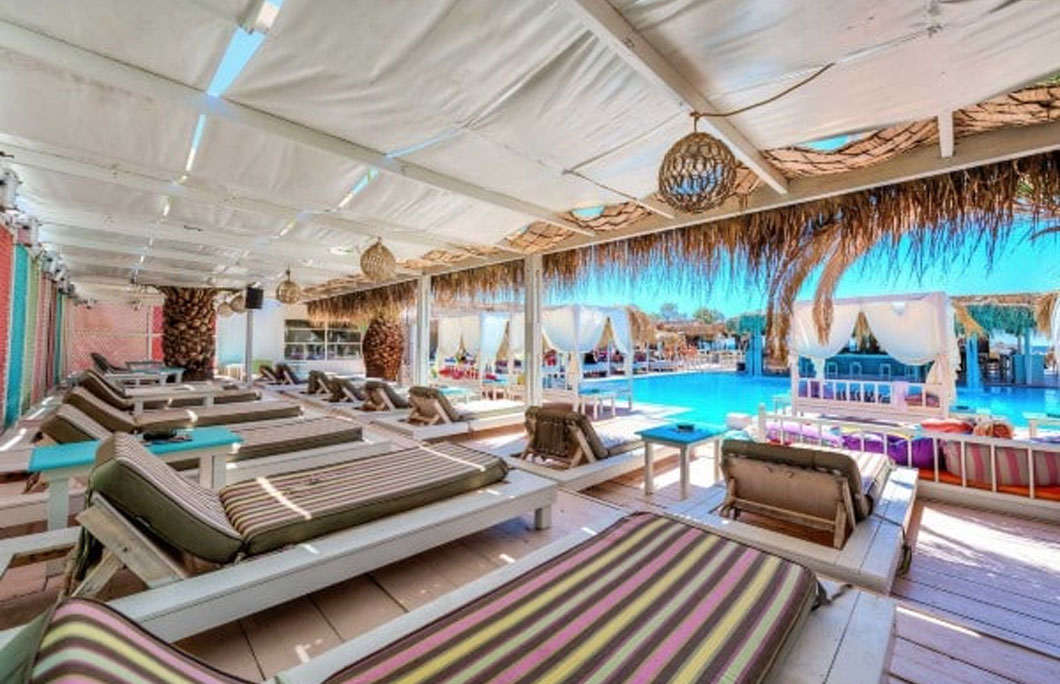 1. JoJo Beach Bar
If you're looking for a party in Santorini, JoJo's is the place to be. While it's on the more expensive end of the scale, the boho-chic spot is famous for its energetic parties. The large swimming pool takes centre stage – the perfect place for enjoying a dance with friends and a few drinks for a fun afternoon. With the sea right in front of you, there's a lot to love about JoJo's. And if you want a more relaxed vibe, away from the thumping music, you can bag yourself a comfy cabana on the beach.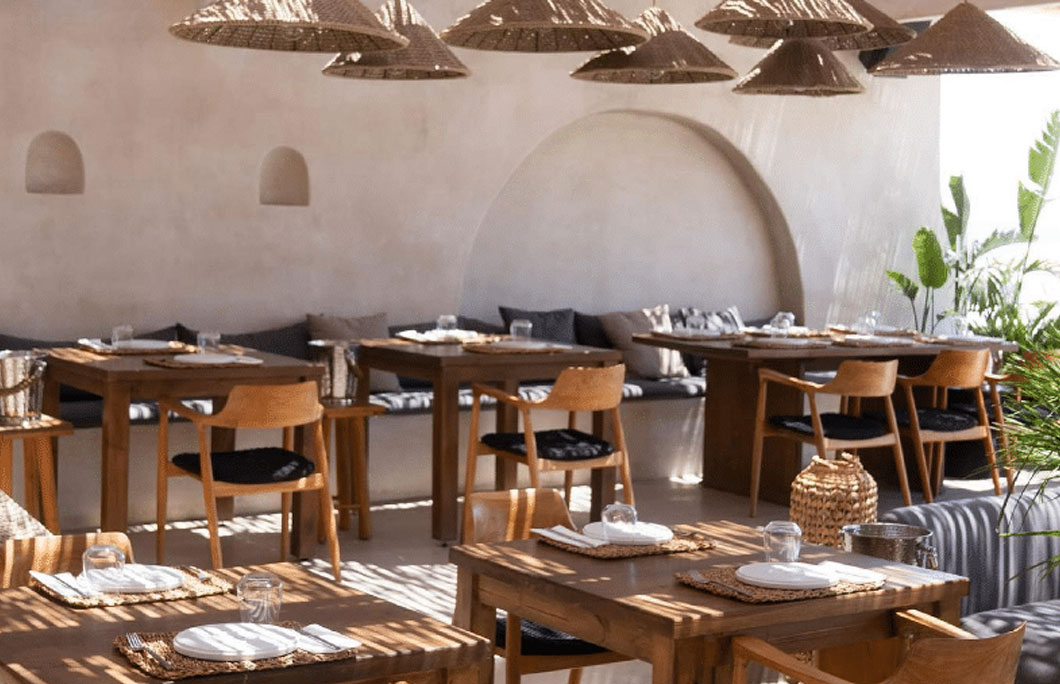 2. Wet Stories
There are several lively beach bars along the stretches of Perissa and Perovolos beaches, but Wet Stories has the uptick when it comes to luxury. Find rows of beautiful plush bean-bag-style sunbeds along the beach, shady under the straw umbrellas, with stunning views stretching out to the sea. It's a relatively chilled spot – the best place for enjoying a good book while sipping on a crisp glass of wine. However, Wet Stories also hosts excellent DJ nights.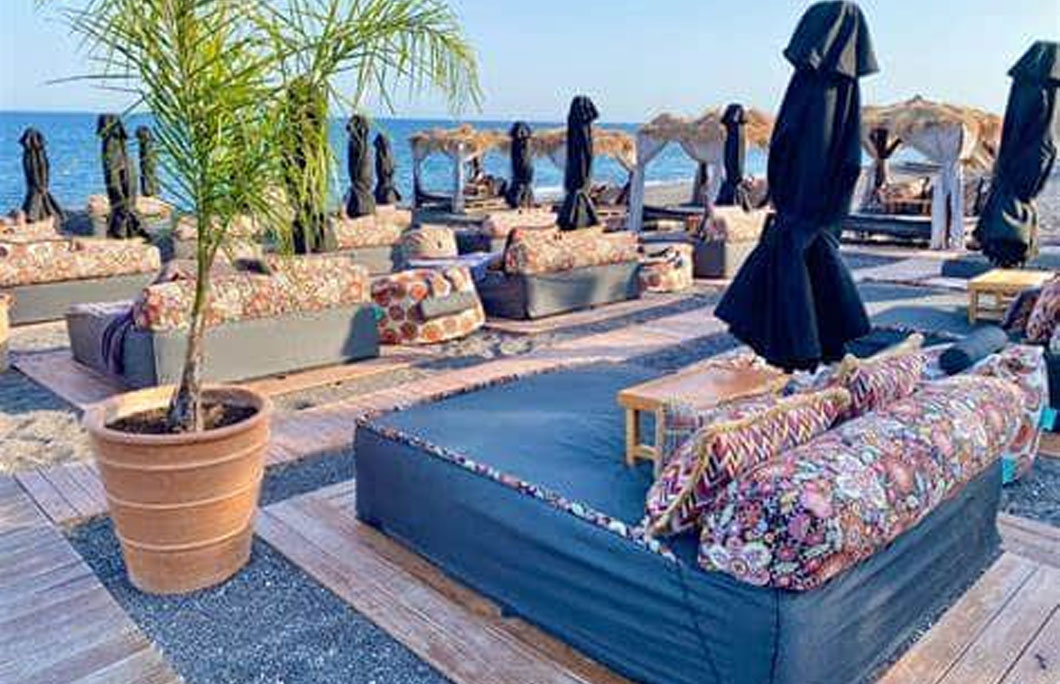 3. Seaside Santorini
While Santorini isn't known for its beaches, Agios Georgios Beach is still pretty stunning. Seaside Santorini is nestled into Agios Georgios, with ridiculously comfy, spacious daybeds that could lull you into a blissful nap. The open-front restaurant and boho-chic vibe has a Mykonos feel to it – the perfect place to sip a few cocktails, enjoy the views, and listen to the thrum of the music. The restaurant has an excellent menu of Mediterranean fare, you'll find plenty of Greek classics but with a creative twist.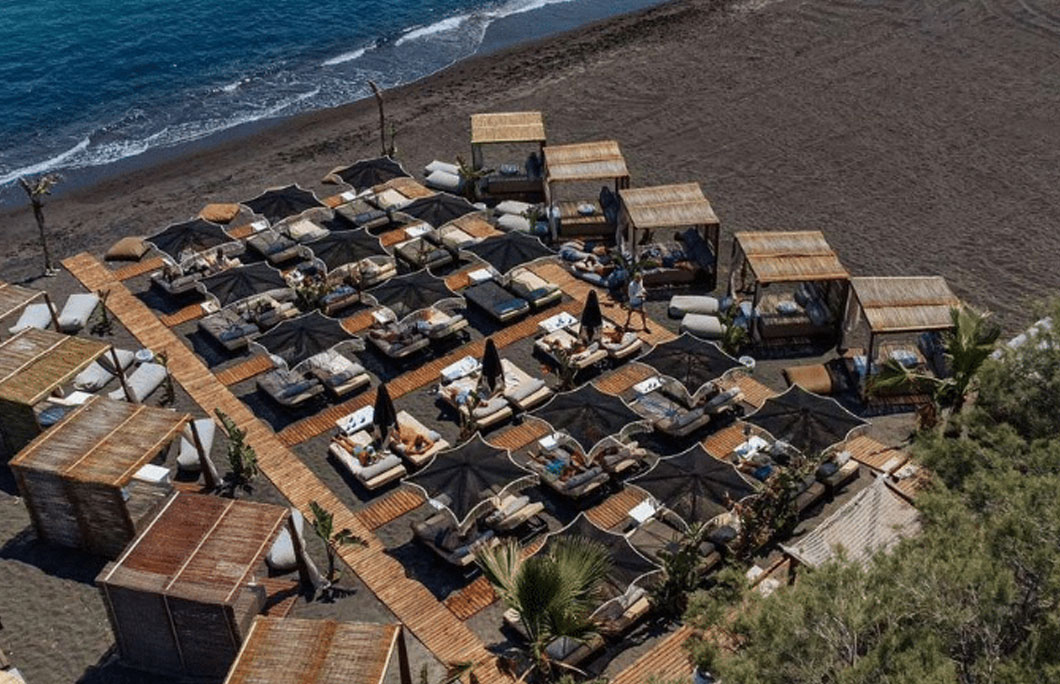 4. Forty One
This beach club and restaurant is just a few doors down from Seaside Santorini. It's still on the sandy Agios Georgios Beach but heading towards Perivolos. Forty One has excellent service, reasonable prices, good food, and gorgeous views of the turquoise Aegean Sea. What's not to love? From spending blissful hours relaxing on the spacious cabanas to tucking into a Greek feast in the chic dining area.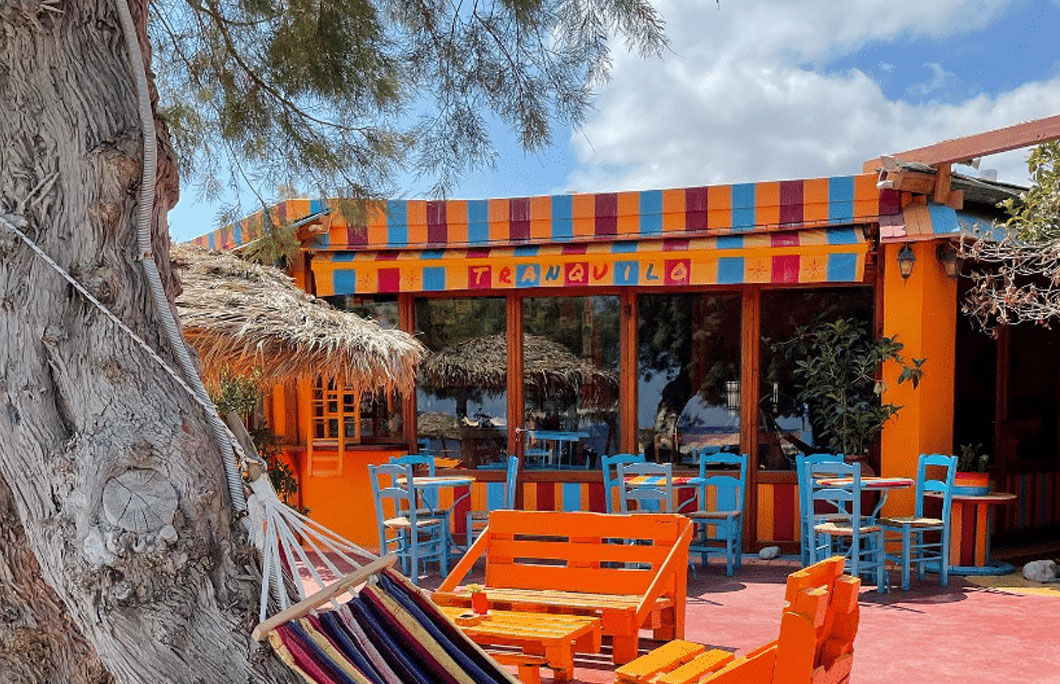 5. Tranquilo
Tranquilo has a very different vibe from the rest of boho-chic, whitewashed Santorini. Here, the colourful murals and vibrant furniture are very Tulum-esque. Close to the famous beaches of Perissa and Perivolos, it's in a fantastic location – away from the main tourist buzz but close enough to be easily found. It's easy to spend hours here, drinking their famous cocktails, swaying in the hammocks, and sampling dishes off their menu of locally grown foods. And we really mean locally grown – they have their own organic garden.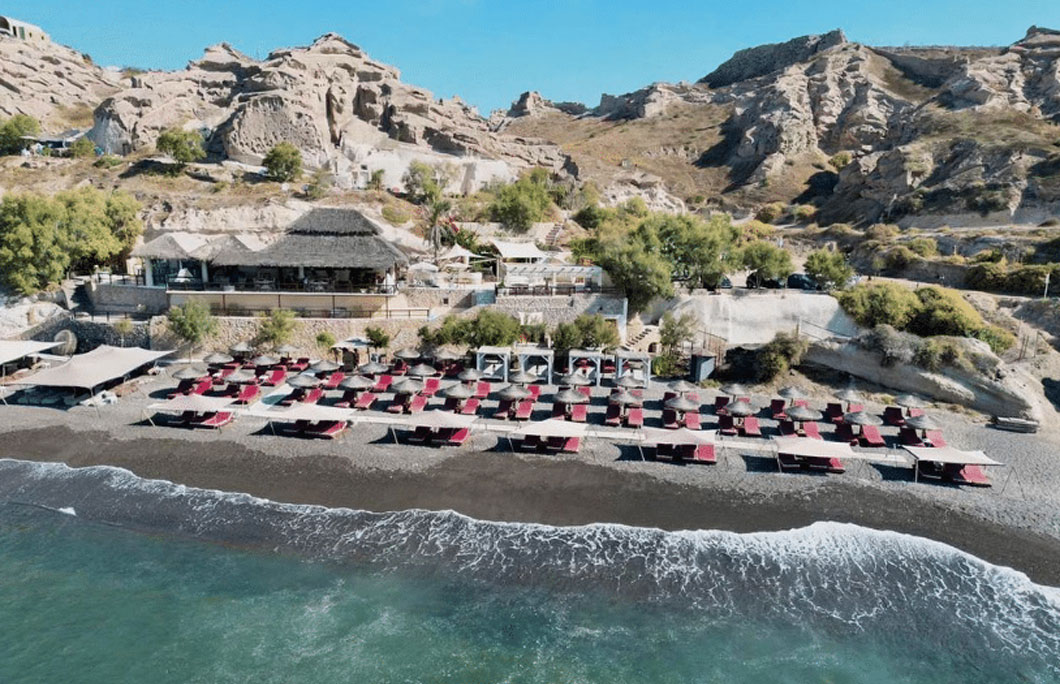 6. Theros Wave Beach Bar
Tucked away into the white volcanic cliffs of Vlychada Beach, Theros Wave is one of the most beautifully located beach clubs in Santorini. It feels like you're in your own paradise, with ridiculous views and a relaxed vibe. Couples will especially love the romantic feel of Theros Wave Beach Bar, enjoying cocktails by the sea and soaking up the sun on the sun loungers. When the day turns to dusk, the warm lighting and sunset make the place even more beautiful. And of course, everything is even more enjoyable with chilled-out reggae music playing.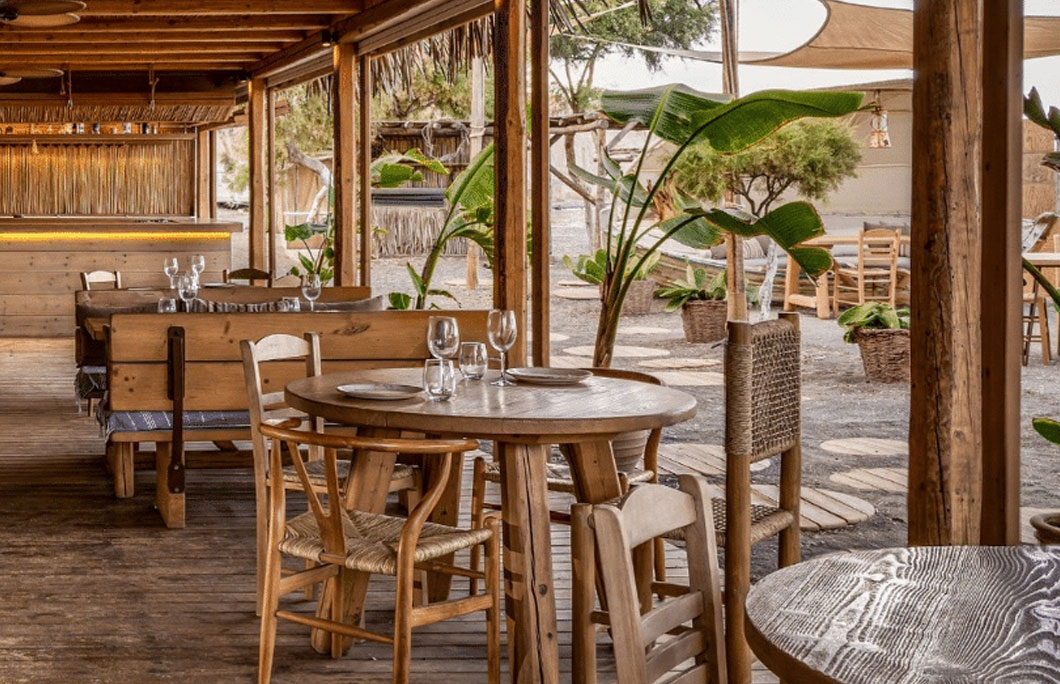 7. Yalos
This chilled-out spot is the perfect choice for a relaxing beach club in Santorini. It's not on Santorini's most famous beaches like Perissa, Kamari, or Perivoos, but it's in a quiet, remote area that attracts a nice crowd. And it still gets busy during the summer months, largely due to Yalos. It's not a place for wild parties, but it is a beautiful spot that's perfect for a calm evening with friends or a romantic date day. The stripped-back setting of sandstone cliffs, fishermen's shacks, and wooden boats bobbing in the water is a beautiful insight into Santorini way back when.
---