Cannot decide whether to choose Vienna Vs Salzburg?
Austria is a charming country with picturesque scenery. Two of its most well-known and beautiful cities are Vienna and Salzburg. Vienna overflows with culture and coffee whilst Salzburg is filled with the sound of music and Mozart. Beautiful buildings, palaces and parks adorn both cities and the food scene is truly scrumptious. Both cities should be high on your list for a visit. However, if you can only make it to one, which should it be? Our handy guide on how to choose between Vienna or Salzburg will help you decide which city best suits your style.
Vienna Vs Salzburg: How to Choose Between the Two
Overview – is Vienna or Salzburg better?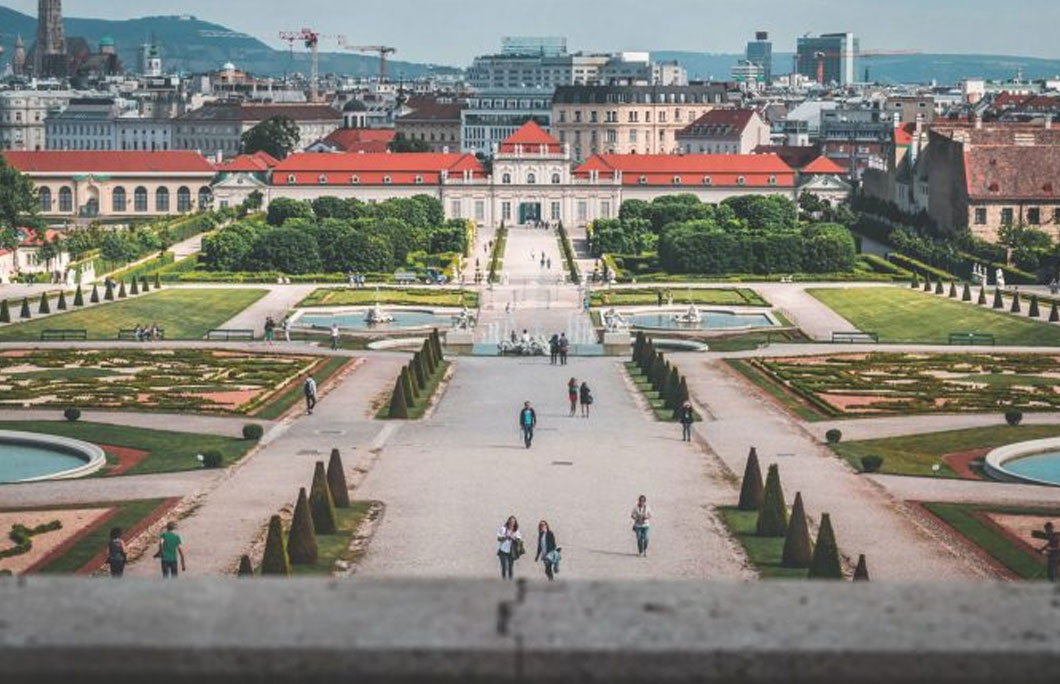 Vienna is the capital of Austria. It is a beautifully clean city with lots of open spaces and ornate buildings. It has an elegant and relaxed vibe which makes it a pleasure to visit. The city has a rich history, culture and arts scene. One of the best things about Vienna is its culinary diversity, it is a great city for food lovers who like to eat local as well as sample food from a wide range of countries. It is a great city for families and there is a low crime rate. It's no wonder Vienna was voted the best place to live in 2018 and 2019.
Salzburg encapsulates the best of Austria. It is a charming city with heart, history and heritage. It has scenic alpine landscapes, a top-quality food scene and wonderfully friendly people. One of the best things about Salzburg is the city's love of festivals and events. Over 4,000 cultural events take place throughout the city each year. There is always something happening no matter what time of the year you visit.
Both cities have a great public transport system and it is easy and quick to get around. However, both cities are very walkable and going on foot is a very pleasurable way to explore both Vienna and Salzburg.
---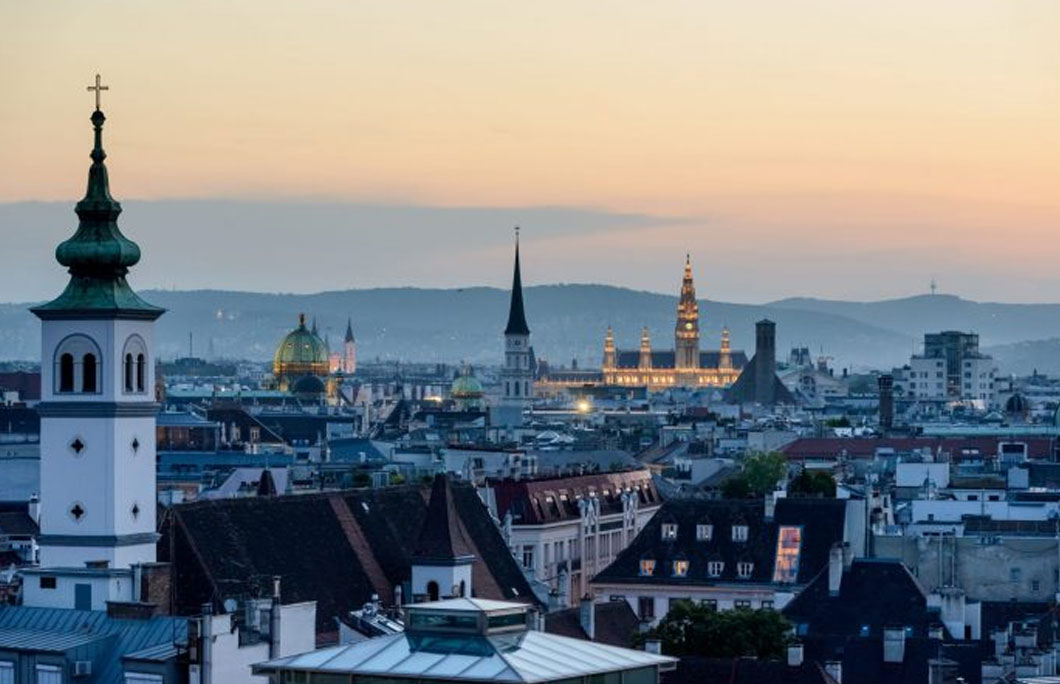 Vienna
When it comes to things to do in Vienna, there are plenty of attractions no matter what your interests. Take a ride on the Riesenrad Ferris wheel to get a bird's eye view of this beautiful city. To learn more about the region's history, stroll through the Hofburg Palace. The MuseumsQuartier has everything from the world's finest art to lively bars, cafés and restaurants, as well as a sculpture park that doubles up as a mini-golf course. Thousands of tourists visit the Upper Belvedere Palace to admire Klimt's 'The Kiss', one of the world's most recognisable paintings.
Both the Hotel Sacher and Demel lay claim to inventing the Sachertorte, so you should visit both cafes to compare Vienna's famous chocolate cake. A trip to Café Central is a quintessential thing to do in Vienna. It is a traditional Viennese Kaffeehaus, opened in 1876, which used to be a favourite haunt of Freud, Trotsky and Stefan Zweig.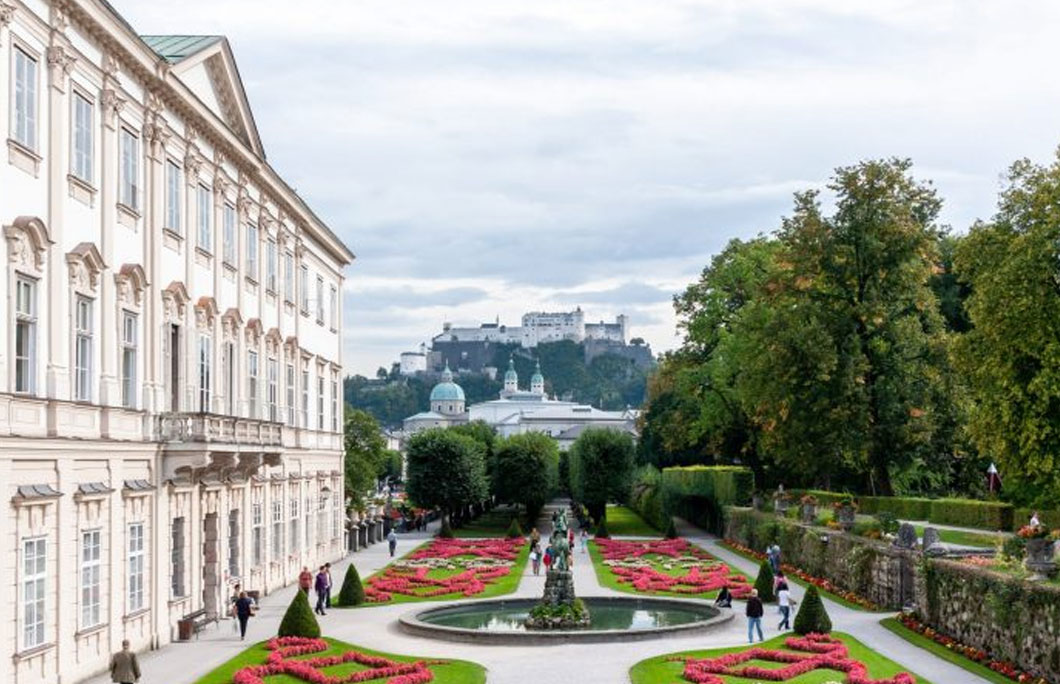 Salzburg
Salzburg is synonymous with the movie The Sound of Music as many scenes were filmed here. You can easily visit these places yourself, but a tour is always good fun as they usually involve a singalong too. Some of the locations you can visit are Petersfriedhof, Residenzplatz, Mirabell Gardens and Stift Nonnberg.
Mozart was born in Salzburg in 1756, so there are loads of tourist attractions to do with the city's most famous son. You can visit the Mozart Residence (Mozart Wohnhaus) and enjoy an evening concert at Baroque Hall of St. Peter. In the garden of the International Mozarteum Foundation, you'll find the Little Flute House where Mozart composed The Magic Flute opera.
Some of the other top things to do in Salzburg include visiting the St Peter's Abbey and Fortress Hohensalzburg, exploring the beautiful streets of the Old Town and wandering the gardens of Hellbrunn Palace.
---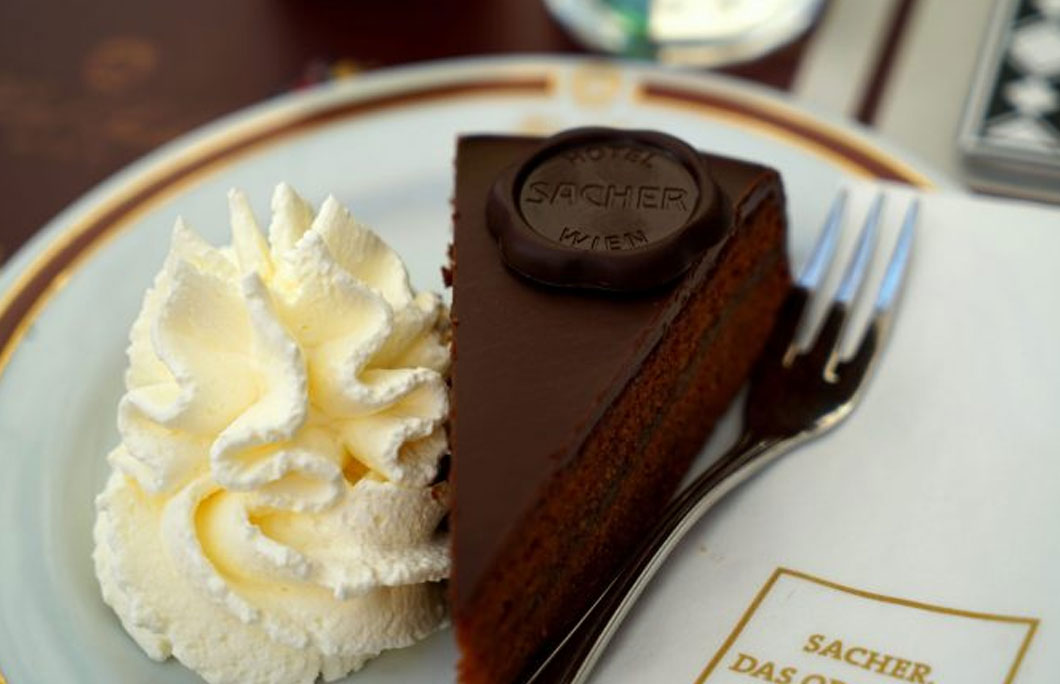 When it comes to food and drink, each region in Austria has specialities and variations. Vienna has terrific culinary diversity. The range of European restaurants in Vienna is vast, there's even an Icelandic restaurant. However, Vienna is most known for its coffee houses and outdoor food markets. If you do want to sample the dishes most associated with Vienna, enjoy a slice of Sachertorte chocolate cake, Wiener schnitzel and tafelspitz.
In and around Salzburg is the highest concentration of award-winning gourmet restaurants in Austria. Salzburg is a great place to try lots of traditional Austrian dishes as well as pioneering Austrian food. Some dishes local to Salzburg are Salzburger nockerl (sweet, meringue dumplings served with raspberry sauce), bosna (sausage in bread) and, of course, Mozartkugel (chocolate marzipan sweets).
Both cities have a wonderful coffee house culture and the national soft drink is Almdudler. Red Bull is also Austrian and there are some wonderful wines from Austria too. Try a glass of Grüner Veltliner.
---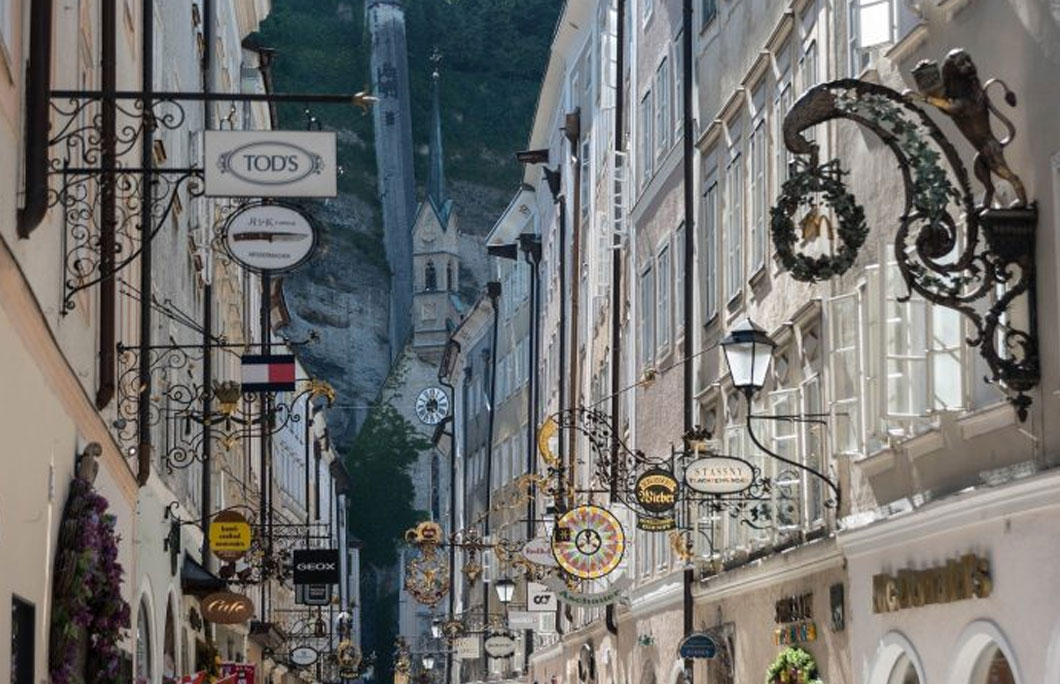 Vienna is a great shopping city with a wonderful mix of high-end designer boutiques and lots of local businesses too. You'll find plenty of art and antique stores too. The Goldenes Quartier is a luxury shopping area and it is located in the 1st district. But if you are more of a bargain hunter, the flea market at Vienna's Naschmarkt has about 400 stalls selling all manner of goods every Saturday from 6:30 a.m. to 2:00 p.m.
Salzburg is a great mixture of centuries-old family businesses and modern department stores. Check out the local businesses along the Getreidegasse, save some money at the Designer Outlet Center close to the airport and visit the traditional markets every Monday through Thursday at the University Church.
---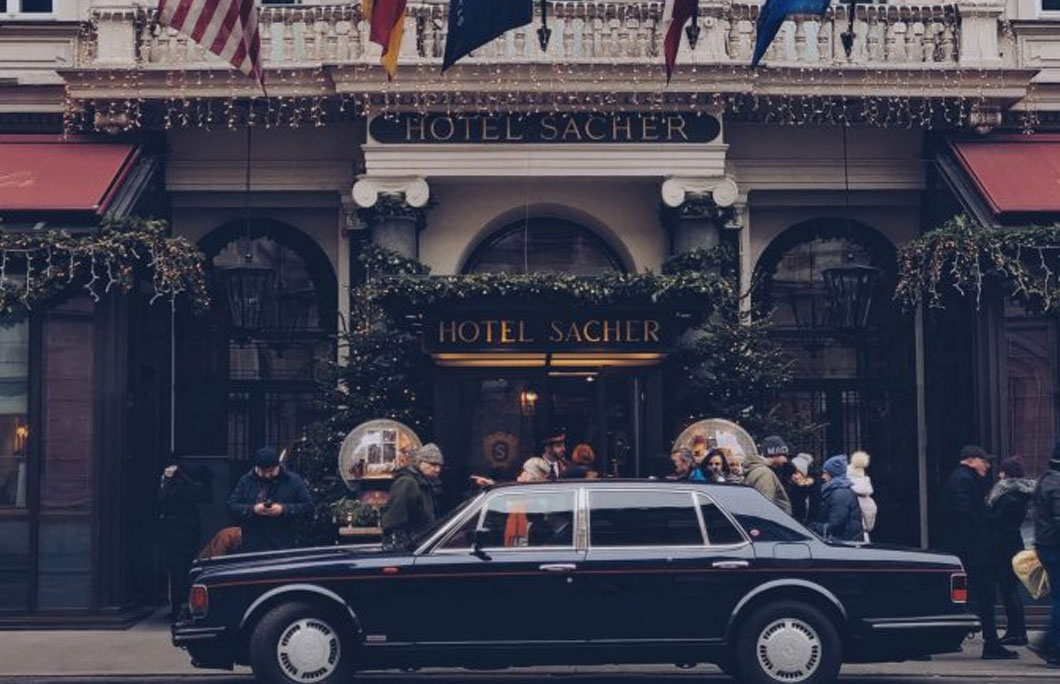 If you want to be close to all the top attractions in Vienna, stay in the 1st district (Innere Stadt). Being so close to everything, you are right in the heart of the city, expect to pay a bit more here for accommodation. For a more mid-range budget, look for hotels in the 2nd and 3rd districts (Leopoldstadt and Landstraße). You'll still be within walking distance of the Old Town but you won't be right in the centre, so prices should be a bit more reasonable. If you are on a tight budget, look for a hotel in the 10th district near the Favoriten train station.
If it is your first time in Salzburg, base yourself in the Altstadt, or Old Town. Staying in this area means you'll be near to the majority of the tourist sites. Across the river, in the 'New Town' you'll find some more affordable accommodation. For those on a tighter budget, look for hotels in the Elisabeth-Vorstadt area.
---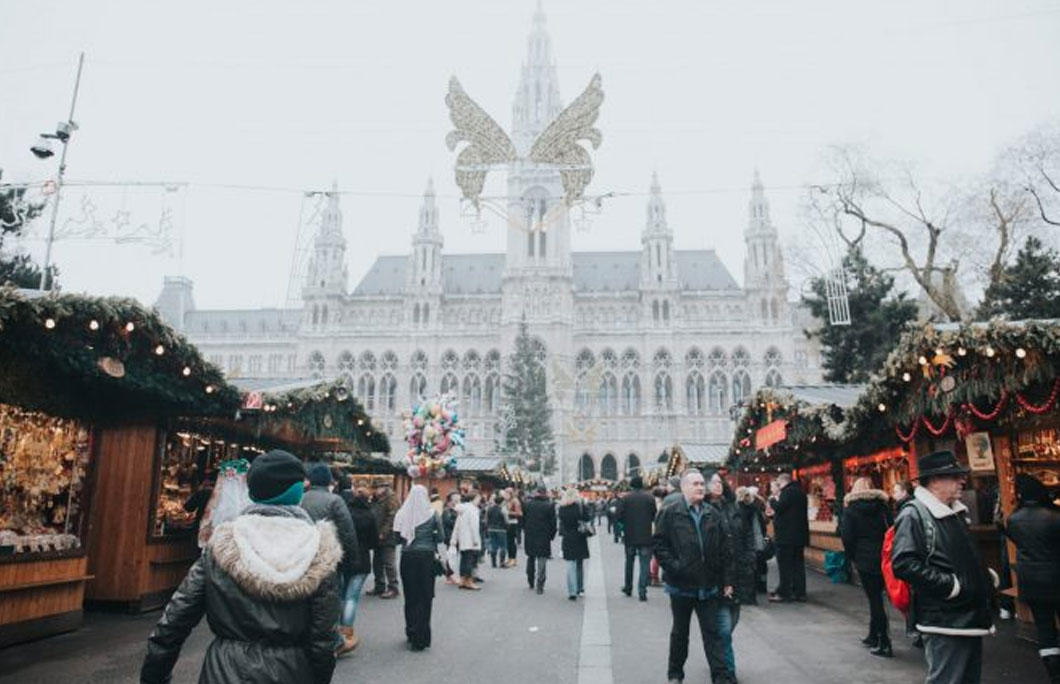 July is the hottest month in Vienna, with an average temperature of 19°C (66°F). January is the coldest month, with an average temperature of -1°C (30°F). The best time to visit for the most pleasant weather is spring and autumn and in particular May, June, September and October. However, despite the cold, Vienna with its Christmas lights and markets is magical in December.
The best time to visit Salzburg is in late summer and autumn as this is when the crowds have tapered off and you can enjoy the beautiful gardens in comfortable temperatures. Spring is also another great time to visit but it is still a little chilly. Much like Vienna, Salzburg is just brilliant in the winter when you can go skiing in the nearby resorts and enjoy the Christmas markets and festivities.