25 Most Scenic Drives in the UK
An ancient land where myth, mystery and history is packed into every nook and cranny, the United Kingdom of Great Britain and Northern Ireland (UK) sits off the north-west coast of the European mainland and comprises four constituent nations: Scotland, England, Wales and Northern Ireland.
At least in term of modern statehood, the UK is relatively new. In fact, its two largest nations England and Scotland had separate sovereign parliaments until the Acts of Union in 1707, making it just 69 years older than its transatlantic cousin the United States, founded in 1776.
And it's also home to captivating cities, from the bustling metropolis of capital London to elegant Edinburgh and everywhere in between.
A melting pot of cultures and a terrific tapestry of varied terrain, the UK is blessed by beautiful scenery like the Scottish lochs, mountains and glens, the verdant Welsh valleys, the rolling Yorkshire Dales and Northern Ireland's captivating Causeway Coast.
Check restrictions and stay safe
Remember to check the local restrictions in the area you are travelling from and travelling to, follow the guidelines and only travel when its safe and permitted to do so.
Ready to hit the road with your best of British scenic drives? Let's hit the ignition!
1. Belfast to The Gobbins
The Gobbins is a lofty cliff face path in County Antrim's Islandmagee and its varied terrain includes bridges, caves and tunnels. As a marine cliff path, it's unsurpassed in Europe thanks to its unique geology, dramatic scenery and species of bird life.
It takes about two and a half hours to walk the adrenaline-fueled cliff path. We highly recommend joining an experienced guided walking tour operator as the treacherous paths are as dangerous as they are stunning. The path can be narrow, uneven, and winding at certain points but stick with it because you will be rewarded with breathtaking views of craggy basalt cliffs and magnificent bridges leading to caves carved out of mountainsides. You might be amused to know that these very caves used to offer refuge to smugglers and pirates at one point.
Getting there: drive northeast out of Belfast on the A2 and reach The Gobbins in just half an hour.
2. Edinburgh to Cairngorms National Park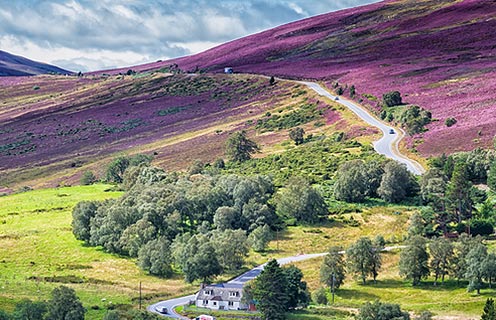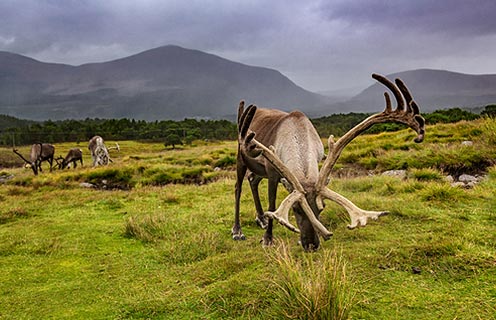 The Cairngorms National Park is the UK's largest and it's drivable in a day trip from Edinburgh if you leave early in the morning. Nestled in the heart of the Scottish Highlands, it includes the lovely Loch Insh, nature reserves, campsites and Cairn Gorm itself, a 1245m peak where you can ski in winter.
The adventurous types may not be able to get enough of the bountiful outdoor attractions that the Cairngorms has to offer, including picturesque hikes to Kingussie Crag, whitewater kayaking on the Feshie (class II-III) or Falls of Muick (class IV), canoeing on Loch Morlich, and cycling past verdant forests and resplendent flower fields. But if you're looking for a more laid-back holiday, don't worry. You can still take a leisurely stroll around the castle on Balmoral Estate or stargaze near Tomintoul ad Glenlivet, the recipient of an international Dark Sky Park status.
Getting there: take the M90 and A9 north to reach Aviemore in the Cairngorms in two hours 30 minutes.
3. Newcastle to Lindisfarne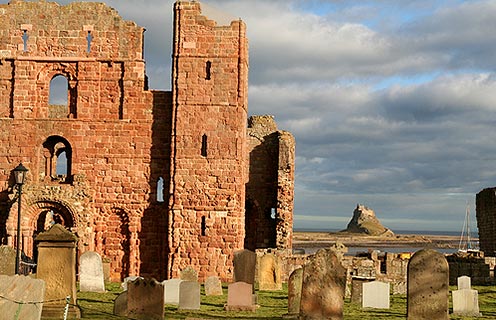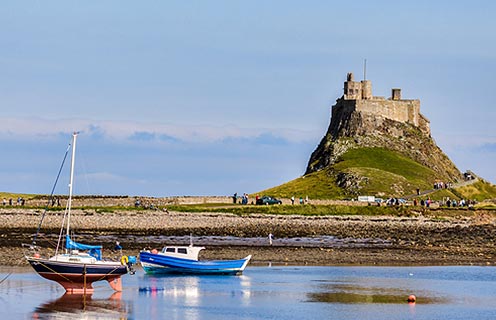 Located near Berwick-upon-Tweed, The Holy Island of Lindisfarne is only accessible via a tidal causeway, so you'll have to time your visit with this in mind. After St Aidan landed here from Iona in 635AD, the monastery he founded here helped Christianity to spread worldwide. There's a priory, castle and harbour to explore and it's a day out with a difference. As the monastery gained prominence and wealth, things took a turn when it attracted Viking raiders from the 8th century onwards, leading to the eventual ousting of the monks. Interestingly, descendants of these monks returned about four centuries later and put Lindisfarne on the map again as the site of religious activity. In the 16th century, following the Dissolutions of the Monasteries nationwide, this once prominent holy island once again fell into disuse. Today, Lindisfarne straddles the line between being a tourist attraction as well as a place of pilgrimage for the devout.
Getting there: drive north on the A1 from Newcastle and you'll reach the Holy Island in one hour and ten minutes.
4. Leeds to Haworth (Brontë Country)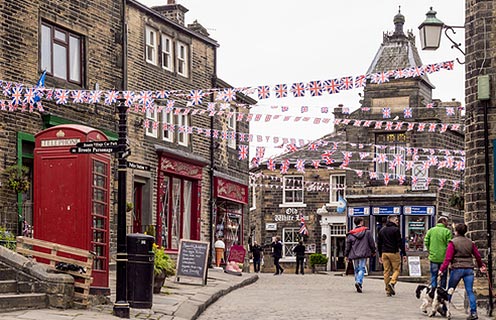 If you're a culture vulture and nature lover, this road trip from Leeds is practically mandatory. Haworth is a picturesque village surrounded by rugged, rolling moorland which inspired the Brontë sisters to write books like Wuthering Heights, Jayne Eyre and The Tenant of Wildfell Hall ̶ visit the Brontë Parsonage museum and take in the independent galleries and boutiques. While you're there, visit the Brontë Parsonage museum, the erstwhile lifelong home of the Brontë family. It is run by the Brontë Society, which also organizes many excellent literary events, exhibitions, and festivals year-round, attracting bookworms by the thousands.
Getting there: drive west of Leeds on the A647, circle around the top of Bradford, pick up the B6144 and you'll reach Haworth in 45 minutes.
5. London to Stonehenge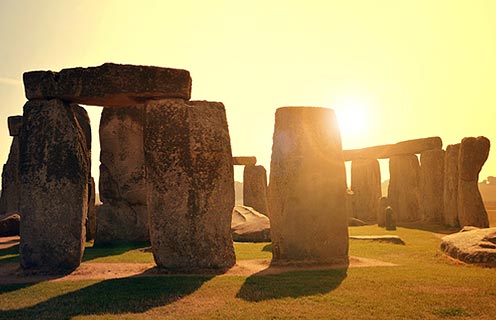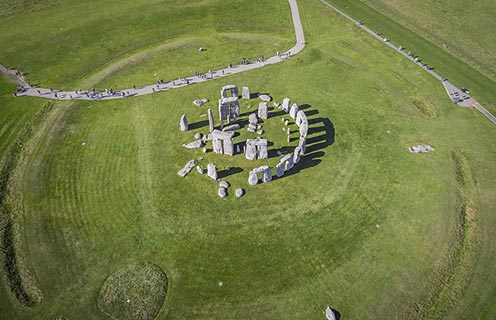 Leaving the hustle and bustle of London to spend a day soaking up the unique atmosphere of Stonehenge in Salisbury is sublime. There's something very special about walking in the foosteps of our Neolithic ancestors in the shadow of these famous standing stones and organised itineraries from English Heritage allow you to grab a great experience in two hours, half a day or a full day. For the complete experience, we highly recommend stopping by the visitor's center to experience the really cool 360-degree video presentation that will transport you to the middle of the stone circle. Do keep in mind that the last tickets for Stonehenge are sold at 2.30pm so plan your trip accordingly.
Getting there: take the M3 and A303 southwest of London to reach Stonehenge in just under two hours. Most people pair Stonehenge with other nearby attractions like Bath or Bristol.
6. Manchester to Edale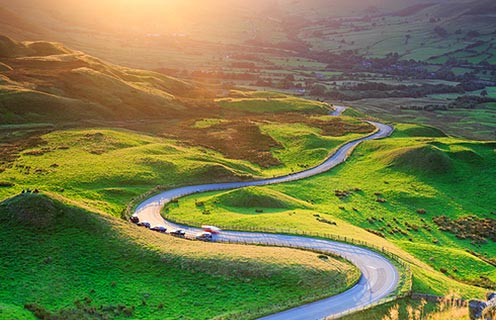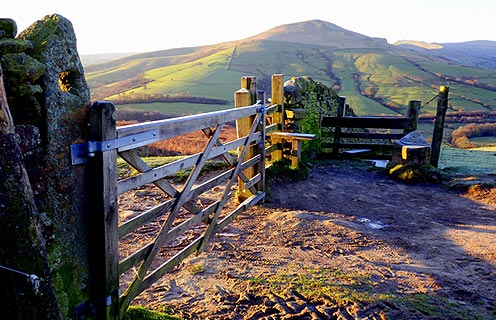 As the birthplace of cult bands like The Stone Roses, Happy Mondays and The Smiths, Manchester is a magnet for music fans. But its also within striking distance of beautiful rural locations like Edale, a charming hamlet located at the start of The Pennine Way walking route. Nestled amidst mountains, forests and sparkling streams, you can hike up Mam Tor to see the patchwork quilt of quintessentially English countryside spread out below. Although Edale is a small village, the technical term for it would be a "booth," a collection of small hamlets. So Grindsbrook booth became known as Edale village. While you're there, we highly recommend hopping on a short-haul train journey to witness one of England's most scenic railway routes: the Manchester to Sheffield train line. Other ways to experience the glorious countryside surrounding Edale include walking, camping, and biking. There are also restaurants, cafes, and B&Bs if you'd like to stay a little longer.
Getting there: take the winding A624 southeast of Manchester and Edale is one hour away.
7. Bristol to Blackpool Sands
An arty city that's produced world-class creatives like Banksy and seminal bands like Massive Attack, Bristol is always a vibesy place to visit. But if you want to experience another way of life, the road trip through Devon to beautiful Blackpool Sands is a delight. This sweeping beach is backed by evergreen trees and scented pines, making everything feel a little more exotic.
As you leave Bristol and drive towards Blackpool Sands, you will be greeted by quiet country lanes and lush flower fields. Feel free to pull over and admire the sublime beauty of the English countryside through your camera lens, if you please. You'll know you've reached your destination when you see high wooded cliffs looking down on azure waters gently lapping the pristine golden shoreline. Blackpool may try to keep you a little longer with some of its other attractions as well. Swing by SEA LIFE, an aquarium with over 2000 marine creatures, including sharks, octopi, and seahorses. Alternatively, adrenaline junkies would really enjoy Pleasure Beach, a gargantuan theme park boasting over 145 rides spread across 40 acres. Do not miss Infusion- the UK's first looping thrill ride that suspends you above water.
Getting there: take the M5 south from Bristol and Blackpool Sands is two hours and 25 minutes away.
8. Birmingham to Harlech Beach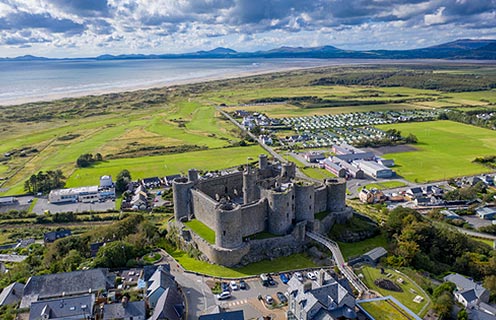 Britain's 'second city', Birmingham is brimming with multicultural attractions and superb shops, but its Midlands position makes it a marvellous base for road trips to pretty locations like Harlech Beach in Gwynedd, Wales. You'll find four miles of golden sand backs by grassy dunes in the shadow of the Snowdonia mountains ̶ magic.
Harlech Beach's distinguishing sand dunes not only attract tourists from all over the country but have also earned it a spot on the list of National Nature Reserves and Sites of Special Scientific Interest. The stunning countryside surrounding it and the fact that Harlech beach is one of the cleanest beaches in Snowdonia certainly do not harm its appeal. What a lot of visitors don't know about this place, however, is that this beach was the site of historical conflict. To know more, visit the nearby Harlech Castle, a National Heritage Site. If you're traveling with any furry friends, you'll be happy to know that most of the beach is dog-friendly and the few restricted areas are clearly sign-posted.
Getting there: take the A54 north west and you'll reach Harlech Beach in 3 hours from Birmingham.
9. Cardiff to Marloes Sands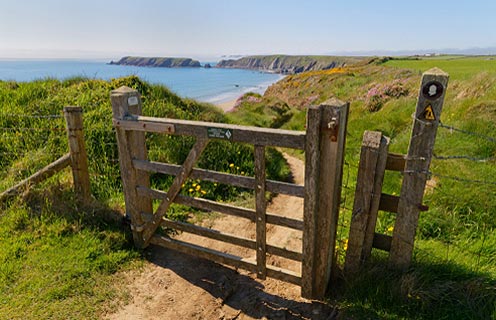 Welsh capital Cardiff has much to recommend it, but if you want to escape the city lights for a while, Marloes Sands and Mere provides the perfect getaway. Perched on the western edge of Pembrokeshire, this is a picturesque natural playground with a cool crescent beach surrounded by rugged heather-topped cliffs, where you'll see wildlife like seals, puffins and peregrine falcons.
This hidden gem is often overlooked by visitors to Wales, but that's such a shame because it's a treasure trove of unique natural formations. For instance, as you head towards the western end of the beach, you'll find rock pools filled with fascinating marine creatures like seabirds and seals, and a cosy beach with powder-like shores called Albion Sands. During low tide, little 'bays' are formed, exposing colourful rocks and cliffs. You may even spot a ship wreck if you're lucky. But during high tide, all these curiosities disappear underwater until low tide rolls around next. Pack some swimwear and a picnic kit and make a day trip out of Marloes Sands and Mere from Cardiff.
Getting there: roll west on the M4 and A40 and you'll reach Marloes Sands in two and a half hours.
10. Norwich to Cromer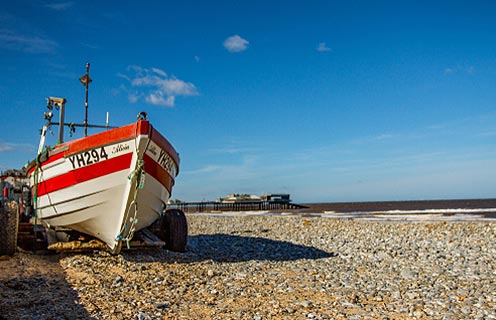 The capital of Norfolk and a city that oozes history and is home to fictional TV anti-hero Alan Partridge, Norwich is also a brilliant base for road trips to terrific destinations like Cromer on the Norfolk coast. Here you can catch crabs from the famous pier, try fossil hunting on the beach or gaze at the stunning stained glass windows in the Parish Church.
Cromer is mainly popular with families looking for a holiday destination that offers something for all ages. As a quintessential Victorian seaside town, Cromer boasts rich history and architecture. Visit Cromer Museum or RNLI Henry Blogg Museum to learn about the town's fascinating fishing past and the story of its local sailor hero. Natural history buffs may want to go to Cromer Shoals Chalk Bed, the largest chalk reef in Europe as well as a relic from the Mesozoic times. Alternatively, head over to the beach for some fossil hunting or crabbing at the Victorian Pier. As the sun goes down, watch fishing boats catch the famous Cromer crab or take a stroll along the Norfolk Coast Path to enjoy a colourful sunset.
Getting there: Cromer is around 50 minutes north of Norwich via the A140.
11. Belfast to Giant's Causeway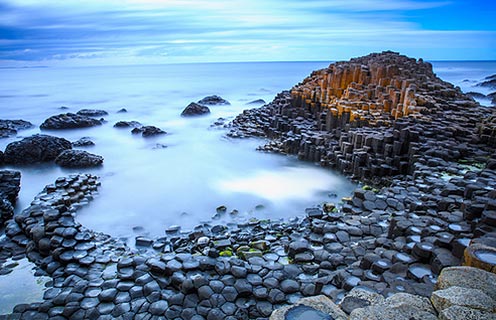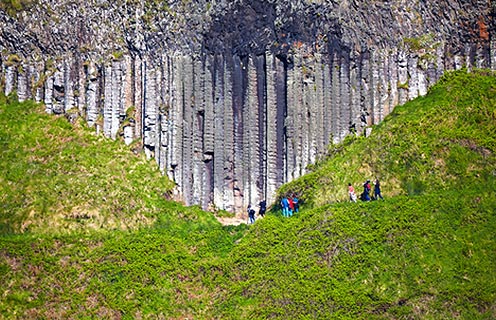 A natural attraction like no other, the Giant's Causeway is a complex of 40,000 interlocking basalt columns and it's a must-see for Belfast visitors. The Grand Causeway is Northern Ireland's only UNESCO World Heritage Site, the giant Fin McCool's boot print is another attraction and his 'camel' is a basalt formation created when cooling lava forced itself through rock layers.
Getting there: take the M2 north from Belfast and you'll reach the Giant's Causeway in just over one hour.
12. Leeds to Peasholm Park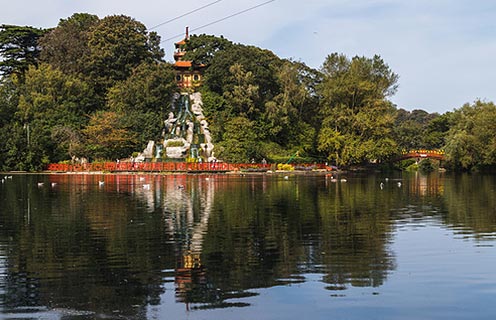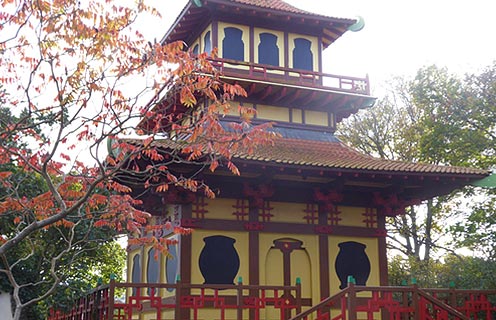 Another awesome road trip from Leeds that's a little bit different is Peasholm Park. This is a stunning Oriental-themed green space near Scarborough that boasts a network of streams and waterfalls, bridges and immaculate gardens. Visit in the summer and you can even hire a boat and set sail on the lake!
Getting there: roll northeast from Leeds on the A64 towards York, after York you've an hour of countryside driving ahead and you'll be in Peasholm Park in Scarborough in roughly an hour and 40 minutes total.
13. Cambridge to Hunstanton Cliffs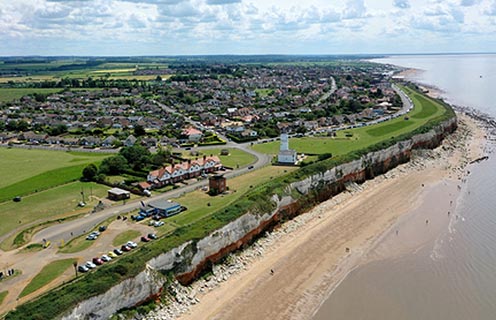 Cambridge is home to more Nobel Prize winners than any other city and it's full of fascinating history and architecture. What's more, it's also a prime launchpad for a road trip to the awe-inspiring Hunstanton Cliffs in West Norfolk, where the carrstone, chalk and limestone layers look like a cream, red and brown cheesecake slice. History here sweeps through prehistoric fossils to the 13th Century St Edmund's Chapel and the iconic 19th Century Hunstanton Lighthouse.
Getting there: drive roughly northeast from Cambridge on the A10 and you'll be in Hunstanton in one hour and 40 minutes.
14. Edinburgh to Pettycur Bay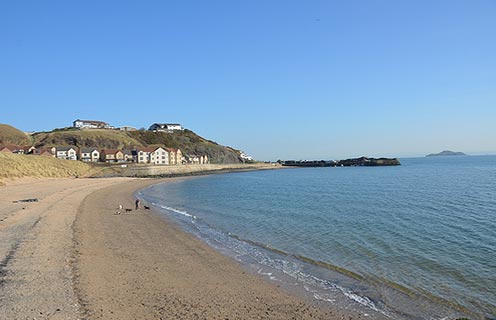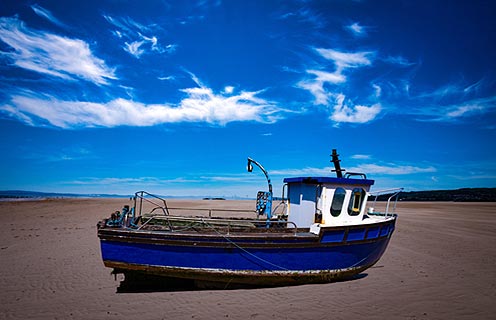 Edinburgh is a great base for a scenic drive north across the River Forth to Fife. You'll drive over the Queensferry Crossing bridge before cruising along the coast to Kinghorn and beautiful Pettycur Bay. The view from the sundeck of the caravan park here across the golden sands to Arthur's Seat and other Edinburgh landmarks on the other side of the river is divine.
Getting there: take the A90 north out of Edinburgh and across the Forth, then follow the road eastwards along the Fife coast o reach Pettycur Bay in around one hour.
15. Newcastle to Whitley Bay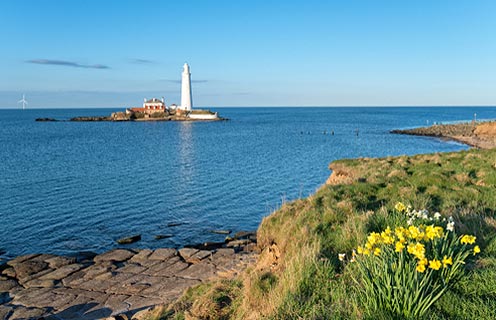 The charms of Newcastle in England's North East are considerable, but if you fancy a change of scenery, take a road trip to the Great British seaside resort of Whitley Bay, where there's a lovely windswept beach with golden sands and craggy cliffs, cafes to buy tasty fish and chips or ice cream, and shops and restaurants aplenty.
Getting there: head northeast from Newcastle on the A1058 and Whitley Bay is 20 minutes away.
16. London to The Cotswolds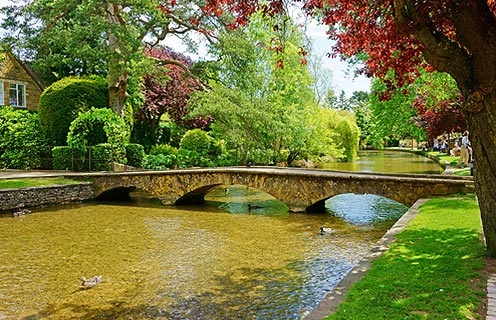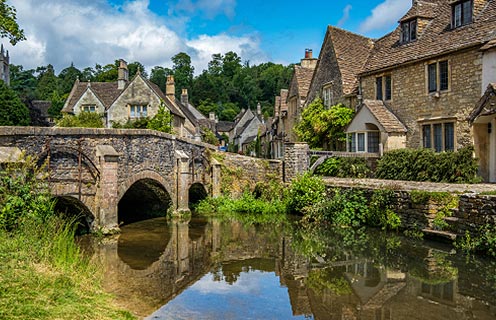 Named after the Cotswold hills, the Cotswolds are a network of perfect picture postcard towns and villages that spans south central and south west England. Characterised by rolling hills and distinctive stone architecture, highlights here include Bibury, Burford, Broadway Tower and Sudeley Castle and Gardens.
Getting there: take the M40 and A40 west of London and you'll reach the Cotswolds in two hours.
17. Dundee to Loch Fyne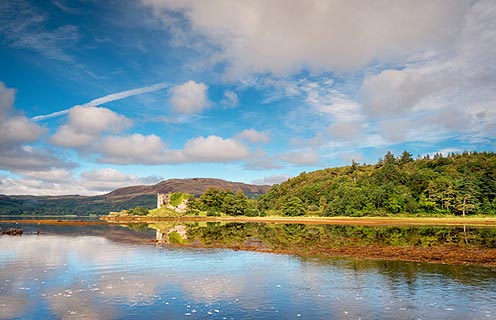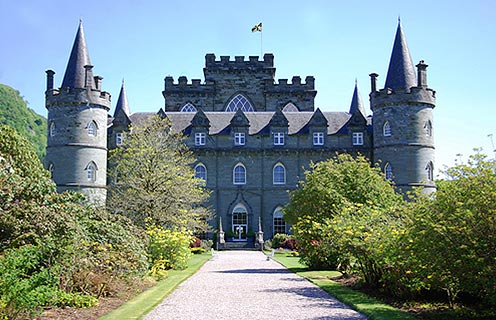 With its striking V&A design museum on the River Tay and tons of trendy pubs, shops and restaurants, Dundee has much to recommend it. But it's also a decent drive from the lovely Loch Fyne, a sublime sea loch off the Firth of Clyde which stretches a vast 65km inland from the Sound of Bute, connecting the Argyll Mountains to the sea at Arran.
Getting there: take the A811 southwest from Dundee and you'll be in Loch Fyne in three hours.
18. Sheffield to The Peak District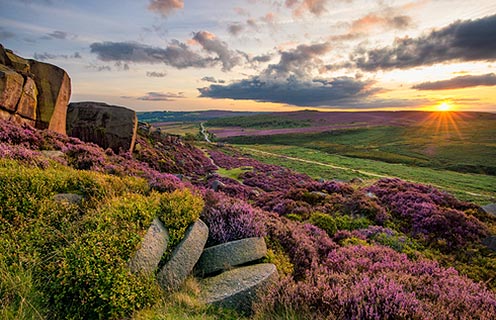 The undulating hills and moors of the Peak District are a gentle natural rollercoaster you don't want to miss and they're within easy reach of a base in Sheffield. Hope Valley is one of the most vibrant and verdant spots, hiking to Mam Tor affords terrific views and Speedwell Cavern is a legendary underground labyrinth.
Getting there: drive west from Sheffield via the A57 and you'll be in Castleton in 40 minutes.
19. Aberdeen to Newburgh Seal Beach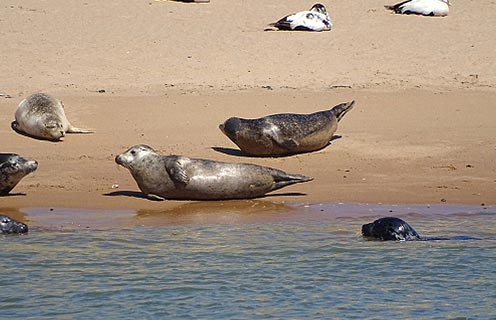 Scotland's East Coast is a real treat for the eye and there's something magical to see from Edinburgh through Fife, up through Dundee into Angus and on to Aberdeen and beyond. Newburgh Seal Beach is a stone's throw from Aberdeen and it's a sublime stretch of burnished sand at the mouth of the Ythan river. As well as the colony of 400 seals, you'll see oyster catchers and eider ducks.
Getting there: drive north from Aberdeen for 20 minutes on the A90 to reach Newburgh Seal Beach.
20. Glasgow to Loch Lomond and the Trossachs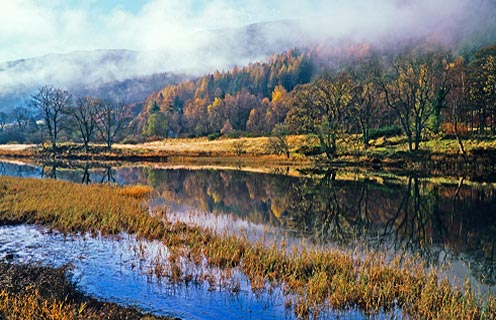 The bonnie, bonnie banks of Loch Lomond are a short hop from Glasgow but a world away in terms of ambience. Take the high road to the Trossachs and you'll find yourself amidst an amazing network of mountains, forests and lochs, where you can sail on a steam ship, hike the hills, paddle in a kayak or simply stroll around and enjoy the atmos.
Getting there: drive northwest out of Glasgow on the A82 and you'll be in Loch Lomond in under an hour.
21. Liverpool to Lake Windermere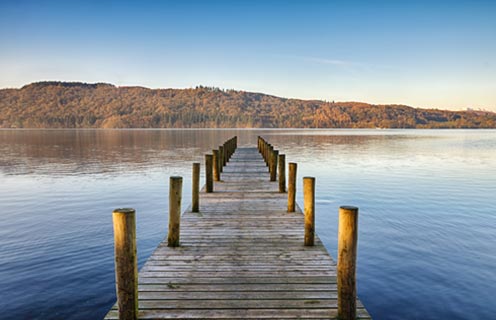 Home of The Beatles, two legendary football teams and millions of friendly locals, Liverpool is a cracking city to visit. And luckily for you, it's in striking distance of Lake Windermere, the sparkling jewel in the crown of the Lake District. 10.5 miles long and surrounded by lush hills, it's absolutely stunning.
Getting there: drive north on the M6 and you'll reach Windermere in just over two hours.
22. Plymouth to Pedn Vounder Beach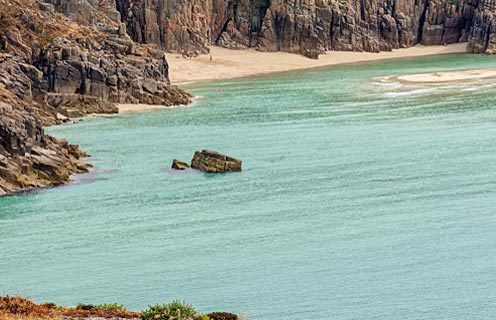 Pedn Vounder Beach is a brilliant day trip from Plymouth and this stunning stretch of sand on the Penwith coast near Lands End has been a magnet for visitors for years. The white sands and pure blue waters look almost Caribbean and the dramatic backdrop cliffs add to the sense of seclusion and exclusivity in this hidden cove.
Getting there: take the A38 and A30 southwest to reach Pedn Vounder Beach in two hours.
23. Cardiff to Laugharne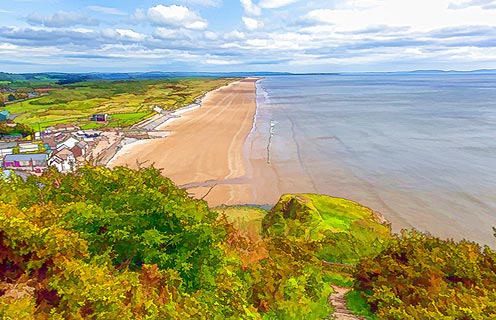 Laugharne in Carmarthenshire is another lovely road trip from Cardiff and it's another literary location thanks to it being the home town of celebrated poet Dylan Thomas (the boathouse where he wrote many of his classic verses is here). You'll also find his local pub Brown's Hotel here and the great man's burial plot at St Martin's Church.
Getting there: take the M4 west past Swansea and you'll be in Laugharne in one hour and 30 minutes.
24. Sheffield to Clumber Park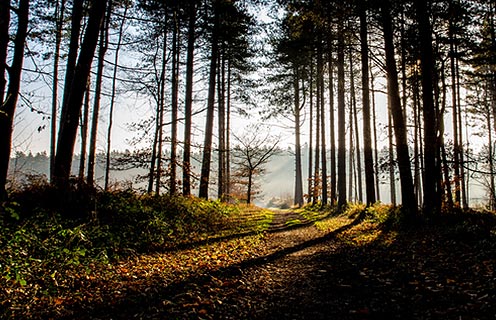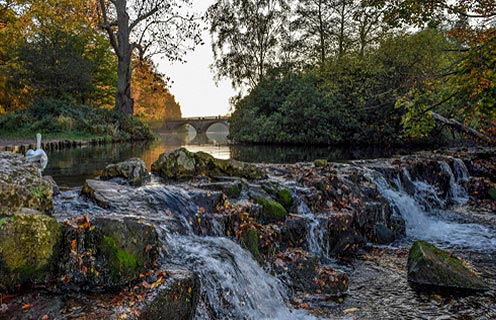 If you're based in Sheffield, a day trip to Clumber Park on the fringes of Worksop is the ideal opportunity for some cathartic tree bathing in a stunning location which includes wild woodland, a wonderful waterfall and a luscious lake. Throw your picnic rug and some snacks in the boot ̶ this is a lovely spot for couples or families.
Getting there: drive south east on the A57 and you'll be in Clumber Park in 45 minutes.
25. Manchester to Tatton Park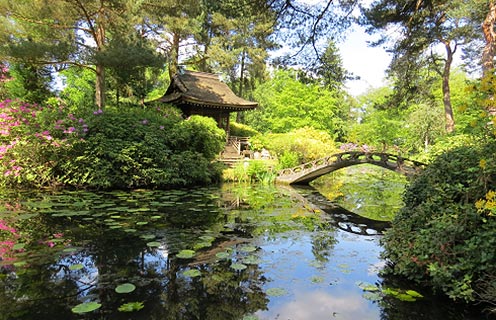 Fancy an immersive experience where you step back in time? You'll find exactly that at Tatton Park in Cheshire, a great daytrip destination from Manchester which is one of the most intact Tudor estates in Britain. There's a stunning neoclassical mansion, a Todor old hall, landscaped gardens and wildlife like deer and herons.
Getting there: take the A5103 and M56 south from Manchester to reach Tatton Park in about 35 minutes.