Top 10 Birmingham road trips:
Stow-on-the-Wold
Buxton
Church Stretton
Bath
Stratford-upon-Avon
Telford
Royal Leamington Spa
Chatsworth Estate
Bala Lake
Cheddar Gorge
The heart of the West Midlands, its Big City Plan has revitalised the city centre and its architectural highlights include a cutting-edge library, sparkling shopping mall perched on top of New St Station, gorgeous grand Victorian buildings, distinctive Bullring shopping centre and the futuristic bubbled façade of the Selfridge building.
10 of the best scenic drives from Birmingham
Britain's second-largest city, Birmingham is a bustling, multicultural metropolis with a population of 2.6 million.
Scenic canals also snake through the city, there are fascinating museums and galleries, the historic Jewellery Quarter and Cadbury's World chocolate experience are worth a visit and countless cool bars, clubs and restaurants are an added attraction.
'Brum' is also on the doorstep of some stunning scenery ̶ so if you hire a car here, it's a brilliant base for adventures further afield.
Before you start your engine, read on for a few useful tips on driving in Birmingham.
Tips on Driving in Birmingham
Birmingham Airport (BHX) is 13km from the city centre and a convenient place to collect your hire car, although downtown pickups are also available. BHX has excellent links to domestic and international destinations.
Speed limits in and around Birmingham are 70mph on motorways and dual carriageways, 60mph on single-carriage roads, 30mph in urban areas and 20mph in many residential and local centres.
Once you're ready to roll, head out for the following fantastic Birmingham road trips.
1. Stow-on-the Wold
The highest town in the Cotswolds, Stow-in-the-Wold sits in a commanding position 800 feet high on Stow Hill and it's one of the best-known towns in this scenic English area. Renowned for its antique shops and art galleries, this is the perfect place to pick up a unique conversation piece for your home and it's an atmospheric market town with the Market Square at one end, the town stocks at the other and lots of authentic stone-built shops and town houses in between. Don't miss the iconic door of St Edward's Church, said to have inspired J.R.R. Tolkien's 'Doors of Durin' in The Lord of the Rings: The Fellowship of the Ring.
Getting there: drive south on Fosse Way/A429 to reach Stow-on-the-Wold in one hour and ten minutes.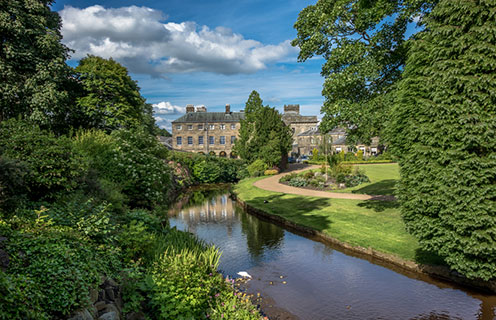 2. Buxton
A beautiful spa town in the Peak District, Buxton makes for a delightful day trip from Birmingham and there's plenty to see and do here. The Grade I-listed Buxton Crescent is a gorgeous example of Georgian architecture restored to its former glory and the Devonshire Dome is the elegant home of the University of Derby. Meanwhile, Solomon's Temple is a Victorian folly that stands 437m above sea level atop Grin Low, with panoramic views of the Mam Tor and Kinder Scout Peaks as well as Combs Moss, Axe Edge and Chelmorton Low. The Wye Valley, Derbyshire Dales and Dovedale Nature Reserves are also within easy reach.
Getting there: drive north along the M6 and A53 from Birmingham to reach Buxton in around one hour and 45 minutes.
3. Church Stretton
Situated in the Shropshire Hills Area of Outstanding Natural Beauty, Church Stretton is a charming highlight in a scenic, undulating area where you can do everything from taking a bracing dip in a natural pool in the hills to exploring breweries and vineyards. The Long Mynd and Carding Mill Valley have amazing views of the Black Mountains, Cheshire and Shropshire, and at Acton Scott Historic Working Farm you can experience first-hand what life was like in an authentic Shropshire upland farm a century ago.
Getting there: take the M54 west from Birmingham and you'll reach Church Stretton in around one hour and 15 minutes.
4. Bath
A famous Roman spa town, Bath is another great day trip destination from Birmingham. Highlights here include Sally Lunn's historic eating house, which dates from 1482, the Holbourne Museum, which houses an impressive fine art collection, Bath Abbey Tower with its panoramic views, and of course, the Roman Baths, which is one of the world's best-preserved Roman spa complexes.
Getting there: drive south from Birmingham on the M5 and you'll reach Bath in two hours.
5. Stratford-upon-Avon
If you're a theatre fan based in Birmingham, a visit to William Shakespeare's hometown Stratford-upon-Avon is a must. The main Shakespearean venues here are the Royal Shakespeare Theatre and the Swan Theatre, two adjacent establishments on the banks of the River Avon. But there's lots more to see here, including the 500-year-old cottage of the legendary playwright's lover Anne Hathaway, Shakespeare's timber-framed birthplace, the MAD museum of kinetic artworks, and the laid-back Canal Basin, with its colourful canal boats and rowing boats.
Getting there: Stratford-upon-Avon is just 45 minutes from Birmingham via the M42 and M40.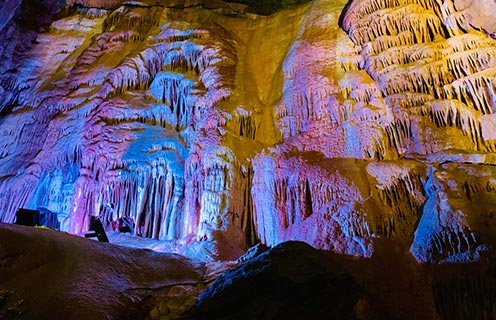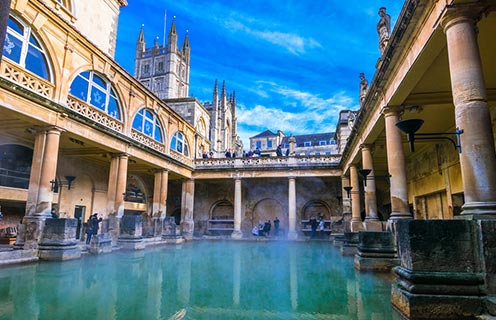 6. Telford
Telford in Shropshire should also be on your Birmingham road trip hitlist. The Ironbridge Gorge just south of the town is a UNESCO World Heritage Site as it was the birthplace of the Industrial Revolution in the 18th Century and there are 10 museums onsite today, all housed in authentic warehouses, factories and residential properties. Meanwhile, The Wreckin is a stunning scenic spot five miles out of town which is worth the hike ̶ it's a volcanic peak which is older than Mount Everest and affords awesome views of 17 English counties.
Getting there: Telford is just 40 minutes northwest of Birmingham via the M6 and M54.
7. Royal Leamington Spa
This Warwickshire spa town is famous for its elegant Regency architecture, award-winning parks, leafy boulevards, chich boutiques and lively bar and restaurant scene. Highlights here include the Royal Pump Rooms, Chesterton Windmill, Victoria Park, and the inspirational interior of the All Saints Church. Ufton Fields Nature Reserve is also a serene spot to while away a few hours, and at the Leam Boat Centre you can mess about in the river on a range of colourful boats.
Getting there: Royal Leamington Spa is only 45 minutes from Birmingham via the M42 and M40.
8. Chatsworth House & Estate
Chatsworth House is one of England's most impressive grand country homes and it has been home to the Cavendish family since the 16th century. Set in 1000 acres of parkland, including 100 acres of formal gardens, there's a children's adventure playground, farmyard, café and giftshop here to offer a fully-rounded day out. It's perhaps the highlight of the Peak District and the surrounding countryside is rather easy on the eye too!
Getting there: drive one hour and 40 minutes north of Birmingham on the M1 to reach Chatsworth.
9. Bala Lake
Located in Snowdonia, Bala Lake near Gwynedd is the largest natural lake in Wales (3.5 miles long and 140ft deep at some points). Set against a marvellous mountain backdrop, the scenery is something to write home about and there are some fantastic family activities available. For instance, the Bala Lake Railway takes you on a magical 9-mile round trip around the lake and through Snowdonia National Park on board a vintage steam train and the National Whitewater Centre teaches white water rafting, canoeing and kayaking in a safe (but exciting) environment. Meanwhile, the Caerau Uchaf Gardens is North Wales' highest private garden open to the public ̶ as well as the outstanding views, you'll find a willow maze, trampoline and outdoor playground for kids and a café serving home-cooked treats.
Getting there: take the M54 from Birmingham to reach Bala Lake in around two hours.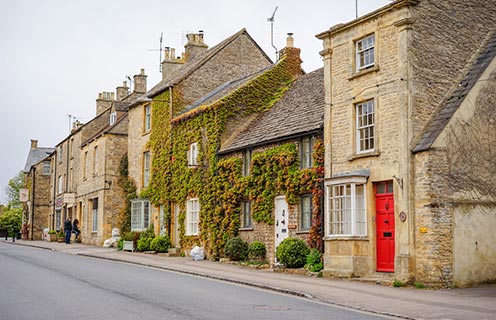 10. Cheddar Gorge
Cheddar Gorge is an otherworldly limestone gorge nestled in the Mendip Hills near Cheddar village in Somerset. Here you'll find breath-taking hiking trails, labyrinthine underground caverns, traditional English pubs and of course, cheese tasting sessions. Jacob's Ladder is a highlight here ̶ you'll need stamina to trek the 274 feet to the top, but once you reach the top, you're perched 900ft above sea level and you'll have the view of a lifetime over the Mendip Hills and the serpentine roads meandering through the landscape. If you like cheese, it's practically mandatory to return home with a tasty wheel of cheddar, but artisan delicatessens here also sell lovely pickles and home-made cider.
Getting there: Cheddar Gorge is around two and a half hours from Birmingham via the M5.
These 10 road trip destinations prove just how brilliant Birmingham is as a base for exploring many of the best parts of England.
Whether you want to cruise along craggy coastlines, immerse your self in industrial heritage, ease your muscles in ancient spa waters or appreciate art and culture, you can hop in your car in Brum and all of these varied attractions are just a hassle-free drive away.
Hire a car in Birmingham from Enjoy Travel and discover these dynamic destinations for yourself!