Top 10 Glasgow Road Trips:
Milarochy Bay
The Devil's Pulpit
Kelburn Castle
Loch Tay
Oban
Ayrshire Coast
Rest and Be Thankful
Glencoe
The Kelpies
Kilchurn Castle
Ah Glasgow ̶ Scotland's largest and (arguably) friendliest city.
Packed with history, culture, cuisine and legendary locals offering a warm welcome and bags of friendly banter, this lively city is one of Britain's best places to visit. If you're a first time visitor you'll probably leave a little piece of your heart here and if you're a local you must wake up each morning and thank your lucky stars!
10 superb scenic drives from Glasgow by car
But Glasgow's also a great base for scenic road trips that allow you to discover some of Scotland's best-known scenery and a few hidden gems glittering around the hills and glens. Hiring a car in Glasgow is easy and you'll find a vehicle that fits the bill in a couple of clicks with Enjoy Travel. For instance, you can grab great prices on everything from a compact Ford Focus to a cool Kia Stonic SUV.
Tips on driving in Glasgow
Our top 10 scenic drives from Glasgow are coming right up, but before you get behind the wheel, take a look at these top tips for driving in Scotland's biggest metropolis.
If you're visiting from overseas, please remember to drive on the left in Glasgow (and all across Scotland and the UK). There's a 20mph speed limit in much of Glasgow city centre, the limit is 30mph in other built-up areas, 60mph on single carriageways and 70mph on dual carriageways and motorways.
As you would expect, drink driving is strictly forbidden here, the driver and all passengers must wear seatbelts and it's illegal to use a mobile phone from driving unless you use a genuinely hands-free system.
As you drive out of Glasgow into more rural areas, please proceed with caution ̶ some roads are narrower than you might expect and you should look out for hazards like rockfalls and crossing wildlife/livestock.
Let's roll out for our 10 scenic road trips!
1. Milarochy Bay
A little-known spot on the shores of stunning Loch Lomond, Milarochy Bay is located near the village of Balmaha. With views over to Ben Lomond in the distance, a series of calming stepping stones and a lone tree that's semi-submerged in the water, it's ideal for Zen moments and photo opportunities. If you find Milarochy Bay particularly captivating, there's a local campsite where you can sleep under the stars.
Getting there: drive north from Glasgow on the A81 to reach Milarochy in under one hour.
2. The Devil's Pulpit
Also known as Finnich Glen, the Devil's Pulpit is a magical, mossy 100ft gorge where a rushing, rouge river cuts a pathway down a series of wonderful waterfalls. There's a legendary rock formation that looks like a church pulpit and legend has it that the Devil himself once held court here. Located a short drive north of Glasgow but south of Loch Lomond, this is a short drive that takes you a world away.
Getting there: take the A879 and A81 north to reach the Devil's Pulpit in just over 30 minutes.
3. Kelburn Castle
Kelburn Castle & Estate at Largs is a great Glasgow day trip that tantalises all the senses. The unique castle dates from the 13th century and it's covered in brilliant Brazilian graffiti, the serene glen and formal gardens are perfect for strolls and picnics, and kids are captivated by play activities like the adventure park and Wild West saloon. Horse riding and glamping are also available if you want to hang around a little longer.
Getting there: drive west along the M8 and A760 to reach Kelburn Castle in around 50 minutes.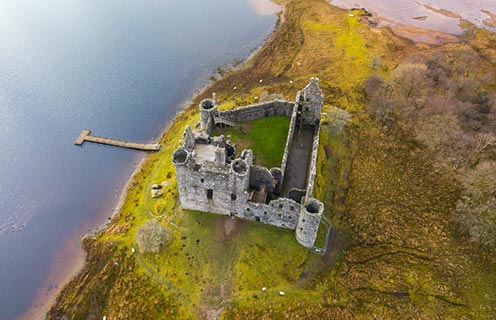 4. Loch Tay
The largest loch in Perthshire, Loch Tay is also one of the deepest in Scotland. At 15 miles long and 508ft deep, there's plenty of terrific terrain to explore here and the scenery is amazing. The Ben Lawers mountain range provides a dramatic backdrop and the A827 road runs high above, continuing west from Kenmore. There are 18 crannogs (artificial island structures) to explore here and a variety of watersports to try if you're feeling energetic!
Getting there: take the M80 and A84 north from Glasgow to reach Loch Tay in around one hour and 40 minutes.
5. Oban
Sitting on the west coast, north of Glasgow, Oban means 'little bay' in Scotland's indigenous Gaelic language, and it's complemented by miles of breath-taking shores and stunning countryside. The town itself looks lively and it's crowned by a landmark neoclassical folly called McCaig's Tower. If you've got your sea legs, take a boat trip to the nearby island of Iona ̶ a mystical spot where the first Christian pilgrims first appeared in Scotland.
Getting there: Oban is two hours and 10 minutes away from Glasgow via the A82 and A85.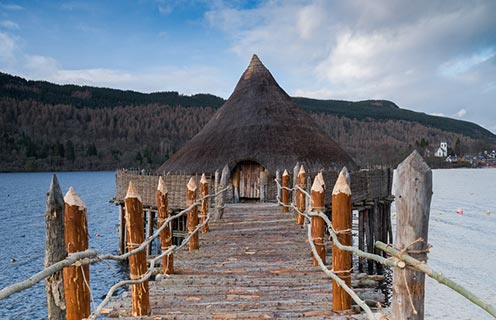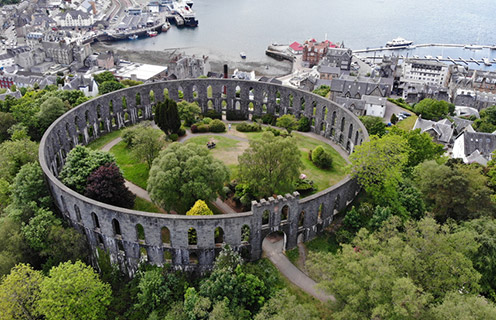 6. Ayrshire Coast
Taking a bracing drive around the rugged Ayrshire coast is another excellent road trip popular with Glaswegians and visitors. One highlight is Alloway, home town of Scotland's national bard and internationally-renowned poet Robert Burns, while Dunure Castle is dramatic, Culzean Castle is captivating and further attractions range from thick forests to charming fishing villages.
Getting there: Alloway is 45 minutes southwest of Glasgow via the M77 and A77.
7. Rest and Be Thankful
The highest point on the A803 road, Rest and be Thankful is 803ft above sea level and its an iconic beauty spot where you can see for miles around. The road bisects Glen Croe and Glen Kinglas and was built by General Wade following the Jacobite rebellion of 1745 as part of a grand plan to pacify the Highlands.
Getting there: drive north from Glasgow on the M8 and A82 to connect with this part of the A83 in around one hour.
8. Glencoe
One of Scotland's most eye-popping areas, Glencoe has featured on the silver screen in movies like Skyfall and the Harry potter franchise. Situated in the amazing Lochaber Geopark, the stark mountains and deep valley here were hewn by volcanic activity and ice glaciers aeons ago. You don't get the chance to drive through the middle of an ancient volcano often, but this road trip offers just that!
Getting there: drive two hours north of Glasgow on the A82 to reach Glencoe.
9. The Kelpies
At 30m high, the Kelpies are the largest equine sculptures in the world, and you'll find them at The Helix parkland near Falkirk in central Scotland, where activities like walking, watersports and cycling are also available. Designed by visionary artist Andy Scott, these beloved arty attractions are based on the heads of Clydesdale horses and also represent mythical beasts from folklore. If you're yearning for relaxing scenery and the ultimate selfie, you've hit the jackpot here!
Getting there: drive northeast from Glasgow on the M80 to reach The Kelpies in just 40 minutes.
10. Kilchurn Castle
If you're a history buff and adore Scottish scenery that sets your heart racing, a road trip to Kilchurn Castle is a must. Located at the head of Loch Awe, with the peak of Ben Cruachan visible in the distance, this is one of Scotland's most magnificent castles and it dates back to the mid-15th century. Built on the island of Kilchurn in 1475 by Sir Colin Campbell, the castle had a five storey tower house in its original incarnation – much of which remains remarkably well preserved. The ground level originally included a prison and cellar and a lower hall in the courtyard was added by Duncan, 2nd Lord and Sir Colin's son, before he died in 1513 at the battle of Flodden.
Getting there: take the A82 and A85 north of Glasgow to reach Kilchurn Castle in around two hours.
So there you have them ̶ 10 scenic road trips from Glasgow which allow you to take in some of Scotland's most inspirational scenery.
While Scotland's public transport system can take you around its major cities, by far the best way to explore its lochs, glens, mountains and off-the-beaten-track towns and villages is by car.
With Enjoytravel.com you can find a cracking car for your Scottish adventure in a couple of minutes. Simply drop your dates and details in our search facility and you'll have a choice of great deals from quality car hire partners in a jiffy.