Top 10 Road Trips From Zagreb
Plitvice Lakes National Park
Lake Bled, Slovenia
Kumrovec
Lonjsko Polje
Trakoscan Castle
Risnjak National Park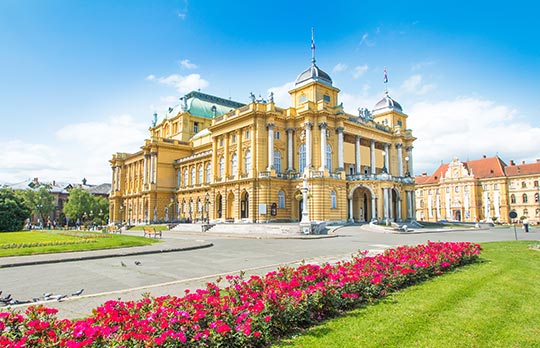 10 scenic road trips from Zagreb
Planning a holiday to Zagreb? Croatia's capital might be last on alphabetised lists of global cities but there are many reasons it's first choice for travel adventurers. Located along the Sava River on the slopes of Medvednica mountain, this sublime natural setting is complemented by a rich history and culture which dates back to Roman times. With a population of over 800,000 in the city proper and 1.15 million in the wider urban area, approximately 25% of Croatians call Zagreb home and once you sample its magic, you'll understand why.
An amazing city to wander around, Zagreb's Upper Town's cobblestone streets, dreamy church spires and terracotta roof tiles are captivating, while the lower town is replete with Art Deco and Neo Baroque buildings and the concrete edifices of less celebrated architectural styles are beautified with world-class street art. A hip capital with a sophisticated café culture, it's a joy to shoot the breeze in coffee shops here with locals and visitors and the buzzing everyday street life is further enhanced by a busy cultural and commercial calendar that includes street fairs, music festivals and food stalls held in parks and squares all year round. A creative city with an eye for unique fashion and ear for alternative music, Zagreb offers bars and clubs that range from kitsch to sleek and stylish, and the shopping districts eschew international brands in favour of local favourites – meaning you'll always pick up presents with a certain je ne sais quoi.
Culture vultures can enjoy avant garde masterpieces at the Contemporary Art Museum and you can fuel up on high-class sandwiches with the works washed down with artisan coffee at the hip Dezman Bar. Meanwhile, if you're parking up your car for a while and fancy an evening out, even the drinks are refreshingly different – the local Griska Vjestica lager is a ravishing red hue and carob, quince and fig brandies are also popular.
Hire a car in Zagreb and there are lots of scenic and interesting places to see nearby – it's a superb base for a variety of day trips that cover everything from romantic castles to diverse cities and nature reserves teeming with fauna and flora.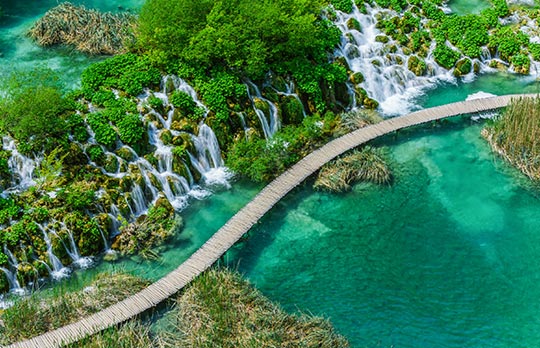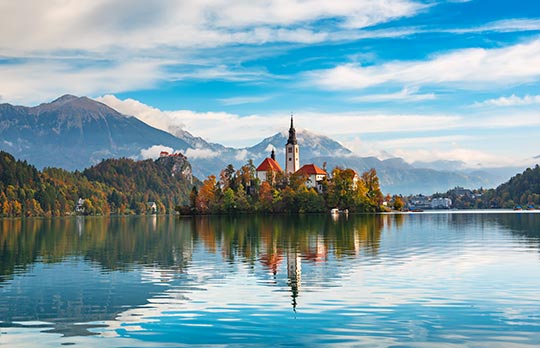 Top tips on driving in Zagreb
Raring to go with your top 10 Zagreb road trips? Let's take a super-quick pitstop for some very useful driving tips first.
You drive on the right in Croatia and overtake on the left. In an emergency situation, dial 112 to connect to advisors who can speak English. You'll need your full, valid UK driving license, photographic ID (passport), and if you're taking your own car, you must display 'UK' on your sticker, rather than 'GB'.
Don't overtake at an intersection, pedestrian crossing or level crossing and only use your horn sparingly (to avoid a potential collision, for example). The international three colour traffic system is used in Croatia, seatbelts are mandatory and speed limits are 50km/h in built-up areas, 90km/h-110km/h outside built-up areas and 130km/h on motorways.
Now let's get rolling with your 10 scenic Zagreb road trips!
Plitvice Lakes National Park
Located in central Croatia, close to the Bosnia and Herzegovina border, the beautiful Plitvice Lakes National Park is an enduring favourite when it comes to Zagreb day trips. You can wander alongside some gorgeous green lakes, there are thundering waterfalls like the wonderfully named Veliki Slap, and a mini train ride and boat trip are included in your ticket price – bargain!
Getting there: Plitvice Lakes National Park is 2 hours from Zagreb via E65/E71 and D1.
Lake Bled, Slovenia
Got a couple of days to spare and fancy an overnight stay in a neighbouring country? Lake Bled in Slovenia is an awesome Alpine lake with a lush mountain backdrop, hilltop castle and even a little island in the middle which has its own church. The traditional cakes here are to die for – enjoy a slice with some coffee while you unwind amidst stunning scenery.
Getting there: Lake Bled is two hours 30 minutes from Zagreb via E70 and A2.
Samobor
Located just a short drive from Zagreb in the lower reaches of the Zumberak Mountains, Samobor is a delightful city that's convenient to tour. The Gradna River flows gently through the centre of the city and King Tomislav Square is dotted with chic cafes where you can people watch in perfect peace. The skyline is dominated by the spire of St Anastasia's Parish Church and the rambling ruins of Samobor Castle on Tepec Hill is worthy of attention.
Getting there: Samobor is 40 minutes from Zagreb via E70.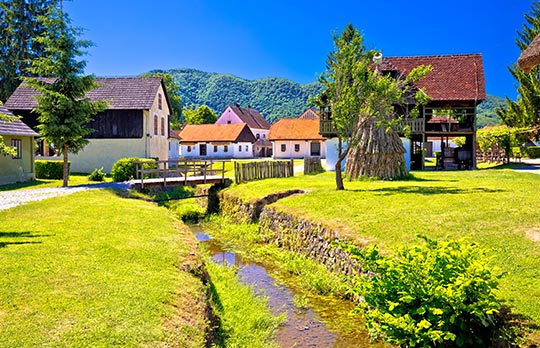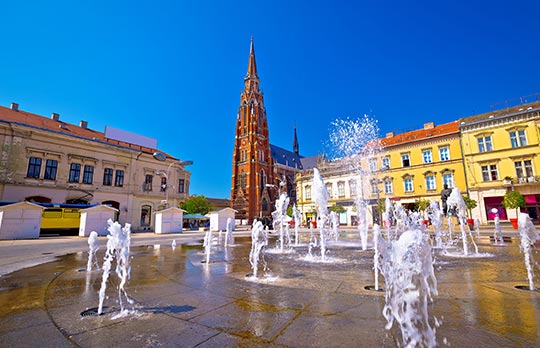 Kumrovec
If you're a history buff, you'll enjoy a rural road trip to Kumrovec to see the birthplace of Yugoslavia's leader after WWII, the charismatic Josip Broz Tito. This modest farming village is located on the border between Croatia and Slovenia and Tito's former home is a museum honouring the former head of state, with an impressive bronze statue in the grounds.
Getting there: Kumrovec is one hour from Zagreb via E59 and D205.
Osijek
Situated in eastern Croatia near the Serbian border, Osijek was severely damaged during the Balkans War in the early 1990s, but its oldest buildings have since been restored and it's now an aesthetically pleasing city with vibrant street life. Its baroque and art nouveau buildings are beautiful, the Drava River waterfront is picturesque, and the Hapsburg Tvarda Fortress is impressive. This is also a student town, so the social scene offers something for everyone.
Getting there: Osijek is two hours and 40 minutes from Zagreb via E70.
Karlovac
Slightly off the beaten track, Karlovac is home to the legendary Karlovacko beer and also boasts an interesting history. Founded in the 16th century around a distinctive star-shaped fortress that buffered against the advances of the Ottoman Empire, Karlovac has several authentic buildings from the Hapsburg period, verdant parks along the Kupa river and the Renaissance-style Dubovac Castle.
Getting there: Karlovac is 50 minutes from Zagreb via E65/E71.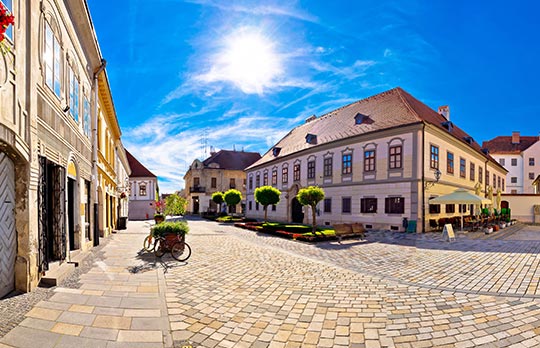 Varazdin
A picture postcard town close to the borders with Hungary and Slovenia, Varazdin is a hotspot for architecture fans thanks to its impressive array of Baroque churches and palaces. Its remarkably well-preserved castle houses the city museum and there are several enjoyable cultural festivals held year round. For a scenic day trip with a dash of history, Varazdin is ideal.
Getting there: Varazdin is one hour and 15 minutes from Zagreb via E65/E71.
Lonjsko Polje
Lonjsko Polje Nature Park's swampy setting makes it a little like Croatia's answer to Florida's Everglades – minus the alligators! This protected wetlands is brimming with so much biodiversity that it's on the waiting list for UNESCO World Heritage Site status and it's a haven for birdwatchers from all around the world. To warm up with a cuppa after a terrific twitching session, stop off at the nearby village of Krapje, where you'll find traditional treats aplenty.
Getting there: Lonjsko Polje is one hour 30 minutes from Zagreb via E70.
Trakoscan Castle
Castles permeate Croatia but Trakoscan is certainly one of the best. The castle was first founded in the 13th century but is more recognisable today thanks to its 19th century restoration work. Located in northern Croatia, this imposing edifice with its elevated position is designed in the Romanesque style and surrounded by lovely green gardens.
Getting there: Trakoscan Castle is one hour and 20 minutes from Zagreb via E59.
Risnjak National Park
One of Croatia's eight national parks, Risnjak is found in the vertiginous Gorski kotar mountain region and covers 4600 hectares. Here you'll find the mystical source of the river Kupa, the majestic Snjeznik massif, rare types of woodland, grasslands and rock formations and, if you're really lucky, one of the park's indigenous lynx cats. If you're feeling energetic, climb the 1528m Veliki Risnjak peak to enjoy outstanding views of Istria and Slovenia's Julian alps.
Getting there: Risnjak is one hour 45 minutes from Zagreb via E65.
These top 10 road trips from Zagreb let you fully appreciate the first-class culture and scenery of Croatia – we're sure you'll want to return again and again. Hire a car in Croatia from Enjoy Travel and unlock everything this cool country has to offer.