10 of the Best Beaches in Britain
Britain isn't the world's biggest island nation, but its coastline packs a punch nevertheless – it's 31,368km long (including islands) and crams millions of years of geological and social history into every nook and cranny.
As a maritime nation wedged between mainland Europe to the east and to transatlantic trade routes of North America to the west, the cliffs, coves and ports of Britain pop up in countless tales of fierce naval battles, failed invasions, flights from harm and fights for survival.
But its beaches are also areas of outstanding natural beauty and the British seaside is a national institution – before package holidays abroad were accessible to the masses, people flocked to seaside resorts to top up their tans, enjoy elaborate ice cream cones, spend their pennies at amusement arcades and dance the night away at opulent ballrooms.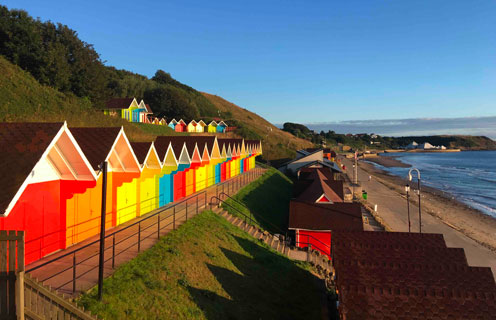 Which are the top 10 British beaches?
With more people set to holiday at home, we've got a feeling that the Great British seaside holiday is about to make a spectacular comeback – and wherever you live, it's simple to hire a car, hop in with your family and take off for a wonderful weekend break.
Top 10 British Beaches in 2021
Scarborough, North Beach, Yorkshire
Whitby, Yorkshire
Blackpool Beach, Lancashire
Brighton Beach, Sussex
Exmouth Beach, Devon
Bournemouth Beach, Dorset
Lulworth Cove, Dorset
Tenby, Pembrokeshire
Benone Strand, County Derry
Seilebost Beach, Isle of Harris
To help you plan, here's our pick of the 10 best beaches in Britain – keep calm and carry on organising your next outstanding getaway!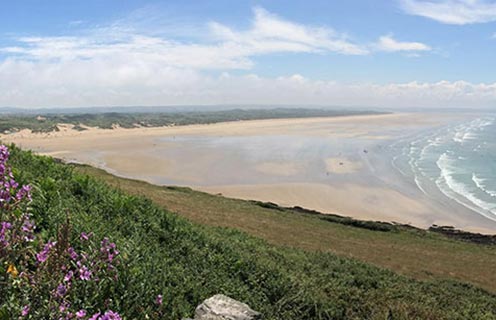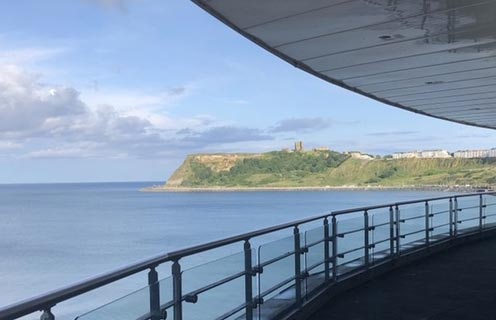 Ready to roll? Ready to enjoy some of Britain's top 10 beaches
1. Scarborough, Yorkshire
North Bay Beach is the more rugged and naturally beautiful of this famous Yorkshire town's two beaches.
Northern cleanliness and beauty
Awarded Blue Flag status for cleanliness and eco-friendliness, North Bay's long, wild sandy beach has a backdrop of striking cliffs, an esplanade and undulating hills.
You can reach its rocky outcrops at low tide and these make magnificent rock pooling areas where kids can find everything from small crustaceans to colourful shells, while the south end of north bay is a brilliant place for swimming, sunbathing (when the weather permits), surfing and other water sports like kayaking. Pretty pastel-coloured beach huts can be hired for the day and are ideal for getting changed and storing your gear.
"An inspirational view over 3000 years of history"
The clifftop ruins of Scarborough Castle make North Bay Beach distinctive and history fans can take an audio tour which provides inspirational insights on 3000 years of history and covers the Iron Age, Roman and Medieval periods.
If you fancy some slightly livelier distractions after the serenity of North Bay, head along to South Bay Beach. It's a working harbour with its own fishing fleet, there's a marina with pleasure craft, and there are plentiful pubs, cafes and amusements. Don't miss Scarborough Spa – it's a lovely Victorian music hall which hosts live comedy, music and kids entertainment shows.
2. Whitby, Yorkshire
Whitby is another Yorkshire town that wasn't at the back of the queue when mother nature was handing out beaches.
West Cliff Beach is also known as Whitby Sands Beach – it's a large, smooth sandy beach between Upgang Beach and West Pier, offers scenic sea views and is a hive of activity during the summer. Apart from splashing around in the sea, children can fly kites, play beach volleyball or frisbee and even take donkey rides. Incidentally, do you know what the donkeys get for their lunch in Whitby? – around half an hour.
There's a paddling pool for kids who aren't ready to brave the sea quite yet, colourful beach huts for stowing your bags while you swim, and numerous restaurants and cafes to relax with mouth-watering fish and chips (a Brit seaside staple) and a '99' ice cream cone (a terrific traditional ice cream cone complemented by a chocolate flake confection).
Neighbouring Tate Hill Beach is smaller and more secluded, which makes it perfect when you want to escape the crowds, spend some time fishing or stroll along the shore as the sun sets. But if you're keen to exert yourself a little more, walk up the 199 steps to Whitby Abbey, a 13th Century Benedictine ruin which still looks splendid.
A Gothic atmosphere, the Count Dracula
These same dramatic gothic ruins also had a seminal influence on one of literatures greatest characters, Count Dracula. Dracula author Bram Stoker was holidaying in a house on West Cliff in 1890 and was inspired by the atmospheric Abbey and the tumbledown graves at nearby St Mary Parish Church, some of which referred to sailors lost at sea – notably a 'Swales' who became Dracula's first victim in the book.
At Whitby public library, Stoker found a history book referring to a ruthless 15th Century prince of Wallachia and Moldavia (modern Romania) named Vlad Tepes, who had a penchant for impaling his enemies and was known as 'Dracula' – meaning 'son of the dragon' or 'Devil'. The final piece of the puzzle slotted into place when Stoker heard of a Russian ship called the Dmitry, from Narva, which wrecked five years previously on Tate Hill Beach. This became the Demeter from Varna, which carries the fictional Dracula ashore in the novel.
In the generations since, Whitby has become a magnet for Goths who want to find out more about its connections to one of fiction's most memorable figures, and if you're fond of dark clothes, dramatic makeup and bands like The Cure, you'll love attending the annual Whitby Goth Weekend.
3. Blackpool, Lancashire
Blackpool is arguably Britain's most iconic seaside resort. Located in Lancashire on the north west coast, it's been a beloved holiday destination for generations of holidaymakers from across the UK and boasts its own famous tower complex, a pleasure beach for thrill seekers, a lively night-time economy and locals who always provide a warm welcome.
The central beach area is a long sweep of well-kept sands which has been awarded Blue Flag status, but the area it covers is known as the Golden Mile because there's something fabulous to see after every step you take.
The town's rejuvenated South Beach now features two kilometres of interesting sculptures and lighting installations, while the Grade II listed North Pier has its own variety theatre, a retro Victorian tear room serving treats all day long, classic Venetian carousel and an arcade where you can while away the hours playing traditional penny slot machines.
Blackpool Tower is the town's most famous landmark and contains enough distractions for you to spend an entire day there – you can marvel at the panoramic views of the coast from the Blackpool Tower Eye, laugh your socks off at Blackpool Tower Circus and trip the light fantastic at the gorgeous Blackpool Tower Ballroom.
4. Brighton, Sussex
Situated on the south coast of England in East Sussex, Brighton is one of Britain's foremost seaside resorts and a fantastic holiday option for families.
Its expansive pebbled beach is excellent for swimming, sunbathing and enjoying al fresco dining – whether on a café terrace or picnic blanket.
Brighton is a Bohemian town with a relaxed and inclusive vibe that attracts people from all across Britain and beyond and it's the home of famous DJ Fatboy Slim, whose Brighton Beach Boutique parties are legendary.
Brighton Palace Pier is the heart of the action – its rides and attractions include dodgem cars, spinning cups and saucers, trampolines and a thrilling turbo coaster. There are plenty of eating emporiums too and, apart from the mandatory fish and chips, you'll find fruit-filled crepes, beer and wine, sizzling barbecue sausages and freshly baked pizza.
For something a little out of the ordinary, you can also get those little grey cells working overtime at Phileas Fog World of Adventures. Situated at Sussex House, this attraction has 14 exotic sets from different historical eras which you progress through with your team by solving tricky timed puzzles. If you're a fan of classic TV shows like The Crystal Maze and Takeshi's Castle, you'll love this challenge.
Finally, the Upside Down House is an arty and eccentric installation on the seafront between Brighton Beach Club and the i360 that you can't miss – looking like it's been pitched on its roof by a powerful hurricane, it offers some of the world's best selfie photo opportunities.
5. Exmouth, Devon
Devon is one of Britain's most aesthetically appealing counties and Exmouth Beach has two terrific miles of golden sands and sparkling waters that offer a picturesque playground for families.
It's famous for watersports, so whether you want to kite surf, paddleboard or windsurf, conditions are usually good and you can hire equipment and book lessons at the Watersports Centre at Maer Lane.
The promenade features typical tourist attractions and amusements, it's the longest of its kind in the county and is lined with excellent hotels, restaurants and cafes. If you're looking for somewhere to stay that's right on the seafront, The Imperial Exmouth Hotel is a grand Victorian building with manicured lawns rolling right out towards the sea and a host of modern amenities.
Exmouth is also part of the Jurassic Coast, a UNESCO natural heritage region where the unique geological formations cover millions of years of history – find a fossil here and there's every chance it was previously stuck between the toes of a T-Rex!
If all these activities make you thirsty, head to The Grapevine for refreshing drinks and tasty food – this traditional red brick corner pub is highly rated on TripAdvisor.
6. Bournemouth, Dorset
Set in the English county of Dorset, Bournemouth is a large coastal resort town of some 183,000 inhabitants, with a beach culture that's the pride of locals and magnetising to visitors.
The town boasts seven miles of sumptuous sandy beaches backed by dramatic cliffs, with some of the warmest waters in the UK to take a dip in.
Bournemouth Beach was recently named the best in Britain and the sixth-best in Europe by TripAdvisor and it's easily accessible from the town centre – simply stroll down Pier Approach through the lush Lower Gardens and you're at the seafront in mere minutes. There are plenty of watering holes, brilliant views of the bay from the pier, children's rides, boat trips and the Oceanarium, which has everything from sharks to sea turtles.
This isn't the only beach in the vicinity either – if you're sticking around for a few days and perhaps hiring a car, grab the opportunity to visit Durley Chine Beach, Alum Chine Beach and Boscombe Beach with both hands.
7. Lulworth Cove, Dorset
Lulworth Cove is another standout Jurassic Coast location that's definitely worth a visit and its unique geological features make it one of the centrepiece attractions.
Its dappled cliffside backdrop and bright white sands make it visually arresting, but there's more than aesthetic beauty to be found here – at the Lulworth Cove Visitor Centre you'll learn all about what makes the cove and nearby Durdle Door (with its natural limestone arch) so special. The rocks here were first formed 150 million years ago and over the aeons, time and tide has carved them into the distinctive forms we adore today.
Lulworth cove resembles a curved crab's pincer, which makes its cluster of pubs and cafes feel even cosier, and the water here has sublime turquoise shades. The Boat Shed Café offers panoramic views of the cove, delicious seafood dishes like calamari and whitebait, artisan coffee and homemade cakes – not to be missed!
Don't leave without visiting the Lulworth Crumple – this particular portion of cliffside showcases the layers of prehistorical sediment in a spectacular fashion which is strangely reminiscent of the loops and whorls of a human fingerprint.
8. Tenby, Pembrokeshire
Tenby is an attractive harbour resort in Pembrokeshire, Wales, notable for its sandy shoreline, 13th Century town walls and ancient castle.
Tenby Castle Beach is an elegant enclave accessible from the harbour or steps from the Paragon area and it has a superb stretch of sand, views of St Caterine's Island and boats to Caldey Island. Check the tide times before you visit – this hidden gem disappears completely at high tide!
Tenby's coastal attractions don't end there though, because it has three more magnificent beaches for your delectation.
Harbour beach is easy to reach from town and is the safest for shenanigans with small kids, while North Beach is nestled between the North Cliffs and Harbour Beach and offers beautiful views over Carmarthen Bay.
However, the pick of the bunch is probably South Beach – an extensive beach with dunes to the rear and a gentle gradient down towards the water, it's a very popular choice for families.
9. Benone Strand, County Derry
When you think of British beaches, Northern Ireland might not immediately spring to mind, but this part of the UK is actually home to some of the nation's best.
Benone Strand is a standout example – with seven miles of soft rich sand and amazing views of Donegal and Benevenagh mountain, it's a real treat to all that survey it.
Once you've recovered from the eye-popping views, there's plenty to do here too and activities include jet skiing, surfing, gliding, fishing, canoeing and cycling – as well as swimming of course!
If you fancy spending a few days here, you'll be made more than welcome at the Benone Tourist Complex & Caravan Park. As well as comfy caravans with all the mod cons, the park has a café serving local cuisine, a well-stocked shop, indoor games room, bouncy castle, pool and tennis courts.
You can also get in the swing of things at Benone Golf Club's 9 hole par three course, and you can easily take the Lough Foyle Ferry to Inishowen Peninsula in the Republic of Ireland for a day trip with a difference.
10. Seilebost Beach, Isle of Harris
Seilebost Beach is located on the Isle of Harris in Scotland's Outer Hebrides, and it's the most remote entrant on our list but might be the most beautiful.
Referred to as 'Traigh Seilebost' in the native Gaelic language of this region, the soft sands, crystal clear blue waters and views across the Sound of Taransay to the rolling heather-covered hills of Ben Luskentyre are mind-blowing – if it wasn't for the chill in the air, you could be forgiven for thinking you were in the Caribbean.
Scotland is regularly voted the world's most beautiful country and when you visit spots like Seilebost, you'll understand why. There's a small campsite here where you can sleep out under the stars, but if you're spending a few days here with friends and family, The Beach House sleeps six in comfort on a self-catering basis – it's a comfortable base for Island activities like trout and salmon fishing, mountain biking, walking and climbing.
Elsewhere on the Isle of Harris, you can take a boat tour from Tarbert to see puffins and razor bills, pick up some timeless Harris Tweed fashions from local shops and visit the Isle of Harris Distillery, where you can see how award-winning gin is made, sample a few snifters (provided you're not driving) and buy a few bottles for friends and family. The distillery is also reintroducing legal whisky making to Harris for the first time in 170 years with the eagerly anticipated Hearach Single Malt – watch out for this in the gift shop when you get there.
It's evident from our top 10 that the next time you're considering a beach holiday, there's no need to think Spain or Greece, because some of the best beaches in the world are right here in Britain.
And if you haven't had a Great British seaside holiday since you were a child, now's the time to rediscover the delights of the resorts right here which have perfected family entertainment and heathy living for generations.
All of the activities available in overseas holidays are available in Britain, plus it's impossible to recreate authentic fish and chips when you wander too far from these shores and no one understands the cultural nuances of a kiss me quick hat quite like the Brits!
Furthermore, as the travel world opens back up again, it's likely that restrictions on home nation travel will be the first to be lifted, so by hopping in the car and heading to British beaches, you'll be rescuing your family holiday plans and contributing to rebuilding the economy – a worthwhile double-whammy indeed.
Some common questions about British beaches
Which is the best beach near London?
Brighton is very popular and between 1 - 2 hours drive depending on where in London you are travelling from. Southend-on-Sea is popular especially from the east and Essex. Bournemouth Beach, Lulworth Cove, Poole in Dorset are popular choices as well as Weymouth. Dover, Folkestone and Margate are popular in Kent.
How do I get to Scarborough?
If travelling from abroad, fly into Leeds Bradford Airport (LBA) main carriers; KLM, Jet2 or Ryanair, the hire a car with Easirent or Alamo. Follow signs for York and the Scarborough along the A64.
If travelling from Leeds, Sheffield, Manchester or the south of England, take the M1 or M62 and when you reach Leeds, take the M1 north and then A64 following signs for York and then Scarborough.
How do I get to Blackpool?
If travelling into the UK, its Manchester airport (MAN), hire a car and the the motorway network takes you to Blackpool in around an hour.
Which airport is closest to Devon?
If you're lucky its Exeter Airport (EXE) but you're more likely to find a flight to Bristol (BRS) which is bigger. From Bristol you can rent a car at the airport and get straight onto the M5. From there it's around an hour drive to Exeter and another 20 minutes further on to Exmouth and Sidmouth.
How do I get from Gatwick to Brighton?
Hire a car and follow the M23 / A23 then A27. Gatwick is minutes from the M23 and overall it should take between 30-40 minutes.
Can I drive from Heathrow to Devon and Cornwall?
Yes but its quite a long way. Be sure to hire a comfortable car such as a compact or family style as a minimum. You can take the M3 for the shortest distance, but as you near Devon, the motorway ends and can be busy during the peak traffic. The alternative is the M4 and M5 which is motorway all the way.
Which type of car is best for driving in the UK?
You can hire almost any car in the UK. All of the major car hire firms operate such as Hertz,Alamo, Europcar, Keddy, Enterprise and Easirent. If you have the budget for it, get a BMW or Audi family car. If your budget is tighter, you'll pick up some great deals on a compact or economy car.