10 Epic Road Trips From Swansea
Rhossili & South Gower Coast
Mumbles Village
Gwili Valley
Waterfall Country
Three Cliffs Bay
Puzzlewood
Pennlergare Valley
Pentwyn Mawr
Margam Country Park
Eagle's Nest
Looking for a Celtic staycation where there's a welcome in the hillsides, endless miles of scenic drives and bucketloads of history and culture? In that case, Swansea is a wise choice indeed.
Wales's second-largest city has a sublime setting on the sparkling southwest coast and its natural attractions include the Gower Peninsula and Swansea Bay.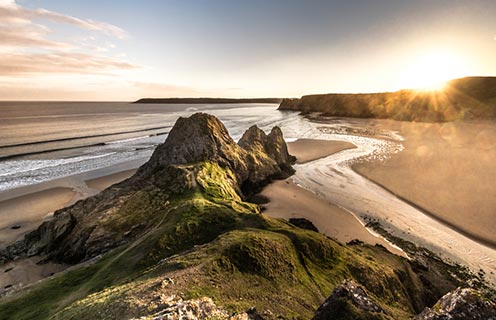 10 of the best scenic drives from Swansea
Named 'Abertawe' in Welsh (because it's located where the River Tawe runs into the bay), its current moniker can be traced to the Vikings, who named it 'Sveins Ey' meaning Swein's Island. Currently undergoing massive regeneration that's accentuating its natural beauty, Swansea is a buzzing place to visit thanks to its significant student population and there are hip bars, cafes, clubs and restaurants aplenty.
When you need a break from the urban sprawl, it's also an excellent base camp for a wide range of terrific road trips which help you immerse yourself in the distinctive history and culture of this particularly soulful part of the planet.
Book your Swansea car hire ahead of time right here at Enjoy Travel and you'll grab a great deal ̶ whether you want a mini-sized hatchback or a spacious seven-seater with plenty of room for the kids and gran and gramps in the back.
Tips on driving in Swansea
Speed limits in Swansea are similar to what you're used to in your own part of the UK, but please be cautious of the stretch of the M4 around the city, where the limit has been reduced to 50mph for safety, and there are also several areas where the limit is 20mph, so check the signage carefully.
When you venture outside Swansea onto more rural roads, beware of hazards such as rockfalls and farm animals crossing and take extra care when attempting manoeuvres like overtaking.
You'll find pay & display parking in Swansea city centre at locations like York Street, Oystermouth Road and East Burrows Road and petrol stations at Cockett Road, Fabian Way and Quay Parade.
Now you've got the lowdown on Swansea's driving essentials, let's get moving with your 10 epic road trips!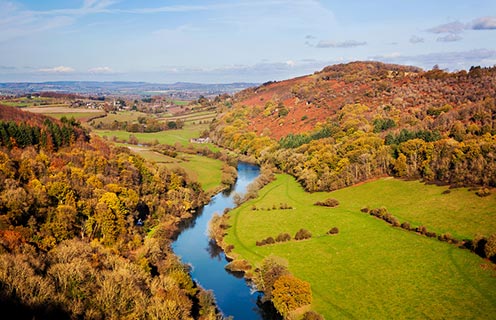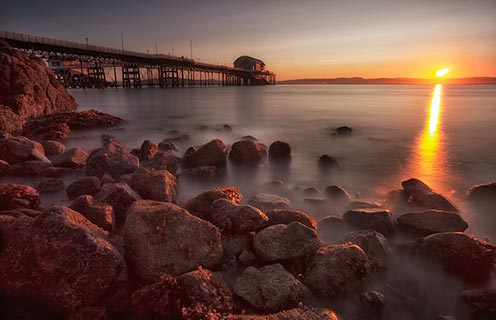 1. Rhossili & South Gower Coast
The south Gower coast is one of Britain's most beautiful areas and offers rugged landscapes composed of awe-inspiring cliffs, hidden coves, and rolling fields peppered with wooded glades. Roll through this blessed landscape to reach Rhossili, a picture-postcard whitewashed village perched on the headland where you can take a leisurely walk around, stop for a bit to eat and enjoy the excellent views. If you're lucky enough to be there in the summer, there are also fabulous sunflower fields to explore!
Getting there: drive west on the B4271 through the Gower area of outstanding natural beauty to reach Rhossili in around 45 minutes.
2. Mumbles Village
Located at the start of the Gower Peninsula, Mumbles is an iconic part of Swansea Bay which is renowned for delicious ice cream and being a favourite spot for world-famous poet Dylan Thomas. There's plenty to see and do here, including a lighthouse dating from way back in 1794, the lovely Victorian Pier and loads of boho boutiques and independent shops selling everything from handmade crafts to local art. It's fab for foodies too and as well as the ice cream, there's artisan chocolate and ocean-fresh seafood to get your chops around!
Getting there: Mumbles is just 20 minutes around the bay from Swansea, via the Mumbles To/A4067.
3. Gwili Valley
If you want to experience Carmarthenshire's history first hand, the Gwili Valley is a great place to do it. The most famous attraction is probably the Gwili Steam Railway, a 4-mile route which starts at the Bronwydd Arms station and takes you though the vibrant, leafy valley while you enjoy a relaxing afternoon tea. If you fancy staying the night here, Glangwili Mansion is a super 5-star establishment on the boundary of Brechfa Forest ̶ treat yourself and unwind all the way!
Getting there: take the A48 north out of Swansea to reach the Gwili Steam Railway in around 50 minutes.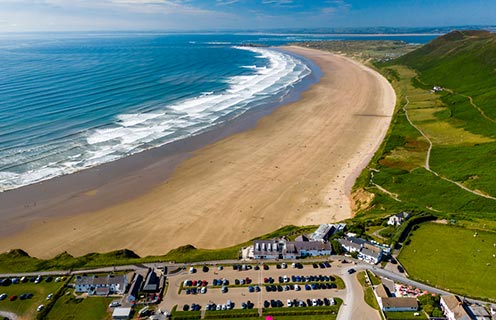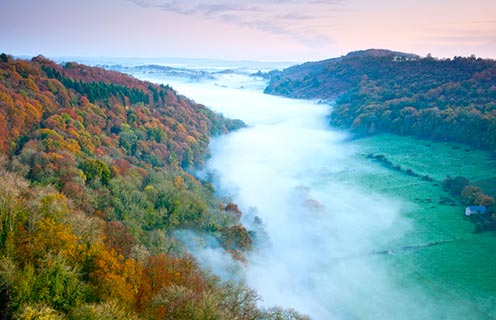 4. Waterfall Country
If you like gorges, caves, cascades and waterfalls, Waterfall country has more of them than anywhere else in the UK. Spanning parts of the Brecon Beacons National Park, Vale of Neath and Swansea Valley, this collection of publicly-accessible natural wonders includes iconic falls like the Fall of the Crooked Anvil, Horseshoe Falls, and Sychryd Cascades. Park at locations like Cwm Porth and Pontneddfechan Village and head off on various magical hiking trails.
Getting there: take the A465 to reach Pontneddfechan in just 30 minutes.
5. Three Cliffs Bay
Set on the south coast of the Gower Peninsula, Three Cliffs Bay does exactly what it says on the tin and a whole lot more ̶ these three superb sea cliffs jutting out in the middle of the sea are a seriously impressive sight. Three Cliffs Bay beach is beautiful too; with its shoreline of sand dunes sprinkled with salt marsh and complimented by cool limestone cliffs. Glamping is available, so why not stay for a day or so and sleep under the stars?
Getting there: drive along the B4436 to reach Three Cliffs Bay in around 30 minutes.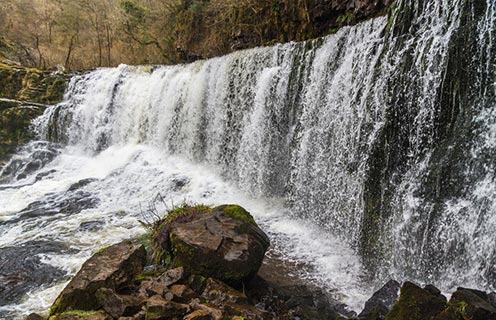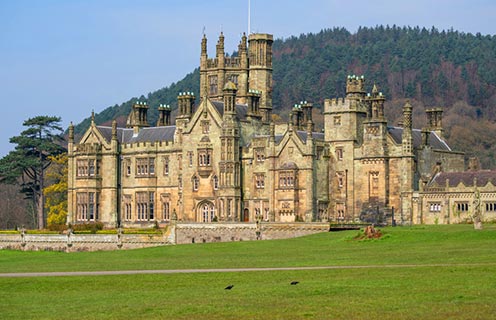 6. Puzzlewood
This ancient, mysterious woodland near Coleford in Gloucestershire's Forest of Dean is definitely worth the driving detour into England. There are miles of sylvan trails and elevated wooden walkways snaking through dense trees, gorges and streams that kids of all ages adore, and this has been a filming location for Star Wars: The Force Awakens, The Huntsman: Winter's War, Doctor Who and many more big and small screen tales.
Getting there: drive east from Swansea on the M4 and you'll reach Puzzlewood in one hour 45 minutes.
7. Pennlergare Valley
A short drive from Swansea city centre but a world away in ambience, Pennlergare Valley is a picturesque woodland created as a cathartic green space by 19th Century photography and astronomy trailblazer John Dillwyn Llewelyn. Fairly recently restored to its original glory, you can wander amongst exotic trees and waterfalls here, picnic by serene lakes and unwind on cool terraces affording panoramic views ̶ bliss.
Getting there: drive up the B4489 and A48 to reach Pennlergare Valley in around 20 minutes.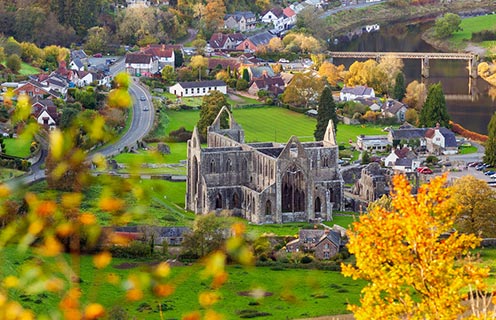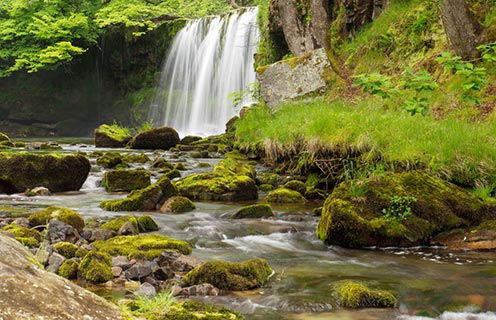 8. Pentwyn Mawr
At 339m high, Pentwyn Mawr is the highest summit in the county of Swansea's Black Mountain range and whether or not you're feeling fit enough to head for the top yourself, you'll pass through some superb scenery on the way there and back. As you'd expect, this is a haven for hikers and activities like canoeing and horseriding are also available, but Pentwyn Mawr village also has some lovely cafes and guesthouses.
Getting there: take the M4 east to reach this lofty area in just over one hour.
9. Margam Country Park
Situated in Neath Port Talbot, magnificent Margham Country Park offers you 850 acres of parkland, woodland and formal gardens to explore in a site which has existed in various incarnations since medieval times and includes an impressive Grade I listed 19th Century mansion in the Todor Gothic style. When you want an easy day trip from Swansea that offers a seductive mix of history and scenery, this is it!
Getting there: take the Neath Rd/A483 and M4 to reach Margam Country Park in about 40 minutes.
10. Eagle's Nest
A Wye Valley beauty spot that you won't forget, Eagle's Nest viewpoint offers awesome views (particularly at sunrise) over the lower Wye Valley, the Severn and Wye rivers, Chepstow and the Cotswold Hills. Nestled at the top of a limestone cliff, it's 235m high and was built for the Duke of Beaufort in 1828. Wyndcliff Wood is also nearby and here you'll see lime, ash and hazel as well as yew and hanging beech. The walk to the Eagle's Nest is 365 steps so please only attempt it if you're in decent shape, but your efforts are rewarded by a view that's definitely worth the effort!
Getting there: take the A465 from Swansea to reach Eagle's Nest in just under two hours.
Hopefully these 10 epic road trips from Swansea have convinced you that this top-notch Welsh city should be your next staycation destination ̶ hire your holiday car from Enjoy Travel and send us a postcard when you get there!