10 Epic Road Trips From York
Equidistant from Edinburgh and London, the classic cathedral city of York boasts some of Britain's best-preserved Roman, Viking and Medieval historical attractions and the nation's premier horse racing course.
But you'll also find a cultural scene bursting at the scene with venues and events spanning everything from visual art to ceramics, opera, theatre and filmmaking, all complemented by first-rate cuisine and nightlife.
As if that wasn't enough, the natural attractions of the Yorkshire Dales, North York Moors and countless fascinating smaller towns and villages nearby make York a superb starting point for amazing adventures behind the wheel.
Here are our top 10 road trips from York:
Kilburn White Horse
Hornsea
Aysgarth Falls
Goathland
Castle Howard
Fountains Abbey
Barnard Castle
Scarborough
Redcar
Saltaire
But before we hit the road, here are a few timely driving tips to consider: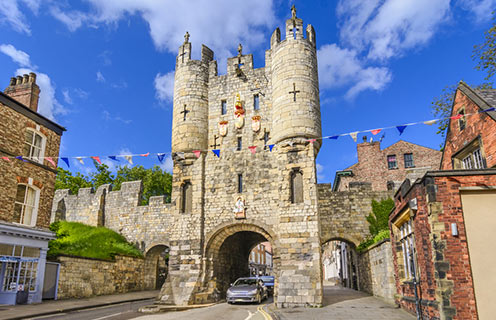 Driving in York
You drive on the left-hand side of the road in York, as is the case everywhere in the UK. You can drive to York from London and the South via the M1 or A1 or get there from Edinburgh and the north via the A1 and A19, or A1 and A1 (M) routes. Much of York city centre is pedestrianised, therefore it's convenient to stow your car in Park & Ride facilities such as those at Rawcliffe Bar, Grimston Bar, and Askham Bar, bus it into the city and back, then pick up your ride on your return.
Ready for your top 10 road trips from York? Let's hit the pedal!
1. Kilburn White Horse
Cut into a limestone hill at Kilburn just north of York, the iconic White Horse is a massive 314ft long and 228ft wide, was built in 1857 by village schoolmaster John Hodgson with a team of able assistants and financed by businessman Thomas Taylor. Located in the North York Moors National Park, this landmark became a liability during World War II when it had to be disguised from German bomber planes. The Kilburn White Horse is a short hop from York and well worth the drive for the super scenery and a selfie with a difference!
Getting there: drive north along the A19 from York and you'll be at this equine icon in around 45 minutes
2. Hornsea
If you do like to beside the seaside, you'll be in your element in Hornsea, with its elegant promenade and serene Blue Flag beach, but it also boasts the largest freshwater lake in Yorkshire, where you can fish, sail and spot over 250 diverse bird species. The town once produced popular Hornsea Pottery and the Hornsea Folk Museum now hosts the world's largest collection of this distinctive style. Other attractions include Bettison Folly, a 19th Century tower constructed by a local businessman, and the noble Constable Hall, an attractive Elizabethan pile plonked in 300 acres of parkland.
Getting there: the drive eastwards from York to Hornsea takes around 45 minutes along the A1079 and A1035, traffic permitting.
3. Aysgarth Falls
Located on the River Ure near Leyburn, Aysgarth Falls is one of the finest waterfalls in the region. This triple flight of falls dramatically churns through woodland and farmland as it cascades over a one-mile course down to mid-Wensleydale. There's a terrific tourist information centre here with parking for up to 80 cars and staff can advise you on beautiful hiking trails which snake through the surrounding forest and lead you to villages like Carperby or Aysgarth itself. If you're peckish after all that perambulating, pop into the Coppice Café to refuel yourself before hitting the road back to York.
Getting there: drive roughly north west from York via the A1 (M) and AA684, and you'll arrive at the falls in around one hour and 30 minutes.
4. Goathland
Another North York Moors tourist magnet, Goathland has actually been a hotspot for visitors for over a century, but it came to prominence in recent years thanks to a starring role in the globally-popular Harry Potter movie series ̶ the local rail hub became Hogsmeade Station in the first instalment of the franchise. There's a network of wonderful walks around the undulating countryside here and an interesting ancient road that runs across Wheeldale Moor, known as Wade's Causeway.
Getting there: take the A64 and A169 route north east from York and you'll be in Goathland in around one hour.
5. Castle Howard
An impressive stately home in the parish of Henderskelfe north of York, Castle Howard is a must-see for anyone interested in architecture, history and the English nobility. Still inhabited by the Howard family, this elegant edifice has stood for over 300 years and attracts visitors from around the world. Surrounded by vast formal gardens and manicured lawns, Castle Howard is one of Europe's foremost grand homes and when you've finished your tour you can pick up a souvenir at the sumptuous gift shop or enjoy a freshly prepared lunch at the onsite Fitzroy Cafe.
Getting there: hop on the A64 heading north east from York and you can reach Castle Howard in half an hour.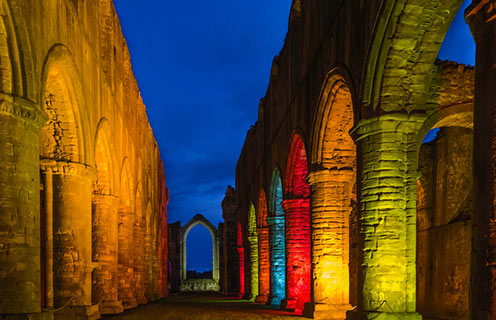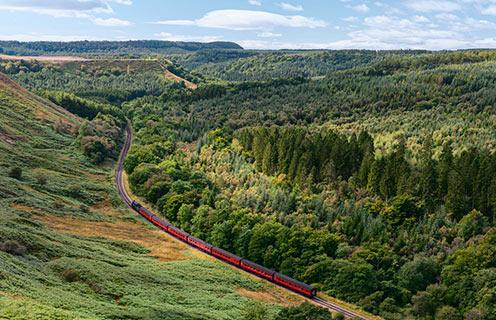 6. Fountains Abbey
Miss this World Heritage Site and miss out ̶ Fountains Abbey and Studley Royal Water Garden is a unique attraction which also includes a delightful deer park, visitor centre, tea room, restaurant and visitor centre. Secreted in a hidden valley, you'll find expansive ruins of the former Cistercian abbey here, a gorgeous Gothic church and a fine Elizabethan Hall, while the seminal water gardens inspired later landscape artists such as Capability Brown.
Getting there: drive roughly north west from York along the A59 and B6265 and you'll reach Fountains Abbey in under one hour.
7. Barnard Castle
With its commanding position perched on a rock above the River Tees, Barnard Castle is a striking site that can't fail to impress any history buff. Named after its founder Bernard de Balliol, this 12th Century castellated complex was extended by the Beauchamp family and eventually became the property of King Richard III. There's also a lovely sensory garden stocked with fragrant plants and tactile installations that stimulate the senses, and the nearby market town of the same name has plenty of amenities for a pitstop.
Getting there: Barnard Castle is around one hour and fifteen minutes north from York via the A1 (M).
8. Scarborough
Advertising itself as 'Britain's original seaside resort', Scarborough is nestled on north Yorkshire's North Sea coast and boasts two brilliant beaches and many attractions including fascinating museums, a first-rate theatre, and vast range of eateries offering everything from traditional seaside favourites like fish and chips and ice cream to fine dining options. Build in plenty of time to make the most of this exciting town ̶ you'll want a good few hours to absorb everything it has to offer.
Getting there: head north east via the A64 and you'll be in Scarborough in around one hour.
9. Redcar
Part of the historic area of North Riding of Yorkshire, Redcar is another cracking seaside town located a few miles to the east of Middlesbrough on the North Sea coast. This ravishing road trip destination is a former fishing village blessed by eye-popping landscapes, pretty beaches and a curvaceous coastline. You can see the world's oldest lifeboat in the Zetland Lifeboat Museum, relax in nearby Guisborough forest and walkway, get up close to outstanding owls at Kirkleatham Owl Centre, and much more!
Getting there: Redcar is around one hour and ten minutes north of York via the A19 road.
10. Saltaire
A model village located in Shipley near Bradford, Saltaire was a social experiment which was generations ahead of its time. Now a World Heritage Site, Saltaire Village was built in 1851 and named after Sir Titus Salt, a progressive local textile magnate who believed that the tidy stone houses, recreational institute, schools, concert hall and billiard room he built for his workers here would keep them healthier, happier and more productive. Residents still live here, and the vision of Sir Titus remains as relevant today as ever ̶ this is a must-see!
Getting there: cruise westwards from York on the M1 circumnavigating Leeds and you can reach Saltaire in around an hour and a quarter.
And voila ̶ 10 epic road trips from York which unlock almost every fantastic facet of this exciting part of England, from one-of-a-kind historical attractions to areas of outstanding beauty and cultural hotspots.
Hire a car in York from Enjoy Travel, strap on your seatbelt and start your engine for amazing adventures!