Top 10 road trips from Albufeira
Quarteira
Carvoeiro
Cabo de Sao Vicente
Monchique
Burgau
Castro Marim
Salir
Praia da Falesia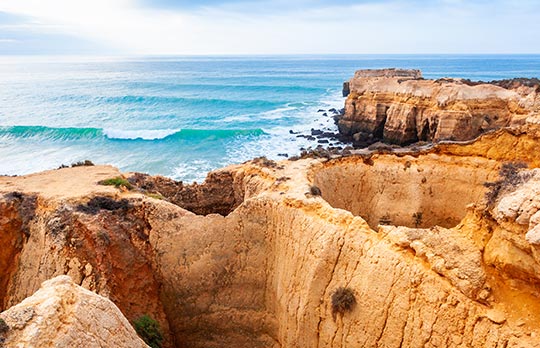 10 best scenic road trips in Albufeira
So you're off to Albufeira? What a treat – this awesome resort is a great launchpad for exploring the rest of Portugal's prime Algarve tourist area, but there's so much to do here that you'll want to balance your time between exploring its attractions and heading further afield. A longstanding jewel in Portugal's tourist crown, Albufeira boasts a charming old town with striking whitewashed houses perched on sandstone cliffs overlooking a sweeping beach, while its modern marina features trendy shops, bars and apartments that complement the snazzy speedboats and traditional yachts.
If you're a sun worshipper, there are plenty of brilliant beaches near Albufeira, including the rugged and ravishing Praia de Sao Rafael, and if you're an adventurous type, try exploring the areas amazing sea caves via kayak or canoe, catching a wave on a surfboard, scuba diving or game fishing. You can hire equipment and charter vessels in Albufeira and pretty much any other resort dotted along this famous coastline.
If you want to let your hair down in the evening (or anytime after opening hours really), you can move on from a sumptuous but sedate meal in the old town to 'The Strip' a mile or so to the east. Here you'll find nightclubs, bars, burger and pizza joints and all manner of amusements under the neon lights.
Furthermore, if you're travelling with kids in tow, earn enough brownie points to last you the rest of the year by booking tickets for fun-packed waterparks like Slide & Splash, Aquashow Park, Supersurf and Zoomarine.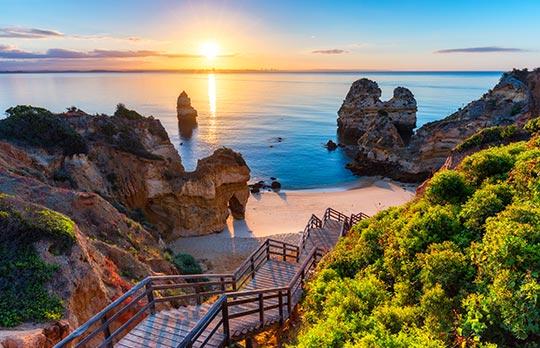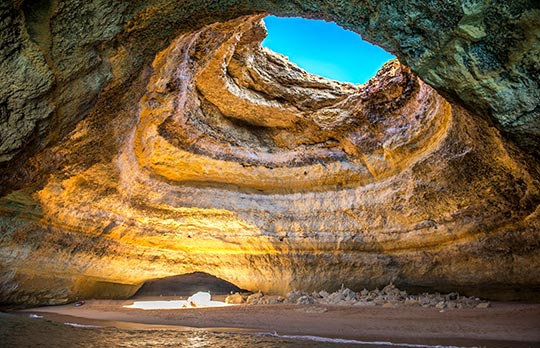 Top tips on driving in Albufeira
Your top 10 road trips from Albufeira are around the next corner – but let's take in a few refresher tips on driving around the resort (and Portugal in general) first.
Most people visiting the Algarve pick up their hire car from Faro airport, but there are several convenient pick up points available if this doesn't suit.
Always drive on the right in Albufeira, the Algarve and all across Portugal. Seatbelts are mandatory and the national speed limit on regular roads is 90km/h, rising to 120km/h on dual carriageways and toll motorways. The limit is 50km/h in built-up areas and local speed restrictions can be lower – check the circular signs with red borders carefully for details.
Carry photo ID (like your passport) with you whenever you get behind the wheel, as well as your car rental agreement documents. You have to be at least 21 years old to hire a car in Portugal and some car rental providers apply a surcharge if you're 25 or under – please confirm this beforehand.
Now let's get rolling with your scenic road trips.
Faro
Since you're based in Albufeira, a short road trip to the Algarve's capital Faro is a must. This lovely coastal city boasts superb seafood and beaches, a charming castellated old town and diverse wildlife on its doorstep at the Rio Formosa reserve. Highlights include the squat and solid Faro Cathedral, ornate neoclassical Arco da Vila gateway, and Baroque Igreja do Carmo, with its eerie Chapel of Bones.
Getting there: Faro is 40 minutes from Albufeira via the A22.
Quarteira
One of the Algarve's first resort towns, Quarteira has one of the region's best beaches and in recent years it has been enhanced by a beautiful seafront promenade and extensive refurbishment to beachside buildings. The harbour and working fishing port at the town's west end add another dimension to the typical tourist offerings and you can pick up ocean-fresh fish at the daily market or simply relax watching the fishing boats coming and going.
Getting there: Quarteira is 30 minutes from Albufeira via EM526.
Carvoeiro
A traditional Algarve fishing village built around vertiginous red cliffs and backed by rambling hills, Carvoeiro is for the main part nestled around a picture-postcard cove and bijou beach. It was much more popular with pirates than tourists for much of its history and is the site of a famous naval battle between Portuguese ships and Turkish buccaneers in 1544. Meanwhile, history buffs appreciate the ruined 17th century fort to the west of the town and the Agar and Seco rock formations east of the beach have also become iconic.
Getting there: Carvoeiro is 25 minutes from Albufeira via A-22.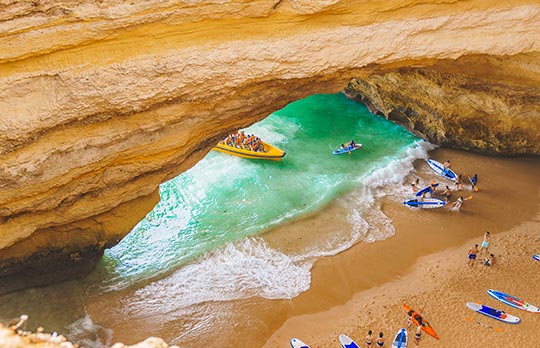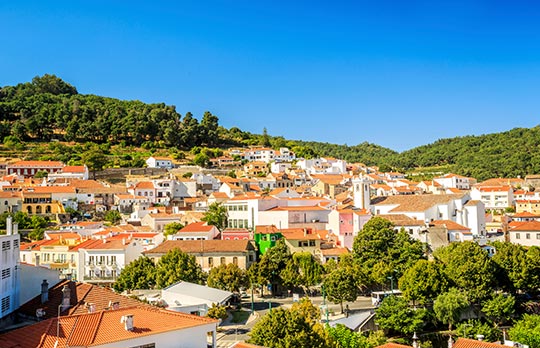 Lagos
Famed for its windswept Atlantic beaches and walled old town, Lagos is a quick Algarve road trip destination from Albufeira that's always a rewarding visit. The main hub nowadays is the marina, with its attractive bars and restaurants, but there are several brilliant beaches to explore, including Praia de Porto Mos, Praia do Camilo and Praia de Dona Ana. Furthermore, the 17th century fort and elaborate Igreja de Santo Antonio are easy on the eye.
Getting there: Lagos is 45 minutes from Albufeira via A-22.
Cabo de Sao Vicente
Located near Sagres, Cabo de Sao Vicente (Cape of St Vincent) is the most south-westerly point in Europe and its vertiginous wind and sea-battered sea cliffs were literally regarded as the end of the Earth for 14th century Europeans. One of the most iconic attractions here is the lighthouse, which ships can see from 60 miles out – it was built on the ruins of an ancient monastery said to house the bones of St Vincent. For a bracing history and geography lesson, a road trip to Cabo de Sao Vicente ticks every box.
Getting there: Cabo de Sao Vicente is one hour and 20 minutes from Albufeira via N125.
Monchique
A super road trip destination from Albufeira, the undulating Sierra de Monchique mountains spring up between the Algarve and Alentejo region and the town of Monchique is a prime destination for nature lovers which clams to be one of the nation's greenest locations. The pretty central square has pastel coloured buildings and fabulous floral displays, there's a simple but attractive parish church and the ruins of a Franciscan monastery destroyed in a 1755 earthquake sit on hills above the town- take a trek here to enjoy breath-taking views across the whole area.
Getting there: Monchique is 50 minutes away via the A22 and N266.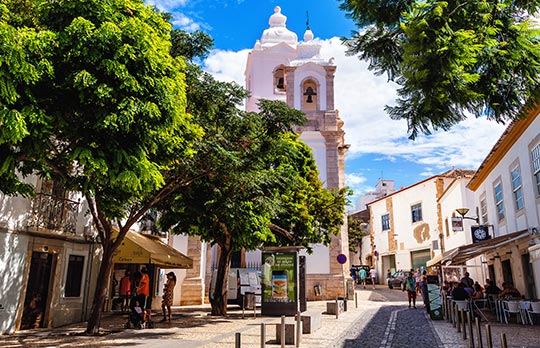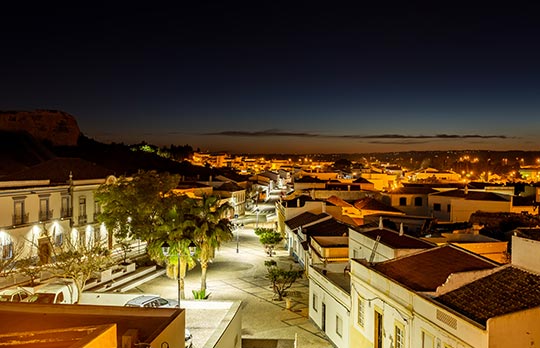 Burgau
The west Algarve fishing village of Burgau remained a local secret until relatively recently, which means that it has retained many of its traditional qualities, with discreet tourist accommodation located a little further out from the town centre. The cobbled lanes and old style fisherman's cottages near the beach ooze charm, and the sweeping arc of golden sand is bookended by stark cliffs. Burgau is a great destination for a laid-back afternoon watching the world go by.
Getting there: Burgau is one hour and 0 minutes from Albufeira, via N124 and A22.
Castro Marim
A one of a kind village close to the Spanish border, Castro Marim is surrounded by salt ponds and wetlands, and sits between a 17th century fortress and 13th century castle – its medieval credentials are immediately emphasised by the sculpture of a knight that sits prominently on the roundabout at the approach to the town. The walled castle is always worth exploring and if you appreciate a spot of cathartic tree bathing, head to the leafy surroundings of the Jardim Andaluz to stroll amidst the olive trees and enjoy waterfalls and fountains.
Getting there: Castro Marim is one hour from Albufeira via A22.
Salir
With a hillside location 13km north of Loule, Salir has a population of under 3000 and it's definitely one of the area's hidden gems. Believed to have been inhabited by the ancient Celts and then the Romans, its 12th century castle was built by the Moors in the 12th century to protect against Christian recapture. The annual Festa da Aspiga is a colourful affair that takes place during the Feast of Ascension, while the area's spiritual ambience is further enhanced by a nearby Buddhist community established in the 1980s.
Getting there: Salir is 41 minutes from Albufeira via N124.
Praia da Falesia
Your final Albufeira road trip is the quickest, but it might end up being your favourite – the short skip along to the famous Praia da Falesia. Regarded by many as the Algarve's best beach, its expansive sweep of cliff-backed sand has been likened to a seaside Grand Canyon and its 6km length stretches from Olhos de Agua near Albufeira all the way to Vilamoura. The powder soft sand and crystal clear waters are almost otherworldly – enjoy!
Getting there: Praia da Falesia is 20 minutes from Albufeira via Estr. De Albufeira.