Top 10 Road Trips From Istanbul
Belgrad Forest
Kilyos
Gallipoli War Cemeteries
Troy
Bursa
Golden Horn
Sile and Agva
Edirne
Bebek
Uludag National Park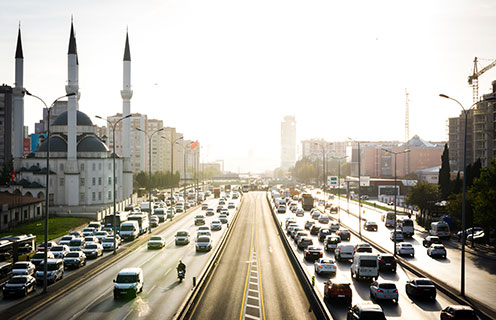 10 scenic drives from Istanbul
Venturing to Istanbul for a holiday, business trip, or maybe a mixture of both? If you haven't been before, you'll find this vibrant, historic Turkish city of 15 million residents a real eye-opener. The largest city in Europe (and 15th-largest in the world), Istanbul was once known as Constantinople (which you'll know if you're a fan of alt-rock group They Might Be Giants!). Its natural riches and strategic position on the Silk Road meant that it was highly sought-after by various empires, acting as a capital for the Romans, Byzantines and Ottomans over many centuries from 330AD to 1922. The lynchpin of both Christian and Islamic empires in its time, this city has an embarrassment of historic riches – from its impressive city walls to Aya Sofya Byzantine church to the mystical minarets and onion domes of Ottoman palaces.
Istanbul was crowned a European Capital of Culture in 2010 and offers a packed calendar for culture tourists, with various festivals operating year round and state ballet, opera and theatre on offer. Hip music festivals like Chill Out, Freshtival and Efes Pilsen One Love attract international acts and fans during the balmy summer months and Bosphorus boat cruises by day or night that include stops at hotspots like Besiktas and Anadolu are always popular. If you're a foodie, you'll be glad to know that Istanbul boasts Turkey's best restaurants and ocean fresh fish is a particular specialism. You can sit down in plush surroundings for a slap-up formal meal, pick up a perfectly prepped kebab from a street stall or chill in a pavement café and enjoy a smooth coffee and freshly-baked pastry while watching the world go by.
With national parks, picture-postcard towns and villages and historical sights on your doorstep, this is also a brilliant base for road trips and hiring a car in Istanbul from Enjoy Travel is child's play – drop your dates and details in our system and you'll be served up a superb choice of deals from reputable local and global car rental partners. Independent travel in this inspirational part of the world is deeply rewarding and we make it easy for you.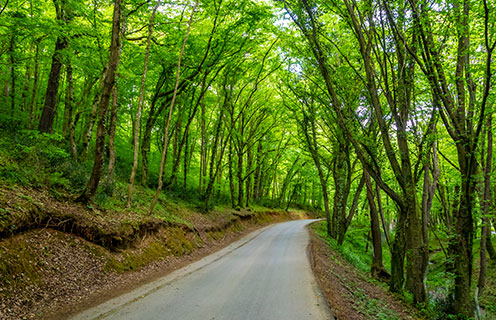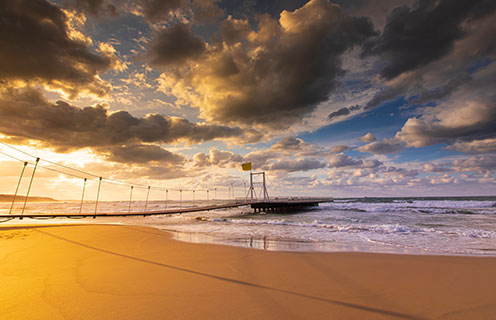 Top tips on driving in Istanbul
Before we bash on with your top 10 road trips from Istanbul, let's pause swiftly for a few quick tips on driving in Turkey – it's a stitch in time that could save you lots of trouble!
You always drive on the right hand side of the road in Istanbul and speed limits are 110km/h on motorways and 50km/h in built-up residential areas. Multi-lane motorways criss-cross the city but there are also many narrow, one-way roads in the city's backstreets and signage isn't always clear, so use a SatNav if available or proceed cautiously so that you don't miss a vital turn.
Honking your horn isn't taboo here – in fact, it's so ubiquitous that it's done for everything from letting off steam built up by bad driving to indicating an intention to overtake. Congestion is common during the morning and evening rush hours, and you can find kerbside and covered parking in various areas of the city – it's free in Sultanahmet but you'll have to pay a fee in districts like Besitkas, Taksim and Nisantasi. In general, drive defensively cautiously and courteously in Istanbul (and Turkey at large) and you'll enjoy the experience. Now without further ado, let's belt up and get rolling with those scenic road trips!
Belgrad Forest
Located just north of Istanbul, Belgrade Forest is a gorgeous 13,590 acre green space where you can walk, run, hike and mountain bike around all of the forest's nine constituent nature parks. There are no less than seven Ottoman dams secreted in the woods here and the biodiversity in the Ataturk Arboretum is amazing, with over 2000 tree and plant species on display in lakeside and sylvan settings. You can picnic in signposted areas or dine at one of several café-restaurants in the forest – the choice is yours.
Getting there: Belgrade Forest is one hour and ten minutes from Istanbul via Buyukdere Cd.
Kilyos
If you fancy a day beside the seaside, the Black Sea coastal resort of Kilyos is a great choice. Surrounded by beautiful beaches, the main stretch of sand here is peppered with traditional ice cream shops, cafes and seafood restaurants. It's very popular, so if you want to reserve a spot of pristine sand complete with your own lounger, it's worth paying a reasonable daily fee at a beach club like Solar Beach Therapy – there are several to choose from and they serve up food and entertainment late into the night.
Getting there: Kilyos is one hour from Istanbul via D020.
Gallipoli War Cemeteries
A must for history buffs, the Gallipoli War Cemeteries pay tribute to the fallen Turkish and Allied soldiers who fought each other along this promontory in WWI's Gallipoli campaign. There were more than half a million casualties here during a prolonged nine month campaign in 1915 and ANZAC forces suffered particularly heavily. This is also the campaign where a young officer named Mustafa Kemal first rose to prominence – who would later found the Turkish Republic. The Istanbul to Gallipoli drive is lengthy so you'll want to stay overnight in a location like Canakkale.
Getting there: Gallipoli is 4 hours 30 minutes away via E84.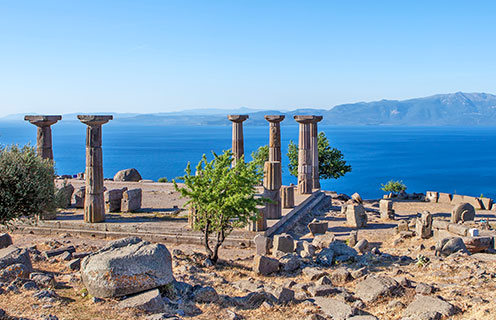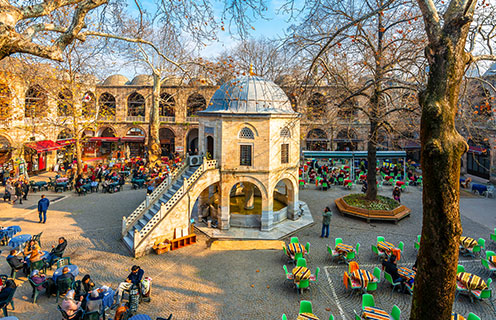 Troy
One of the world's most famous archaeological sites, Troy's ruins are claimed to be the site of the Trojan War immortalised in Homer's Iliad, but what's more certain about this UNESCO heritage site is that it houses the remains of several trading cities which prospered here from the Bronze Age to Byzantine times. Highlights include the Greco-Roman temple of Athena in Troy VI and the megarons (great halls) at Troy II.
Getting there: Troy is 5 hours from Istanbul via O-5 and E90.
Bursa
A modern Turkish city with a fascinating history, Bursa was the capital of the Ottoman Empire and boasts a beautiful Uludag mountain backdrop. The romantic skyline is dominated by the 20 ornate domes of the huge Ulu Cami mosque, while at the remains of Bursa Citadel you can see the tombs of the Sultans Orhan and Osman, who created the Ottoman Empire. Don't miss the Yesil Cami – this stunning mosque features delicate tilework and deft calligraphy which is a joy to behold.
Getting there: Bursa is two hours and 20 minutes from Istanbul via O-4 and Gebze-Orhangazi-Izmir-Otoyolu/O-5.
Golden Horn
A 7km-long natural harbour near Istanbul, the Golden Horn is a sublime stretch of coast that features several historical sites stretching back to the medieval era. Ideal for exploring by car on a sunny day, this doable day trip features highlights like the elegant 500-year-old Eyup Mosque and elaborate Aynalikavak Kasri pavilion. When you want to combine scenic beauty with awesome architecture, this trip is ideal.
Getting there: Golden Horn is 35 minutes from Istanbul via Ragip Gumispala Cd.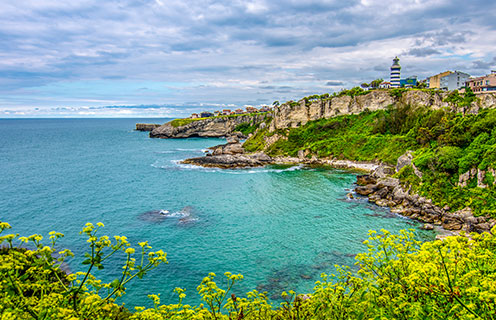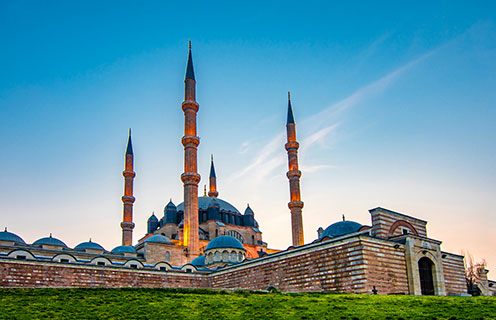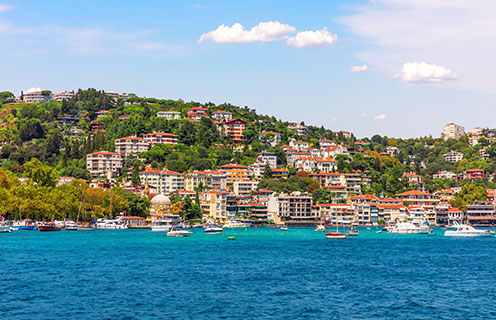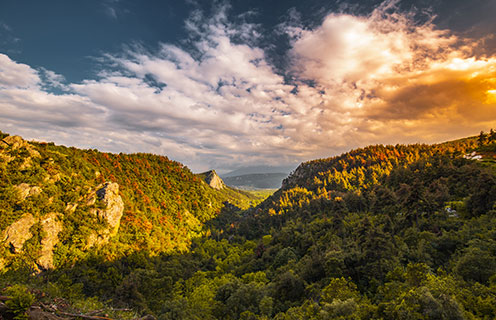 Sile and Agva
Black Sea coastal resorts don't get much more beautiful than the rustic fishing village of Sile, which boasts a wonderful white sand beach, sparkling crystalline waters and a bijou offshore castle which offers panoramic views of the surroundings. Meanwhile, neighbouring Agva is a real treat too – it's even more isolated, serene and soothing!
Getting there: Sile is one hour 30 minutes from Istanbul via D020.
Edirne
Another important historical site, Edirne was the Ottoman Empire's second capital city and is famous for its energetic annual oil wrestling festival. Impressive Ottoman edifices here include the Selimiye Mosque (which has an eye-popping interior dome) and the Uc Serefeli Mosque (with four distinct minarets). Wander around the ancient medieval streets here and you'll take a real step back in time.
Getting there: Edirne is three hours and 15 minutes from Istanbul via Avrupa Otoyolu/O-3.
Bebek
Located a couple of hours west of Frankfurt in the Mosel River Valley, Cochem is a picturesque town overlooked by a castle which is over 1000 years old. If you're a fan of the great outdoors, head to Pinnerkreuz Mountain for scenic hiking trails but this is also a wonderful place to simply relax and wander around the streets soaking up the atmos.
Getting there: Bebek is 45 minutes from Istanbul city centre via Avrasya Tuneli and D100.
Uludag National Park
Home to Turkey's most popular ski resort, Uludag National Park is open all year round and the fresh powder and snowy peaks are picture-postcard perfect. You can make it here in an extended day trip from Istanbul if you leave early and whether you're skiing, snowboarding or simply soaking up the scenery, you're in for a treat!
Getting there: Uludag National Park is one hour 40 minutes from Istanbul via Gebze-Orhangazi-Izmir-Otoyolu/O-5.
Take these top 10 day trips from Istanbul and expect true Turkish delight!