Top 10 Belfast Road Trips:
Causeway Coast
Mourne Mountains
The Dark Hedges
Ards Peninsula
Dunluce Castle
Lough Neagh
Castle Ward
Donegal Coast
Newgrange
Kildare Village
Once a global epicentre of industry, Belfast is an amazing city which has a complex past, welcoming culture and has recently earned an excellent reputation as a cosmopolitan metropolis where locals mix and mingle with visitors from all over the world.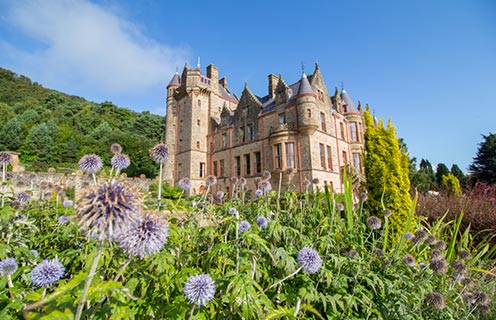 Famous as the city where the ill-fated Titanic was launched from, contemporary Belfast has a bustling nightlife scene bolstered by boho bars, traditional pubs, chic cafes and restaurants, and music venues where you'll hear everything from traditional Irish music to jazz and blues.
10 of the best scenic drives from Belfast
Whether you're a local planning a staycation or a visitor with a thirst for adventure, there's also lots to explore around Belfast by car ̶ including cinematic coastlines and mountains which will feel familiar from TV and movie screens.
With Enjoy Travel you can hire a car in Belfast from a trusted provider in the blink of an eye, pick it up from a convenient spot and get rolling. And there's always a great choice of vehicles, so whether you want a nippy Vauxhall Corsa, a compact Volkswagen Golf, a 7-seater or a 9-seater, you're in luck! Enjoytravel.com helps you unlock the best of Belfast ̶ you'll have the time of your life exploring this unique, diverse area.
Tips on driving in Belfast
We're almost ready to roll with your top 10 Belfast road trips. But before you start the ignition, take a moment to absorb some useful driving tips for this part of the world.
Always drive on the left in Belfast and Northern Ireland. A 20mph speed limit applies to 76 streets in Belfast city centre, so please proceed with caution. Outwith that, the limit is 30mph in other areas which are built-up, 60mph on single carriage roads and 70mph on dual carriage roads and motorways.
Seat belts are compulsory, drink driving is strictly prohibited, and you should always carry your passport with you when you drive here.
Don't veer across the centre line of the road unless you're (safely) executing an overtaking manoeuvre or turning off from the road. Some narrow, single lane roads have passing points every few miles, while others don't. Either way, please drive sensibly and defensively.
Look out for rockfalls and farm animals on coastal, mountain and other rural roads.
Now it's time to get moving with your Belfast road trips ̶ have fun!
1. Causeway Coast
The Causeway Coastal Route is a sublime 120-mile circuit that takes you from Belfast all the way to Derry, offering amazing views of the sea and the one of a kind geological features of the area. You'll find the UNESCO-protected Giant's Causeway here (a startling collection of Basalt columns popping out from the sea) but Carrickfergus Castle and the Old Bushmillls distillery are worth a visit too!
Getting there: take the A2 north out of Belfast and follow it anti-clockwise around the coast. You'll reach Giant's causeway in around one and a half hours.
2. Mourne Mountains
The majestic Mourne Mountains are an official Area of Natural Beauty located in Down, just an hour's drive out of Belfast. These stark, dramatic peaks inspired C.S. Lewis to write The Chronicles of Narnia and more recently, Game of Thrones was filmed here. This is the home of Slieve Donard, the province's highest mountain, as well as the eerie Electric Brae, where an optical illusion makes parked cars with their handbrakes off appear to roll backwards uphill!
Getting there: take the A24 south from Belfast to reach the Mourne Mountains in around one hour.
3. The Dark Hedges
Another atmospheric Game of Thrones filming location, this spellbinding avenue of beech trees in Ballymoney was first planted by the Stuart family as an impressive approach to their grand Georgian mansion, Gracehill House. If you want to set your Instagram account alight with a photo of yourself on the 'King's Road', this is your chance!
Getting there: drive north from Belfast on the A26 to reach The Dark hedges in one hour and 15 minutes.
4. Ards Peninsula
The Ards Peninsula is a hidden gem which is well worth discovering for yourself when you're exploring Northern Ireland by car and striking out from Belfast for a day trip. Snaking from Groomsport near Bangor right down to Portaferry, you'll pass through a serene, undulating landscape peppered with churches, villages and fields packed with friendly cows. The views across the bay are beautiful ̶ on a clear day you can even see the Scottish coast beyond Copeland Island.
Getting there: take the A2 out of Belfast and drive clockwise around the coast to reach Ards Peninsula in a little over half an hour.
5. Dunluce Castle
Perched on the edge of a balsatic lava cliff, Dunluce Castle is a creepy, rambling ruin which will send a shiver up your spine and set your senses alight! Built in the 13th Century by McQuillan settlers from Scotland, wandering around its crumbling walls is a captivating step back in time and if you're lucky enough to be here when the sun sets, get ready to catch a really magical moment. This is a delightful day trip from Belfast which you won't forget in a hurry.
Getting there: drive north west from Belfast on the M2 to reach Dunluce Castle in just over one hour.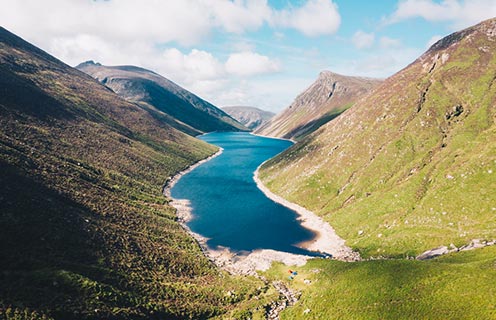 6. Lough Neagh
Five of Northern Ireland's six counties have shores on Lough Neagh and it's the largest freshwater lake in the British Isles. This calm, relaxed spot is full of hidden coves, sheltered bays and big blue skies. Circling it by car is the best way to absorb its beauty, but you can also stop off and try some exhilarating water sports if you can spare the time!
Getting there: drive west from Belfast along the A52 to reach lough Neagh in around half an hour.
7. Castle Ward
Yet another treat for Game of Thrones fans (but of interest to any history buff), Castle Ward on County Down is Winterfell in the smash-hit show and its ancient buildings and grounds are gorgeous. You can dress up in medieval garb at the castle and take an archery lesson and stop off at other filming locations like the Twin Towers on the way home. For a fun day trip with a difference, this is hard to beat.
Getting there: drive south from Belfast on the A49 to reach Castle Ward in just under one hour.
8. Donegal Coast
If you fancy a spectacularly scenic day-trip across the border when you're based in Belfast, the Donegal Coast is within easy reach and this most remote of the Republic of Ireland's counties is a real eye-opener. Drive along the Wild Atlantic Way of Donegal and you'll see something special around every bend ̶ from rugged coastal cliffs carved by the sea over centuries to magical waterfalls and Blue Flag beaches.
Getting there: drive a couple of hours west from Belfast via the M1 and A5 to reach the Donegal Coast.
9. Newgrange
Drive about an hour and a half south of Belfast and you'll arrive somewhere very special indeed ̶ Newgrange is a massive burial mound complex with a tunnel that leads into a mysterious stone inner chamber. Built over 5000 years ago, it's decorated with otherworldly carvings and (amazingly!) once a year at the Winter Solstice, the sun shines directly through the chamber and illuminates the chamber's central ceremonial stone.
Getting there: take the A1 and M1 south of Belfast to reach Newgrange.
10. Kildare Village
A day trip with a difference from Belfast, Kildare Village is 40 minutes south west of Dublin and there are some gorgeous green spaces, interesting historical sites and the National Stud, Ireland's iconic racehorse training centre. The Japanese Gardens and St Fiachra's Spiritual Gardens are perfect for soothing your soul as you stroll around and this is also the homeland of St Brigid, who has a cathedral, tower, eternal flame and two holy wells built in her honour.
Getting there: drive south from Belfast on the M1 to reach Kildare Village via Dublin on around two hours and 10 minutes.
These 10 terrific road trips from Belfast prove just how easy on the eye Belfast and its environs are ̶ plus the close proximity of attractions on the Republic of Ireland mean you can explore two nations from one convenient base!
With Enjoy Travel car hire in Belfast, the delights of the Emerald Isle sparkle even brighter!