10 places worth a visit in France
St. Emilion
Verdon Gorges (Gorges du Verdon) & Chateau de Trigance
Gorgese
Côte D'Azur
La Rochelle & Ile de Ré
Vendee Region
Alsace-Lorraine
Normandy
Val de Loire
Marseille
With the current health crisis, the government is urging travellers of any type to avoid public transport in favour of walking, cycling, or driving, for obvious safety reasons.
Why not hire a car and remove the anxiety of social distancing?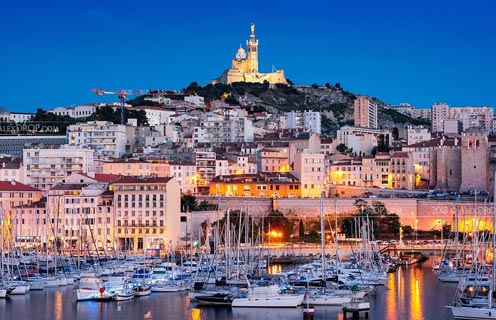 Places worth visiting in France - oh la la!
Visiting France by car provides you with the incredible freedom to experience the country (the UK's most popular foreign tourist destination) on your own terms.
Read on to find out more about hiring a car and hitting the road for French road trips with a certain je ne sais quoi!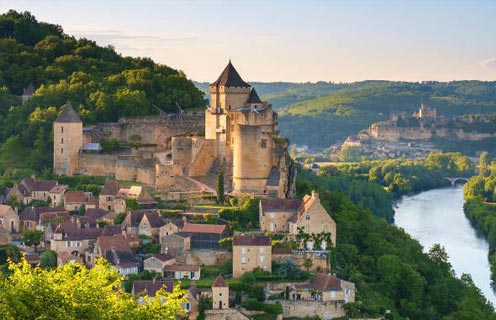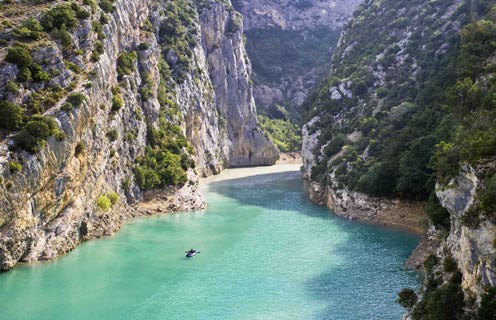 Why choose France?
From high Parisian culture to mountainous rural escapes, hiring a car allows you to make the most of your time in this diverse, stunning country.
France is in North-western Europe and is a country of 67 million residents with the world's 7th-largest GDP. Geographically, the country (which was the most popular tourist destination in the world in 2018) is blessed by areas of Alpine wilderness, chic Mediterranean resorts, UNESCO World Heritage Sites (the 5th largest number globally), and medieval cities.
The country is famous for cuisine, culture, wine and heritage and, as one of the five permanent members of the UN Security Council, packs a geopolitical punch too.
You'll find our must-do road trip recommendations to enrich your time in France below – but before you get behind the wheel, take five for a few timely tips on driving there.
Top tips for driving in France
Generally, motoring rules are similar to those in the UK and elsewhere, but one basic rule to bear in mind is that you drive on the right in France, and drivers from abroad must also comply with the following regulations:
Drivers must carry a passport, driving licence, insurance documents and V5C (vehicle log book). You should also have a GB sticker on your car.
You must also carry a warning triangle, reflective safety jackets and beam deflectors.
The speed limits in France are: motorways and dual carriageways, 110 km/h or 80 mph; the speed limit on normal roads (outside built-up areas) is 80 km/h or 50 mph; in built-up areas or on all other roads the speed limit is 50 km/h or 30 mph.
Radar-detecting devices have been banned since 2011 so don't use one unless you're happy with a 1500-Euro fine or 6 points off your licence.
Even hands-free phone use at the wheel is illegal in France, regardless of whether you wear a headset. This law became stricter from 2018, with immediate suspension of the driver's licence. The only phone use allowed in-car in France is with headphone/headset-free technology. So tethering to the car's speaker system to take calls is fine, anything else isn't.
It's worth noting that the post-Brexit driving arrangements remain unknown, so keep up to date with the latest advice.
Now that you know the rules of the road, let's get revved up for some Exciting French road trips.
French Road Trips – Fantastique!
St. Emilion
St. Emilion is a medieval city – and a commune – in the heart of French wine country in the South-west. Popular with wine tourists and non-drinkers alike, it can be busy in the summer months but is still worth visiting to experience its timeless atmosphere. Try the café at the top of the hill, noted for its delicious cheese platters and friendly staff. Fly into Bordeaux, hire a car, drive for less than an hour to reach one of the largest wine-growing regions in France. Perfect for a short break of 2-3 days.
Verdon Gorges (Gorges du Verdon) & Chateau de Trigance
If you've never been to the South of France and fancy some Southern French chic, fly into Nice and hire a car to explore this Mediterranean haven. The Gorges du Verdon is a must-see natural wonder of the Provence region – there's a spectacular circular route around the top of the gorge and naturally, course boat and kayak hire are available.
Gorges, mountains, a medieval castle, pitoresque French villages & natural beauty
You can then head up through Grasse into the phenomenal beauty of the mountains, drive towards Castellane (another commune town), stop for lunch and a walk around. For the full medieval experience, stay in the Chateau de Trigance, an authentic medieval castle! Finishing up in Moustiers-Sainte-Marie will round up a recommended 3-5 days' magical trip.
Côte D'Azur
Also called The French Riviera, the Côte D'Azur includes Cannes (of film festival fame) which has a lovely beach, as does boho St. Tropez, and Monaco, a wealthy microstate not only famous for F1. For this trip, first fly into Nice and hire a car. Take a drive to Monaco for the day, then drive back to Nice and stay in the Old Town, near the beach. Drive west along the coast via Antibes, Cannes, Frejus, Sainte-Maxime (St. Tropez' 'little sister' resort) and finish up in St. Tropez. At least a week is recommended for this terrific tour of the spellbinding area author F. Scott Fitzgerald famously described as his 'sun-kissed otherwhere'.
La Rochelle & Ile de Ré
Fly into La Rochelle (if you can get a flight) or alternatively, fly into Nantes or Bordeaux and enjoy a medium-length drive. La Rochelle is a small city in Western France on the Sea of Biscay – a maritime hub since the 12th Century, the Old Town has amazing medieval half-timbered houses and 17th-Century arches. Families also love the aquarium, which houses over 12,000 marine creatures and over 600 species, while Ile de Ré is an island joined to the mainland by a causeway known for its sandy beaches and salt marshes, and the island is criss-crossed by walking and cycling paths. This trip is particularly suitable for a short break of 2-3 days around La Rochelle and the island. However, if you have time to travel inland, don't miss the breath-taking Dordogne region.
Vendee Region
Between Nantes and La Rochelle lies the Vendee department in the Pays de Loire region, West-central France. The region has vineyards of course, but is also France's largest producer of brioche, while also the duck from Challans is also to die for. To reach the Vendee, fly into Nantes and hire a car or take the ferry from Portsmouth to St. Malo and drive south. This is a particularly popular area with Eurocamp/Keycamp holidaymakers – join them and hire a static mobile home or house tent and embrace the great outdoors!
Alsace-Lorraine
Alsace-Lorraine is only separated from Germany by the Rhine, hence its German roots run deep. Nevertheless, it's still proudly French (for example, the Marseillaise, the French National Anthem, was written in Strasbourg) while retaining some unique characteristics. Fly into Strasbourg and hire a car to continue exploring: notable tourist sites in the region include the birthplace of Joan of Arc and the Regional Museum of Ancient and Contemporary Art.
Normandy
Take a ferry from Dover to Calais to access Normandy, the UK's closest European region. Just a couple of hours from Paris, it's noted for its sandy beaches and white-chalk cliffs, but more famously for the Gothic abbey perched high on the tidal island of Mont-Saint-Michel, which lies off the Normandy coast. The city of Rouen, with the spectacular cathedral of Notre Dame de Rouen, was the site of Joan of Arc's execution in 1431. This is where the Seine flows into the sea, and Brittany, an ancient land of Celtic culture and history, lies to the southwest.
Val de Loire
Known as the Loire Valley in English, this region just Southwest of Paris is considered the 'centre' of France, although 'centre of the northwest' may be more accurate. Once popular with kings and nobles, the area is full of chateaux, including Chambord, Azay-le-Rideau, Blois and Chenonceau, and the Sologne is a huge forested area of heathland popular with hunters, walkers and nature-lovers. Hire your car in Paris (or Tours, if you fly there) then take one of the motorways leading to the Val de Loire region as they criss-cross the country from Paris – choose the most convenient from the A10 (Paris-Tours-Bordeaux), the A11 (Paris-Chartres-Rennes), the A71( Paris - Orleans -Clermont-Ferrand), the A77 (Paris-Nevers) and the A20 ( Paris -Vierzon-Toulouse).
Marseille
Marseille is the only large city on this list, and it is included due to the diverse demography and vibrant, intermixing cultures at this port city known as the Gateway to Africa. It's been a crossroads of trade and culture since the 6th Century B.C. and is the largest city on the Mediterranean coast as well as France's largest port for freight, commerce and cruise ships.
Largest port in Europe & gateway to Africa
It was previously a European City of Culture (2013), European City of Sport (2017) and has no less than 24 museums and 42 theatres. Furthermore, Marseille has all the other benefits of a big city – restaurants, bars, nightclubs and more will keep you enthralled for days. Treat yourself to a luxury stay in a castle at the Old Port (Vieux Port), overlooking the harbour.
And voila! Here you have several sublime French road trips you can take despite the current restrictions – rent a reliable vehicle from Enjoy Travel and gorgeous Gallic adventures await.
Ready to roll in France? Book online with Enjoy for fab French car rentals