The best English beer gardens
Summer is finally just around the corner, which means those warm and sunny afternoons spent nursing a frosty pint or a cool glass of sauvignon blanc will soon be here once again. While we might not always have the weather for it, England is brimming with pubs with brilliant beer gardens. From riverside inns to secret city gardens to sprawling waterfront terraces, you can guarantee a sunny spot for an al fresco drink or meal in every corner of the kingdom. But some are a cut above the rest. In recognition of the most magnificent pubs, bars and restaurants to soak in the summer sunshine, we've compiled our annual list of the best beer gardens in England.
Here are the 25 Best Beer Gardens in England - according to our ranking system.
how do these rankings work? - Click here to find out about Big7Travel's ranking system.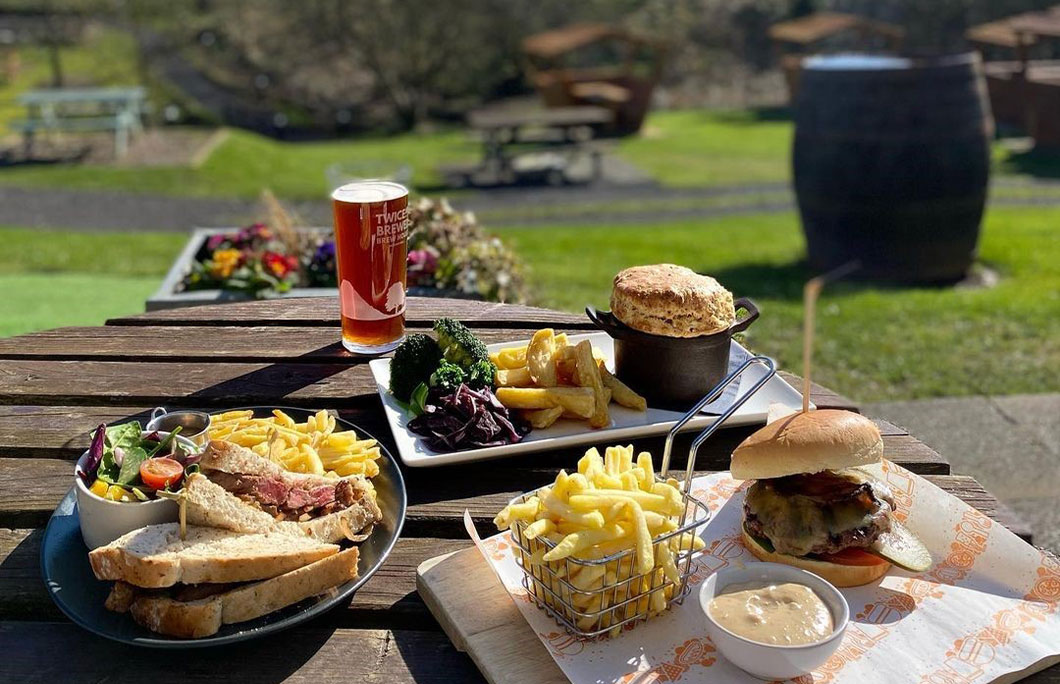 25. Twice Brewed Inn – Hexham, Northumberland
Sitting in the shadow of Hadrian's Wall in the heart of rural Northumberland, Twice Brewed Inn is the perfect pitstop for a sunny afternoon. It's particularly popular with weary walkers passing by on the Pennine Way and Hadrian's Wall National Trail, but the pub is a worthy destination in its own right too. Swing by for delicious pub grub washed down with beers brewed onsite and soak in the views from the large sunny beer garden. If it's a clear night, hang around for the stargazing experience, which is led by the team at the Twice Brewed within the protected Dark Sky Park.
---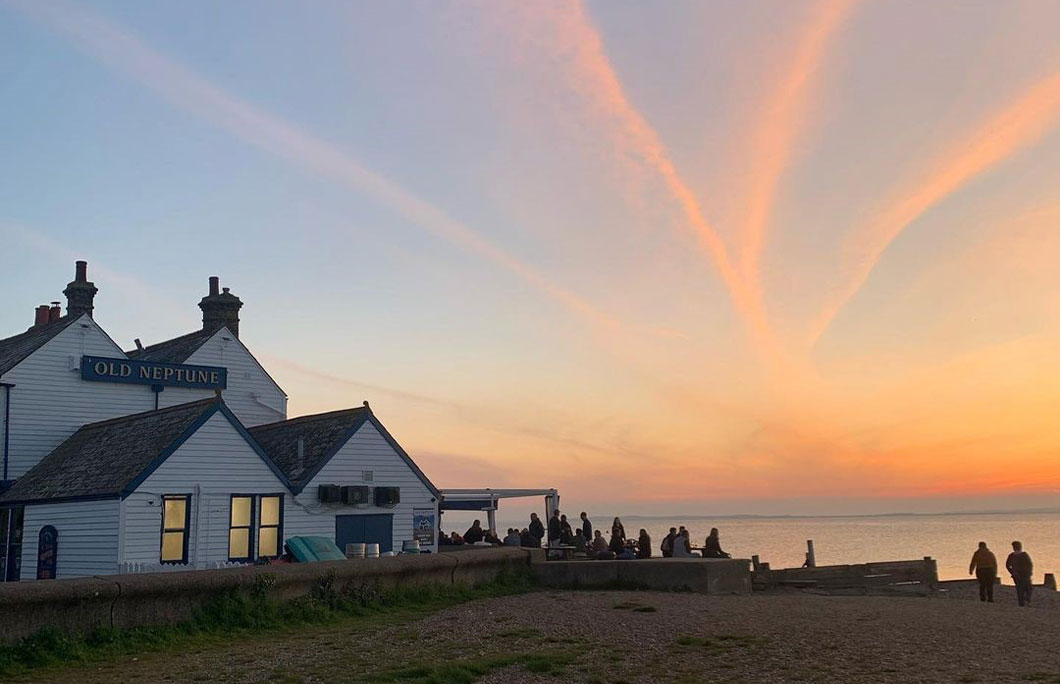 24. The Old Neptune – Whitstable, Kent
Fill your lungs with salty sea air and watch the waves at 'The Neppy' – an early 19th-century pub set right on Whitstable's pebbly beach. This local institution used to be a rock'n'roll pub in the 1980s and legend has it that the Krays used to enjoy a fair few pints here too. These days it sports a more jovial, family-friendly atmosphere, with a great selection of beers (including Whitstable Pale Ale) and traditional pub fare served through an old-style stable door from the kitchen. Grab a table outside as the sun goes down for unobstructed views of one of Kent's best beaches.
---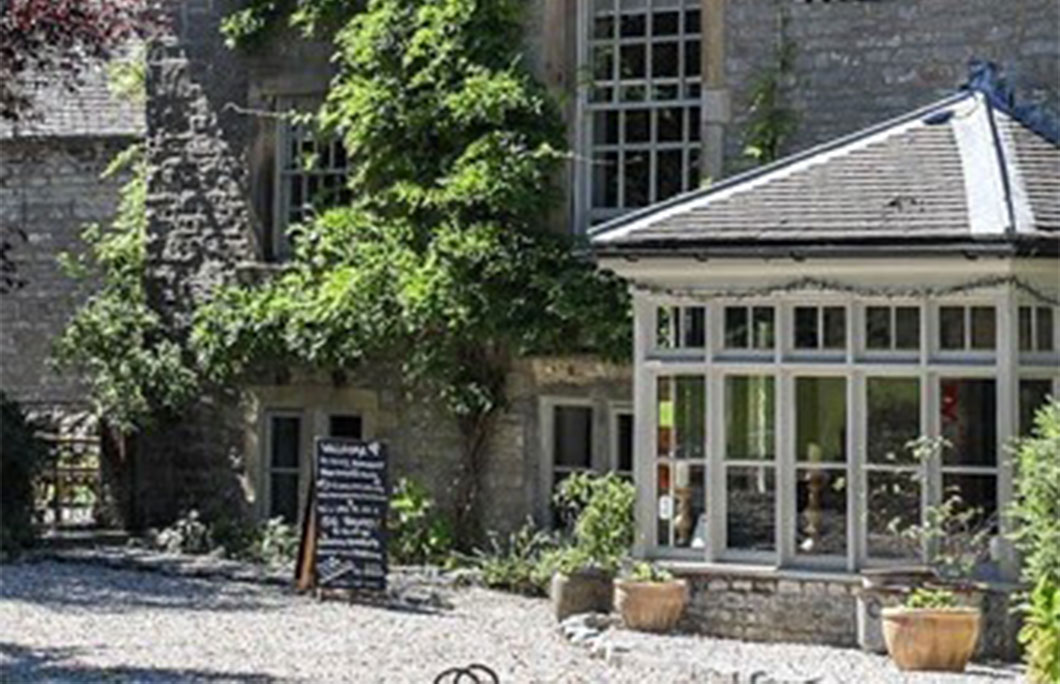 23. The George – Alstonefield, Staffordshire
This Peak District gem sits on a pretty village green, amid rivers, hills, and shaded woods. As well as an impossibly pretty setting, The George serves up sensational seasonal menus that have been lauded by the likes of the Michelin Guide and The Good Food Guide. True, the 400-year-old pub gets its fair share of well-heeled diners, but those looking for a frosty beer in the sunshine are made to feel just as welcome.
---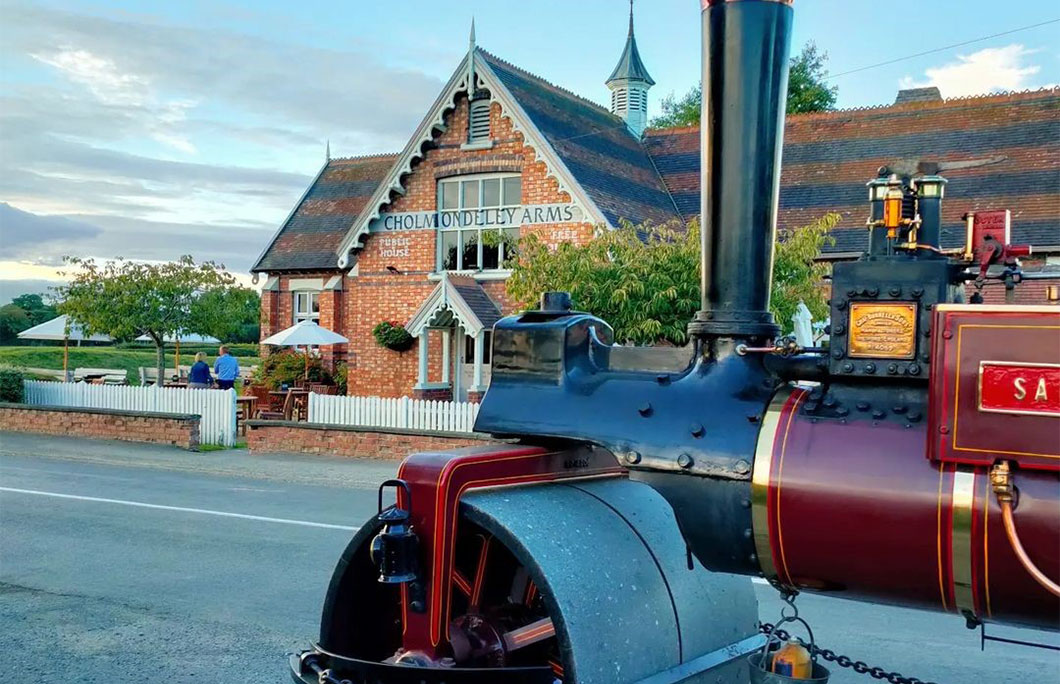 22. Cholmondeley Arms – Malpas, Cheshire
This converted schoolhouse turned character-packed pub is a Cheshire favourite. It's part of the Cholmondeley Estate, surrounded by pootling countryside and postcard-perfect villages, so the setting couldn't be more idyllic. Over the years the pub has won plenty of accolades for its seasonal specials and old-school staples, all of which showcase the best local ingredients. There's a good range of beers on offer, but it's the gin that seriously impresses with 366 different varieties available at the bar. Take your tipple of choice outside to the beer garden, which offers sweeping views of Cholmondeley Castle Gardens.
---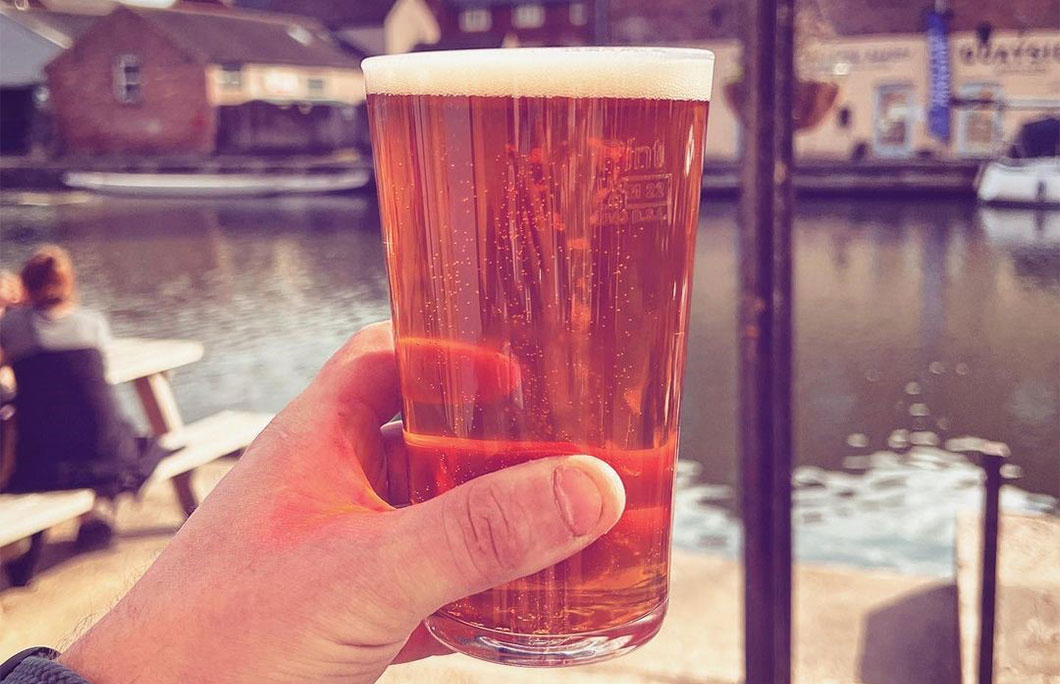 21. Topsham Brewery & Taproom – Exeter, Devon
Topsham Brewery and Taproom is, deceivingly, not located in Topsham but five miles north-west in the historic surroundings of Exeter Quay. Since opening in 2018, it's become a leading force in the city's craft beer scene and is best known for its seasonal, small-batch beers, like Goat Walk Session IPA. Beyond the brilliant beers, there's a spacious and sunny beer garden with benches alongside the city's canal basin that throng with families, friends and couples when the sun comes out. There's usually a food van parked on the grassy area outside serving up steaming hot pizzas too. Live music sessions and DJ sets take place most evenings.
---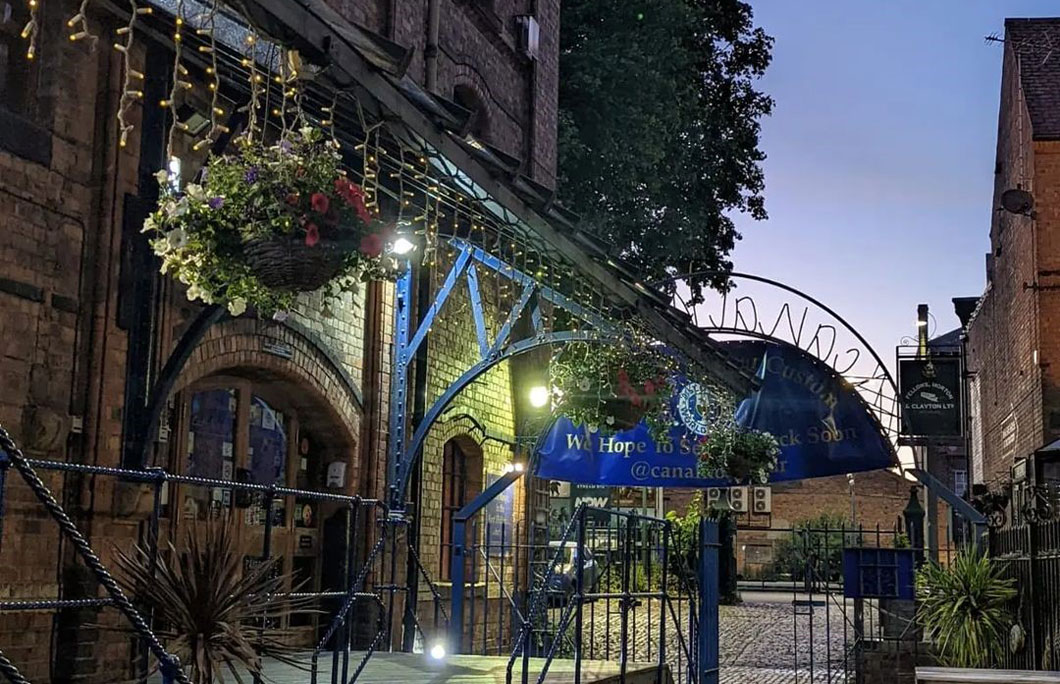 20. Canalhouse – Nottingham, Nottinghamshire
Lots of pubs boast waterfront views, but Canalhouse is probably the only pub that can claim to have a canal running right through the centre of it, complete with resident narrow boats and a footbridge. And if that's not enough, the pub also offers a large outdoor seating area set against the backdrop of the water. The beers, which are brewed in Nottingham at Castle Rock, are every bit as good as the views too. Try the Harvest Pale, which was crowned the Supreme Champion Beer of Britain. There's a full menu of wine, spirits, real cider and soft drinks, as well as locally roasted coffee from Stewarts of Trent Bridge on the menu too.
---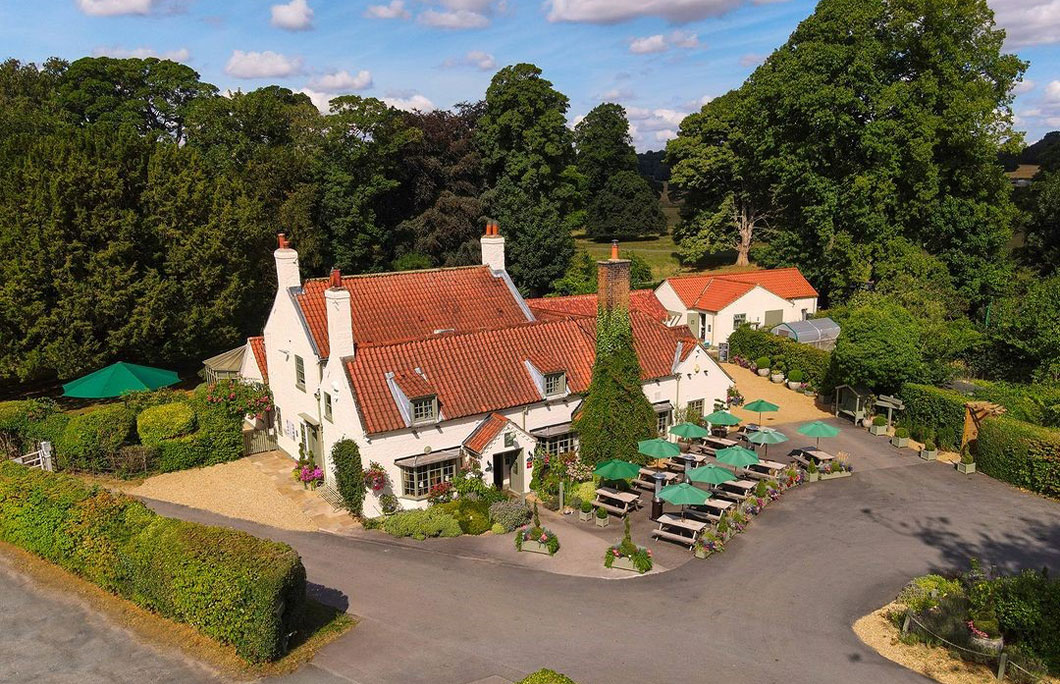 19. The Pipe and Glass Inn – South Dalton, Yorkshire
For Michelin-starred dining in one of Yorkshire's most impressive beer gardens, look no further than The Pipe and Glass Inn. Housed in what was once the gatehouse of Dalton Park, the country house-style restaurant boasts beautiful garden views and an exceptional menu, created by Chef James Mackenzie. The newly-designed gardens only grow edible plants, herbs and shrubs, all of which feature on the menu. There are two lovely outdoor spaces to choose from: informal picnic benches at the front and seating on the terrace at the back.
---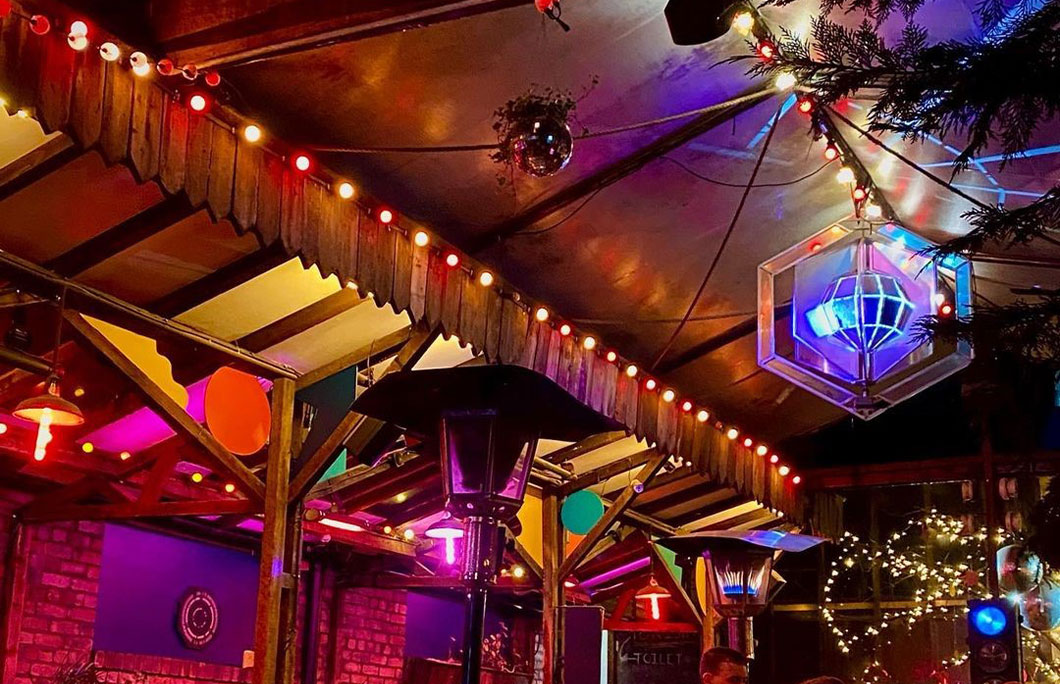 18. Kazimier Garden – Liverpool, Merseyside
Billed as Liverpool's original garden bar, Kazimier Garden is a firm favourite with both locals and visitors. It's located in a former car park next door to Liverpool's Academy of Arts and features an outside bar, a mezzanine roof terrace and a stage. While it might not boast countryside views or a waterfront location, it definitely has a 'secret garden' quality thanks to its quirky seating, eclectic decor and fairy-light-festooned umbrellas. They offer an excellent selection of European and craft beers, as well as food and snacks if you get peckish.
---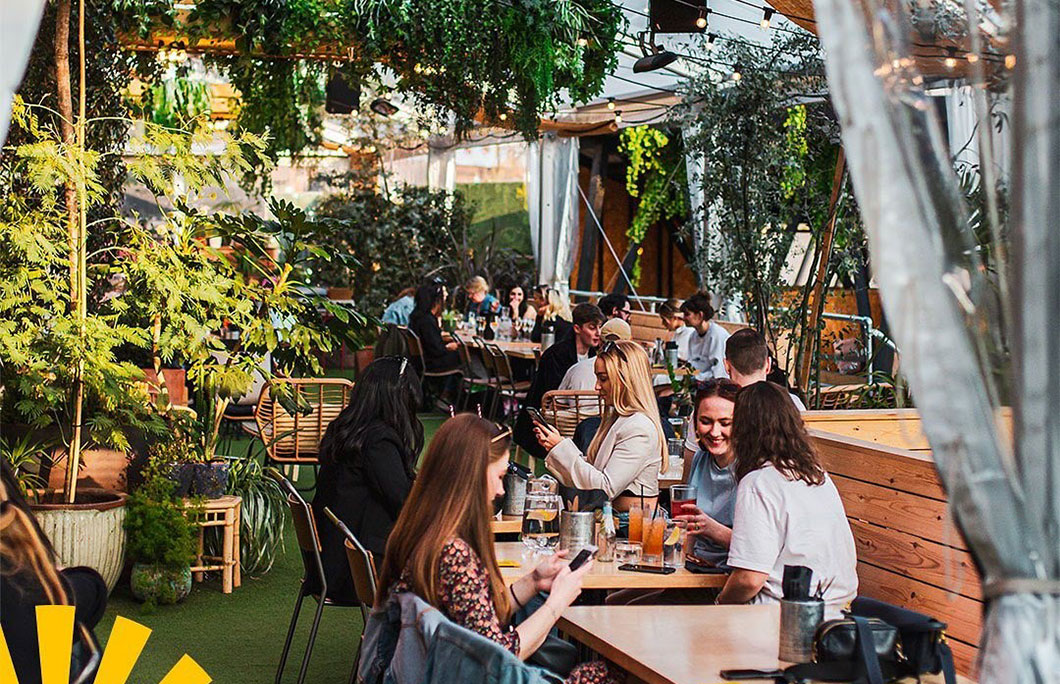 17. Escape to Freight Island – Manchester
Escape to Freight Island is one of the largest outdoor spaces in the city, so you'll never be stuck for a seat. When the sun is shining, it feels more Balearic than British, thanks to its live music, expertly-made cocktails and wafting aromas from the nine independent food vendors stationed outside. The raked terrace is split into a dozen different areas lined with comfy booths, plus a covered area for when the skies inevitably open (it is England after all).
---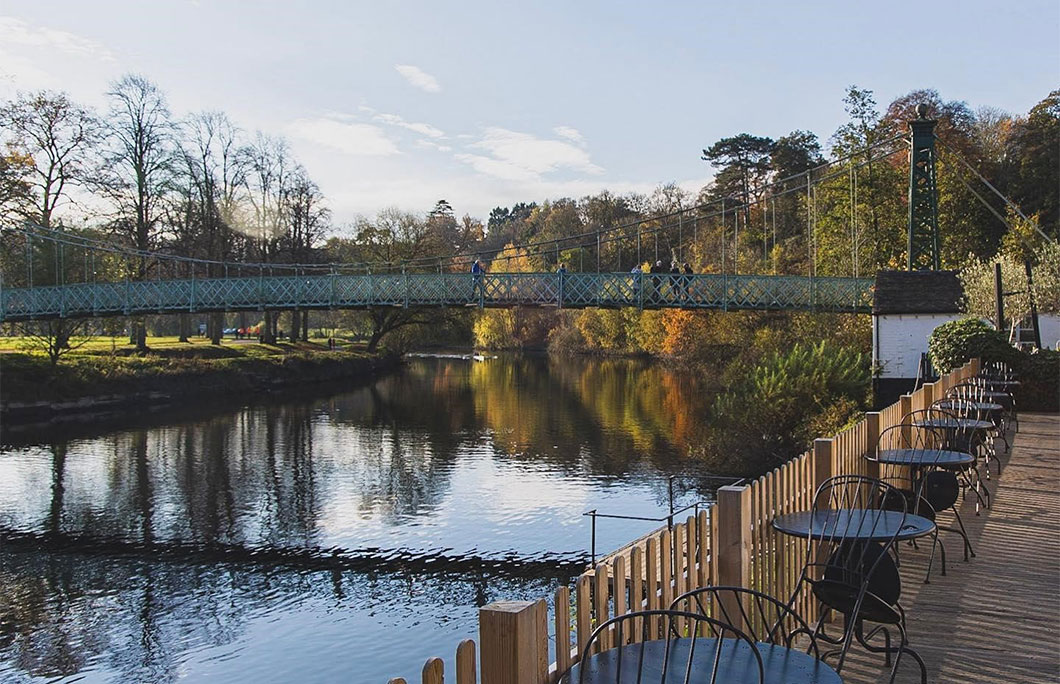 16. The Boathouse Inn – Shrewsbury, Shropshire
The Boathouse Inn is beautiful at any time of day, but it really comes alive in the evening when the river reflects the pub's twinkling frontage and the Quarry Park bridge. The extensive beer garden offers superb views of the gently winding River Severn, complete with paddling ducks and bobbing boats. The food is excellent and there's a good range of drinks on offer, as well as an annual Gin Festival with 50-plus drinks, barbecue and live music in the last weekend of August. No need to travel here by foot either; its riverside location next to Porthill Bridge offers the option of arriving by kayak or boat.
---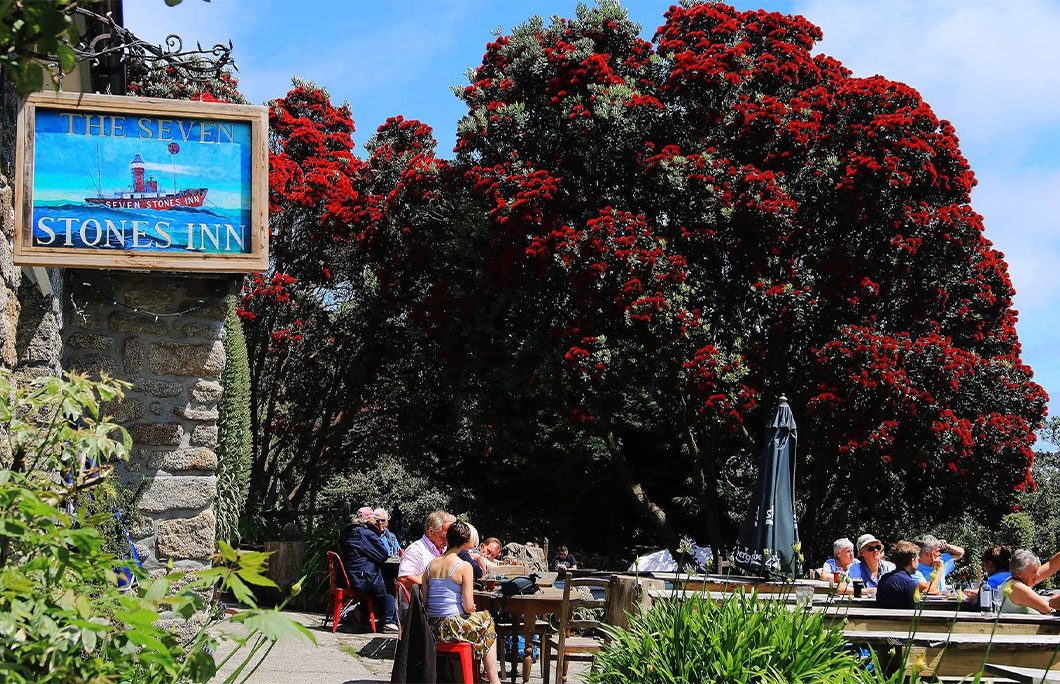 15. Seven Stones Inn – St. Martin's, Scilly Isles
This friendly, family-run watering hole combines brilliant pub grub with magnificent views overlooking the shimmering sea to St. Mary's. You'll find all the classics on the menu, including fresh crab sandwiches, homemade pies and hearty ploughman's, with meals served between 12-2 pm and 6-8 pm. If you're planning on stopping by for a drink, there's everything from Pimms to Pilsner on offer too. Thanks to its hilltop location, the beer garden offers some of the best views of St Martin's long sweeping beaches, rocky coves and teeny tiny granite cottages on the island.
---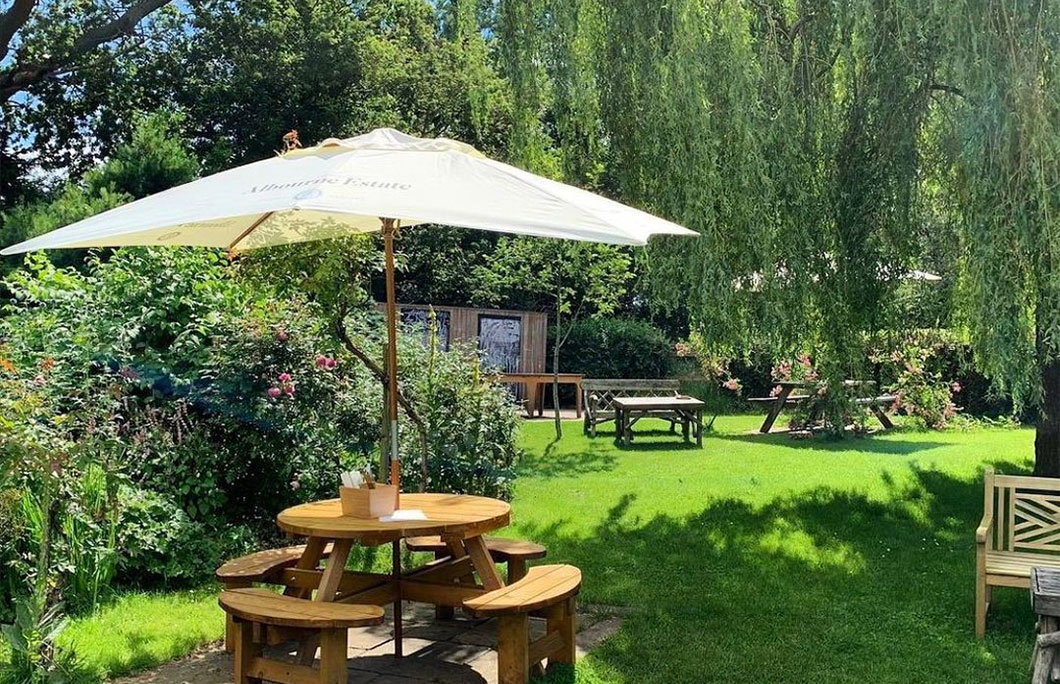 14. The Jolly Sportsman – Lewes, East Sussex
You'll want to make it an alfresco drink at The Jolly Sportsman, a picturesque pub with rooms set on the edge of the South Downs. The gardens are some of the most impressive in the area, with several fantastic walks on the doorstep. The food is fantastic, with ingredients sourced from within 20 miles wherever possible, and Lewes-brewed beers are available on tap. This year, there's an all-new outdoor garden bar on the horizon and come summer there are barbecues on the lawn too.
---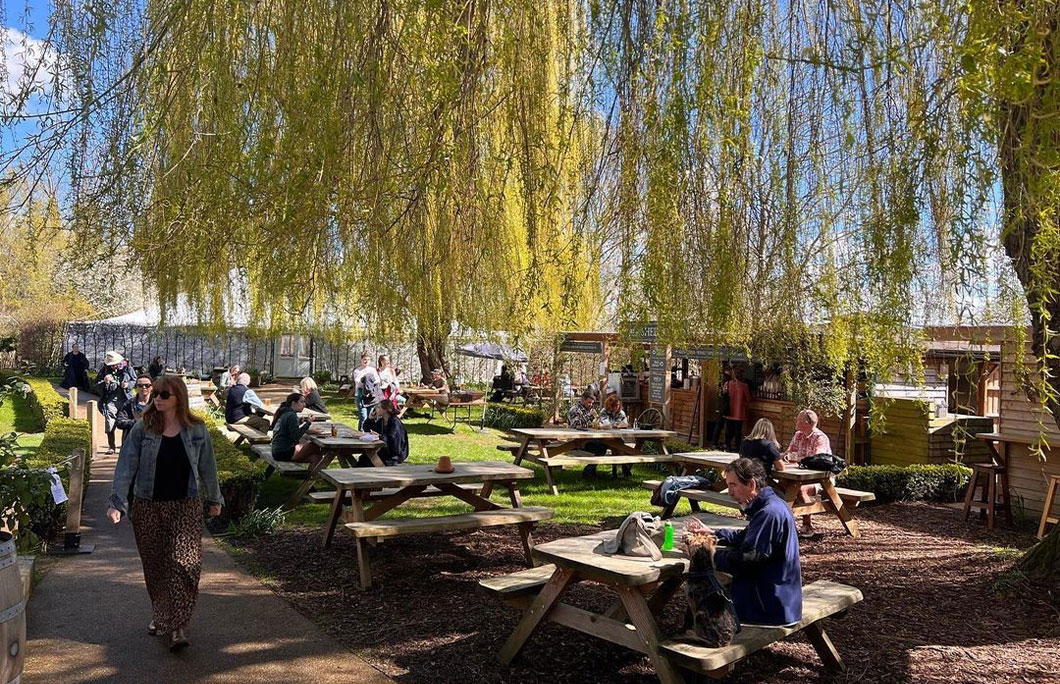 13. The Perch Inn – Binsey, Oxford
An institution as old as the university, The Perch Inn has existed in some form or another for at least 800 years. It's a short stroll from the Isis and Port Meadow in Oxford, with a garden path festooned with fairy lights that wind down to the river. Outside, there's a huge garden with a clutch of tables and chairs shaded by willow trees and surrounded by grassy banks. There's more to this pub than good looks too; the food is fantastic. Order from the shed bar and tuck into home-baked pies, puddings, and potted meats and terrines.
---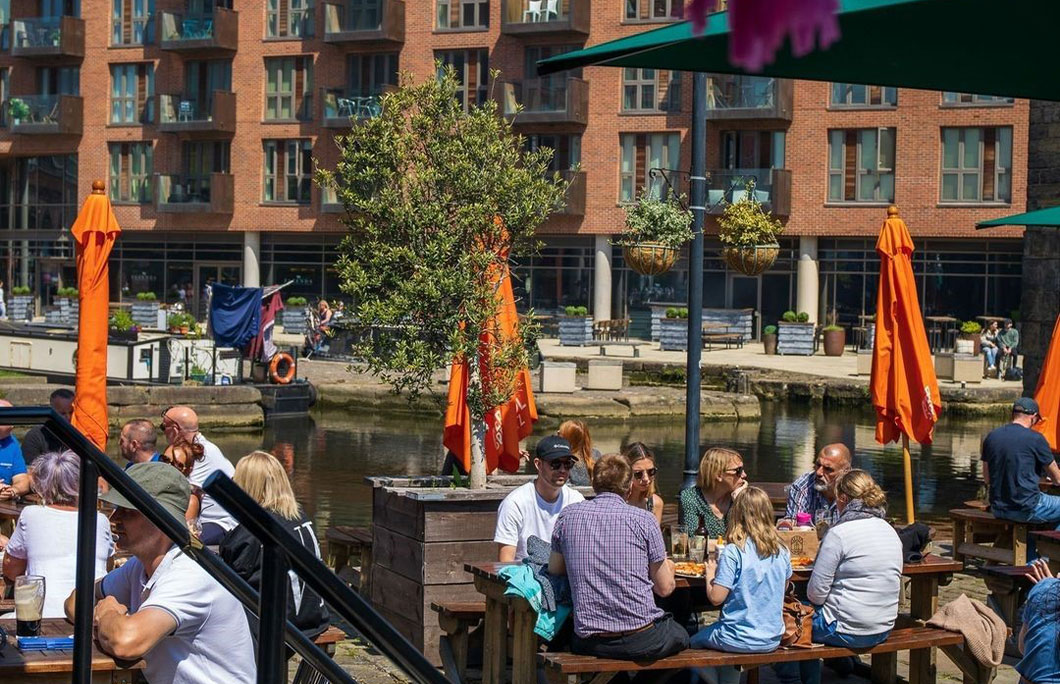 12. Water Lane Boathouse – Leeds, West Yorkshire
This much-loved bar boasts a prime location on the banks of the River Aire, overlooking Granary Wharf. Housed in an early 19th-century shipment warehouse, the bar sprawls across two floors, but its large and sun-filled beer garden is the star attraction. There's a good range of beers, wines, cocktails, and spirits (including a G&T menu) on offer, as well as delicious grub in the shape of sandwiches, loaded burgers and sourdough pizzas. The bar is the brainchild of the same people behind Belgrave Music Hall and Headrow House, so you can guarantee it will be a lively night out.
---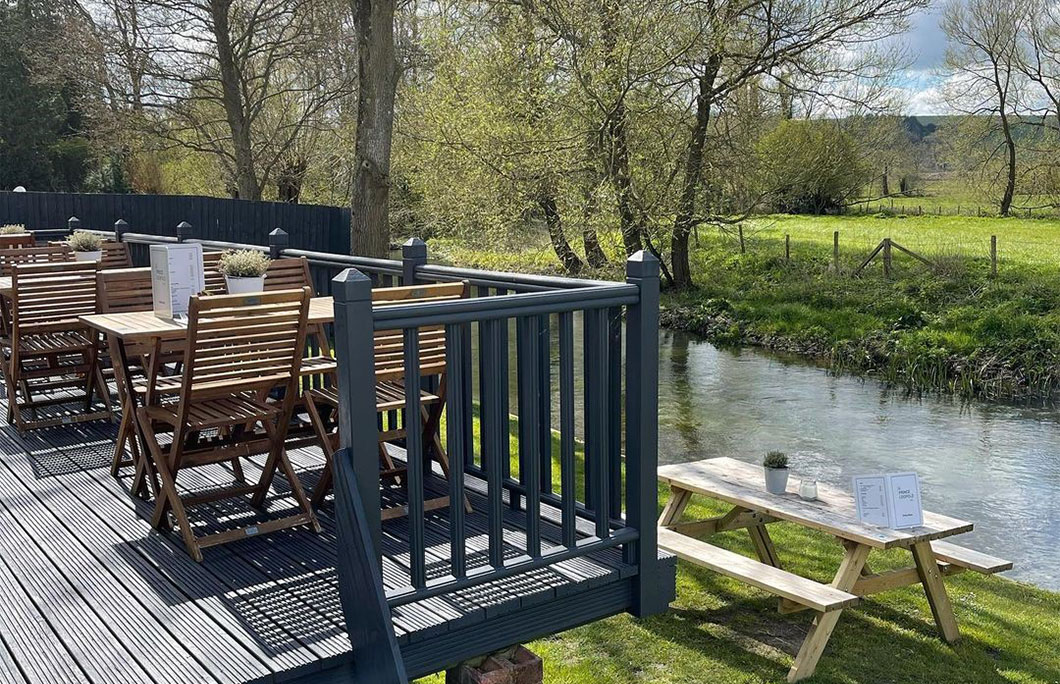 11. Prince Leopold Inn – Warminster, Wiltshire
Set on the edge of the Cranborne Chase Area of Outstanding Natural Beauty, the Prince Leopold Inn offers up a slice of quintessential England at its finest. The Victorian pub is simply furnished, with cosy snugs and open fires, and an airy back room that leads out to a small but perfectly proportioned beer garden. There are a handful of tables to choose from, or you could even dangle your legs into the running River Wylye. The views of open fields and ancient countryside across the banks are heart-stopping.
---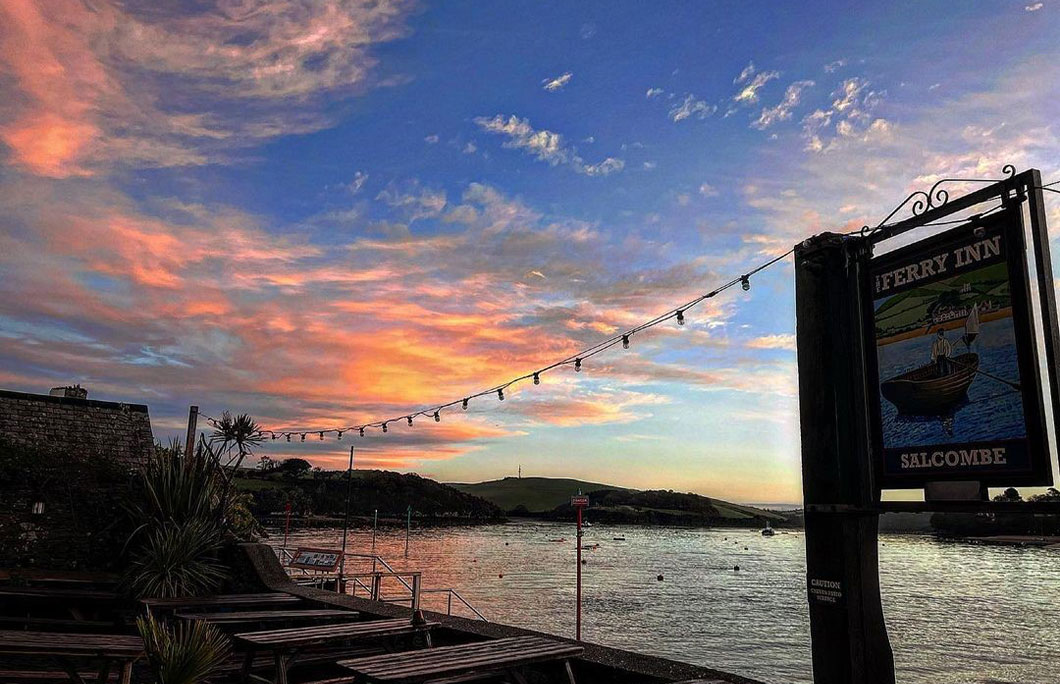 10. The Ferry Inn – Salcombe, Devon
The Ferry Inn is the oldest and most famous pub in Salcombe, the 'Darling of Devon'. Built in 1739, the historic pub boasts a pretty stone terrace that is so close to the waterfront you can practically touch the waves. There are at least a dozen or so large picnic tables outside with umbrellas for sunny days and fairy lights for when the sun goes down. With views of Salcombe's estuary, beaches and undulating countryside, it's a prime spot for people-watching too. If you're visiting on a Sunday, stop in for a Roast – locals rave about them.
---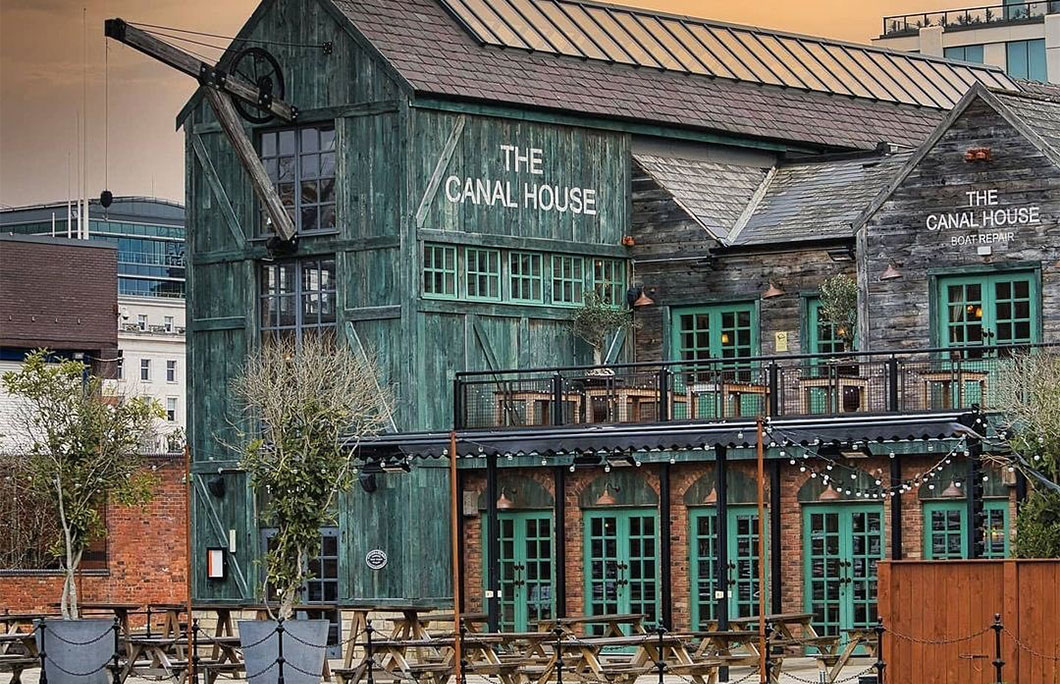 9. The Canal House – Birmingham, West Midlands
This legendary pub-restaurant is no stranger to 'best of lists', having claimed the title of Winner of Best Pub in the Midlands at The National Pub & Bar Awards. But while it's easy to see why customers rave about its hearty Sunday Roasts and live music, it's the beer garden we're interested in. Boasting brilliant views of the canal basin, with plenty of seating on the outdoor terrace, it's the perfect place to soak in the sunshine with a drink. And, with over 60 beers in the ale inventory, an extensive cocktail menu and a wide range of soft drinks on offer, you won't be stuck for choice either.
---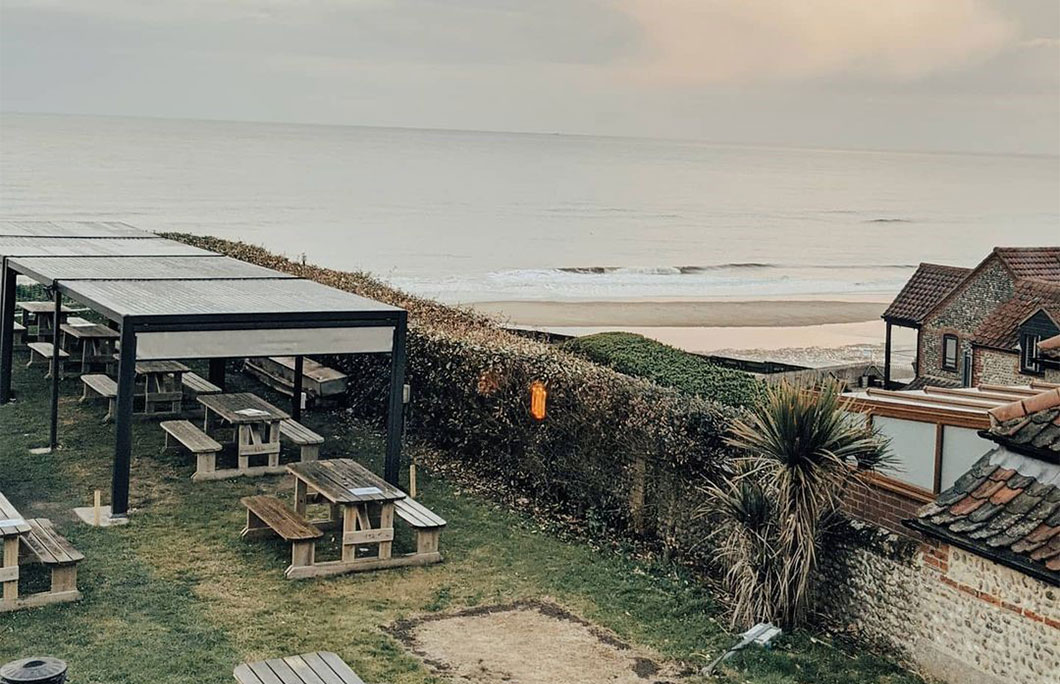 8. The Ship Inn – Mundesley, Norfolk
Overlooking the golden sands and rainbow-coloured beach huts of Mundesley Beach on the North Norfolk Coast, The Ship Inn is an idyllic seaside escape. The 300-year-old pub, which sits on a cliff, is beloved by locals and visitors for its tasty and unpretentious food and an excellent range of local beers. The large beer garden is located at the back of the red-brick pub and offers dazzling views of the North Sea. Families and four-legged friends are welcome.
---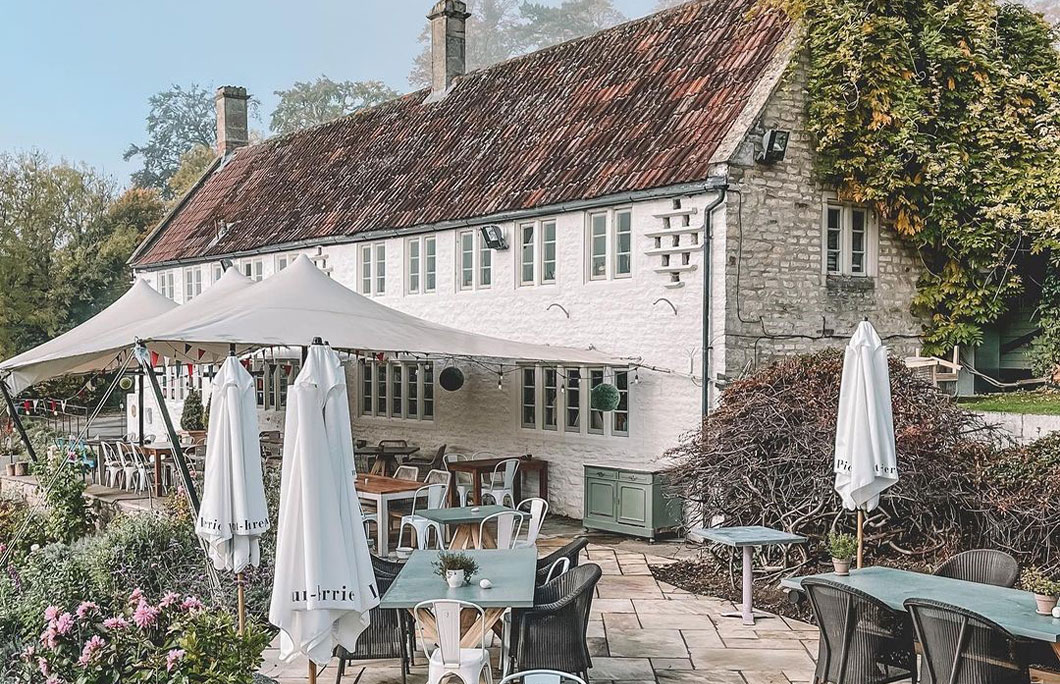 7. The Wheatsheaf – Combe Hay/Bath, Somerset
Bath has its fair share of historic pubs, but not all of them boast views like those at The Wheatsheaf. An easy 15-minute drive from Bath's city centre, this whitewashed farmhouse-turned pub is tucked into a quiet wooded valley with sprawling terraced gardens overlooking the bucolic countryside and some of the region's prettiest villages. Inside, it's all open fires, bare wooden beams and cosy nooks but come summer you'll want to grab a table outside under the shade of an umbrella. The drinks list is excellent but the food is even better. Keep an eye on the calendar as there's always something going on, from steak nights to summer parties.
---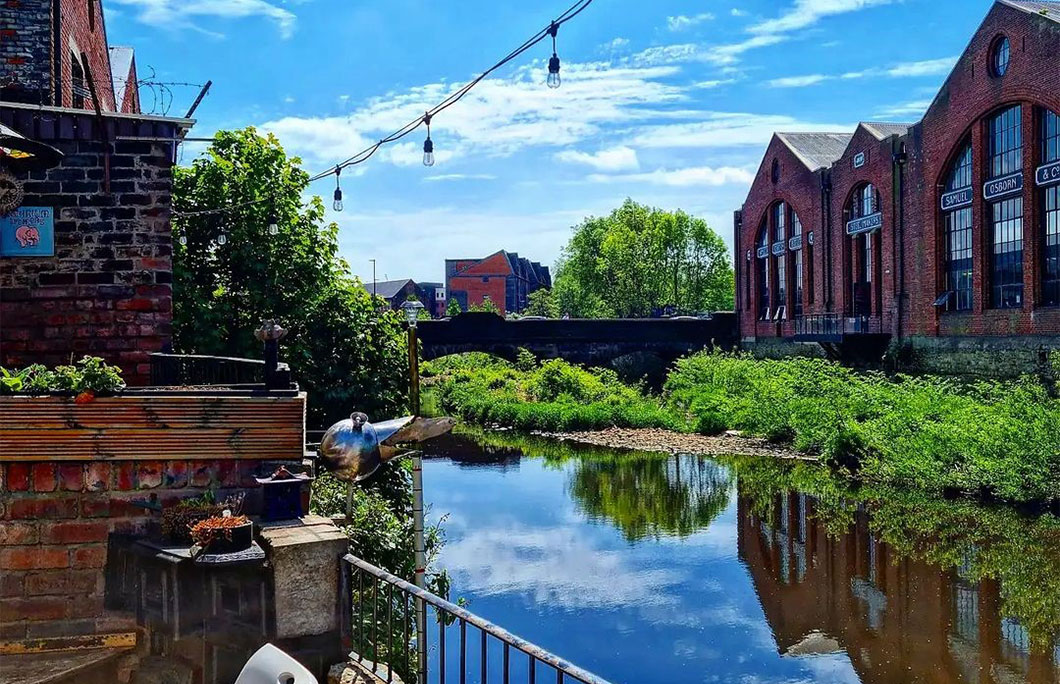 6. The Gardeners Rest – Sheffield, South Yorkshire
The Gardeners Rest is a proper pub in the heart of Neepsend with a difference. In 2016, the local community purchased the venue, making it the city's first community-owned pub. It follows that community is at the heart of everything it does, from the beers on tap (sourced from the local Sheffield Brewery) to exhibitions showcasing works by local artists to lively music nights. Its beer garden is one of the quirkiest in the country: a flower-filled labyrinth of picnic tables, sculptures, vegetables, quirky sculptures and fireplaces overlooking the River Don.
---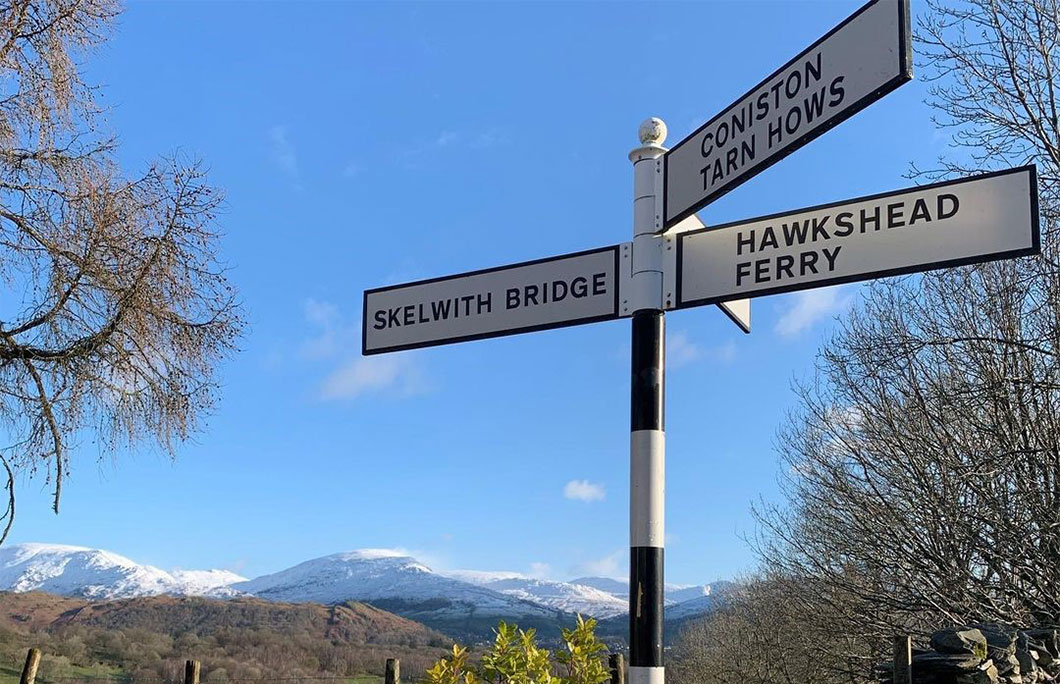 5. The Drunken Duck Inn – Ambleside, Cumbria
With just eight precious outdoor tables, The Drunken Duck Inn won't be winning any awards for size but it will for views. Set in a huge 400-year-old building in 60 private acres of rambling countryside, the inn offers glorious fell views that stretch out for miles. It's a popular spot with walkers who hotfoot here after tackling the local peaks for brilliant beers brewed from the award-winning on-site microbrewery and a delicious daily changing menu. If you can't face the walk home, there are 13 individually designed bedrooms to settle down into too.
---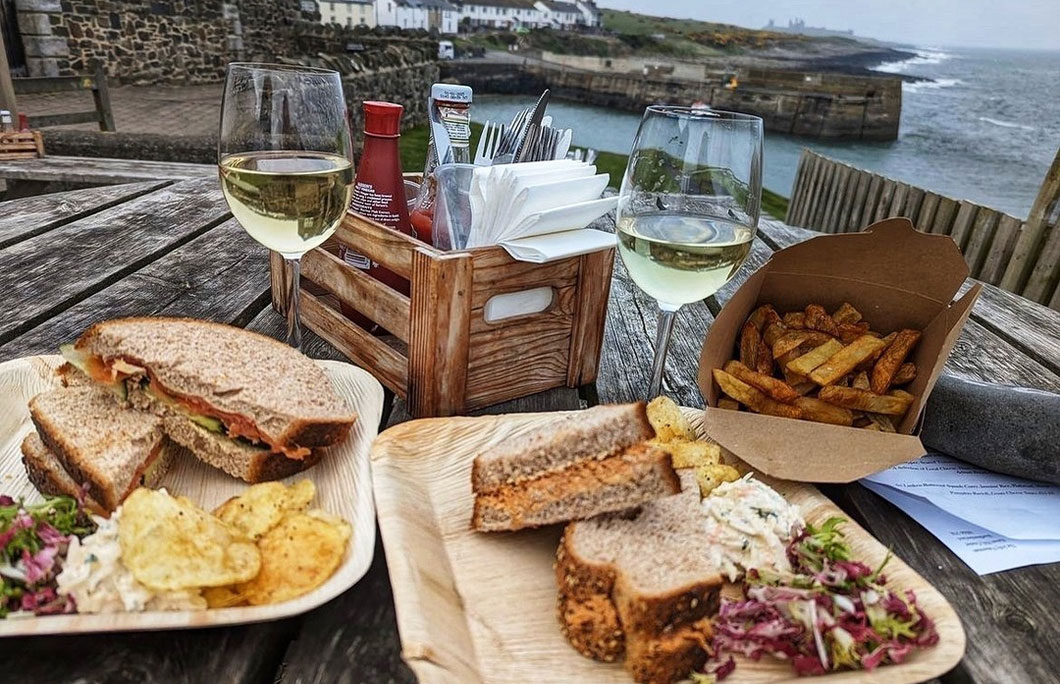 4. The Jolly Fisherman – Craster, Northumberland
This award-winning pub pairs stunning sea views with fantastic food and good company. The newly-refurbished premises has retained all of its historic charm, complete with stone-flagged floors and beamed ceilings but, on a hot day, you'll want to grab one of the tables outside where the views extend past Dunstanburgh Castle and out to sea. There's a good range of drinks to choose from but we recommend arriving hungry. What could be better than kipper scotch eggs, Shetland mussels and famous Craster crabs served with a sparkling sea view?
---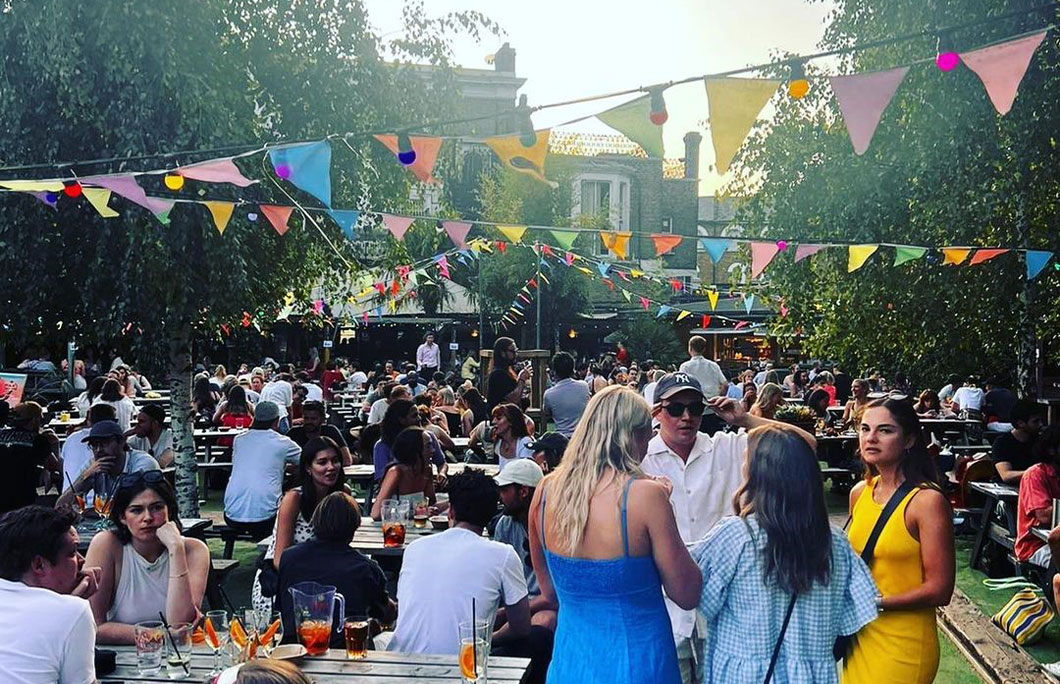 3. The People's Park Tavern – London
The chaotic capital isn't short on excellent beer gardens, but the People's Park Tavern comes up trumps. Overlooking East London's beloved Victoria Park, the beer garden is one of the largest in London, with an indoor-outdoor greenhouse, seasonal barbecue kitchen, pop-up cocktail bar and tap wall. Plus, the pub has its very own microbrewery on site and more than 70 world beers on tap. There's even a resident cat. What more could you ask for on a balmy Friday evening?
---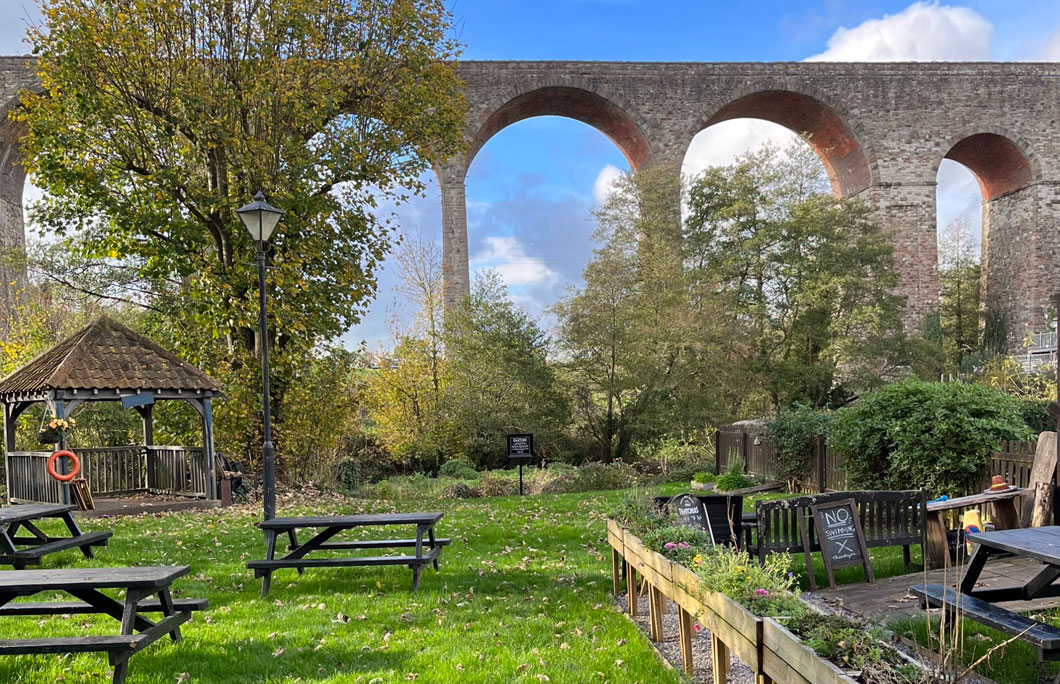 2. The Rising Sun – Pensford, Somerset
The Rising Sun is a mere 15 minutes away from Bristol's city centre, but it feels worlds away thanks to its idyllic countryside location. Nestled at the foot of Pensford Viaduct by the River Chew, the large beer garden boasts stunning views and a lovely, laid-back atmosphere. Cornish brewery St Austell owns the pub, so there's an excellent selection of beers and ales on tap, as well as wines, spirits and cocktails. The food menu, which includes a huge beer-battered fish and chips, is fantastic and very reasonably priced too.
---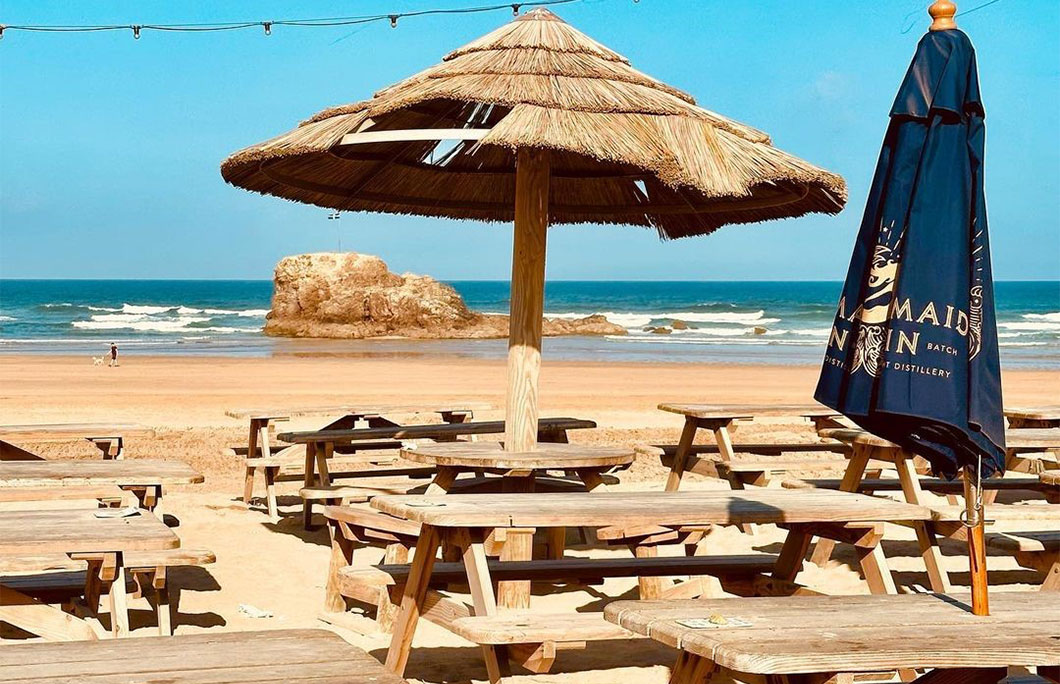 1. The Watering Hole – Perranporth, Cornwall
At The Watering Hole, punters don't just get a beer garden, they get a beer beach. The bar, restaurant and live music venue sit smack-bang in the middle of Perranporth's golden sands, making it the UK's only bar on the beach. Open all year round, it serves real ales from local breweries, cocktails and a wide variety of soft and hot drinks, including a dreamy hot chocolate. There's a good range of beach-friendly grub on offer too. The venue has become famous for its various live music events featuring lineups from local emerging artists and big names like Jools Holland and The Sugarhill Gang.