10 Best Weekend Breaks from Madrid
Granada
Lisbon
Segovia
Alcala de Henares
Valencia
Malaga
Bilbao
Alicante
Zaragoza
Pedraza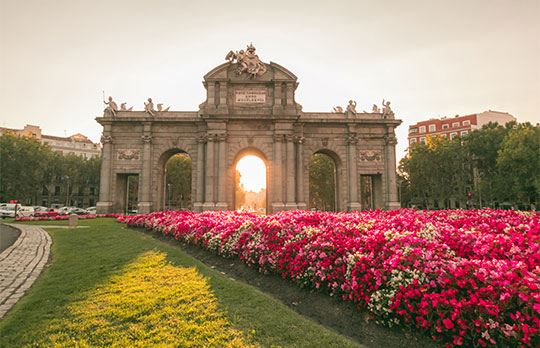 10 Best Weekend Breaks from Madrid
So you're based in Madrid (at least for a while). Lucky you! Spain's capital is the EU's second-biggest (population 3.4) and sits on the River Manzanares, bang in the middle of the Iberian Peninsula. As well as being the capital city, it's also Spain's cultural and commercial heart – a hub for entertainment, science, couture, the arts and sport (with two famous football teams including the iconic Real Madrid). You'll find plenty of striking contemporary architecture here, but it's counterbalanced by classic historic landmarks like the Royal Palace of Madrid, Plaza Mayor, Buen Retiro Park, and National Library – all designed in various attractive styles between the 17th and 19th centuries. Culture vultures also find tasty pickings in the city's Golden Triangle of Art, which comprises three world-class art museums gracing the Paseo del Prado.
Top things to do in Madrid include gazing at Picasso's powerful Guernica (amongst other masterpieces) at the Reina contemporary art museum, sampling haute cuisine from Michelin-starred chef Danny Garcia at his panoramic rooftop restaurant in the Four Seasons hotel and relaxing in the lush El Retiro park. There's even a 2,200 year old Egyptian temple here (Templo de Debod), which was sent over as a gift by the Egyptian government in 1968 and reconstructed brick by brick.
Getting ready for your weekend break from Madrid
Raring to go for your Madrid road trips? Let's take a super-quick pause for some tips on preparing for a road trip in Spain.
First off, you drive on the right in Spain and overtake on the left (which you hopefully already know if you've already driven here). In general, you should give way to all vehicles coming from the right at an intersection and if you're already on a roundabout, you've got priority over vehicles approaching it. When driving on a secondary road, you should give way to cars coming from either direction when entering a main road and (as you'd expect) emergency vehicles and any vehicle on rails (like a tram) has priority.
Curb your urge to toot your horn unless it's an emergency – flash your lights as a warning instead. Seatbelts are compulsory front and back and appropriate car seats of restrains should be used for children under 12 and less than 135cm tall. The speed limit is 20km/h in residential areas, 50km/h in built-up areas, 90-100km/h outside built-up areas (check signage) and 120km/h on motorways.
Let's hit the road for those Madrid weekend escapes!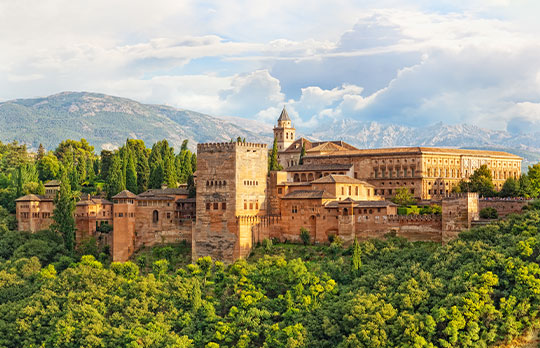 1. Granada
4 hours and 20 minutes south of Madrid via the A-4 and A-44, Granada is an awesome Andalusian weekend getaway destination any time of the year. Visit in winter and you can enjoy skiing and snowboarding, southern Spain's most beautiful beaches are yours to explore in summer and the sunset from the Alhambra is simply breath-taking. There are lots of brilliant budget hotels to stay in and the local cuisine comprises delish fried fish (pescaito frito), tasty cured ham (jamon de trevelez) and Moroccan dishes like artisan cous cous. But don't forget the terrific tapas – you get free portions with every beer in Granada's bars!
2. Lisbon
How does a weekend trip across the border to Spain's Iberian neighbour Portugal sound? Lisbon is 6 hours' drive via Autovia del Suroeste/A-5 and A-6 and it's always a delight. A hip, elegant capital that feels more manageable than many of its European counterparts, the City of Seven Hills could be just the tonic you need. Great things to do include strolling through historic suburbs Mouraria and Alfama (to the seductive sounds of the local Fado music), and if you're there in July, rocking out at the super-cool Nos Alive festival (which attracts big acts like Stormzy, Jorja Smith and Florence + The Machine). The seafood in Lisbon is super but don't forget to sample a pastel del nata custard tart – divine!
3. Segovia
How does a weekend away in one of Spain's most interesting historical sites sound? Segovia is just over one hour's drive from Madrid via the A-6 and AP-61, and it's packed with blasts from the past. The Roman aqueduct which bisects the city is probably the most iconic landmark, but the Alcazar Fortress was of prime importance to the Spanish royals in the middle ages, so it's definitely not to be missed. Segovia's 16th century Gothic fortress is also stunning and the 15th century Casa de los Picos mansion is decorated by no less than 617 spiky granite points. For a step back in time that's a short hop away, Segovia is hard to beat.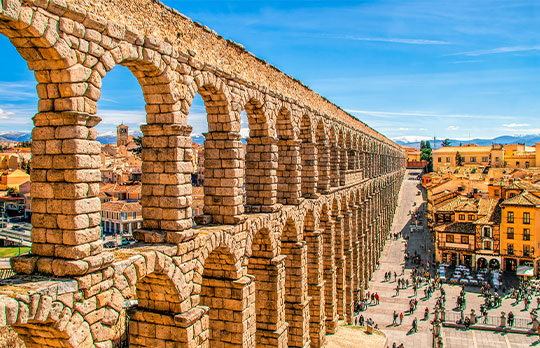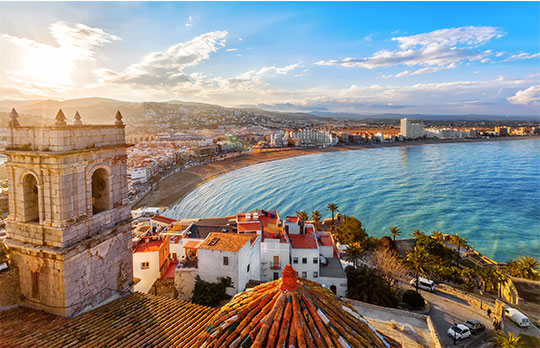 4. Alcala de Henares
Just 45 minutes northeast of Madrid via the A-2, Alcala de Henares beautifully blends history and culture (it's the hometown of Don Quixote author Miguel de Cervantes). Fancy staying somewhere retro? Try the atmospheric Parador de Alcala de Henares, a luxe hotel set in a 17th century former convent. Meanwhile, Plaza de Cervantes is a sublime city square that dates back to the 12th century and the famous Calle Mayor is a UNESCO-rated street which was formerly the heart of the Jewish community. If you're a foodie, top places to eat include La Taberna de Rusty, La Cupula and Restaurante Hosteria del Estudiante.
5. Valencia
4 hours' drive southeast of Madrid via the A-3, Valencia is a vibrant weekend city break destination you'll want to return to again and again. Top attractions include the cool contemporary City of Arts and Sciences Monuments (a complex that boasts an IMAX cinema, Europe's largest aquarium and more) and the Cathedral (said to contain the Holy Grail). The beautiful UNESCO-rated La Lonja building is also worth seeing and you simply must spend an afternoon taking a leisurely stroll around the ancient El Carmen neighbourhood.
6. Malaga
At 5 hours 30 minutes' drive south from Madrid via the A-4, Malaga is a bit of a trek for a weekend break, but it's definitely worth the effort and you can build in a rest stop at Manzanares to break up your journey. So what can you get up to in this famous seaside spot? Plenty, as it happens. Hotspots to visit include the Alcazaba of Malaga (a magical 11th century Moorish fortress) and the fabulous 15th century Gibralfaro Castle (you'll find the best panoramic city views here and see as far as the Strait of Gibraltar on a clear day). Don't miss the dramatic 1st century AD Roman theatre and head to the Picasso Birthplace Museum and Picasso Museum to learn about the superstar painter's life and inspiration while taking in some of his masterpieces.
Click here to compare car hire in Malaga
7. Bilbao
Fancy heading north for a weekend away? Bilbao is just over 4 hours away via the A-1 and it's a delightful destination on the Bay of Biscay. A top destination if you're touring the Basque Country, it's a creative and historic hub where the more you discover, the more there is to learn. Top attractions include the Guggenheim Museum (as gorgeous outside as inside), charming Casco Viejo old town with its colourful retro buildings, and dramatic San Juan de Gaztelugatxe coastline around an hour's drive from the city centre.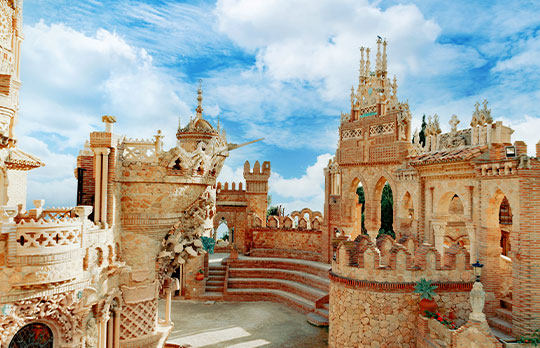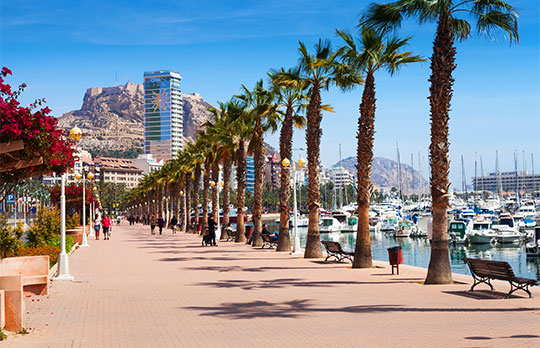 8. Alicante
4 hours 10 minutes from Madrid via AP-36 and A-31, Alicante is another brilliant destination when you want sun, sea and sand. Apart from the beautiful beaches, top things to see in the capital of the Costa Blanca include the commanding Santa Barbara castle perched on top of Benacantil mountain, magnificent marbled Explana de Espana promenade and MARQ archaeological museum. Don't forget to explore that magical hillside Casco Antiguo district before you leave.
9. Zaragoza
3 hours and 30 minutes from Madrid via the A-2, Zaragoza is always an exciting place to spend a weekend. Another fascinating historical hub, attractions include the Roman forum, thermal baths and theatre (the town is named after Cesar Augustus). But that's not all – there's also a spellbinding 12th-Century Moorish palace, the beautiful Santa Maria Magdalena church and the UNESCO-listed San Pablo Mudejar architecture.
10. Pedraza
Last but least, your final weekend trip takes just an hour and 40 minutes' drive north up the A-1 to Pedraza. Officially designated a Historic-Artistic Site in 1951, the central square in this Castilla y Leon village is one of the region's most beautiful and it's overlooked by a commanding castle on the outskirts where renowned artist Zuloaga once had a painting studio. The noble insignias on the walls at Calle Real bear testament to Pedraza's powerful past and if horrible history is more your style, stroll around the medieval prison's dungeons and torture chambers – if you dare!