Top 10 Zurich Road Trips
Mount Titlis
Rhine Falls
Lucerne
Lauterbrunnen
Jungfraujoch
Chur
Lichtenstein
Winterthur
Lake Constance
Stein Am Rhein
Zurich might be near the end of alphabetized lists of holiday destinations, but it's top-notch when it comes to things to see and do.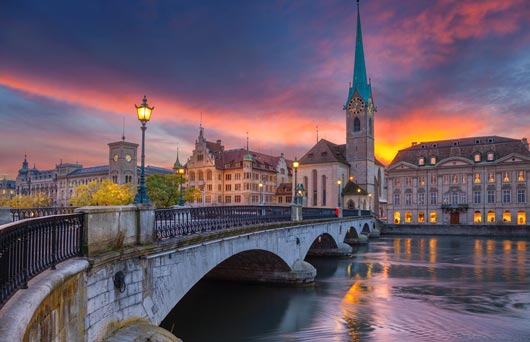 Swithering over a Swiss trip?
Nestled between river and lake, this culturally pulsating city is a brilliant place to live and visit, as well as being Switzerland's biggest and richest metropolis. A major European financial centre, its reputation for culture has grown steadily over the past few decades and its now one of the world's trendiest cities, showcasing its hip credentials in an arty, colourful and vibrant Street Parade each summer.
10 of the best scenic drives from Zurich
Zuri-West is the hotspot for nightlife here and many old factories and industrial buildings have been reclaimed and revamped as cultural hubs, clubs, restaurants and apartments. Meanwhile, its ancient town centre has been wonderfully well-preserved and is characterised by snaking lanes and sky-scraping church steeples.
The countryside around Zurich is stunning too and there are hilltop villages and lakeside retreats aplenty, as well as noble towns and pretty villages – magnificent mountains are never far away and it's the ideal area to explore by car. Renting a car in Zurich is easy with Enjoy Travel and you can find a superb deal on your ideal model in a few clicks, whether you need a 7-seater for your extended family, an SUV for exploring rugged terrain or a chic convertible for posing downtown. Whether you want to pick up your ride at the airport or at a convenient city location or nearby town, the choice is yours and the earlier you book, the better chance you've got of grabbing a jaw-dropping bargain.
Whatever your Zurich car hire needs, Enjoy Travel takes care of them swiftly and securely – leaving you with nothing to do except have a fantastic time!
Tips on driving in Zurich
We'll soon be getting stuck into your Zurich driving tips, but first let's take a look at a few refresher facts on driving in this well-organized city.
The same general rules of the road apply in Zurich as elsewhere in Switzerland – for instance, you should always give way to public transport, including police, ambulances and fire engines as well as buses and trams. Watch out for roundabouts in and around the city and please be aware than on many thoroughfares you'll be sharing the road with bicycles, so give them the space and respect they deserve.
You have to be 23 or 25 to hire a car from many rental companies here and those who hire to younger drivers will impose a surcharge. The same speed limits of 75mph for motorways and 50mph for highways and country roads applies in Zurich, with a 31mph limit in residential areas that drops to 20mph and even 12mph in some zones near houses and schools.
If you're driving in winter, please adjust your speed and be extra careful – while at any time of year you should also be aware of livestock or wild animals on the road in rural areas.
Now that we've caught up with a few solid Zurich driving tips, let's get moving with your 10 epic road trips!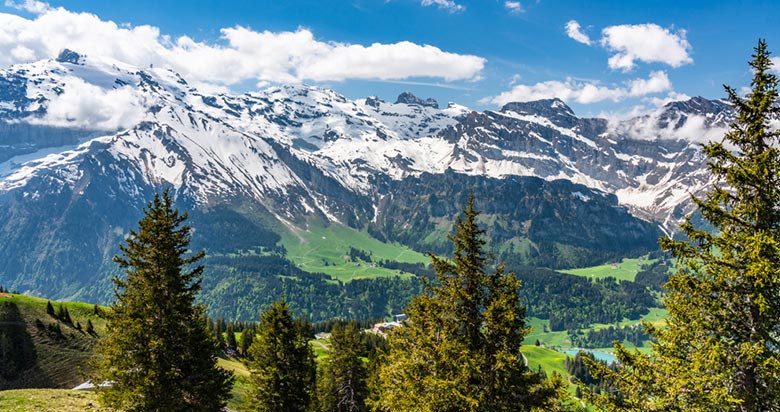 1. Mount Titlis
A terrific day trip from Zurich whether you're taking to the slopes on your skis or snowboard, or simply want to take in awesome views and fresh mountain air, Mount Titlis tops many people's Zurich road excursion destinations. It's over 3,000m high and if you've got a head for heights, you can take the Titlis Cliff Walk suspended 500m in the air, visit the 5000 year old glacier cave and take the cable car right to the peak.
Getting there: Mount Titlis is around 1 hour 20 minutes from Zurich via the A4.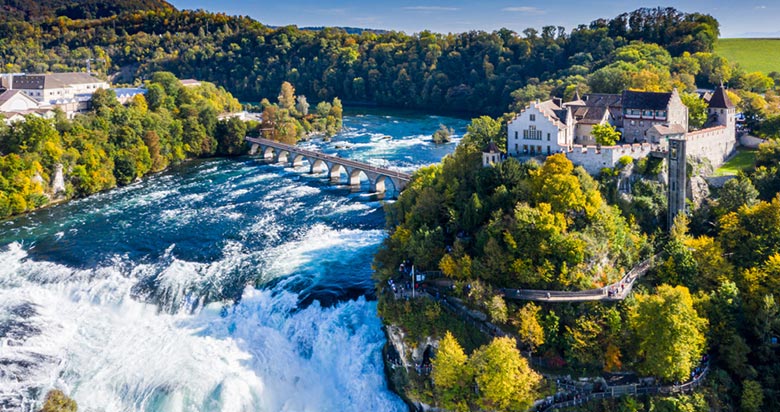 2. Rhine Falls
When it comes to natural phenomena, it doesn't get much more impressive than the Rhine Falls. Europe's largest waterfalls, they're overlooked by Schloss Laufen, just outside the city of Schaffhausen. Wear your waterproofs and take a boat out to the middle of the falls to feel their extreme power at close hand.
Getting there: Rhine Falls are 40 minutes from Zurich via the A1/A4.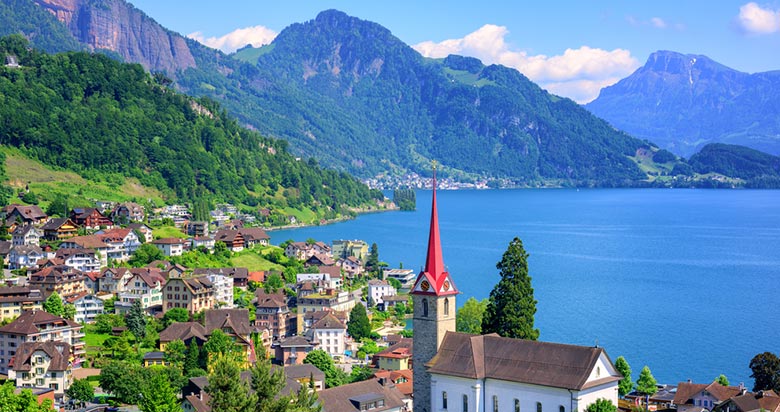 3. Lucerne
This stunning lakeside city is set on the shores of the sublime Lake Lucerne, with a dramatic Alpine backdrop as the scenic cherry on the cake. The Old Town is located on the River Reuss and here you'll find the famous wooden Chapel Bridge and terrific traditional architecture, while the Lion Monument at the city walls commemorates Swiss Guards who were killed during the French Revolution.
Getting there: Lucerne is 50 minutes from Zurich via the A14.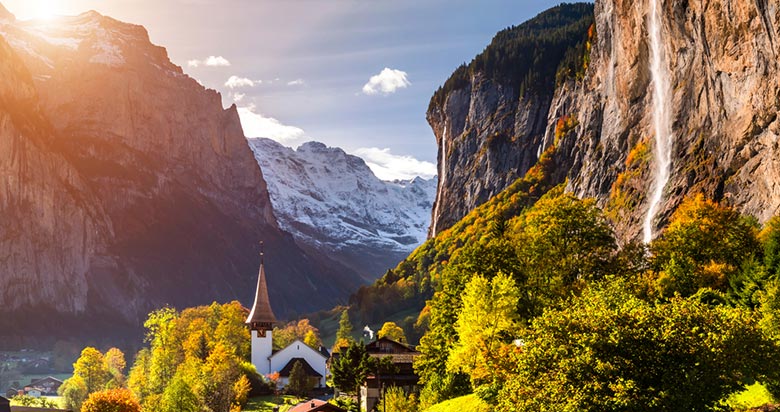 4. Lauterbrunnen
A picture-postcard village full of charming chalets set on rolling pastureland, with cliffs and snow-capped peaks in the background, Lauterbrunnen is situated on the valley of 72 waterfalls and the site of the Staubbach Falls which inspired Lord Byron to put quill to papyrus. If you're a nature lover and keen on hiking and climbing, this easy day trip from Zurich is a must.
Getting there: Lauterbrunnen is two hours from Zurich via the A8.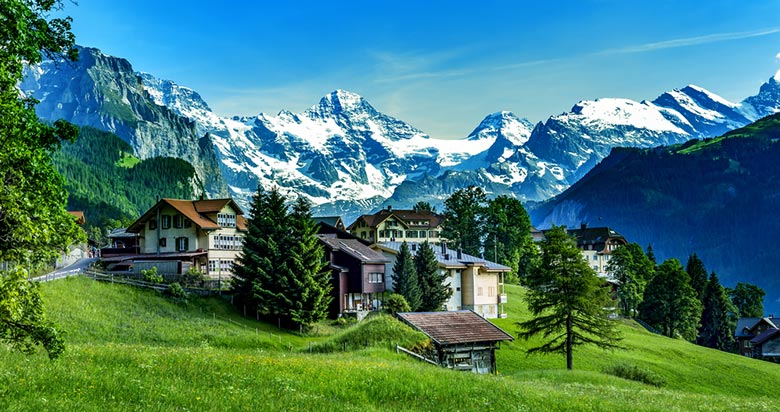 5. Jungfraujoch
Jungfraujoch is a reasonably long drive from Zurich (an overnight stay is perhaps preferable) but when you're 11,332ft in the air in this mountain wonderland, you'll know it's worth it. From the top you can see the amazing 14-mile long Aletsch Glacier and as far as Germany's Black Forest on a clear day. This is the spirit of Switzerland distilled.
Getting there: the drive from Zurich to Interlaken takes 1 hour and 45 minutes, then hop on the train for 30 minutes to reach Jungfraujoch.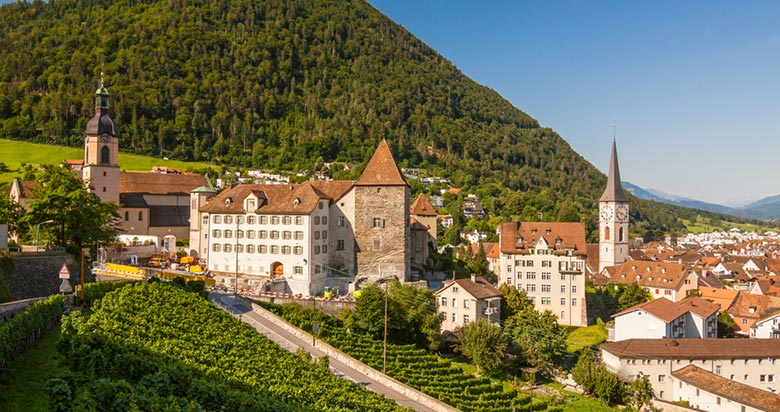 6. Chur
This is Switzerland's oldest city, so a trip to Chur is a step back in time amidst ancient, whitewashed buildings, terracotta rooftops and towering spires. This is also the gateway to the Rhine Gorge, with its roaring waterfalls, dense woodlands and striking cliffs – ideal if you love the great outdoors.
Getting there: Chur is one hour and 20 minutes from Zurich via the A3.
7. Lichtenstein
A miniature nation nestled between Switzerland and Austria, Lichtenstein sits amongst mountains peeking over the Rhine. It's characterised by castles come alive from a fantasy novel, labyrinthine hiking trails and ski slopes, and wild, rugged terrain beyond Vaduz – this is a day trip with a difference which you won't forget it in a hurry!
Getting there: Lichtenstein is just one hour and 25 minutes east of Zurich via the A3.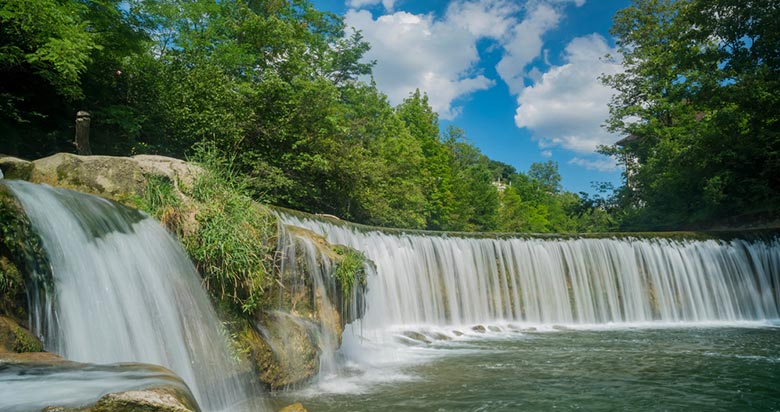 8. Winterthur
A short skip from Zurich, Winterthur is a worthwhile trip if you're a culture vulture and pleasing to the eye too, with its cliff-edge castles and pastel-tinted townhouses. Oskar Reinhart's amazing art collections are located here, and its pretty pedestrianised town centre is packed with cool cafes and chic boutiques.
Getting there: Winterthur is just 25 minutes northeast of Zurich via the A1/A4.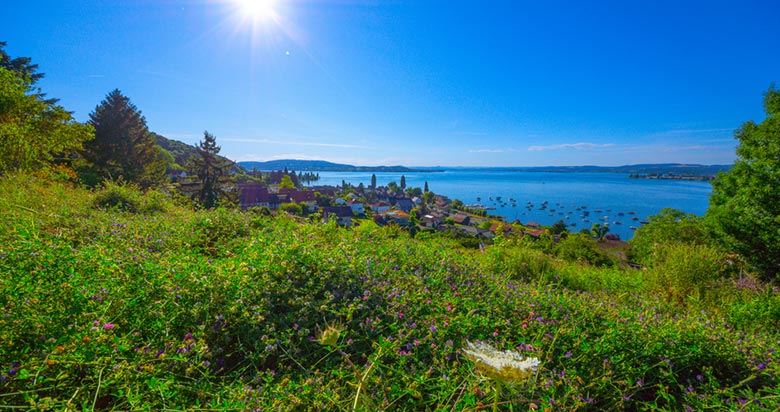 9. Lake Constance
Straddling the border between Switzerland, Austria and Germany, Lake Constance is the their-biggest lake in Central Europe and its vast size has earned it the nickname 'Swabian Sea'. Take a leisurely drive along its shores and you'll find beautiful private beaches and charming villages full of cafes serving tasty snacks and refreshments.
Getting there: Lake Constance is one hour and 35 minutes from Zurich via the B31.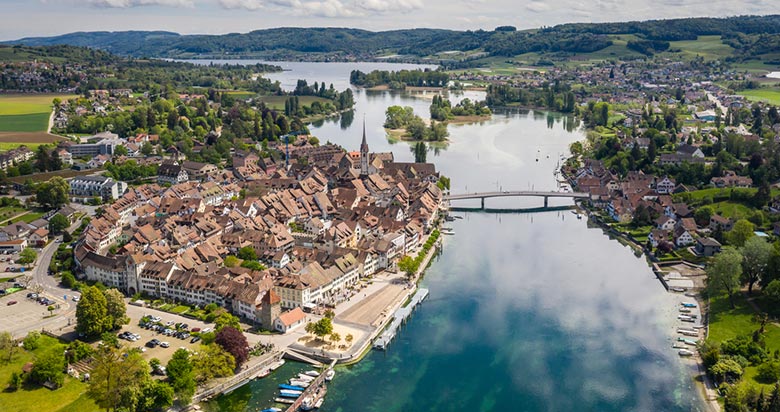 10. Stein Am Rhein
A delightfully bustling town in eastern Switzerland, Stein Am Rhein is renowned for its remarkably well preserved Old Town replete with old-fashioned timber-frame houses, amazing Medieval monastery complex, and legendary leisure areas like the Werd Islands. Another highlight is Hohenklingen Castle and archaeology fans can see the remnants of an aeons-old church dedicated to John the Baptist in the ruins of the Roman Tasgetium fortress circa (3rd century AD). With plenty of undulating countryside to explore on the outskirts, this is a wonderful Zurich road trip.
Getting there: take the Hauptstrasse from Zurich to reach Stein Am Rhein in 55 minutes.
It's evident that Zurich is not only a first-class destination for a vacation or trip, but also a brilliant base for a road trip to some of the most spectacular scenery in Switzerland and beyond.
With a vast fleet of vehicles available from a range of trusted local, national and international car hire partners at Enjoy Travel, a Zurich road trip break has never been easier – simply book online, hop in your ride on arrival and get rolling!