Top 10 Road Trips in Norway:
Atlanterhavsveien
Aurlandsfjellet
Senja
Eagles Road
Trollsteigen Pass
Valdresflye
Hardanger
The Lofoten Islands Road
The Jaeren Road
Rondane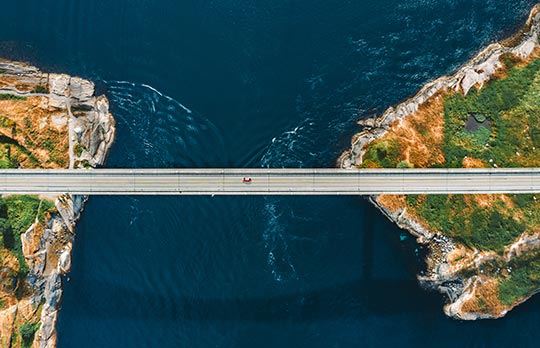 10 best scenic trips in Norway
Dramatic fjords so deep that they seem to disappear into the centre of the Earth. Rugged snow-dusted mountains. The chameleonic lights of the Aurora Borealis. All in all, there's perhaps no other nation in the world as well-suited to road trips as Norway. From barren Artic to bustling towns and cities, this country doesn't do things by half – if you're planning a staycation here, you're making a great move.
Fond of animal attractions? If you like the wild side of life, you're in the privileged position to experience captivating creatures like Arctic foxes, wild oxen, reindeer, moose, puffins, walruses and even polar bears. And naturally, if you like skiing, snowboarding and white water rafting, all these activities and many more are available. In other words, the great outdoors doesn't get much greater.
And when you need to balance your outdoor adventures with fine dining, retail therapy and urban culture, the good news is that Norway's cities are warm, welcoming and sophisticated. From chic capital Oslo to stunning Ålesund , Trondheim and Bergen, you'll find a fabulous mix of old world charm and cutting-edge contemporary design.
Norway has also emerged as a great country for cuisine too – over the past few years it has successfully swapped the previously drab reputation of its food for a modern, trendy cuisine scene focused on fresh locally-sourced produce. From seafood and fish to high-grade meats and tasty veggie options, there's something to satisfy every palate and whether you prefer fine dining, cosy cafes or delicious street food, you're in for a real treat.
Excited about your Norway road trip yet? You should be!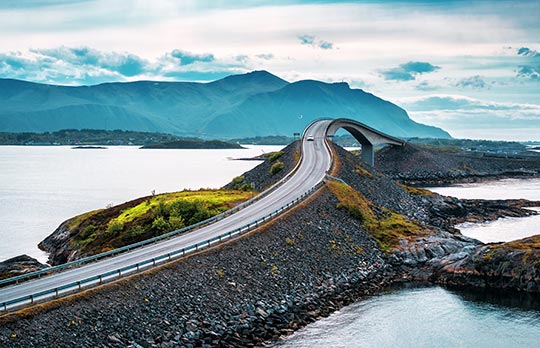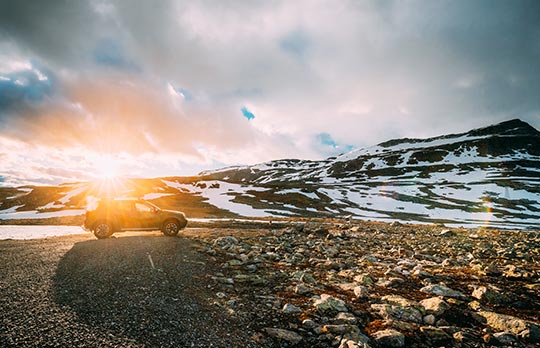 Top tips on driving in Norway
Has all this talk of fjords got you clutching your car keys already? Hit the breaks for one minute – let's take a quick look at some no-nonsense Norway driving tips.
First off, remember to drive on the right of the road and keep you're dipped headlights switched on 24/7, 365. In terms of speed limits, this isn't the place for boy or girl racers. Stick to 30km/h in residential districts, 50km/h in built-up areas, and 80-90km/h on motorways.
Watch out for yellow diamond road signs. Whatever category of road you're on, they signify that all traffic from your right hand side has right of way. And a word about tyres – in the winter (from 1 November) you've got to use winter tyres on your vehicle.
Now let's get into gear for your best Norway road trips. We bet you can't wait to start your engines!
Atlanterhavsveien
Also known as 'The Atlantic Road' or 'The Road Across The Sea', Atlanterhavsveien is a 36km joyride over twisting bridges that connect the reefs and islands of windswept Hustadvika Bay. If you want to experience a masterpiece of modern engineering set in some of the wildest natural scenery anywhere, you're in for a treat. Travelling from Karvag to Bud, you'll drive through crashing waves, past dramatic crags and over expansive moorland. Remember to wind your windows up as there are some bridge stretches here where the surf literally washes over your car. There's only one word for this rollicking road trip. Wow.
Aurlandsfjellet
Rather romantically known as 'The Snow Road Between The Fjords, this compact but captivating road trip takes you from Aurlandsvangen to Laerdalsoyri, skipping from Fjord to Fjord across a stark mountain snowscape with an unbeatable view of Aurdalsfjorden as your ultimate reward. Highlights include villages like Flamsbana and Naeroyfjorden, as well as the 24.5km Laerdal Tunnel – the world's longest road tunnel. Driving over and through mountains makes this one of Europe's most special road trips – it's hard to think of anywhere that there's anything like it.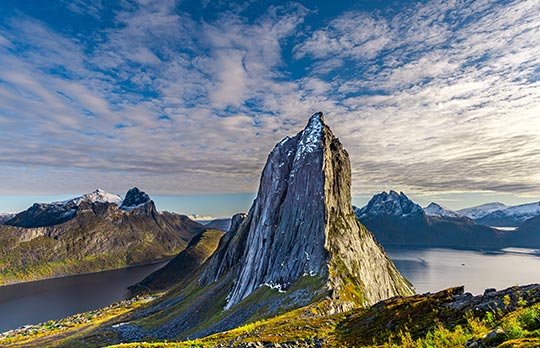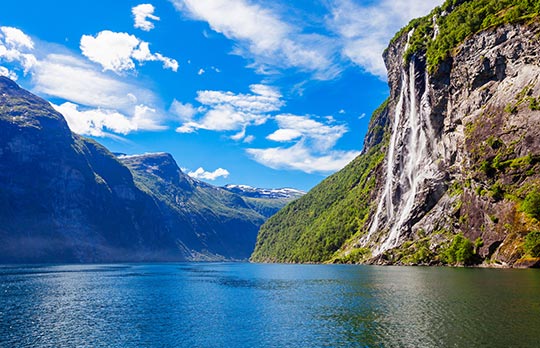 Senja
Drive this 101km road trip between November and March and there's a good chance you'll see an eye-popping view of the Northern Lights electrifying the sky and reflecting their ravishing hues on the water and snow-capped mountains. Winding its way between Gryllefjord and Botnhamn on Senja island, you'll pass isolated villages and experience amazing views around every corner. For a taste of the real rural Norway, Senja takes some beating. Give it a whirl – you won't regret it!
Eagles Road
In a nation with more fjords than you can shake a hiking stick at, Geirangerfjord is the most famous. And just to add to its mystical allure, you've got to drive along the steepest mountain-side thoroughfare in Norway – Eagle's Road. Reaching a giddy 620m above sea level via sharp twists and turns, you'll see some fab views of the fjord and you can also pop into the welcoming Knivsfla mountain farm. This is a challenging road that should probably only be tackled if you're an experienced driver.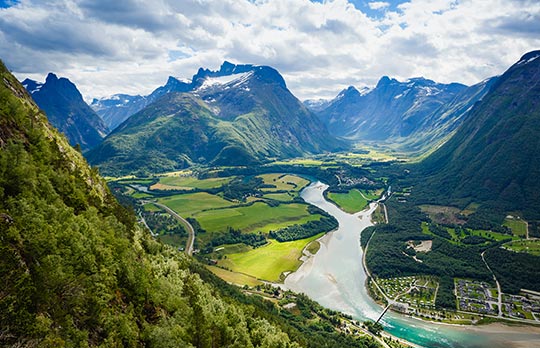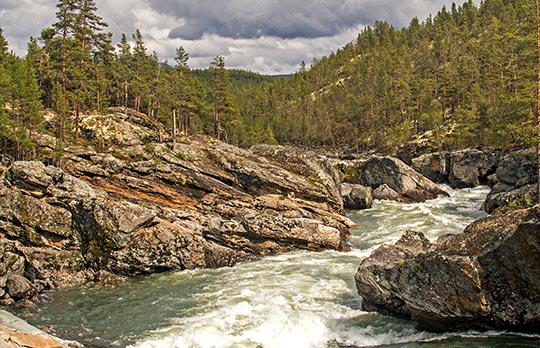 Trollsteigen Pass
If you're thrill-seeking appetites haven't been satisfied on Eagles Road, try the fierce 40km Trollsteigen Pass, which stretches between Andalsnes and the Trollsteigen visitor centre. Comprising 11 challenging hairpin bends that pinball you up to 850m, the pass should only be tackled by experienced, confident and cautious drivers. You'll be climbing over a sheer rock face punctuated by the Stigfossen waterfall, so it doesn't get more striking. From hairpin bends to pounding falls – if that doesn't sound thrilling, we don't know what does!
Valdresflye
How much fun and adventure can you fit in a 49km road trip? Plenty, as it happens – as the Valdresflye road route ably demonstrates. Located at the gateway to Jotunheimen, and running from Garli to Hindsaeter, this superbly scenic route takes you over hill, down dale and past some legendary landscapes. Please note that the section of the road between Garli and Maurvangen is closed during the winter and the entire road is usually closed between December and April (when it becomes impassable). If you have a thirst for adventure, Valdresflye will quench it very capably.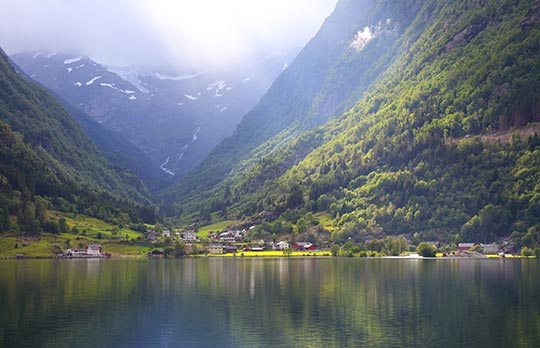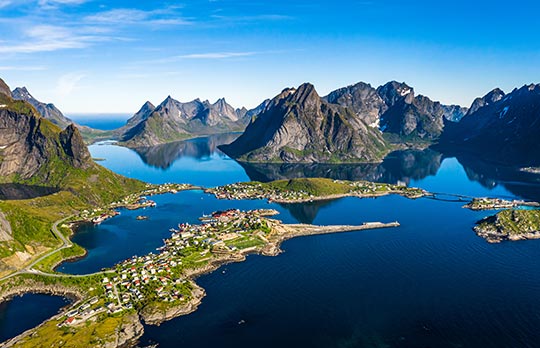 Hardanger
The epitome of picture-postcard Norway, Hardanger is permeated by dreamy pastures, wild waterfalls, rich fruit-growing terrain and the Hardangerfjord – the world's fourth-longest. To make the best of this jaw-dropping region, take a 157km road trip between Granvin village and Latefoss waterfall. The route includes two ferries (at Torvikbyg and Kinsarvik )and you should give yourself around five hours to complete it in comfort.
The Lofoten Islands Road
Lofoten is an otherworldly archipelago in the far north of Norway where you'll see vertiginous sea cliffs, dark fjords, sublime beaches and ancient villages. Despite it being inside the Arctic Circle, the climate is surprisingly mild and the whole network of islands and islets is connected by the 230km Lofoten Road. If you were entering a race, you could complete this route in a few hours, but since you'll want to stop off at the most spectacular spots, allocate 2-3 days to absorb the magic – it's time well spent.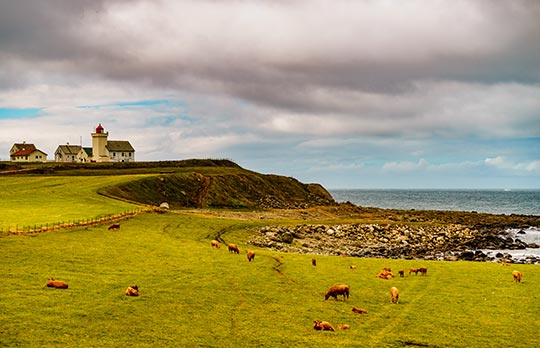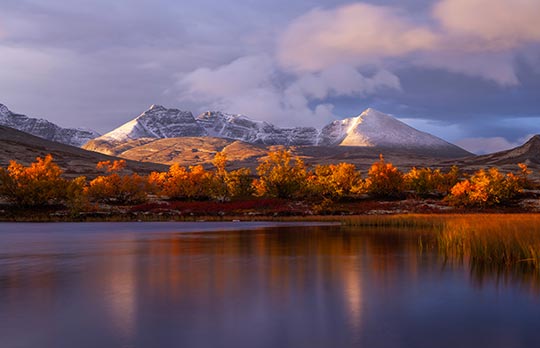 The Jaeren Road
Switching your focus to south Norway, the Jaeren Road stretches for 41km between Ogna and Bore and takes you past some of the sweetest scenic spots in the area. For instance, the famous Kvassheim lighthouse sits just down the road from Ogna and your next stop Orrestrandra boasts one of Norway's best beaches. At your last stop, Bore, there's another excellent beach that's 3km long and highly rated by locals and visitors alike. And there you have it – the Jaeren Toad really is a must-drive.
Rondane
Norwegian Scenic Route Rondane runs for 75km from Venabygdsfjellet to Folldal and Sollia Church to Enden. The Rondane National Park contains many peaks that reach over 2000m and the quality of the light reflecting over the snow gives them a distinctive blue hue. This landscape has been beloved of writers and artists for generations – when you experience it yourself, you'll understand exactly why it's a magical muse for creators. Take a leisurely drive along this route and let your imagination run wild.
So what do you think? Is Norway the world's best country for road trips? These 10 adventures should convince you that it's at least a serious contender.
If you're convinced that this Scandi nation is the perfect staycation destination, hire a car from us in several pickup locations and get ready to roll.
With a wide choice of vehicles from trusted national and international car hire partners, you can find your perfect ride in a couple of clicks!