Top 10 Road Trips in Austria
Vienna to Innsbruck
Gerlos Pass
Vienna to St Gilgen
Grossglockner High Alpine Road
Goldeck Panoramic Road
Vienna to Carinthia
Villach Alpine Road
Nockalm Road
Salzburg to Fieberbrunn
Vienna City Route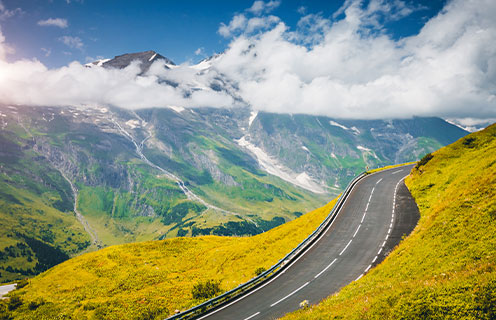 10 best scenic road trips in Austria
So you're off to Austria? Whether you're travelling for business or pleasure, it's sure to take pride of place amongst your dream destinations. No matter if you're driving through deep valleys, winding through mountain passes or threading between lakes, the scenery is simply superb. Visit in the winter and you might want to swap four wheels for skis or a snowboard, while warm summers are ideal for hiking, cycling, white water rafting. And you can also choose or gentler pursuits like strolling through scented meadows or getting to know elegant cities and towns like Vienna, Salzburgh, Feldkirch, Innsbruck and Hallstatt.
Austria's urban centres also host an embarrassment of cultural riches, thanks to the Habsburg dynasty's interest and investment in anything arty or musical. Their lasting legacy can be seen in amazing museum collections showcasing the works of Klimt and Rubens, as well as opulent music halls and outdoor festivals like Bregenzer Festpiele, where outstanding orchestras belt out the classical hits of Haydn, Schubert and Mozart. But you might prefer to simply wander amidst the Baroque palaces, enjoy fine food and wine in wonderful restaurants, or sit in kerbside cafes and watch the world go by.
Hire a car in Austria from Enjoy Travel and you can choose a pristine model that's perfect for your requirements, then city hop and tour the countryside under your own steam – embracing the magic of Mitteleuropa has never been easier!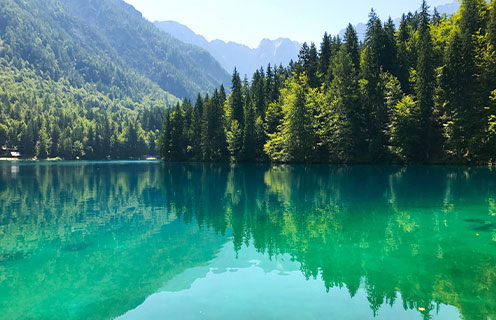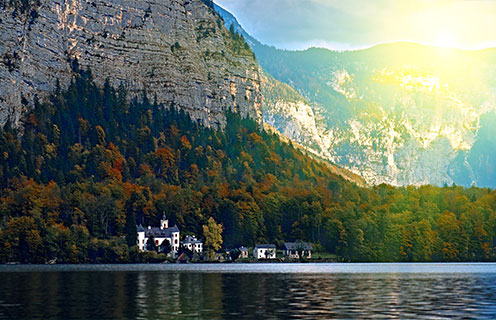 Top tips on driving in Austria
We'll get rolling with your top 10 scenic road trips soon, but first let's take a look at a few trips on driving in Austria.
You have to be 18 to hire a car here, although some car hire partners may impose a higher minimum age limit. You'll need a full, valid UK driving license and a second form of photo ID like your passport.
Drive on the right hand side in Austria and always wear your seatbelt. The national speed limit on motorways is 130km/h, it's 100km/h on main roads outwith built-up areas and 30km/h-50km/h outside built-up areas.
Drink driving is strictly forbidden and the 0.049% limit is lower than in any of the constituent UK nations.
Your ideal hire car choice will depend on your itinerary and the requirements of your party, but if you're heading out into the countryside, some drivers like the commanding position of an SUV or 4WD.
Now let's get cracking with those road trips!
Vienna to Innsbruck
If you've got four or five days to spare, driving from Vienna to Innsbruck via Berchtesgaden takes you through three lovely Austrian cities and miles of spectacular countryside. After rolling out of the capital, the three hour trip through Berchtesgaden to Salzburg takes you past sublime Lake Konigsee and several steep mountain trails. After spending time soaking up Salzburg, take the A-12 to Innsbruck via the scenic Ziller Valley. You can flex the amount of time in each stop to stretch or minimise the duration – the choice is yours.
Gerlos Pass
The Gerlos Pass may just be 18km long, but this scenic high mountain road between Konigsleiten and Wald im Pinzgau is one of Austria's most eye-popping. Tracking through awesome Alpine scenery on the Salzburg and Tyrol border, there's a particularly exhilarating section where you'll roll into a tunnel and pop out on a mountain top and another iconic spot overlooking the thundering Krimmler Wasserfalle. You'll need a pre-paid pass to drive the road, it's not open in the depths of winter and isn't suitable for large vehicles like campervans – drive safely and enjoy the ride.
Vienna to St Gilgen
This three hour road trip is one of Austria's most popular and once you see St Gilgen's gorgeous lakeside setting, traditional wooden buildings and tree-lined slopes, you'll understand why. If you want to hang around, the 14th century Gasthof Zur Post is comfy and atmospheric and the Zwoelferhorn cable car affords awesome views across Wolfgangsee Lake. For a laid-back weekend trip, this takes some beating and don't be surprised if you're so captivated that you decide to stay for a few days.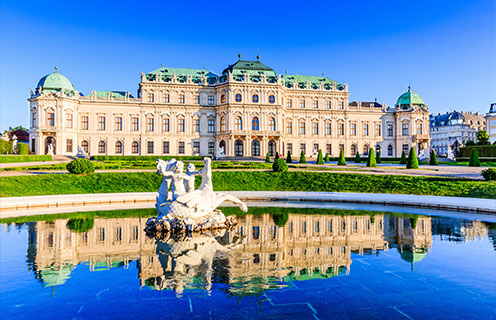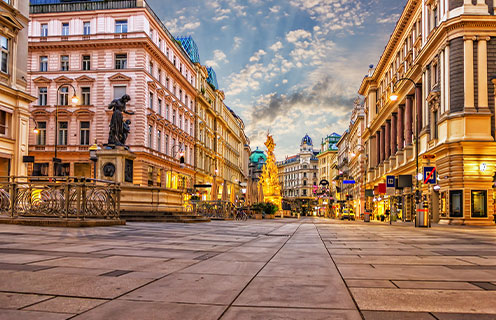 Grossglockner High Alpine Road
Also known simply as the High Alpine Road, this route takes you from Salzburg to Carinthia via the sublime scenery of the Hohe Tauern National Park and features no less than 40 mountain peaks. With a high point of 2504m, the scenery really stops you in your tracks, so be sure to drive slowly and pull up at safe stopping points to take it all in sensibly. As well as the amazing Alps, this twisting road takes you past lakes, meadows and cliffs – there really is something for everyone.
Goldeck Panoramic Road
If Alpine meadow scenery floats your boat, this 14km route from Schwaig to Goldeck fits the bill perfectly. Reaching 1895m at its peak, the tight tarmac turns take you past blooming wildflowers, rustic farmhouses, rushing mountain streams and ginormous hardwoods clinging on to steep hillsides. The best photo opportunity is snapping the view down to Lake Millstatt's mirrored surface, but there's something stunning around every turn, so take your time and enjoy the rarefied air and awe-inspiring views. This is a road trip that certainly lives up to its name.
Vienna to Carinthia
This 3 and a half hour road trip from Vienna to Carinthia showcases one of Austria's greatest hidden gems and includes dramatic mountains, serene lakes and vast valleys. Highlights include Lake Worthersee and the picture postcard town of Klagenfurt, the historic Hochosterwitz Castle, and the charming castellated villages of Gmund and Friesach. There are plenty of superb spots to stay overnight but it's a manageable day trip if you set off early in the morning.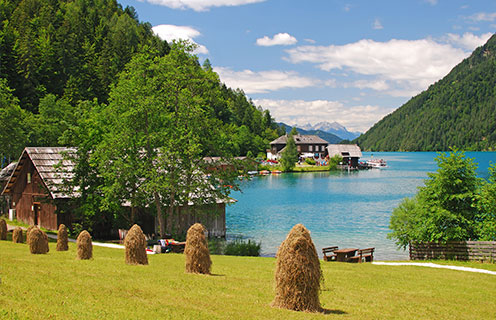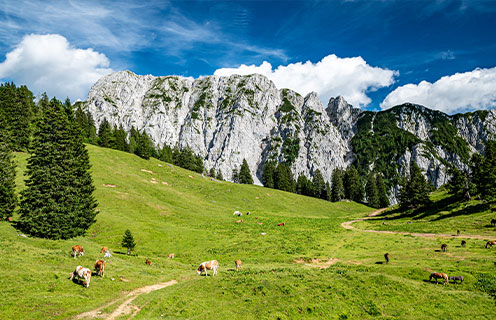 Villach Alpine Road
Covering 16.5km of mind-blowing mountainside hairpin bends, the Villach Alpine road runs between Villach-Moltschach and Rosstratte. One for experienced drivers, it rewards you with wonderful views of the Julian Alps and Slovenia, with a top altitude of 1200m. Stop for lunch at the legendary Rosstratte restaurant at the top, fuel up with specialty cheese noodles and stretch your legs in the scenic gardens before taking your time on the ride back down.
Nockalm Road
This 34km stretch between Innerkrems and Ebene Reichenau includes sweeping vistas, steep climbs and forest glades, making it a favourite of motorcyclists. But spots like the lavender-scented Nockberge Biosphere Reserve are just as awesome on four wheels and you can stop off at the Tangernerhutte for cheese and schnapps (for non-drivers) or the Karlbad spa for a dip in the mineral-rich waters. Bring your bathing costume and build enough time into your itinerary to soak up the atmos at your leisure ‐ there's no rush.
Salzburg to Fieberbrunn
If you're travelling with kids in tow, the 75km trip from Salzburg to Fierberbrunn is one of Austria's most rewarding for families and it's much more relaxing to include an overnight stay. Visit in the summer if you want to sample the delights of Timok's Wild World, a thrilling mountainside theme park with a lake assault course, rope climbing setup, bouncy castle and activities like reindeer petting. Bigger kids also love the alpine coaster coast – a track-bound luge that whizzes down to the valley floor and you can find reasonable accommodation at the Fierberbrunn ski area.
Vienna City Route
When you want to see the best of the Austrian capital by car, this 16km route ticks every tourist box. Starting in Karlsplatz and finishing in Liesing, the Vienna City Route includes highlights like the Secession Gallery, Albertina art museum, Spanish Riding School, MuseumsQuartier. Then heading southwest, you'll cross the Ringstrasse and track through the Viennese suburbs and vineyards before reaching Liesing, where there's a brilliant Brutalist chapel perched on the mountainside and plenty of places to treat yourself to a coffee and pastry before heading back into town.
And there it is – a decathlon of delightful road trips that enables you to discover the beauty of one of Europe's cultural capitals and the world's most beautiful countries.
Hire a car in Austria from Enjoy Travel and choose your ideal vehicle from a range of top providers – then simply pick it up where it's most convenient and head off on your adventure.