Cannot decide whether to choose Agadir Vs Marrakech
Agadir and Marrakech are great city break destinations in Morocco. Agadir is famous for its chilled vibe, beach life and large street market. Marrakech on the other hand is known for its history, culture and medina. Each city has its own charming character but offers visitors totally different experiences. But which experience is right for you? If you need help choosing between Agadir and Marrakech, our city by city guide will make the decision easier.
Agadir or Marrakech: How to Choose Between the Two
Is Agadir or Marrakech better?
Agadir is a resort destination along Morocco's southern Atlantic coast. It is an incredibly popular destination for a winter sun holiday and it is warmer here in the winter than it is in Marrakech. The vibe is laid back beach lifestyle and the pace seems slower when compared to Marrakech. However, that certainly doesn't mean that it is boring! There are plenty of lively beachfront bars, pubs, clubs and restaurants and there is plenty to do out on the water, for instance, jet skis, surfing and sailing tours. There are some nice attractions for nature lovers and a handful of interesting museums. The city feels safe and welcoming and is an ideal family destination and is popular with surfers too.
Marrakech is located in southwestern Morocco and is a very popular city break destination. It is a busy and chaotic city which gives the place a great buzz and vibe. It is the third-largest city in Morocco, and with that comes all the visitor attractions you would expect from a big city. There are plenty of cultural institutions and sites, spas and baths, and lots of souks and shops. Marrakech is steeped in history too. The historic medina with its warren of winding alleys originates from the 11th century, no wonder it is a UNESCO World Heritage Site. But one of the best things about Marrakech is the street life. It is a wonderful city to just roam and relish in the scenes of everyday life that unfold before you. You don't have to do much to enjoy the city, but if you want to, there is plenty to do.
In terms of population, Marrakech is twice the size of Agadir, so if you are looking for a city with a more intimate feel, Agadir might suit you better. However, if you are looking for lots of things to do and the buzz of a big city, Marrakech would be better.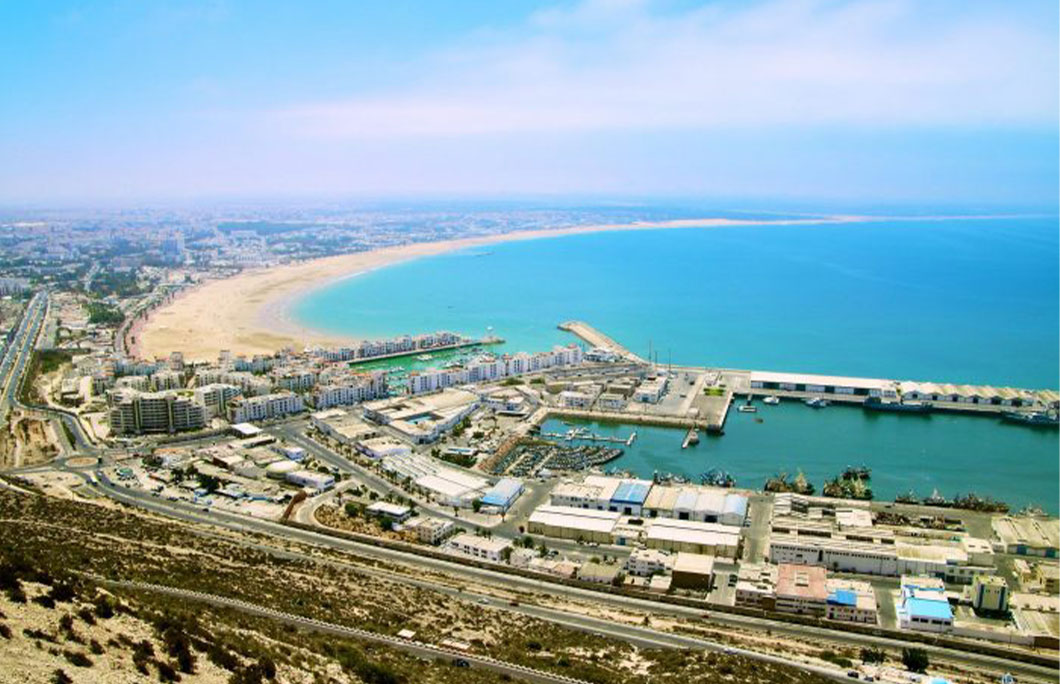 Things to do
Agadir
Most people come to Agadir for the good weather and the beach. The old city was almost completely destroyed by an earthquake in 1960 but was rebuilt. Therefore, this is a modern resort city with remnants of its past visible.
When it comes to things to do, hitting the beach and the water is top of most visitors' list. The city is well set up for watersports and excursions. The palm tree-lined beachfront has lots of bars and restaurants. From the main tourist area, where the hotels are located, everything is within walking distance.
From the beach, you can walk to the Kasbah (the old fortress) and the Royal Palace, although this is not accessible to visitors. Both are very lovely sights to visit and you get a panorama view from the Kasbah.
When it comes to museums, one of the most interesting is the Museum of Amazigh Culture (Musée Municipal du Patrimoine Amazighe d'Agadir). This is a great place to learn more about the Amazigh people (often called Berbers) and Morocco and its culture.
There is a small tourist train, which is great when your feet get tired. It takes you from the centre of Agadir around the sights, for instance, the beach and the rebuilt medina.
---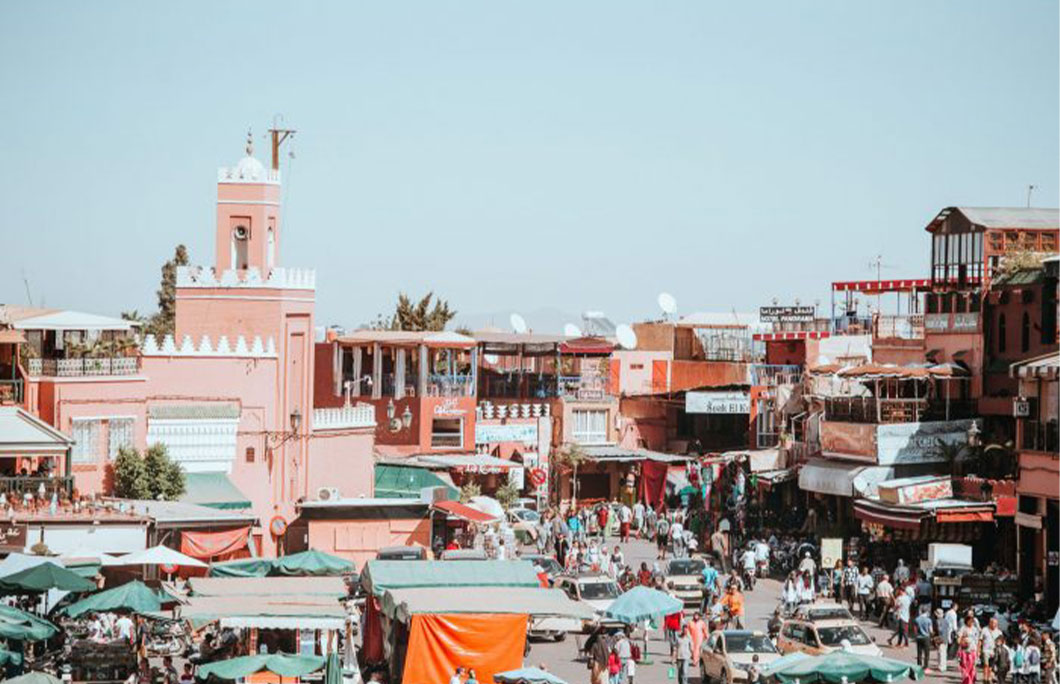 Marrakech
Marrakech is a dynamic city with an energetic feel. The city has a deep-rooted history, which can be traced back to the 11th-century. You can see the city's past in its glorious medina and souks.
The best thing to do in Marrakech is to get lost in the warren of winding streets in the medina. The medina is the old city and it is enclosed by 19km (11.8 miles) of ancient pink walls. It is simply stunning and brimming with stalls and souks and streetlife. Explore on foot and savour the sights, sounds and smells. Stop to admire the stalls and enjoy a mint tea and some dates in a cafe. Stock up on spices and ornate decorations and rugs. And don't forget to admire the beautiful Moroccan architecture.
When it comes to attractions, some of the most popular things to do in Marrakech include visiting the Saadian Tombs, Jardin Majorelle, the Musée Yves Saint Laurent and the Bahia Palace.
However, Marrakech is all about experiences and some of the best include enjoying a hammam (public bathhouse), taking a local cookery class, eating the local cuisine in the Jemaa el-Fna and taking a hot air balloon ride at sunrise.
---
---

---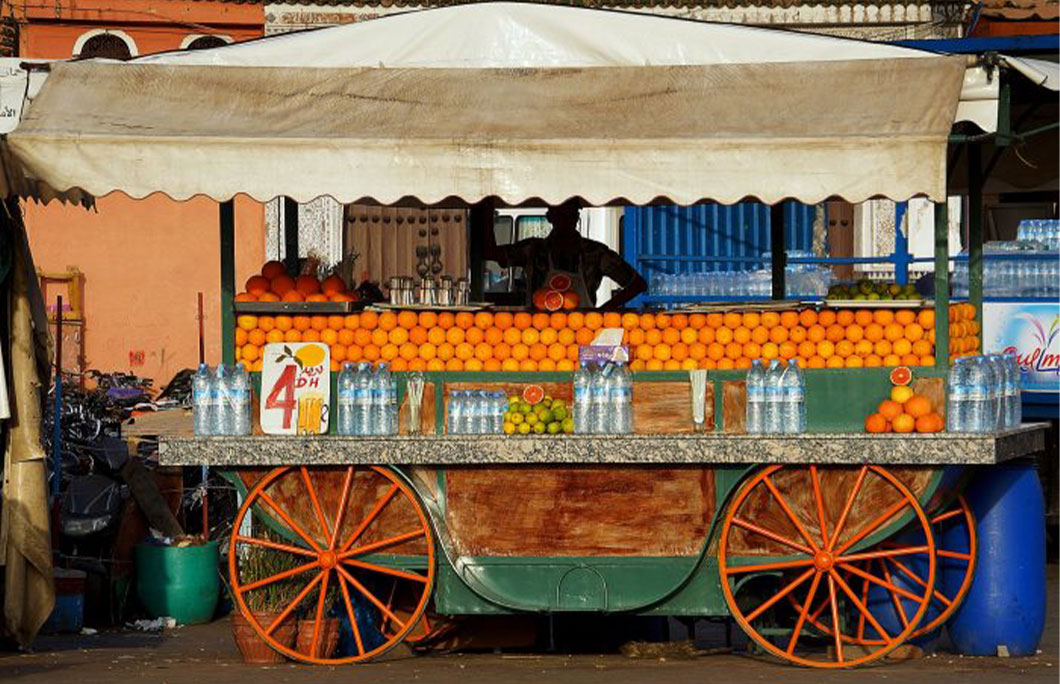 Food and Drink
Both Agadir and Marrakech have plenty of restaurants serving food from around the world. However, there are lots of great cafes and restaurants where you can try the local cuisine especially in the markets and on the street. Due to high taxes, alcohol is not cheap in Morocco however, coffee, mint tea and freshly squeezed orange juice are cheap and delicious.
In Agadir, head to Boulevard du 20 Aout for a good selection of restaurants. For more local joints, take a trip out to the residential area of Talborjt, where prices are cheaper. Make sure you try the local seafood with chermoula sauce.
When in Marrakech, the food stalls around the Jemaa el-Fna are quite touristy but do serve some great local dishes, for instance, couscous, tagines, pastillas and harira.
---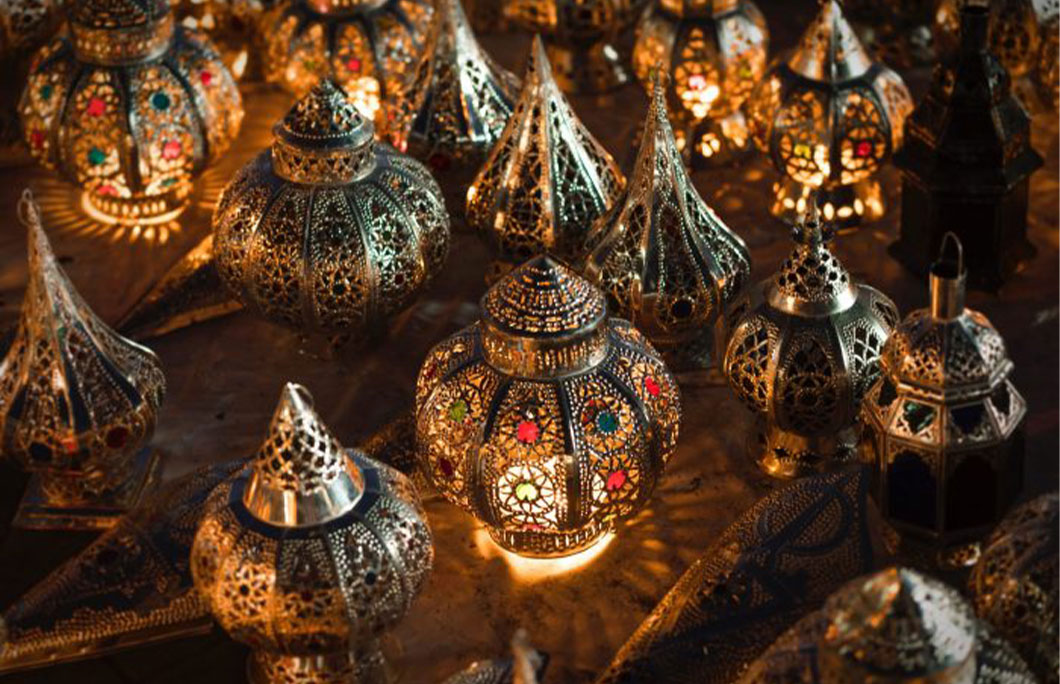 Shopping
In Agadir, most of the shopping takes place in the Souk Al Had street market, which is one of the largest in North Africa. It has over 6,000 stalls and this is a great place to shop and mingle with the locals. It is open every day except Monday and some stalls close on Friday afternoons.
In Marrakesh, the best places to pick up bargains are in the souks in the medina. There are souks for almost everything, including spices, olives, antiques, crafts, wools, silks, musical instruments and those ubiquitous brass lanterns.
---
Hotels
There is a wide selection of accommodation in Agadir ranging from hostels to five-star resorts. Most of the tourist accommodation is located along three parallel roads close to the beachfront. This area is known as the Touristic Zone. However, for somewhere a little less touristy, try the Swiss Village neighbourhood. For more higher-end beach resorts, the neighbourhood of Founty is good.
There is a huge selection of hotels in Marrakech to suit all budgets. You can stay in hostels, bed and breakfasts, hotels, apartments and large resort-style hotels too. Inside the medina, you can stay in a riad (traditional house), which gives you a real taste of Morocco. If you want to be in the heart of the action, stay in the medina. The Gueliz neighbourhood is a great area to stay when you want to be close to the medina but want a bit more space and fewer crowds. To be at the epicentre of Marrakesh nightlife, stay in the Hivernage area. For more modern, resort hotels, look for accommodation in the Palmeraie area.
---
---

---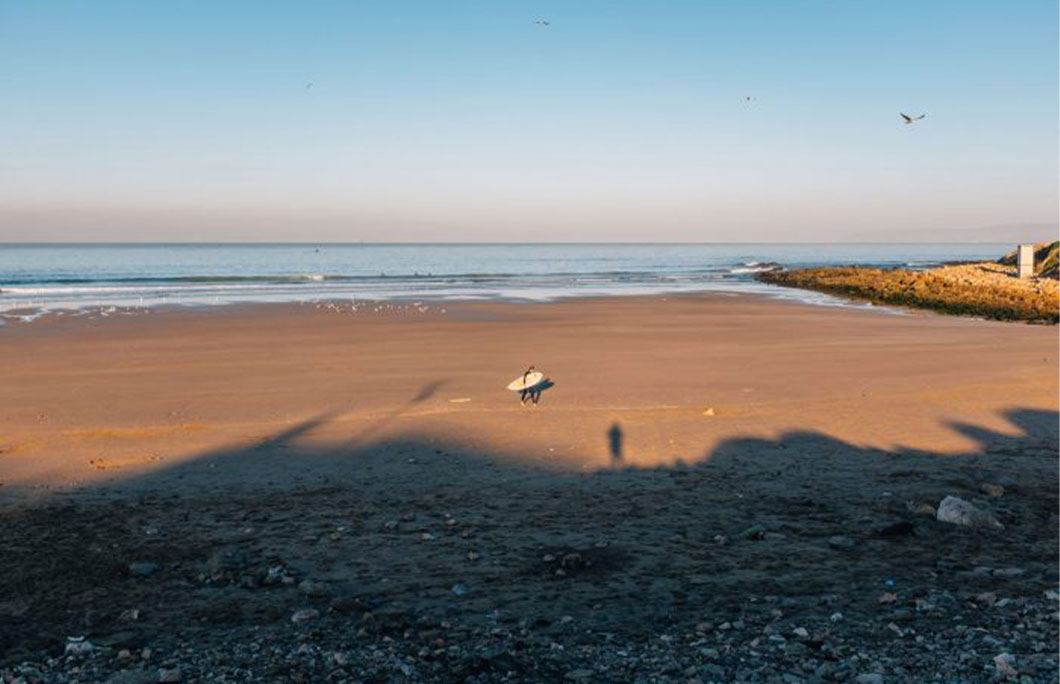 Weather
Agadir has around 300 days of sunshine a year. Its subtropical desert climate means summers are hot and dry and winters are warm. It is warmer in Agadir in the winter than it is in Marrakesh, this is why it is a popular winter-sun holiday destination. The highest temperatures occur between June and August. August has an average daily maximum temperature of 31°C and an average low of 20°C. The coolest month to visit is February which has an average daily maximum of 20°C and an average low of 9°C. If you enjoy swimming, the best time to visit Agadir is between June to October when sea temperatures average 23°C.
Marrakech has a high desert climate. This means summers are short, hot and dry and winters are cool with mostly clear skies. With summer temperatures soaring to an average daily maximum of 39°C in July, most visitors come in the cooler spring and autumn months. The weather is still warm and sunny, but it is a lot more bearable. January is the coolest month and it has an average daily maximum of 19°C and an average low of 6°C.