Driving in Poland – 15 Things You Need to Know
All right now
Beware buses
Seatbelts
Rough roads
Drink driving
Renting a car
Overtaking
Priority
Speed limits
Driving license and documents
ETIAS
Things to take in the car
Tolls
Road trips
Best vehicles to hire in Poland
Poland – a gorgeous place to hit the road
Prepping for a Polish road trip or maybe just driving around your holiday base?
We've got all the tips you need to feel calm and confident about navigating the road network so you can make the best of this brilliant European nation. And there's such a lot to see and do in this fascinating country. This central European country has the EU's 5th-biggest population(37.7 million) and boasts brilliant cities like capital Warsaw, Krakow, Lodz, Poznan, Gdansk and more. Historians reckon humans have been active in this particular part of the world since around 10,000 BC but it didn't get its name until the medieval era, courtesy of the Polan tribe. It adopted the first modern constitution in the continent in 1791, became a socialist nation post WWII, and reincarnated as a democracy in 1989.
But what's there to see and do in Poland? Rather a lot as it happens. For starters, you can go deep underground to visit the stunning Wielickza Salt Mine (which operated from the 13th century to 2007). And Malbork Castle is another impressive proposition. The world's largest medieval castle was built for crusading Teutonic Knights in the 14th century and despite suffering damage in WWII, it's still stunning enough to merit UNESCO World Heritage status. You can also wander through the mystical Crooked Forest in northeast Poland, kayak in the sublime Masuria Lake District and swap four wheels for a pair of sturdy hiking boots to discover the mind-blowing Tatras Mountains. But that's not all, because if you want to let your hair down in Poland, there are several cities with superb nightlife. Port city Szczecin is a lively student hub with hotspots like Disco Fama and Euphoria Club GoGo, Lublin boasts the biggest southeast party scene, with venues like the Mist Club and Club 20 Lublin, and Poznan boasts the banging Holiday Club.
Now your appetite's whetted, lets get rolling with those driving tips.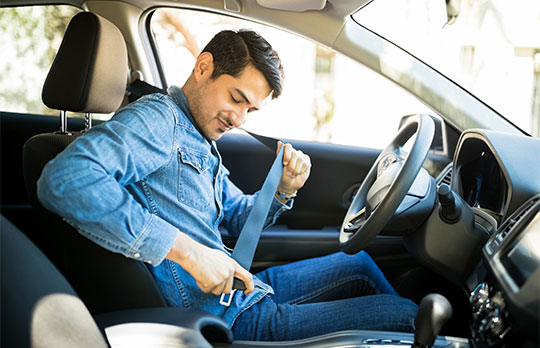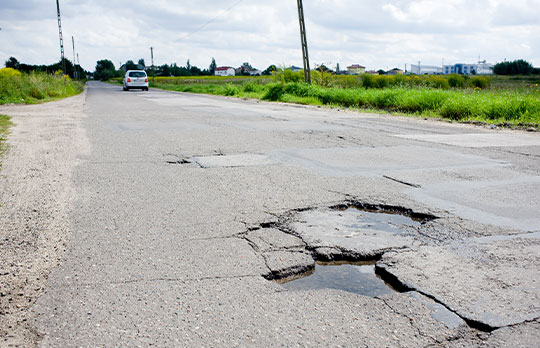 15 things you need to know about driving in Poland
All right now
The first basic (but vital) piece of advice about driving in Poland is that you should drive on the right hand side of the road and overtake on the left. This can take a bit of adjustment if you're from the UK and used to driving on the other side. But take your time and you'll soon get used to it. Worldwide, 163 countries and territories drive on the right, while 76 drive on the left (most of this latter group are former British colonies). It's believed that the tradition of driving on the left can be traced back to Roman times.
Beware buses
In Poland, buses have the right of way in many scenarios. And boy, do they behave that way. They'll pull out in front of you without warning, stop suddenly, you name it. So drive defensively and expect the unexpected anytime you're anywhere near a bus in this part of the world.
Seatbelts
Provided your car is fitted front and back with seatbelts, it's compulsory to use them. And furthermore, all kids under 12 and 150cm must use the appropriate car seats. If you're the parent and/or the person driving the car, it's your responsibility to make sure that everyone belts up.
Rough roads
First off, there are some really good roads in Poland. For example, the main highways are well maintained and of a high standard overall. But the rural roads? Not so much. Country roads in Poland are often narrow, potholed, poorly lit and packed with pedestrians, cyclists, tractors and horse-drawn vehicles. Avoid them if at all possible, but if that's not possible, proceed with caution. Another thing to bear in mind on larger roads is the amount of lorries you'll encounter (this is a main haulage route from eastern to western Europe). Drive cautiously, keep your distance and only overtake if you're confident the coast is clear.
Drink driving
The Poles take a dim view of drink driving – the blood/alcohol limit here is 0.02%. You can calculate how much alcohol this allows you to take, but to be honest, it's so little that you're best not bothering at all if you're going near a car anytime soon. Also remember that there's every chance you'll still be over the alcohol limit the morning after a heavy session, so give the alcohol plenty of time to leave your system before getting back behind the wheel.
Renting a car
There are lots of places to rent a car in Poland. Obviously if you're flying in, airport pickups are usually the most convenient, but you'll also find car hire firms in major cities and towns. Booking beforehand is the easiest option of all – if you choose Enjoy Travel you'll get bargains from a range of local and international rental partners. You have to be 21 to rent a car in Poland and some firms will impose a surcharge if you're under 25.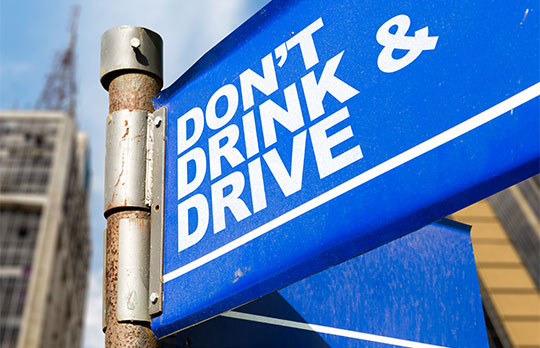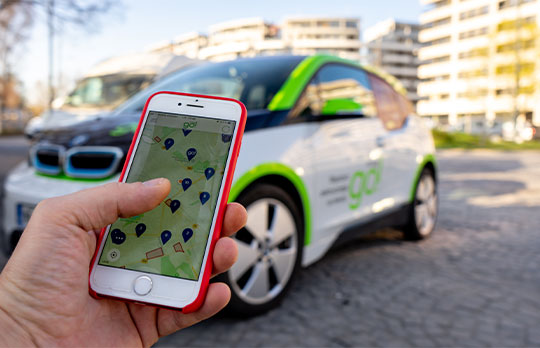 Overtaking
There are several places where you're not allowed to overtake in Poland. These include intersections, in the face of oncoming traffic, at tram stops, bus stops and railway crossings, cycle crossings and uncontrolled pedestrian crossings.
Priority
In Poland, the general rule is that traffic from the right has priority. But near in mind that vehicles on rails are the exception – they trump all other traffic. If you're already on a roundabout, you have priority over any vehicle approaching it and (as you'd expect), always give way to emergency vehicles.
Speed limits
In residential areas, the speed limit is 20km/h. In built-up areas, the speed limit is 50km/h between 5am and 11pm, and 60km/h between 11pm and 5am. The speed limit on motorways is 140km/h. Speeding fines can range from around £10 to over £300 (depending on the severity). If you've got your own Satnav and it flags up speed cameras, you'll have to disconnect this function in Poland because it's illegal.
Driving license and documents
Driving licenses from EU and EEA nations are acceptable in Poland. International driving permits aren't required but they are recognised. As well as your full, valid UK license, you should carry photo proof of ID (like your passport), motor insurance certificate and V5 registration document.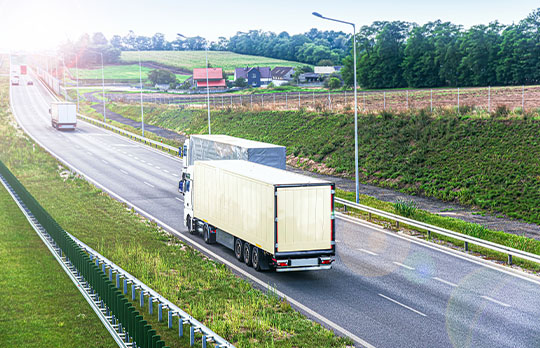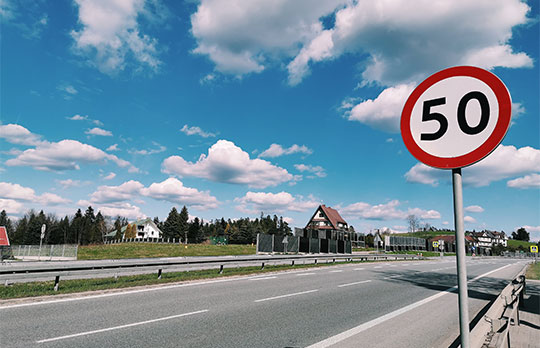 ETIAS
Before you book your flights and accommodation and arrange car hire, remember that from November 2023 you'll need an ETIAS electronic visa to even get into Poland (if you're from a non-EU country like the UK).
Things to take in the car
As well as your documents, there are a few essential items you should pack in your car, These include a warning triangle , headlamp beam deflectors, reflective jacket, and fire extinguisher. Please don't bring meat or dairy products into Poland and you can only bring fruit, vegetables and plant products if you get a phytosanitary certificate. It's also wise to take some blankets and a change of clothing (especially for longer trips).
Tolls
There are toll roads in Poland but there's no electronic vignette system, so you have to pay each time at the toll booths to use the A1,A2 and A4 roads. You can choose a toll-free route for most journeys by using minor roads, but it'll take you longer as road conditions aren't as reliable, and roads are smaller and slower.
Road trips
There are lots of lovely road trips in Poland. Top scenic drives include the twisty 100 Bends Road (with its sublime Klodzka Valley scenery), breath-taking Jura Castles Panoramic Road (featuring centuries-old castles and romantic rambling ruins), and lofty Eagles Nest Route through the magnificent Malpolska region. Meanwhile, another short but sweet drive is the 39km Leba Coast Panoramic Road from Leba to Kurowa, while the Upper Silesia Panoramic road takes you 227km from Pyrzowice and Tarnowski Gory. Remember to give your vehicle a thorough once-over (checking tyre pressure, oil, windscreen washer fluid and engine and brake performance) before any road trip. And pack plenty of water and snacks – just in case.
Best vehicles to hire in Poland
Popular cars in Poland include the Toyota Corolla, Toyota Yaris and Skoda Oktavia. At Enjoy Travel, you can hire a mini sized car like a Fiat 500, economy car like a Mazda 2, compact model like the Kia Creed, standard car like the Opel Insignia Sports Tourer and lots more. Car rental partners at Warsaw Airport include Alamo, Abbycar Rentals, Enterprise, Europcar, Hertz, Budget, Avis, Alamo, Thrifty and Express Car Rental.