Top 10 Algarve Road Trips
Lagos to Portimao
Albufeira to Silves
Silves to Monchique
Faro to Ferragudo
Faro to Vilamoura
Tavira to Vila Real de Santo Antonio
Sagres to Carrapateira
Vilamoura to Alvor
Tavira to Ameixial
Albufeira to Cacela Velha
With heavenly beaches, bustling resorts, fabulous fishing villages, gorgeous green spaces, unique fauna and flora, and captivating culture, Portugal's Algarve is one of the best places in the world to relax and unwind.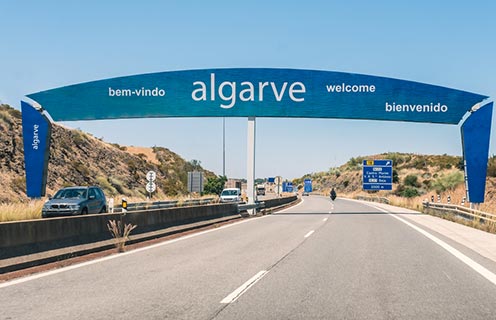 10 of the best scenic drives in The Algarve
Wedged between the Atlantic on two sides, the rugged west coast in particular is a haven for surfers, and its natural blessings are bountiful – cruise around the Algarve and you'll see dizzying cliffs, secret sea caves, hidden coves and more.
Meanwhile, the tourist resorts dotted around the south coast offer everything from fun water parks for kids to exhilarating water sports for adults, with a lively nightlife scene that includes everything from laid-back beach bars to plush nightclubs. Alternatively, if you're more of a serene nature lover, you'll adore exploring the expansive Parque Natural da Ria Formosa, where you'll see lagoons teeming with birds and enchanting, unspoiled islands.
Drive up into the interior through undulating countryside to find imposing historic castles and sparkling whitewashed villages, cool and colourful citrus orchards and rustic restaurants where you can sample lip-smacking local cuisine served with plenty of charm but little ceremony.
You'll need to hire a car to make the best of your Algarve adventures and it's easy with Enjoy Travel. Drop in your destination, dates and details, hit the button and you'll be served up with economic, stylish and practical makes and models from the top regional, national and international car hire partners.
Whether you want an intermediate-sized car for transporting your family on intercity trips or a 7-seter or minibus for a larger group that wants to travel in comfort, we've got you covered! Book ahead of time to grab an early bird bargain, then simply sit back, relax and unwind – safe in the knowledge that your wheels, and sun-kissed holiday, await.
Tips on driving in the Algarve
Your Algarve road trips are arriving soon, but let's take a quick pitstop to run through some top tips on driving in the Algarve – it's worthwhile if you haven't driven there in a while.
Driving in the Algarve is pretty chilled-out and hassle-free compared to the more hectic streets of large Portuguese cities like Porto and Lisbon and there are lots of stunning isolated beaches and traditional villages which you can only reach by private vehicle thanks to the limited public transport system in rural areas.
Cars drive on the right in Portugal (which you hopefully know if you're taking a staycation here rather than a vacation!), the national speed limit is 90km/h for regular roads and 120 km/h on motorways and dual carriageways. In towns and built-up areas, the limit reduced to 50 km/h and signage in other local areas indicates different limits – so be observant.
There's a zero tolerance approach to drinking and driving here, children under 12 aren't allowed to travel in the front of the vehicle unless they're taller than 150cm and an unusual rule here is you must give way to traffic joining a main road from the right.
Now that we're caught up with the rode code in this immaculate part of the Iberian Peninsula, let's get moving with your 10 scenic Algarve road trips!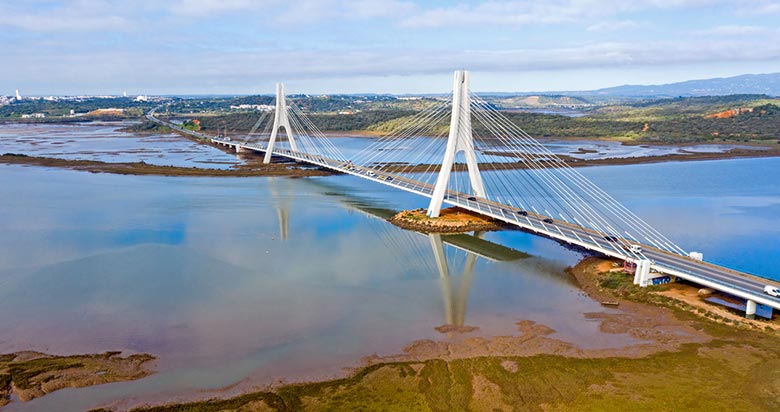 1. Lagos to Portimao
If you want to strike out for a day trip from Lagos' beautiful sandy beaches and ravishing rouge cliffs for the day, Portimao is a delightful destination and an easy drive. The sweeping 1.5km stretch of white sand that's Praia da Rocha is a highlight here, but the megalithic structures at Alcalar are also amazing and the sights, sounds, smells and tastes at Mercado Municipal are spellbinding – pick up some local produce to take home.
Getting there: Portimao is around 35 minutes east of Lagos via the A22.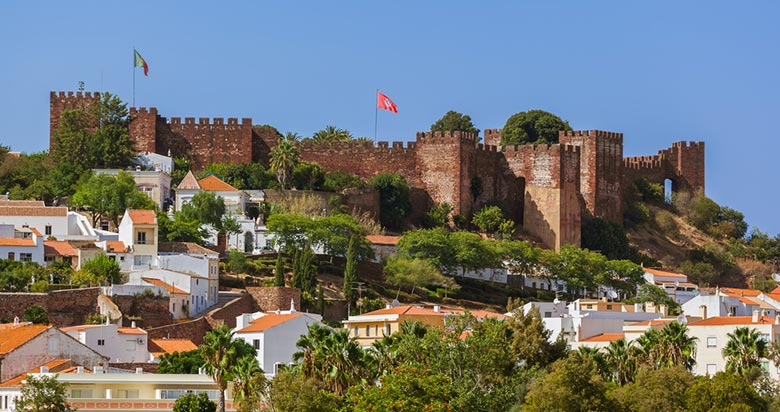 2. Albufeira to Silves
Albufeira boasts brilliant attractions like Praia da Falesia beach and the pulsating strip that's packed with nightlife. But sometimes you need a brief break from the coast, so driving into the interior to Silves is a terrific tonic. A magical medieval town nestled among vineyards and citrus groves, it has an imposing castle perched at the top of the hill and is a major hotspot for ancient Moorish architecture.
Getting there: Take the N269 out of Albufeira to reach Silves in around 40 minutes.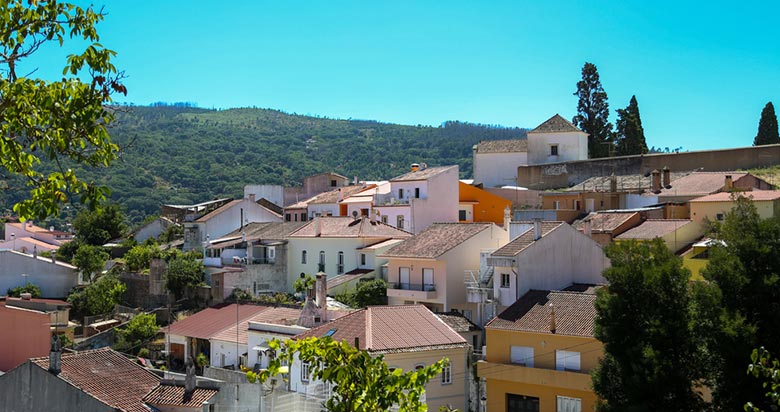 3. Silves to Monchique
If you're based in Silves (or want to extend your road trip from Albufeira), Monchique makes it worth your while to venture a little further into the interior. Known as 'the Algarve's greenest town', this is a perfect destination for nature lovers who love panoramic mountain views, relaxing hikes through the trees and excellent local cuisine. You're sure to leave a little piece of your heart behind in this pretty pastel-shaded town.
Getting there: Monchique is 35 minutes north of Silves via the N266.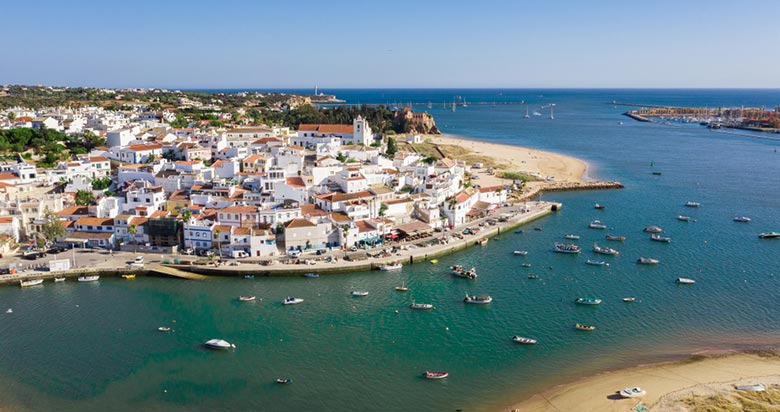 4. Faro to Ferragudo
Faro's famous cathedral, old town and nature parks have a magnetic appeal but if you want a break from the routine, a drive to Ferragudo is definitely recommended. This terrific traditional fishing village is a hidden gem on the banks of the Arade which is criss-crossed with cobbled streets radiating out from its central square and blessed by amazing seafood restaurants.
Getting there: Ferragudo is 55 minutes from Faro via the A22.
5. Faro to Vilamoura
For an alternative road trip from Faro, head west for the considerable charms of Vilamoura. A swish resort town with lovely beaches, world-class golf courses and a stylish marina, it's always worth a visit. Take a boat trip from the marina for deep-sea fishing or dolphin spotting, visit the waterpark and wildlife attractions at Zoomarine or tuck into a cataplana seafood stew – divine!
Getting there: Vilamoura is just 30 minutes from Faro via the IC4.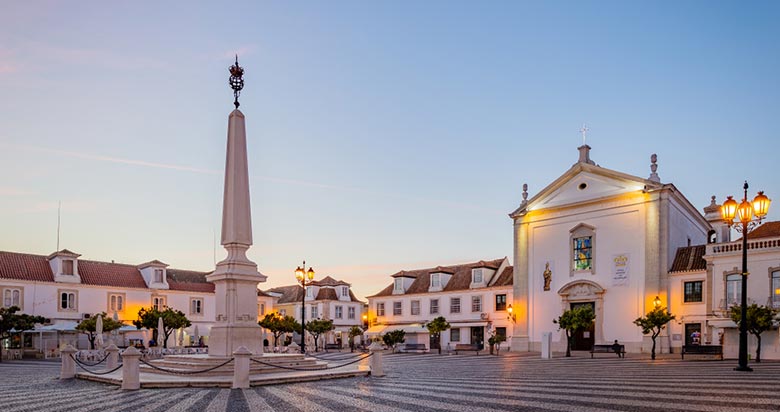 6. Tavira to Vila Real de Santo Antonio
With its authentic architecture and beautiful location on the banks of the Gilao River, Tavira is regarded by many as the Algarve's prettiest town. But if you can tear yourself away for a day trip, Vila Real de Santo Antonio won't disappoint. Overlooking the serene waters of the Rio Guadiana, this eastern settlement boasts dazzling Pombaline architecture and an elegant central plaza.
Getting there: take the N125 east along the coast from Tavira to reach Vila Real de Santo Antonio in 25 minutes.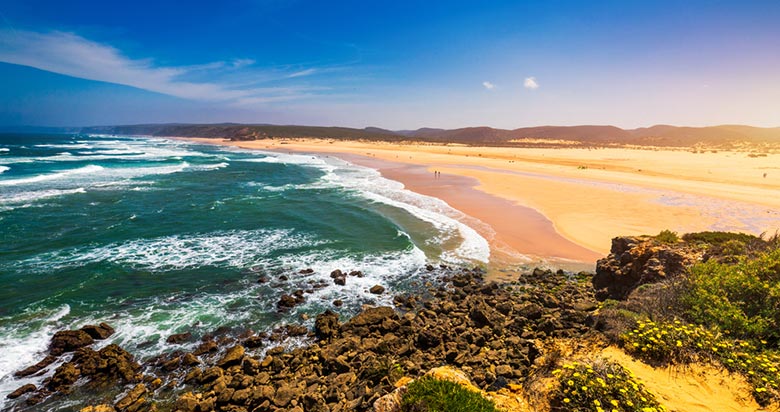 7. Sagres to Carrapateira
If you're soaking up the relaxed surfing vibe and rugged scenery of Sagres, a road trip to Carrapateira lets you switch up the vibes for a day. You can visit the fascinating Land & Sea Museum, eat exceptional seafood served with cliffside ocean views at Sitio do Forno and explore the remote and stunning Praia de Vale Figueira beach.
Getting there: Carrapateira is 20 minutes from Sagres along the N268.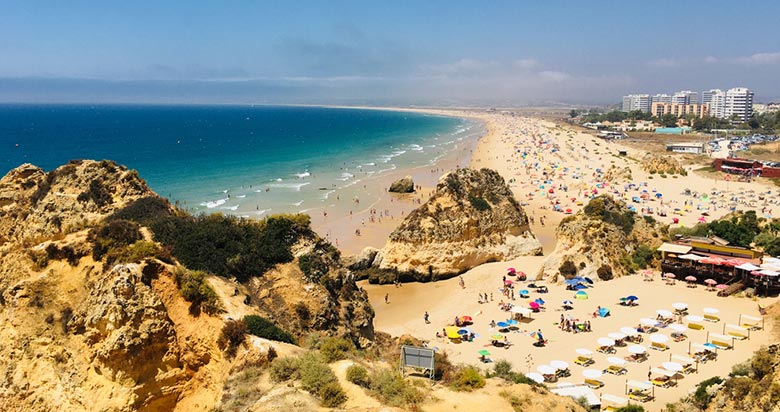 8. Vilamoura to Alvor
Alvor is a manageable drive from Vilamoura and there's plenty to see and do in this delightful location. You can chill out at Submarino Beach, marvel at the magnificent Moorish Alvor Castle, try traditional Portuguese sailing or simply stroll along the boardwalk and enjoy the breeze in your hair as you gaze across the sublime headland.
Getting there: Alvor is 22 minutes west of Vilamoura via the A22.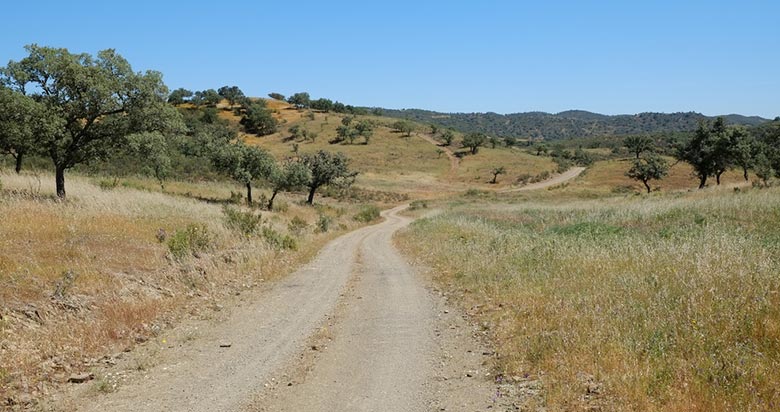 9. Tavira to Ameixial
If you want a walk on the wild side, take a road trip from Tavira to rustic Ameixial, where there are some of the most scenic hiking trails in the Algarve and you can try laid-back activities like yoga, traditional food tasting, landscape painting and open-air barbecues. For a natural retreat, it's hard to beat and the drive into the heart of the Algarve's interior territory to get there is invigorating.
Getting there: Ameixial is one hour north of Tavira via the N270/N2.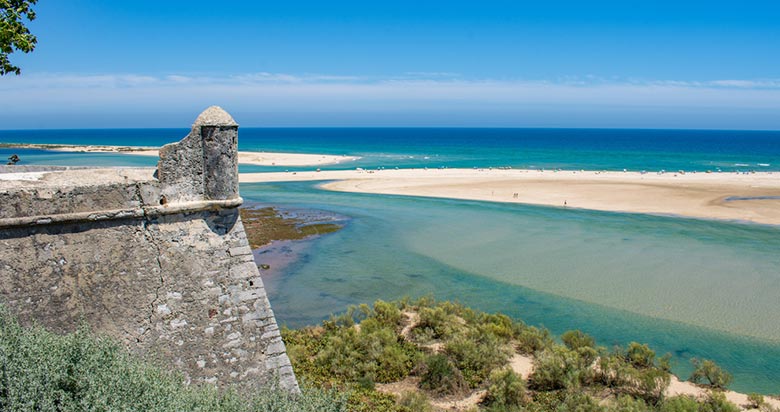 10. Albufeira to Cacela Velha
A bijou hilltop village situated at the east of the Ria Formosa, Cacela Velha is a delightful day trip from Albufeira where you'll experience a different pace of life and lots of interesting sights. There's a wonderful walled fortress, a wide sandy beach and a superb 16th century church. Before you leave, remember to sample the seafood – in particular the famous local oysters and clams!
Getting there: Cacela Velha is 55 minutes from Albufeira via the A22.
So there you have them – 10 scenic road trips that remind you just how preternaturally beautiful The Algarve is. Have fun hitting the road with Enjoy Travel!