Top 10 Majorca road trips:
Catedral De Mallorca
Plaça Major
Palma Aquarium
Alcudia Old Town
Cap de Formentor
Castell de Bellver
Cuevas del Drach
Palacio Real de La Almudaina
Santuari de Lluc
Cala Figuera
Before you start your engine, read on for a few useful tips on driving in Majorca.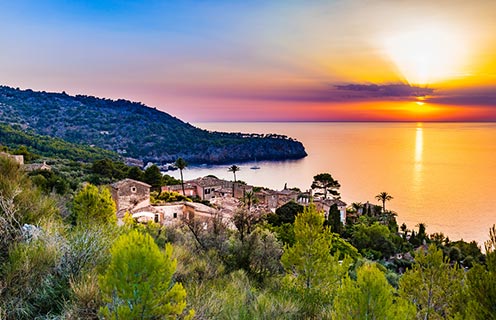 10 of the best scenic drives from Palma de Mallorca
Palma de Majorca (also called Mallorca) is the beautiful capital of the Balearic Islands in Spain. Situated on the south coast of Majorca island, Palma is just as famous for its rugged cliffs overlooking azure blue waters as it is for its fascinating history and culture. Planning to hire a car in Majorca? It's the easiest way to explore the island, with prices starting from just €3 a day for a Fiat 500. As you look for destinations to inspire your summer getaway, here are 10 beautiful places that you can easily drive to from Palma de Majorca.
Tips on Driving in Majorca
Majorca is the larger of the 3 Balearic Islands, with Ibiza second and then finally Menorca third. Mountainous and packed with twisty roads, beautiful beaches and lucious scenary, driving in Majorca is enjoyable and the roads are quiet. The longest route is 312 kms (193 miles) running in a loop around the island, so you can get around the whole island parameter in around 6 hours (non-stop).
The speed limit is 120kph (75mph) on the motorways, 90kph on the out of town roads and 50kph in the built up areas, always watch out for sign-posted limits. Drive on the right.
Whilst you can pick up an extremely cheap economy hire car like a Fiat 500, Ford Ka or Smart ForFour for as little as €3 per day, you might want to upgrade to something like a Nissan Qashqai (average price £8.78 per day) or a Opel/Vauxhall Zafira Tourer from £13 per day for extra space and comfort.
Catedral De Mallorca
This Catalan gothic masterpiece is one of Palma de Majorca's major attractions. Designed by the legendary Antoni Gaudi, who is best known for the world-famous Sagrada Familia in Barcelona, this cathedral took nearly four centuries to build but it quickly became a beacon of Balearic identity. Made using fine Majorcan sandstone, it rises to a height of 44 meters, making it one of the tallest cathedrals in Europe.
If you think the outside is impressive, wait till you see the incredible interiors. And when you've picked up your jaw from the ground, go around the south side of the cathedral to enjoy an amazing view of the Bay of Palma from the terrace. However, prepare to get in a little workout as there are around 280 steps and no elevator available.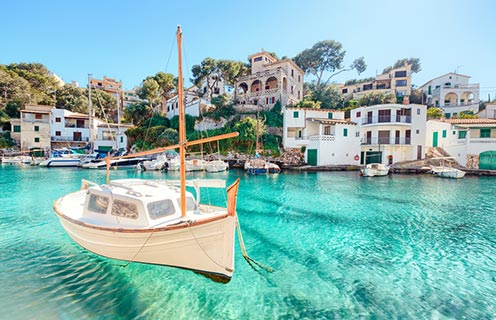 Plaça Major
A quintessential Spanish central square, Plaça Major has signature yellow buildings with green shutters which give you a piece of old Palma. This area has many bars, cafes, and restaurants ranging from tapas joints to burger outlets. After you're done souvenir shopping, make sure to catch the musicians and street artists that perform here all day long.
Plaça Major is also the place to be during major festivals, like Festes de Sant Sebastià (St. Sebastian's Festival) which celebrates Palma's patron saint with street bonfires, music, and 'botifarron' sausages. On a regular day, pause to enjoy a cup of coffee at the plaza or try out traditional paella while enjoying the street entertainment
Palma Aquarium
With over 55 water tanks that are home to 8000 fish from 700 different marine species, it is no surprise that the Palma Aquarium won the 'Travelers' Choice 2018' award on TripAdvisor. Many of the watertanks have interactive touch screens which let you learn about the different varieties of fish. Once you've learned sufficient fish facts for one day, plop yourself on the comfortable cushions and become mesmerized by the 'Big Blue', the deepest shark tank in Europe (8.5m). If you're travelling with kids, make sure to take them to the children's area to enjoy everything from pirate ships to a reproduction of the Amazonian jungle. And when no one's watching, jump on the inflatable castles to have some fun of your own too! When you're all tired out, head over to the AquaDome for an immersive 360º 3D experience to be so surreally close to whales that you'll feel like you're swimming with them.
Alcudia Old Town
On the other side of the island is this medieval town, beautifully preserved by surrounding stone walls that were originally built for protection against the pirates during the Middle Ages. Alcudia used to be the old capital of Majorca and still retains a strong character with Roman ruins, a Bullring, and cobblestone alleys which house plenty of small eateries and boutiques. The best views of this charming town are, in fact, from those 14th-century walls. Climb up onto them for a sweeping panorama of the old town and the Bay of Pollensa. The way to Alcudia Old Town is through a dense pine forest, and it's well worth a day trip to experience traditional festivals, historic monuments, eateries, independent shops, and more.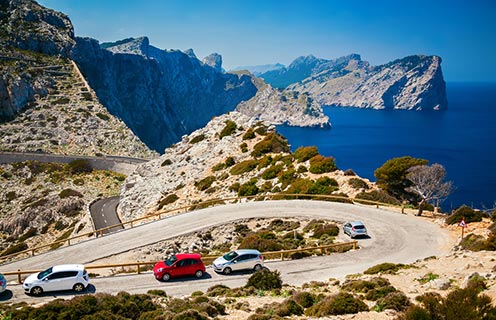 Cap de Formentor
On the northernmost point of this Balearic island is Cap de Formentor, locally referred to as the 'meeting point of four winds' from the Iberian Peninsula, the Alps, the Atlantic Ocean, and North Africa. For a postcard-worthy vista, climb up the Talaia d'Albercutx watchtower which was originally built to warn the town residents of pirates. Then head over to the Mirador de Mal Pas which, until recently, could only be accessed via sea or a winding donkey trail. But you can now access these jaw-dropping cliffs perched 300 meters above sea level with a car. The natural beauty of Cap de Formentor is sure to leave you speechless and convince you as to why it has been a timeless inspiration for artists for many centuries.
Castell de Bellver
A short drive from Palma de Mallorca is Castell de Bellver, a 14th-century gothic-style castle that used to be the residence of several Kings of Majorca. After surviving two sieges in the Middle Ages, it was turned into a military prison during the 18th-20th century. The castle is very well maintained and has a beautiful view of Palma Bay. In fact, in Catalan, Bellver translates to 'lovely view'.
If you're lucky enough to be there on a warm summer evening, you'll get to enjoy the concerts that take place in the circular courtyard of this fortress. For culture-buffs, the castle hosts a compelling museum with artifacts from the Talaiotic, Arab, Roman, and Spanish periods that tell you the story of Palma. The entrance is around €4. Our advice would be to pack snacks or lunch in advance as there aren't many options for refreshments around the castle.
Cuevas del Drach
Drive out to the eastern coast of Palma to reach the Cuevas del Drach, a set of four caves boasting the largest underground lake in Europe, el Lago Martel. The highlight of this experience would undoubtedly be the boat ride that takes you to the pièce de résistance: a classical music concert and light show in the last cave. Just imagine gliding on crystal clear waters inside of a cavernous cave, and then being greeted by an incredible live musical performance at the end. While tickets are on the pricier side, visitors love the unique experience it begets.
For a smooth trip, make sure to carry a jacket in preparation for the chilly interiors of the cave. And go as early as possible if you haven't pre-booked your boat tour as this popular tourist location tends to get quite busy. Due to the stairs leading down to the underground lake, please note that the Drach Caves aren't very mobility-friendly.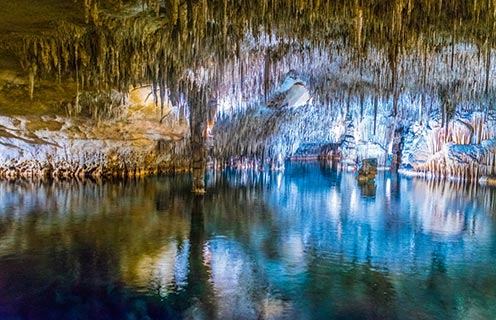 Palacio Real de La Almudaina
Did you know that Spain still has royalty? When the current King of Spain, His Majesty Felipe VI, visits Majorca, his official place of residence is The Royal Palace of Almudaina. If you fancy the prospect of rubbing shoulders with blue bloods, this majestic palace is for you. Overlooking the Palma Bay, the palace consists of a great banquet hall that houses beautiful tapestries and furniture from various periods of Spanish history. It is also where the royal family celebrates major festivities and welcomes ambassadors. The beautiful courtyards and a royal chapel, built in classic Catalan gothic style, are illuminated at night, making it a perfect place for an evening stroll. The palace was constructed over an Arab fortress, and a white marble lion still remains as a testament to that. It also explains the Arabic Baths - consisting of a cold room, a warm room, and a hot room - which were used by the Muslim Walis who resided in old Alcazar.
Santuari de Lluc
Located on the western coast of Mallorca, the Santuari de Lluc is a pilgrimage site dedicated to the Virgin Mary. Every year, a walk is hosted from Palma de Majorca to this sanctuary, although the distance is also very drivable. The Lluc has something for everyone- you can find spirituality in the monastery, culture in the museum, nature in the Tramuntana mountains, and traditional Mallorcan cuisine. What is unique about the Lluc on this list is that it also offers accommodations, with rooms overlooking the countryside on one side and mountains on the other. Whether you drive down there for a day trip or decide to stay the night, the Santuari de Lluc is sure to be a tranquil getaway.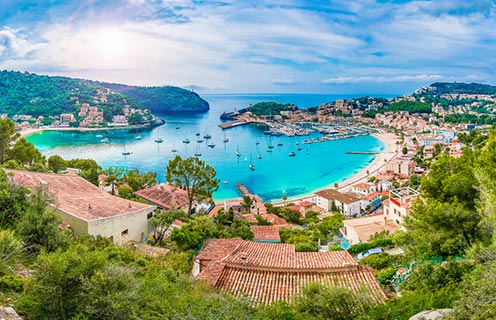 Cala Figuera
Any list about the island of Majorca would be incomplete without a mention of where to find the best seafood. Located about 60 kilometers from Palma de Majorca, Cala Figuera is a fishing village that is famous for its picturesque beauty. The town is filled with white-washed houses that are huddled around a hillside. Fishing is the predominant occupation in this village, which makes it a great place for fresh seafood. Just picture yourself sitting on a restaurant terrace, eating Mallorcan escargot, and enjoying a view of the crystal clear waters of the harbor. Cala Figuera is the perfect destination if you want to experience la vida buena in Majorca.