Seven top winter sun destinations
The UK has its moments, but they don't tend to happen between November and February. As the nights draw in and the days get gloomier, many Brits hotfoot to sunnier shores for toastier temperatures – and we don't blame them. Thankfully, you don't have to travel too far to top up your suntan either. While the likes of the Caribbean, the Maldives and Australia all boast scorching temperatures in winter, there are lots of warm weather locations closer to home too. Go on, take a look at our roundup of the best winter sun destinations within 8 hours of the UK if you don't believe us.
---

---
Looking for a break from the cold weather this Autumn/Winter?
1. Malta
Wearing anything other than a jumper might seem like a distant memory when you're deep in the winter gloom, but that doesn't need to be the case. Just a three hour flight can take you to Malta, where beaches, scuba diving and a good dose of culture awaits. Malta boasts 300 days of sunshine a year and, while you may not reach the sizzling temperature heights of summertime, highs of 20 C (68 F) aren't uncommon.
Click here to compare car hire in Malta
Flight time: 3 hours
Average temperature: 13–17 C/ 55–63 F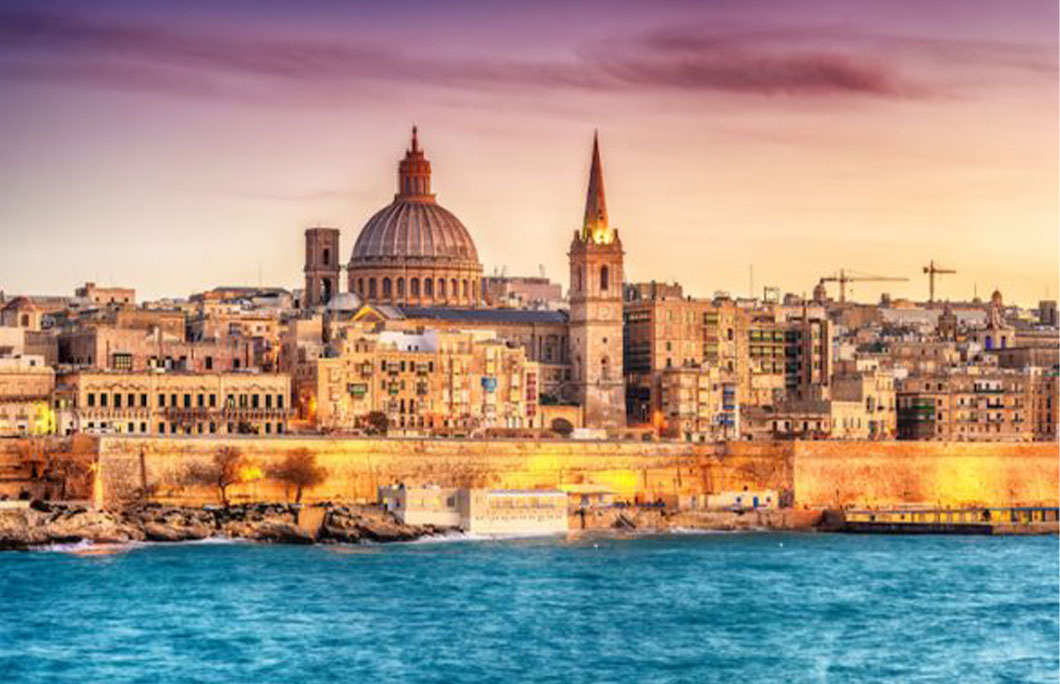 ---
2. Madeira, Portugal
It's famous for Cristiano Ronaldo and loaf cake, but there are plenty of other reasons to Madeira too, not least for all of that glorious sunshine. At just under four hours' flying time, it wouldn't be too indulgent to pop here for a long weekend either. It's off-peak season, so you can save up to 40% on summertime prices and enjoy fewer crowds too. Temperatures average around 16 C and rarely dip below 10 C in the coldest months, and cloud-free skies are practically guaranteed. While it might be a little cold for sunbathing, it's a great time of year for hiking.
Flight time: 3 hours 45 minutes
Average temperature: 16–19 C/ 61 – 66 F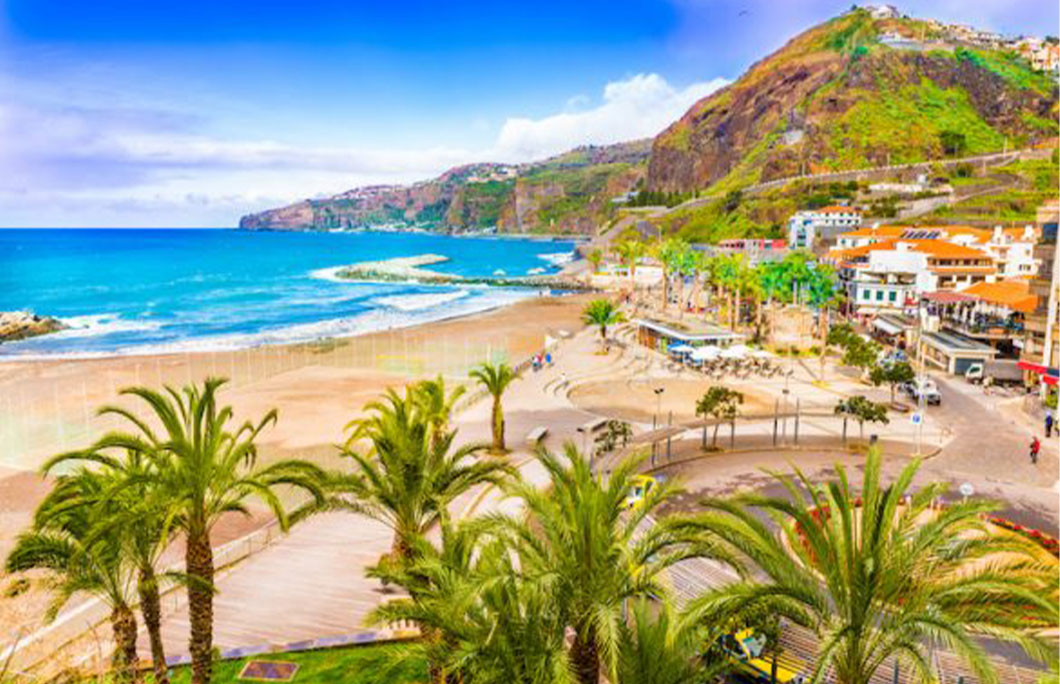 ---
3. Cyprus
Even in the colder months, it's still t-shirt weather in Cyprus. Located south of Turkey and close to North Africa, it's one of the hottest places in Europe. While most people head straight for the beach in the summer months, winter is the perfect time to explore the island's lesser-known pockets and pursuits. It's off season too, so you'll get more bang for your buck.
Flight time: 4 hours 30
Average temperature: 13–18 C/ 55–64 F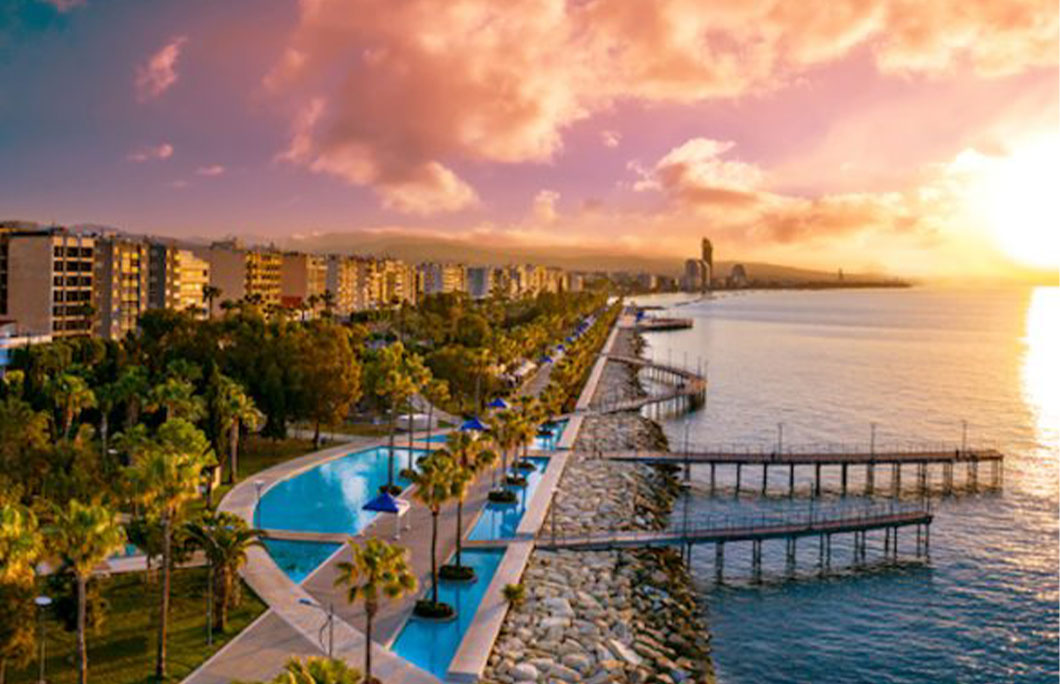 ---
4. The Canary Islands, Spain
The Canary Islands are popular all year round but particularly so in winter. There are four islands to choose from – Tenerife, Lanzarote, Gran Canaria and Fuerteventura. Each has its own distinctive character and charms too. Tenerife, also known as 'the land of eternal spring' offers world-class hiking, brilliant food and Spain's tallest mountain. Lanzarote is best for jaw-dropping landscapes and art. Fuerteventura is excellent for beaches and watersports, particularly surfing. Gran Canaria combines the best of them all.
Flight time: 4 hours 30
Average temperature: 17 – 20 C / 62–68 F
Click here to compare car hire in Tenerife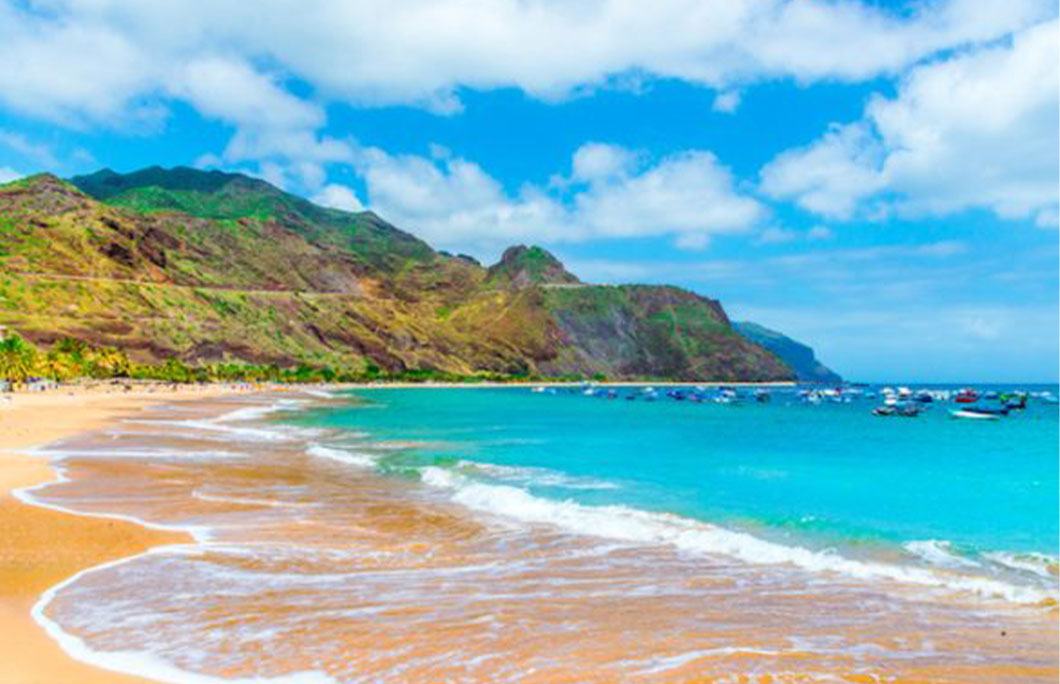 ---
5. Cape Verde
Boasting eight hours of sunshine every day and average high temperatures of 30C (86F), Cape Verde offers guaranteed toasty temperatures. It's a slightly longer flight, floating off the west coast of Africa, but worth it if you're looking to avoid any chance of rain. The archipelago is made up of ten island, each offering long sandy stretches and lively surf. There are hundreds of lovely hotels to choose from too, and you'll get to benefit from cheaper prices in the winter too. In winter, the island boasts green good looks since the rainy season lasts from August to September.
Flight time: 6 hours 15
Average temperature: 23–26 C/ 73–79 F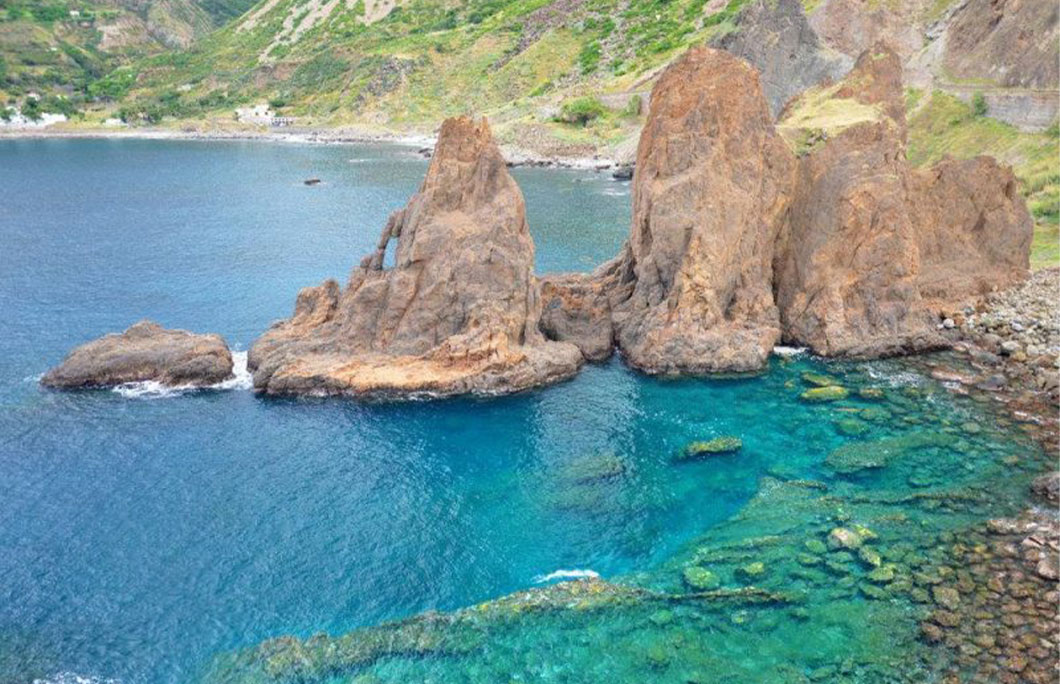 ---
6. Dubai, UAE
The whole of the United Arab Emirates offers year-round sunshine, but for a dose of razzle-dazzle, you can't beat Dubai. Spotless beaches, the world's best hotels, award-winning restaurants and jaw-dropping architecture, all set against the backdrop of the desert, make for a memorable trip. It's not all blockbuster luxury brands either; the Dubai Design District and Al Quoz are gaining a reputation in the international art seen too. Or you could just spend lazy days stretching out in the sun, we won't judge.
Flight time: 7 hours
Average temperatures: 19–25 C/ 66 –76 F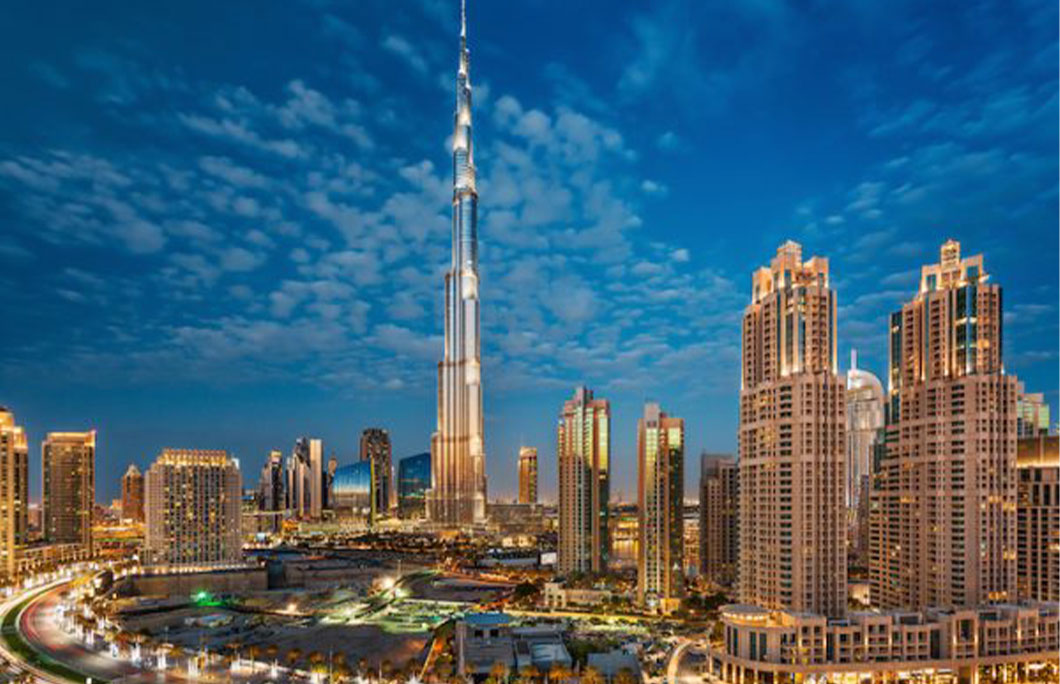 ---
7. Bermuda
If only desert island fantasy islands will do, Bermuda is for you. The mythical setting for Shakespeare's Tempest is all pink sand beaches, candy-coloured houses and bright blue water, just what your Instagram feed needs. It feels Caribbean, but it's much closer to the UK than any of the other islands, with regular direct flights powering across the Atlantic in just seven hours.
Flight time: 7 hours
Average temperatures: 18–22 C / 64 – 72 F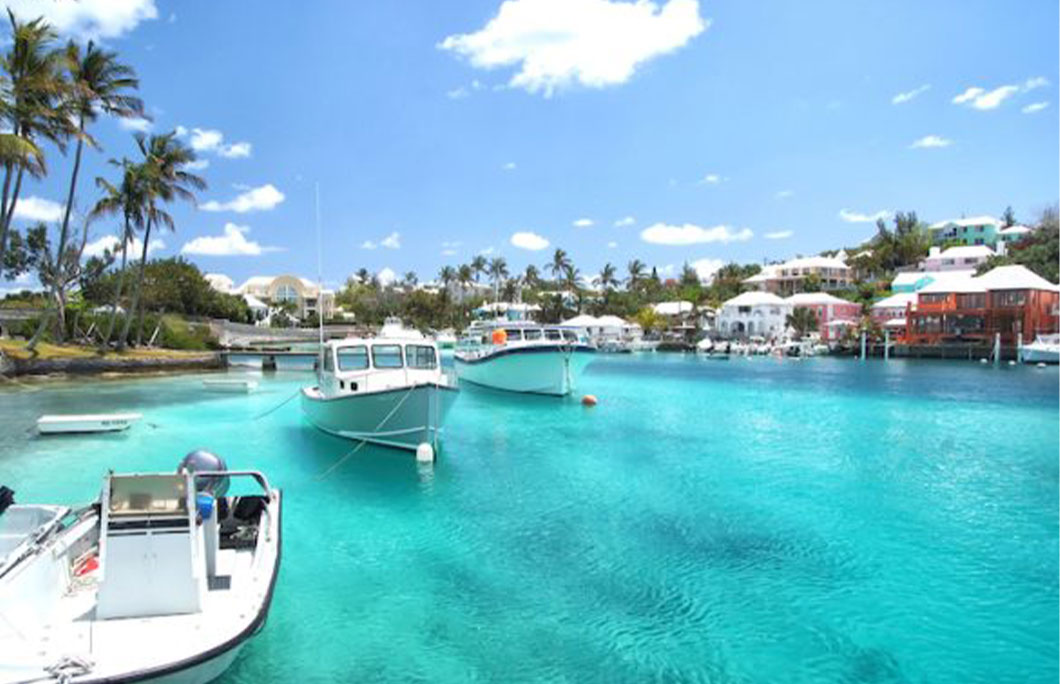 ---

---
---