The 50 Best Burgers In England
Nothing beats a good burger; it's often one of the first things we reach for when arriving in a new city, because of both its reliability and pure deliciousness. So where are the best burgers in England?
From north to south, east to west and everywhere in between, we've got the 50 best burgers across the nation.
Here's your ultimate guide to the best burgers in England. Get ready for a serious feast.
Best burgers in England, How do these rankings work?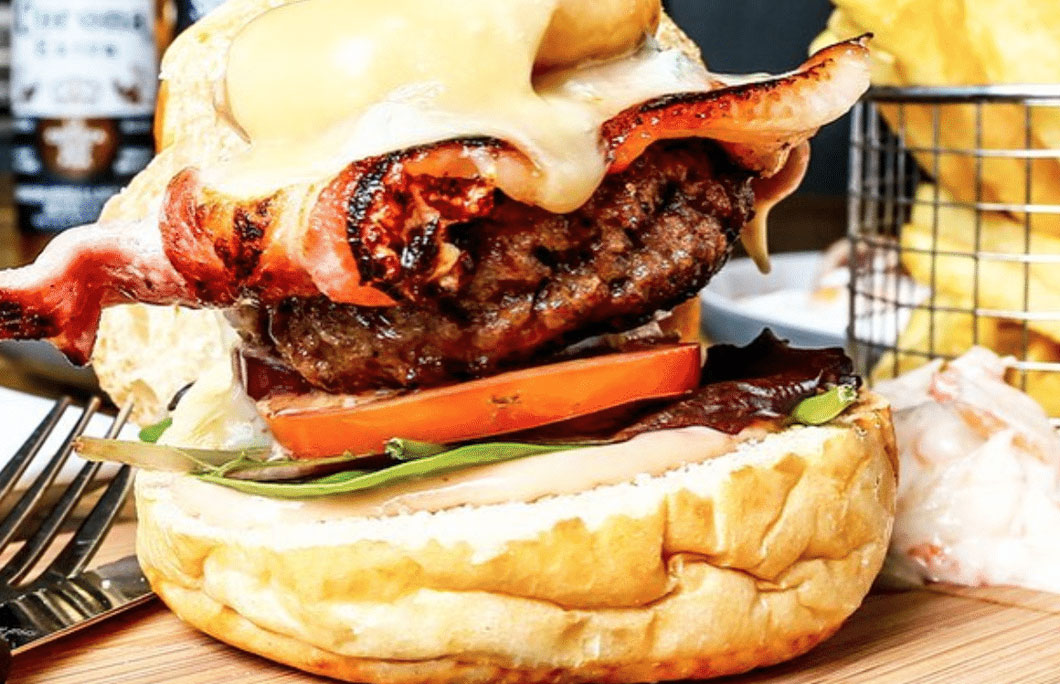 50th. The Fabulous Burger Boyz – Plymouth
Burgers here use locally sourced beef and lamb and freshly baked brioche buns. All are served on a bed of baby leaf salad, our burger sauce, beef tomato and sliced red onion for extra fresh flavours.
Have a huge appetite? Order the signature Fabulous Burger Boy, which is a giant stack of four juicy patties.
---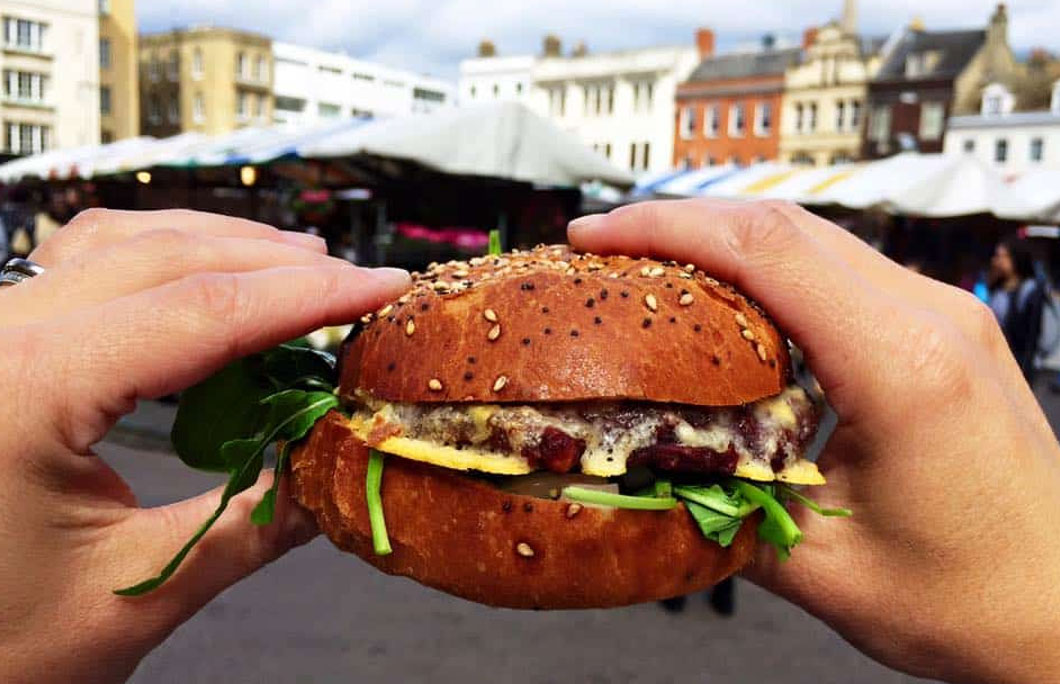 49th. Butch Annies – Cambridge
Butch Annies is allll about sourcing the best beef they can find. Their patties are made of prime cuts of sirloin, fillet and ribeye, which is dry-aged for 28 days to allow the rich flavours to develop.
Add on toppings such as honey & truffle mayo or Gruyere cheese and it's a winner.
---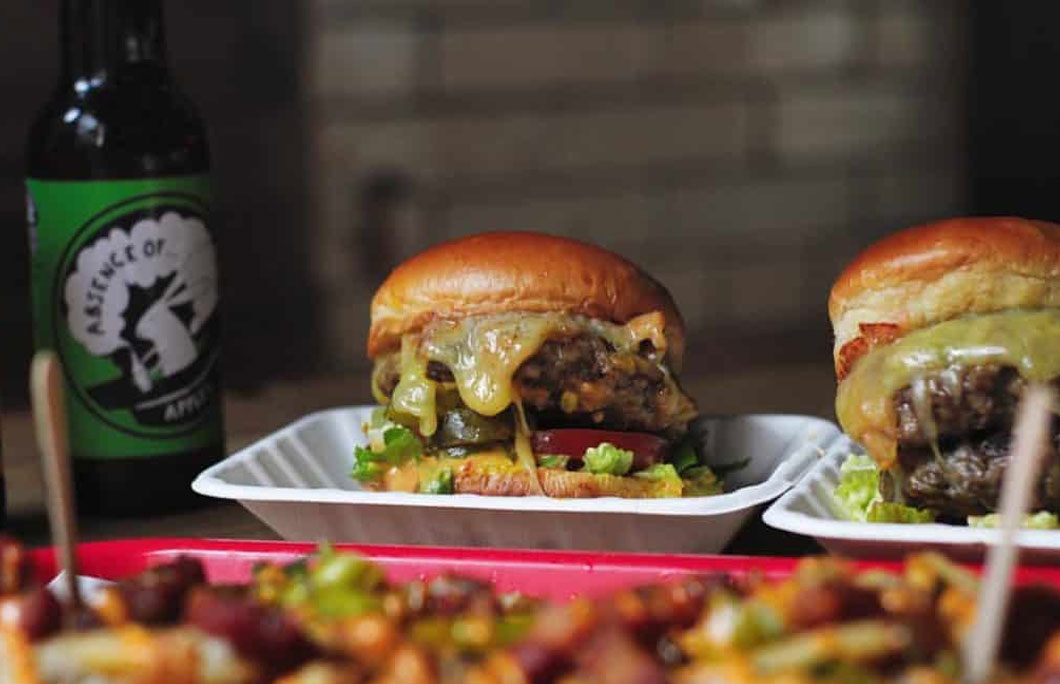 48th. Patty Smith's – Leeds
You'll find Patty Smith's at the Belgrave Music Hall, which is a bonus, because you'll be able to listen to live music and sample their great selection of craft beer. The burgers here dirty and delicious.
Their signature Dirty Burger is a feast of Yorkshire steak mince patty, chipotle mayo, cheddar and all the trimmings in a brioche bun.
---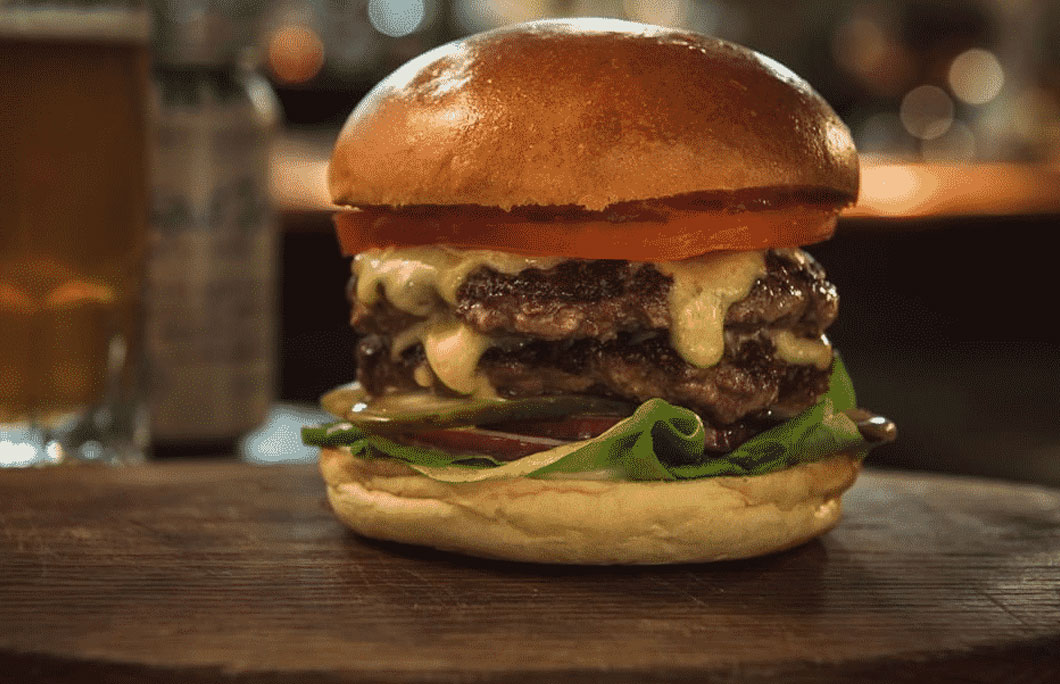 47th. Hawksmoor – Manchester
This famous steakhouse started life in London and has grown and grown ever since. Sitting in the bar here in Manchester with one of their classic burgers be illegal it's so damn good. Grab one of their nicely boozy cocktails to wash it all down with.
---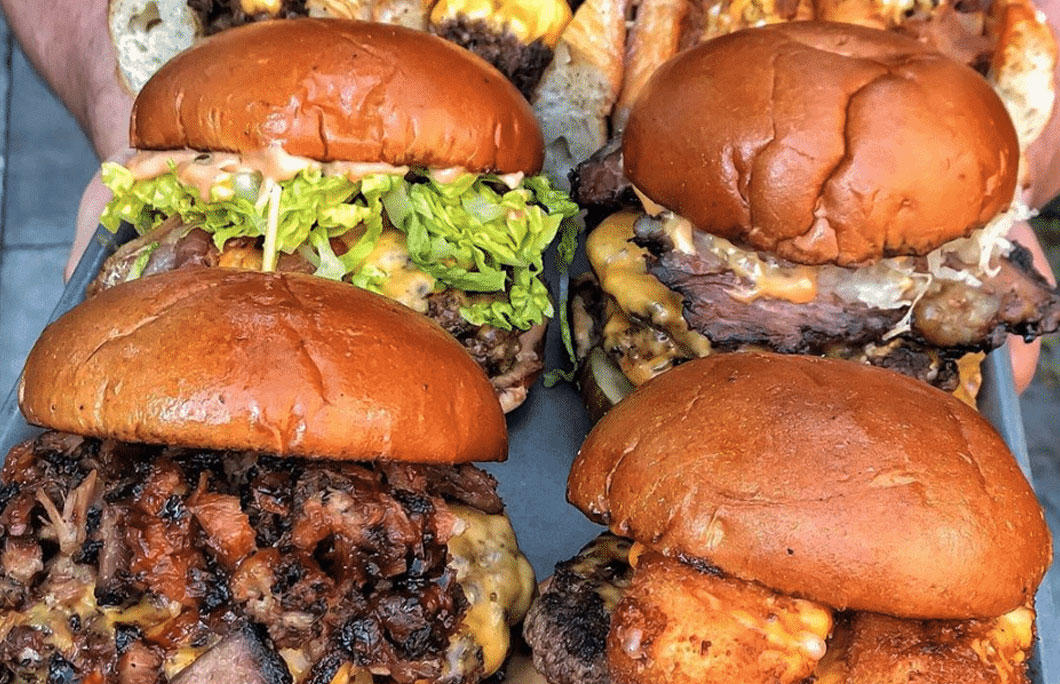 46th. Red Dog Saloon – Nottingham
Now with five locations, this is the perfect place to come if you want a proper cheat meal. They do BBQ, subs and some of the best burgers in the business. 'Course they do, or we wouldn't have them on our list of the best burgers in England!
The portions are absolutely massive but everything is made for sharing, so this is the perfect place to come with friends for a slap up treat.
---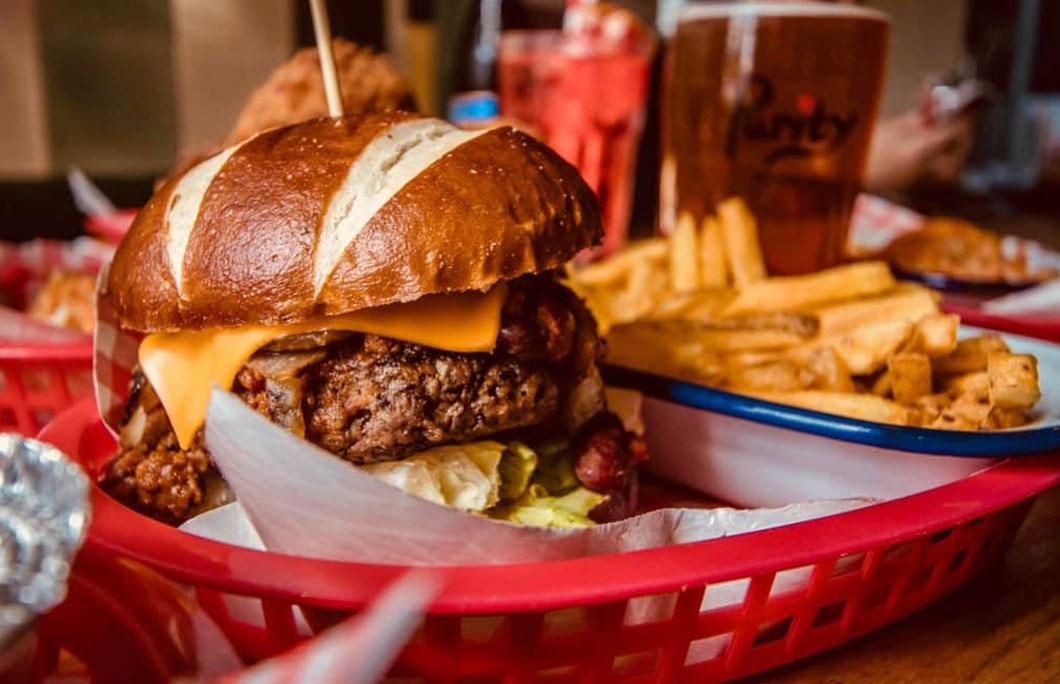 45th. The Rose Villa Tavern – Birmingham
You'll find buffalo chicken wings, gourmet dogs, wings n' flings, stacked burgers – all the classics, cooked to perfection at this cosy pub. But it's those burgers you should be making a beeline for.
There's something for everyone: a juicy beef patty with cheese; a spiced chickpea burger; a vegan beetroot and carrot burger or a boneless chicken burger.
---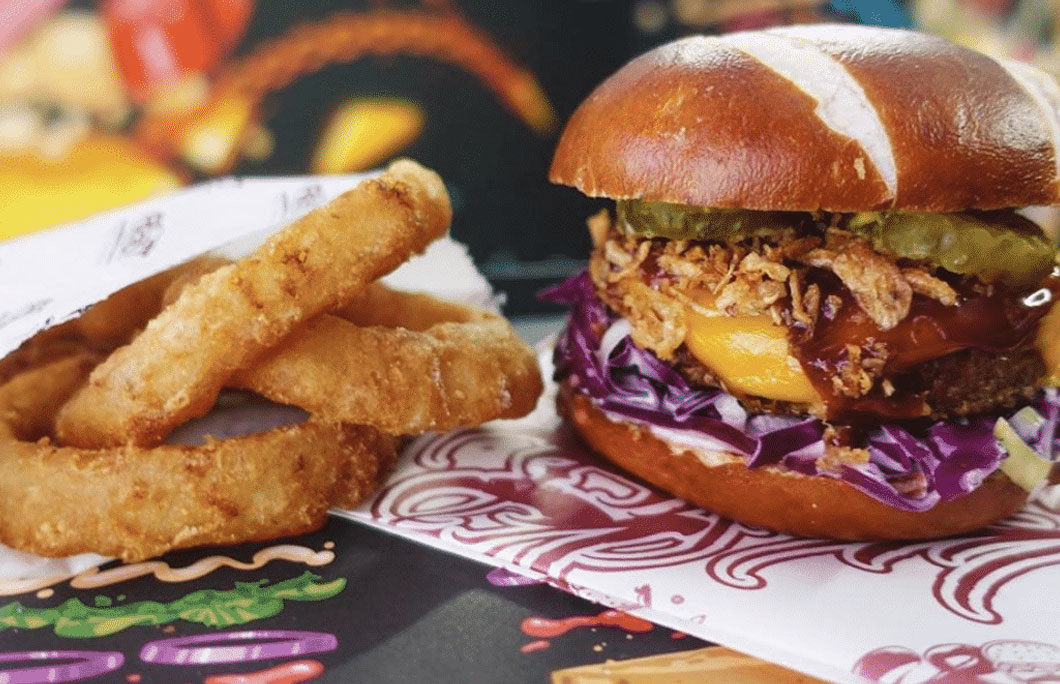 44th. Frost Burgers – Liverpool
They are a 100% plant food based restaurant and are clearly winning meat lovers over to the vegan movement.
The thing about their burgers is that they taste so good and have so much flavour that you quickly forget there isn't any meat in there. Try it and you will be very pleasantly surprised.
---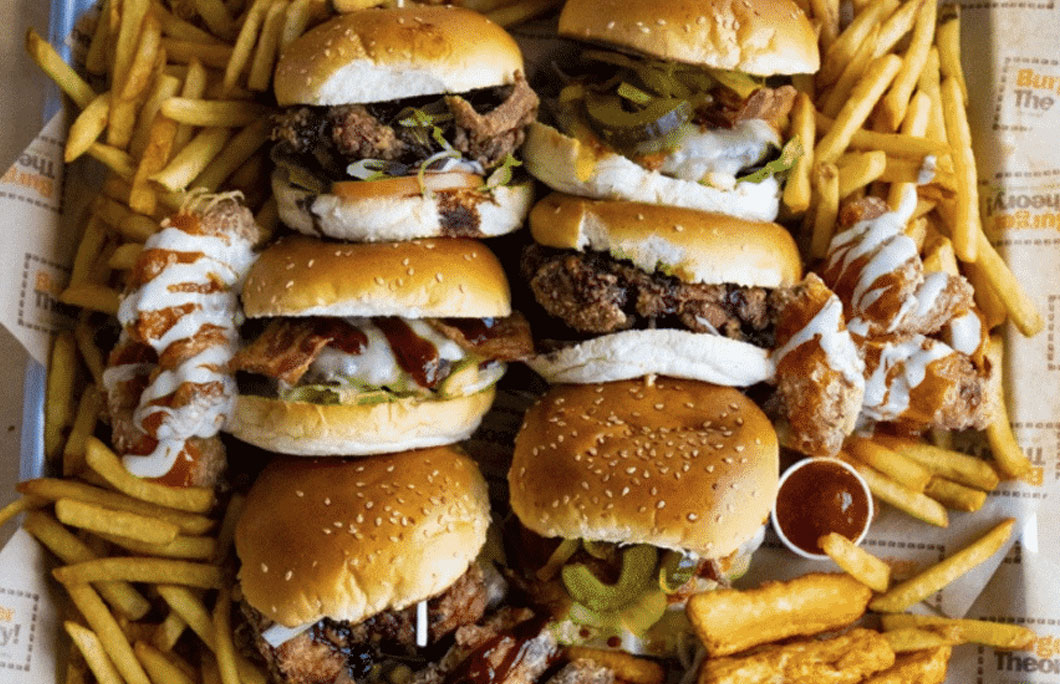 43rd. Burger Theory – Bristol
There's no limits to what can and cannot go in to a burger here. That's just one of the reasons why Burger Theory have built up such a loyal fanbase in Bristol and beyond.
The other reasons? The caramelised meat. The juicy, pink patties. The smoked pickles or bacon & ale jam… We could go on, but just know that it's among the best burgers in England.
---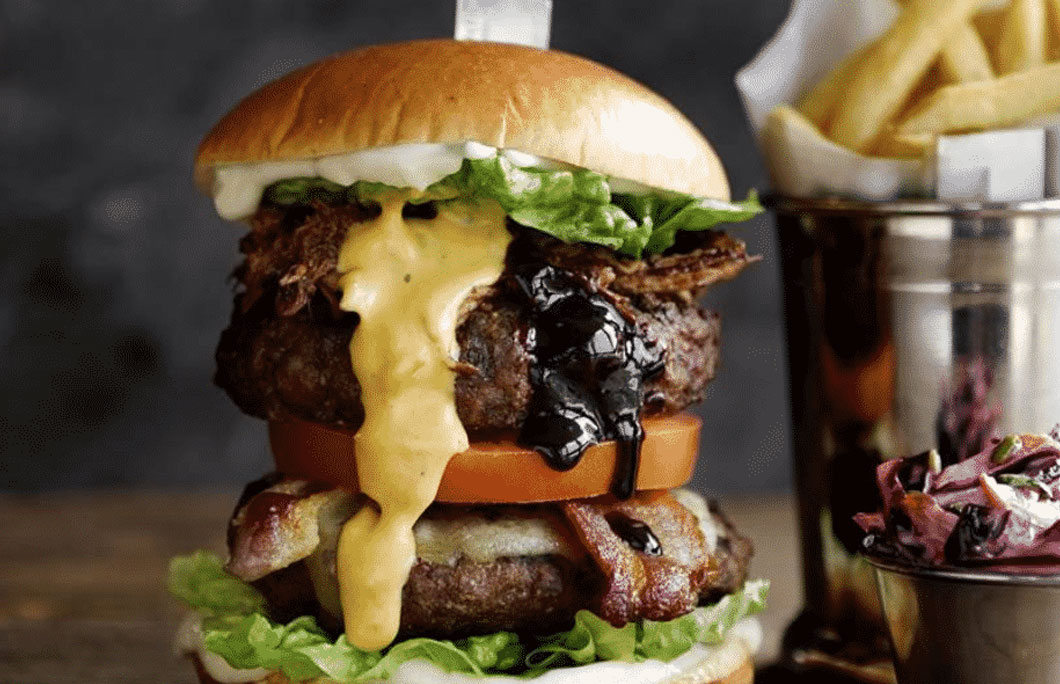 42nd. Coast to Coast – Stoke-on-Trent
Coast to Coast is a US-style restaurant that serves up from inspired from by the flavours of the 50 states. The burgers reflect just that: they're BIG, and tasty. Think mac 'n' cheese and Texas chilli toppings.
Go full on American with a glass of barrel-aged bourbon on the side.
---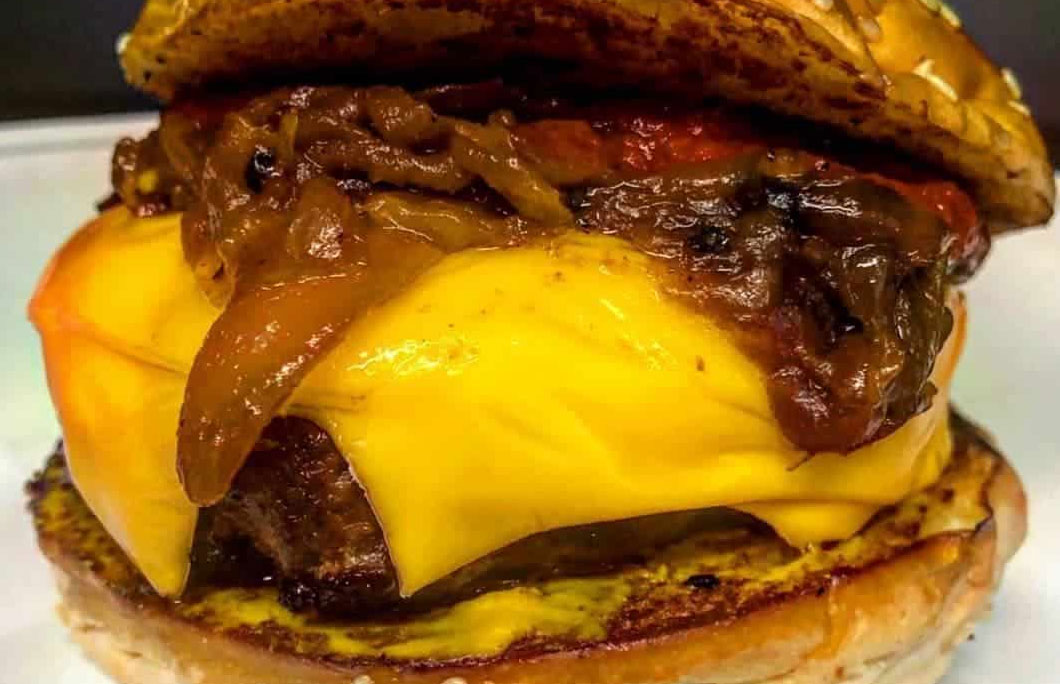 41st. South Street Standard – Exeter
All the amazing food here is prepared using quality seasonal produce and ethically sourced meats where possible – South Street Standard have a passion for doing things right.
The burger menu is full of creative choice – a Korean fish finger burger, vegan seitan or the a deep fried mac'n'cheese fritter topped with Welsh rarebit onion jam, rocket & a fried egg, in a brioche bun.
---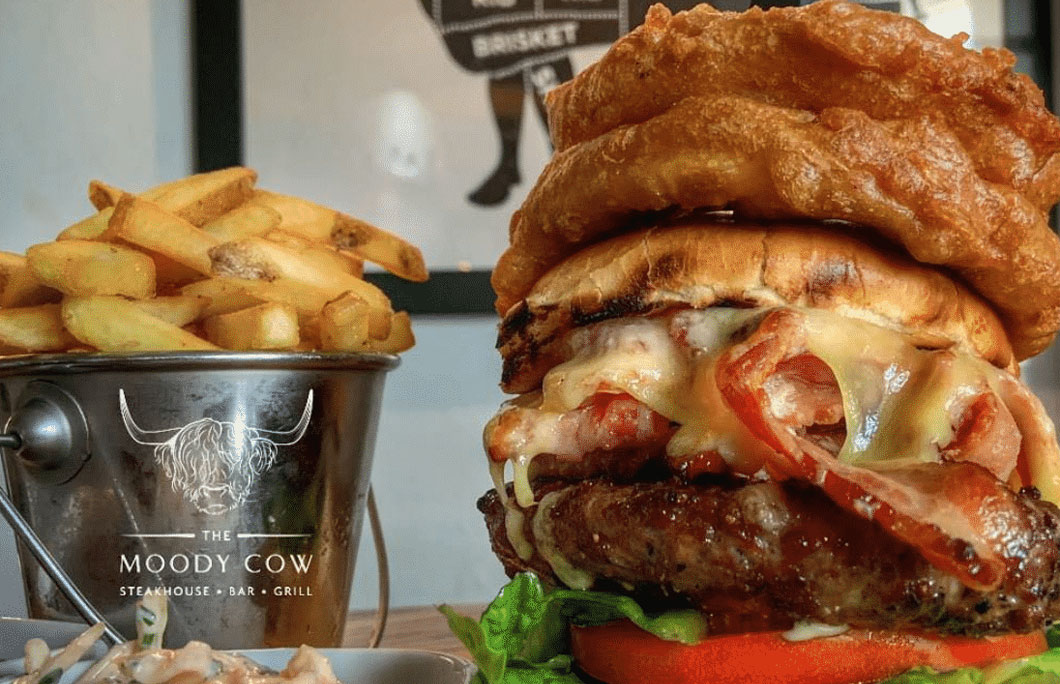 40th.The Moody Cow – Bradford
The Moody Cow is an award-winning steakhouse restaurant, bar and grill using the finest locally grown, raised and sourced produce. Many come for the steaks but to ignore the burger would be a travesty.
It comes complete with huge onion rings and wedged full of toppings. You'll do well to finish this in one sitting. A beast of a burger.
---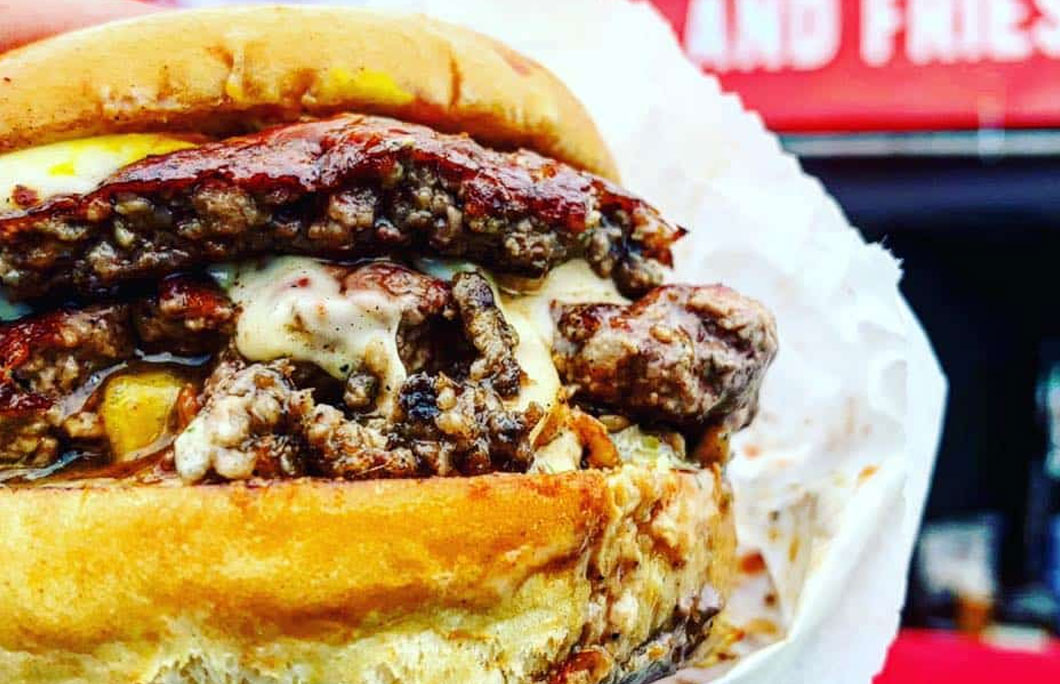 39th. Meat Stack – Newcastle
Now with two locations in the city, Meat Stack's freshly ground salt-aged beef is what makes them so delicious. They also make all their own relishes and sauces which bring the burgers to life. Once you've had one of these you may never be able to look at other burgers in the same way again.
---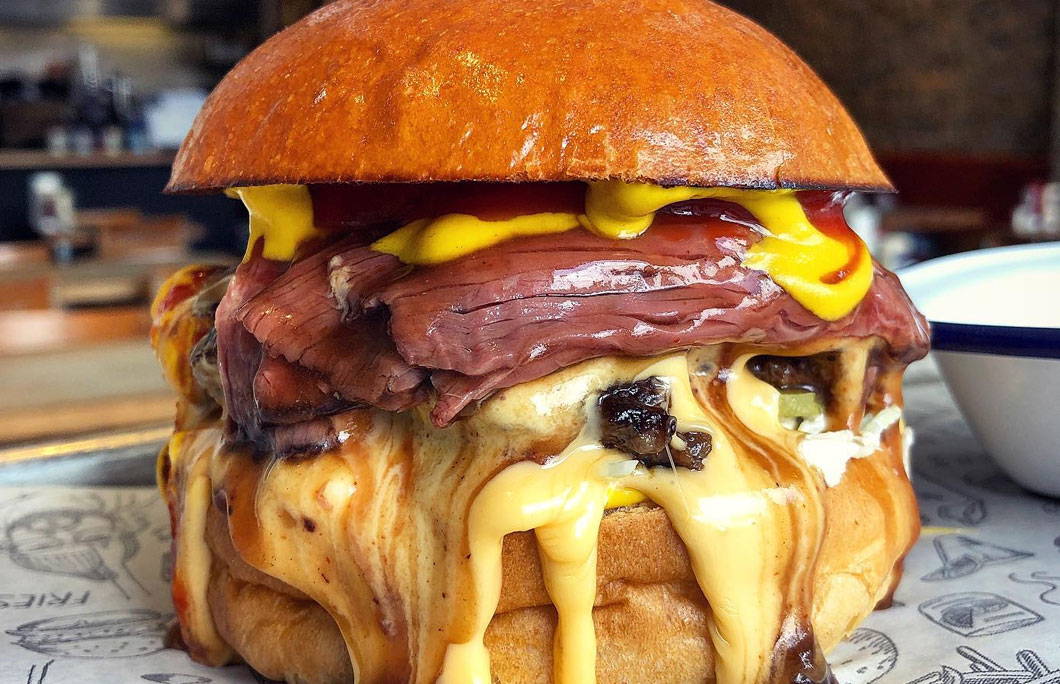 38th. Dip & Flip Battersea – London
The original outpost of the iconic Dip & Flip burger, they specialise in roast meat sandwiches dipped in gravy (Dip) and flat griddle smashed burgers (Flip).
Burgers are griddle smashed to seal in the flavour, and come in a soft brioche bun with French's mustard, ketchup, American cheese, cabbage slaw and pickles.
---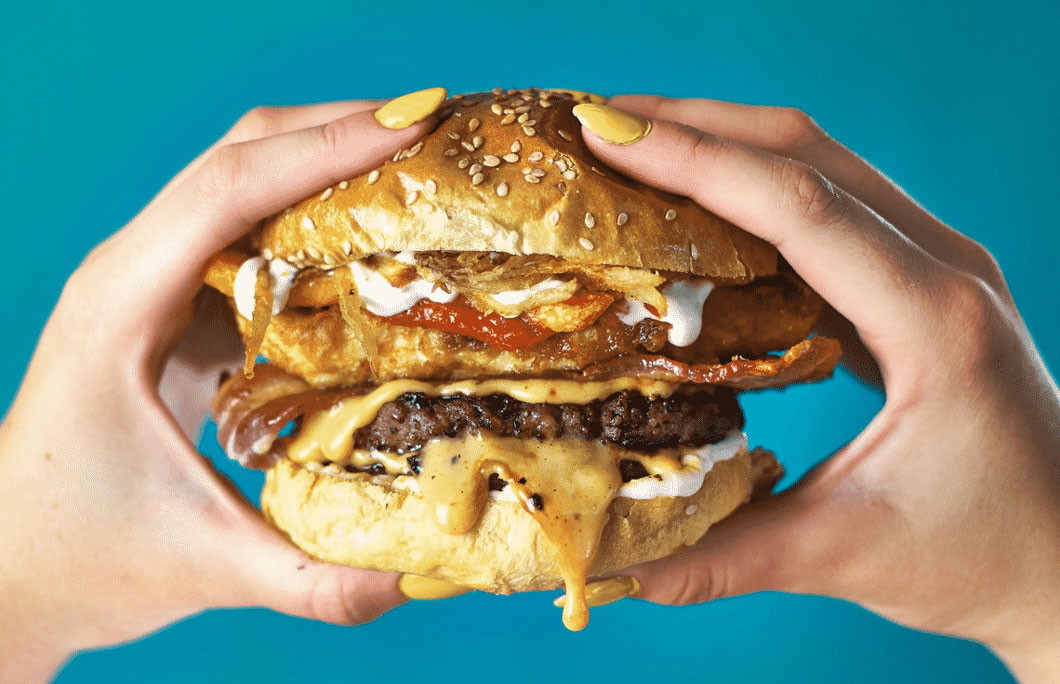 37th. Revolution – Nottingham
They serve up and specialise in all the good things in life: cocktails, loaded fries, pizza and of course, burgers.
The burgers taste every bit as good as they look, with inventive toppings and seriously good sauces. This is the perfect place to start a big day or night out with friends.
---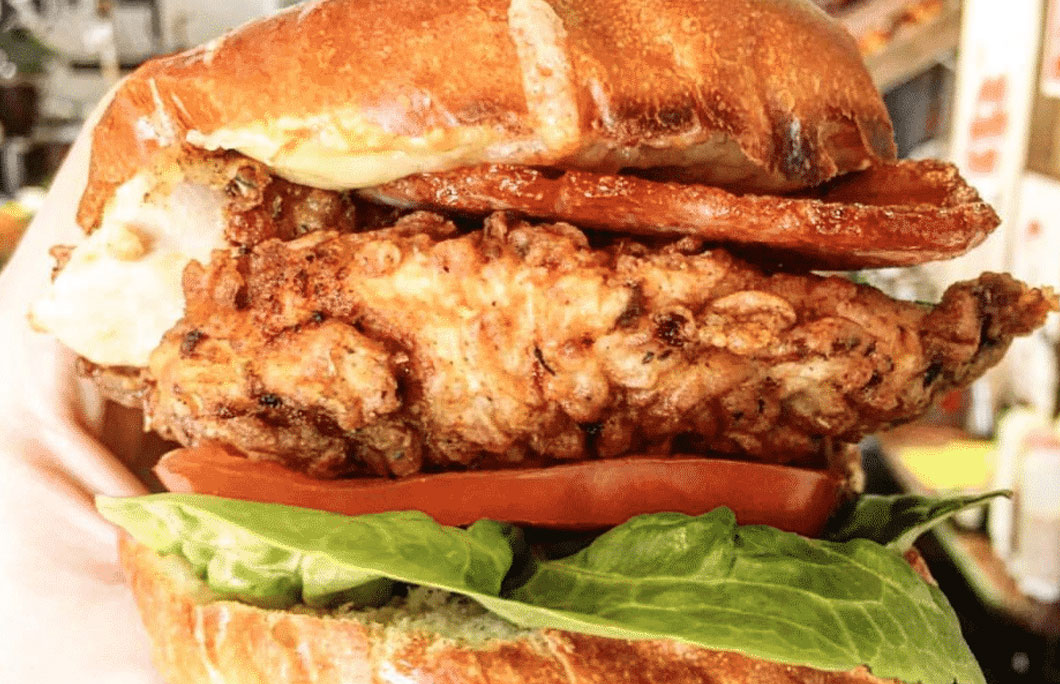 36th. Lucky Fox – Sheffield
We snuck a chicken burger in at the end for those who prefer something different to beef. Their chicken comes in all shapes and sizes from wings to nuggets and salads but the burger is king here. There's a brilliant buzz in the room; washed down with some craft beer you will be in absolute heaven.
---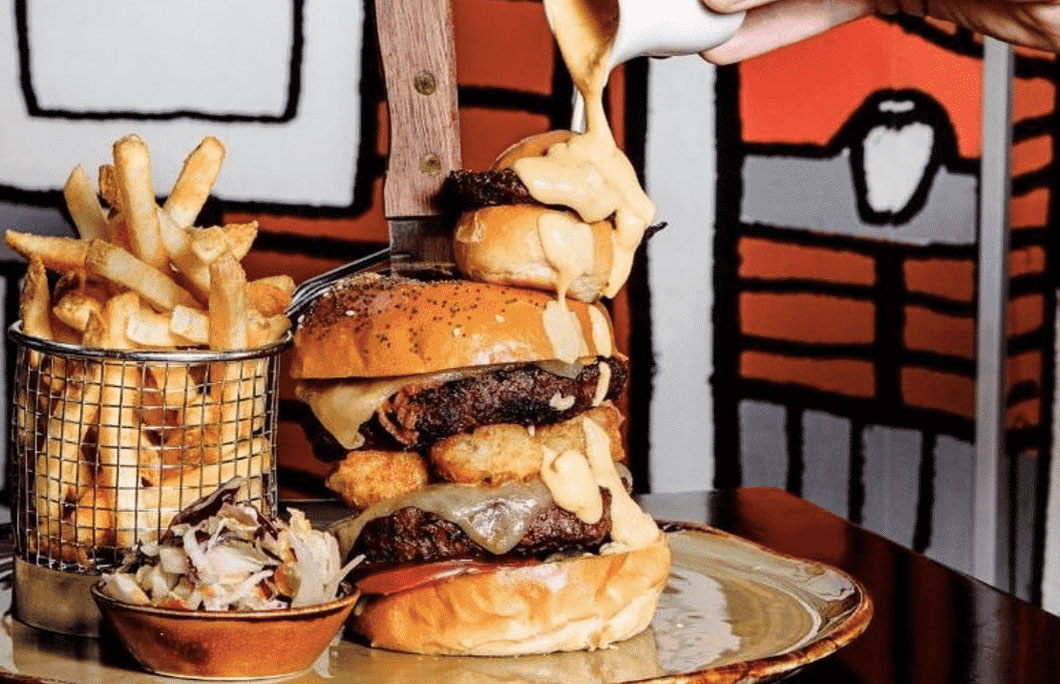 35th. Dog Bowl – Manchester
Dog Bowl is a New York inspired bowling alley which is the perfect place to come with friends for a fun social night out. As well as huge delectable burgers (among other American diner-style food) they offer great cocktails and a selection of seriously good craft beer.
Not the sort of place you'll want to leave in a hurry.
---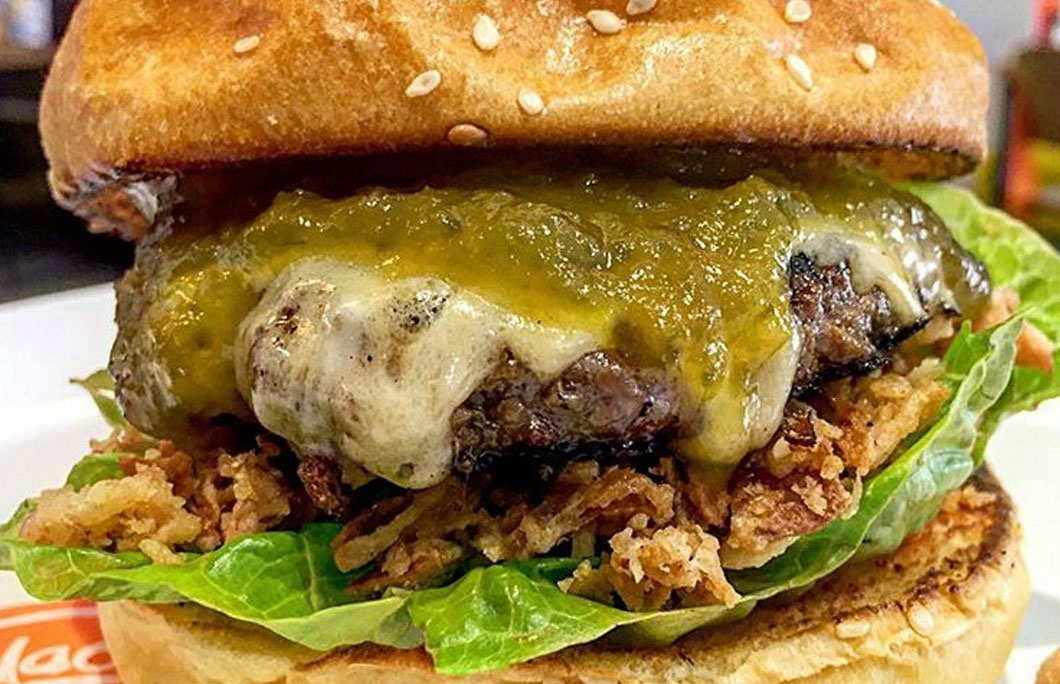 34th. Blacks Burgers – Horley
Blacks Burger serves up thick, juicy burgers that you can customise exactly to your liking. Start with either beef, buttermilk chicken or veggie patty and then choose your 'style'.
We love the Pigcaso Burger: Cheddar & American cheese, caramelised bacon jam, bacon mayo & smoky streaky bacon. Finish it off with as many free toppings as you like, such as peanut butter, crispy fried onions or jalepeno jam.
---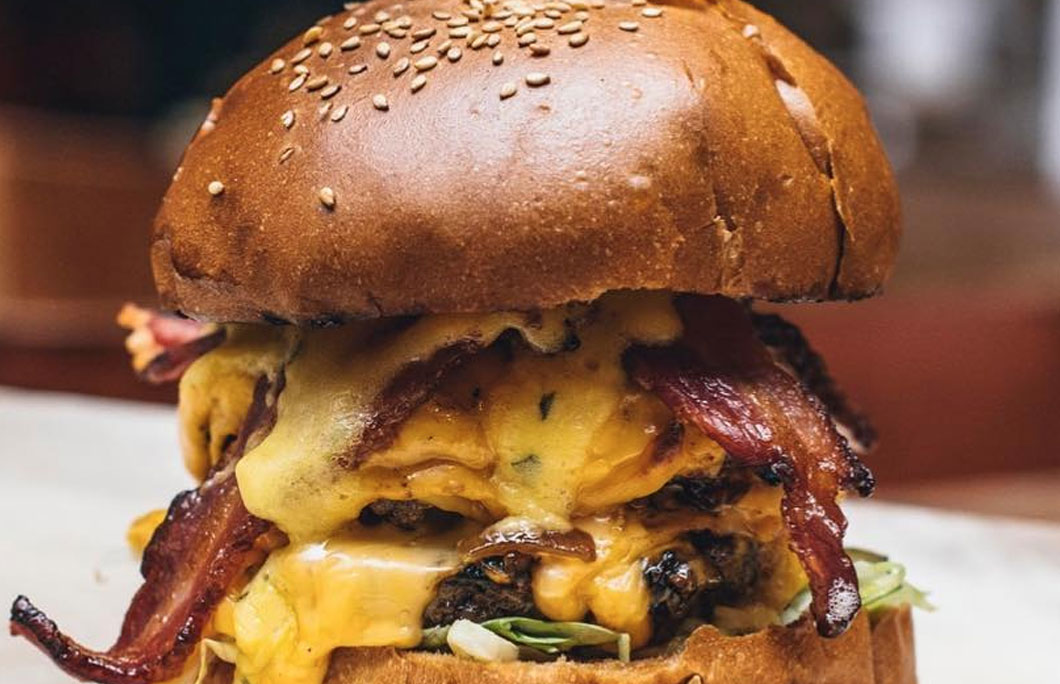 33rd. Mac & Wild – London
Mac & Wild have lightly more luxurious settings than many of the spots listed here, but this modern Scottish-heritage restaurant highlights the absolute best ingredients and makes a burger so good that we'd give up a month's salary for it.
---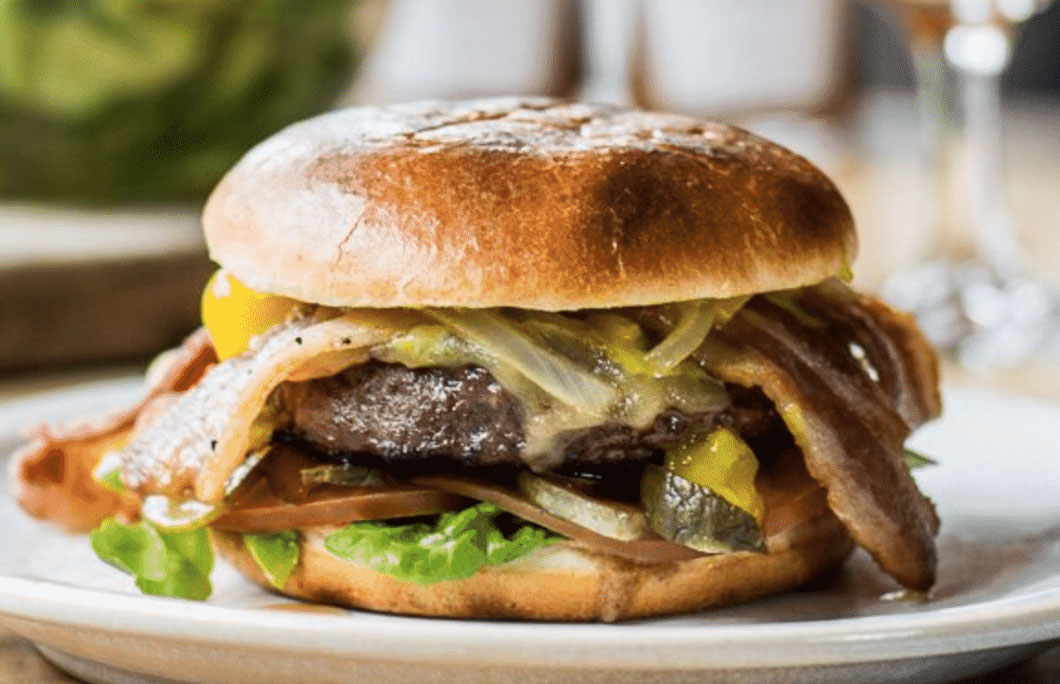 32nd. Oak's – Nottingham
They place a huge focus on sourcing the very best meat for their extensive steak and burger menu. With such a good ingredient at it's core, the burgers are quite simply breathtaking.
Classic in style without relying on overloading the burger with toppings this is confident cooking. Once you taste a mouthful you'll already be planning your next visit.
---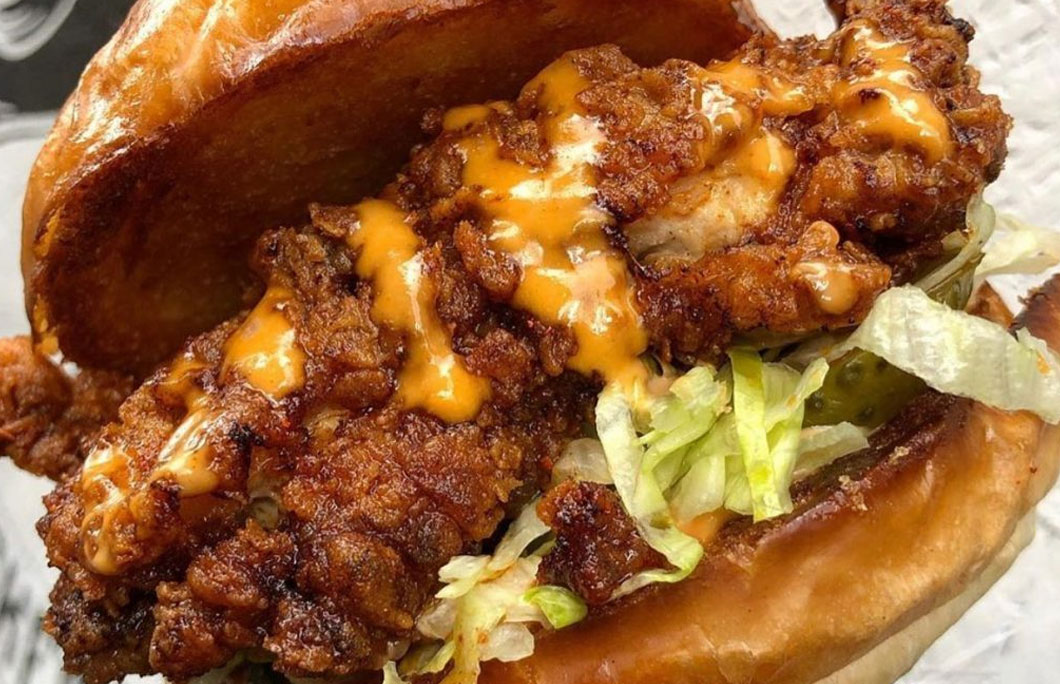 31st. Bonehead – Birmingham
Curveball alert! This is a fried chicken burger joint, but it's our list, so we make the rules. And we say that chicken this good can hold its own in any top burger list.
Burgers are sandwiched with juicy, breaded chicken thighs, with Nashville hot sauce or blue cheese. Add on an order of the loaded waffle fries for food heaven.
---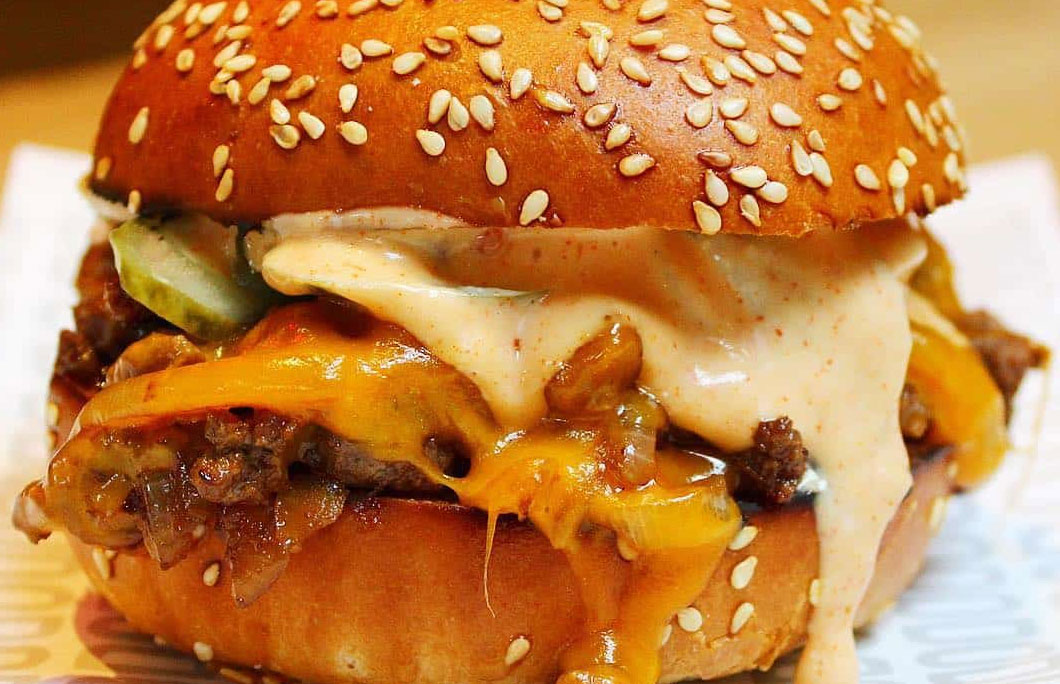 30th. The Rickety Press – Oxford
The Rickety Press is a neighbourhood pub where you can get one of the tastiest burgers in England, all day, every day.
The burgers are served pink, or well done, on fresh and soft sesame seed brioche buns. Indulgent toppings include a cheese stuffed crispy portobello mushroom or beer braised onions.
---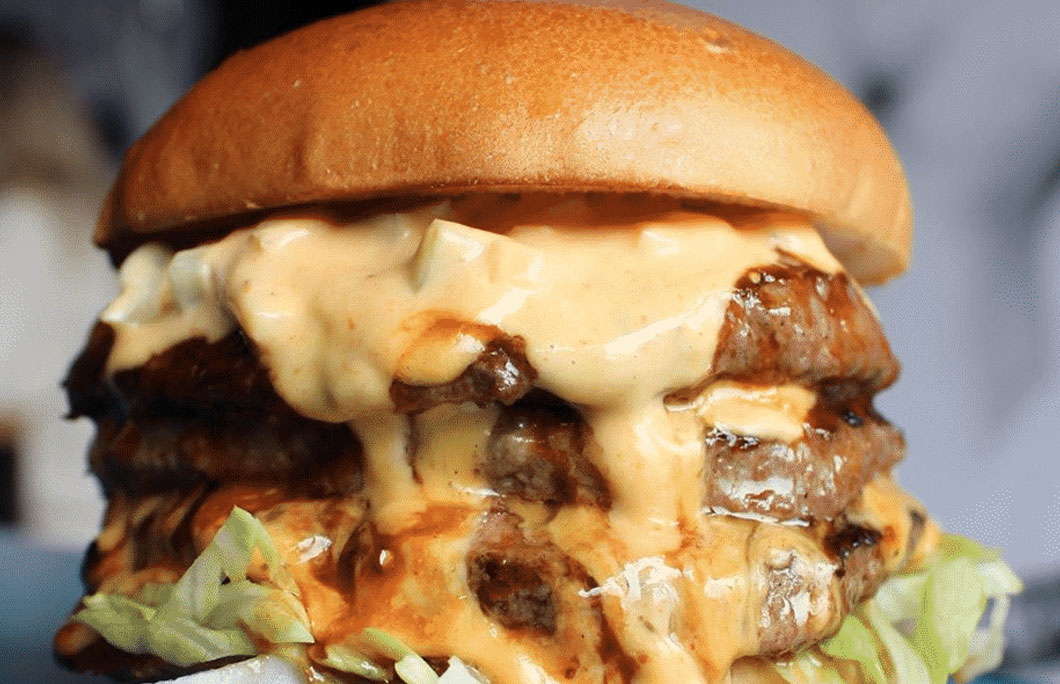 29th. Almost Famous – Leeds
Almost Famous have locations around the north of England and their burgers are so pretty and droolworthy that they take over Instagram feeds like nothing else. They also happen to taste outrageous. As far as Yorkshire burgers go this is as beautiful a burger as you'll set eyes on.
---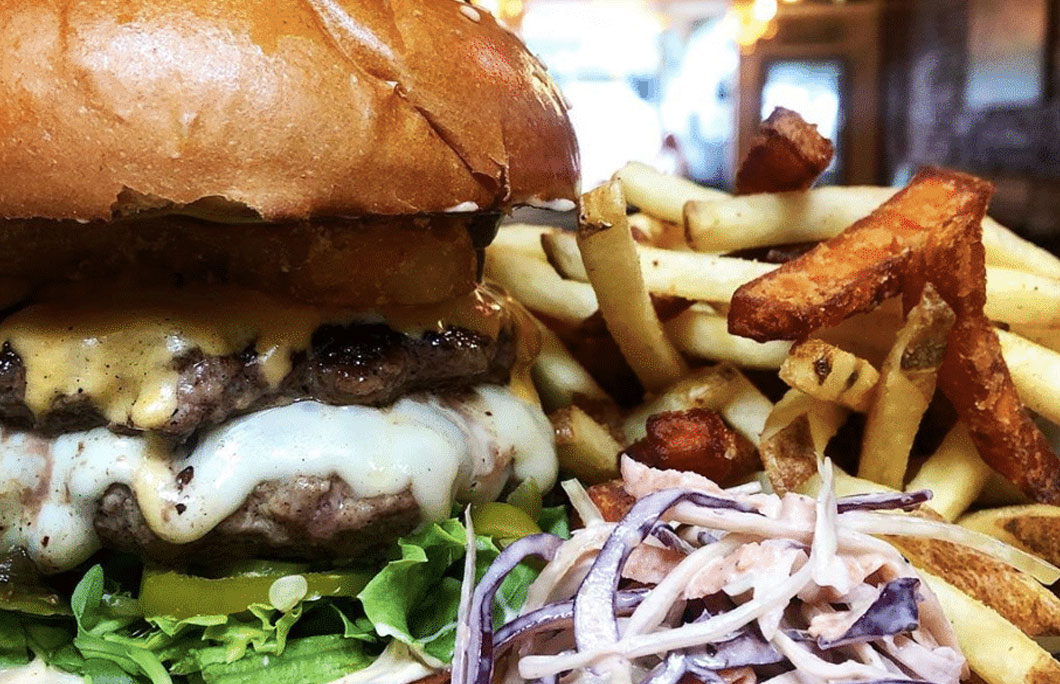 28th. Nolita Cantina – Liverpool
This is the sort of place you come to when you want to have a serious cheat meal. The serve American-style deli food with slow cooked meats and burgers their speciality.
The burgers are absolutely massive, so you'll want a serious appetite if you are going to tackle this and finish it. They shape the meat daily to give it its wonderful freshness.
---
27th. Boo Koos – Helston
Boo Koos are experts at Texas-style burgers – aka, huge and juicy beef stacks. Burgers come smothered in molten cheddar cheese, and for a challenge you can tackle the 'Mighty Boo' menu.
It's 16oz of steak mince burger in one giant patty, with a choice of up to six slices of bacon, BBQ pulled pork or hash browns on top.
---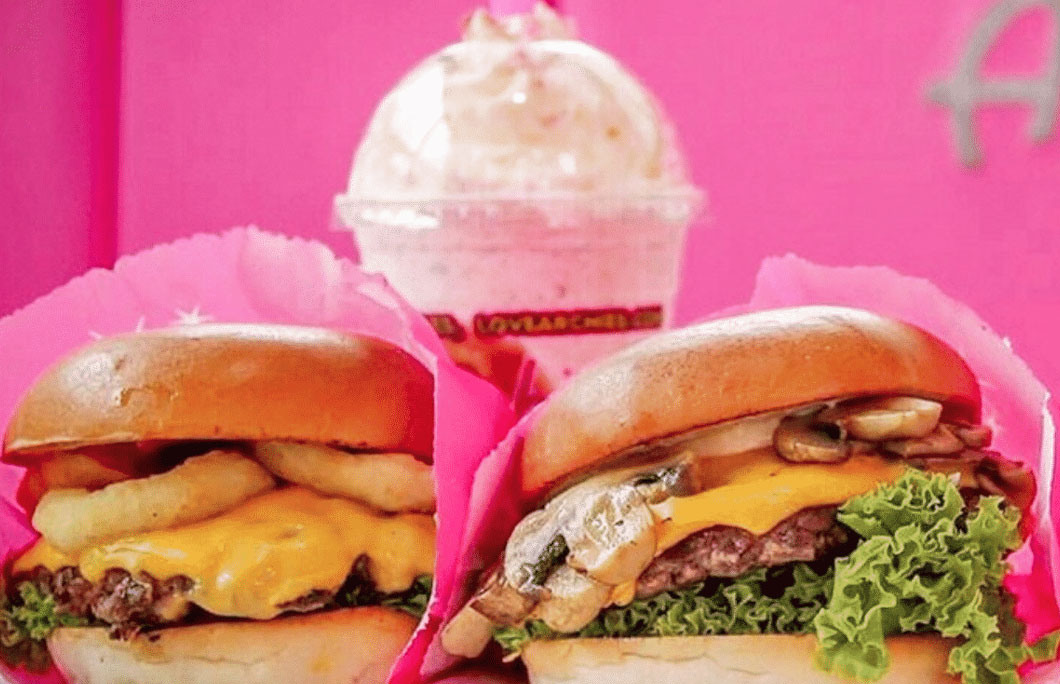 26th. Archie's – Manchester
With locations on Oxford Road, The Arndale and Piccadilly Train Station, this is a fun place to eat from the second you walk in and absorb the pink decor. The burgers are perfectly formed and simply have to be washed down with one of their shakes.
There's lots of other treats on the menu, like hot dogs and waffles, but take our advice and stick to the burgers. Divine.
---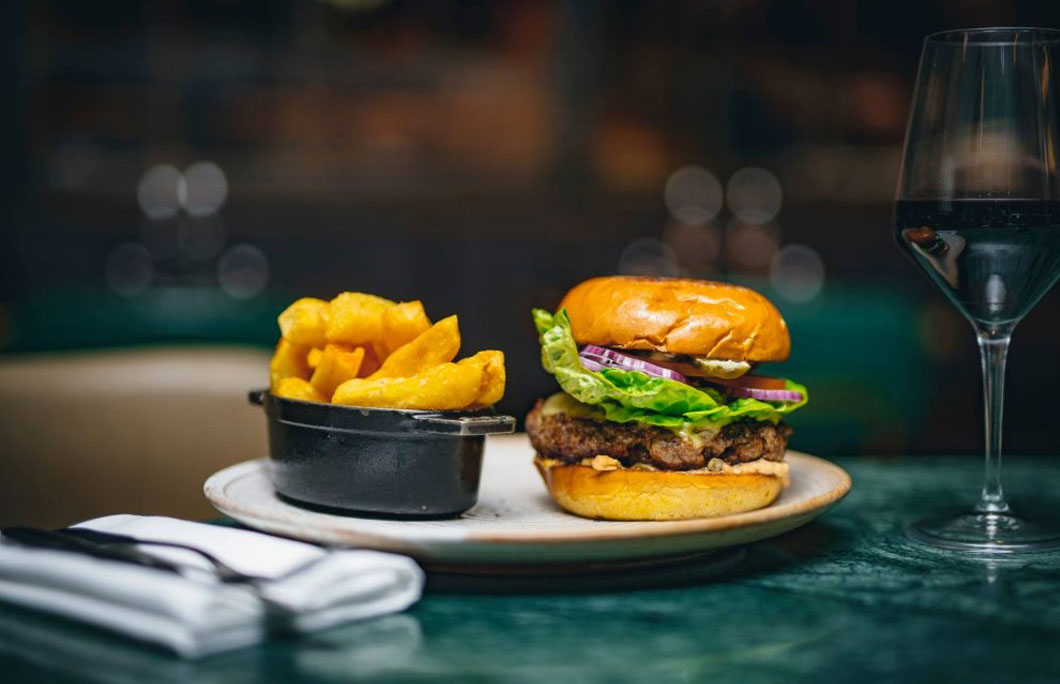 25th. The Coal Shed Restaurant – Brighton
The Coal Shed is a steak restaurant in the heart of Brighton where – duh – pretty much everything is cooked over hot coals. This goes for the burger too. There's just one on the menu but it's perfection.
It's a beautiful Black Angus steak burger with Bourbon relish, lettuce, pickles and chunky chips.
---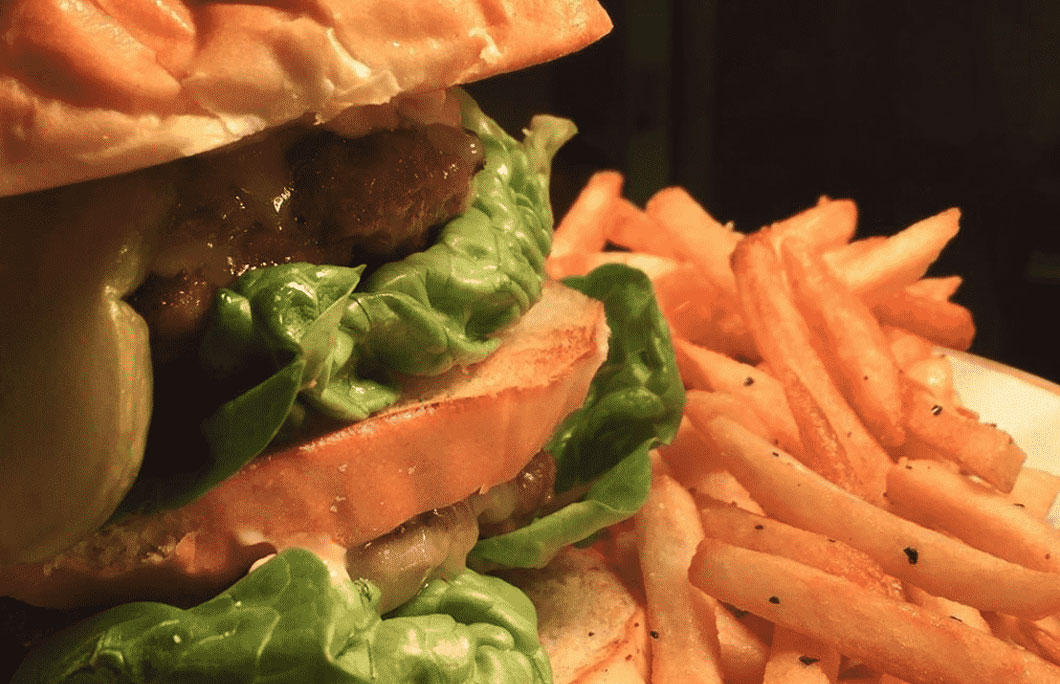 24th. The Baltic Social – Liverpool
They focus on doing three things perfectly here: food, drinks and music. It's a winning combination with great Sunday roasts, breakfasts and cocktails, but the burger is the standout.
Huge buns that you will struggle to get your mouth around, and super juicy meat make this a burger you'll be coming back to on a regular basis.
---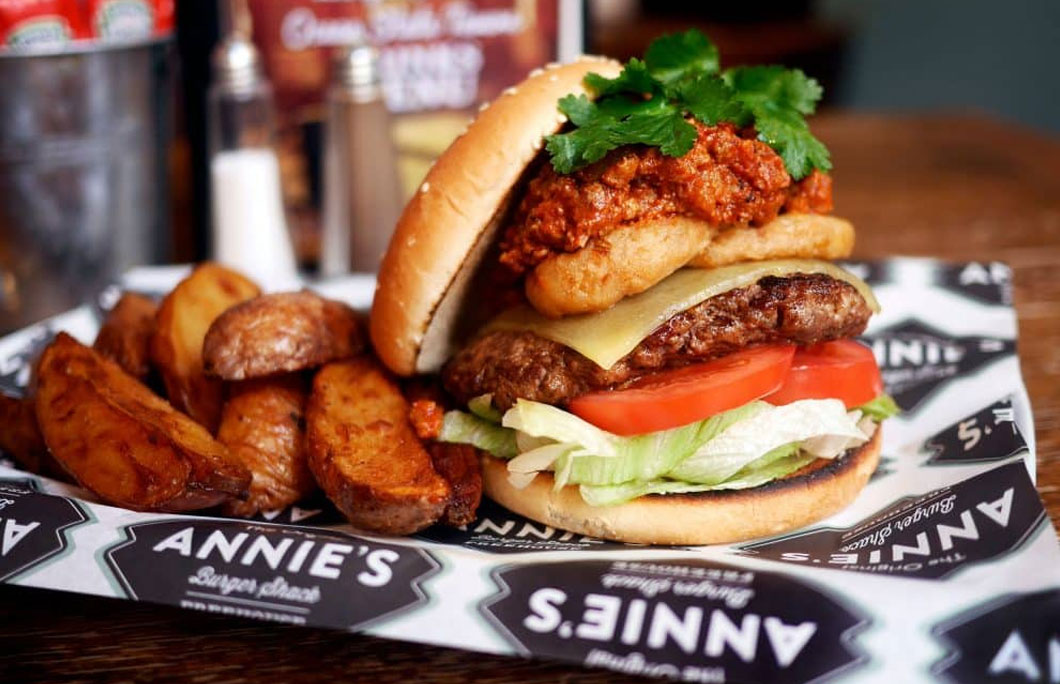 23rd. Annie's Burger Shack – Nottingham
No surprises here – it's consistently voted best in the area. The burgers are authentically American (Annie ships her seasonings over from the US so her burgers are just like back in America) and every burger on the menu is available as vegan, veggie or meat! That's 34 burgers for everyone to choose from.
Served up casual style on paper trays with fries on the side, the burger is classic in style and everything you could ever wish for.
---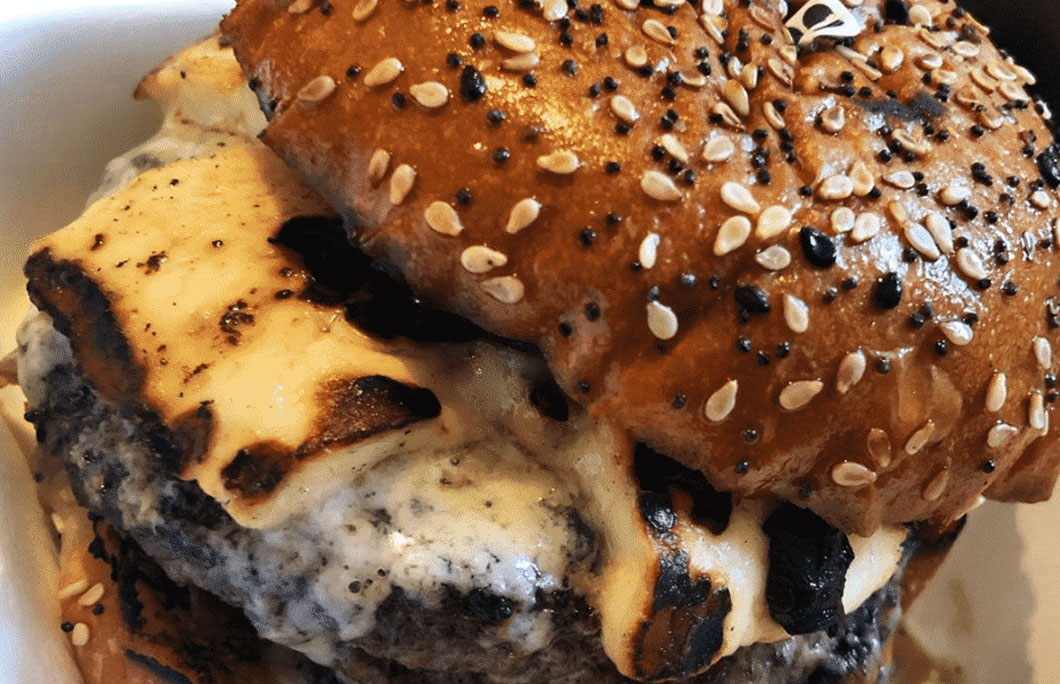 22nd. Burger Brothers – Brighton
With a menu packed full of indulgent flavours and creativity, Burger Brothers is a must-try burger joint in Brighton. There's flash-fried Halloumi, homemade scotch bonnet hot sauce or creamy blue cheese.
As for the patties themselves? They're juicy and full of flavour.
---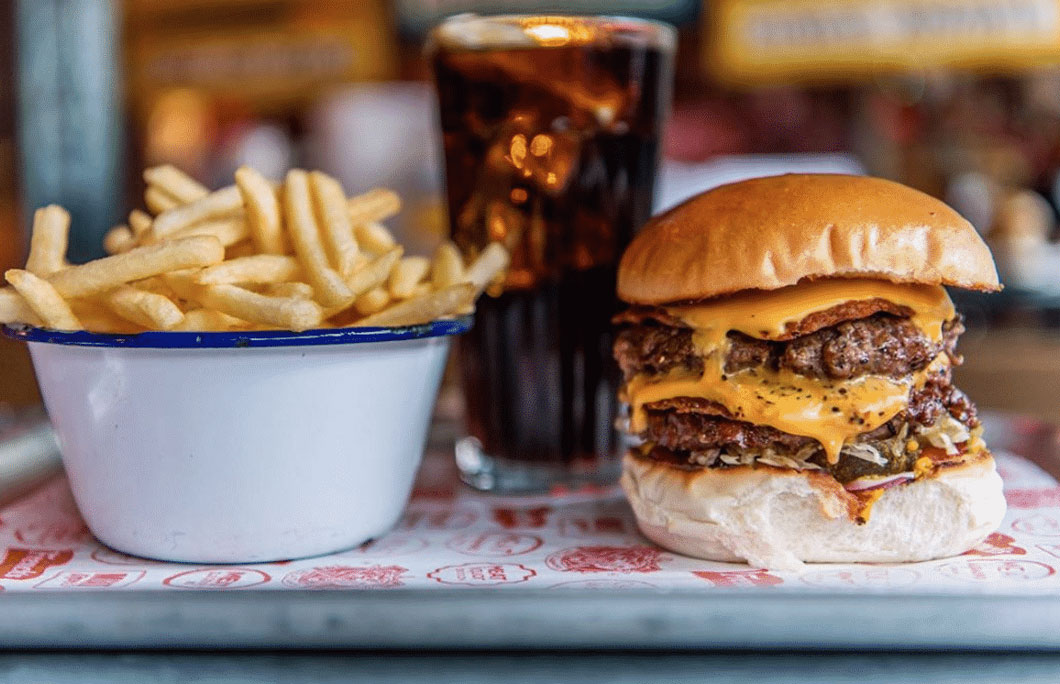 21st. MEATLiquor – Leeds
This restaurant-meets-diner has a super casual and fun atmosphere where the food is the star of the show. Proper portions, big flavours and friendly service. Just remember, you'll want to wash the burger down with one of their great cocktails. The perfect place to start a night out with friends.
---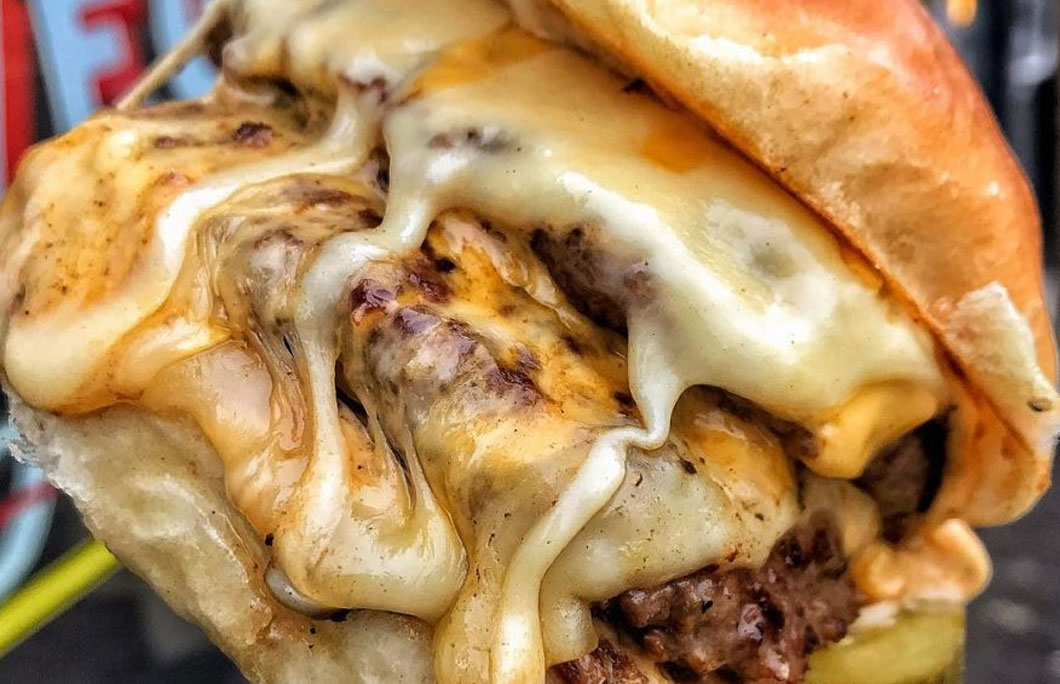 20th. Oowee Diner – Bristol
If you like your burgers dirty and don't mind getting your hands a little greasy then Oowee Diner will be your idea of a happy place. Their burgers are dripping with cheese and the signature Oowee dirty sauce.
There's two locations in the city – the original Picton Street site mainly does takeaway, while the North Street restaurant has more space to eat in.
---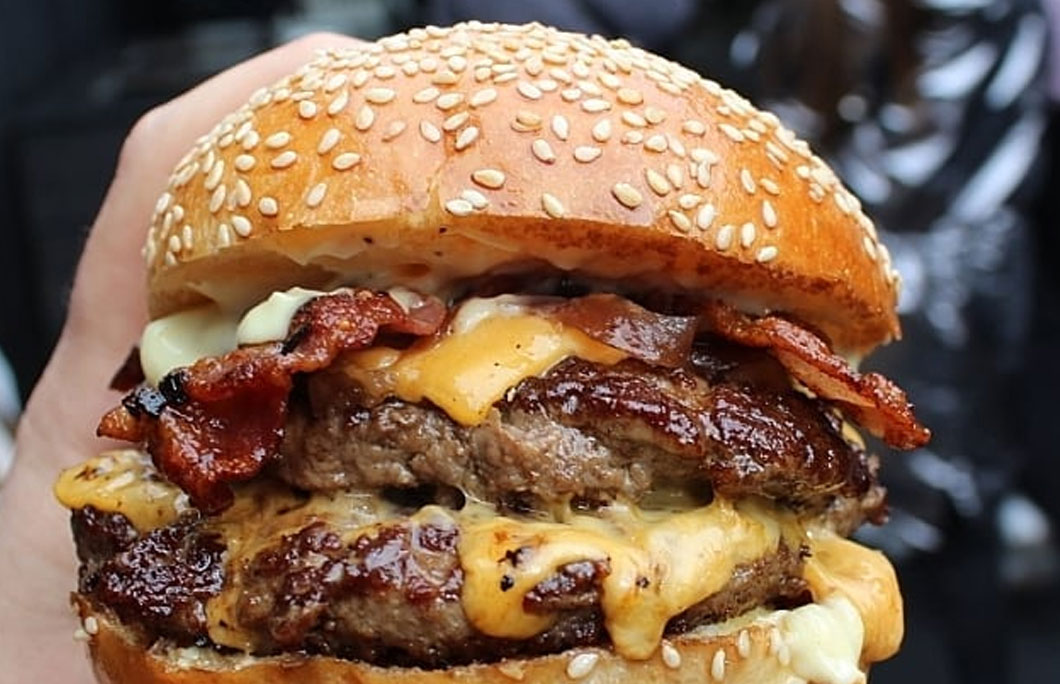 19th. Black Bear Burger Restaurant Shoreditch – London
If you like your burgers piled high with toppings, dripping with cheese and almost too pretty to eat, then Black Bear is your new mecca.
These iconic burgers are on many people's must-eat lists when in London, and you'll see why after that first bite. You'll want to eat another as soon as you finish, so we suggest you pre-empt this and order a double patty.
---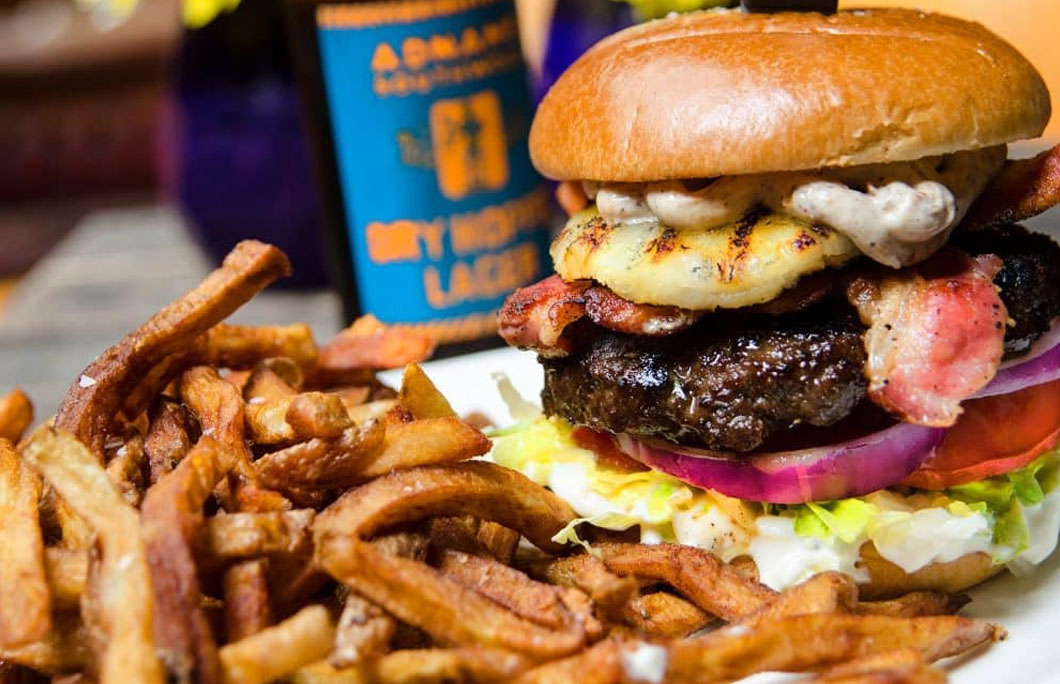 18th. Gonzo's Tea Room – Norwich
This is a funky cocktail bar (check out the rooftop!) that also serves up seriously great burgers. There's regular DJs and music nights and the food menu goes on 'til late, so you can have a near-midnight feast.
Order the Big Kahuna complete with grilled pineapple for the ultimate treat.
---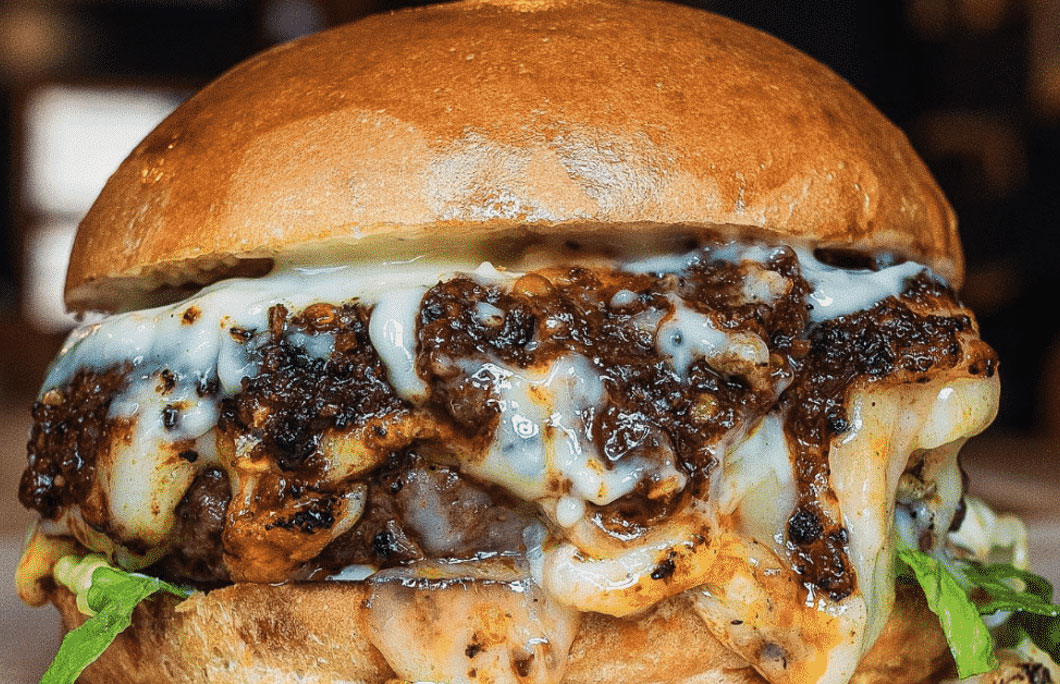 17th. Asado – Bristol
Cooking over a wood fired asado grill and using the highest quality, locally sourced ingredients, Asado is a unique burger joint from Lucien Gordon of London's Patty and Bun fame. Think the very best of South American, Southern American and British flavours coming together in one big juicy bite.
---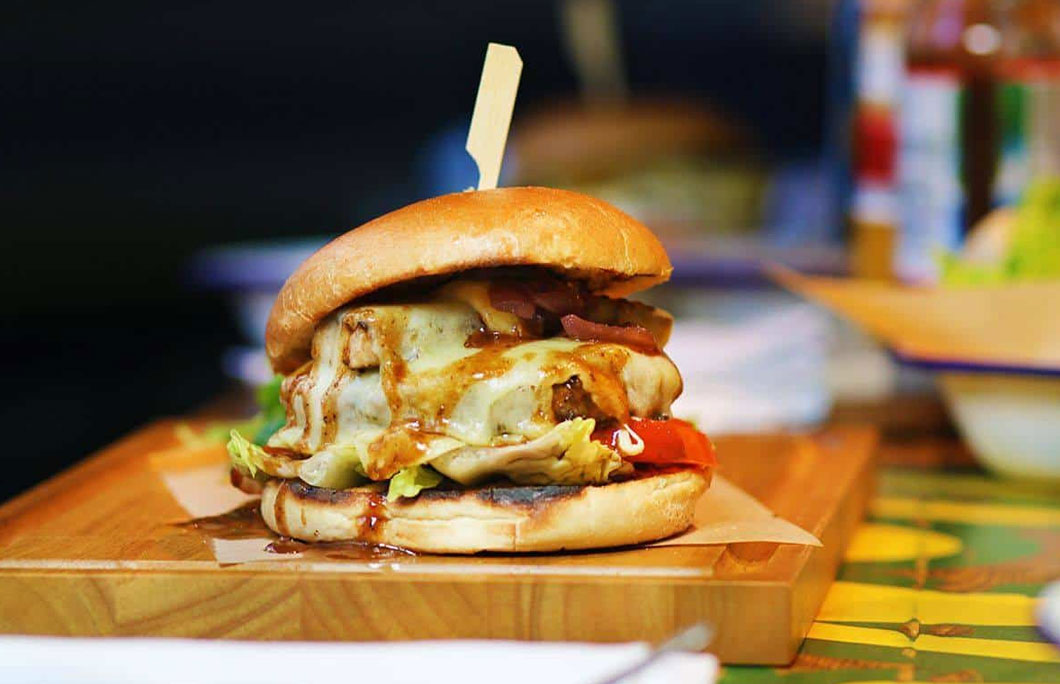 16th. Turtle Bay – Middlesborough
Turtle Bay brings its superb mix of Caribbean spices and flavours to Middlesborough with their colourful – and tasty – menu.
The burger menu is small, but mighty. Go for the fresh beef burger with jerk bacon, cheese, baby gem & BBQ, or try a fishcake burger, halloumi and mushroom or vegan patty. They're all absolutely delicious.
---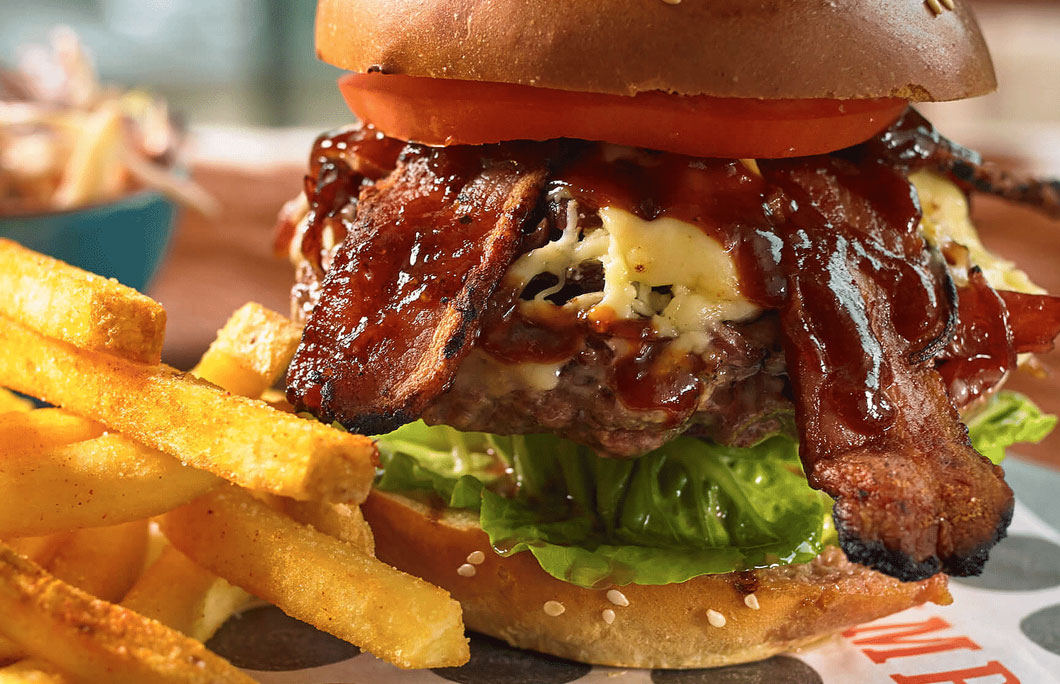 15th. Rumpus Burger – Huddersfield
This artisan burger restaurant is in the heart of Slaithwaite, where the key to their tasty burger is their very own Longhorn cattle, which they raise on their own farm. Rumpus Burger's chefs also put a huge amount of love into every single burger that hits the tables.
Keep an eye out for their mobile "Rumpus" which caters festivals and events. A truly great burger.
---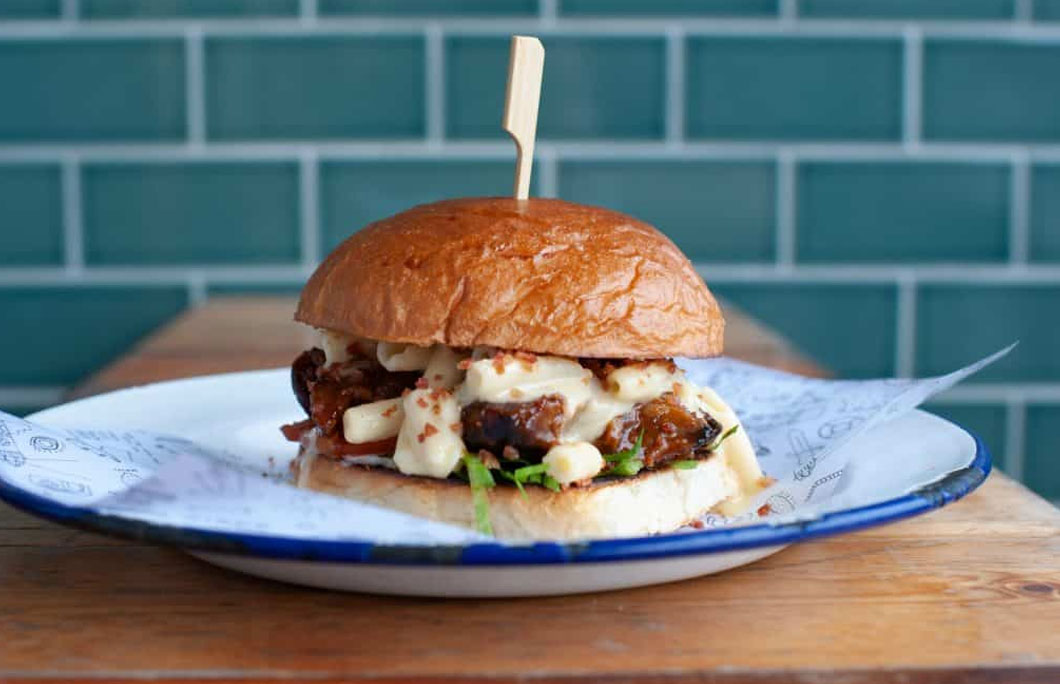 14th. HUBBOX – St. Ives
With several locations across the UK, HUBBOX has a tempting menu of award-winning burgers made using 21 day dry-aged Cornish rare breed beef. The burgers come in locally baked buns, with toppings such as Westcountry cheddar.
There's also four different veggie/vegan burger options. Major bonus: it's super dog friendly!
---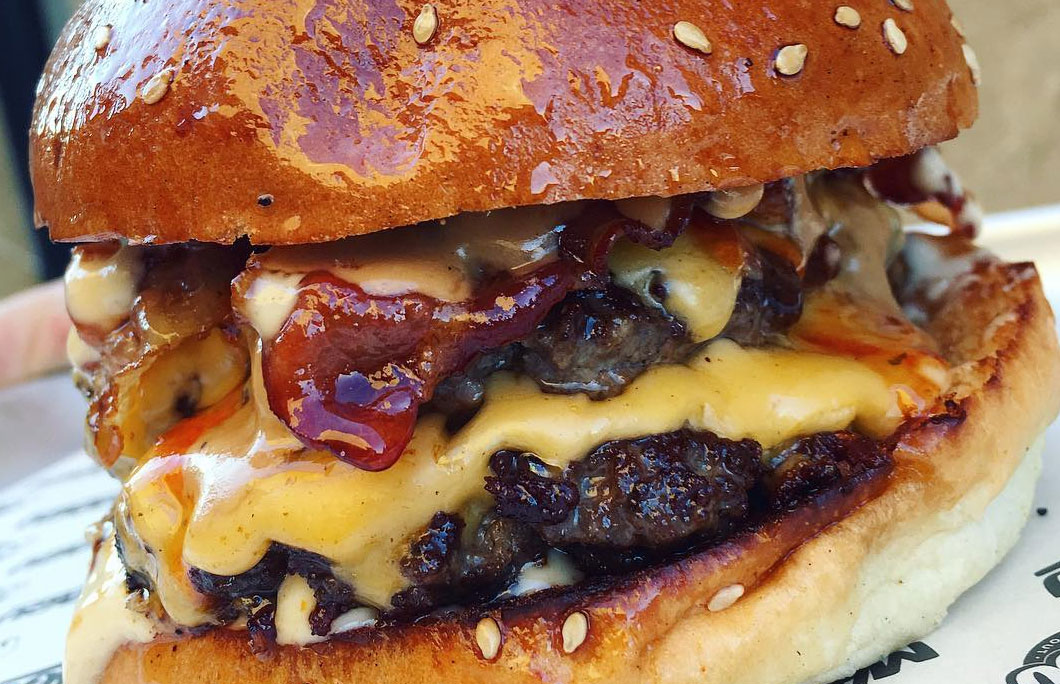 13th. Magu Diner – Bath
Magu Diner is no ordinary diner – they get their succulent beef from a farm in Gloucestershire, baps from an independent Bristol bakery, and they make our own sauces and toppings.
You can taste the quality in every bite. The Full Cheese Ahead is a must-try; it has five different cheeses and baconnaise.
---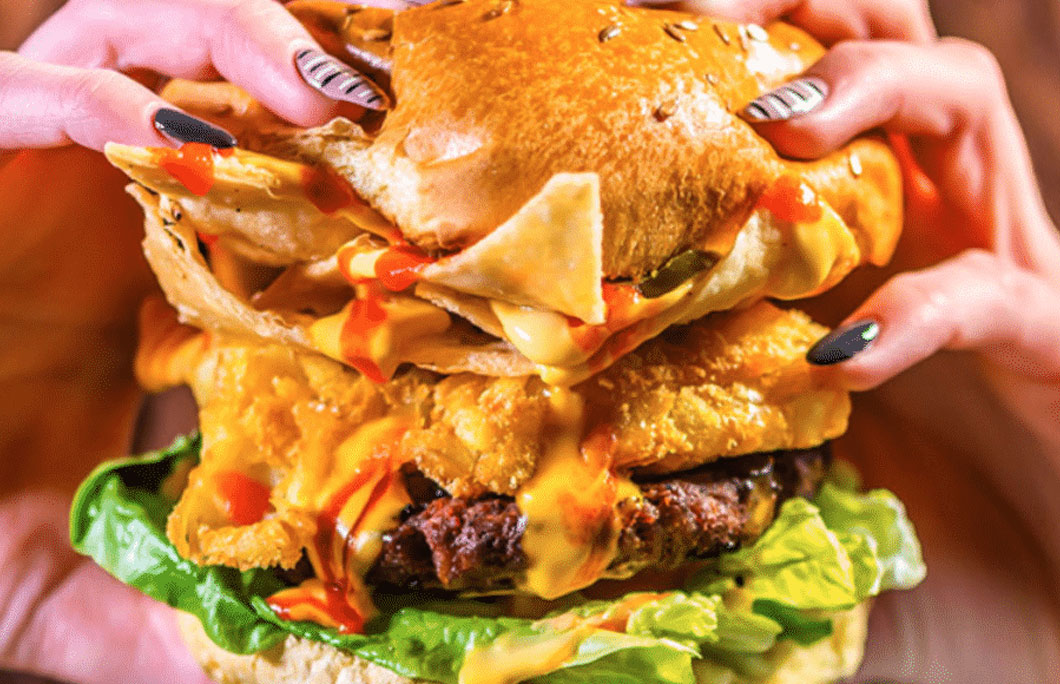 12th. A Nation Of Shopkeepers – Leeeds
A Nation of Shopkeepers is one of the most famous and storied venues in Leeds that has always had a big focus on music. A big revamp in 2017 saw them introduce amazing food and a huge selection of beers on tap.
The perfect place to come for a night out with friends and to load up with one of their massive burgers with delicious toppings before carrying on to a big night out.
---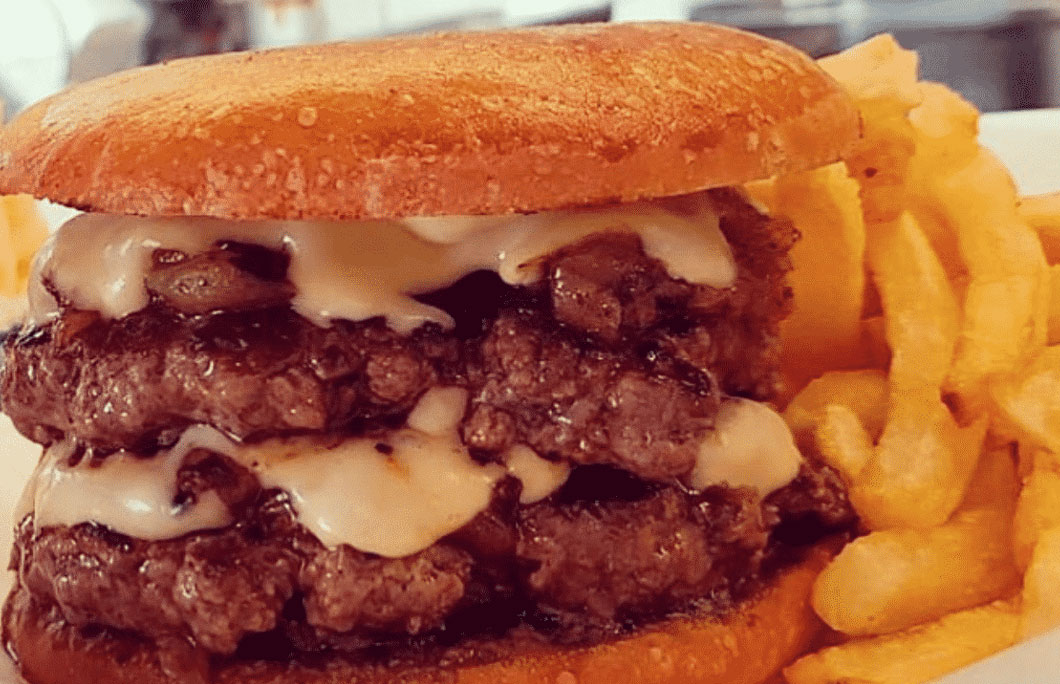 11th. Free State Kitchen – Liverpool
They serve up classic American food and drink, like burgers, sundaes, deli sandwiches cocktails and craft beer. In short, it is one of those places where you want everything on the menu.
The burgers are where it is at though. Classic in style with double juicy patties, perfect cheese and wonderful fries on the side. You couldn't wish for more.
---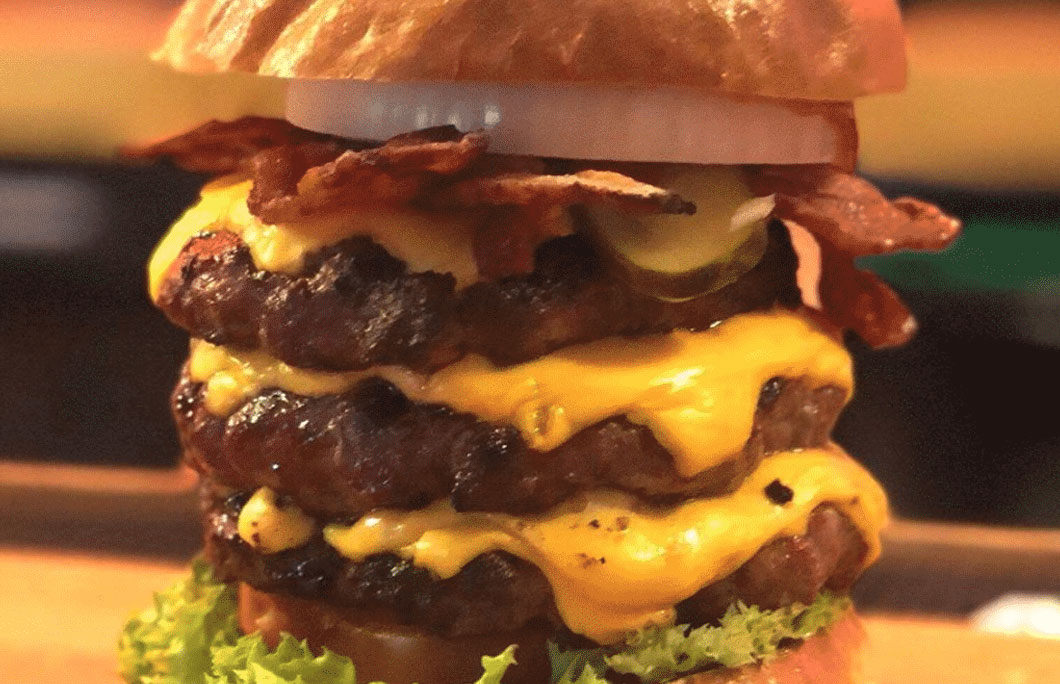 10th. Solita – Manchester
With locations in Manchester's Northern Quarter, Didsbury and Prestwich, they have been serving big, bold food to customers for years.
The sort of place you come for a proper "cheat meal" as once you taste that first bit of the burger you won't regret it one bit. Do come with an appetite though, because the portions are massive.
---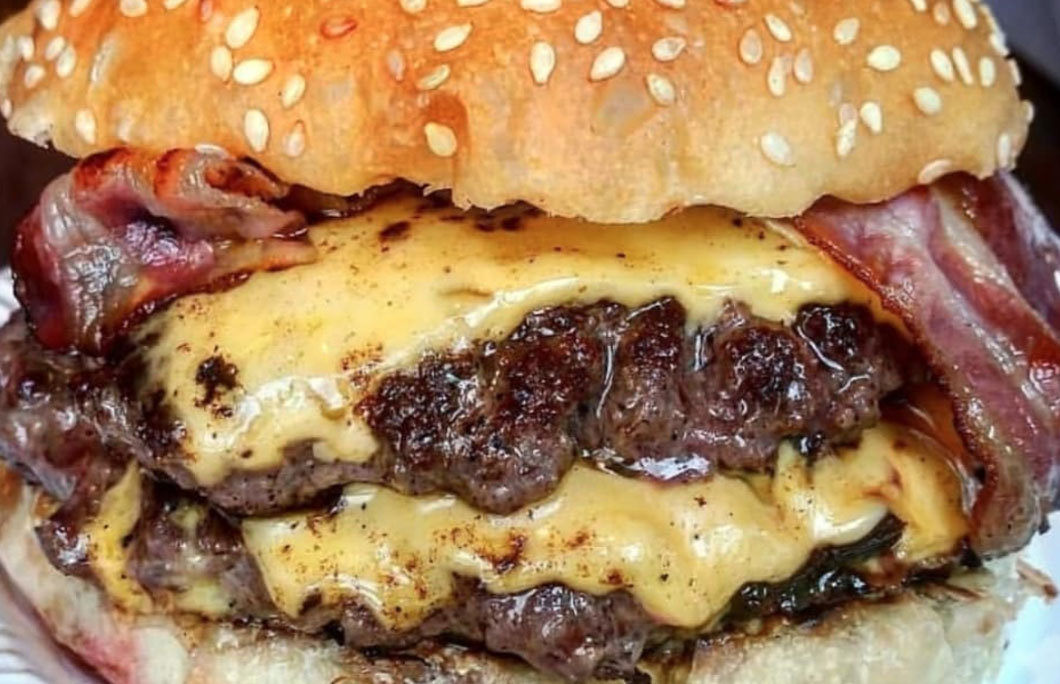 9th. Bleecker Burger -London
The whole concept here, is that less is more with just four simple burgers on the menu. You can make them a "double" but that's about it when it comes to customisation. Why mess with something so simple and perfect by adding a load of toppings?
It's consistently voted among the top burgers in England.
---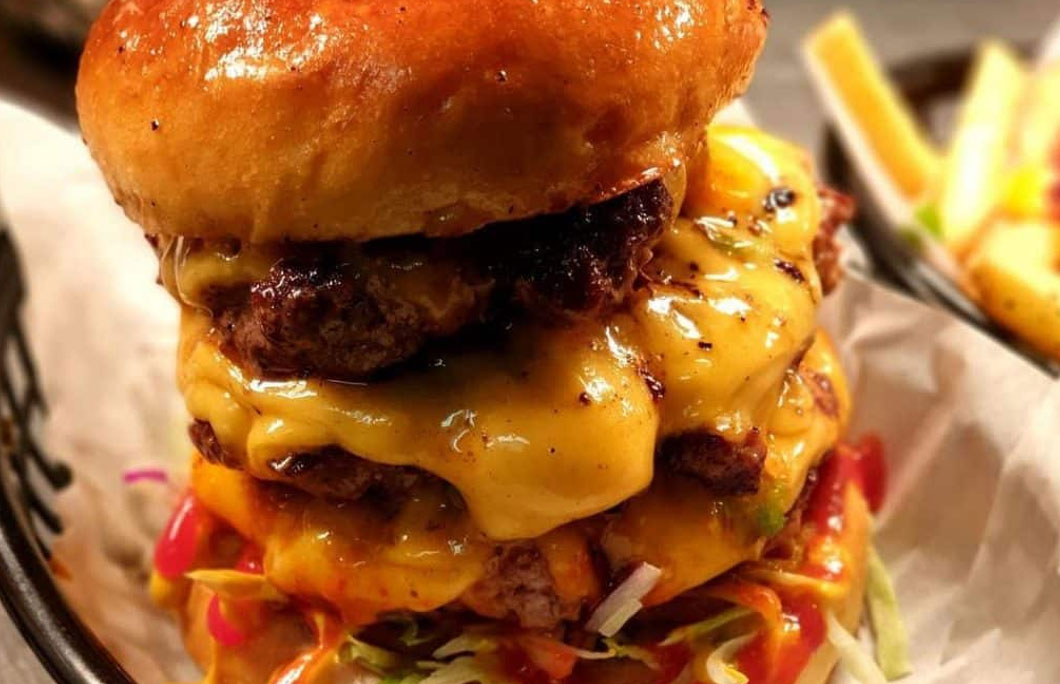 8th. The Meat Shack – Birmingham
The Meat Shack does exactly what it says on the tin: incredible, tasty meat. Burgers here are a 5oz hefty hunk of well-aged grass fed beef, hand 'smashed' and cooked to order.
It might take a little while, but with toppings such as candy bacon crumbs or gouda cheese, it's worth the wait.
---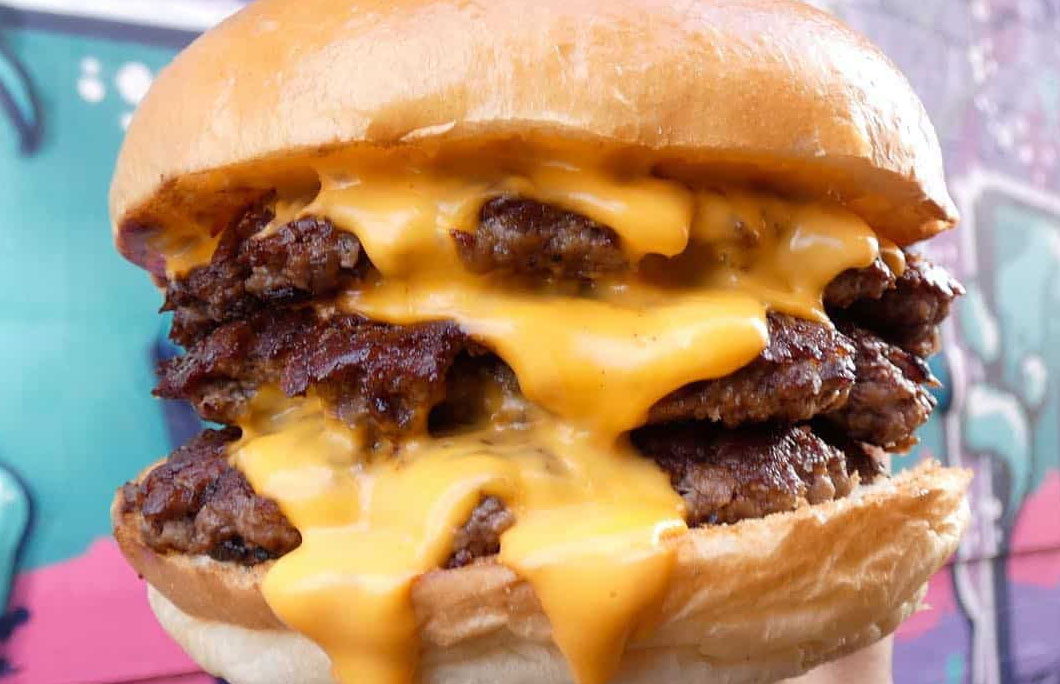 7th. Boo – Leicester
Boo Burger is an essential place to eat for any burger lover – these beauties are made using the best home-grown, British and Irish sourced products. Can't choose which burger to get? Just add on smoked beef rashers and some crispy onion strings and you'll be in heaven.
There's locations in Nottingham and Manchester too, so you'll easily find an excuse to hit this spot up for some tasty burgers in England.
---
6th. Monty's Lounge – Bournemouth
Monty's Lounge is well deserving of its Top 10 spot of the best burgers in England. Fresh patties are minced and shaped daily, with a menu of classics and amazing specials.
If you're up for the challenge, order the Hangover: it's a beast of double smashed patties, American cheese, bacon, fried egg and tater tots. *drools*
---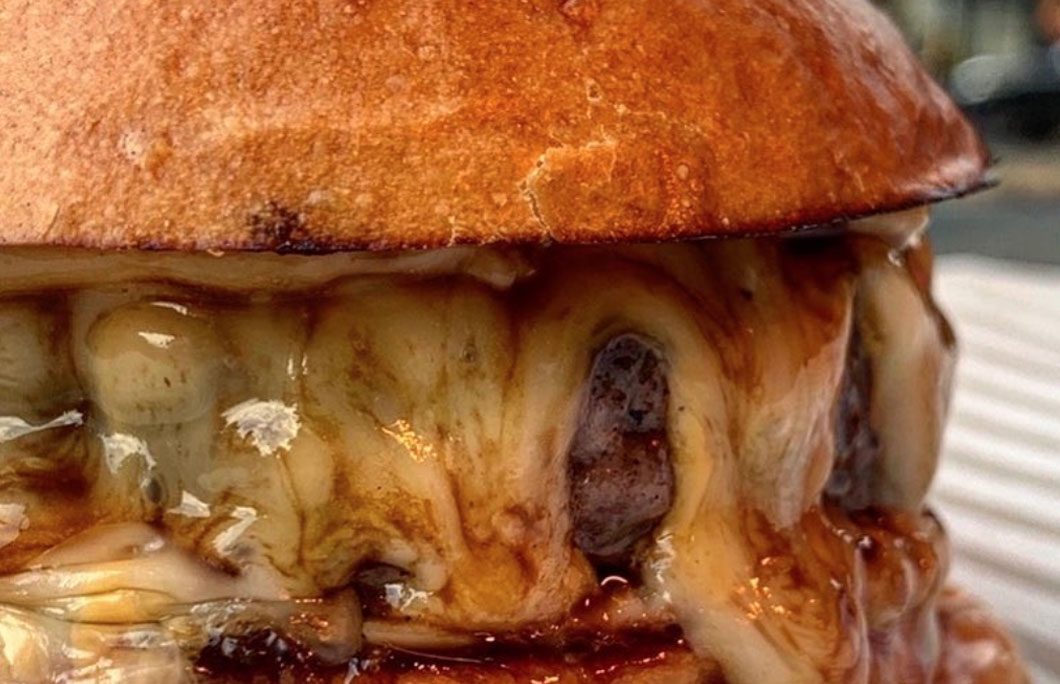 5th. Patty And Bun – London
These are burgers of the messy variety and we are absolutely A-OK with that. Patty and Bun also have quite possibly the greatest Instagram account we have ever seen – the slightest glance at it could end the best planned diet in seconds.
---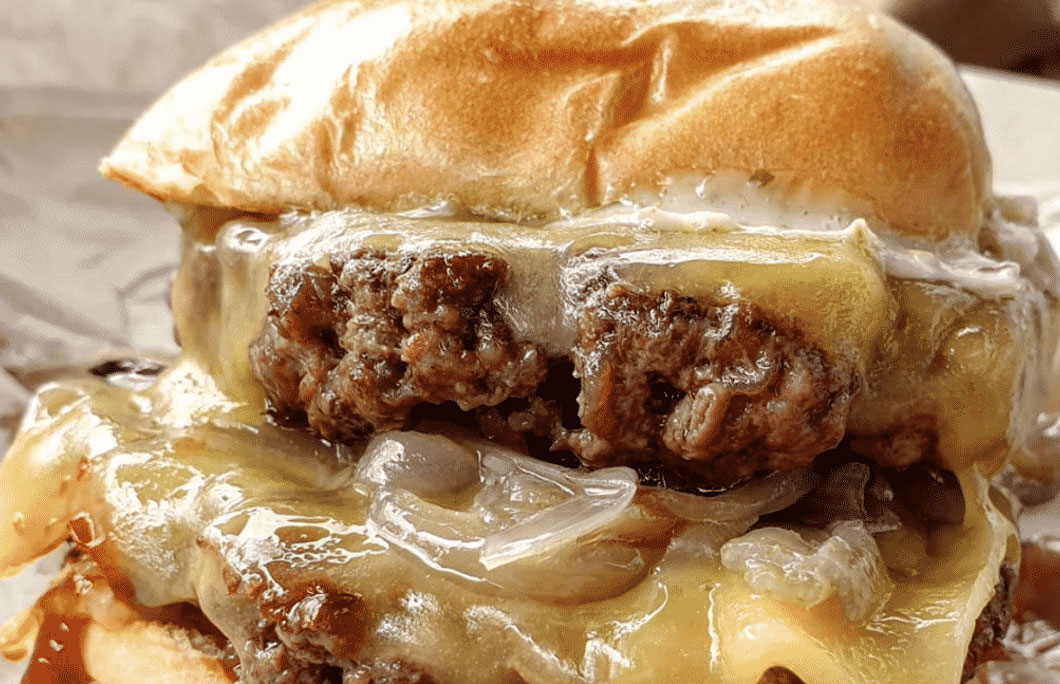 4th. Squeezed – Bristol
Squeezed is inside one of the shipping container units in Wapping Wharf and although it might be tiny in size, the burgers here are whopper. Everything (apart from the brioche buns) is made fresh onsite and the flavours from these bad boys is outstanding.
It's famed for its St. Werburger burger, which is two beef patties, Monterey jack cheese, smoked bacon and caper aioli, chipotle and tomato relish and confit shallots.
---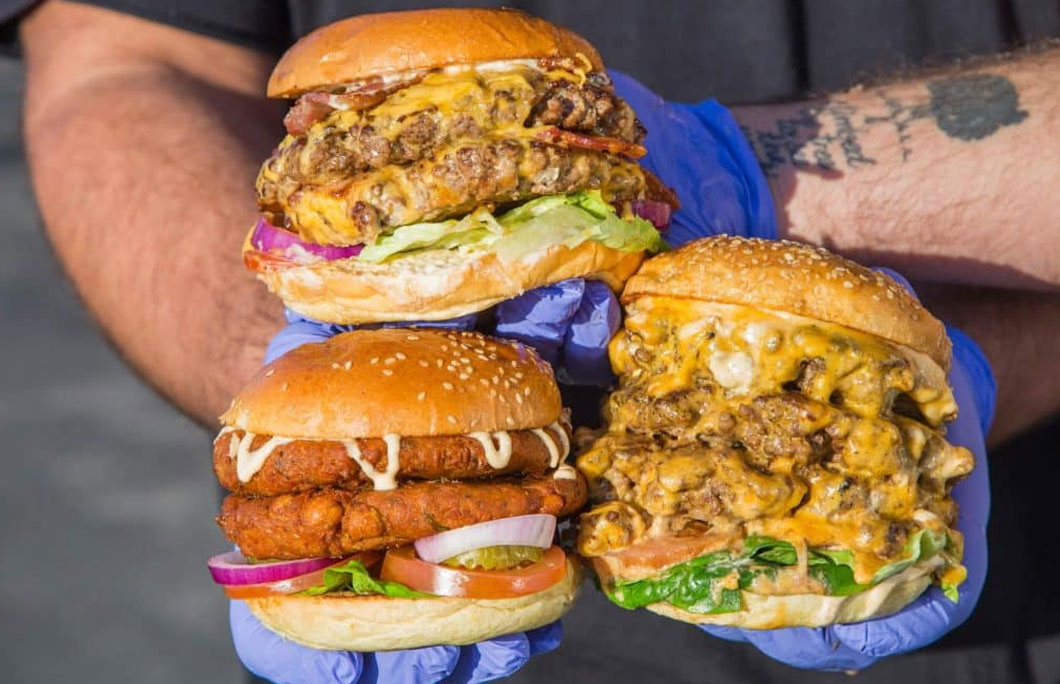 3rd. Dope Burger – Hull
Sorry about the obvious pun, but these burgers really are dope and are easily one of the best gourmet burgers in England, never mind Hull.
Dope Burger has so many great options on the menu it's impossible to choose, so you'll just have to come back and try them all. Stacked patties with candied bacon, raclette cheese and garlic creme pulled pork? Heaven.
---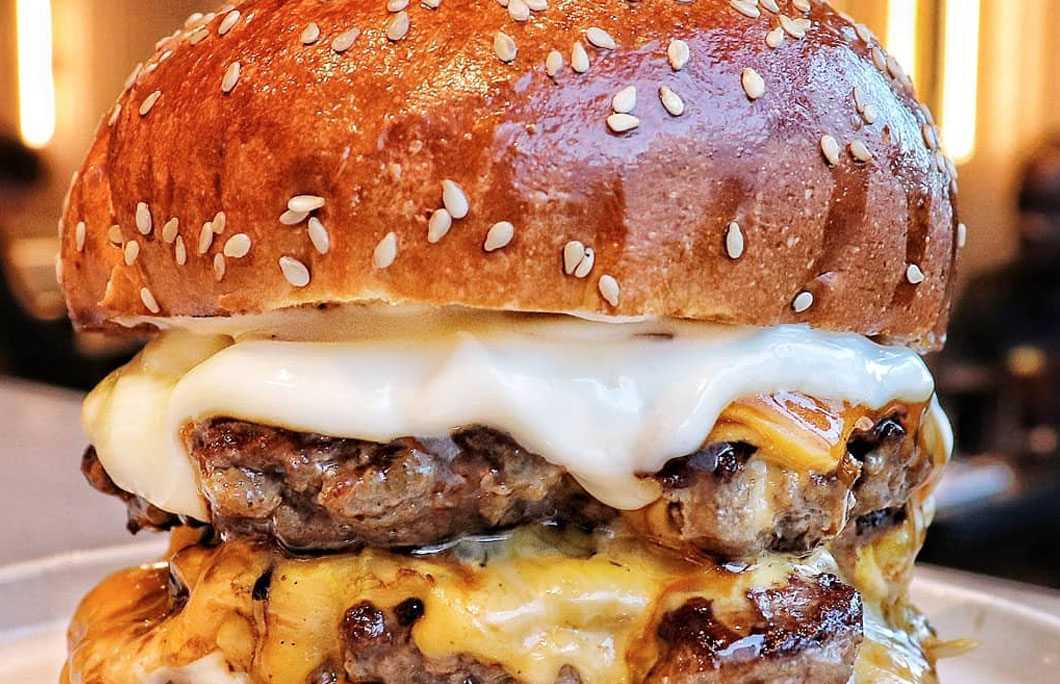 2nd. Burger And Beyond – London
This mouthwatering restaurant and food truck serves burgers that are so good you'd hear people whispering about them around London in hushed tones. But hey, we think burgers this good need to be shouted about. Simple, tasty and perfect.
---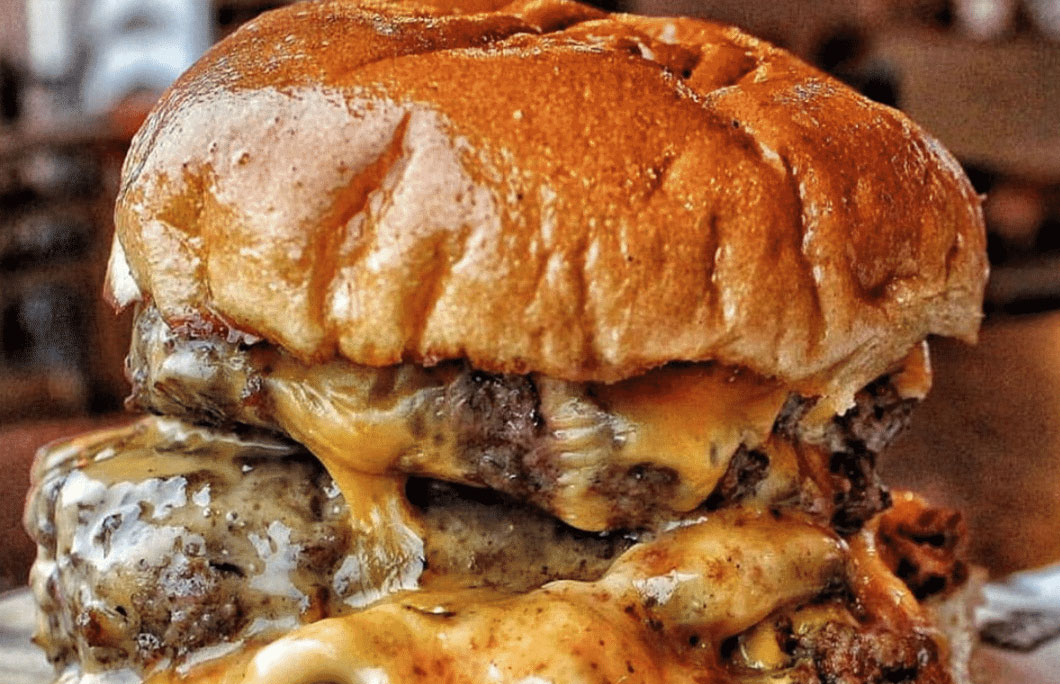 1st. 7Bone Burger Co. – Portsmouth
All hail the winner of the best burgers in England – we're not worthy of this heavenly burger joint. 7Bone Burger Co. is an expert at heart attack-inducing, juicy beef burgers that you'll be dreaming of for days.
Truffled garlic 'shrooms, bacon jam or a patty stuffed with American cheese, the burgers here are simply perfect.
Wash it down with their infamous picklebacks (a shot of Bourbon with pickle juice) for the full experience.
See the best car rental deals here.
---