Cannot decide whether to choose Avignon Vs Arles?
Avignon and Arles are two of the most historically significant cities in Provence. The two romantic, Rhône-side destinations are both located in the west of the region, boasting rich histories and a lively calendar of events in the summer. They're both small too, with compact historic centres that were built for lazy strolls with plenty of pauses. And while they both offer a quintessential Provençale experience, they've retained their own distinctive charms and quirks. If you can only visit one of these iconic towns, our handy guide on Avignon and Arles should help you decide which to visit.
Avignon Vs Arles: How to Choose Between the Two
Overview – is Arles or Avignon better?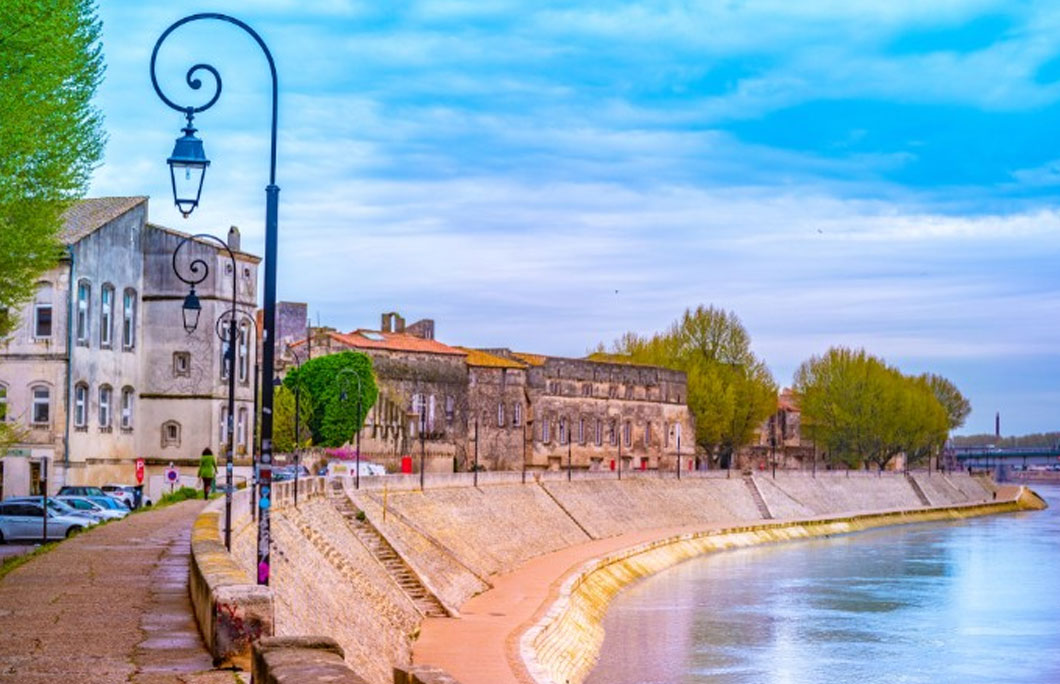 Arles is the stepping stone to the Camargue wetlands. One of the oldest cities in Europe, it was once the capital of Gaul. It survived the collapse of the Roman Empire, but you'll still run into the Romans at every corner. Ancient ruins are scattered across the city, alongside sun-baked mansions and cafe-lined squares. Van Gogh also painted around 200 of his most famous works here – so expect to be inspired. It's a quiet and laid-back city for most of the year, but come summer it bursts into life. It's perfect for history buffs or those looking for a picturesque base from which to explore the Camargue.
Avignon also boasts an impressive heritage. It was the capital of the Catholic Church during the Middle Ages and has an impressive legacy of ecclesiastical architecture and medieval bridges to prove it. The Unesco Heritage-designated city is also at its liveliest in summer, when the annual arts festival takes over town. While it's still a relatively small city, it's larger and louder than Arles. If you're looking for a little more variation, as well as a good range of dining and nightlife options, Avignon is your best bet.
---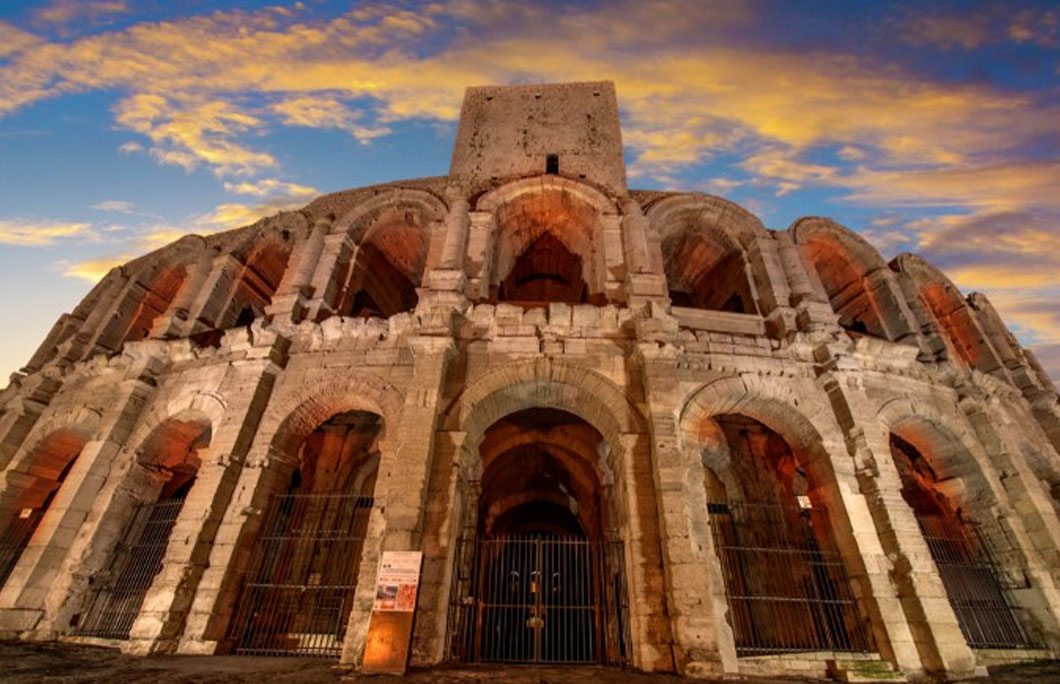 Avignon
It isn't difficult to find Avignon's medieval roots. The Palais des Papes, erected by Pope Clement V, is the largest Gothic palace ever built. Stroll around the stone walls or take a live virtual-reality tour to get a glimpse of what it looked like in its heyday, back in the 14th century. Familiar with the French nursery rhyme about a broken bridge? The famous Sur le Pont d'Avignon is actually the Pont Saint-Bénezet, built in the 12th century.
Besides the papal palaces and medieval ruins, Avignon is best known for its annual arts festival. Founded in 1947, it's now one of the most famous arts and culture festivals in the world. The city's iconic sights transform into imaginative backdrops for hundreds of theatre, dance and music performances for three weeks every July.
---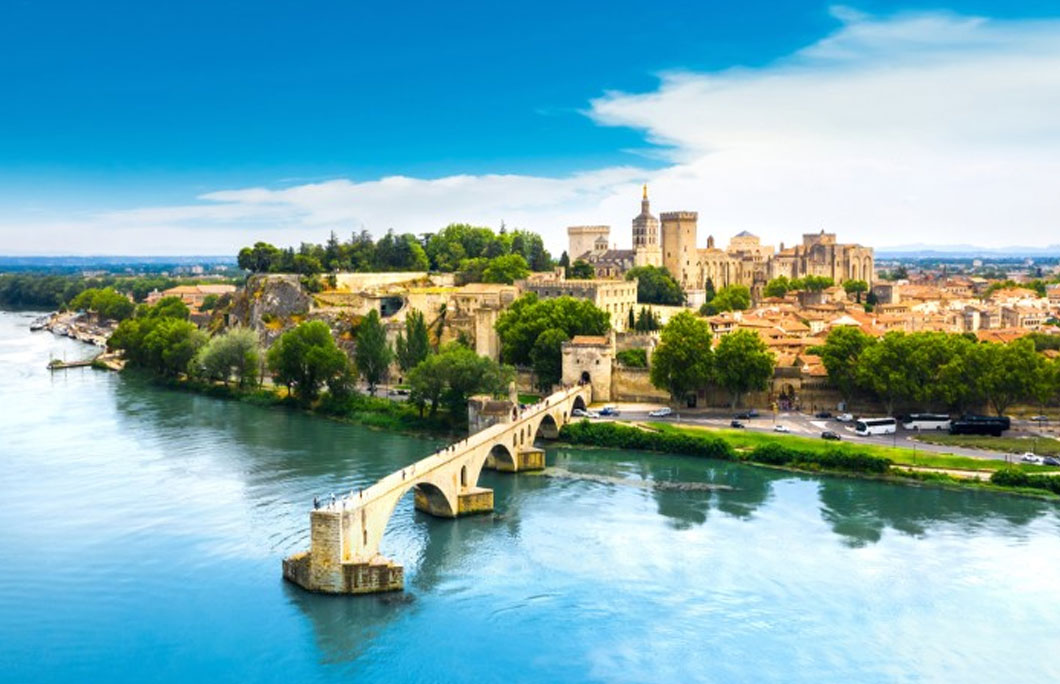 Arles
Where Avignon is medieval in character, Arles is distinctly Roman. Ancient ruins are scattered across the city, but the pinnacle is Les Arènes. The perfectly preserved amphitheatre still seats thousands of visitors every summer; it's where you'll catch the city's notorious bullfighting events. Other famous Roman sights include the neighbouring Theatre Antique, Les Alyscamps necropolis and the Thermes de Constantin, once the largest baths in France.
If you prefer your sights to be a little more youthful, there's a handful of brilliant museums and galleries to explore too. The Musée Réattu is a must-visit, home to a display of Pablo Picasso sketches depicting the many bullfights he'd seen in Arles.
The other major influence on the town is Van Gogh. While his yellow house was sadly destroyed in World War II, there's still plenty of opportunities to follow in his footsteps. The cafe from his Café Terrace at Night oil painting is still open, and just as popular with out-of-towners. The Fondation Vincent van Gogh also runs a gallery and research facility in Arles, showcasing contemporary artists who explore themes associated with Van Gogh./p>
---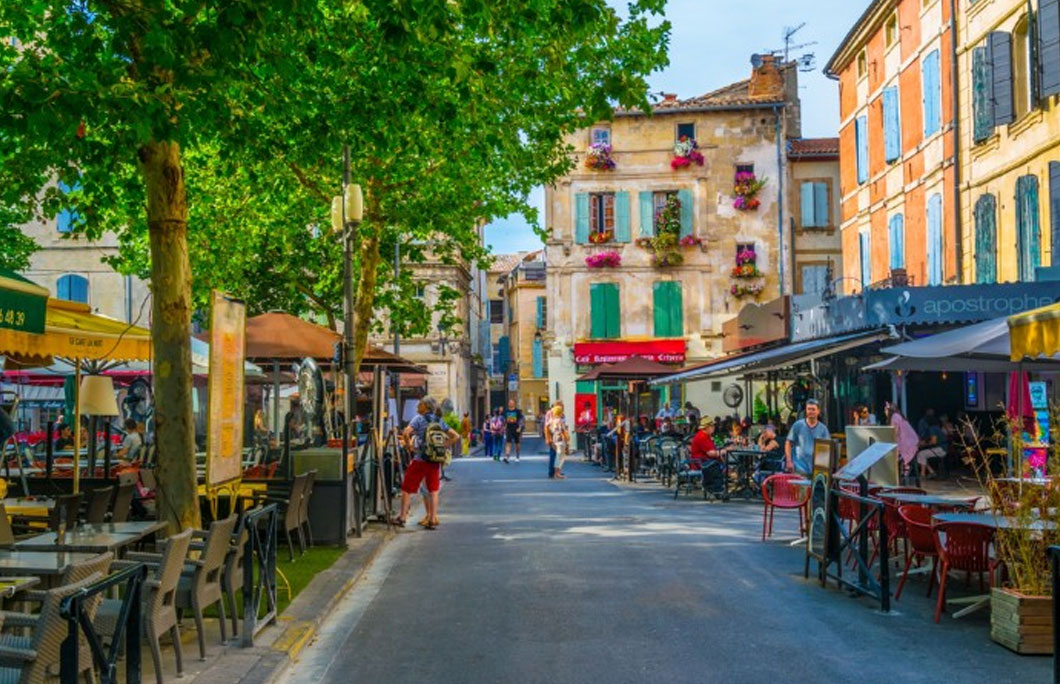 (Photo: trabantos / Shutterstock.com)
Avignon is home to countless bistros and cafés serving up classic Provençal cuisine. Les Halles indoor market was made famous by authors like Peter Mayle and Jean Viard, and is the perfect place to pick up a picnic. For a sit-down meal, all of the terrace brasseries along the Place de l'Horloge are delightful. There's a varied nightlife too, from wine bars like Le Vache a Carreaux to popular jazz clubs like AJMI Jazz Club. If you're looking to stay out late, Bokao's is a local favourite too.
Arles is stuffed full of good restaurants too, and many of them are happily affordable. The Place du Forum is where you'll find the liveliest cafés, as well as prime people-watching opportunities. You'll find lots of laid-back terrace brasseries and restaurants serving up hearty Camarguaise dishes too. For cutting-edge cuisine, there are a few designer bistros and hip wine bars offering substance as well as style too. While Avignon offers more variation, there are still a few nighttime activities to enjoy in Arles. At the Carfo de Nuit, you'll find a large bar serving tapas alongside an eclectic line up of concerts, from jazz to electronica. The Patio de Camargue is best-known as the Gipsy Kings' home; the band frequently played here before they hit it big.
---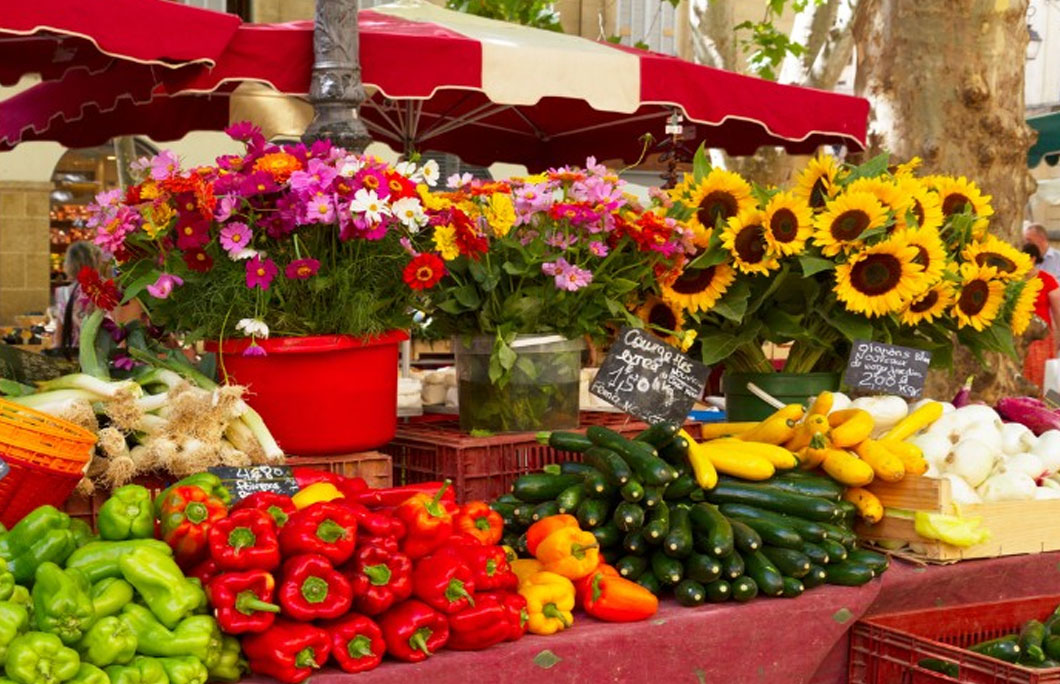 Avignon is the place to pick up local specialities – lavender, olive oil, sugared fruits. You won't find big luxury brands, but there are dozens of charming boutiques to explore. Rue de la Republique, which runs through the old city, is where you'll find most of the larger stores, including the Monoprix department store. For the best blooms, head to the Place des Carmes for the Saturday market. There's an antiques market here every Sunday too.
But for the best market, you need to head to Arles. Every Saturday, farmers and artisans travel into the city from across the Camargue, joined by visitors from across the city with eyes for high-quality produce and bargain goods. There's also a smaller market every Wednesday. Like Avignon, you're unlikely to find the large luxury houses, but you will find plenty of boutiques and home-grown ateliers, as well as historic hosieries and gorgeous bookshops. Come summer, you'll find a thrilling array of pop-ups too. Souleïado is a provencal institution, so pop in for Provençal colourful prints.
---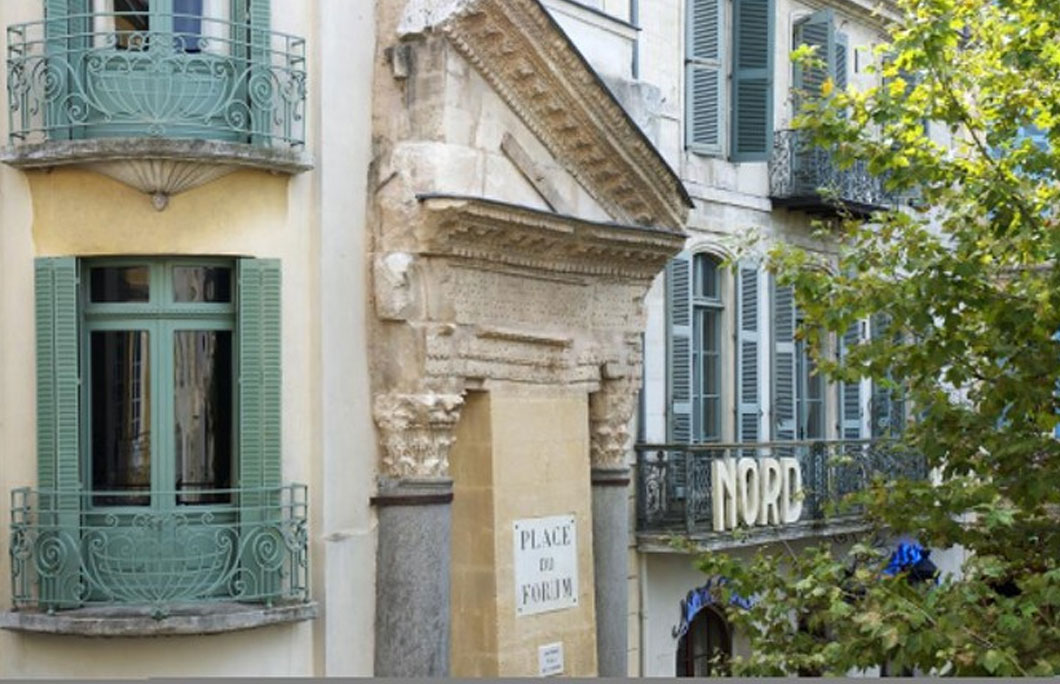 (Photo: Hotel Nord-Pinus)
Compared to other cities in Avignon is an expensive place to sleep, even outside of the festival season. If you've found a hotel or B&B offering low rates, snap it up quick. Accommodation tends to book up months in advance, so book as early as you can. For last-minute trips, Villeneuve-les-Avignon offers more wallet-friendly accommodation, just over the river. If money is no object, book La Mirande. It's right in the thick of the action, opposite the papal palace, with its own Michelin-starred restaurant too.
Arles offers a good mix of hotels, guest houses and apartments, many of which won't break the bank. But if you are looking to stretch your budget, do it in style at the Grand Hôtel Nord Pinus. It's one of the oldest hotels in the city, once owned by a cabaret dancer and a tightrope-walking clown, and has hosted everyone from Picasso to Hemingway. Or you could opt for Arlatan, an antiques-filled fifteenth-century palace turned hotel, which comes with a heated swimming pool too. If you're on a budget, there's the Auberge de Jeunesse, an old-school hostel but there are plenty of modern, clean and affordable hotels to choose from if hostels aren't your scene. Acacias and Hôtel de l'Amphithéâtre are two of the best.
---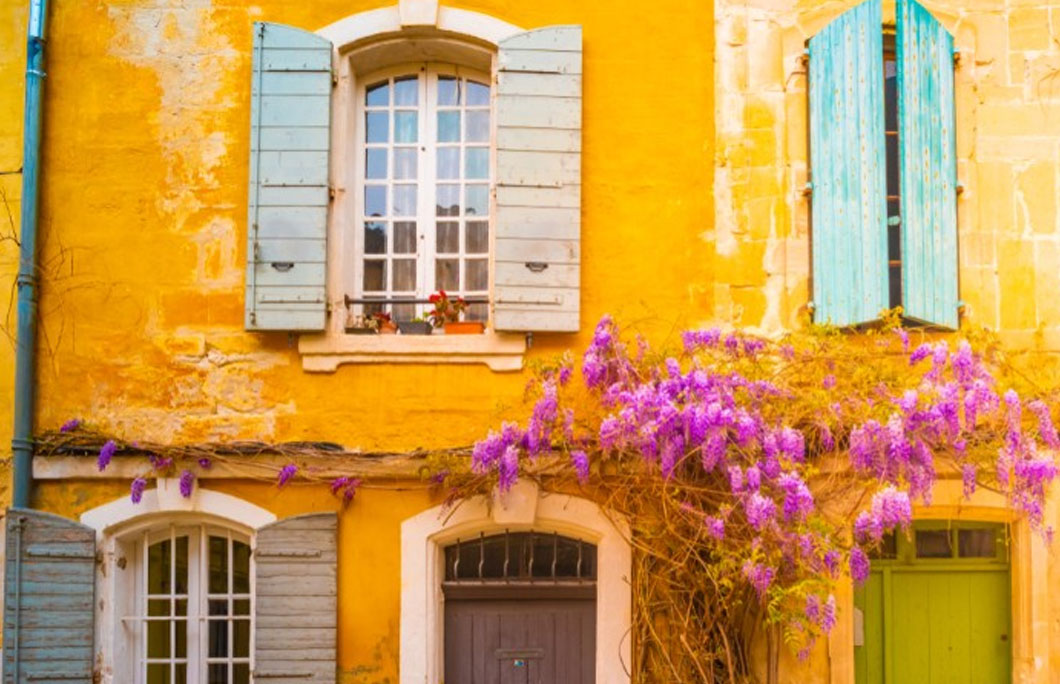 With under an hours' drive between them, there's little difference in climate between the Avignon and Arles. High season runs between June and August, and both cities fill up quickly in July. That said, it's also the most delightful time of year to visit. Temperatures are consistently high, and the surrounding lavender fields are out in full force.
---