Top 10 Oslo road trips:
Bygdoy Peninsula
Holmenkollen
King's View
Sandefjord and Tonsberg
Lillehammer
Gamle Fredrikstad
Jevnaker
Vinterbro
Grefsenkollen
Drobak
A bijou capital city nestled between mountains and sea, Norway's Oslo is blessed by culture, entertainment and a pioneering spirit. Whether you're visiting here for a few days or longer, you're in for a real treat in a city that effortlessly blends stunning scenery with a cosmopolitan ambience. Its most famous cultural exports are painter Edvard Munch and playwright Henrik Ibsen, but you'll discover contemporary as well as classic art and design in its plethora of museums, galleries and gorgeous buildings. Don't miss the Vigelandsparken in the Frogner Park to the north of the city centre, where the amazing artworks of world-famous sculptor Gustav Vigeland are set in a sublime natural environment.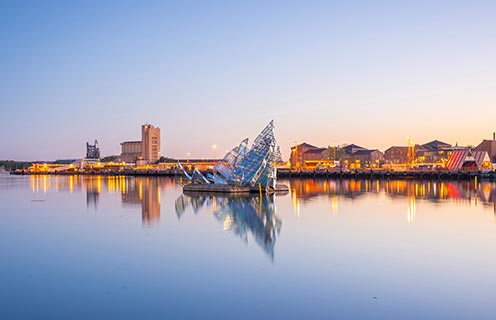 Named European Green Capital in recent years, Oslo has one of the world's smallest carbon footprints and boasts several beautiful green spaces, while the outstanding Oslofjord waterways and islands as well as the verdant forests and mountains of Nordmarka are also nearby.
Oslo's cuisine is having a bit of a moment right now, so if you're a foodie you can get your chops around everything from Michelin-starred haute cuisine to artisan coffee and cakes, and street food like sushi, pizza and hotdogs to ocean-fresh seafood like shrimp. Whatever you like to tantalise your taste buds with, you'll find in abundance here.
Oslo is no slouch when it comes to nightlife either – in fact, some revellers prefer it to Scandinavian rivals Stockholm and Copenhagen. You can enjoy craft ale in laid-back local bars, dance to international DJ's in swanky pubs, let your hair down to live rock music and much more. Whether your favourite tipple is freshly-brewed beer or elaborate cocktails, expect a warm welcome in every Oslo night spot.
If you like to combine urban delights with some select road trips, Oslo is also a brilliant base for scenic road trips to neighbouring towns and cities as well as a number of natural landmarks – hire a car in Oslo from Enjoy Travel and you're in for a real treat.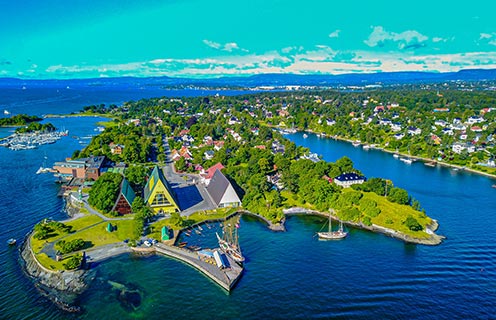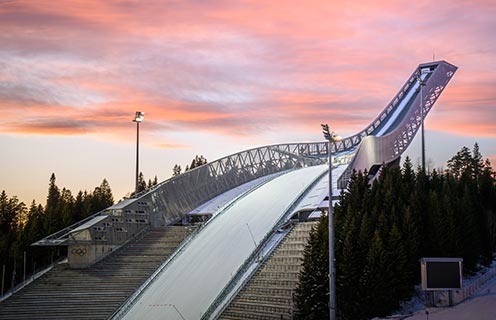 Top tips on driving in Oslo
Your top 10 road trips from Oslo are right around the next bend. In the meantime, let's take a look at a few driving tips that'll keep you right on the road in and around this captivating city.
You'll (hopefully) know this if you live here, but you should always drive on the right-hand side of the road in Norway and the law of the land is that you keep your dipped headlights on all the time when driving.
Speed limits are low here compared to some countries – it's 30km/h near houses, 50km/h in built-up areas, and 90km/h on expressways and Norway has some of the strictest drink drive rules in the world.
On any road where you see a yellow diamond sign, all traffic from your right has right of way – this takes a little getting used to, so be vigilant. You should also drive with winter or all-year tyres during winter.
Now that you're caught up with a few handy driving tips, let's get moving with those road trips!
Bygdoy Peninsula
This peninsula is just a short skip west of Oslo and it's home to several of the best tourist attractions in the vicinity. You'll find Royal Manor here (a 200-acre organic working farm), the perpetually popular Viking Ship Museum, which has several Viking vessels in excellent condition as well as tools and artefacts, and the Norwegian Maritime Museum. There are also beaches, parks and forests aplenty – Hut and Paradisbukta beach is always popular and has a picnic area and volleyball court as well as golden sands and plenty of shaded spots to cool off.
Getting there: Bygdoy Peninsula is just 20 minutes from Oslo, via the RV162 and E18.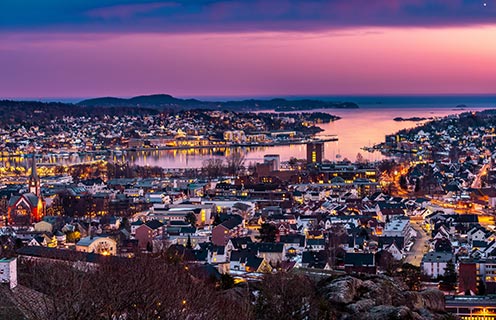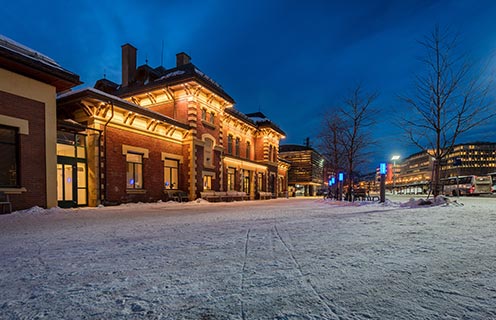 Holmenkollen
Drive northwest from Oslo and Holmenkollen sits amidst a collection of verdant wooded peaks. This is Norway's most popular ski area and home to the gargantuan Holmenkollen Ski Jump – not many of us have the requisite skills and experience to tackle it for real, but there's a virtual simulator available that's scary enough! The views from the highest slopes across the Oslo Fjord and capital city are simply stunning.
Getting there: Holmenkollen is 25 minutes from Oslo via Holmenkollveien.
King's View
In a country with more magnificent views than most, King's View is still a scenic standout spot. Set 484 metres above the lakes of Steinsfjorden and Tyrifjorden, you'll see calm waters, islands, bridges and mountains spread out before you in a terrific tapestry that's a joy to behold. So named because of King Karl Johan's visit in 1832, it really is a view worthy of royalty and when you experience it you'll feel like lord (or lady) of all you survey.
Getting there: King's View is one hour from Oslo via the E16.
Sandefjord and Tonsberg
Follow the banks of the Oslofjord south for around an hour and a half to reach Sandefjord, a lovely town with a proud Viking heritage and a cultural hotspot with museums, galleries and sculptures. Tonsberg is a little further north – this is Norway's oldest town and home to the contemporary Haugar Art Museum as well as a lovely coastline. For a mix of culture and superb scenery, this is a road trip to remember.
Getting there: Sandefjord is one hour and 30 minutes from Oslo via the E18.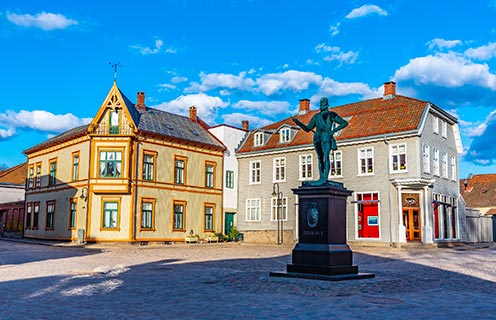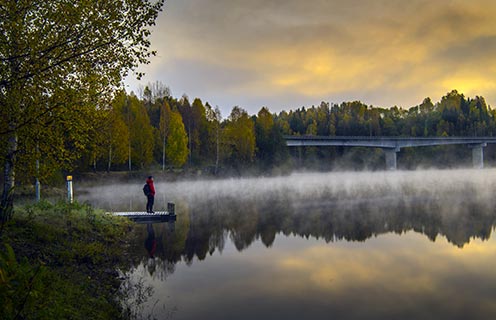 Lillehammer
A couple of hours north of Oslo, the Olympic city if Lillehammer is a popular road trip for locals and visitors alike. The Norwegian Olympic Museum celebrates the heritage of the 1994 Olympics and it's part of the outstanding Maihaugen open-air cultural museum which has full-scale examples of homes form different eras and various other exhibits. Other attractions include shopping for authentic gifts at Storgata and skiing, snowboarding, ice skating and dog sledding!
Getting there: Lillehammer is 2 hours from Oslo via the E6.
Gamle Fredrikstad
A manageable road trip from Oslo, Gamle Fredrikstad is a charming old town on the Glomma Estuary which boasts some beautiful 17th century architecture and is protected by five forts and a system of moats. Strolling through its cobbled streets is always relaxing and there are plenty of high quality shops and restaurants. If you're a history buff, you might also like to explore the Akeroya and Kongsten forts.
Getting there: Gamle Fredrikstad is one hour and 20 minutes away via the E6.
Jevnaker
A terrific town set amidst picture-postcard scenery one hour north of Oslo, Jevnaker is renowned for Hadleand Glassverk and Kistefos. The former attraction has been producing excellent hand-made glass for 250 years and you can watch the glass-blowing process as well as trying it yourself. Meanwhile, Kistefos is a niche industrial museum that boasts the only remaining wood pulp mill in the whole of Scandinavia.
Getting there: Jevnaker is one hour and 15 minutes from Oslo via the E16.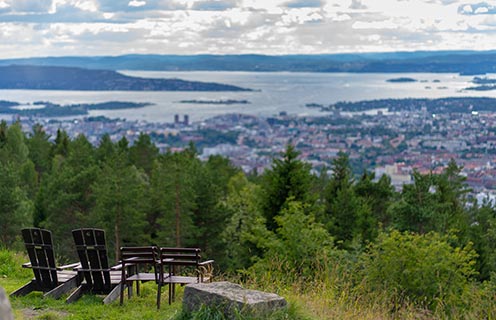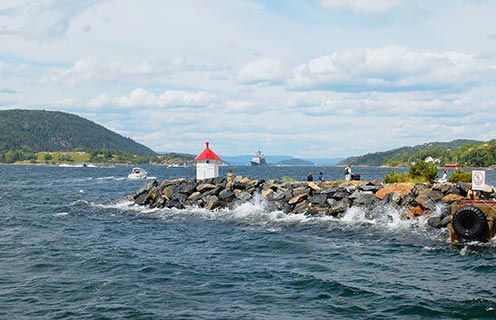 Vinterbro
Fancy a family day out? It doesn't get much better than the TusenFryd Family Park in Vinterbro, a fantastic fun park with white-knuckle rides like the fearsome Speedmonster Coaster as well as traditional fairground rides like log flumes. Meanwhile, Thor's Hammer is an interactive 4D indoor experience and your ticket includes entry to the wet and wild BadeFryd water park – happy days!
Getting there: Vinterbro is 30 minutes from Oslo via the E18.
Grefsenkollen
A super-short drive from Oslo, Grefsenkollen is set 1000 feet above sea level and affords some of the most panoramic views over the capital at any time of day. It's also a honey trap for foodies, thanks to the iconic Grefesnkollen Restaurant which has entertained guests since the 1920's with authentic local fare and superb service. If you fancy a romantic evening, this is a top pick.
Getting there: Grefsenkollen is 20 minutes from Oslo via Grefsenkollveien.
Drobak
This fairy-tale town full of beautiful 18th century wooden houses sits on the east side of the Oslofjord and it's always worth a visit. Tregaarden's Christmas House is the nation's only permanent Christmas exhibition and there's also a ferry to Oscarsborg Fortress from nearby Sjotorget. There's an interesting local history museum and some superb cafes and restaurants.
Getting there: Drobak is 40 minutes away via the E18.
As you can see, Oslo is a gateway to some of Norway's most impressive locations – hire a car from Enjoy Travel and see them for yourself!