Cardiff Road Trips
The capital of Wales, Cardiff is located in the county of Glamorgan at the mouth of the River Taff on the Bristol Channel.
There's an estimated population of 478,000 in the city proper and 1.1 million in the wider Cardiff postcode area. Interestingly, this has only been the official capital of this captivating Celtic nation since 1955 (there was no official capital before then, although several locations made historical and cultural claims).
10 Epic Road Trips From Cardiff
Snowdonia National Park
Brecon Beacon National Park
Llandrillo
Weston-Super-Mare
Pembroke Castle
Rhondda & Blaenavon
Malvern
Carmarthen
Tenby
Barry Island
The home of the Senedd (Welsh Parliament) and the impressive Principality Stadium, Cardiff is a bustling city that's bursting with arts, culture and highly-rated hospitality.
But it's also a gateway to some of the most gorgeous countryside you'll see anywhere, both in Wales and its environs ̶ hit the road here to experience everything from verdant valleys to majestic mountains and picture-postcard towns and villages.
Before you start your engine, take a look at a few handy Cardiff driving tips below.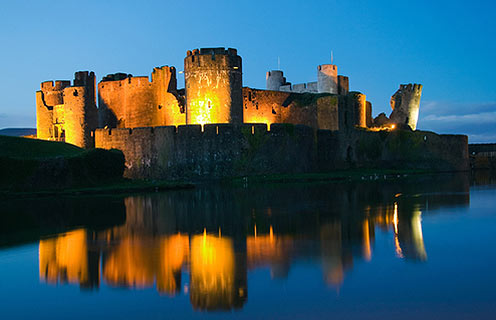 Driving in Cardiff
You should always drive on the left-hand side of the road in Cardiff, as you do throughout Wales and the rest of the UK.
You can drive to Cardiff from London in a little over three hours via the M4, and in around seven hours from Edinburgh on the M6.
The city's Park and Ride facilities can sometimes be the most convenient way of exploring the centre of the capital and there are several to choose from: Cardiff West is at the Cardiff City Stadium, Cardiff East is at the A48 Eastern Avenue and Cardiff South is at Cardiff County Hall (this last facility is Saturdays only).
Revved up for your 10 epic Cardiff road trips? Let's roll
1. Snowdonia National Park
Home of the lofty 1085m high Mount Snowdon (the highest mountain in Wales and the entire UK outside Scotland), Snowdonia National Park also has another 14 peaks over 900m high, and these can be accessed from the picturesque town of Llanberis nestled at the foot of the park's main attraction. If you're feeling fit, you can climb Snowdon via various panoramic trails which take you past lakes as well as over rugged terrain, but if you don't fancy this day long trek, the Snowdon Mountain Railway will whisk you to the top in comfort.
Getting there: take the A470 north from Cardiff and you'll reach Snowdonia National Park in just under four hours.
2. Brecon Beacons National Park
One of the most popular day trips for Cardiff residents as well as visitors, Brecon Beacons National Park is a reasonably short drive north of the capital, but a world away in terms of its natural beauty and awesome activities. Merthyr Tydfil is a terrific town here and an excellent launchpad for scenic hikes around the neighbouring hills, valleys and mountains, while you can also hop on the Brecon Beacons Mountain Railway here and it'll take you 8km into the heart of the park. Here you can try guided waterfall walking and stargazing ̶ thanks to its low pollution and high nocturnal clarity it has been awarded rare Dark Sky Reserve status.
Getting there: take the same A470 northwards and you'll get there in under an hour.
3. Llandrillo
A lovely village in Denbighshire, North Wales, Llandrillo boasts, scenic, historical and culinary attractions ̶ it's the home of St Trillo's Church, named after the missionary who arrived from Brittany in the 7th Century AD, the charming 18th Century Dudley Arms pub and the Michelin -starred Tyddyn Llan restaurant. But you'll also drive through some amazing country on your way here, including the ravishing reservoirs Caban Coch and Claerwan, the Elan Valley and Pen Y Fan. At Llyn Tegid (a little more to the north) you can kayak across the water with serene mountains and woodlands as a wonderful backdrop.
Getting there: you guessed it, it's that old A470 again ̶ drive northwards on this well-known route and you'll be there in three hours.
4. Weston-Super-Mare
Just across the water from Cardiff (via the spectacular Severn Bridge) Weston-Super-Mare in the English county of Somerset is a traditional British seaside town that's just over an hour away and a delightful day trip destination. There's a wonderful windswept beach with golden sands to stroll along and there's an indoor theme park at the Grand Pier where you'll find lots of exciting arcade games and authentic amusements. Another attraction here is Noah's Ark Zoo Farm, which lives up to its name with everything from alpacas to zebras on display.
Getting there: take the M4 in a clockwise loop across the Severn Bridge and downwards ̶ you'll get there in about an hour.
5. Pembroke Castle
Pembroke is around two hours to the west of Cardiff and once you arrive there are hundreds of kilometres of steep cliffs and secluded beaches to explore, while Pembroke Castle is a must-see for history buffs. Built in 1090AD, King Henry VII was born in this stronghold in 1457 and there's a huge natural cavern named the Wogan, as well as impressive North and Norman Halls. Pembrokeshire has the perfect balance of history and natural scenery.
Getting there: take the M4 westwards and you'll be in Pembroke in just under two hours, traffic permitting.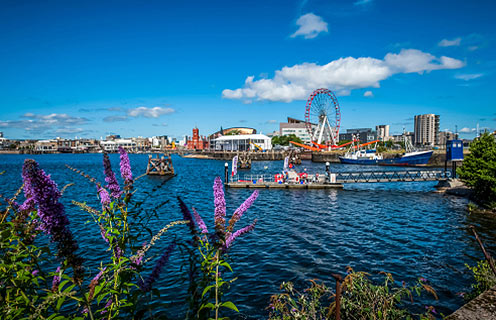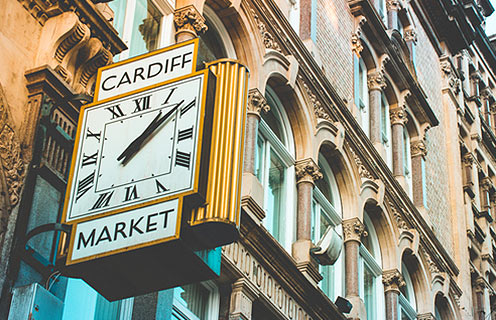 6. Rhondda & Blaenavon
Coal was king in several areas of the UK for generations of proud miners right up until the 1980s and in Wales, Rhondda and Blaenavon are heartlands of the nation's mining heritage. Rhondda once hosted one of the UK's largest mines and today the site is enjoying a new lease of life as Rhondda Heritage Park, which includes a restoration of Lewis Merthyr Colliery where you can take a lift down to the pit bottom for an underground tour with former miners. Furthermore, at Blaenavon you'll find the Big Pit, which has an authentic ironworks complete with foundries and furnaces.
Getting there: Rhondda is only 40 minutes west of Cardiff along the A4223.
7. Malvern
Around an hour and a half's drive from Cardiff, Malvern near Worcester is an elegant spa town which became popular in the Victorian era because of pleasure seekers attracted by the therapeutic qualities of its springs. Today, there are lots of cosy cafes and independent shops where you can pick up anything from antiques to original fashion and artisan food. The undulating Malvern Hills are also magnificent, therefore the journey here and back is blissful.
Getting there: take the A40 northeast from Cardiff and you'll be in Malvern in under one and a half hours.
8. Carmarthen
Drive just an hour to the west of Cardiff and you'll reach magical Carmarthen, said to be the birthplace of Merlin, iconic wizard of Arthurian legend. As the oldest town in Wales, history and mystery ooze from every nook and cranny ̶ highlights include Bryn Myrddin, a hill with a cave where Merlin used to hide out, and the Carmarthernshire County Museum, which displays what's purported to be a fragment of Merlin's oak.
Getting there: drive west along the M4 for one hour and a quarter to get there.
9. Tenby
Just under two hours west of Cardiff along the coast, Tenby is a charming coastal town with a lovely harbour lined with pretty pastel coloured houses. There's a stunning sandy beach here where you can catch some rays or try watersports. Alternatively, if you're a fan of horses, Nolton Stables offers brilliant beach riding sessions. Kids also love the blue Lagoon Water Park, an indoor aqua centre offering slides, waves and lazy rivers galore.
Getting there: take the same M4 westwards and you'll be in Carmarthen in around one hour and forty minutes.
10. Barry Island
Once totally divided from Wales by the water, Barry Island has been joined to the mainland by docks and a causeway since the late 19th Century and it's one of Wales' most revered seaside resort. Famous for its colourful beach huts, there are three superb sandy beaches here which have the distinction of recording the world's second-highest tides. As well as bathing, swimming and sunbathing, the Barry Tourist Railway allows you to cruise all around the island in retro style.
Getting there: Barry island is only half an hour south of Cardiff via the A4055.
These ten epic road trips from Cardiff will add another driving dimension to your trip to the Welsh capital and every one of our picks has something special to offer.
Hire a car in Cardiff from Enjoy Travel and embrace the amazing ambience and wonderful scenery of Wales!