Top 10 Road Trips From Riga
Kuldiga
Gauja National Park
Rundale Palace
Jelgava
Saulkrasti
Kemeri National Park
Valmiera
Tukums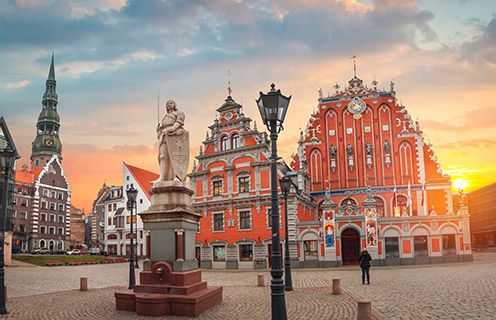 10 scenic road trips from Riga
Rolling into Riga for a holiday? Great choice – Latvia's capital city and the largest capital of all the Baltic nations is home to 615,000 inhabitants or roughly one-third of the entire populace. Founded back in 1201 and formerly a member of the powerful Hanseatic League international trading organization, Riga is located on the Gulf of Riga where the Baltic Sea and Daugava River converge. Wander through the city and ornate art nouveau architecture in the New Town is complemented by old-style cobbled Old Town streets. Meanwhile, contemporary art museums showcase world-class talent and traditional ingredients blend with international flavour notes in renowned fusion cuisine restaurants.
The most sophisticated and cosmopolitan of the Baltic cities, Riga effortlessly mixes traditional and modern and the city's beating heart remains Old Riga (Vecriga), which is centred round Cathedral Square and bisected by Kalku iela and boasts some brilliant medieval buildings. Cross into the New Town (Milda) via Bastejkalns Park and you'll find wide boulevards of elegant five-story apartments built during the rapid expansion of the city which lasted from the mid-19th century until the eve of WWI.
Cultural tourists will enjoy the Riga Bourse Art Museum, which is housed in the former stock exchange building, and here you can see an impressive collection of old masters (including works by Monet and Rodin), rare antiques and archaeological artefacts. Alternatively, the Museum of the Sun houses all manner of weird and wonderful exhibits associated with the worship of that heavenly body. Vecriga is the best place for a pub crawl, and you'll find clubs to suit revellers of all types, while the Latvian National Opera is renowned and there's a lively theatre scene too. For the most panoramic views of the cityscape (including striking Communist-era architecture) climb the spire of the distinctive red brick St Peter's Church and soak it all in.
With smaller towns and cities, nature reserves and scenic attractions on your doorstep, this is an excellent launchpad for road trips too and when you hire a car in Riga from Enjoy Travel, the full delights of Latvia await.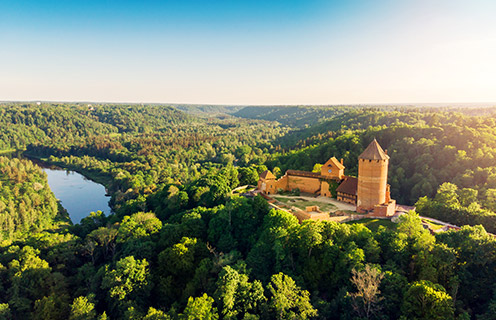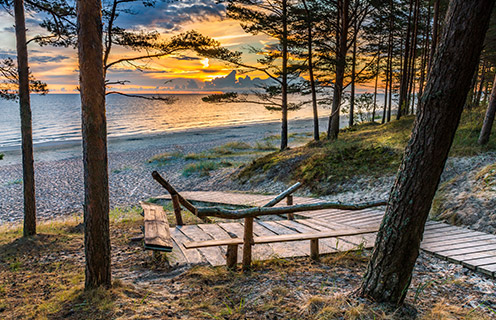 Top tips on driving in Riga
Let's take a brief pause for some local driving tips before we roll with your top 10 road trips from Riga.
You drive on the right and overtake on the left in Latvia. Speed limits are 20km/h in residential areas, 50km/h in other built-up areas, 90km/h on rural roads and 100km/h on dual carriageways. Carry your full, valid UK driving license, display a 'UK' sticker if you're taking your own car, and in case of an emergency, dial 112.
The minimum age to hire a car in Latvia is 21 and some car rental firms require that you've held your license for a certain amount of time. If you're planning any cross-border trips, be sure that this is allowed under the terms of your rental agreement.
Without further ado, let's start your scenic Riga road trips.
Sigulda
With its romantic mountain, river and valley landscapes, Sigulda is known as 'the Switzerland of Latvia'. With sublime stretches that include the banks of the River Gauja, attractions here include the new castle, medieval castle ruins, Krimulda and Gutmanis Cave. You can find out more about the legend of the Rose of Turaida in the lush Turaida Castle gardens and take a trip on the aerial tram over the river to enjoy a beautiful bird's eye view.
Getting there: Sigulda is 55 minutes from Riga via A2.
Jurmala
Located close to Riga, Jurmala is a popular beach resort that's long been a fashionable getaway from the hustle and bustle of the city. The burnished sand beaches and striking blue waters of the Gulf of Riga are gorgeous and if you're looking for evening entertainment, Dzintari Concert Hall is internationally renowned and hosts diverse events year round. For a refreshing day beside the seaside, a Jurmala road trip is perfect.
Getting there: Jurmala is 40 minutes from Riga via A10.
Kuldiga
Located just a couple of hours from Riga, Kuldiga is a beautiful western Latvian town which has well-ordered streets and buildings that are a pleasure to stroll through on a sunny afternoon. But the main attraction here is Ventas rumba, the town's river rapids which are 270m wide and a seriously impressive sight. There's a lot of greenery around the riverside area and the view from the bridge in winter is spellbinding because the rapids actually freeze over!
Getting there: Kuldiga is 2 hours 15 minutes from Riga via the A10.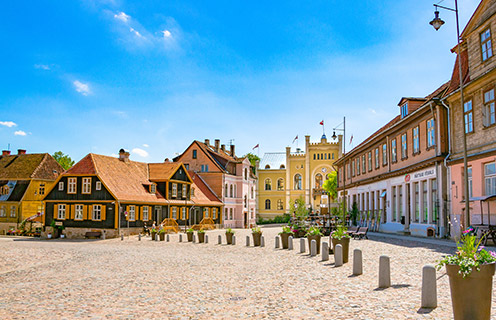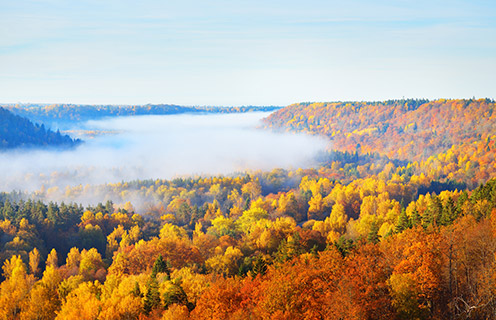 Gauja National Park
One of the most visually arresting areas in Latvia, Gauja National Park is a diverse terrain featuring scented pine forests, dramatic cliffs, rolling rivers (including the iconic Gauja River) and endless species of birds and mammals. It's teeming with biodiversity and includes cities like Celsis as well as traditional homes, castles and windmills dotted around the countryside. Whether you want to bike, kayak or relax with a riverbank picnic, Gauja National Park is endless fun.
Getting there: Gauja National Park is one hour and 20 minutes from Riga via A2 and A3.
Rundale Palace
One of the world's finest examples of Baroque and Rococo architecture, Rundale Palace was meticulously designed by Russian-Italian architect Francesco Bartolomeo Rastrelli. The fabulous palace façade is complemented by the expansive French Park and the rose garden is to die for. If you love history and luxury, this road trip has your name on it.
Getting there: Rundale Palace is one hour and 20 minutes from Riga via A7.
Jelgava
If you enjoyed Rundale Palace, you'll appreciate a day trip to Jelgava, because this town's elegant palace was also designed by Francesco Bartolomeo Rastrelli and houses the Duke of Courland's burial crypt. Another highlight is the Holy Trinity Church – climb the tower to the ninth floor for amazing views across Jelgava and treat yourself to a mouth-watering meal with fresh local ingredients in the restaurant.
Getting there: Jelgava is 55 minutes from Riga via A8.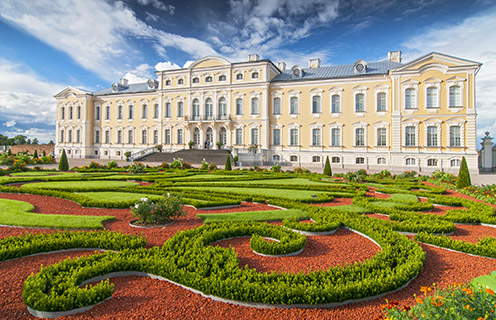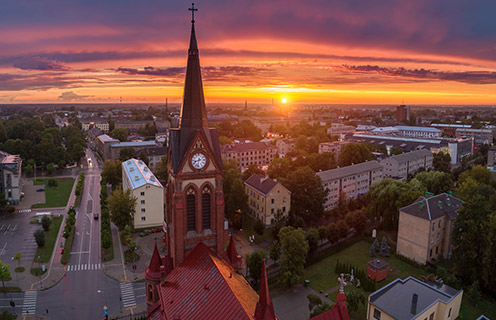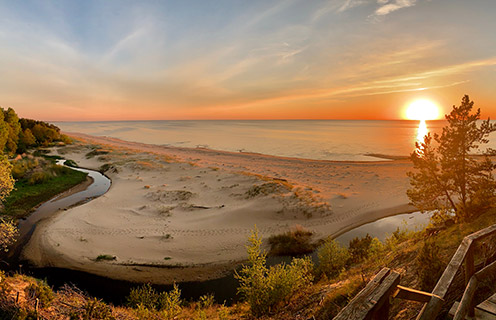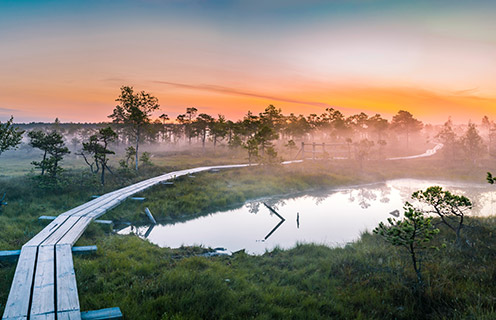 Saulkrasti
A coastal road trip to Saulkrasti is a popular day excursion from Riga and you'll appreciate why once you get there. You can unwind on the soft sands of Saulkrasti beach and dip your toes in the crystalline waters or enjoy and energetic hike along the nearby forest trail and take in the eye-popping views of the Peterupe Valley from the Sun Bridge. For something a little different, visit the Bicycle Museum before returning home.
Getting there: Saulkrasti is one hour from Riga via A1.
Kemeri National Park
Drive around one hour out of Riga and you'll reach Kemeri National Park, which is a paradise for birdwatchers. However, it's also excellent for tree bathing in the forest, walking across the wooden boardwalks above the bogland and meandering around the lakes. If you're game, you can even try a mud bath in a local spa – it's supposedly wonderful for your skin!
Getting there: Kemeri National Park is 50 minutes from Riga via A10.
Valmiera
Located to the north of Gauja National Park, Valmiera is 107km from Riga and is bisected by the River Gauja. Wander around here and you'll see lots of lovely buildings and historical monuments – Valmiera was captured by the Livonian Brothers of the Sword in 1224 and was also a member of the Hanseatic League for generations, so it has been a prominent settlement for aeons. Attractions include St Simon's Church, the Livonian Order castle ruins and the Valmiermuizas alus brewery.
Getting there: Valmiera is one hour 40 minutes from Riga via A2 and A3.
Tukums
A pleasant market town with an elegant square, two photogenic churches, welcoming bijou cafes and some superb art galleries, Tukums is a delightful day trip destination from Riga. There's an interesting museum at the ruins of the town's Livonian castle and the 17th century Durbes Pils manor house is another aesthetically pleasing attraction. For a taste of local Latvian life and a dash of history, Tukums fits the bill.
Getting there: Tukums is one hour from Riga via A10.
Venture out on these 10 road trips from Riga and you'll get to know Latvia a whole lot better – enjoy your adventure!