10 Epic Road Trips From Edinburgh
Here are our top ten road trips from Edinburgh:
Loch Ness
Gretna Green
Rosslyn Chapel
Stirling
St Andrews
Hadrian's Wall
Dunfermline Abbey and Pittencrieff Park
Midlothian Snowsports Centre
Glasgow
Arthur's Seat and Salisbury Crag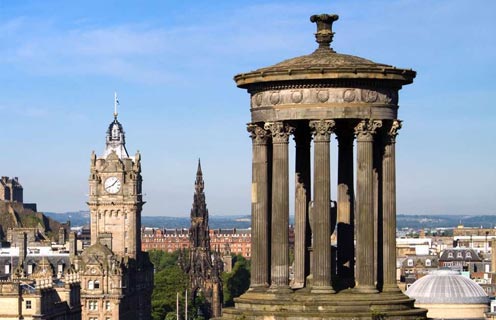 Edinburgh is the capital of Scotland and its second-largest city. This diverse, historical city has an energetic yet serene feel for old and young alike.
There's more to do and see in the city itself than time allows, but nevertheless, the surrounding area – which is relatively close given the size of Scotland – is easily accessible by car and interesting adventures are within easy reach.
Edinburgh History
Edinburgh (or in Scots' Gaelic, Dùn Èideann)has been recognised as the capital of Scotland since at least the 15th century. It is the centre of Scottish government, law, and finance. Long considered a bastion of education, especially in medicine, engineering, literature, philosophy, science, and Scots Law, there are three universities in Edinburgh, the oldest dating back to 1583.
Edinburgh city centre is roughly divided into two areas – the Old Town and the New Town. Many of the buildings and streets of the Old Town remain largely unchanged since the 17th century, while the New Town was started in 1767 and was completed in stages by 1850. It was eventually capped at the east and west ends by large squares designed by the great Robert Adam. Together, Edinburgh's Old Town and New Town are a UNESCO World Heritage Site.
Driving in Edinburgh
Ask anyone who's driven in Scotland and they'll no doubt enthuse about stunning scenery surrounding simple country roads, or nipping along the motorway to another Scottish city in under an hour. Edinburgh is in the Central Belt in Scotland, the most populated area running roughly East to West, separating the Highlands from the Lowlands/Borders regions. As such, and because Scotland is a relatively small country, you can reach the Highlands if you head North and England if you head South, in just 3-4 hours!
Day trips from the Caledonian capital include a superb choice of destinations, many of which we've covered below. If you're arriving at Edinburgh Airport, Enjoy Car Hire has you covered here for your motoring peace of mind.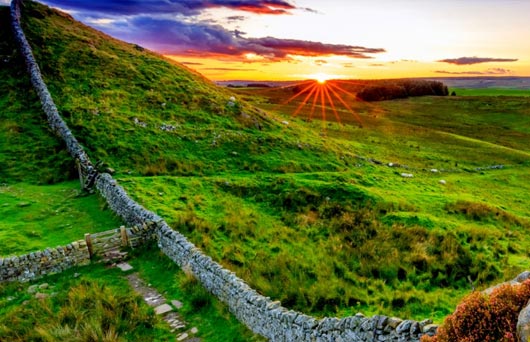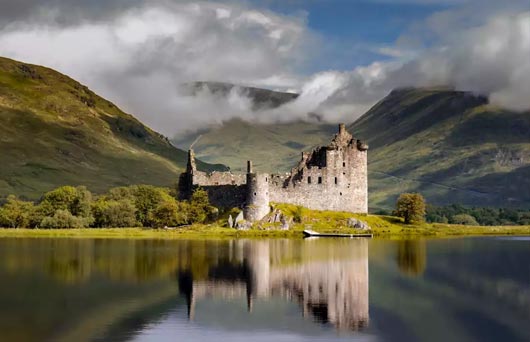 So now you know a lot more about Edinburgh, here are our 10 epic road trips from the Scottish capital...
1. Loch Ness
Yep, you can drive to Loch Ness from Edinburgh in under four hours! Drive North towards the stunning Forth Bridges, onto the M90 which becomes the A9 (the East Coast main road which stretches from London to Inverness) until you see signs for Loch Ness. Park up quietly and you might be able to catch the famous monster unawares!
Getting there: The journey is about 3 hours and a half and 166 miles long. Take the M90 to Perth and then head north on the A9 towards Inverness.
2. Gretna Green
If Edinburgh is stirring up romantic feelings, how about eloping to a blacksmith's in Dumfriesshire (in the Scottish Borders) to get married by an 'anvil priest' in Gretna Green? An old Scottish law, allowing marriages to be conducted by anyone as long as there were two witnesses, meant that young couples could marry there legally without parental consent before the age of 21. After a prohibitive marriage law was introduced in England & Wales in 1754, Gretna Green became the closest Scottish village where young lovers from England could legally wed. Bring your wedding rings!
Getting there: The drive is only about an hour and 40 minutes. Take the A74 towards Carlisle and take the exit signposted towards Gretna Green.
3. Rosslyn Chapel
Anyone who has seen The Da Vinci Code will be aware of 13th-Century church Rosslyn Chapel and it's always worth a visit. The ornate stonework, including the famous Apprentice's Pillar, is outstanding and only adds to the slightly eerie, mystical feel that permeates the place.
Getting there: Just take the A720 (the ring road/bypass which surrounds Edinburgh) South until you see signs for Penicuik on the A701. Afterwards, you'll already be in stunning Borders country – usually much less busy than the Highlands, especially in summer – so explore!
4. Stirling
This small town packs a heavyweight historical punch: it was the site of William Wallace's defeat of the English army at Stirling Bridge in 1296. Wallace was perhaps Scotland's most famous son, whose military guerrilla campaign against Edward II of England kick-started a Scottish independence movement eventually completed by King Robert the Bruce in 1314, and which lasted 400 years until the creation of the UK proper in 1707. Stirling Castle, which sits atop a crag overseeing the whole area, is a must-see if. This medieval fortress, which has excellent tours, dominates the skyline until the equally imposing Wallace Monument appears. Here you can see Wallace's actual sword (huge!), and the Wallace Monument is next to one of the most picturesque university campuses in the country, that of Stirling University. Stirling town itself is in many ways typical of Scottish towns of the size, but there's still plenty to see and do.
Getting there:Just 50 minutes along the M8 motorway from Edinburgh, it's surrounded by mountains and hills, and if you feel like going further, head past the university to Bridge of Allan and Dunblane (home of tennis champ Andy Murray) and then on to the Trossachs, a national park just an hour north.
5. St. Andrews
This medieval town is best known for being the home of golf, that ancient Scottish game that has become truly global. (Although the Old Course in St. Andrews claims to be the world's first course, Carnoustie in Dundee may be older).
Getting there:This stunning university town is around 90 minutes from Edinburgh, across the Firth of Forth to Fife, then along the Fife coast which boasts several fishing villages largely unchanged in centuries, such as Anstruther, where you can sample some of Britain's best fish and chips.
6. Hadrian's Wall
The Romans' (second) attempt to keep the warring northern tribes out, Hadrian's Wall, can be easily accessed from Edinburgh via a drive through rolling borders lush country. Then, cross the border into England (no passports required yet), go exploring the Roman fort and wall remains and stop for refreshments in pretty Northumberland villages like Corbridge and market towns like Hexham and Haltwhistle. These charming northern English towns are famous for their solid stone-built houses, gift shops where you can pick up local arts and crafts, and friendly pubs where you can slake your thirst and enjoy a delicious Great British pub lunch.
Getting there: Getting to the borders from Edinburgh takes slightly longer and you will be in the car for about 2 hours and a half before reaching Hadrian's Wall. Take the A74 towards Carlisle and then the A689.
7. Dunfermline Abbey and Pittencrieff Park
Dunfermline was the ancient capital of Scotland from around 1100 to 1300 AD, and in its famous Abbey lie the remains of Robert the Bruce, ally of William Wallace and King of Scotland who was buried here after dying abroad and being transported home (his heart is buried in Melrose Abbey in the Borders). Dunfermline Abbey sits on the corner of Pittencrieff Park, which has a number of unusual features and stunning greenery, and the adjacent older parts of Dunfermline include 16th-Century stone buildings and cobbled streets.
Getting there: Simply drive North over the Forth Road Bridge and you'll be there in under 30 minutes from Edinburgh.
8. Midlothian Snowsports Centre
Formerly Hillend Ski Centre, this year-round venue has lessons in skiing/snowboarding, private coaching available, tubing for the casual visitor and more – Midlothian Snowsports Centre is the second-longest dry ski slope in Europe. Once you've tired yourself out on the slopes, recharge your batteries at Café 360, the centre's onsite eatery – treat yourself to tea and cakes as you watch the action on the slopes from the scenic balcony.
Getting there: The Snowsports centre is located just outside the A720 ring road to the South of Edinburgh.
9. Glasgow
The central belt in Scotland includes Glasgow, Scotland's largest city, and Glasgowas it's less than an hour from Edinburgh even the most ardent Edinburger wouldn't begrudge its place on this list. Truly a city in the modern sense, Glasgow is full of things to see and do – too many to cover here. Glaswegians are very friendly, bluntly open, a lot of fun, and you can chat to anyone: what it lacks in Edinburgh elegance (and that's arguable as Glasgow's architecture is globally prominent thanks largely to Charles Rennie Mackintosh) it more than compensates for in friendliness and urban buzz.
Getting there: To get to Glasgow from Edinburgh just head west along the M8 towards Canal Street in Glasgow and take exit 16.
10. Arthur's Seat and Salisbury Crag
There's a half-tradition among Edinburgh students of climbing the famous Arthur's Seat to enjoy the stunning view of all of Edinburgh and Leith, and Fife to the North, to cure a hangover. Even without a pounding head, the capital's most famous hill is a mildly challenging but short hike, accessible without leaving the city.
Getting there:Although technically not a road trip (Arthur's Seat is reachable on foot), it's worth considering taking the car as there's plenty to explore in the area, including the Scottish Parliament and several parks, ponds with swans, and the Royal Mile.
Take any of these 10 epic road trips from Edinburgh and you'll realise why Scotland's been voted the world's most beautiful country so many times – you can thank us later!
Ready To Roll Out From Edinburgh? Contact Enjoy Car Hire Today!
Getting to and from Edinburgh