Driving in Cyprus – 15 Things You Need to Know
Drive on the left
Road signs
Speed
Alcohol limits
Lights overnight
Prep for visiting the north
Seatbelts & driving with kids
Smoking
Documents
Parking
Local drivers
IDP?
4WD
112
Fuel
Cyprus – easy does it driving
First thing's first, driving in Cyprus isn't as easy as some other countries – especially since (as we'll explain) the locals have some interesting interpretations of the rules.
However, take your time, drive defensively and you'll be fine. And once you get the hang of it, there are some beautiful road trips in this part of the world – combining history, culture and those one-off quirks that make Cyprus unique. If you just landed in Paphos Airport, get ready for a journey!
For instance, the drive from Akamas to Troodos via Chrysochou Bay and Paphos Forest is dreamy. You can roll out to the awesome azure waters of the Blue Lagoon west of Akamas and spend the day splashing around and cooling off on soft, white sands. And the Limassol Loop takes you on a rollicking 74km trip round the island beaches, rustic rural villages, charming churches and wonderful winelands.
There are many top attractions in this awesome Eastern Mediterranean island. The ornate Kykkos monastery is one of the main draws – it's set on a mountain peak so requires a hike to get there, but it's precious manuscripts and religious treasures make it worth the effort. Meanwhile, Nissi beach is a natural wonder with 500m of white sands and gorgeous turquoise waters, and legend has it that Aphrodite Rock is the spot where the sea gave birth to the goddess of love.
As you can see, there are lots of lush things to see and do. But in order to embrace Cyprus in all its glory, you'll need some switched-on driving tips. And they're coming right up!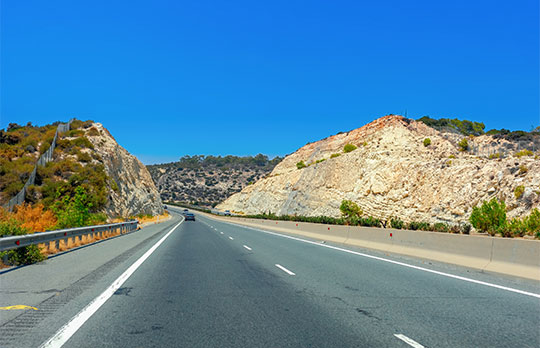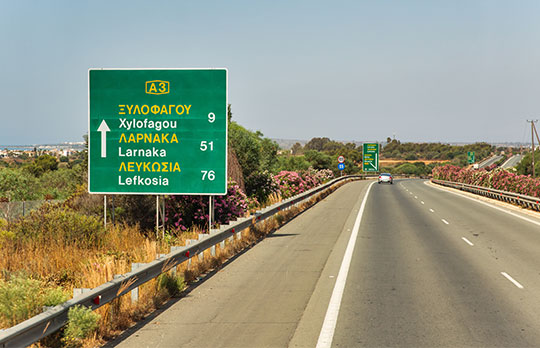 15 things you need to know about driving in Cyprus
Drive on the left
Yup, that's right – Cypriots drive on the left-hand side of the road and overtake on the right. Which is fantastic news if you're a driver visiting from Britain – everything's 'the right way round' so it's one less thing to worry about as you navigate the thoroughfares on this terrific island nation. If you're arriving from a country that drives on the right, take your time to acclimatise.
Road signs
More positive news – the road signs in Cyprus are in English as well as Greek. So there's no need to squint and shake your head (unless you're a linguist) as you try to work out the Greek alphabet. The distances are in km rather than miles, but that's a reasonably simple conversion to make if you need to.
Speed
The speed limits in Cyprus are signposted but they're quite easy to remember. It's 100 km/h on motorways, 80 km/h on other major roads and 50 km/h in cities, towns and built-up areas. The limit in villages is 30 km/h and some of these smaller residential areas also have speed bumps as traffic calming measures. And one more quirky rule to look out for – there's a minimum speed on motorways of 65 km/h, so don't dilly dally!
Alcohol limits
The simplest way to stay safe when driving is to avoid consuming any alcohol whatsoever if you need to drive (even the next morning). But for reference, the drink driving limit in Cyprus is 50mg alcohol per 100mg of blood, or 22mg per 100mg of breath.
Lights overnight
In Cyprus, it's mandatory to use your car headlights from the half hour before sunset to the half hour before sunrise. It's a really sensible rule and also keeps the vampires away (joking!). Oh – you also shouldn't use your horn between 10pm and 6pm and never use it at all in the vicinity of a hospital.
Prep for visiting the North
You'll need to plan ahead if you want to drive over the border to Northern Cyprus. Firstly, check your car rental company's policy – some will allow it, but you won't be covered by their insurance policy, which means shelling out for your own third party insurance. If you want to cross this unique geopolitical border without your car, you can do so on foot at Nicosia – crossing the famous Green Line in this way might feel like a lot less hassle.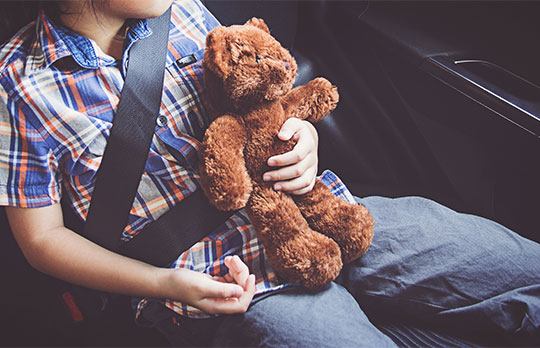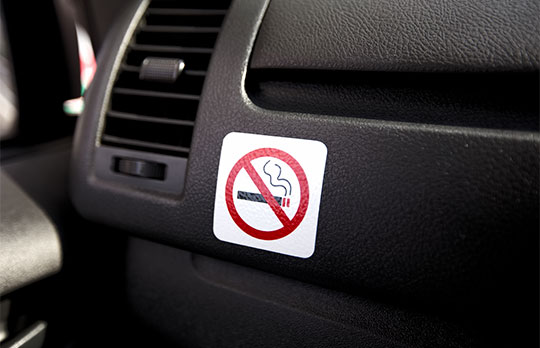 Seatbelts & driving with kids
It's compulsory for the driver and all passengers to wear their seatbelts. Kids aged five to 10 can sit in the front passenger seat, provided that they're in an appropriate child safety seat. All children aged under 5 should sit in the back in children's car seats, and child car seats are required up to the age of 12 or a height of 150cm.
Smoking
If you're a smoker, you're probably not permitted to light up inside a rental car anyway, but just in case, please remember that it's illegal to smoke in a vehicle in Cyprus if you're carrying a passenger aged under 16. This seems like such a forward-thinking and sensible rule that it's surprising it isn't in place in every country – why should anyone subject children to second-hand smoke?
Documents
Whenever you get behind the wheel in Cyprus, be sure to take your official documents with you. So if you're hiring a car, these include your rental documents, driver's license and, if you want to be super-organised, passport. It's unlikely you'll be stopped by the authorities, but its good to have all your official documents to hand in any event.
Parking
If you're a thrifty traveller, you'll be glad to know that in most places in Cyprus, there's no need to pay for parking. Parking kerbside, on any space in a parking lot, or even on a roadside verge is generally ok (provided you're not blocking anyone's way). In the city centres of locations like Limassol, be prepared to pay, but otherwise keep your pennies in your pocket.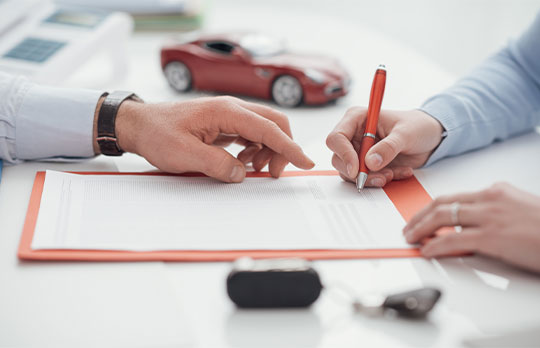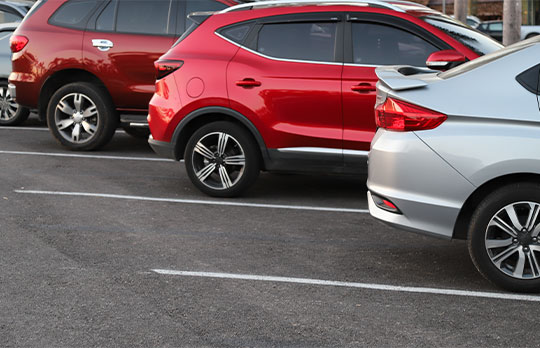 Local drivers
It's fair to say that local Cypriot drivers don't have the best reputation when it comes to driving safely and considerately. However, some residents report that this is exaggerated and driving standards here might even be better than in certain other nations in Europe and elsewhere. Either way, drive defensively and observe the rules of the road to stay safe and sound.
IDP?
An IDP is an International Driver's Permit, and you only need it in Cyprus if your license is written in a non-Latin alphabet and from a country outside of the EU. Which means that UK, Aussie, US and EU drivers don't need an IDP to hit the road here – just carry your regular license and you'll be fine.
4WD
Hire a car in Cyprus with the likes of Enjoy Travel and you can choose from a huge range of vehicle types. But for several reasons, 4WDs (four wheel drives) are particularly suited to this terrain. They're not essential but might make you feel more confident on the many dirt and unsurfaced roads to several of the nation's tourist attractions – like Lara Beach, Adonis Baths and Blue Lagoon. Apart from that, you'll probably enjoy the elevated driving position and there's plenty of room and comfort for passengers – 4DW sounds like a winner on many fronts then!
112
One number which you should definitely have saved on your phone is 112. These are the digits you need to call the police in the unlikely event you meet in an accident. You may never have to use them, but please memorise them nevertheless!
Fuel
Check the fuel policy and mileage limits of your car rental company before setting off. The mileage limits are likely to be more than generous enough for you to complete all of your planned excursions, but they're good to know. And some renal agencies have a 'return empty' rather than 'return full' policy. Which means you fill up your tank when you pick up your vehicle and try to use up (as near as possible to) all of the fuel before returning it. And there are also no self-service petrol stations in Cyprus – expect an old-school experience where you tell a friendly pump attendant what you need, they fill up your car and then you go inside to settle the bill.