Top 10 Road Trips from Alicante
Benidorm
Cartagena
Altea
Guadalest
Murcia
Valencia
Canelobre Caves
Terra Mitica Theme Park
Villajoyosa
Elche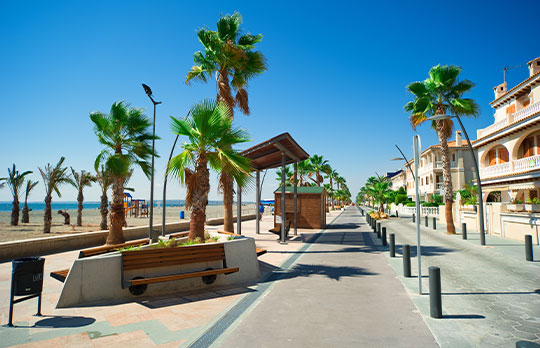 Top 10 scenic drives from Alicante
History. Beaches. Cuisine. Culture. Alicante has it all. The capital of Alicante province in Spain's Valencian Community, Alicante city is always a fantastic place to visit. An expansive waterfront, ancient castle and interesting old quarter lend it an attractive ambience and (especially at weekends), there's a brilliant buzz about the place, with locals and visitors alike mingling freely. With a population of around 337,000, Alicante is the second-largest Valencian city (after Valencia itself) and has a proud history that stretches back some 7000 years, controlled at various points by Romans, Visigoths, and Castilians, amongst others.
Some of the best things to do in Alicante include visiting Santa Barbara Castle on Benacantil mountain, people-watching beneath the palms along the elegant marble promenade, feeling the sand between your toes at Postiguet beach, and getting your culture fix at the Contemporary Art Museum. If you're a keen golfer meanwhile, there are 15 fabulous courses in the Costa Blanca region and those in the Alicante vicinity include Alicante Golf Club (designed by a certain Seve Ballesteros), and Bonalba, a challenging par-72 with a tricky back nine. Alicante also caters for foodies, with delicious local rice dishes like arroz a banda and sweet turon ‐ a divine snack created from nougat with almonds and honey.
Finally, hiring a car in Alicante means you can take advantage of its prime geographical position and explore the beautiful Valencia region and legendary Costa Blanca at your own pace.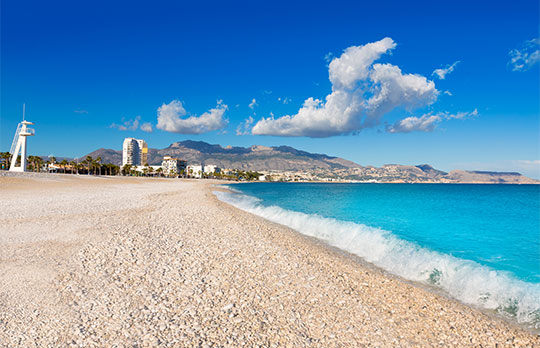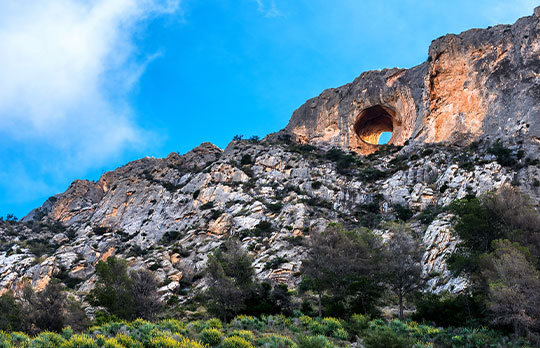 Top tips on driving in Alicante
We'll roll out on your Alicante road trips imminently, but first let's take in some super-quick driving tips.
First off, please remember to drive on the right. All passengers should wear their seat belts and kids under 12 are not allowed in the front seats.
Two of the main toll roads in the region are the AP7 and N332 and they both serve lots of the same destinations. The AP7 tends to be faster as it circumnavigates the towns rather than going through them.
Alicante has recently cut speed limits to 30km/h on one-way and single carriageway roads. The limit is 50km/h in other built-up areas, 90km/h on other roads, 100km/h on dual carriageways and 120km/h on motorways.
Now let's get cracking with those road trips!
Benidorm
How does a 35 minute road trip along the AP-7 to one of Spain's best-known beach resorts sound? Benidorm is a short drive up the coast and it's impossible to get bored there. Top attractions here include the legendary Levante Beach with its crescent of golden sand and wildlife park Mundomar with its dolphins, sea lions and penguins. Hiking up to La Cruz de Benidorm is another rewarding activity (views are stunning) and Sierra Helada is a picturesque nature park. If you love neon lights and nightlife, there's plenty of that too!
Cartagena
One hour and 20 minutes south of Alicante via the AP-7, Cartagena is a cracking day trip destination. One of the world's greatest natural harbours, this area was the jewel in the crown of the Carthaginian empire (they were kind of a big deal until the Romans took over). If you're into history, Cartagena boasts a beautifully-preserved Roman theatre as well as late 19th-century modernist masterpieces like the Gran Hotel and Palacio Pedreno, and top-class shopping and dining at the pedestrianised Calle Mayor.
Altea
Just 42 minutes away via the trusty AP-7, Altea is one of the most picturesque road destinations from Alicante ‐ no mean feat in such a lovely area. With whitewashed buildings cascading down towards the sea, it's easy to fall in love with this place, and the Old Town's striking blue-tiled church has come to symbolise the beaty of the Costa Blanca. Altea also has a cultural calendar packed with eclectic events. For instance, the colourful Moors and Christians festival, Europe's biggest fireworks display (held on the Saturday nearest San Lorenzo Day in August), and the all-nighter beach festival held to celebrate San Antonio's feast day in June.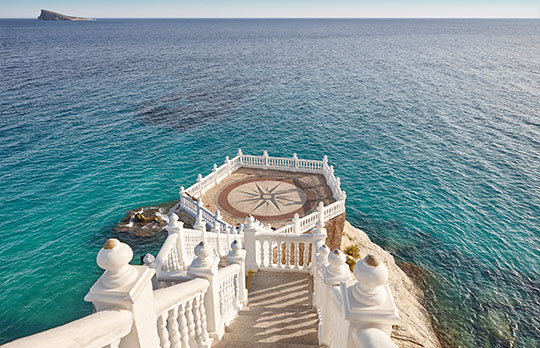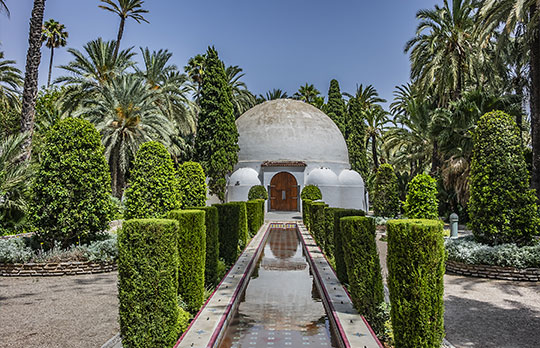 Guadalest
Around one hour away via AP-7 and CV-70, Guadalest has long been considered one of Spain's most beautiful towns, thanks to its gorgeous landscapes, rich traditions, unique history and delightful cuisine. Its iconic castle was declared a Historical and Artistic Heritage site in 1974 and is still a hotspot, but there's more to see besides. For instance, the Guadalest Miniatures Museum showcases Manuel Ussa's mind-blowing micro-art (including a copy of Goya's The Nude Maja painted on a fly's wing!). The rugged mountains and turquoise waters of the Guadalest Basin are a beautiful place to hike, and you can reward yourself with delicious minxos (vegetable empanada). Nom nom.
Murcia
Just 50 minutes southwest from Alicante via the A-7, Murcia's a manageable day trip destination that's definitely worth a look. The lush gardens and elegant squares are a pleasure to wander around, the beautiful Baroque cathedral took three centuries to build, and it's worth popping into Real Casino de Murcia to see the plush interior and grand courtyards. If you're looking for somewhere to cool off, head across the river to Floridablanca Gardens for a stroll amidst the well-kept flower displays and ancient ficus trees. For leisure and relaxation, Murcia is top-notch.
Valencia
Fancy a drive up the A-7 for a weekend in the big city? Valencia is one hour and 50 minutes from Alicante and it's a destination that always delivers. There's loads to do and see in this cool, creative metropolis, like the beautifully designed City of Arts and Sciences (CAC) complex, the opulent interior of Valencia cathedral and the gourmet stalls at Mercat Colon Gastro market. This is also the home of paella and the best place to taste it is La Pepica ‐ frequented by a certain Ernest Hemingway back in the day.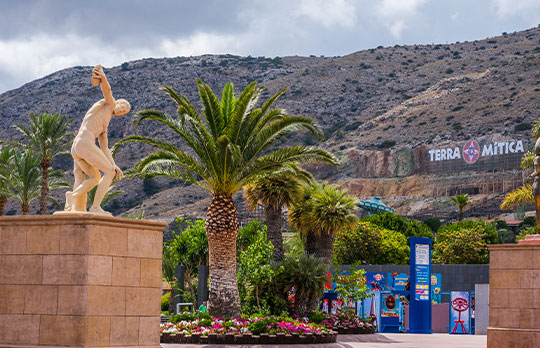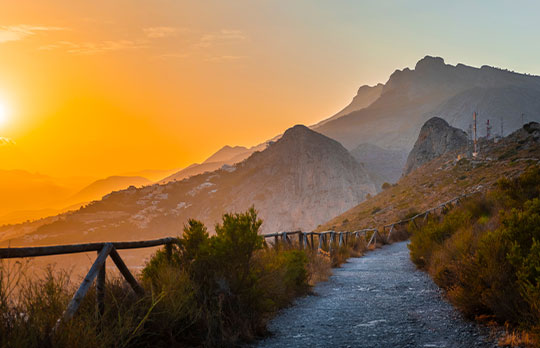 Canelobre Caves
For a road trip that's a little bit different, scoot up the CV-773 from Alicante to the Canelobre Caves. Located in the attractive town of Busot, the jaw-dropping Canelobre Caves are like a natural amphitheatre inside and are believed to date from 740AD in their final form ‐ having taken 7 million years of erosion to create. Used as a shelter for Republican troops during the Spanish Civil War, as well as being an attraction in their own right, the caves are occasionally used as a unique concert venue.
Terra Mitica Theme Park
Want a quick family day trip close to Alicante? The famous Terra Mitica Theme Park is just 30 minutes away via the AP-7 and it's an ideal distraction for kids. With various zones based on ancient Greece, Egypt and Rome, this is an immersive, educational experience, but most of all it's great fun. Popular rides include La Furia de Triton water coaster, and the rollercoasters Magnus Colossus and Titande. Whether you love thrill rides, or just want to tire out high-energy kids, Terra Mica is terrific ‐ make sure to reserve a spot for it in your itinerary.
Villajoyosa
40 minutes drive up the AP-7, Villajoyosa is a fabulous place to visit. The distinctive seafront is characterized by multicoloured fishermen's houses, and the best views of the old town are available from the top of the church tower (if you're feeling energetic). There's a sweeping 1km long sandy beach here with a gentle gradient that's suitable for children, and this is also Spain's chocolate capital ‐ there are three factories in the town, the most famous of which is Valor (take a tour and taste the good stuff from the source!).
Elche
Just 30 minutes from Alicante via A-70, Elche is perfect for a morning or afternoon road trip and there's lots to get up to. With its twin blue domes, the 17th-century Basilica of Santa Maria is the most iconic landmark and the site of the perpetually popular annual Misterio de Elche play. The city is also home to 200,000 palm trees peppered amidst its parks and streets, and it's one of the best places to purchase designer shoes at decent prices ‐ more than half of Spain's shoe manufacturers are based here. Meanwhile, a great attraction for kids is that Rio Safari Park, where you can feed hippos and giraffes, as well as petting farm animals. For a mixture of history and fun, Elche is always recommended.