Best Weekend Breaks from Edinburgh
Aberfeldy
Elie
Loch Lomond
Peebles
Linlithgow
Inverness
Isle of Mull & Iona
Thurso
Newcastle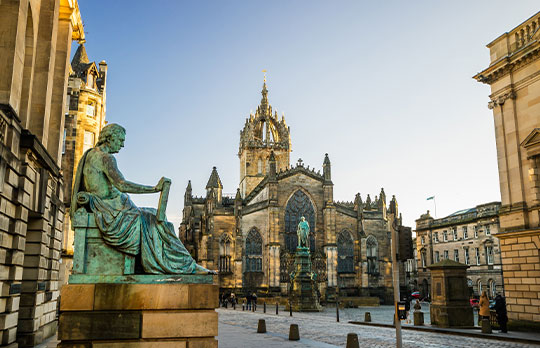 Top weekend getaways from Edinburgh
Edinburgh might not be Britain's biggest city ‐ it's diminutive compared to the likes of London and Birmingham ‐ but for many from home and abroad, it's the best. The Scottish capital looks and feels like nowhere else on Earth ‐ from the drama of its castle perched atop a volcanic plug to the serene symmetry of its New Town and the alien architecture of its parliament set against the ancient crags of Arthur's Seat, it's a city that beautifully blends old and new. The city centre is home to George Street's hip bars and boutiques and eclectic gatherings like The Bongo Club in the Cowgate, while areas like Leith are a winning mix of working-class pride and contemporary creativity. Furthermore, every summer, the population swells to accommodate visitors from around the globe to the Edinburgh Festival & Fringe, the world's biggest art festival.
So Edinburgh stimulates all your senses, but it's also a gateway to the rest of Scotland's scenic riches. Its central location mean that anywhere in Scotland (and a few locations further afield) make perfectly manageable destinations for weekend breaks. For instance, Scotland's biggest city Glasgow isn't too far away on the west coast, historical centre Stirling is another easy drive, Fife is just across the bridge, with ancient capital Dunfermline and home of golf St Andrews showcasing the Kingdom's attractions, and the mystery and romance of the highlands and islands are within striking distance too. To help you plan ahead, we've selected a few of the best weekend trips from Edinburgh ‐ hope you enjoy!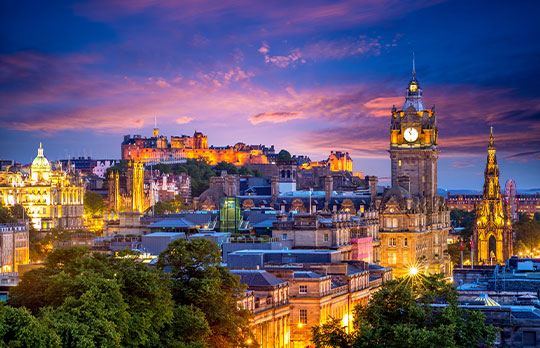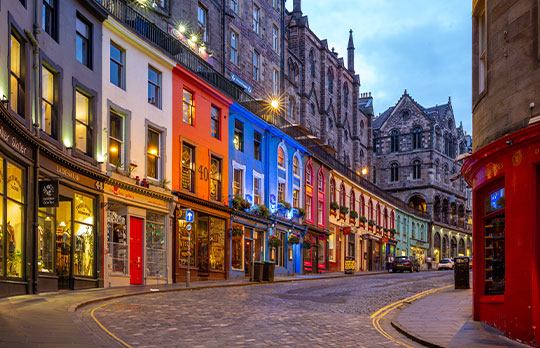 Edinburgh driving tips
Your Edinburgh weekend getaways are coming up, but let's take a wee break for some quick driving tips first.
Remember to drive on the left-hand side of the road in Edinburgh (hopefully you know this if you're from the UK!), remember that the speed limit in much of the city centre is 20mph, that Princes St (the city's main thoroughfare) is closed to cars, and that you shouldn't drive in bus lanes.
You have to be 18 to drive in Scotland and 21 to hire a car in Edinburgh ‐ please note that some car rental partners might also apply a surcharge if you're aged 25 or under. City centre parking in Edinburgh is also very expensive and there's a maximum 2/3 hour duration in most areas ‐ but download the Ringo app, enter your street parking code and you can top up your parking remotely.
Apart from the aforementioned speed limit in the city centre, limits in the city and beyond are 30mph in built-up areas, 60mph on single carriageway open roads and 70mph on dual carriageways and motorways.
Look out for slow-moving tractors, livestock and wild animals on the roads in rural areas and be aware that there are many single-track roads with passing places once you get up into the Scottish Highlands.
Now let's explore your Edinburgh weekend breaks!
Aberfeldy
Located a couple of hours north of Edinburgh via the M90 and A9, Perthshire's Aberfeldy is a stunning weekend getaway from the capital. It's always cosy staying in the cabins at Moness Resort, and the town's setting on the River Tay is terrific. Known as Feldy to locals, this is home to the famous birks (woods) immortalised by poet Robert Burns and the rushing Falls of Moness. The Dewar's Aberfeldy Distillery is a must for whisky enthusiasts and there's even a delightful arthouse cinema in the centre of town.
Elie
One hour and 30 minutes from Edinburgh via the A92, the picture-postcard fishing village of Elie on Fife's East Neuk is a prime weekend break destination for pleasure seekers from Edinburgh and elsewhere in Scotland. Clustered around a golden crescent beach, Elie has a bijou harbour that dates back to the 16th century and is now mainly frequented by bobbing yachts. Historic buildings include the 17th century Lady's Tower and there are also two outstanding golf courses, so pack your clubs!
Loch Lomond
The high road to Loch Lomond these days is the M8 ‐ which whisks you there from Edinburgh in just over two hours. There's lots to see and do in this romantic and lively location ‐ including jet-skiing, kayaking, mountain biking, treetop adventures and falconry. Slightly more sedate choices include pony trekking and boat trips across the loch's magical mirrored surface, while the Oak Tree Inn at Balmaha and Innkeeper's Lodge at Balloch are good accommodation options.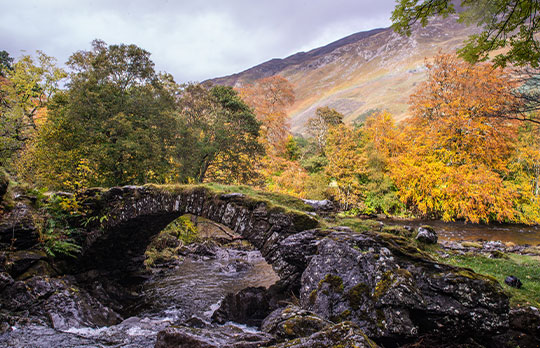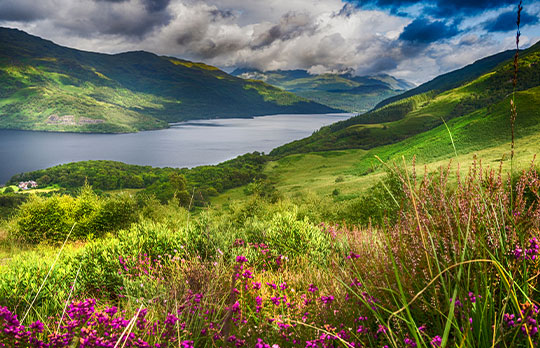 Peebles
An hour's drive south of Edinburgh via the A701 and A703, Peebles is a picturesque town set on the River Tweed in the Scottish Borders. Enjoy relaxed riverside walks in Hay Lodge Park, explore the elegant Traquair House just outside of town, or learn more about The Thirty-Nine Steps author John Buchan in the museum dedicated to his life and work. Alternatively, anyone who's green-fingered or just loves tree bathing will appreciate Dawyck Botanic Garden or Kailzie Gardens. Dine at Osso for delectable, freshly prepared dishes and stay at Peebles Hydro or The Horseshoe Inn.
Linlithgow
Just 50 minutes east of Edinburgh along the M9, Linlithgow is a historic town which is a top-notch weekend getaway destination. The 15th Century Linlithgow Palace is the jewel in the crown and enjoys a breath-taking lochside location ‐ this is where Mary Queen of Scots was born in 1542 and the extensive ruins are fascinating to roam around. Cuisine highlights include Mason Belles Kitchen, Bar Leo and Cafebar 1807, while the Star & Garter Hotel is a lovely traditional accommodation choice.
Inverness
Inverness is just over three hours north of Edinburgh (depending on traffic) via the A9 and this elegant highland city is always a joy to visit. Attractions here include Loch Ness (points if you snap the monster), the Culloden Battlefield, Bronze-Age Clava Cairns and 18th Century Fort George. But that's not all ‐ Inverness Castle dates from the 11th century, Inverness Museum and Art Gallery showcases the area's cultural heritage and the impressive Inverness Cathedral is the most northerly in the UK. Accommodation options include Strathness House, the Palace Hotel and the Royal Highland Hotel.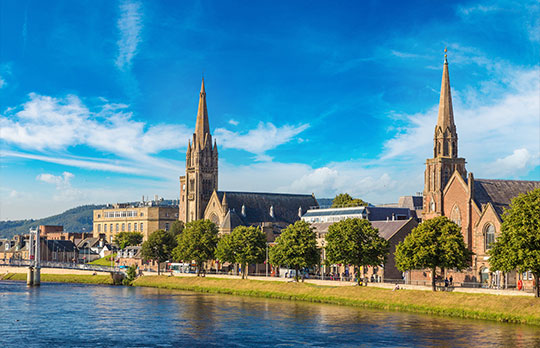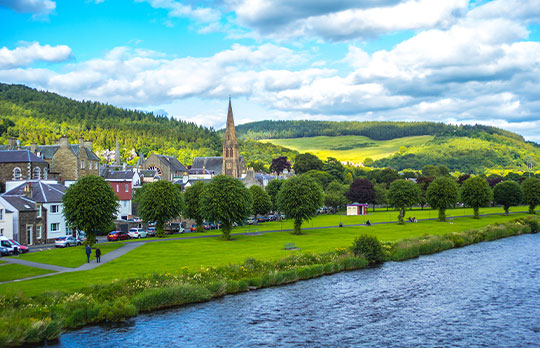 Isle of Mull & Iona
A longer day trip, the Isle of Mull is five hours from Edinburgh via the A85. But the extra effort is certainly worth it ‐ this expansive Inner Hebrides island offers amazing scenery with rolling hills, serene waters and blue skies, as well as charming, colourful buildings in its main settlement Tobermory. Duart Castle is the ancestral home of Clan MacLean, Calgary Bay has one of Scotland's best beaches and you can climb Ben More for fabulous views of the island. Don't forget to take a day trip to nearby Iona ‐ this deeply spiritual island has an atmosphere which is instantly relaxing and ethereal. The Tobermory Hotel, Glengorm Castle and Hideaway Lodges are all great places to stay on the Isle of Mull.
Thurso
5 hours north of Edinburgh via the A9, Thurso is just about as far north you can drive in Britain without ending up in the North Sea! Scotland's most northerly mainland town is a lovely launchpad for exploring the top of Caledonia, and there's plenty to see and do here. The town is bursting at the seams with craft shops, restaurants and bars, while the circular Meadow Well wellhouse is another attraction and the Swanson Gallery exhibits fine art from local creatives all year round. Good accommodation options include Manor House, Pennyland House and the Weigh Inn Hotel. If you don't mind a longer drive, Thurso rewards you with winning scenery and a taste of true Highland hospitality.
Newcastle
Fancy a trip down to England from Edinburgh? Newcastle upon Tyne is just two hours and 20 minutes south of Edinburgh via the A1 and it's one of Britain's best weekend breaks. Attractions in Newcastle include the historic Tyne bridges, legendary Theatre Royal and City Hall and the historic Hadrian's Wall Path, which passes through the city centre. But this city also offers one of the UK's best nights out and the locals (known as 'Geordies') are always welcoming. There are many brilliant accommodation options in this buzzing city, but Crowne Plaza in the Stephenson Quarter is an excellent choice. For a weekend trip from Edinburgh that lets you take in a different constituent nation of the UK, Newcastle ticks all the right boxes.