Top 10 Weekend Breaks from Faro
Carvoeiro
Vilamoura
Lisbon
Huelva
Almodovar
Monchique
Santa Barbara
Odeleite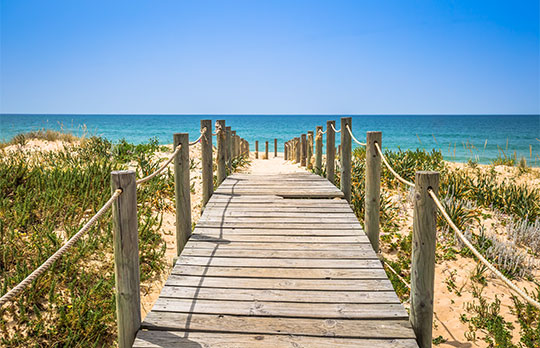 Top 10 weekend breaks from Faro
So you're based in Faro? Home to a major international airport, the oft-overlooked capital of the Algarve is a well-rounded metropolis with many more dimensions than the area's better-known resorts. Its compact city centre boasts pristine pedestrianized streets and gardens, the cidade velha (old town) is encircled by impressive medieval walls, while its university population catalyses a lively night time economy. There are elegant churches, fascinating museums and countless cafes and restaurants, while beautiful beaches are a short drive away on Ilha de Culatra and Praia de Faro.
Popular things to do in Faro include exploring the cathedral (dating back to the 13th century), admiring the noble neoclassical Arco da Vila (waterside gateway) and heading up the hill to see the rambling Milreau Roman Remains. Because of the city's regional prominence and location, it's an excellent base for exploring the rest of the Algarve and beyond – whenever you're yearning for a weekend away, there are numerous revitalising destinations on your doorstep.
Getting ready for your break from Faro
We'll get to grips with your weekend trips from Faro imminently.
But let's take in a few tips on preparing properly first.
Once you hit the road, remember the speed limits – 50km/h in built-up areas, 90km/h outside built-up areas and 120km/h on motorways. And bear in mind that there's also a minimum speed on motorways (50km/h).
Enter your trip details in your SatNav to find the best route (and avoid any roadworks), fill up your petrol tank (or charge your battery), and check your tyre pressure and tread depth. Remember that tiredness behind the wheel can be lethal – if your journey takes more than a couple of hours, plan to take a pitstop for some food and a nap. You should also carry water and snacks with you in the vehicle, as well as some blankets – it's unlikely you'll break down or be delayed for a significant amount of time, but it's still best to be prepared.
Ready for your weekends away? Let's go!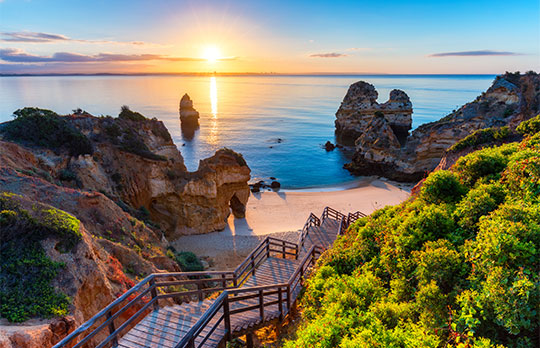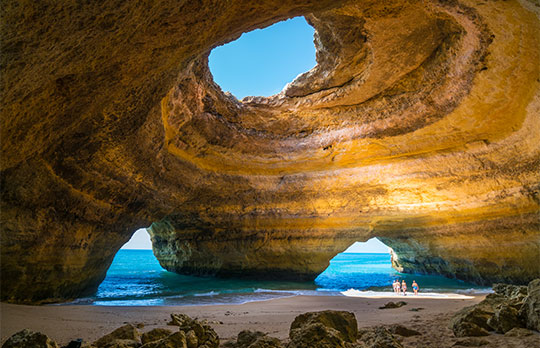 1. Lagos
Around one hour west of Faro via the A22, Lagos is a legendary Algarve hotspot for a weekend break. Just a short hop from the town centre, Ponta da Piedade is a beautiful beach where the rugged coastline creates a concertina of otherworldly caves, coves and rock stacks – gaze at it from the sands or enjoy a dynamic oceanside angle during a kayaking session. Meanwhile, the historic old town in Lagos is a labyrinth of streets surrounded by 16th century walls and Zoo de Lagos is a great place to see birds, goats, donkeys and lemurs. Also, Lagos Marina is an excellent base for watersports as well as being the perfect spot to people watch from bustling bars and restaurants.
2. Carvoeiro
Fancy a refreshing weekend in a traditional Portuguese resort town? Course you do. Carvoeiro is 45 minutes' drive via A22 and there are a shedload of things to see and do. Highlights include the sublime Praia de Carvoeiro beach, Algar Seco cliffs, and Zoomarine, a terrific theme and marine park combination. Surrounded by hills and clustered around a scenic cove with a beach enclave, this former fishing village is now popular with tourists and pleasure-seekers, while history buffs will appreciate visiting the ruined 17th century fort to the west of town. Well-appointed accommodation choices include Caneiros Luxury House & Hotel, Salgados Palace and the couples-only Jupiter Marina hotel.
3. Albufeira
40 minutes from Faro via that trusty A22, Albufeira is an A-rated spot to spend a weekend. With 25 top class beaches, it keeps Blue Flag manufacturers in business and there's dynamic nightlife balanced out by a laid-back old quarter where traditional restaurants serve ocean-fresh seafood. The pristine, 6km long Praia da Falesia is one of the best beaches of the bunch and its golden sands are complemented by striking red and yellow limestone cliffs. If it's lively nightlife you're after however, take a stroll east of the old town to Avenida Dr Francisco Sa Carneiro ('The Strip'). With bars, clubs, fast food outlets and amusement arcades, a night of entertainment that lasts into the wee small hours awaits.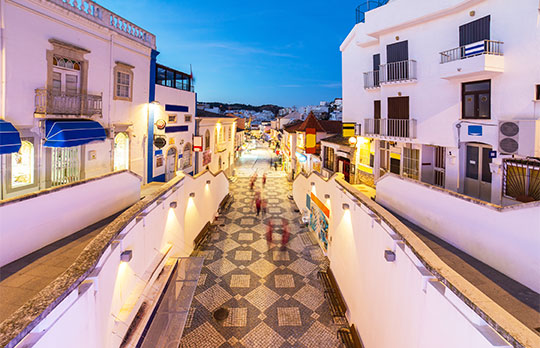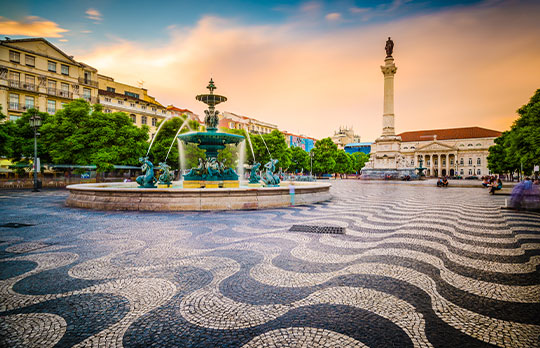 4. Vilamoura
Just 30 minutes from Faro via IC4, Vilamoura is a superb pick when you fancy spoiling yourself for the weekend. With gorgeous golf courses, beautiful beaches, an elegant marina and swish nightclubs, it's easy on the eye and good for the soul. A jet boat ride is a thrilling way to get your pulse racing, while dolphin tours are more laid-back but no less inspirational. You can also enjoy a spa experience complete with massage and reflexology, hire a speedboat and cruise along the coast, or head out to the roof to fish for snapper and grouper. Nearby Cerro da Vila is also a must for history fans – these Roman ruins feature surprisingly well-preserved mosaics.
5. Lisbon
Lisbon is two hours and 40 minutes from Faro via the A2, but it's well worth a slightly longer drive. A charming capital infused with old world charm and multicultural influences, you'll probably want to extend your time there. Bargain hunters can bring home bags stuffed with rare pottery and vintage clothes, the National Museum of Contemporary Art is packed with Portuguese masterpieces and the Santini ice cream parlour produces some of the tastiest flavours you'll sample anywhere. Fancy some refined shopping? Don't miss Embaixada – a collection of ultra-hip concept stores located in an 18th century mansion.
6. Huelva
One hour and 20 minutes from Faro via A-49, Huelva has plenty of idyllic beaches, bags of history and an expansive national park. Nicknamed the Secret Coast, this cracking spot has a superb 75-mle coastline called Costa da Luz (Coast of Light). The sprawling Donana marshland sits to the east, while there are a number of laid-back fishing villages to the west where you can unwind all the way. Don't miss Ruta Columbina, the 8 mile sector of the Rio Tinto where Christopher Columbus secured the funding, boats and crew to set sail for the new world. Finally, if you drive along the 20 mile Beach Trail you can stop at several sublime stretches of sand along the way.
7. Almodovar
A peaceful village in the Beja district, the traditional whitewashed village of Almodovar is just one hour's drive from Faro. Attractions in this sleepy town include its main square with noble Chiesa Madre church and lush nearby forest dominated by cork trees. There's also a castle here which featured in Game of Thrones and the huge Brena reservoir, where lots of exciting watersports are available. For scenery, history and action, a weekend in Almodovar ticks all the right boxes.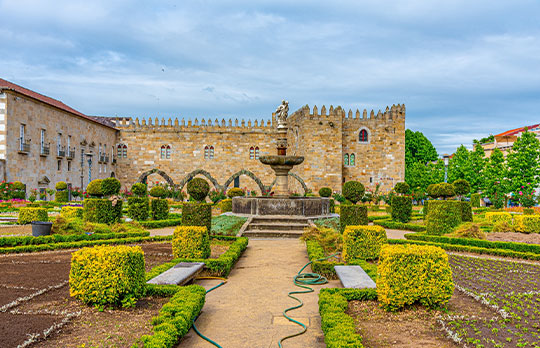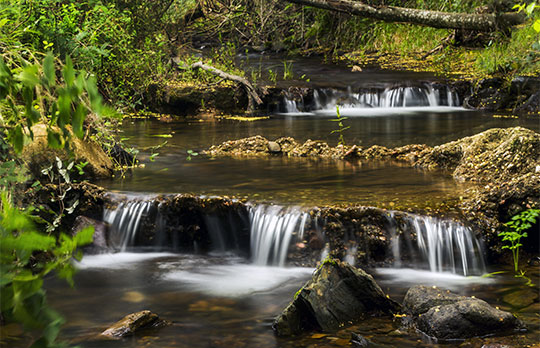 8. Monchique
One hour and 12 minutes from Faro via A22, Monchique is characterised by charming cobbled streets and unusual attractions. The rambling ruins of 18th century Convento Nossa Senhora do Desterro, a 15 minute walk from the town centre, is always worth exploring, while if you're feeling really energetic you can climb Mount Foia, Algarve's highest peak (902m) and gaze out over Lagos and Portimao. There are also wonderful woodland walks and waterfalls at Barranco de Pisoes and Parque da Mina has mining-themed rides and a small zoo with Vietnamese pigs and dwarf goats. For extreme scenery and fascinating history, Monchique is marvellous.
9. Santa Barbara
Just 20 minutes from Faro via EM520, Santa Barbara is an ultra-rapid weekend getaway destination that's a breath of fresh air. Top attractions here include the elegant Igreja de Santa Barbara de Nexe, horseback riding in the country at Monte da Ribera, dolphin and whale watching tours, quad tours and retail therapy at Designer Outlet Algarve (which features IKEA). Popular places to stay nearby include the Wyndham Grande Algarve and Ria Park Garden Hotel.
10. Odeleite
50 minutes northeast of Faro via A22, Odeleite is a charming place to spend a couple of days. Another lovely town with a range of historical and religious attractions, hotspots include the Basilica of our Lady of the Martyrs, Forte do Rato, Castro Marim Castle and Isla Canela Golf Club. If you're a bit of a gourmet, culinary delights include O Campones (Portuguese fare), A Prova (exquisite cake and coffee), Meson La Pasada (steaks and seafood) and Anyama (Italian specialties). Vila Monte Farm House is an elegant place to stay, but there are lots of accommodation choices in the area.