The 50 Most Romantic Restaurants in the World
Most Romantic Restaurants in the World 2023
It's approaching that time of year when many couples are on the hunt for the perfect romantic dinner setting. Valentine's Day is all about celebrating the love you have for your significant other so you want to make sure you choose a location that suits both you and your partner. Take your pick out of these top 50 romantic dining spots whether that be a traditional quiet candle-lit table for two with champagne, or perhaps something more luxurious? Whatever it is, you'll find the perfect date night spot with our list of the most romantic restaurants in the world.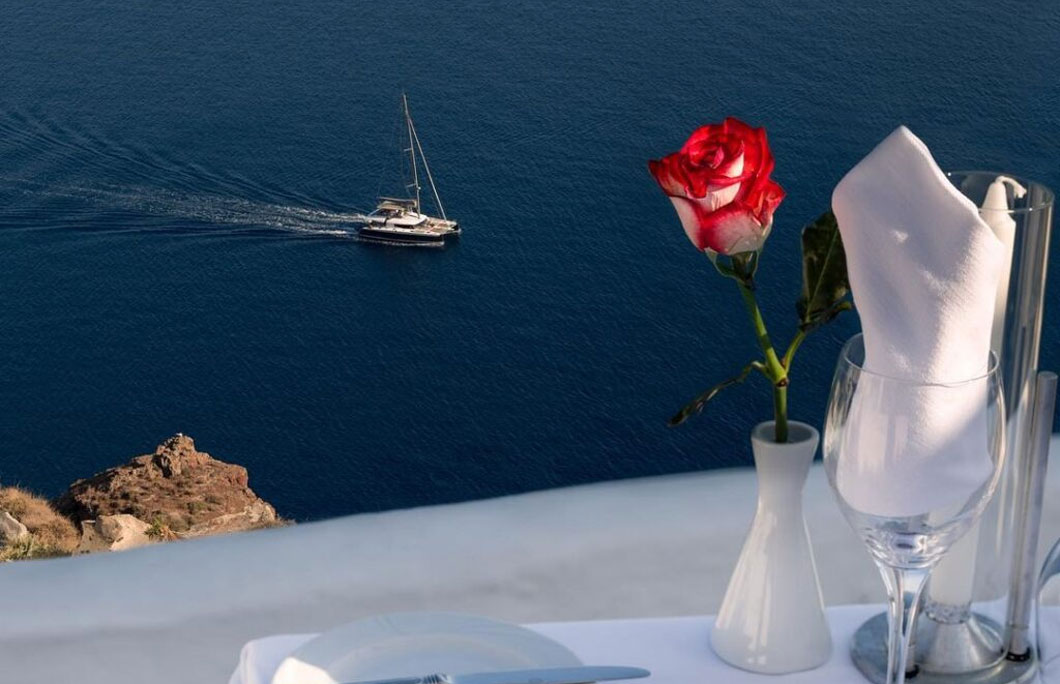 1. Ambrosia Restaurant – Santorini, Greece
Santorini is a Greek island, lazily sleeping in the Aegean Sea. A famous honeymoon and proposal destination for loved-up couples that flock there for romantic sunsets and gorgeous scenery. So it's no surprise that this stunning island eatery has made the top of the list for the most romantic restaurant of 2023! While it's not open for V-Day, you can dine here between March-December for other special occasions.
Grab a table at this stunning Ambrosia restaurant, located atop the Caldera cliff in Oia village, and tuck into some delicious gourmet Greek dishes that have a twist of international flavours. Take in the breathtaking views that overlook Caldera cliff whilst gazing into your partner's eyes.
Click here to compare car hire in Santorini
---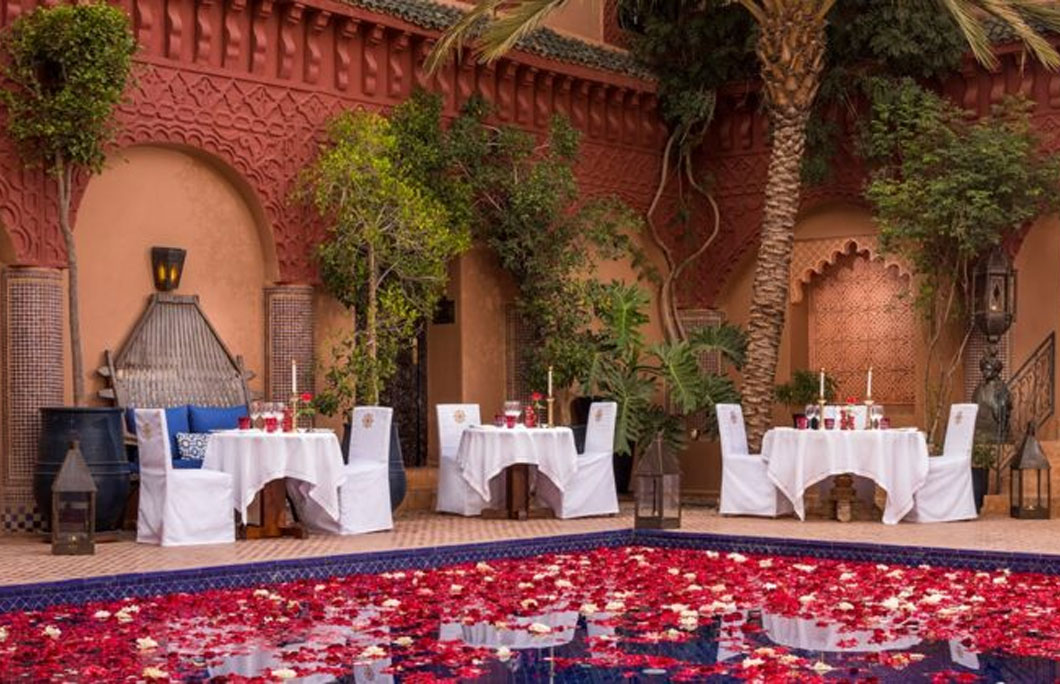 2. Kanoun Restaurant – Atlas Mountains, Morocco
Now, this is a restaurant you can trust will sweep you off your feet as it was built and designed by none other than Virgin Group Billionaire, Sir Richard Branson! His Moroccan retreat, Kasbah Tamadot is the epitome of opulence and magnificence, where you'll be presented with a slice of Morocco on your plate. Indulge in an al fresco dining experience with a range of locally produced traditional dishes that are accompanied by Moroccan wines. Some of the delicacies on their special menu include Lamb Shank in tangia style, Beef entrecote and Asni apple tart, and you can enjoy all of this whilst immersing yourself in the magnificent views of the Atlas Mountains.
---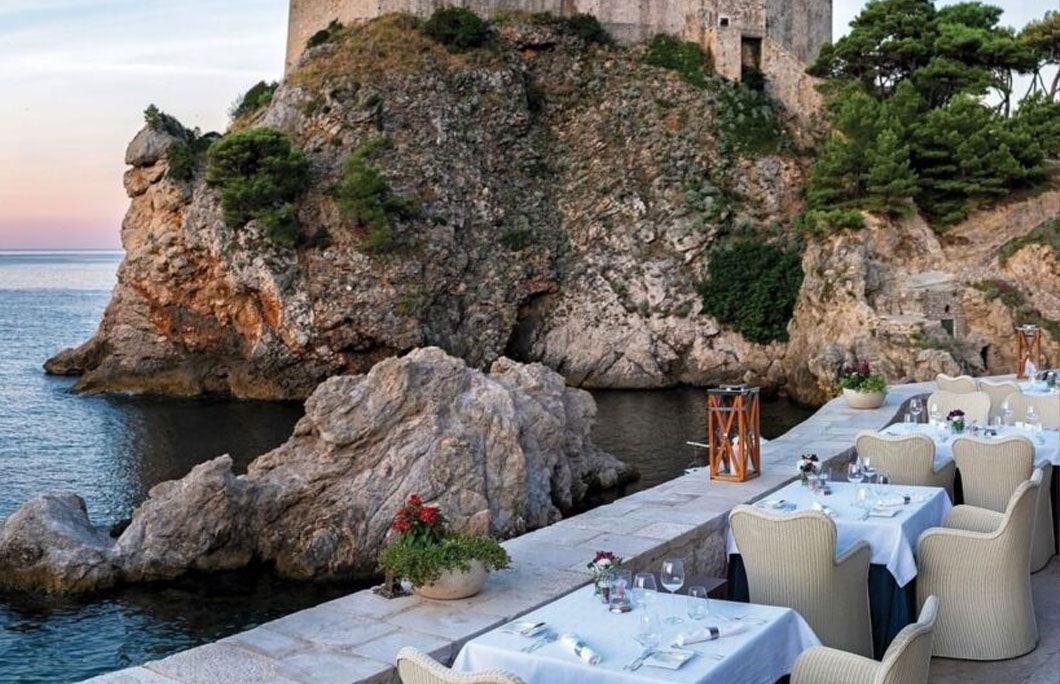 3. Nautika Restaurant – Dubrovnik, Croatia
This country in central Europe rose to fame after the world famous series 'Game of Thrones' was released. However, this country it is also well known for its beauty, culture and cuisine. The Nautika Restaurant is nestled at the edge of the scenic sea at Pile and is all about elegance with signature dishes exuding authentic local flavours. The restaurant oozes a rustic old-world sort of charm and boasts some of the most spectacular views of the fortresses of Loverijenac and Bokar. Headed by chef Mario Bunda, the Mediterranean cuisine menu highlights dishes like Lamb Dalmatian style, St. Jacob's scallop and Zacapa Affogato, along with a range of finely aged wines. This location is such a hit that they've even hosted Prince and Princess Akishino of Japan, as well as the King and Queen of Norway!
---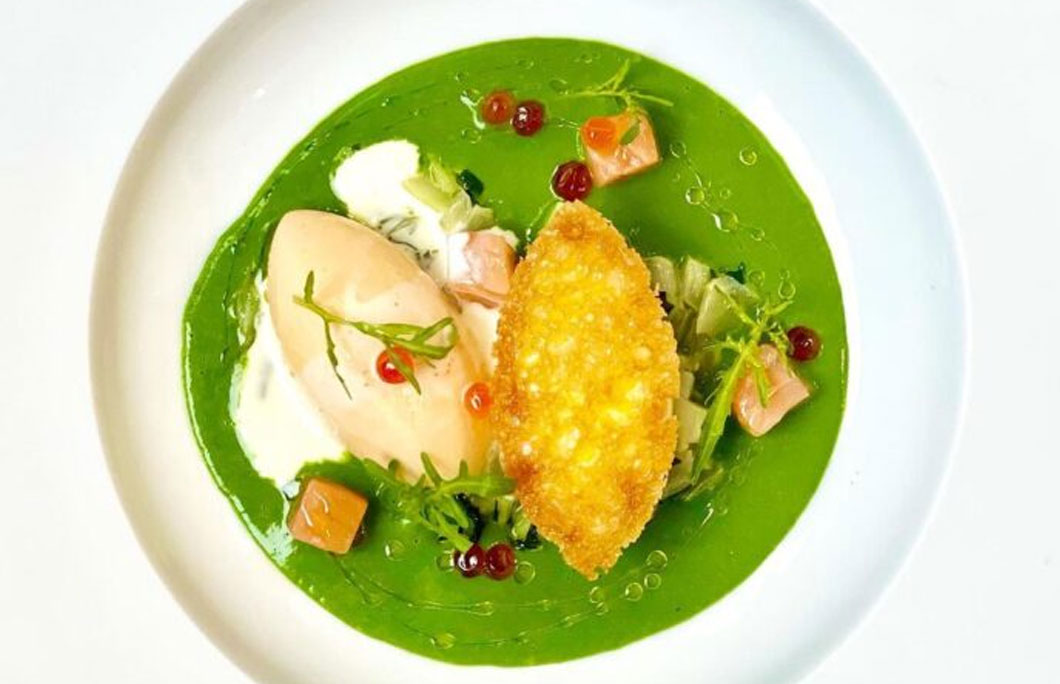 4. La Tour D'Argent – Paris, France
Every corner of Paris spells love and romance. It's a no-brainer that this elegant city houses some of the finest establishments that offer classic French cuisines for you to enjoy with your mon amour. This heritage place dates back to the 16th century when it served as a fine-dining place for the nobility. Today, La Tour d'Argent is a name that is well known amongst lovebirds visiting Paris as the ideal romantic location for Michelin star French cuisine. Some of the best dishes are pressed duck, crayfish flambéed with cognac and Quenelle of wild pike. Sip on some delicious wines while enjoying the view of the Notre Dame Cathedral and River Seine. The restaurant also boasts a spectacular wine cellar called The Cave, private lounges, Rotisserie d'Argent, French bakery items and much more.
---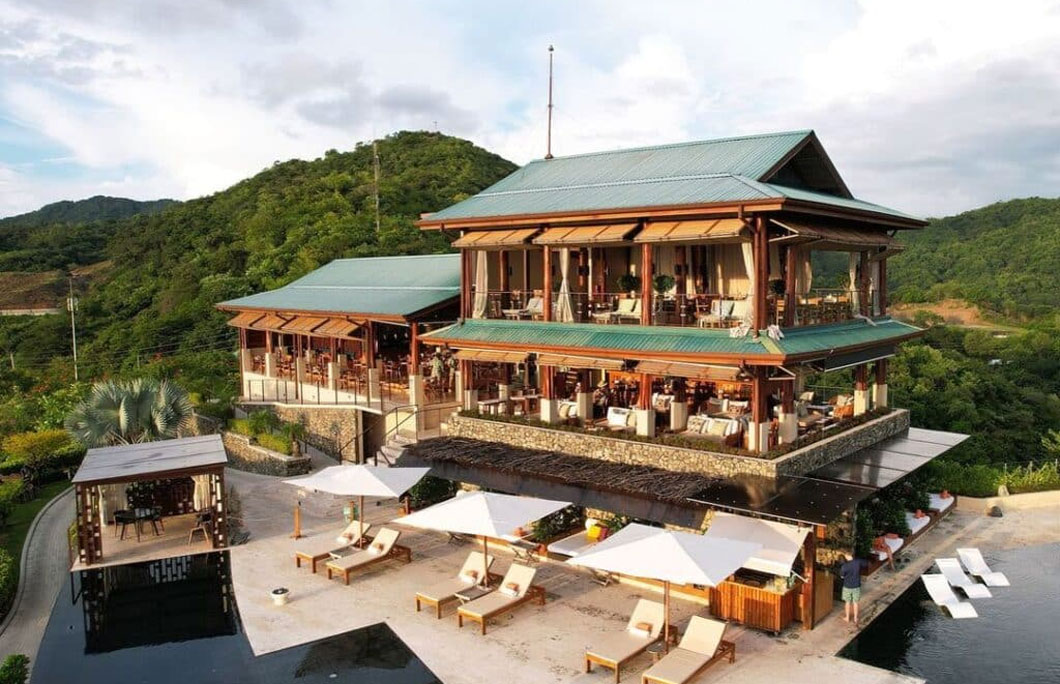 5. Sentido Norte – Costa Rica
This is a quaint and serene escapade on the Guanacaste coast, and its gorgeous setting in the boutique hotel Casa Chameleon, undoubtedly makes Sentido Norte one of the most romantic restaurants in the region. It's a spot to relax, rejuvenate and taste some of the exquisite local dishes of Costa Rica.
---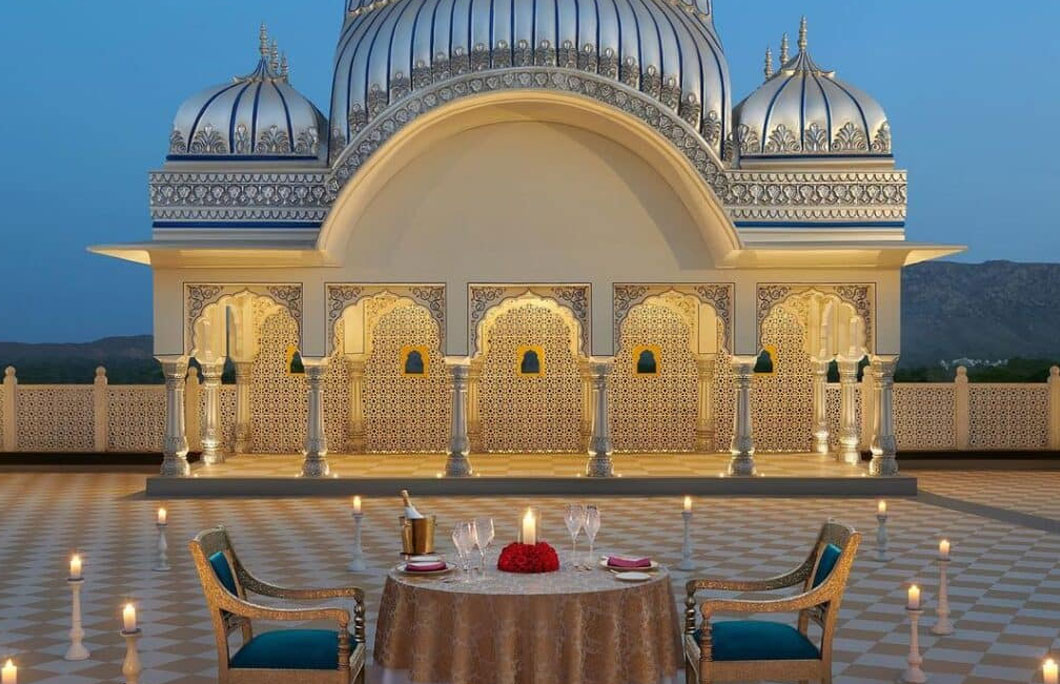 6. Sheesh Mahal – Udaipur, India
One of the most popular and stunning wedding destinations, Leela Palace hotel shows Rajasthani royalty, and will make you feel like a royal from a bygone era. Indulge in a sumptuous Indian dinner made with local ingredients and expert craftsmanship of the chefs, under the clear starry sky and flickering candles.
---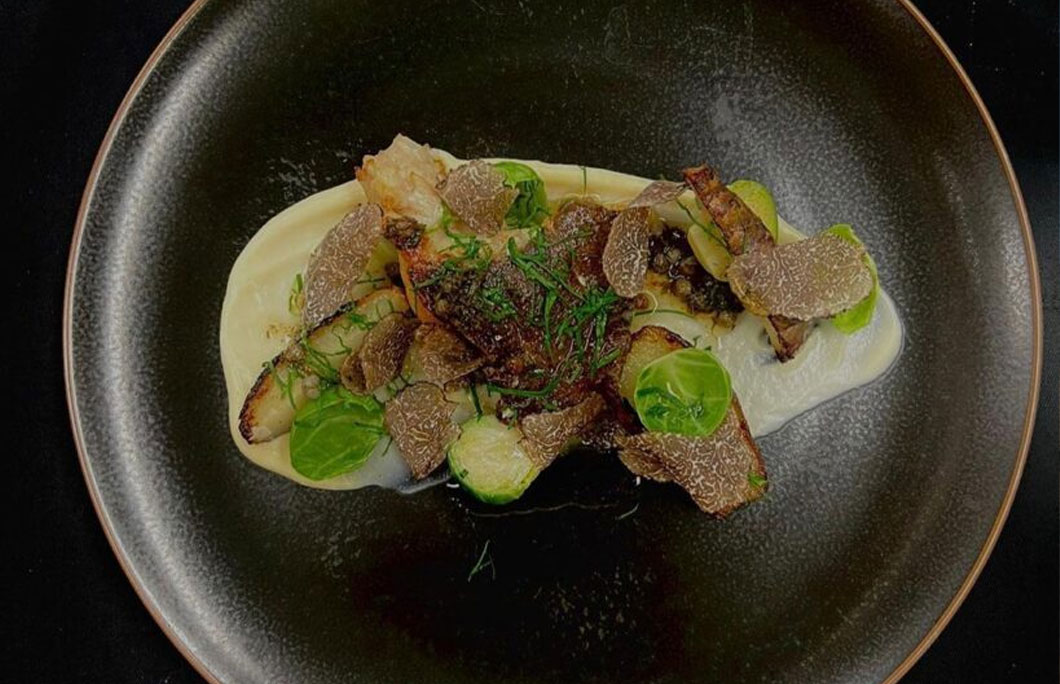 7. Junon – Hong Kong
Junon is the ideal spot to visit if you're looking for elegance, class and fine dining. You'll be seated under intricately designed glass ceilings surrounded by stained glass windows that herald the Queen of Roman Gods. Then tuck in for an awe-inspiring five-course dinner that will satisfy your taste buds like no other.
---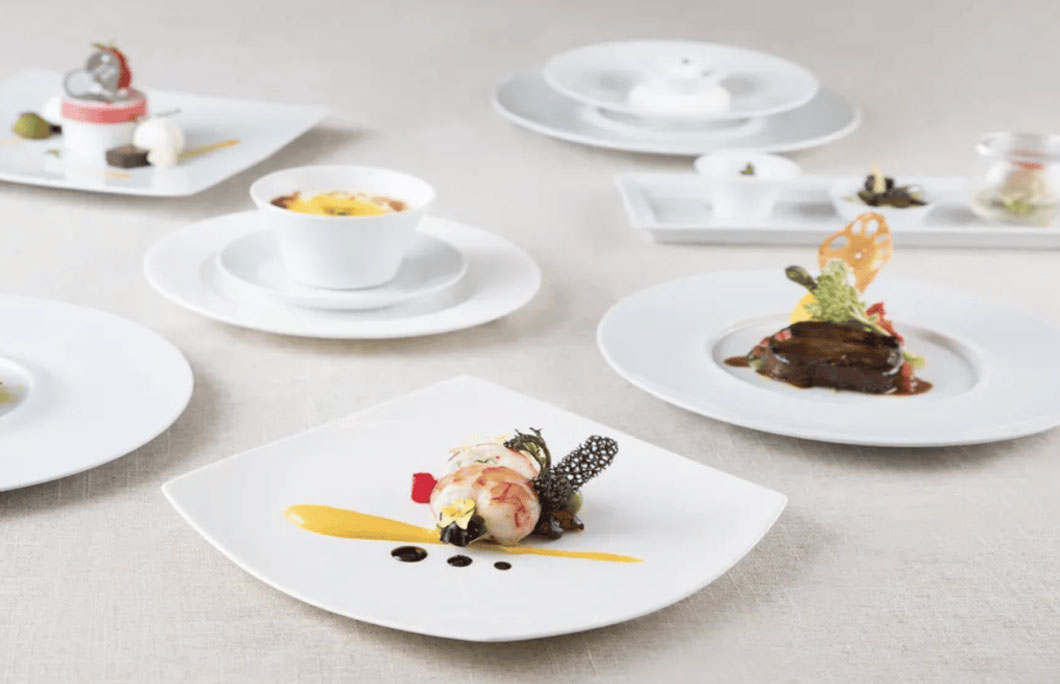 8. Walking on the Cloud – Seoul, South Korea
Even the name sounds romantic! Located inside Seoul's 63 Building, this restaurant is for those who enjoy fine dining with a view. The calming and romantic vibes, changing colours of the setting sky, will really make you and your partner feel as though you're walking in the clouds!
---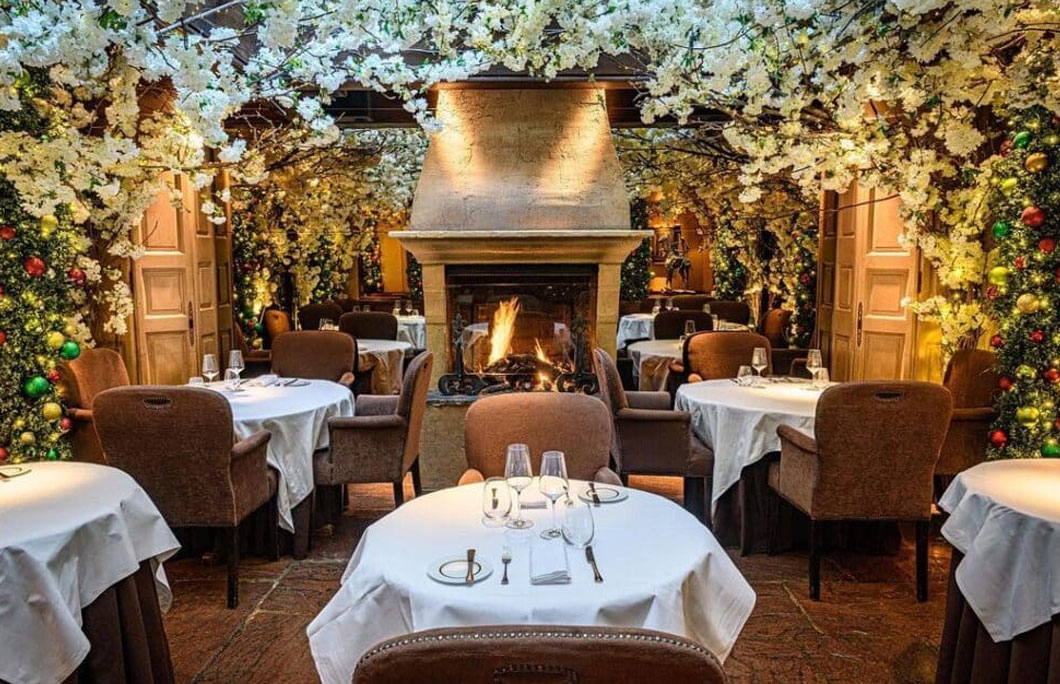 9. Clos Maggiore – London, UK
London is dotted with a number of French restaurants, but entering Clos Maggiore will feel like stepping into one of William Wordsworth's poems. You'll be swept into an elegant, sophisticated and charming vibe, with the sweet cherry blossom boughs hanging from the ceiling and the dreamy dimly lit room. Definitely, a place to get into a romantic mood with your significant other.
---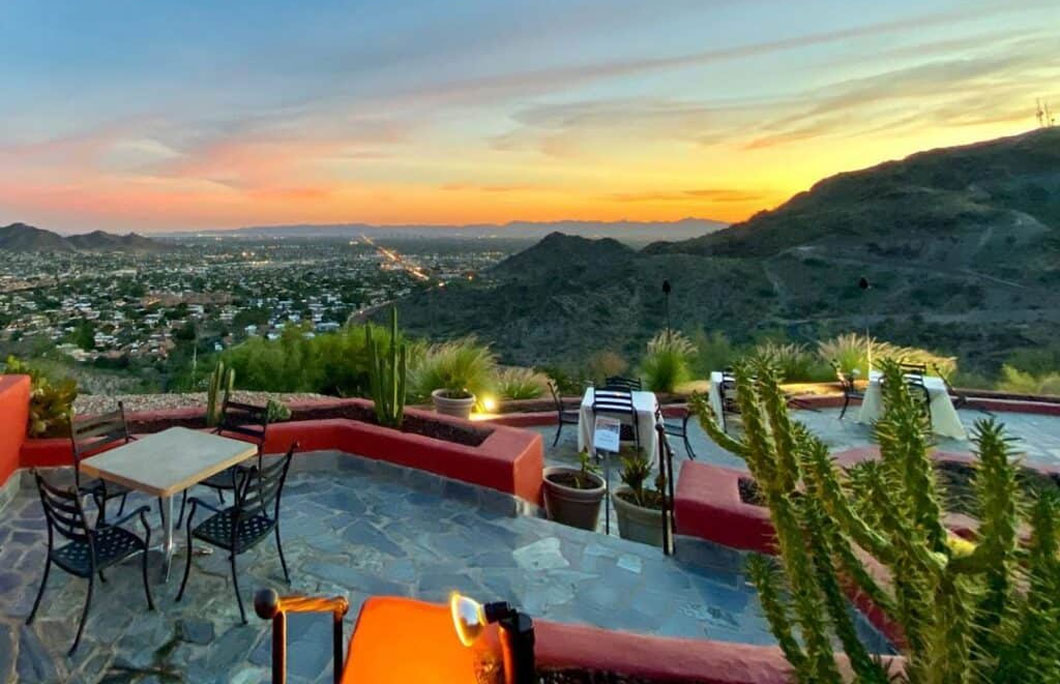 10. Different Pointe of View – Phoenix, US
Living up to its name, the restaurant gives a completely different view of Arizona and the Valley of Sun. Perched at 549 metres, the floor to ceiling windows offer you mesmerising panoramic views of the valley. This restaurant offers American fine dining, with delicious dishes such as Lobster Bisque, Duck confit lollipops, Cherry wood smoked venison and Filet mignon.
---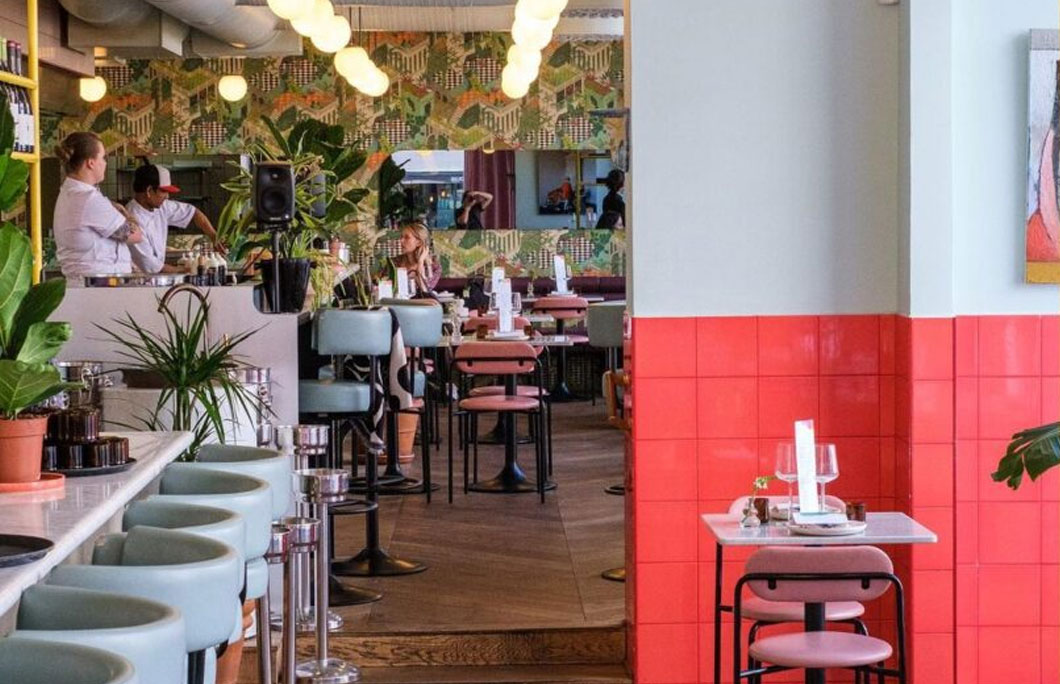 11. Yes Yes Yes – Helsinki, Finland
This vegetarian eatery is perfect for vegetarians and meat-eaters alike! The cotton candy interior and neon-lit heart set the scene for a cute and casual romantic night with your S/O. Undoubtedly, it's sweet, it's quirky, it's tasty, and it's a no-brainer for one of the world's most romantic date spots.
---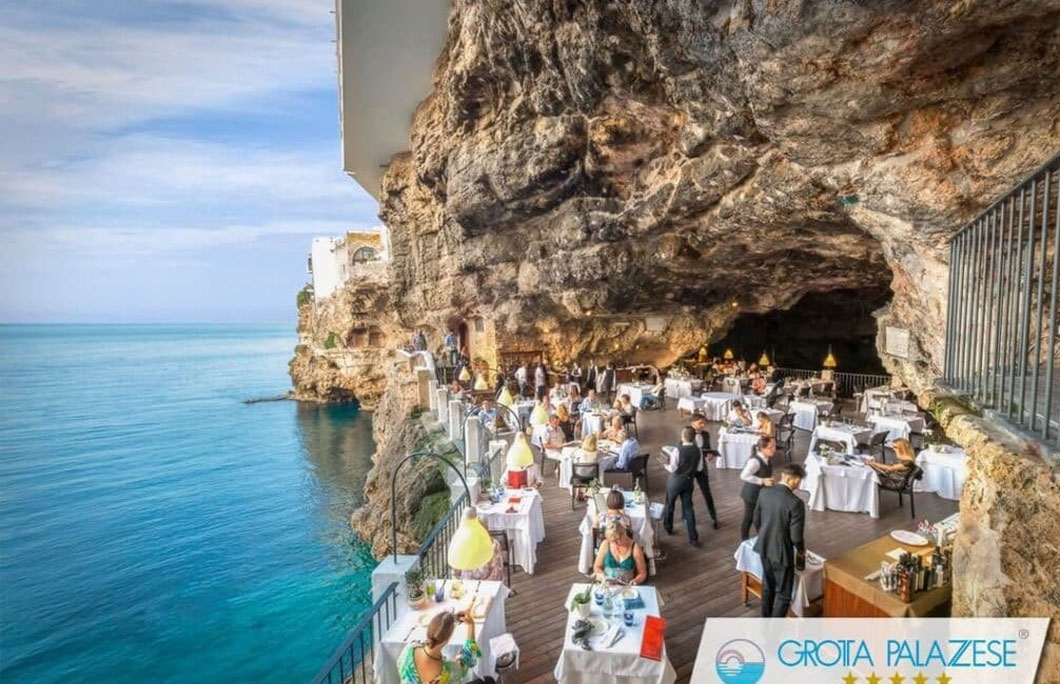 12. Grotta Palazzese – Puglia, Italy
Take your pick of a sunset meal with soft rays filling the cave or a candle and moonlit dinner after dark. this is easily one of the world's most romantic cave dining spots located just off Puglia's dramatic coastline. Firstly, start your magical evening with their four, five or six-course award-winning menus. Finish off your meal with one of their award-winning desserts.
---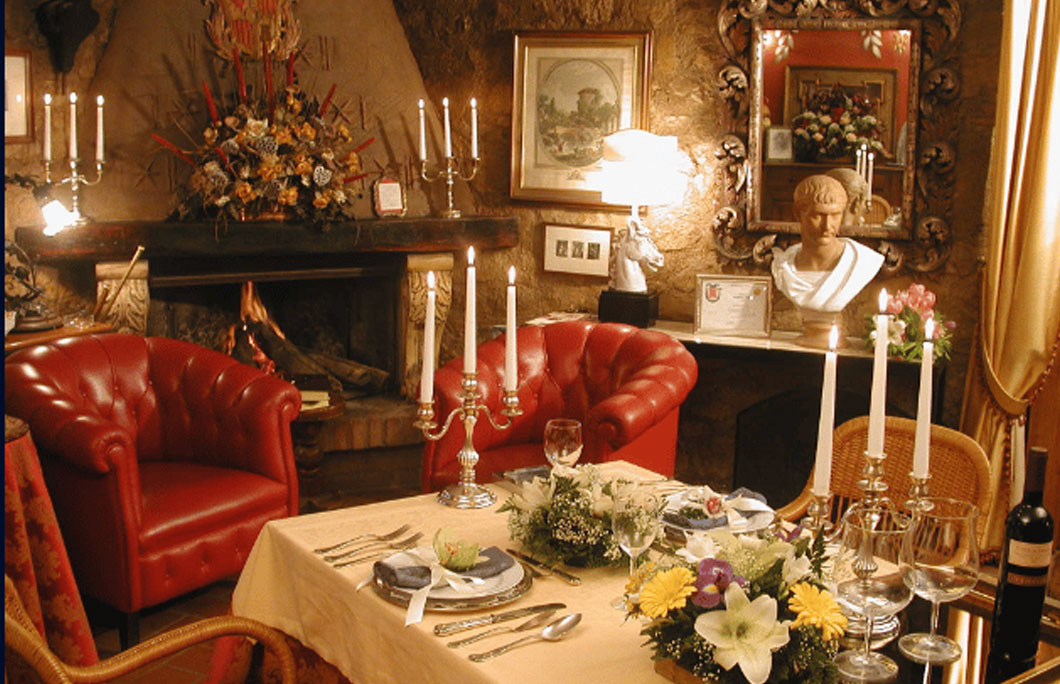 13. Solo per Due – Vacone, Italy
Solo per Due, or 'Just for Two' is the epitome of romance. Set on the grounds of an ancient Roman villa in Vacone, this space is made up of only one room with a table set for two. That's right; hence the name, this entire restaurant serves only two people at a time. Solo per Due is the definition of intimate dining.
---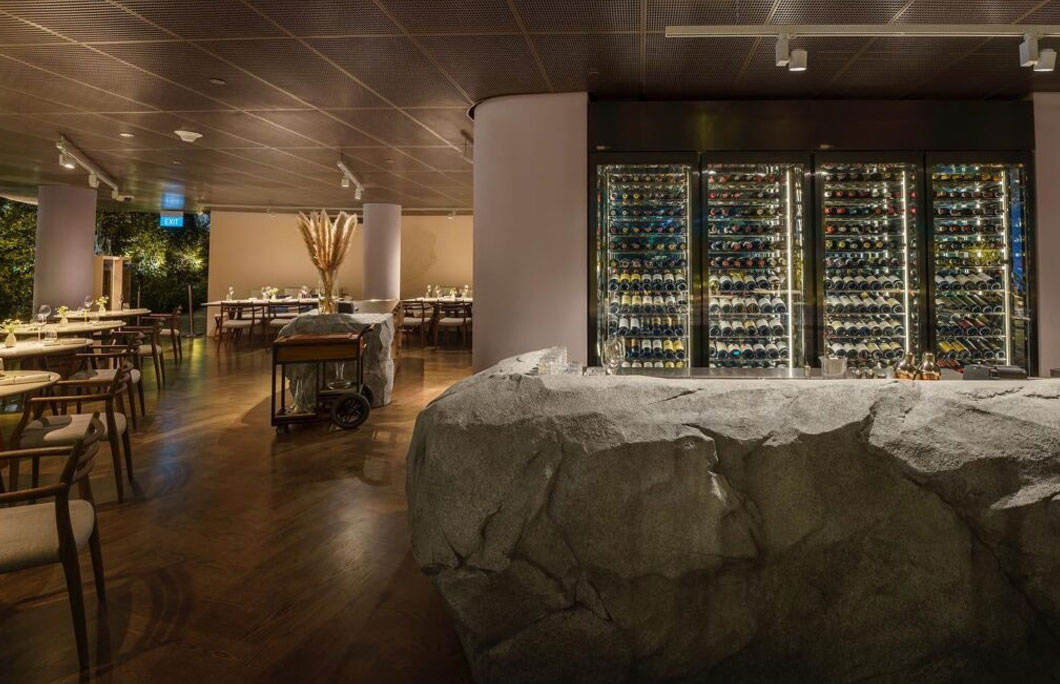 14. Marguerite – Singapore
Surrounded entirely by flowers of every colour at the city's iconic Flower Dome, this restaurant is a new vision on an old favourite, previously called Pollen. Sweep your special someone off their feet with a walk through Gardens By The Bay before the dinner of a lifetime with a loved one. Romantic vibes? Tick. Great food? Tick. Love in the air?… Tick, tick, tick…
---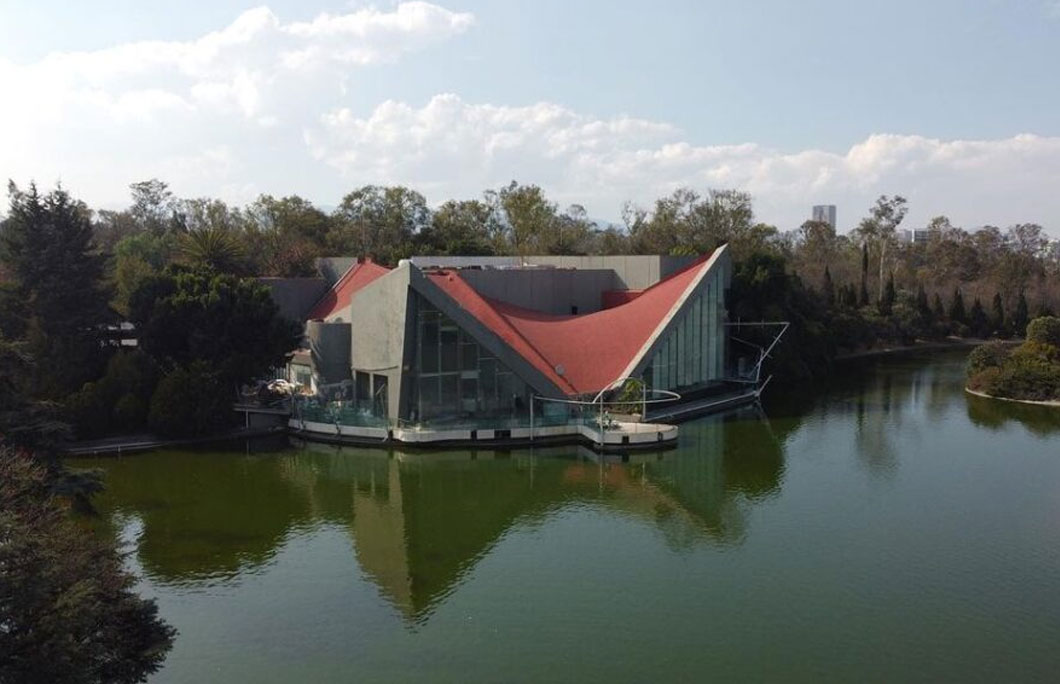 15. El Lago – Mexico City, Mexico
Smack dab in the middle of the Chapultepec forest, you'll find beloved El Lago. Indulge in contemporary Mexican dishes like chicharron lasagna alongside the glowing fountain and soaring views of the woods. Get some dishes to share and just soak up all that romance in the room.
---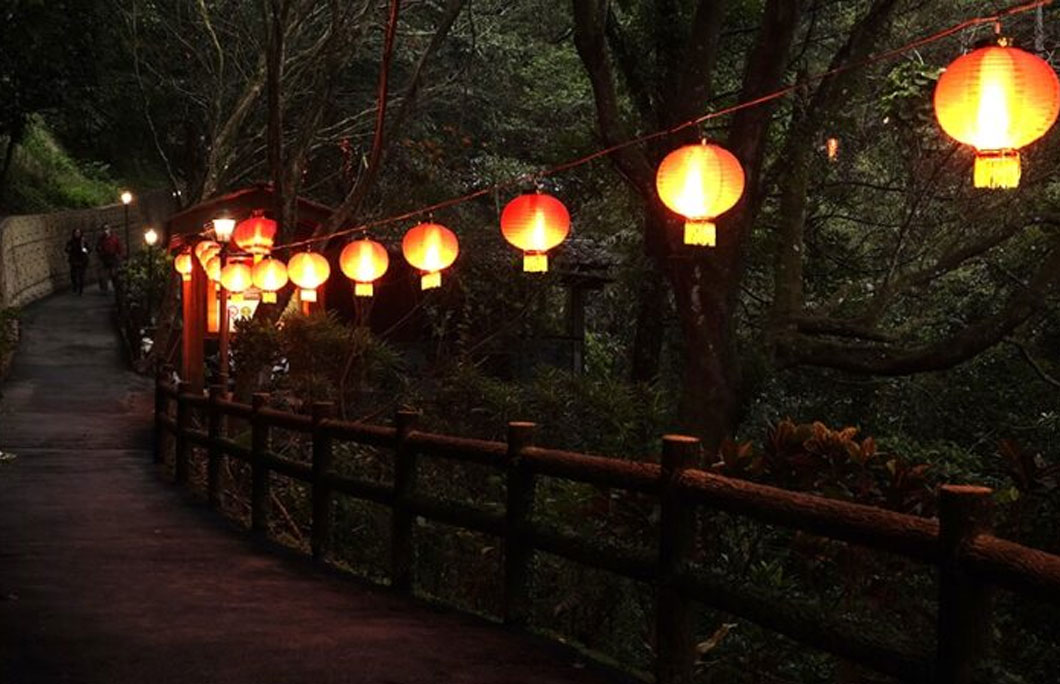 16. Yao-Yue Teahouse – Taipei, Taiwan
Yao-Yue Teahouse, or 'Moon Inviting Teahouse' in English, it Taiwan's second oldest and most romantic teahouse. Lush mountainside views, delicious local foods and ancient teas make it an oasis for couples. When it comes to the menu, there's plenty of choice. You'll enjoy all sorts of tasty dim sum, flavourful teas and stunning views at Yao-Yue Teahouse.
---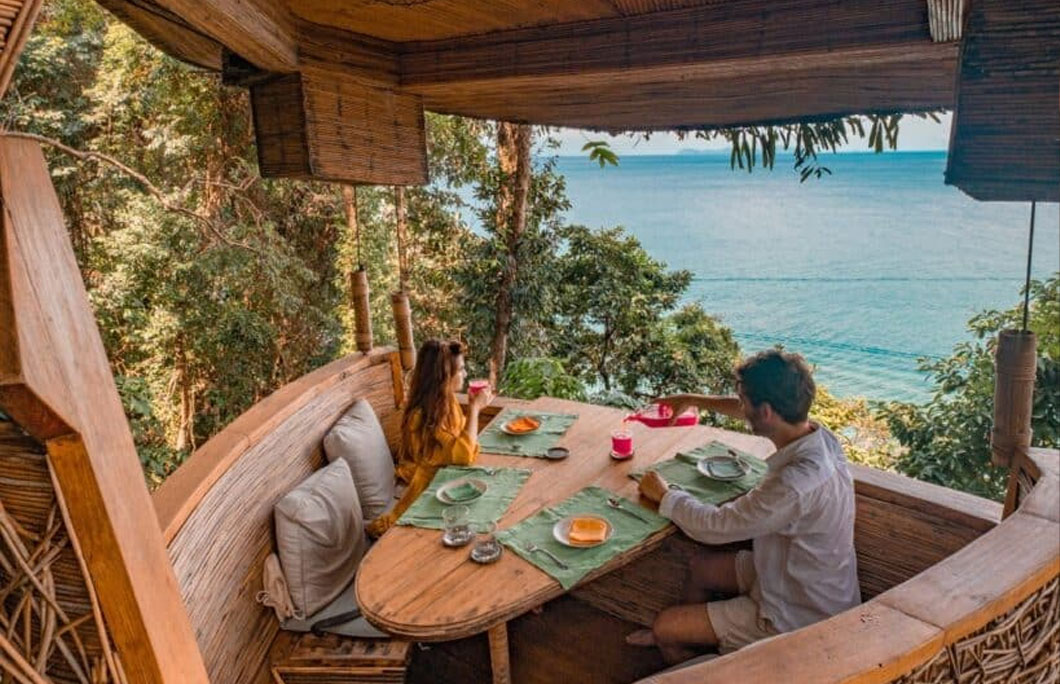 17. Treepod Dining at Soneva Kiri – Koh Kood, Thailand
Number nine on our most romantic restaurants in the world list is right where the rainforest meets the ocean. This unique treetop dining spot is the lovechild of nature and dining. Enjoy your meal in their 'treepod' amongst mother nature in the canopy of the jungle. Start by taking a seat at the table before being hoisted up into the trees for the meal of your life.
---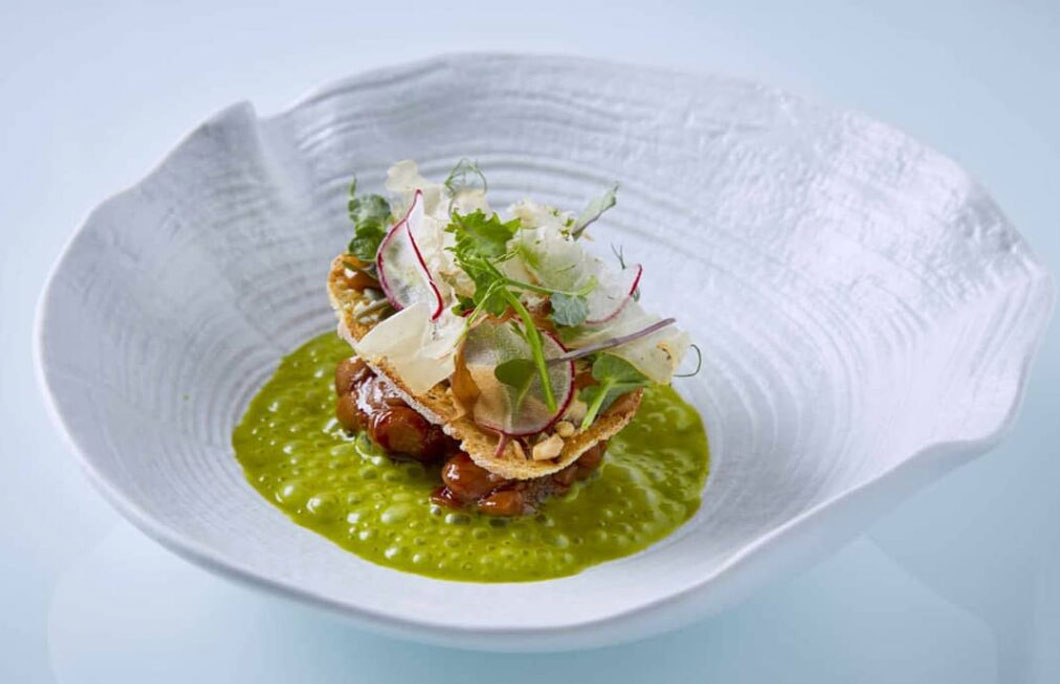 18. Restaurant Alcron – Prague, Czech Republic
Set in the Alcron Hotel, this Prague favourite mixes early 1900's class with creative cooking and a warm and welcoming atmosphere. You'll find award-winning Czech cuisine with world-class hospitality making it one of the world's culinary gems. In other words, add Alcron to your romance bucket list!
---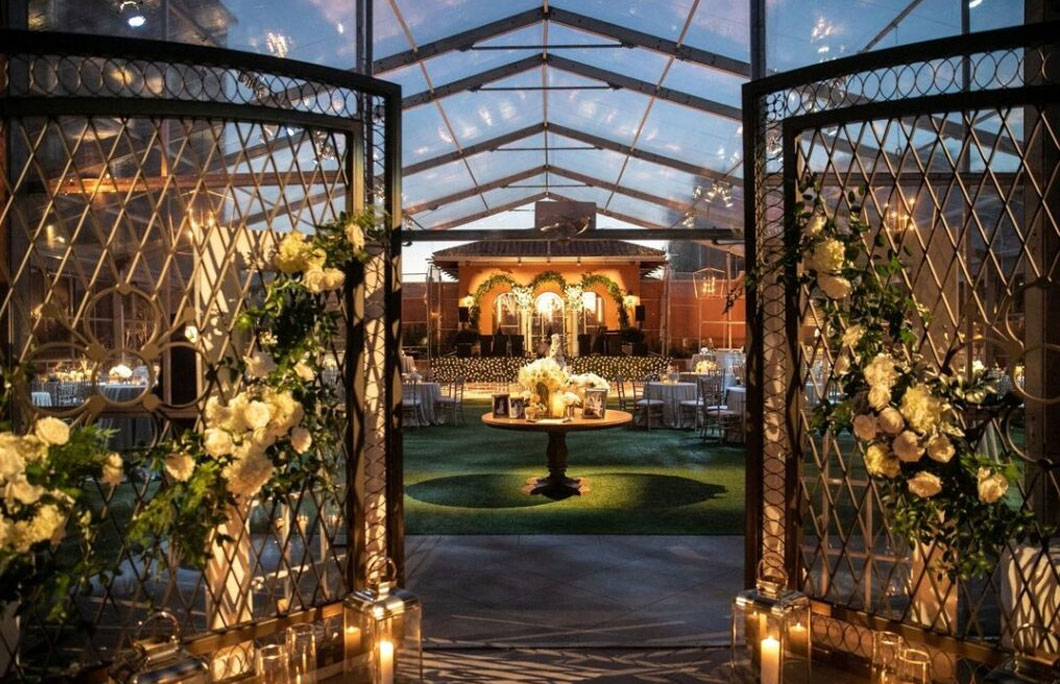 19. The Rosewood Mansion – Dallas, US
They say everything is bigger in Texas, right? If that's the case, The Mansion does romance bigger than anyone. Home to famous Turtle Creek, this swanky new American meets French dining is just what you need to set the mood for a perfect date. Enjoy the soft piano music over world-class French dishes and wine.
---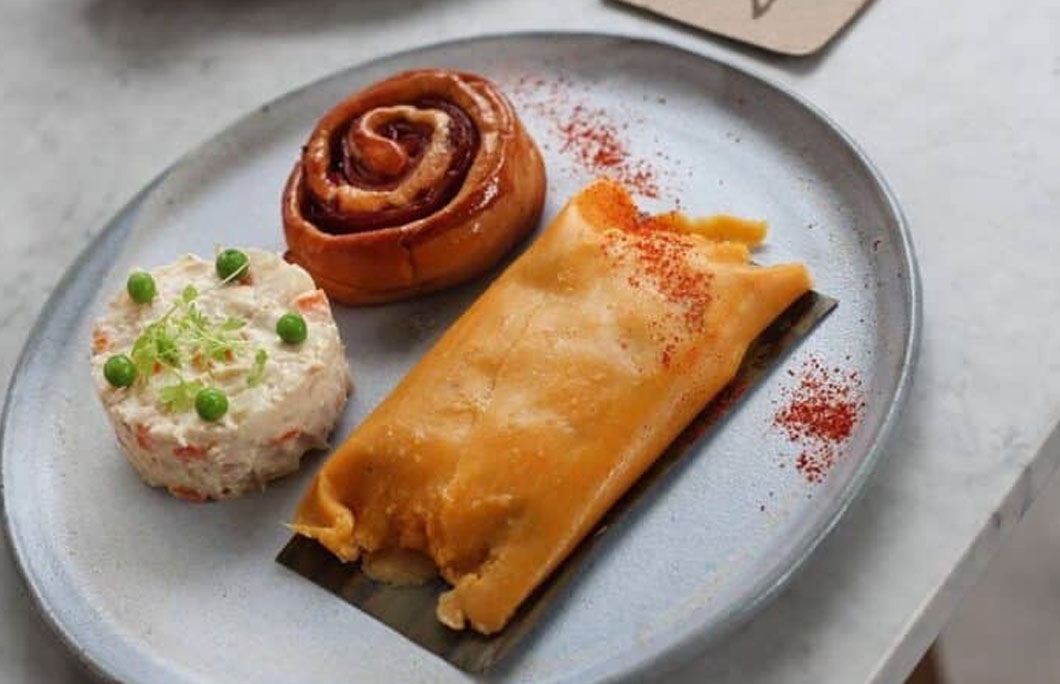 20. Moreno Restaurante – Caracas, Venezuela
Few places combine Spanish sophistication with Latin cuisine as well as Moreno Restaurante in Caracas. Enjoy a romantic evening with one of their many delicious Venezuelan dishes under the grand ceiling and sparkling chandeliers. Not only can you expect great food and luxury vibes. the service is top class.
---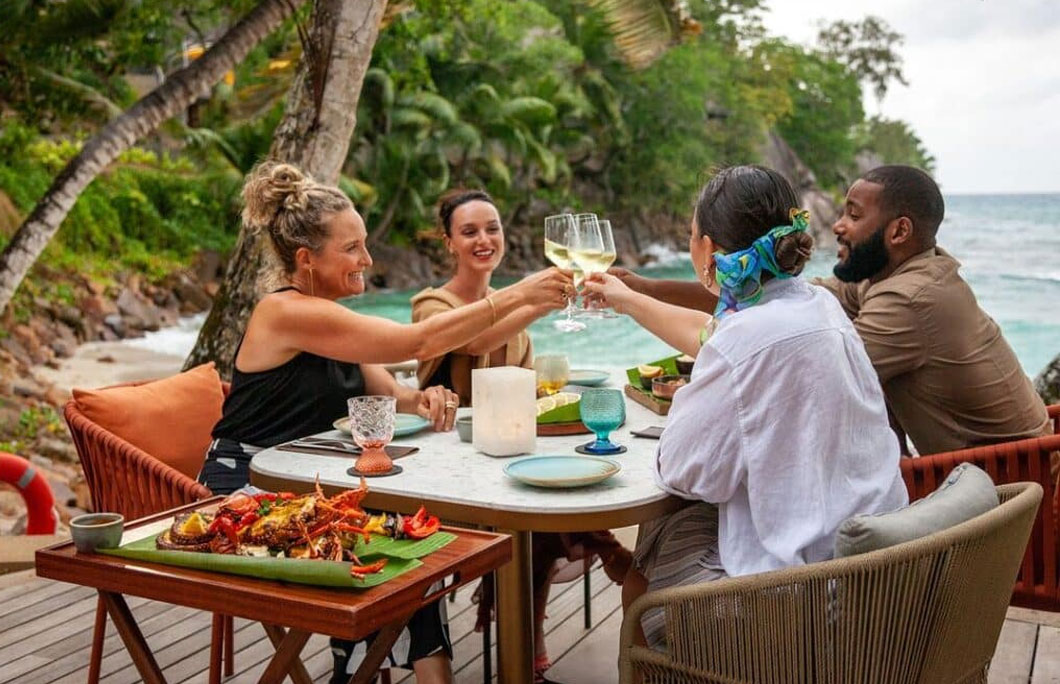 21. Mango House Seychelles at LXR Hotels & Resorts – Moutya, Seychelles
This restaurant has the cutest setting, overlooking a small white sand cove surrounded by towering granite boulders and overhanging palm trees. Tuck into the creole cuisine that has been inspired by the Seychelles' rich history and social tapestry. The dishes have a beautiful blend of French, Asian and Indian influences which come through in the ingredients, flavour and scents. Make sure to bag yourself one of the tables at the front of the deck. You'll enjoy hours of watching fruit bats flap above and waves lap on the deck below.
---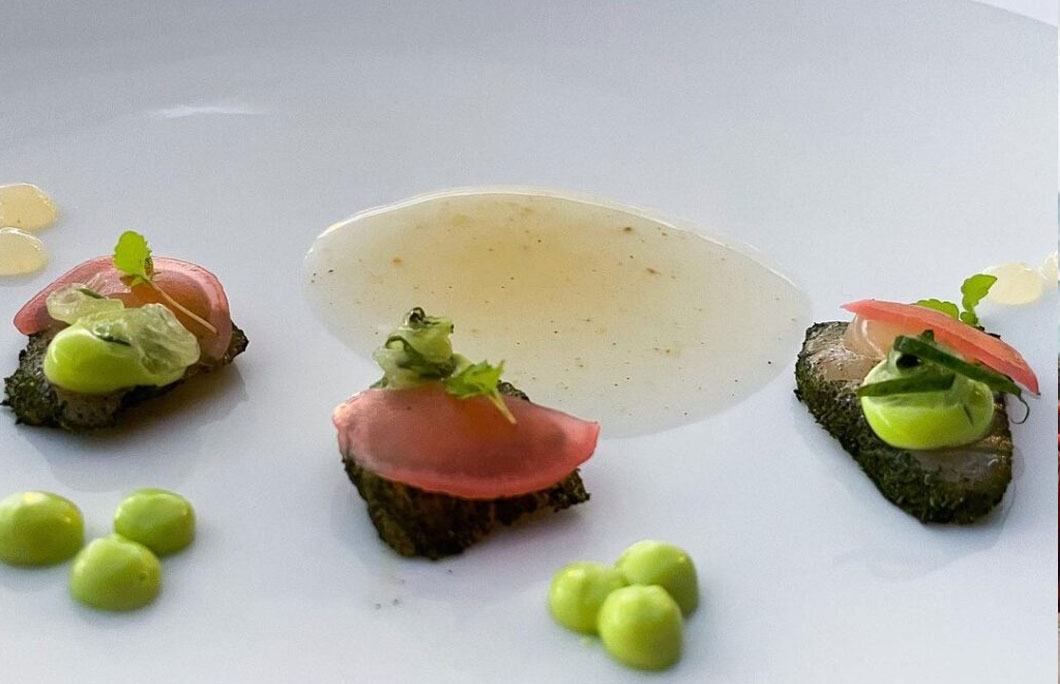 22. La Pergola- Rome, Italy
La Pergola is home to not one, not two, but three Michelin stars, making it one of the world's best restaurants. And we're calling it: it's also one of the most romantic restaurants in the world, too. Breathtaking views over the Eternal City, ornate decor and a host of Mediterranean and Italian dishes make it an excellent choice for a romantic evening.
---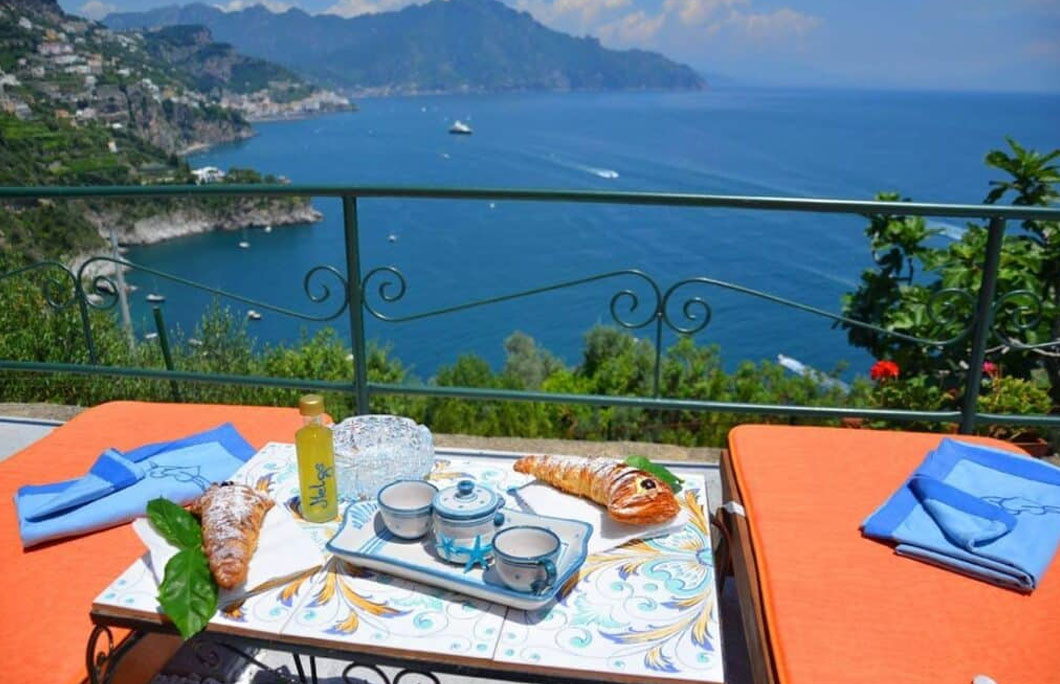 23. Ristorante Il Refettorio – Conca dei Marini, Italy
Set in what used to be a 17th-century convent, is now the Amalfi Coast's most loved restaurant. It's loved for their terraced gardens, sprawling patios and uninterrupted views of the sky and sea, making it the perfect place for date night. Be sure to ask for the sommelier for an expert recommended wine-pairing. To go alongside that delicious wine, ask about their speciality desserts.
---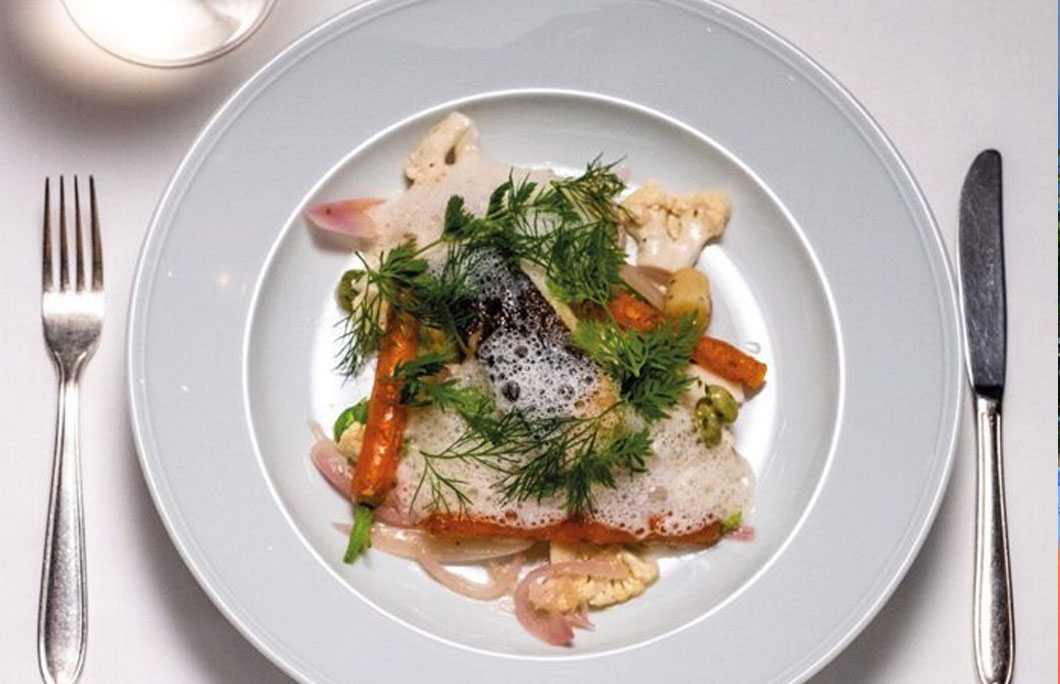 24. Fem Små Hus – Stockholm, Sweden
Classic Swedish home dishes are what Fem Små Hus does best. In the heart of Gamla Stan, the restaurant is made up of nine cellar vaults making for the ultimate cosy experience. Undoubtedly one of the world's most romantic dinner choices. Slip away from the city and settle yourself here for an unforgettable evening.
---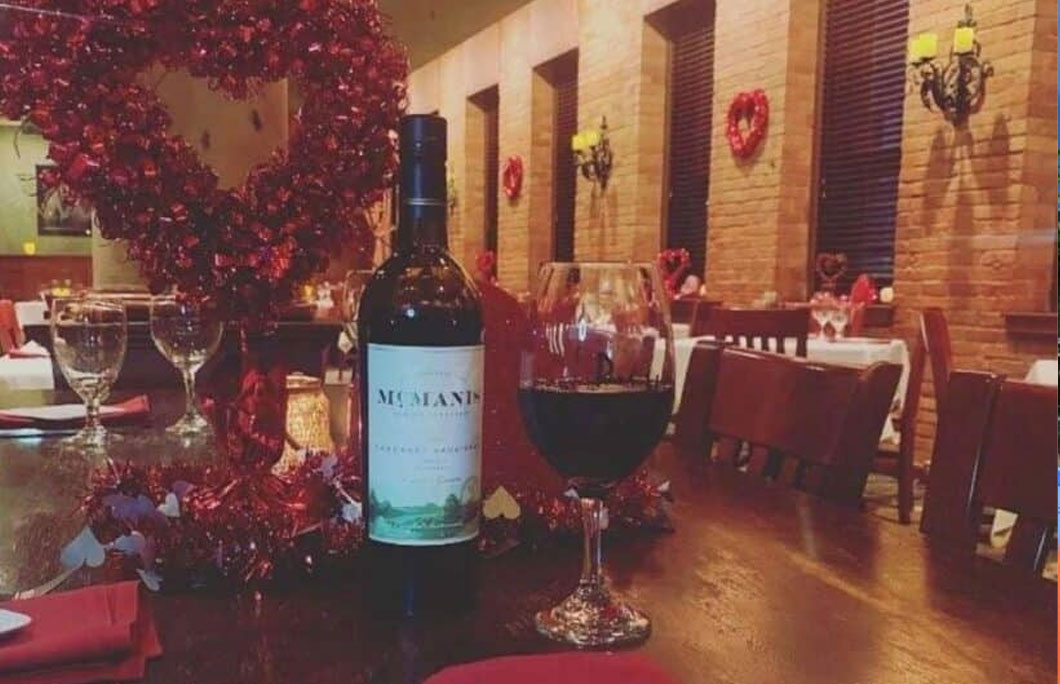 25. Pane Vino On The River – Rochester, New York
It's no secret that New York is home to some of the world's best restaurants. While most head for NYC, you'll be missing out if you don't make time for Rochester. Set along the stunning Genesee River, Pane Vino offers romantic tables for two with a beautiful view. Trust us, for date night you can't go wrong with their small-town charm and wine list.
---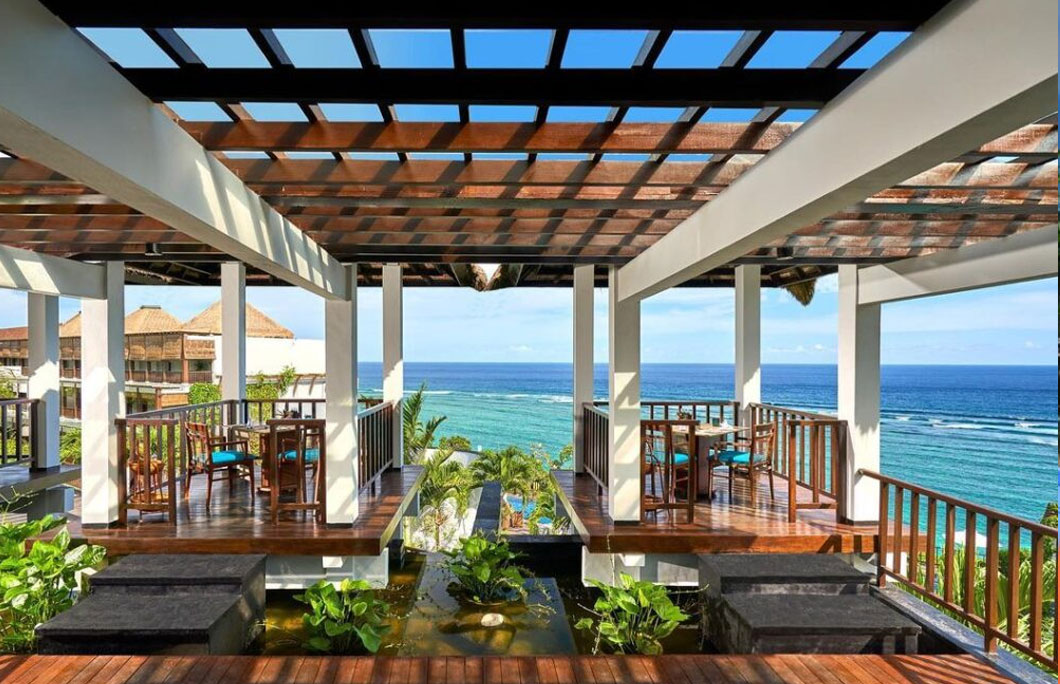 26. Samabe Bali – Bali, Indonesia
Come to Bali (of course!) to find Indonesia's most romantic and picture-perfect restaurant. Twinkling candles and lanterns dot the cosy cave that looks out to the peaceful sea offering an unforgettable view. Couples will enjoy their many four-course options with their handcrafted cocktails and delicious seafood choices.
---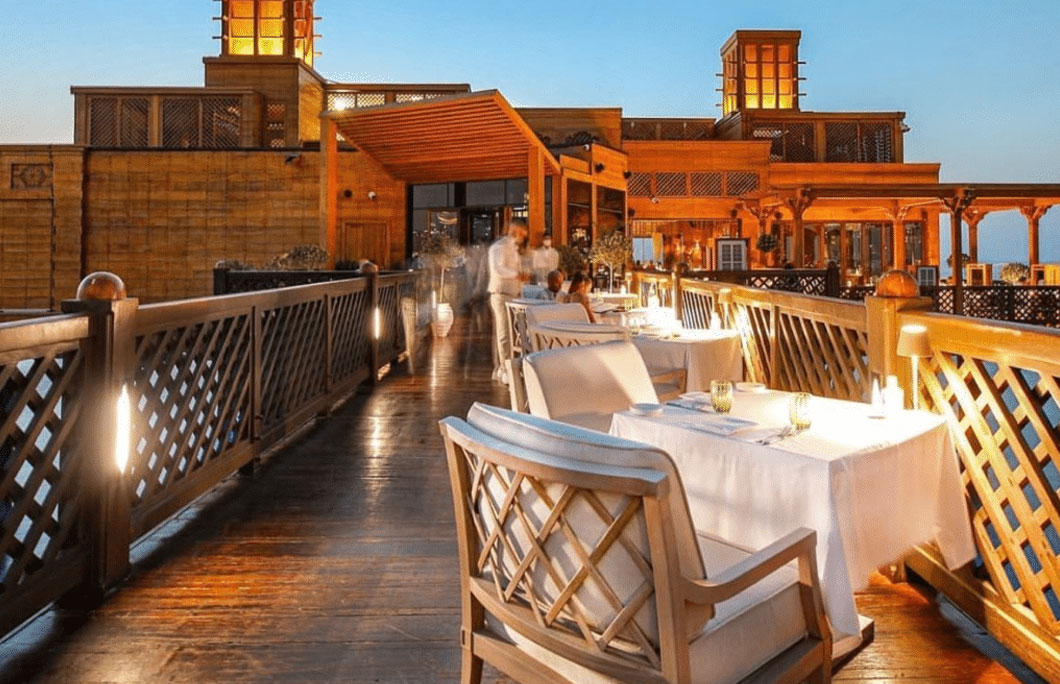 27. Pierchic – Dubai, United Arab Emirates
If there's one thing Dubai does right, it's luxury. So you can't miss the chance to dine on the world-famous menu at Pierchic while enjoying a gorgeous view of Burj Al Arab and the Arabian Gulf. This city has romantic, exciting date night written all over it. You'll see it with your own eyes at this spot on our list of the most romantic restaurants in the world.
---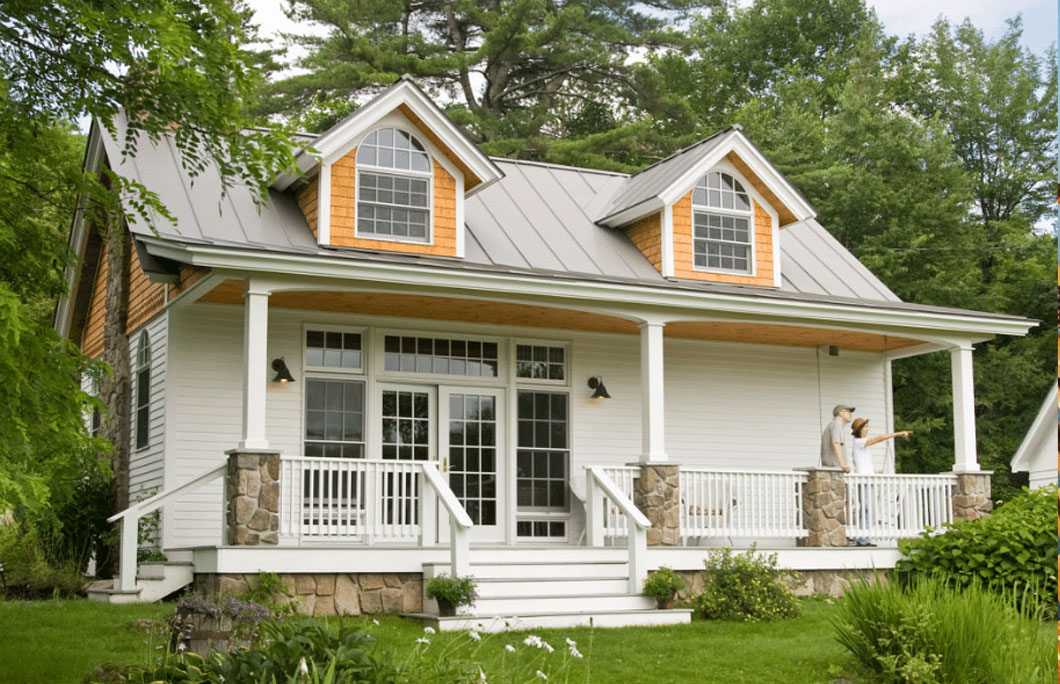 28. Sugar Hill Inn – Sugar Hill, New Hampshire, US
It's no surprise that one of America's most romantic hotels is also home to one of the world's most romantic restaurants. Charm your sweetheart with a four-course candle-lit meal at this cosy inn. Afterwards, enjoy glasses of wine next to the burning fireplace while you talk the night away, followed by a hot bath in your room. Ideal date night? We sure think so.
---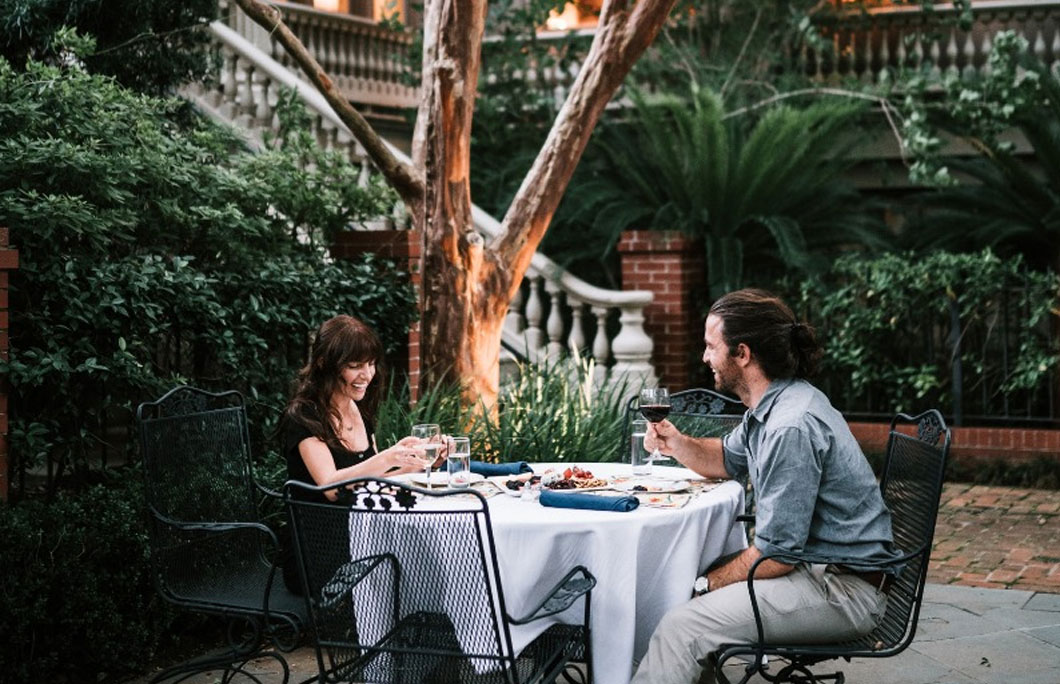 29. Circa 1886 – Charleston, South Carolina, US
Set in the historic and oh-so-romantic Wentworth Mansion, is Circa 1886. Built in the old carriage space, they leave nothing to chance with romance with private candle-lit tables, vibrant local dishes, luxe service and impressive wine lists. One of the most romantic restaurants in the world? No doubt about it.
---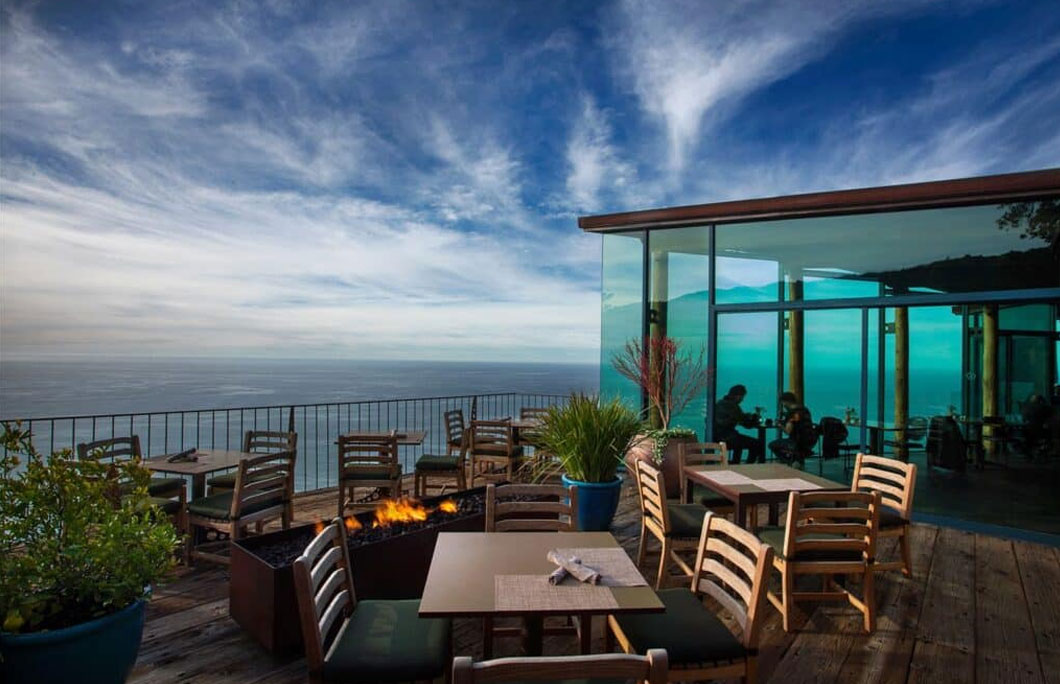 30. Sierra Mar at Post Ranch Inn – Big Sur, California, US
Contemporary architecture and fine dining come together in this dreamy award-winning cliff-side restaurant. An award-winning wine cellar, jaw-dropping sea views and innovative dishes such as Black River Oscietra caviar make it an obvious choice for lovebirds.
---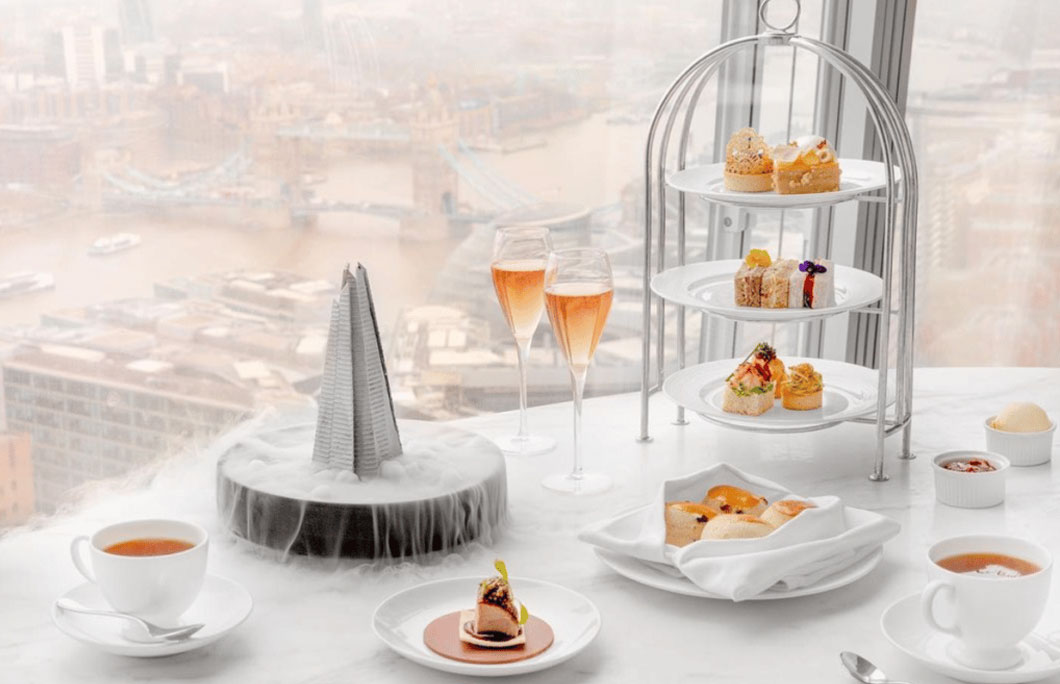 31. TĪNG at Shangri-La – London, UK
A luxury place high up in the clouds, this restaurant will bless you with beautiful views of London City, as you munch away on European fine dining with an Asian twist. Their specialities are the beef Tataki, Seared King Scallops, Hainanese Chicken Rice and Coconut Sesame Choux.
---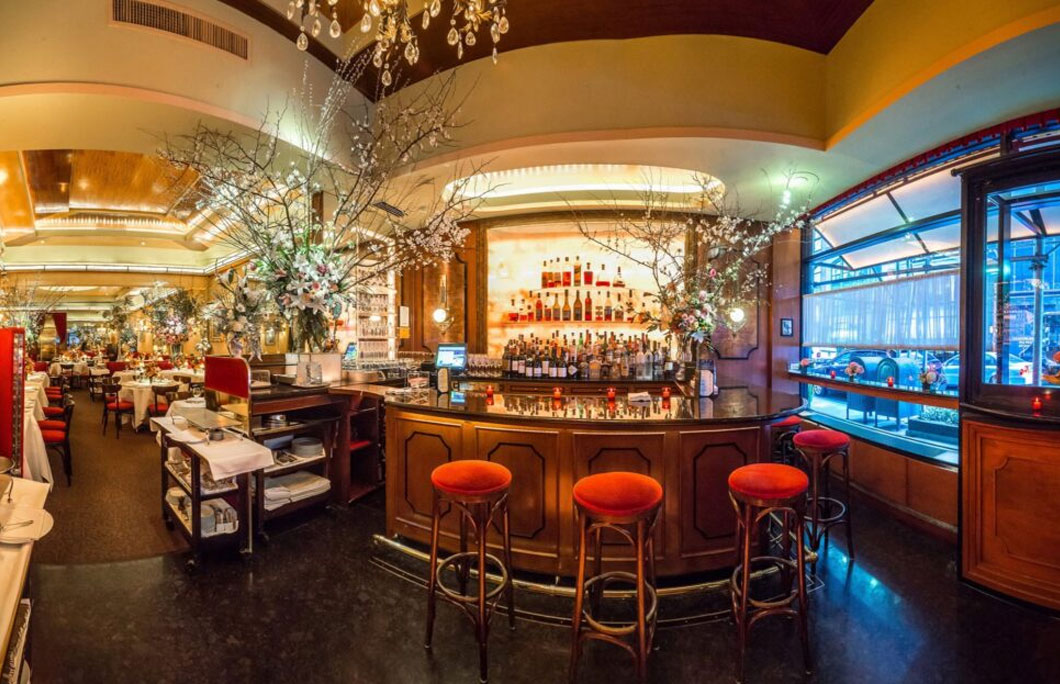 32. La Grenouille – NYC, US
Uptown Manhattan is home to one of the world's most romantic restaurants, La Grenouille. This award-winning French restaurant is luxurious, elegant, and one of NYC's most beautiful places to dine. Along with elaborate flower arrangements, the world-class service sets the scene for a special evening.
---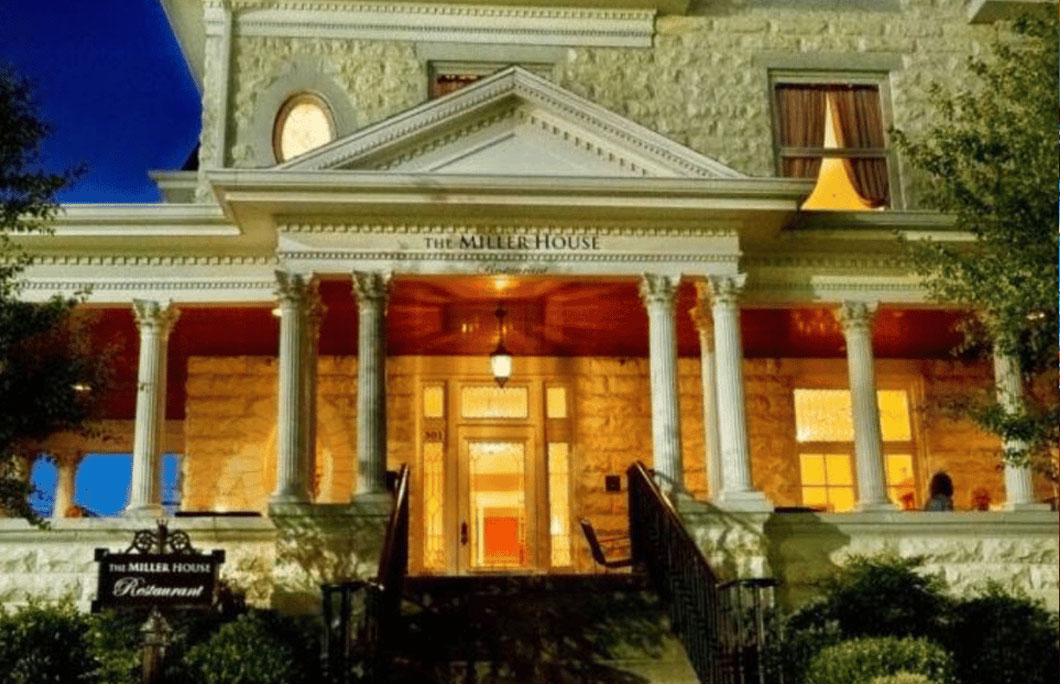 33. The Miller House – Owensboro, Kentucky, US
Upscale meets Southern flare in this Kentucky favourite. This iconic Victorian-style home is perfect for a romantic evening with a special someone. Take in the historic appeal of this unique restaurant while enjoying Southern classics like fried green tomatoes and bourbon.
---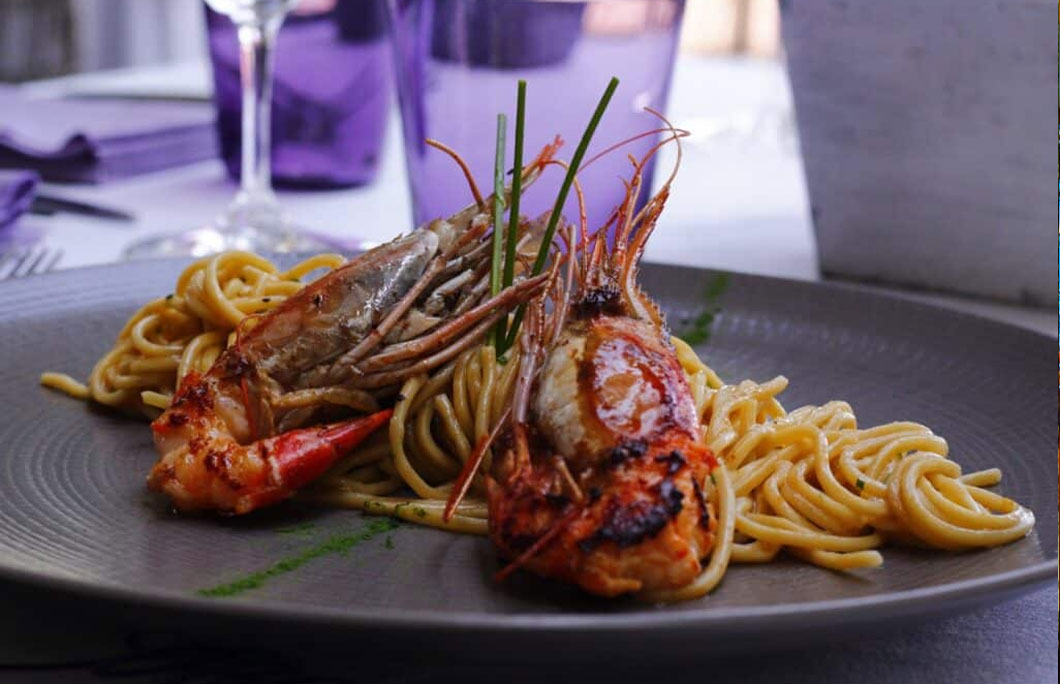 34. Cantinetta del Becco – Mexico City, Mexico
Toast to your love with a robust Italian wine over artisan pasta in the heart of Mexico. Enjoy their extensive wine list with 750 labels and signature dishes, like spaghetti alla chitarra. You're guaranteed a memorable dinner in one of the world's most romantic restaurants here.
---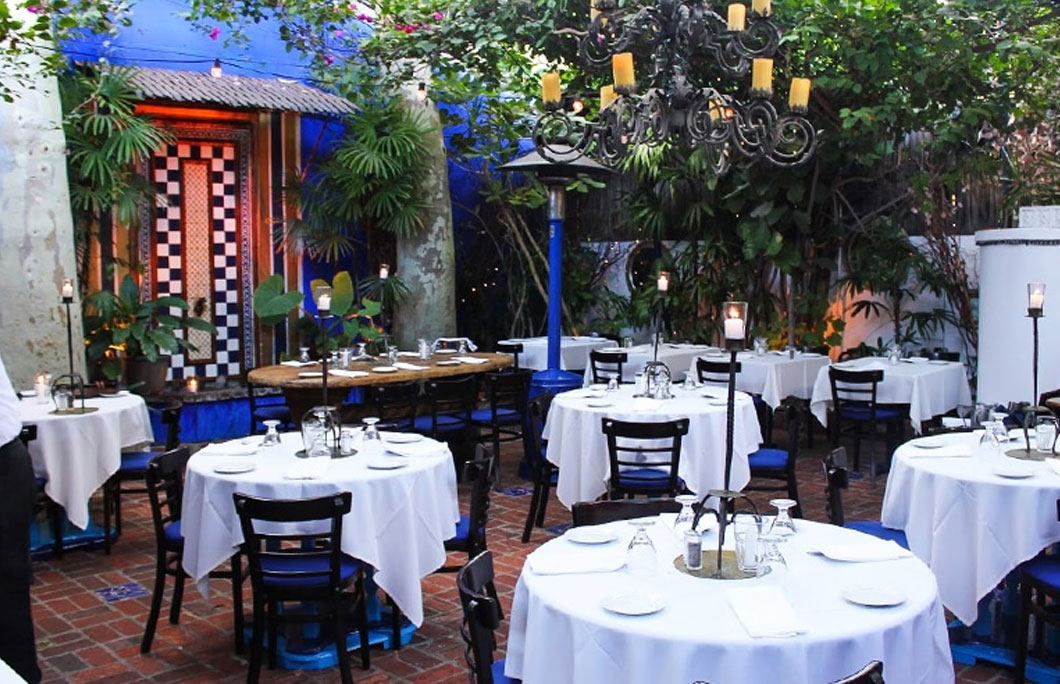 35. The Little Door – Los Angeles, California, US
The Little Door brings a little bit of Paris to West-Hollywood with French fusion cuisine. It's full of character, charming decor and a cosy-place-to-ourselves feel, making it intimate and a perfect choice for your special someone. The food is just as impressive. The kitchen blends French and Moroccan dishes for a unique and delicious menu with an impressive wine list.
---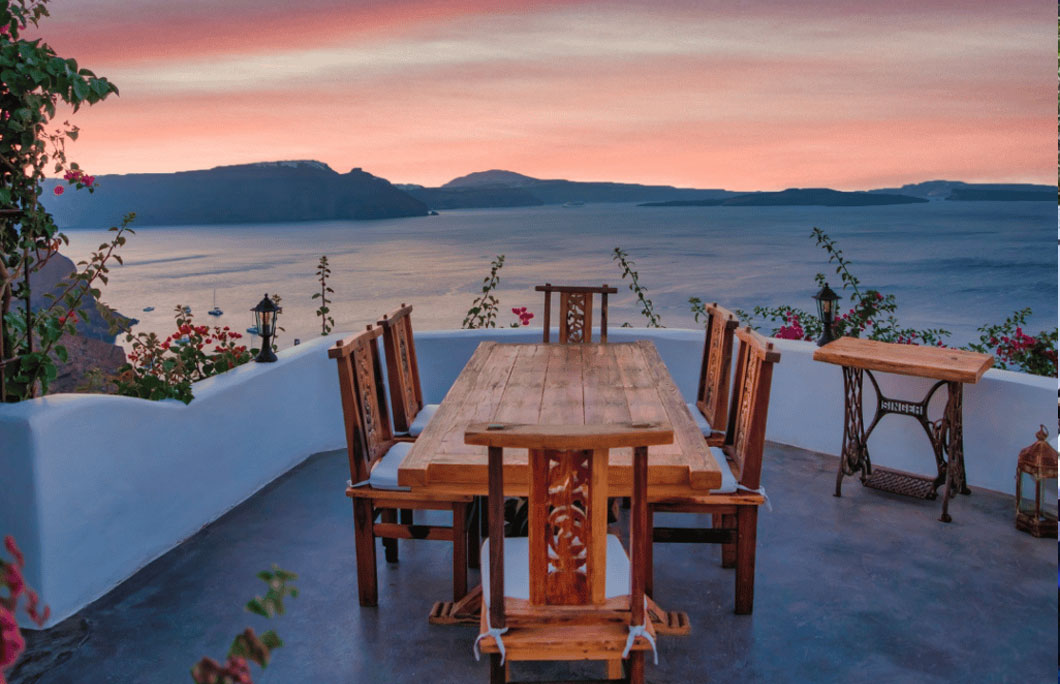 36. Lycabettus Restaraunt – Santorini, Greece
Few places wow like Santorini. Cobalt blue seas and porcelain white Cycladic villages take over the scenery drawing millions of tourists per year. Which brings us to this clifftop restaurant in Oia. The massive cliff edge terrace with stunning vistas is perhaps the least interesting thing it offers. In short, Lycabettus is the definition of fine Greek dining.
---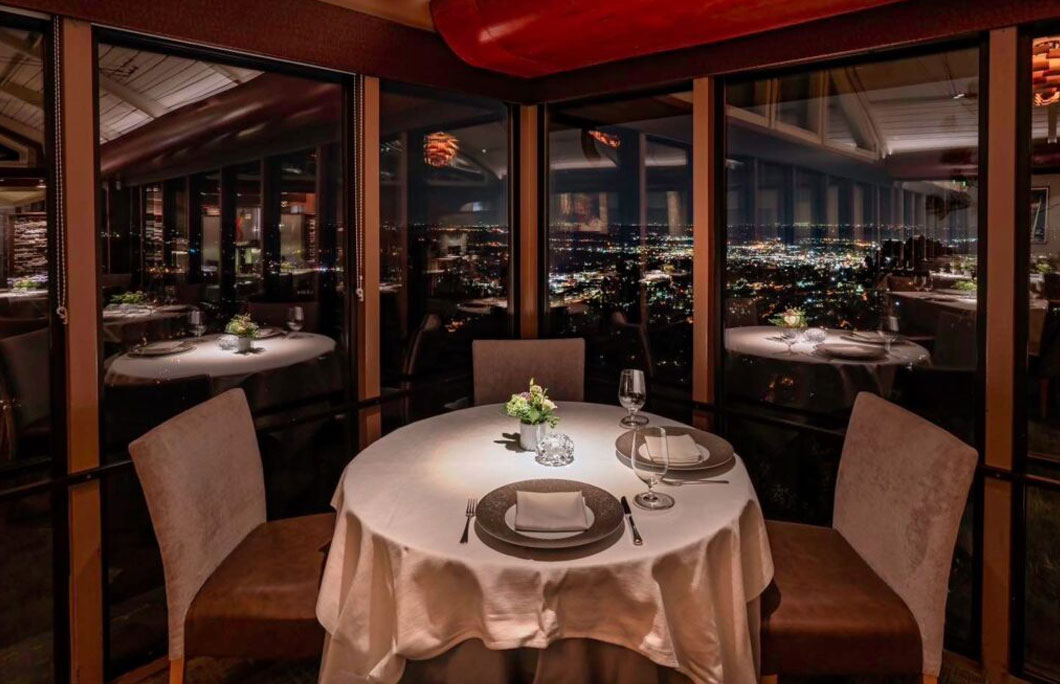 37. Flagstaff House – Boulder, Colorado, US
Perched atop Flagstaff Mountain in Boulder Colorado is Flagstaff House. Floor to ceiling windows and beautiful views of Boulder aren't the only reason it's one of the most romantic restaurants in the world. Although, y'know, they do help. The restaurant also has an award-winning 15,000 count wine collection and is entirely family-run.
---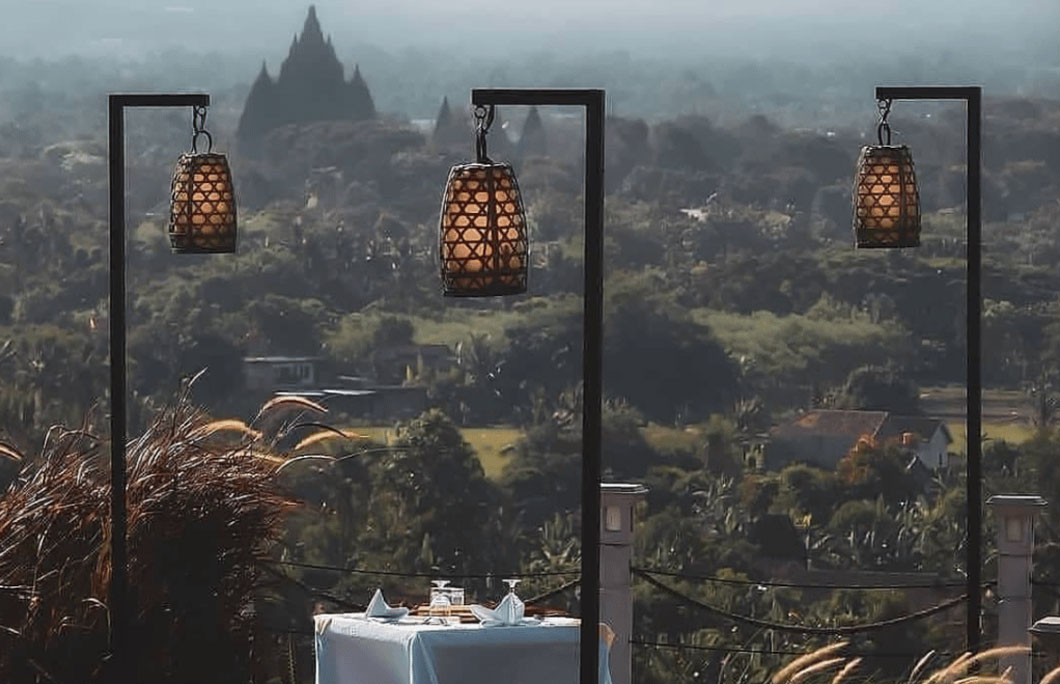 38. Abhayagiri Restaurant – Yogyakarta, Indonesia
Rice terraces, village views and cotton candy skies bring this scenic restaurant to life at dinner time. Locate in Sumberwatu Heritage, Abhayagiri is one of the world's most dreamy places to dine. Along with delicious food you'll also have a mesmerising view of Mount Merapi and Prambanan Temple.
Pro tip: ask for the table in the back with the curtains.
---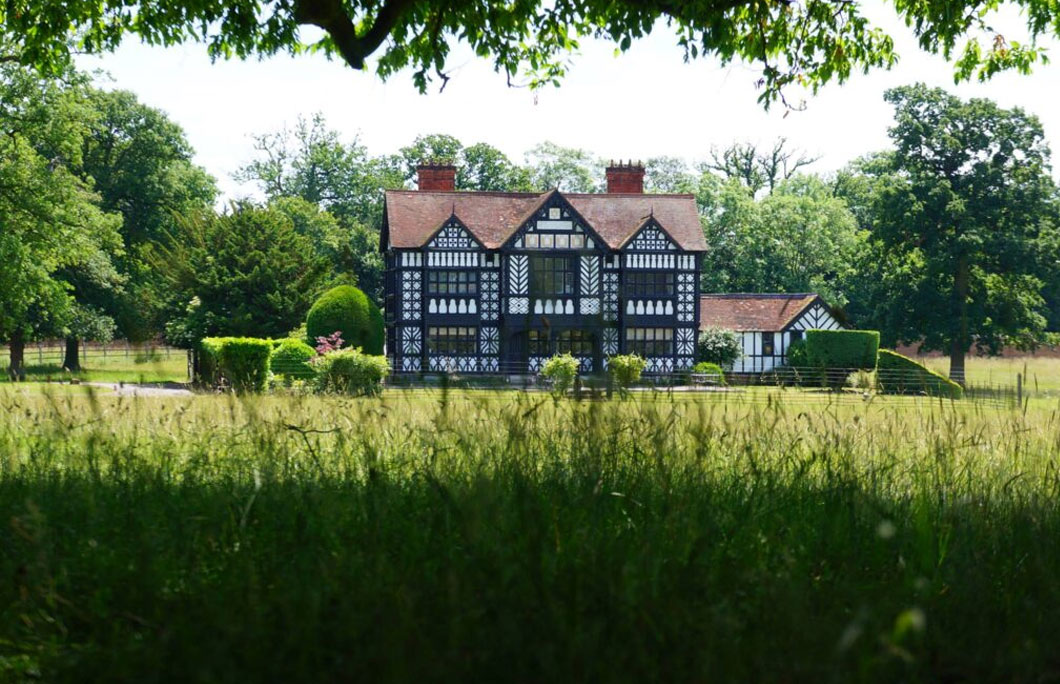 39. Paris House – Woburn, England
Located in the Duke of Bedford's Estate in Woburn, Paris House is the very epitome of sophistication and elegance. It's known for its Victorian Tudor-style and super cute vibes. This mansion turned restaurant serves classic British cuisine complete with a Michelin star. A match made in heaven.
---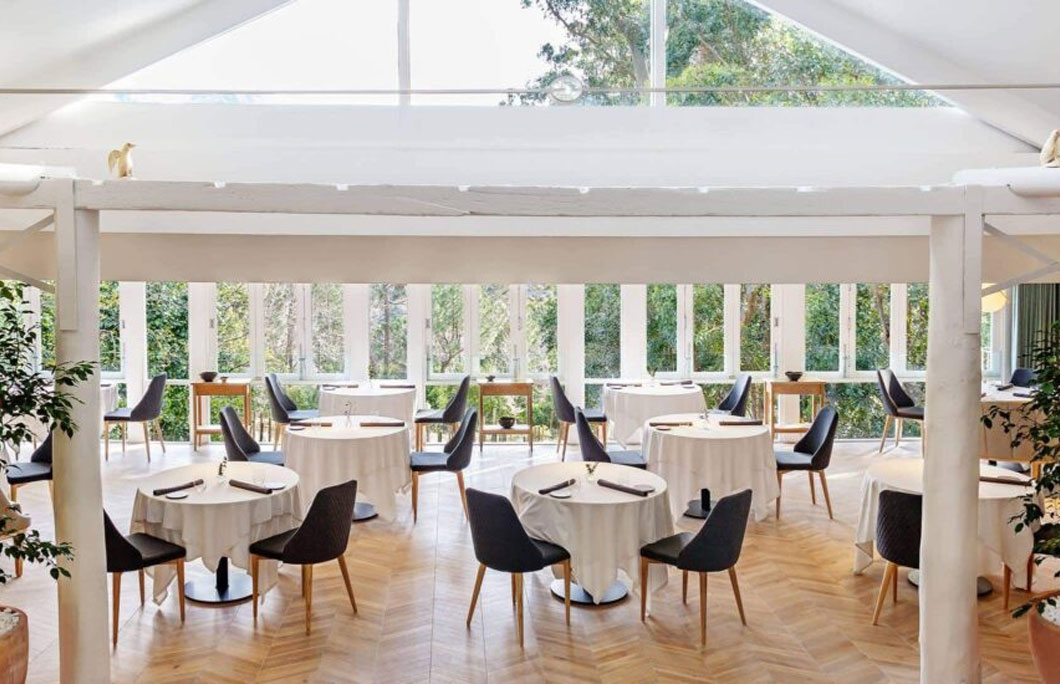 40. La Colombe Restaurant – Cape Town, South Africa
Dine amongst treetops and take your love to new heights at La Colombe. There's a reason it's consistently ranked as one of the most romantic restaurants in Cape Town. The setting high atop the elegant Silvermist Estate in Constantia is just one of them. Tables are private and intimate enough to allow loved-up couples the chance to enjoy an elegant evening for two as they graze their way through excellent Indian-inspired dishes.
---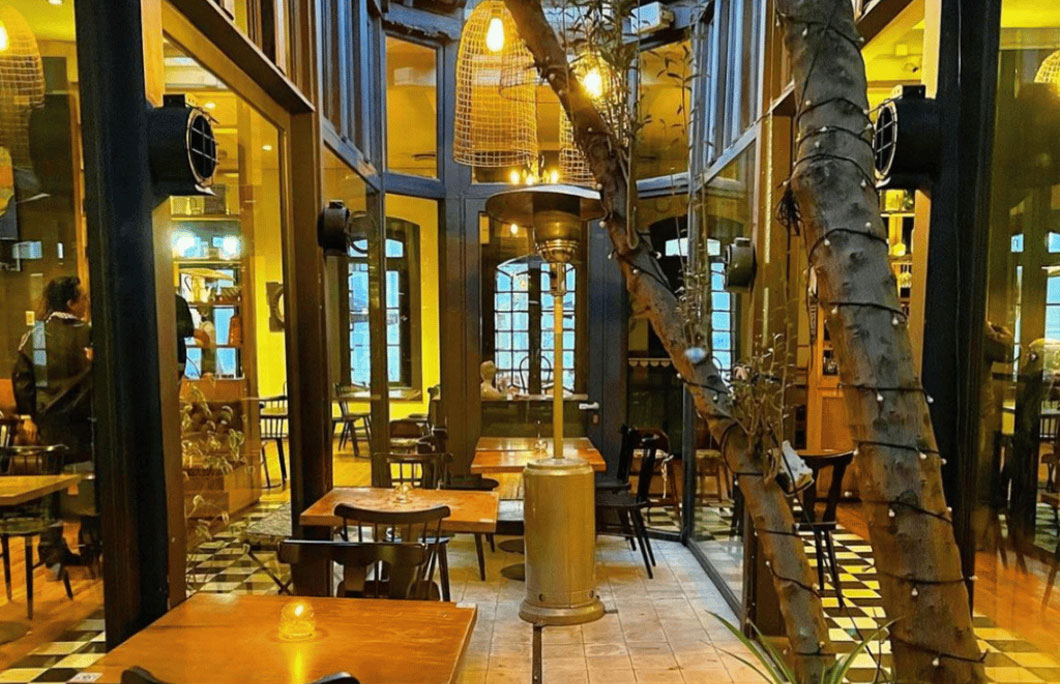 41. Casaluz – Santiago, Chile
Candle-lit tables, an overgrown garden, string lights and lanterns hanging overhead are just some of the things we love here. This restaurant is the perfect setting for a romantic meal for a big occasion or just because with your special someone. Chat the night away under the glowing lanterns on the breezy patio in this dreamy fairyland.
---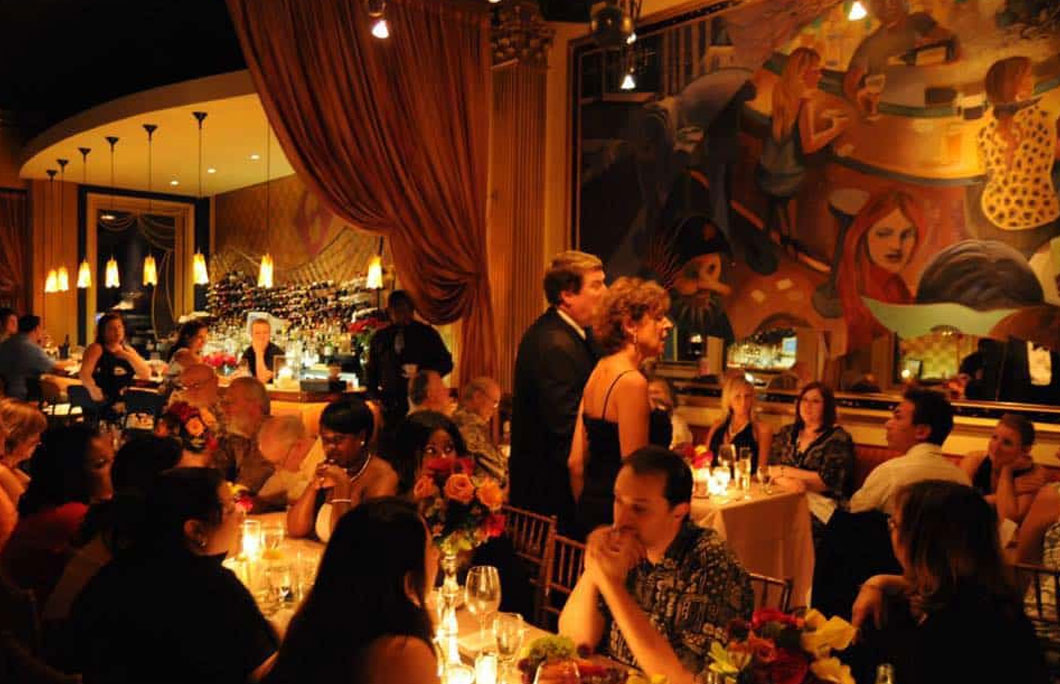 42. Sotto Sopra – Baltimore, Maryland, US
Live opera singers, delectable wine selections and oversized art pieces make Sotto Sopra feel like you're in Florence. Enjoy a candle-lit dinner while being serenaded by one of their many talented singers in the heart of Maryland. It's one of our favourite places in the US for a romantic meal.
---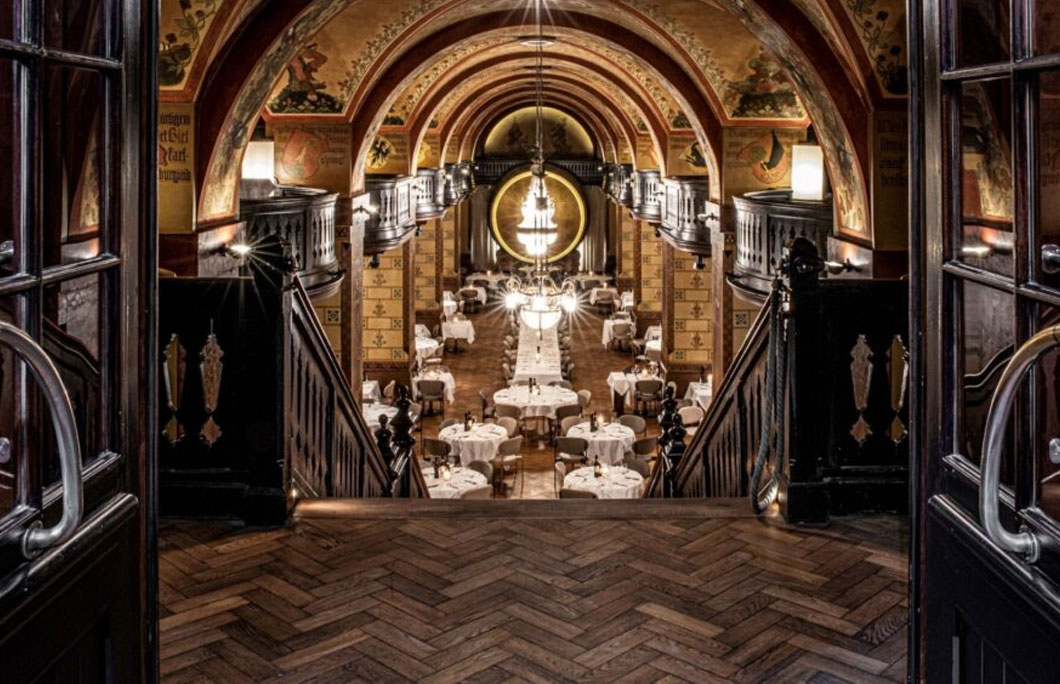 43. Kornhauskeller – Bern, Switzerland
Kornhauskeller is located in the most splendid vaulted cellar in Bern, with grand Baroque design and wall frescoes. After dinner, make yourself comfy in a lounge chair and just soak up the atmosphere with one of their amazing whiskey cocktails.
For something different, head along to their legendary Sunday brunch with live music and local delicacies.
---
44. Club del Doge – Venice, Italy
Does it get more idyllic and dreamy than Venetian canals? Located on the Grand Canal, you'll find our next pick. Club del Doge's luxurious terrace dining spot is something out of a movie. Dine on gourmet Venetian cuisine and take the flavours of the world-famous chef, Daniele Turco. Venice is a prime honeymoon spot, and this restaurant lives up to the city's romantic reputation.
---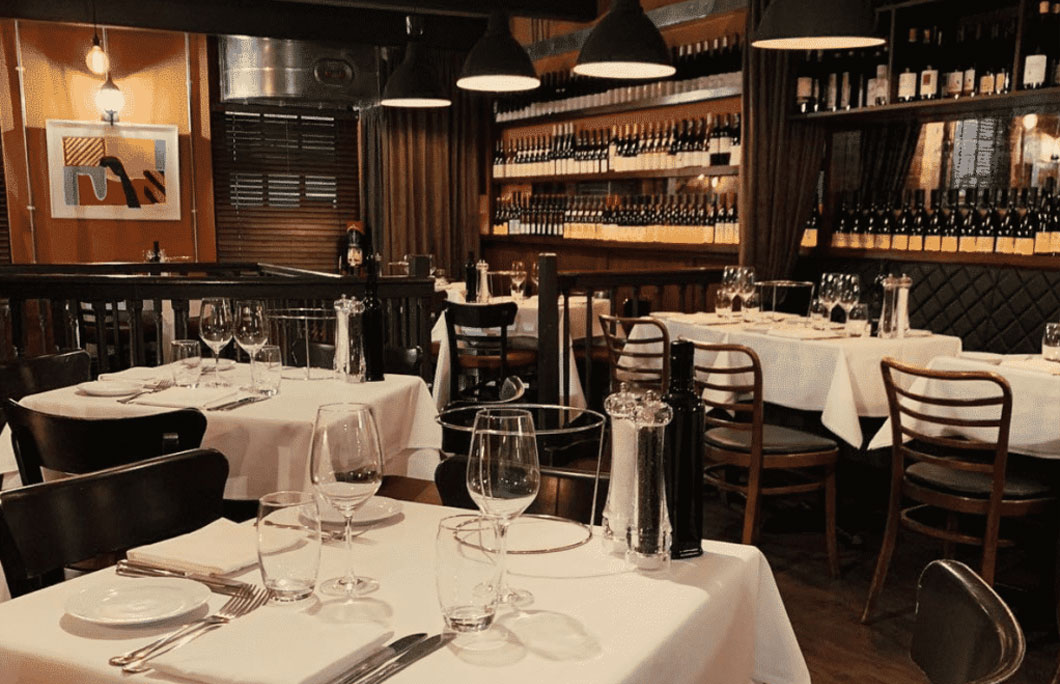 45. Rosa Madre – Dublin, Ireland
The famous fresh fish display and out-of-this-world service at Rosa Madre are just two highlights to look forward to when dining here. It's an Italian restaurant that makes incredible use of the best local Irish seafood, with unique and clever wine (and lots of Champagne!) selections.
All the best of Italian cuisine with a charming Irish heart and soul.
---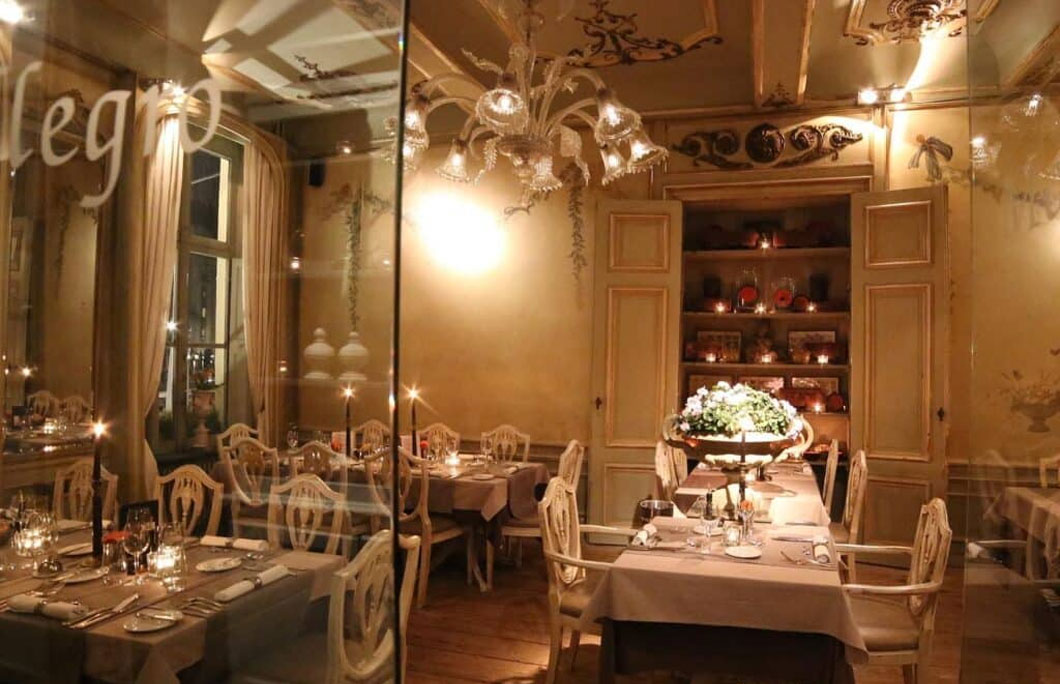 46. Allegro Moderato – Ghent, Belgium
This traditional French restaurant is set in an 18th-century building and comes with all the charm you'd expect. Dramatic chandeliers, baroque fireplaces and trinkets galore give Allegro Moderato a cosy yet sophisticated vibe. This Ghent favourite also offers views of the city's spires and an airy terrace making it the perfect choice for a special night.
---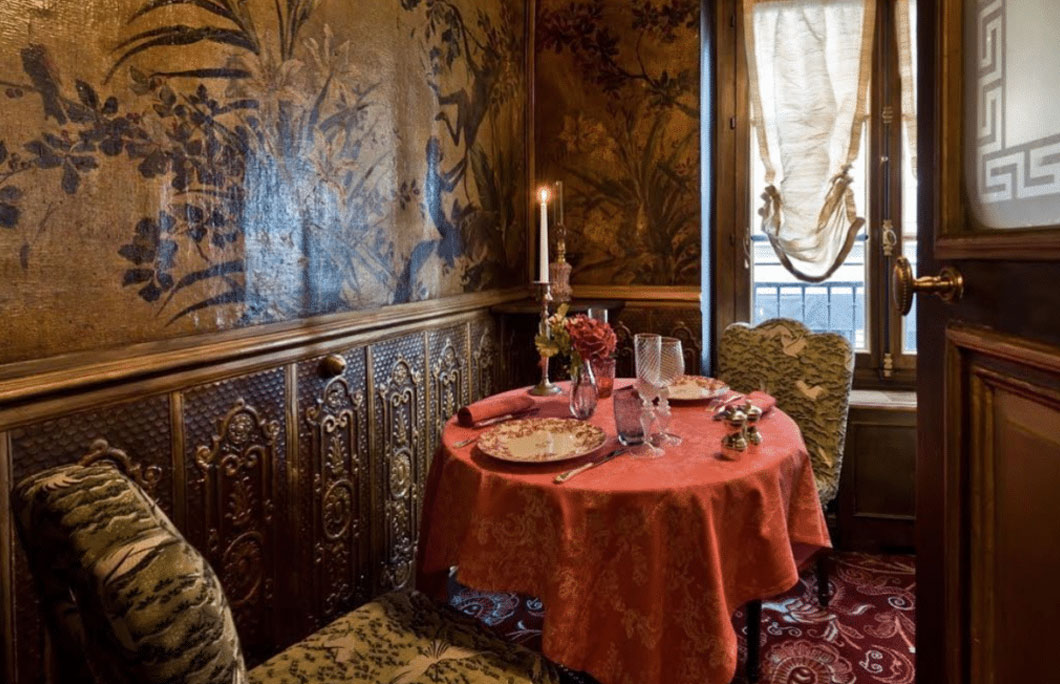 47. Lapérouse – Paris, France
Want to drink and dine like Hemingway? Then head to one of his regular Paris spots, Lapérouse. Established in 1766, this house of delicious dining is a Paris legend. Fans of the movie, Midnight in Paris will enjoy this restaurant as it was featured in the film. Sink into plush booths and feast on some of the best food in the city.
---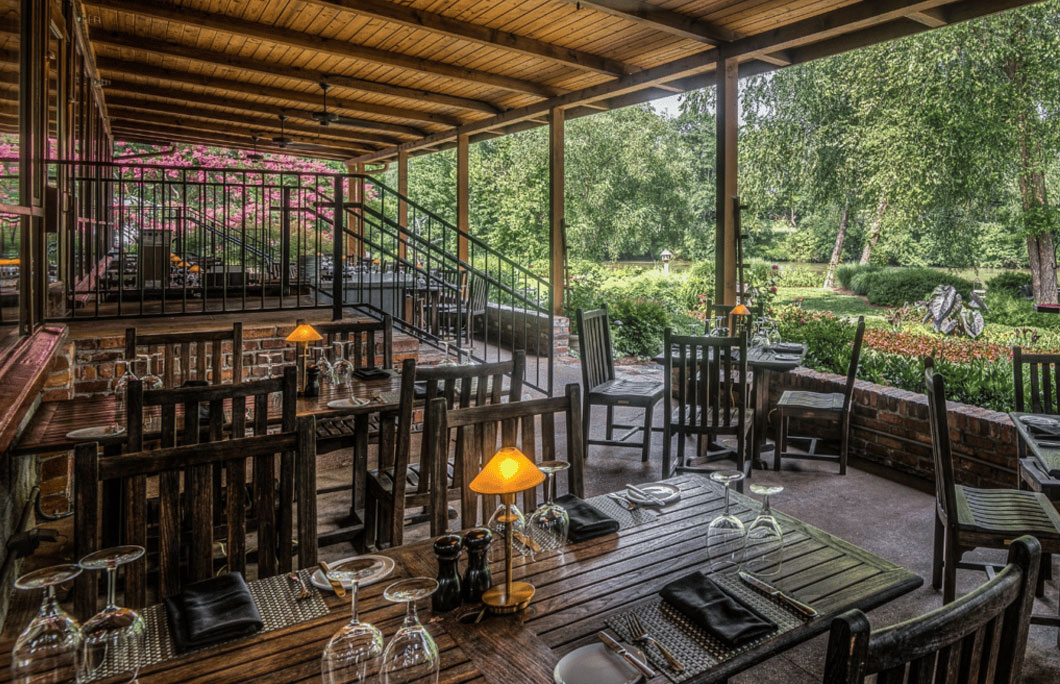 48. Canoe – Atlanta, Georgia, US
Right off the Chattahoochee River where Buckhead meets Vinings, you'll find Canoe. This beautiful Southern-style restaurant delivers world-class food while retaining Southern hospitality and flavour. Be prepared to have the night of your life at Canoe. Oh, and please – don't leave without indulging in their famous dessert menu.
---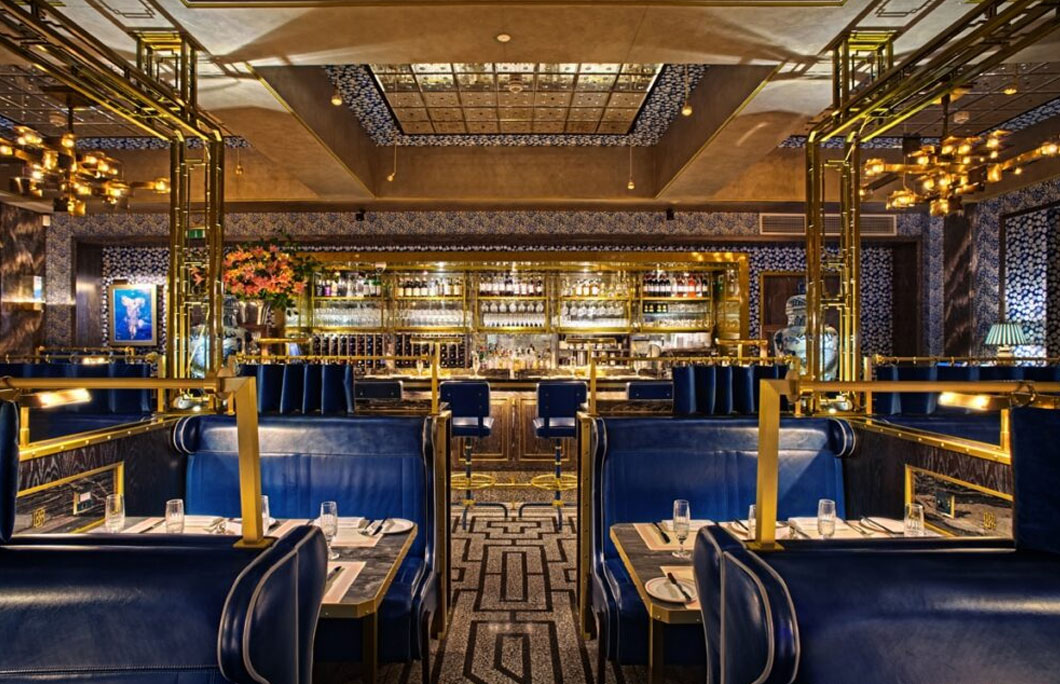 49. Bob Bob Ricard – London, England
What can be more romantic than a 'Press for Champagne' button at every table? This iconic Soho restaurant is top on the list for a glam date night. The menu has luxury English and Russian dishes such as caviar and beef Wellington.
The all-booth seating area means you've no excuse not to sink back and relax in the Orient Express-style dining room.
---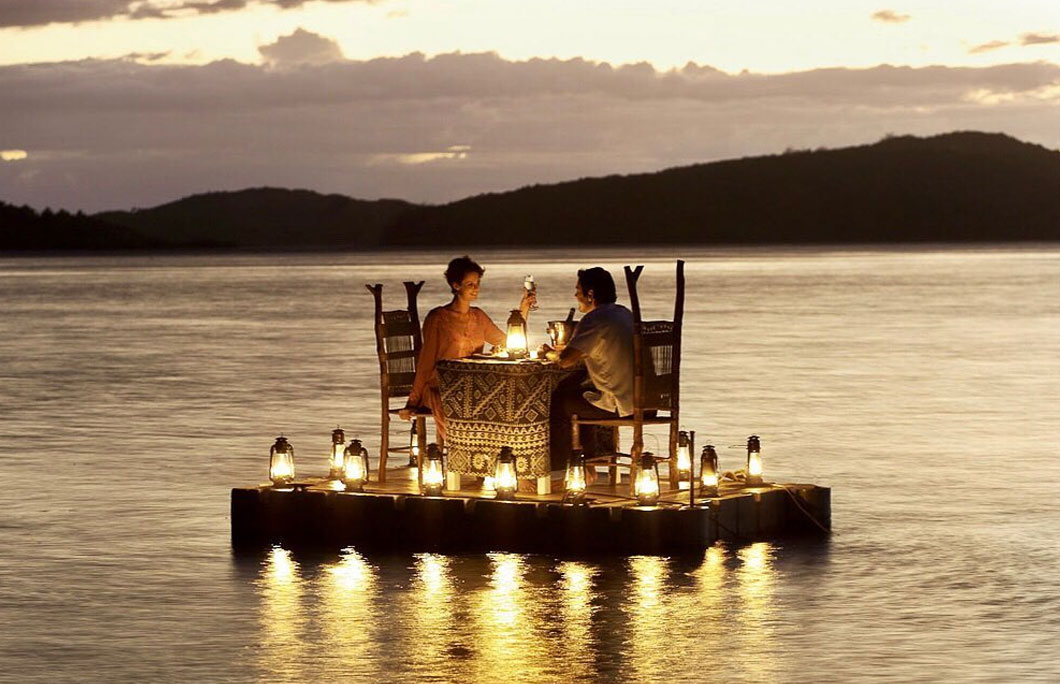 50. Turtle Island – Fiji
500 acres of powder-white beaches and crystal blue coastlines make up this luxury resort private island. At Turtle Island, they offer some of the world's most intimate and upscale dining. Take your pick from a candle-lit dinner under the moonlight, a sunset dinner just for two or a floating table on the water. That's right, you and your special someone can dine right on the water. In other words, book your table now!
---