Driving in Croatia – 15 Things You Need to Know
Side of the road & license laws
Belt up!
Headlights
Winter tyres
Speed limits
Motorways & tolls
Drink driving
Rest stops & petrol stations
Electric cars
Documents & items to pack
Overtaking & passing
Penalties & fines
Smaller cars & parking
City driving
Countryside driving
Croatia – a gorgeous place to hit the road
Lucky you – you're going to Croatia. With its strategic position straddling southeast and central Europe, stunning Adriatic coastline and iconic capital Zagreb, this Balkan blockbuster has emerged from the shadows of more famous European nations to become a bit of a tourist magnet. Situated in the northwest of the Balkan Peninsula, this relatively small nation boasts great geographical diversity and a population of just over 4 million at the most recent estimate. Comprised of the Croatia-Slavonia, Istria, and Dalmatia regions and formerly a part (the now defunct) Yugoslavia, Croatia's fortunes improved (at least in part) after it joined the European Union in 2013.
The lovely towns and cities here are made for exploration. Zagreb boasts a sky-scraping cathedral and expansive leafy boulevards. Bustling Dubrovnik has a lively vibe and interesting old town. Then there's Split, in the Dalmatian region, whose history stretches back to the reign of Roman Emperor Diocletianus in 200 A.D. And don't forget Zadar – a scenic oasis on the sparkling Adriatic coast with a serene seafront.
The crystalline, azure waters of its coastline caress pretty sand and pebble beaches, where you can spend days chilling out on your towel and catching some rays. And history comes alive in architecture that betrays Roman, Venetian, Slavic, Viennese and Socialist influences. Other natural attractions meanwhile include the dramatic Dinaric Mountains, canyons, caverns, waterfalls and lush lakes. Hire a car in Croatia right here at Enjoy Travel and this epic adventure rolls out before you!
Now let's get into gear with your Croatia driving tips.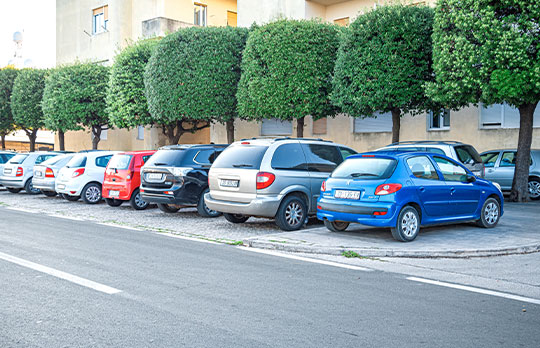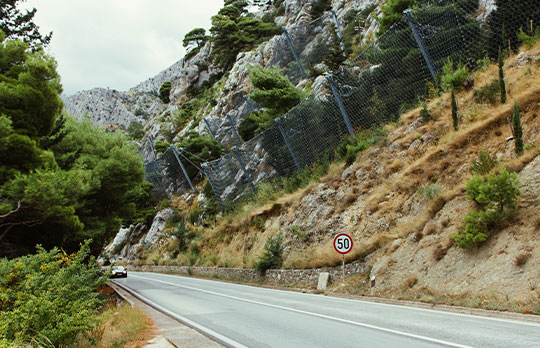 15 things you need to know about driving in Croatia
Side of the road & license laws
Please always drive on the right hand side of the road and overtake on the left. Visitors driving in Croatia have to be aged 18 or over and have a full, valid driving license to get behind the wheel legally (EU and EEA licenses are perfectly acceptable). Please note that some car rental partners might levy a surcharge on drivers under 25 – please confirm this when you make arrangements.
Belt up!
The driver and every other occupant of your vehicle has to wear a seatbelt at all times – it's the law. Kids under 12 aren't allowed to sit in the front seat, those aged 2 to 5 have to be secured in a suitable child seat, and other children should be seated safely with a child restraint appropriate for their age and size (a booster seat can be used if this is the best option).
Headlights
You must use your dipped headlights at night and when there's poor visibility. Furthermore, you should use dipped headlights day and night at all times from the start of November to the end of March. Moped and motorbike drivers need to use dipped headlights during the day all year round and cyclists should always have a white light fitted at the front of their bike and a red one at the back. If you fail to adhere with any of these mandatory rules, you could face a substantial fine.
Winter tyres
If you're driving in Croatia from 15th November to 15th April, it's mandatory to use winter tyres. Your car rental company should have you covered for this, but please ask them to confirm when you book. Apart from it being the legal requirement, the roads can become more dangerous at this time of year, so switching tyres simply makes sense.
Speed limits
As is the case in any country, please always obey the speed limit in Croatia. This is 130km/h on motorways, 90km/h-110km/h on main roads outside built-up areas, and 50km/h in built-up areas. Take note of the signage and alter your speed accordingly.
Motorways & tolls
The road system in Croatia is a good standard in general and the motorway network is particularly well-maintained. The nation has invested heavily in road infrastructure in the years since independence in 1991 and there are now excellent motorways from Zagreb to Pula, Rijeka, Zadar and Split and several areas within the Istria region. The Adriatic Road (D8) between Rijeka and Dubrovnik is arguably the nation's most scenic and some visitors compare its dramatic coastal vistas favourably to those of the Pacific Highway in the US. Croatian motorways use a toll system but it's very accessible – you take a ticket from a machine when you enter the motorway and pay at a booth when you exit, using cash or your credit/debit card.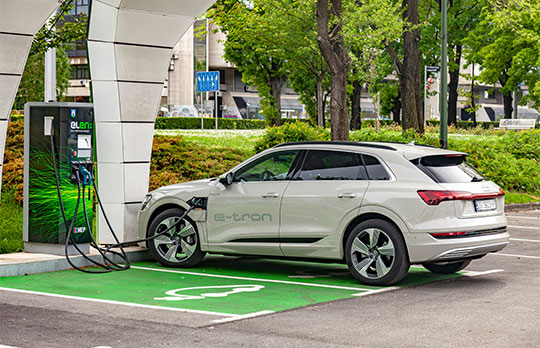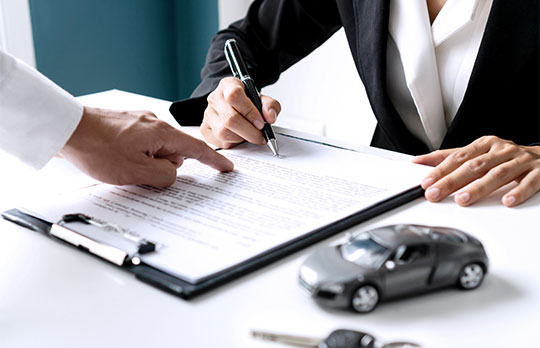 Drink driving
Croatian authorities take a zero tolerance approach to drink driving if you're under 25 – in other words, the blood alcohol level is 0%. Fair warning. For everyone else, the limit is 0.05%. The police carry out random testing using breath tests, blood or urine samples and blood samples.
Rest stops & petrol stations
The rest stops you'll find on the Croatian motorway network are usually fairly modern and well-appointed. You'll usually find a shop selling car accessories, drinks and snacks, and perhaps even a restaurant, bakery or kids play area. There are 74 petrol stations on Croatia's motorways and 870 across the nation overall. Most are owned by the Croatian oil company INA, but you'll also see several operated by Petrol, Crodux, Lukoil and Tifon. Whenever you feel tired, pull over at the nearest rest stop and have a nap – you'll avoid an accident and hit the road again feeling refreshed.
Electric cars
Range is always a concern with electric cars, and you need to plan ahead if you intend to hire one. However, the EV charging network is decent in Croatia – there are around 800 connectors at 300 publicly-available charging stations. You'll usually find EV charging stations at petrol stations, big car parks, hotels, restaurants and shopping centres.
Documents & items to pack
When you're driving in Croatia, make sure to carry your driving license, insurance documents and registration documents and your passport. You should also carry reflective jackets, a warning triangle, headlamp beam deflectors (to use if you can't adjust the beam manually), and a first aid kit.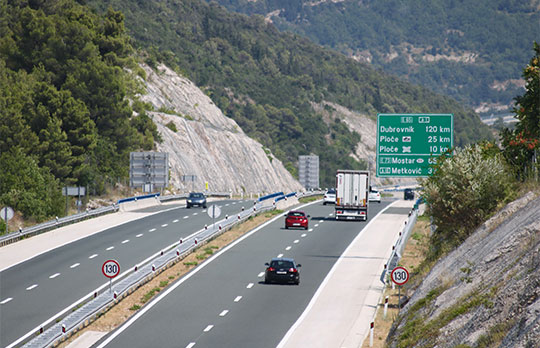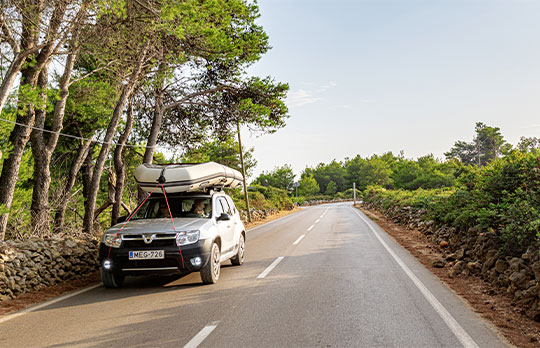 Overtaking & passing
As we've said, you drive on the right and overtake on the left in Croatia. You should never overtake when you're on or approaching an intersection, pedestrian crossing or level crossing. If you're being overtaken, keep close to the right side of the road and don't accelerate. Also, don't be too liberal in your horn use – use it sparingly and only when it's essential for preventing an accident.
Penalties & fines
Please be aware that police in Croatia can issue on-the-spot fines and might even confiscate your passport until they're paid. Amounts vary according to the severity of the misdemeanour – from minor speeding infractions to driving under the influence alcohol and/or drugs.
Smaller cars & parking
When you're choosing which car to rent in Croatia, a smaller car can be a good pick. Some roads aren't designed with large vehicles in mind, so they feel much more comfortable when you roll in a smaller vehicle. If you're driving in Zagreb, be aware of the parking regulations. The city is split into red, yellow and green zones, with red having the severest restrictions and highest parking charges. If you park your car in a prohibited area, it might be clamped until you pay a release fee.
City driving
Driving through cities and towns in the height of summer can be hectic and coastal towns can be packed with tourists and locals. The largest cities like Zagreb, Split and Rijeka are busy all the time and particularly so during morning and evening rush hours. You'll probably get the best use of a hire car in New Orleans by using it for road trips – when you want to explore city centres, park on the periphery and use public transport for the day as it's less stressful.
Countryside driving
As you can imagine, country roads in Croatia can be a dream to drive – the fresh air and scenery are superb. But be careful because many of these secondary roads are narrow, have lots of twists and turns and usually have no lighting. Please proceed with caution because of wildlife on the road like pheasants, foxes and even deer. And you might also share the road with bicycles, which are popular with people of all ages. Remember to treat bicycles as if they're cars and give them ample room when you overtake or perform any type of manoeuvre.